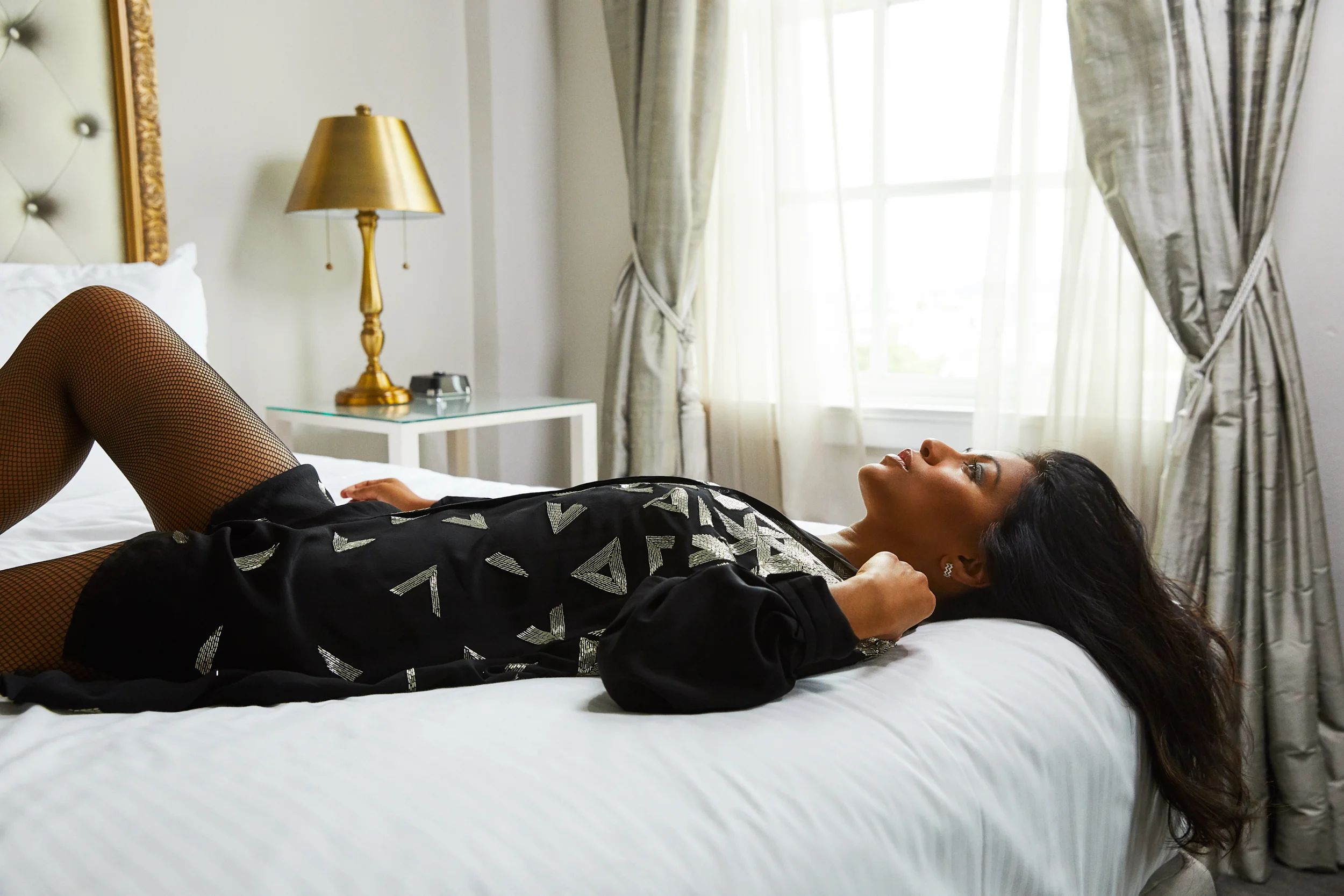 Karen David
Fear the Walking Dead's Karen David is just like the rest of us. Well sort of, anyway. While most notably cherished for her multifaceted and ever so envious repertoire including actress, singer, songwriter, as well as ardent philanthropist, David also shares an experience in which we've all encountered once or twice – or even triple on my behalf – merely, in the form of mathematics.
'What was it… I think I flunked algebra!' the Indo-Canadian actress tells me during our morning phone conversation together. 'My problem was that I never had the patience 'cause I couldn't get the answer right after three times and so I would go like, 'ugh'. I tried my best. Whatever.'
In the rest of our conversation with David, she addresses the latest season of FOTWD, Olivia Newton-John, and tea biscuits.
What's it like for you to watch yourself partake in the roles you take on? Do you dislike it? Do you look forward to it?
I can't speak on behalf of all actors, (I know a lot of my actor friends can sympathize or relate to this), but I hate watching myself on TV. I'm not a passive viewer; I'm actively watching and trying to see and nitpick on things like, 'oh, maybe I could have done that line better,' or thinking maybe there could have been another way of delivering a line or remembering another take I might have done which I personally preferred. It really makes my BPM go up a notch! When I watch myself, I have a pillow in front of me so I can peek my eyes over it in intervals [laughs]. It's only by the time that I get to the fourth or fifth viewing, that I can actually start to relax, watch and enjoy.
One of my main goals as an actor is that when you're watching yourself – you want to make sure that you don't see yourself, but instead the character that you're playing. I often am asked which role has been my favorite to play which is impossible to answer, because each one of them is so different and you love them all equally. My roles are like my babies. Saying that, I will say though that the role of Grace is really exciting for me as an actor to portray. Grace is completely different from any role that I've played before, and that's exactly why I needed to take on this role. It was an opportunity to throw myself in the deep end, to embrace a role that would throw me out of my comfort zone and stretch me as an actor – that's the best gift and every actor's dream! I've been constantly on my toes learning so much from this new genre and universe and it really has been a thrilling ride so far. Grace's whole backstory, and doing an American accent full-time has been challenging, but fun [laughs]. When I watch myself, I see Grace, and that excites me, as a viewer. 
Tell me about your character Grace. Without saying much, what can we expect of her this season?
[Laughs] Without giving any spoilers away; I wouldn't want to ruin any surprises! For now, for where we're at [Grace's debut episode], I can tell you that Grace works in upper management at a nuclear plant. In episode two, we enter her world with literally a big bang! The group's plane has crash-landed in the cordoned off areas where radiation has been exposed due to a massive failure of one of the generators at the power plant. She feels heavily responsible for what's happened and for the repercussions and the impact of the choices and decisions she's made. These are her "demons" that she is trying to grapple with daily, and continue to haunt her moving forward. When the apocalypse happened, her immediate thought went to the nuclear plant to make sure that the generators could keep running in order to provide energy to the surrounding cities. She calls in all her co-workers to help and then, in turn, calls their families and provides shelter and refuge at the plant. She feels they have enough supplies to keep them going for a long time. But what she didn't realize is that they didn't have enough resources to keep the plant running, and that's when things went grossly awry and her ultimate nightmare ensued: contamination, her colleagues being exposed to radiation, all of them suffering and dying, and walkers infiltrating the plant, who are then exposed to radiation as well. See where this is going? [laughs]
This poses a new, heightened threat. These are irradiated walkers – a very different and more dangerous kind of walker than we've ever seen on the show or universe before. Grace now has all of this to contend with, and actually having been exposed to huge amounts of radiation herself – her clock is now ticking. Her symptoms could strike at any moment. So as far as she's concerned, time is not on her side and is wholly focused and determined to clean up this mess that she feels she's created. Every minute that goes by is not wasted as she vehemently tries to cordon off as many areas that have been exposed to radiation and where the irradiated walkers are roaming. All those "Keep Out" signs were futile, with Morgan and Alicia. [laughs]
The last thing she wants is for anyone else to put themselves at risk of exposure. When she meets them, it's not about making friends – it's about saving lives and protecting them and trying to convince them that her intentions are good – even if she has to point a gun at Morgan to get her point across. [Laughs] At the same time every walker in the area that is wearing a dosimeter around their necks is someone Grace knew. Each has their name printed on them and she is reminded of her mistakes every time she has to dispose of each of them. Another dosimeter removed from a deceased, irradiated walker, magnifies her guilt a gazillions times over. That's the weight on her shoulders that she carries every day, and this season we'll see how she copes with her past and how that affects her future.
How do you think audiences will react to her?
Well, as Karen, I hope they embrace Grace. [laughs]. Viewers are going to see a woman who is very focused, and when I was talking to our [amazing] showrunners, Ian and Andrew, we were talking about this fine line of where especially in the beginning, we didn't want Grace to come off as being rude or inaccessible; she's just very absorbed with the task at hand. She's accepted that she is probably going to die from her radiation exposure, but that only enhances and levitates her determination to correct the problems she has created and makes sure they never happen again.
I hope the viewers will empathize with her, knowing that we're all human – obviously, her mistakes are much larger than the norm– but the fact that she is trying to fix the problem, gives me hope that Grace may hopefully reach a place of self-love, acceptance and forgiveness. Right now though, it does seem like a long way off until she reaches that place. I don't even know if she is emotionally equipped as yet to be able to face and understand her existence and to learn to live with the losses. It almost feels like she has numbed herself and perhaps is hiding behind her traumas. I hope fans will sympathize with her journey and eventually understand more about Grace as the episodes go by. My greatest hope is that people can relate to her journey of forgiveness and redemption.
Switching topics for a moment, what was it that made you realize your passion for acting?
That had everything to do with my oldest sister; when on babysitting duty, whatever music she listened to, I had to listen to – and whatever films that were on TV that she watched, I had to watch. One night she sat me down and we watched Grease and then Xanadu with Olivia Newton-John – and I saw this beautiful blonde, blue-eyed girl singing like an angel and acting and dancing. I'll never forget that moment; I was bitten so hard. It was that very moment that lives and breathes in my heart to this day – a reminder in my journey of becoming and being a working actor. When you're starting out as an actor, it's tough; it's not impossible, but it's tough. I think this journey constantly tests you when you go to so many castings and you get rejected, or you come really close and you don't get something. Sometimes you can give the performance of your life and still not book the job! But if I've learned anything from my journey so far, is that everything happens for a reason and it all makes sense when you look back. 
What fuels me daily is going back to that moment of why I started, why I wanted to get into acting or music. When I was six years old, seeing Olivia Newton-John for the first time, it feels like yesterday – that excitement and all-encompassing feeling which just kind of took over my heart. That was it for me. I was so focused since then about wanting to act and sing just like Olivia Newton-John did. [laughs] She was beautiful, and different looking from a girl like me, and exotic, being blonde and blue-eyed! I mean, I even married a blonde, blue-eyed boy [laughs]. She emulated everything I dreamt of being. Try explaining that to your immigrant parents who are just settling into a new country [pauses], you would think those dreams would kind of scare and overwhelm them because they don't have any contacts with the entertainment industry. But one thing about my wonderful parents is that – like all parents – they just want their children to be happy and to thrive. Coming from an Asian background they're very strict about academics, and normally they'd want you to become a doctor, or a lawyer – or something sensible that can pay your bills and afford a good life. But my parents were never like that with me; they just said to me that I'd have to show the initiative if I wanted to be an actor or a singer, as well as work extremely hard for it, and get straight A's in school! They were very serious about the latter! [laughs]
So I started out as a child actor, and I was doing commercials as a little girl. Then it started to become difficult for my parents to take time off work, so they said, 'We'll put you in singing and dancing lessons, but provided that you do well in school.' In hindsight, I'm really glad they made that deal with me. They certainly meant business! When I flunked math, oh boy. That was it. All my lessons stopped immediately! [laughs]. It proved to be a very quick and effective way for me to get my grades back up… But I'm glad my parents instilled that work ethic in me where I had to buckle down and focus – because it's that work ethic that has helped me survive this industry and all the trials and tribulations. 
My sister recently found an old vinyl record of Xanadu and gave it to me for my birthday. We laughed, remembering that moment when my life changed at 6 years old! I continue to carry that memory with me in my heart every day, and it always makes me smile now. I'm so grateful for my sister playing a heavy influence on me! 
You mentioned that you weren't a normal six-year-old, could you tell me about the story where you actually called a casting agency at that age?
Every Sunday morning during brunch, my father would read the local newspaper articles aloud to us. He wanted both of his girls to be aware of what was going on in the world. We'd go through the paper together, and my sister saw an ad for a Jell-O commercial looking for cute kids, and she said, 'Oh Karen, look at this!'
I saw the ad and snuck into my parents' bedroom and phoned the casting agency. I basically said, 'Hi, I'm Karen David, I'm six years old and I want to be in your commercial.'  I happened to actually have the casting director on the phone who was tickled pink that a six-year-old was calling. She said, 'I need to talk to your parents first', and I said, 'Well no, you can't do that because I shouldn't be calling strangers on the phone.' Immediately, I hung up the phone, but she managed to trace the call and then spoke to my parents. My parents were not too happy about me picking up the phone and talking to a stranger, but at the time they were highly amused and impressed that I heeded their words of advice. I did take the initiative, and that's when my dad asked, 'You really want to do this?'  I said, 'Yes I do.'  They took me to the casting, and that's how I started out [laughs].
Along with Fear the Walking Dead, audiences will also see you in the upcoming film Hollywoodland. What can you tell me about that? Is it like a satire of Hollywood, but in the form of Alice in Wonderland?
Hollywoodland definitely pays homage to the characters you see in 'Alice in Wonderland', and it is influenced and based off of those iconic characters. But it's about a young woman and her journey of following her dreams against the backdrop of Hollywood – in light of diversity, inclusion and celebrating and encouraging women in film and TV, as well as the Me Too movement. Our objective is to celebrate, empower and applaud the many hardworking women in film and tv. Our film embodies those twists and turns of many women's journeys in our industry, through the eyes of Zodwa, and her journey of going down the rabbit hole so to speak. Her dreams of becoming a successful, working actor in Hollywood – in the midst of all the trials and tribulations of the people she meets along the way – and how she survives all of that and comes through, in the end, feeling empowered and more determined than ever to do things that are within her control.
That'll be interesting. What'd you suggest audiences should order at the concession stand before going to see the movie? What's your go-to?
A cup of tea! [laughs]. A nice cup of tea with a biscuit. That would be ideal! Something very afternoon tea-ish when they go to watch Hollywoodland, and the biscuit can be a Hobnob, a McVitie's, or shortbread; whichever you please.
My final question of the day, what was your first audition for?
Well, my first audition was for the Jell-O commercial actually. But after I took a break from child acting, and started auditioning again, I was like fifteen or sixteen and going up for 'Miss Saigon'. I kid you not when I tell you that casting made me go to like nineteen castings for the role over the course of three years! Whilst it was a grilling and almost soul destroying process as a young teenager, I'm kind of grateful that I went through that; it was horrifying, especially when you're a teenager filled with lots of hopes and dreams! Ironically my naivety was a blessing in disguise and helped me move past all that! But that experience was kind of what gave me a big kick to look elsewhere and beyond. At that time, especially when I was growing up, you didn't see diverse enough characters on TV. You just didn't.
When I'd go to castings they'd kind of just look at me and think, 'Well what do we do? What do we do with this?' That's really what it was like. The urge to take control of my journey and change that way of thinking became increasingly palpable. You, me – all of us are a part of this fabric of what we call, diversity. It shouldn't be an issue; it should be a given, and all of our stories represented on our televisions and big screens. That's what really pushed me to go to England and do drama school over there, which was life-changing. Oh and I finally did eventually land a role in 'Miss Saigon', [in the West End], but I couldn't do it as the contract started too soon into my drama college studies! At least I know in my heart that I got the role – finally! [laughs]
Team Credits
interview by Hailey Johnson
photography Diana King
styling Jessica Paster @ Crosby Carter Management
hair Nancilee Santos @ Tomlinson Management Group
makeup Lydia Sellers
casting + production Angeliki Sofronas
location Culver Hotel, Los Angeles
Fear the Walking Dead Season 5 is currently airing every Sunday on AMC!