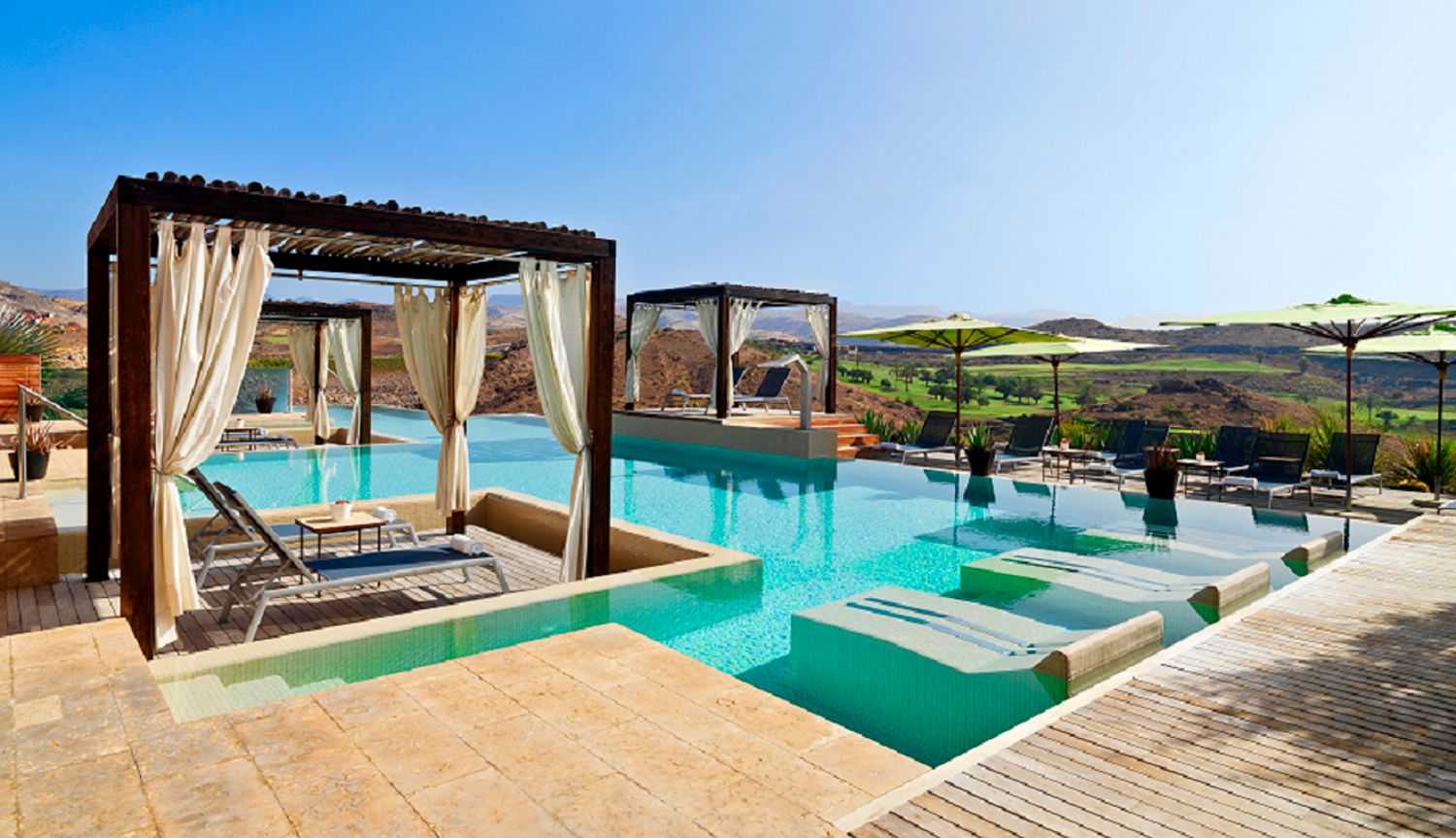 Wellness and Escapism in Gran Canaria
Gran Canaria can leave you feeling like you've left your everyday woes and stress behind so one can begin to unwind, relax and recharge. 
Not usually being someone who relaxes easily whilst away, I've always preferred checking out local tourist hotspots or exploring to find those hidden gems. I was a little apprehensive about how I'd fare in a wellness retreat however, I was left amazed by the hotel resorts, outdoor swim spa's and wellness centres I had the pleasure of visiting on my trip to the islands. Let me fill you in.
Located on a private, quiet, cactus-covered mountainside, you already begin to take in views even before you've booked in. Upon arrival, you are greeted by a friendly and well-presented staff that never made any request feel like too much trouble throughout the whole stay. 
One of the most beautiful features you will notice from the moment you enter the resort is how closely it resembles nature and how in its modern, yet simplistic and stylish design it has managed to incorporate almost all-natural materials into the decor. The resort was designed to blend into the surrounding environment and they have done a fantastic job of doing so, using several different stones locally sourced to create this magnificent building such as the Ayagaures Valley.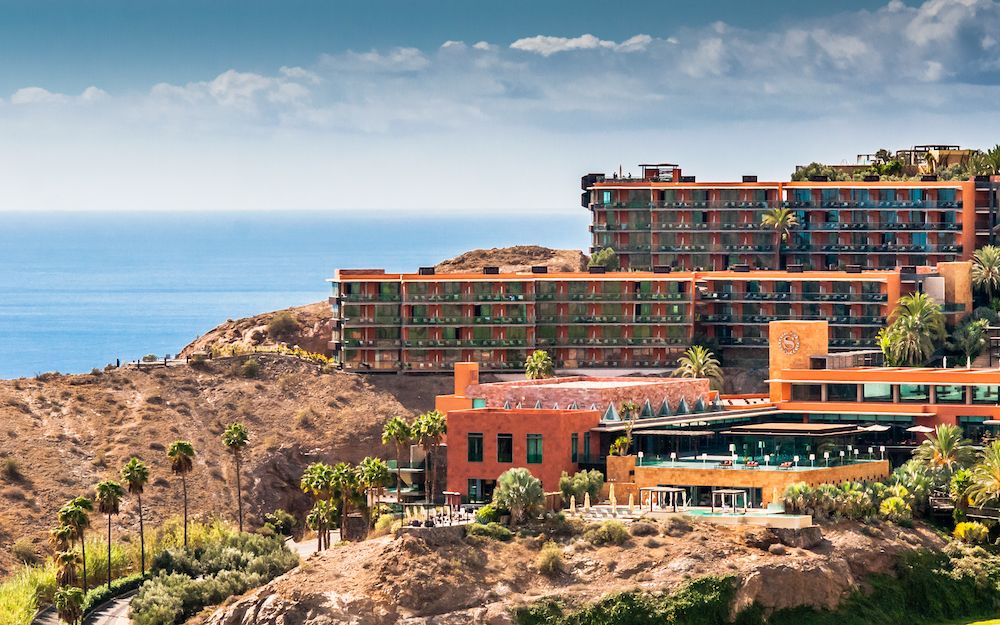 I stayed in one of the resort's many deluxe double rooms and I was not disappointed, with a private balcony that allowed me incredible views over the 4th-floor pools and of the surrounding landscape, with the opportunity to glimpse into the two impressive golf courses that draw visitors to the Salobre resort year after year.
Sleeping at the Salobre was a little too good, with the super soft and comfy bed. This left me – who isn't a morning person, struggling to leave and start the day, even if it was just to relax some more poolside on the sunlounger!
On my stay, in typical style, I dropped my suitcase off and took the opportunity to explore the surrounding area. The Salobre offers a bus service down to Maspalomas Beach point, again making life simple and stress-free for its guests. The bus then takes guests to the Salobre Beach Point building, which provides hotel guests with another vicinity to relax around the pool and with a private area to change before hitting the sandy beaches only a 2-minute walk away. As much as I couldn't resist the urge to explore outside the resort, there is no need to leave the hotel throughout your stay. 
The Salobre offers a variety of 7 pools spread across the top floors of the hotel which allowed you to keep your privacy as not one spot was ever too busy for you to relax. In keeping with the decor of the resort, the pools are too surrounded by many of Gran Canaria's staple plants such as palm trees and prickly cacti. The resort having all pools situated on the top floors allows you take in the spectacular views from sunrise to sunset; this certainly added to the sense of tranquilly you experienced at the resort feeling disconnected to the modern world to absorb and appreciate what beauty Mother Nature has blessed us with.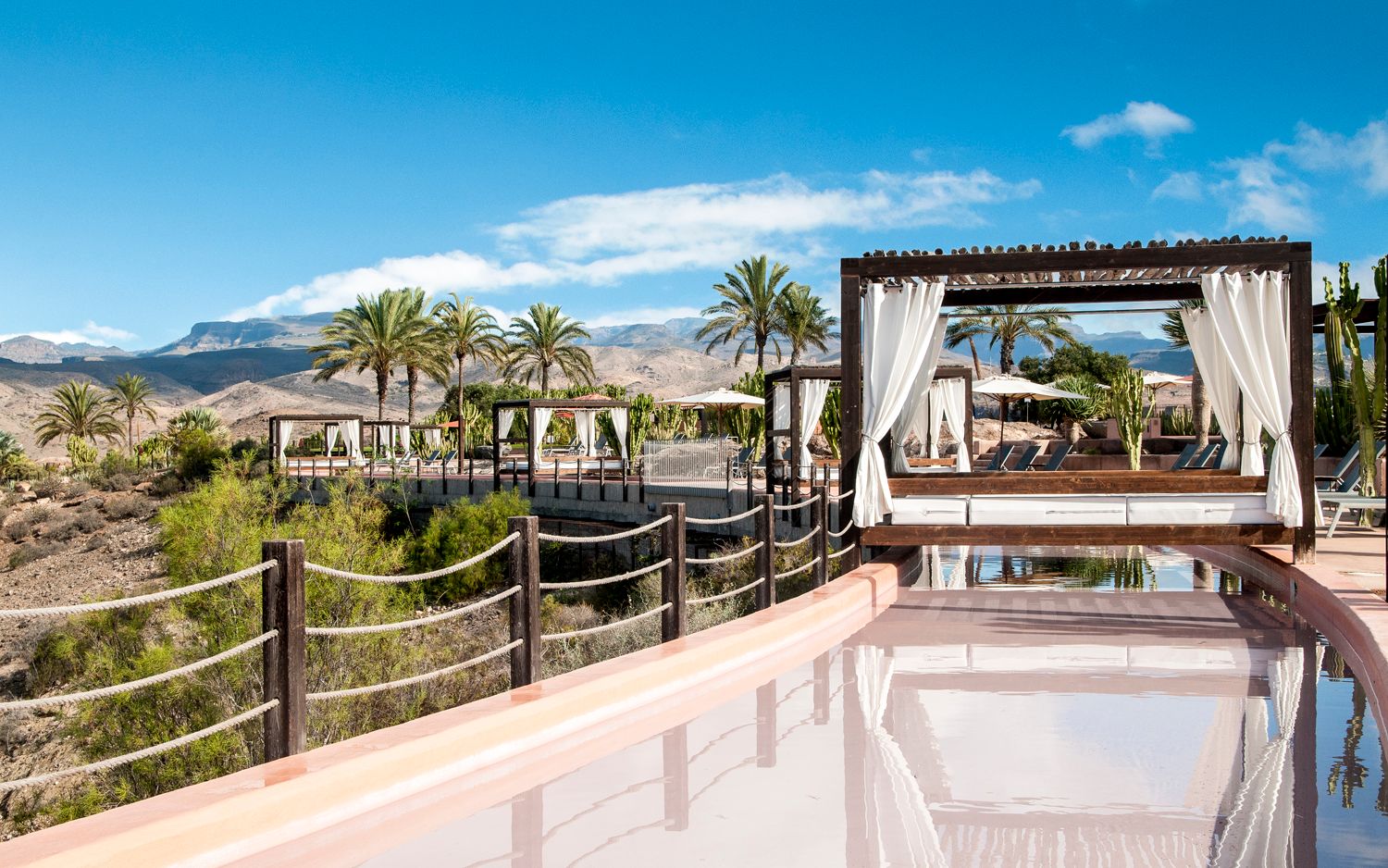 Throughout the day, the resort also offers activity classes open for all to take part in such as yoga, Tai Chi, Qi Gong, pool-bike training and even a gym so there was always something to keep you busy if you needed a break from the sunlounger and tasty cocktails on offer from the poolside bars. One of my favourite places was the Sunset pool and spacious Balinese beds, taking in the most spectacular views with a sense of gratitude as you relaxed on the top floor. I even returned to the Balinese beds at night and welcomed the stillness of the mountains and harmony of surrounding nature waking up with a newfound champion banana and cactus cocktail.
A must visit whilst on your stay at the Salobre is to the resort's wellness centre – The Be Aloe Wellness Center. This is the spot to indulge yourself in with the sauna, biotonic showers or oxygen therapy cabin. All this is to prepare you for the Vitality pool that has deeply relaxing bubble beds and massaging waterfalls for you to pour away the tension from your body. 
The treatments all have one main ingredient, Aloe Vera. For anyone that knows me, they will know that I preach nature's gift so highly for its benefits to the skin. I was delighted to pamper in a spa that infused its refreshments and treatments such as body scrubs and facials with the super saviour ingredient, especially useful and beneficial for when you are exposing the skin to the sun.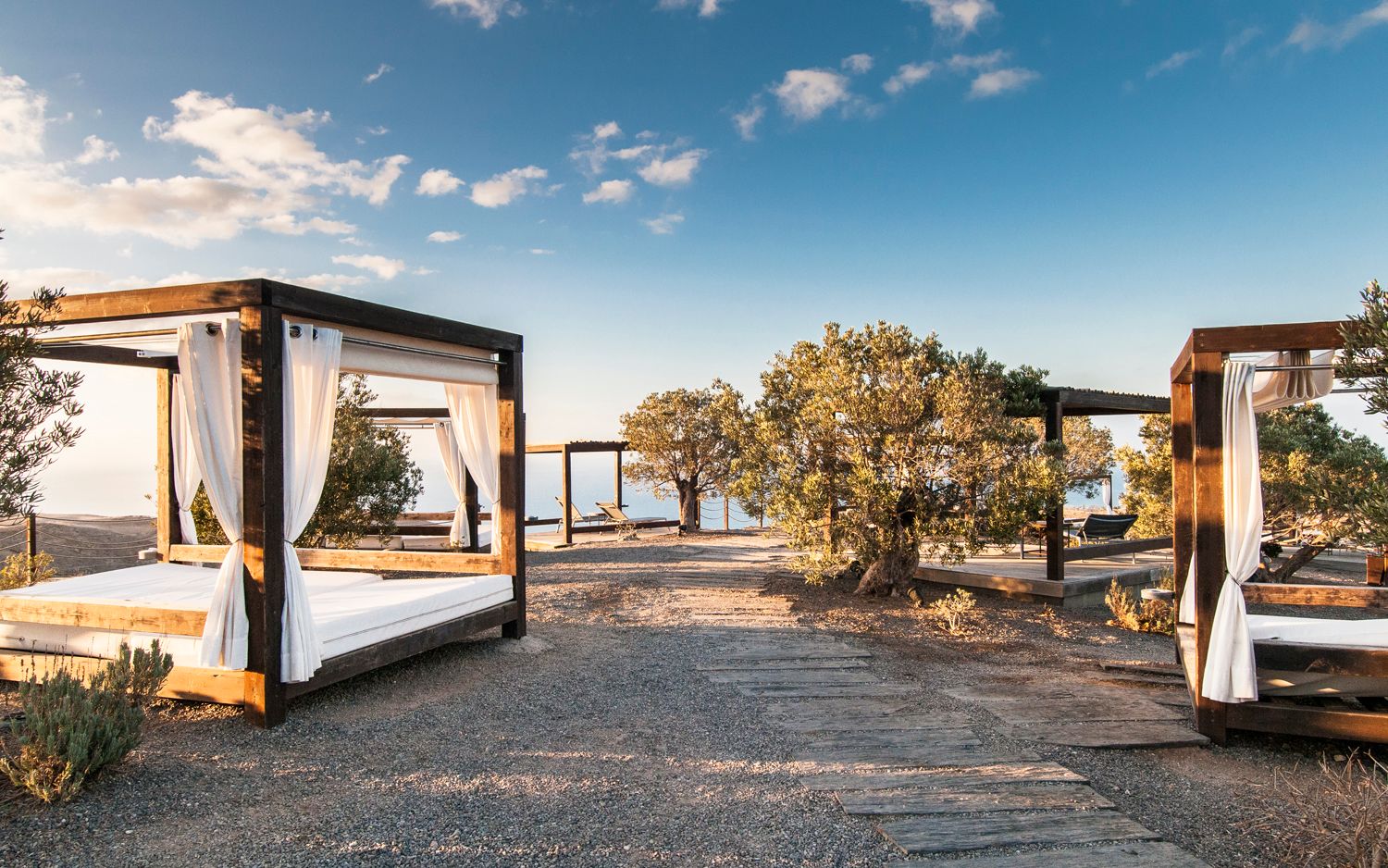 Food, it's a love of mine and often when on holiday hotel food can leave a lot to be desired however at the Salobre it was a very pleasant surprise! Delicious dining was offered in a buffet-style with every night a different theme of cuisine on offer. On my stay, I experienced a Moroccan night, with multiple tasty tanginess, flavoursome meats and rice. Each night, although having a themed cuisine as the main menu, it had a staple pasta and noodle bar alongside for those who wanted something a little different to what was on offer making it possible for even the fussiest of eaters to enjoy.  
After dinner, I enjoyed visiting The S Club, having live music three times a week. One of the live music performances, to my delight, landed with my visit and it was quite an intimate performance for the audience to enjoy. Guests were made to feel comfortable with plenty of cushions and blankets to hand as you sat out under the night's sky surrounded by very soft, atmospheric lighting.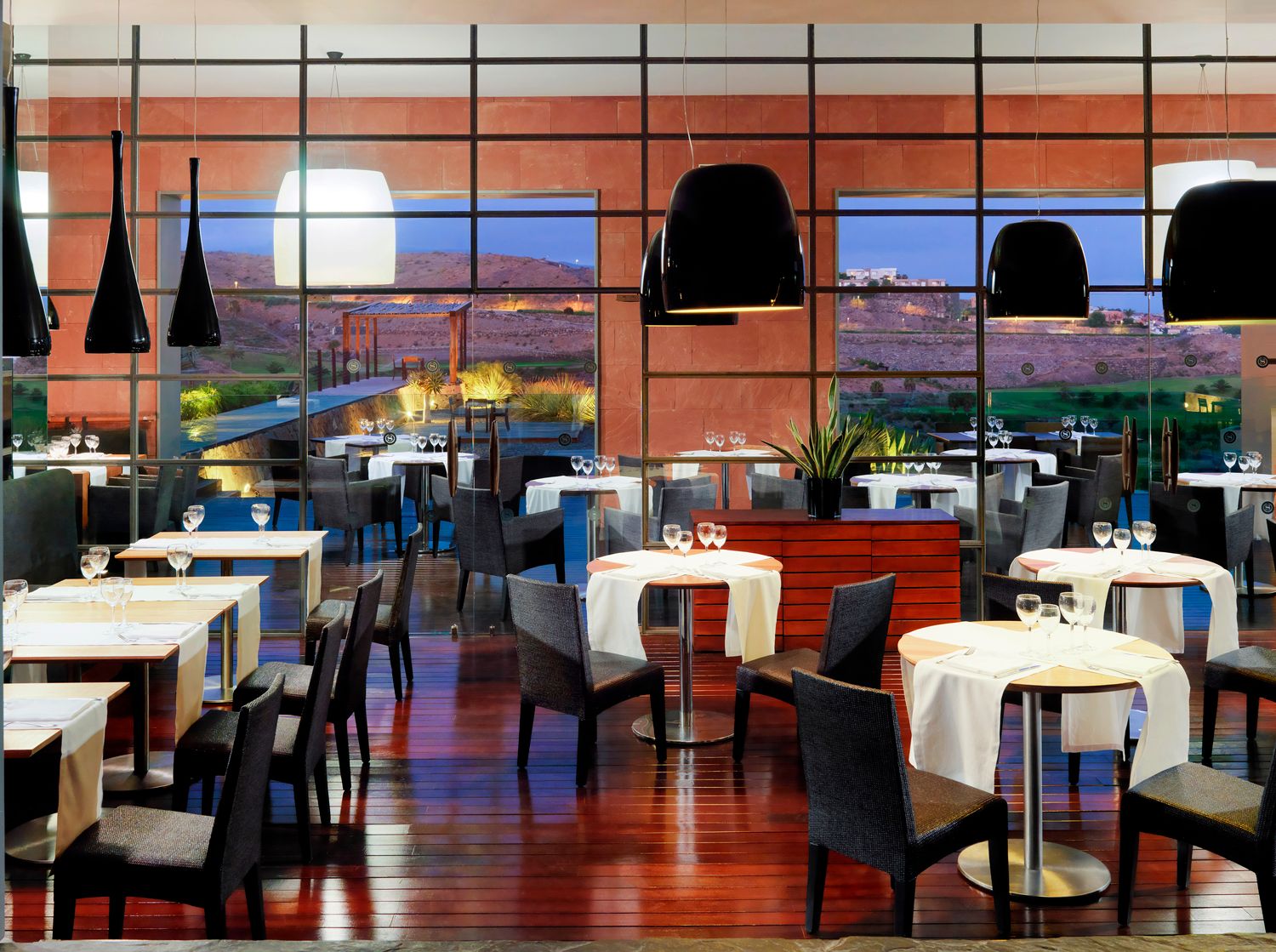 Overall, the Salobre resort and serenity did fulfil and exceed all I was expecting from a hotel and wellness centre. I'd say it was the perfect place for friends to enjoy a peaceful getaway, a couple's break or even just a few days alone to refresh. Many of the guests who I engaged with on my visit were returning and loyal to the Salobre and honestly it wasn't hard to see why. I have found a place I would love to and will be returning to. 
Streams, exotic flowers, palm trees, waterfalls, rockeries, bridges, along with stained-glass windows and ceiling, these are some elements of the striking beauty you are exposed to when you first enter the hotel.
Friendly and attentive staff, dressed in traditional Canarian attire, ready to help at your assistance. Cocktail waiters ready to serve an often much-needed refreshment from a wonderful bar situated meters away from the reception desk allowing you to take a moment and absorb the beauty around you.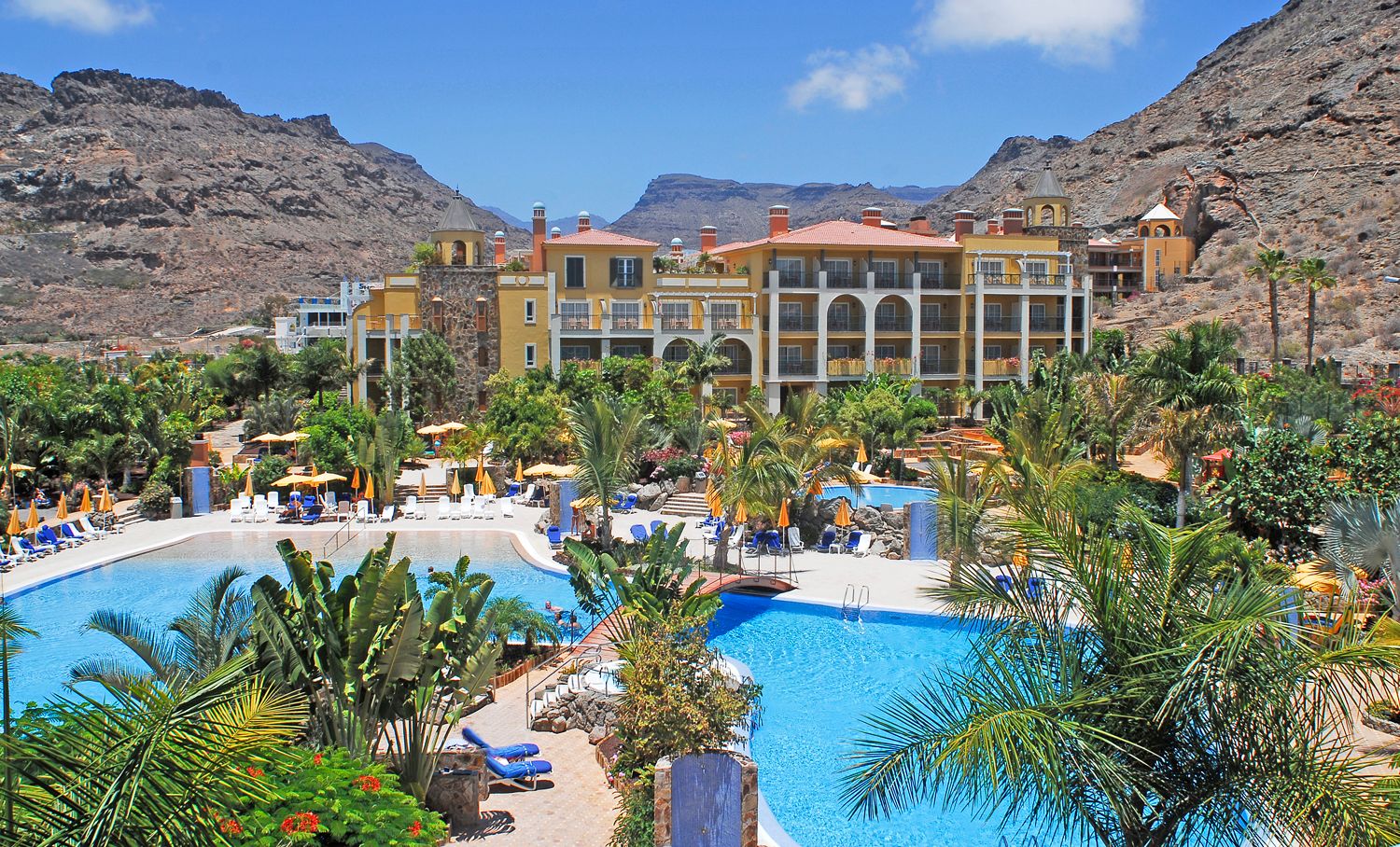 The Cordial Mogan Playa is award-winning for its commitment to sustainability, heading further into the hotel after a very impressive introduction you can see the love for nature and the planet this hotel holds.
The Cordial prides itself on its botanical garden spreading over the surface of 48.000 meters hosting 450 different plants. All plants are labelled for guests to educate themselves on the exotic flowers, trees and cacti surrounding them. Taking in the gardens could take hours for guests and those green-fingered enthusiasts; it's a delight to see that the green life is looked after daily by specialist in-house gardeners. I found it to be a very tranquil experience to be surrounded in so much beauty.
On my tour of the gardens, I came across a lovely quaint chapel where I learned that it is a popular place for marriages to take place. This was no surprise to me as the gardens are a delightfully elegant place to produce the most memorable wedding photos alongside the chapel itself. The hotel also has a Honeymoon Suite that consists of a balcony and very own jacuzzi!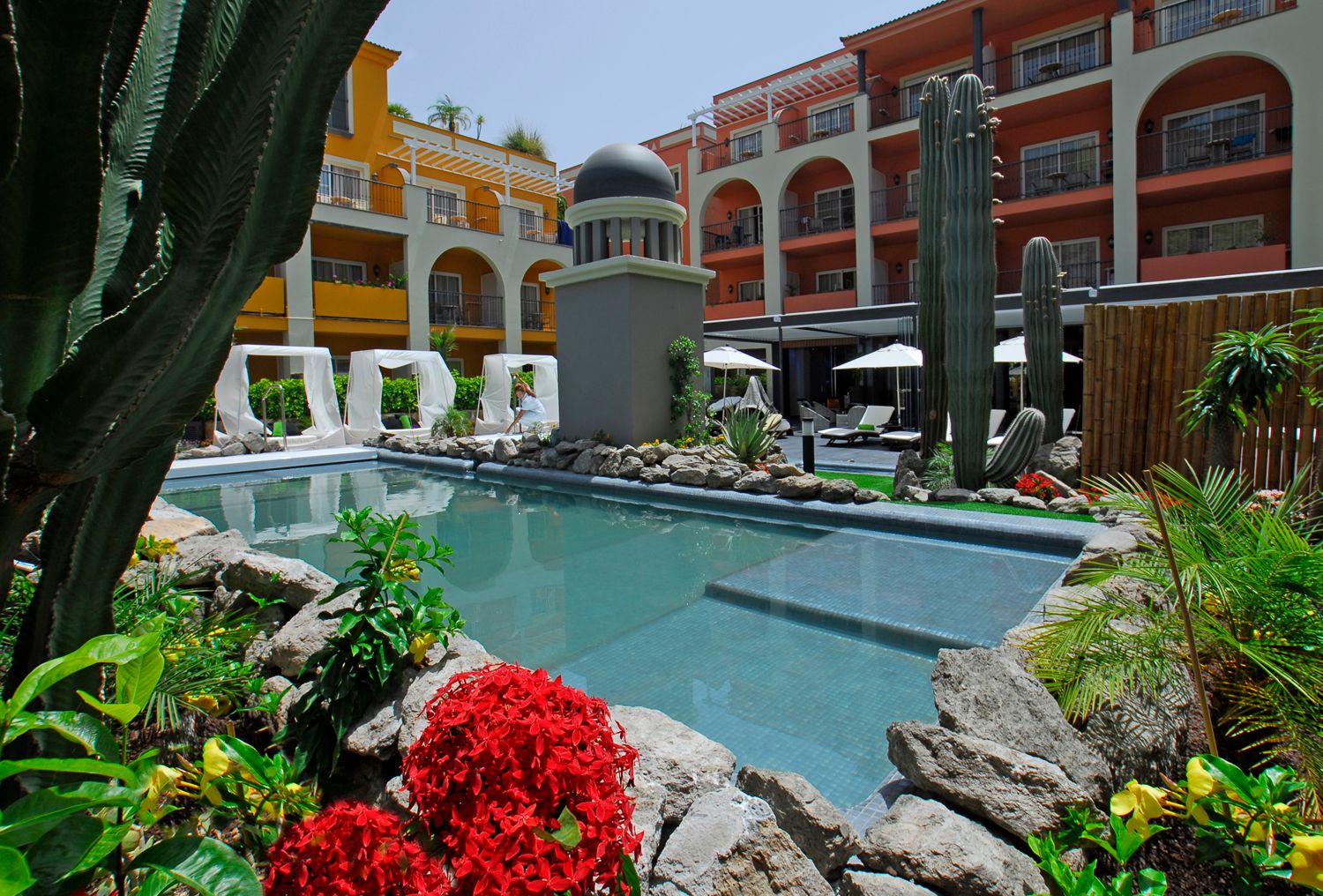 The architecture design of the hotel took advantage of the size of the complex itself when designing as it gives the feel of a traditional village. Whilst being able to visit multiple restaurants and nightly entertainment on the stage for families, there isn't a need to leave the hotel grounds. The hotel is very family-friendly with two pools for all to enjoy along with a giant chess area, kids pool, a playground area and kids snorkelling!
For those who want to learn more on the history of the island, there is an archaeological park, a location of an ancient necropolis that was discovered whilst building the hotel; for those who enjoy a day in the sun exploring and learning then I would highly recommend in participating in this during your stay. 
I was able to visit the spa on my trip – Spa Inagua. It was an absolute delight, providing guests with a steam room, sauna and with an ice bucket shower to cool off and close the pores after a pamper. The pool included a jacuzzi area and massaging waterfalls – which again I couldn't resist the plummeting water on my shoulders. The  spa pool is located inside which was a nice option to have when being in the sun all day, for the fair-skinned guests like myself; it was refreshing to take a break inside but still having the ability to use the facilities. The spa garden was an extension of the fascinating décor the rest of the botanical gardens had displayed, allowing you to refresh on the Balinese beds, outdoor jacuzzi or pool surrounded by floral beauty. I had a treat with a full body massage, needing to experience feeling totally relaxed and pampered this did the trick, with attentive staff and good pressure to whip out those knots.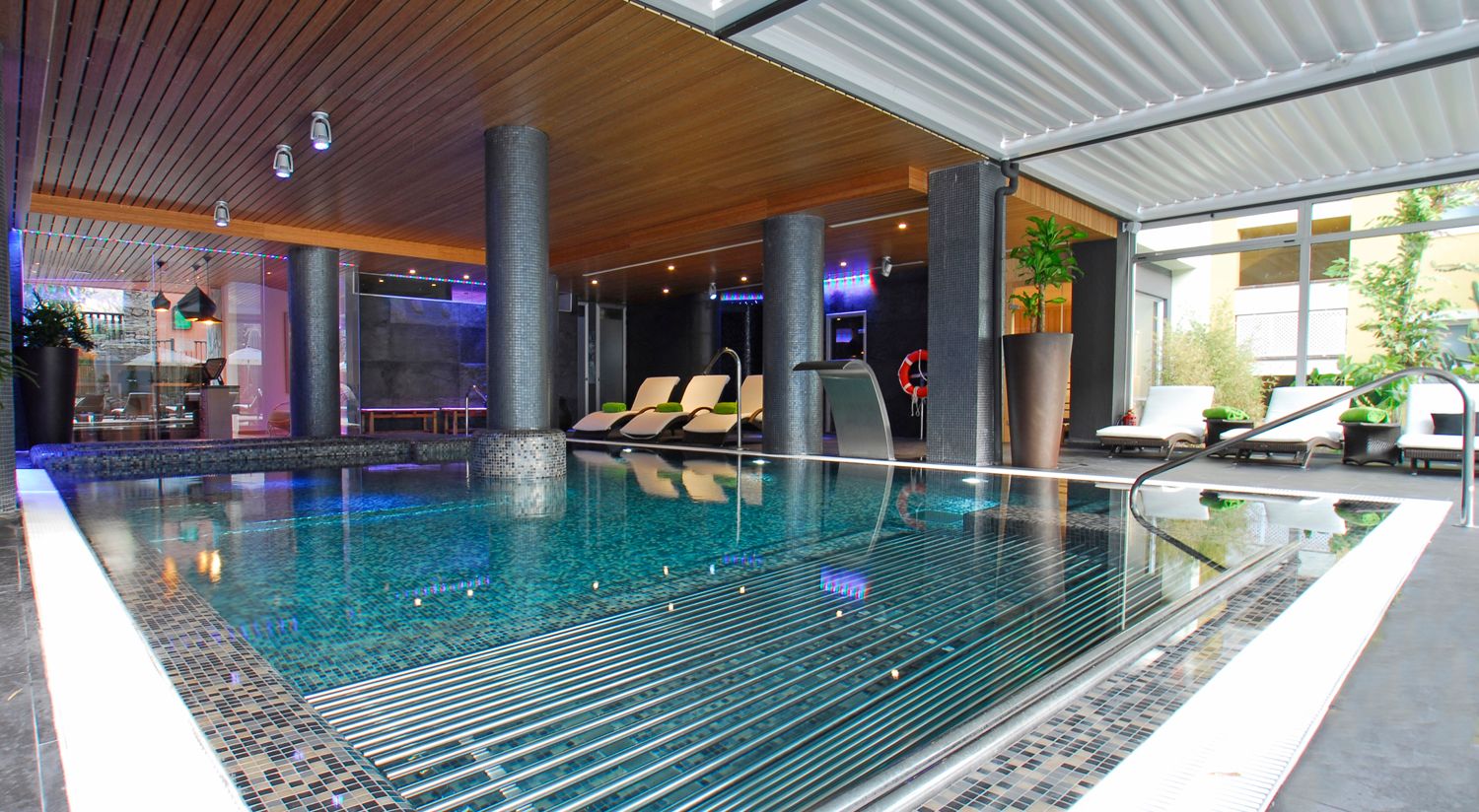 In my opinion, the Hotel Cordial Mogan Playa is the perfect place for families to visit who want to holiday with children, as there is plenty to keep them entertained allowing the adults to still truly unwind and replenish. However, a contrast to this I also feel the more mature couple or singles would also appreciate the village feel to the hotel and the nature surrounding, in all honesty, nobody staying in this hotel would leave disappointed, it's a top pick from me. 
So first things first, when you enter the hotel you may believe you have accidentally stepped onto a cruise ship. The architecture of the Gloria Palace is extremely refined down to the last detail, even to the casual chair design to ensure you feel like you are now on a cruise liner ship, and they have done a marvellous job!
Perched over a cliff top and overlooking a bold, bright blue sea with panoramic views from the cruise liner designed widows, you feel like you could be at the front of a liner heading off into the sunset somewhere. It's a truly stunning sight. The hotel also comes complete with a glass elevator for those who want to experience more of the beautiful views provided.
Something I learned at the hotel is that one of the key features the owner wants the hotel to have is amazing food. They ticked that box; sitting outside in the sun over the cliff watching boats glide by as you help yourself to a delicious style buffet for dinner was a delight. Tasty well-seasoned food was on offer to all, with staff ready to help at every turn. All food was freshly made and was cooked to perfection. Enjoying mealtime is guaranteed whilst visiting.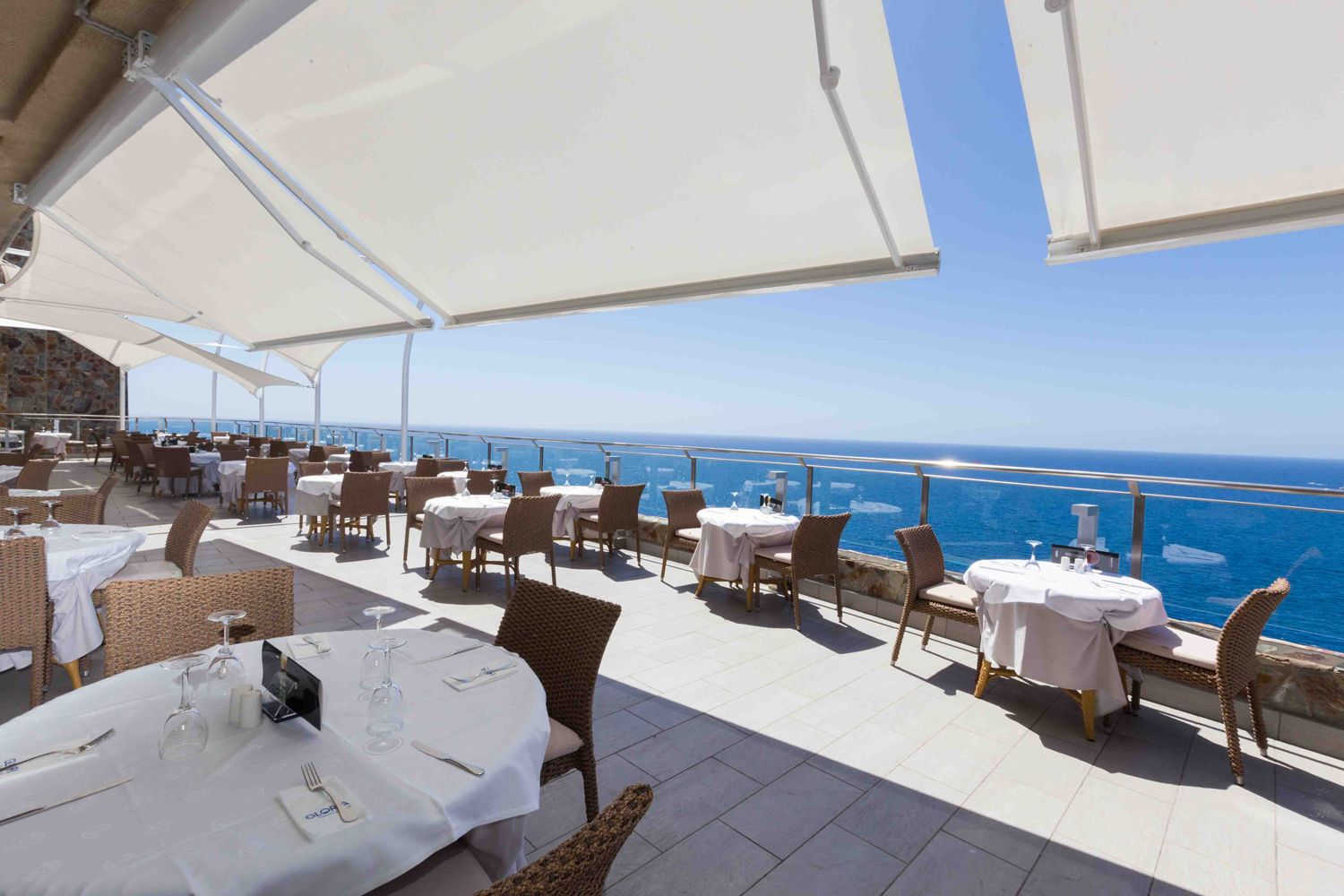 Leading up to the top deck, you are greeted by two outdoor swimming pools ideal for anyone and everyone, couples and families. There was also a very interesting nudist section for those who it takes the fancy! From the pools you again get to enjoy the exquisite views of the ocean beyond, the fresh sea air does allow you to relax and provides a sense of cleansing into the body via the clean sea air. 
In keeping with the water-based activities approach, the hotel also provides a thalassotherapy centre. This treatment was something new to me and I was keen to try it out after learning that this treatment is good for relieving a variety of ailments such as arthritis, respiratory illnesses, and a range of muscle and bone issues. Using seawater in the treatment also allows the body to absorb key elements such as magnesium and calcium, which we often lack due to our hectic and stress-filled lifestyles; these allow the body's nervous system to recover with speed. The treatment is that of a circuit that you change stations as and when the water changes, concentrating on every part of the body; you have a full body massage by the time you have finished.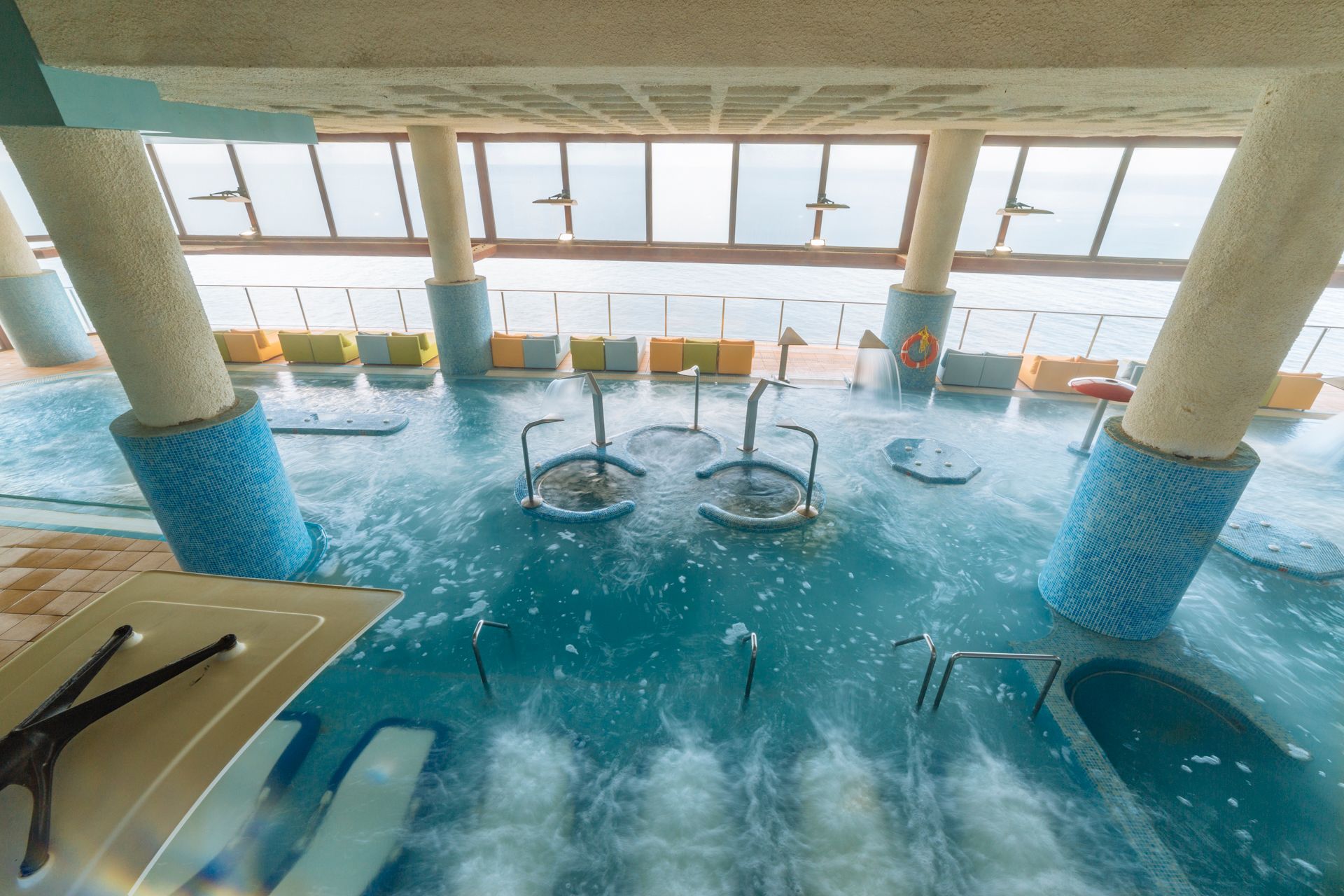 Deciding to take advantage of the Crystal Peeling with Flowers treatment that was on offer as I was soon heading home so what better way than to give my skin a little love with a buff and polish. The treatment involved having your skin washed over and then exfoliated and wrapped for a short time to allow the skin to absorb moisture; you then wash it off leaving you with the smoothest skin you have ever felt. It was fantastic, so refreshing and clean. I then completed my spa journey at the Gloria Palace by sitting poolside overlooking the sea. Does it get much better than that?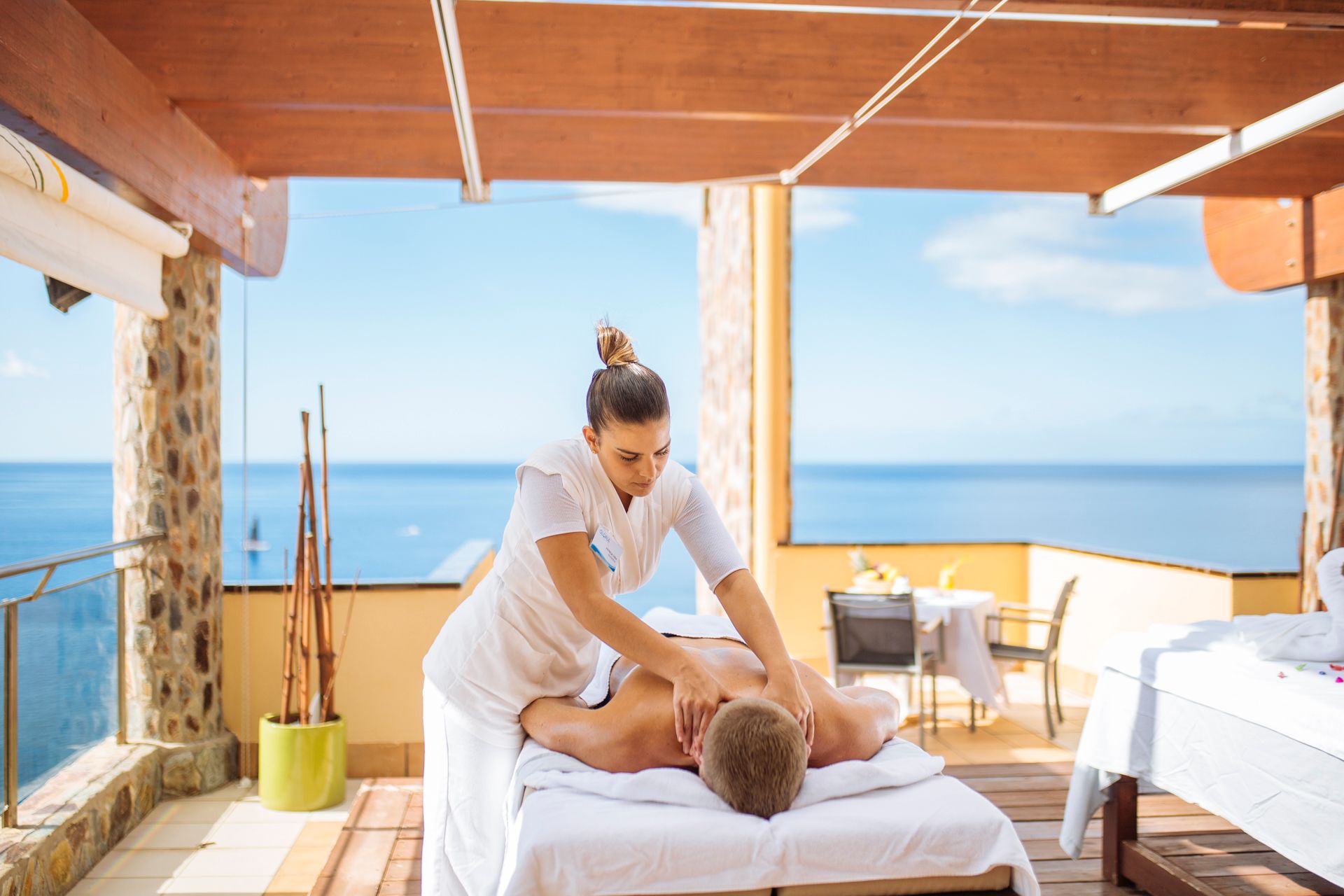 A truly wonderful place for all to enjoy and bask in the delightful treats the hotel has to offer, from unique water treatments for ultimate relaxation to pallette pleasures. A must-visit for friends and families looking for that luxury cruise ship experience.
words by Chantelle Phillips 
For more information, visit www.grancanariawellness.com