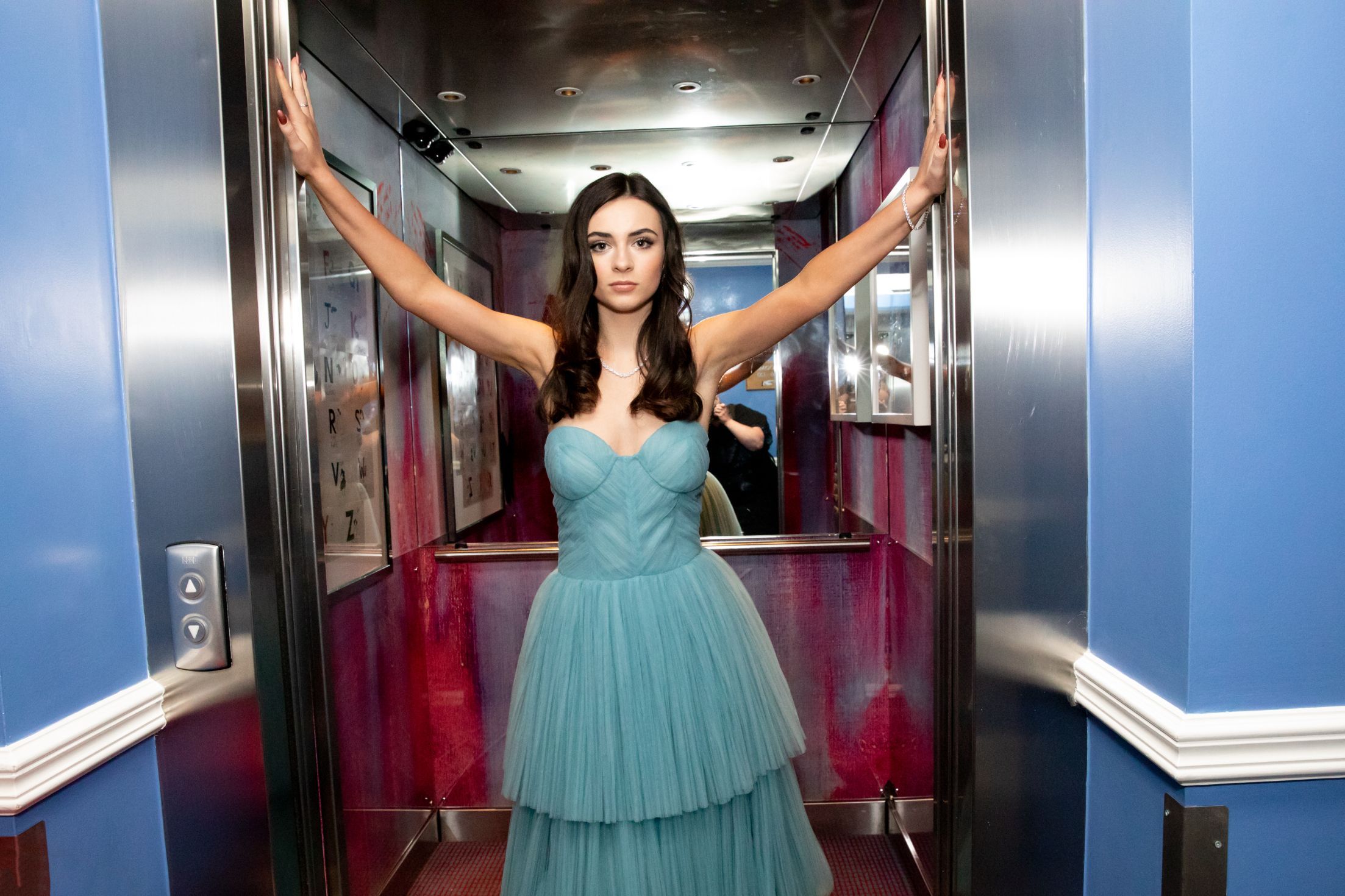 Getting Ready with Lara McDonnell
Ahead of the red carpet premiere of her new film Greatest Days, get ready with actress Lara McDonnell.
After appearing alongside the likes of Cillian Murphy and Judi Dench and appearing in films like Belfast, one wouldn't think a film about a fictional band would be the one to create a deep emotional stir within Lara McDonnell, but that's the beauty of Greatest Days. The film, which is about a fictional boyband and inspired by the Take That jukebox musical, is a love letter to the fangirls inside of us — something rising actress Lara McDonnell resonated with. The 19-year-old rising actress plays Rachel, a music lover who, alongside her group of friends, travels to see their favourite band play one last show 25 years later.
To get ready for the premiere of her new film, Lara McDonnell chats with 1883 Magazine about her skin care regimen, preparing for the role in Greatest Days, and more.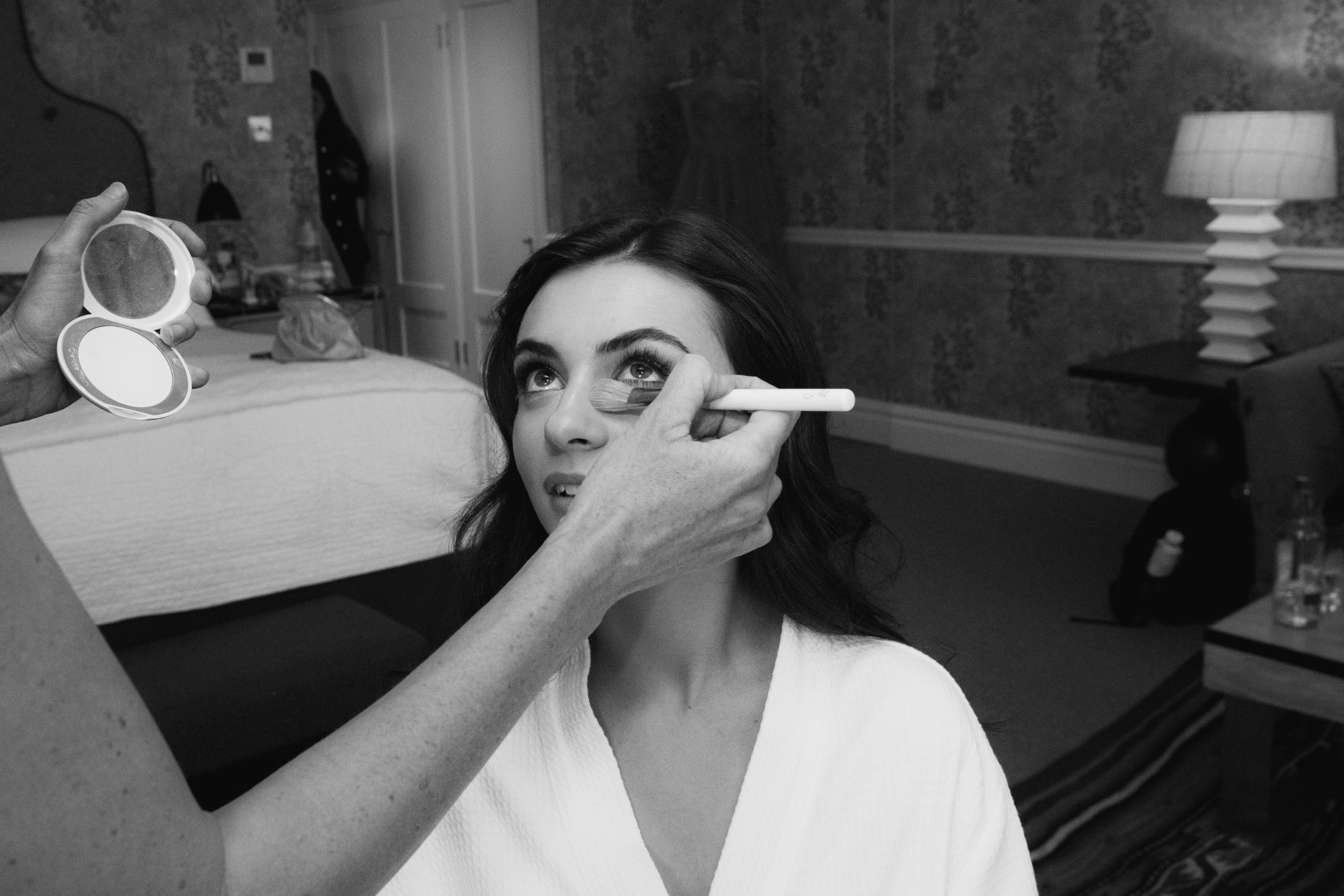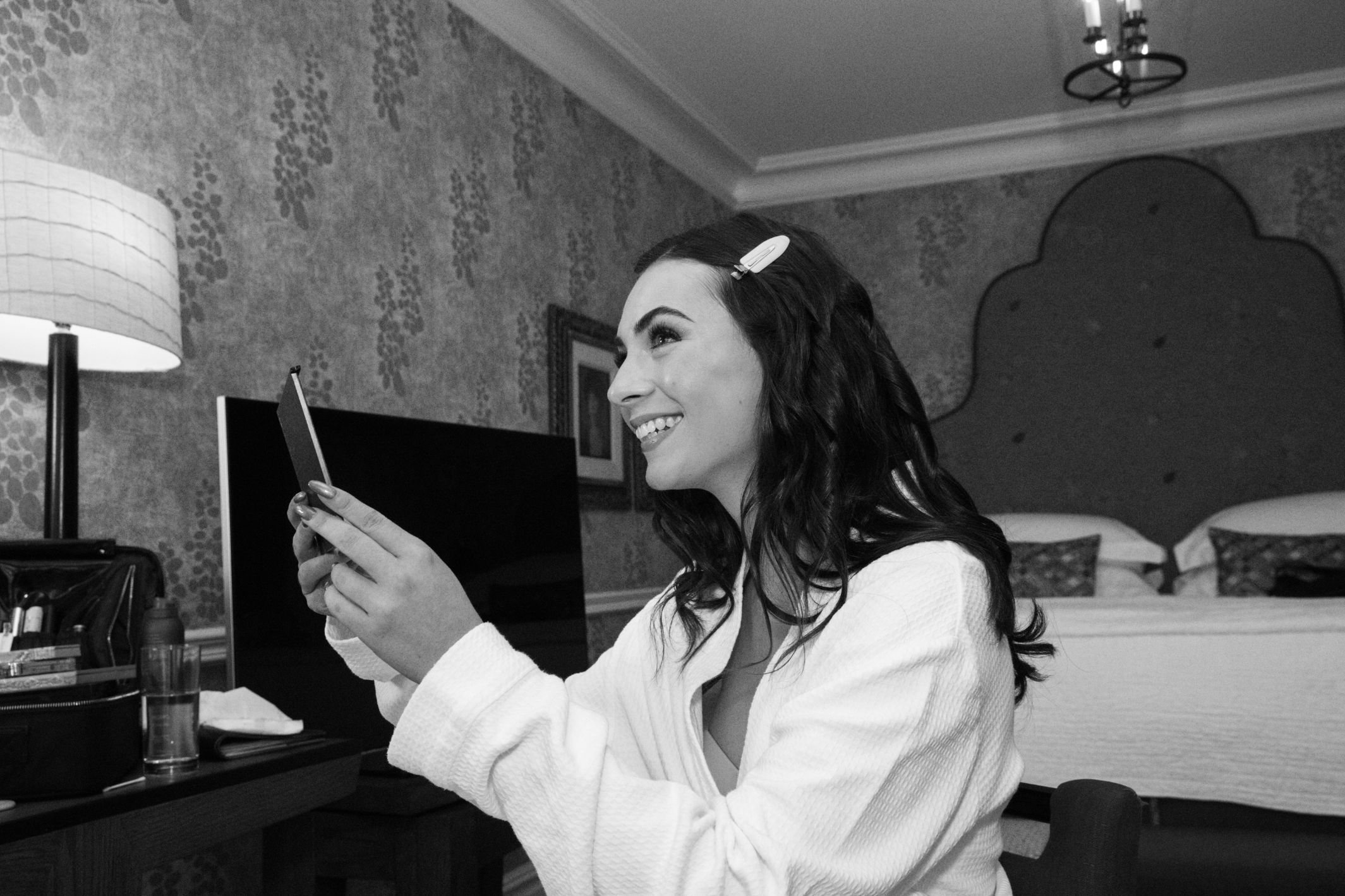 What facial cleanser helps you wake up?
I'm a huge fan of Pai Skincare as it is organic and 100% vegan, and my cleanser of choice is their 'Middlemist Seven' cleanser. It always makes me feel clean and fresh and calms my skin before I start my day.
Are you a full face morning person, or do you prefer a more natural look?
Personally I prefer a more natural look during the day, especially in the morning. I like to let my skin breathe as I go throughout my day as it just leaves me feeling fresher and I don't have to worry about accidentally rubbing my face of make-up off!
You're going for a morning coffee – what do you immediately pull out of your closet?
I think it has to be a pair of flare leggings. Not only are they ridiculously comfy but you can style them in so many ways depending on how you are feeling on your morning coffee run! They can be dressed up or dressed down and just have that lovely combination of style and comfort.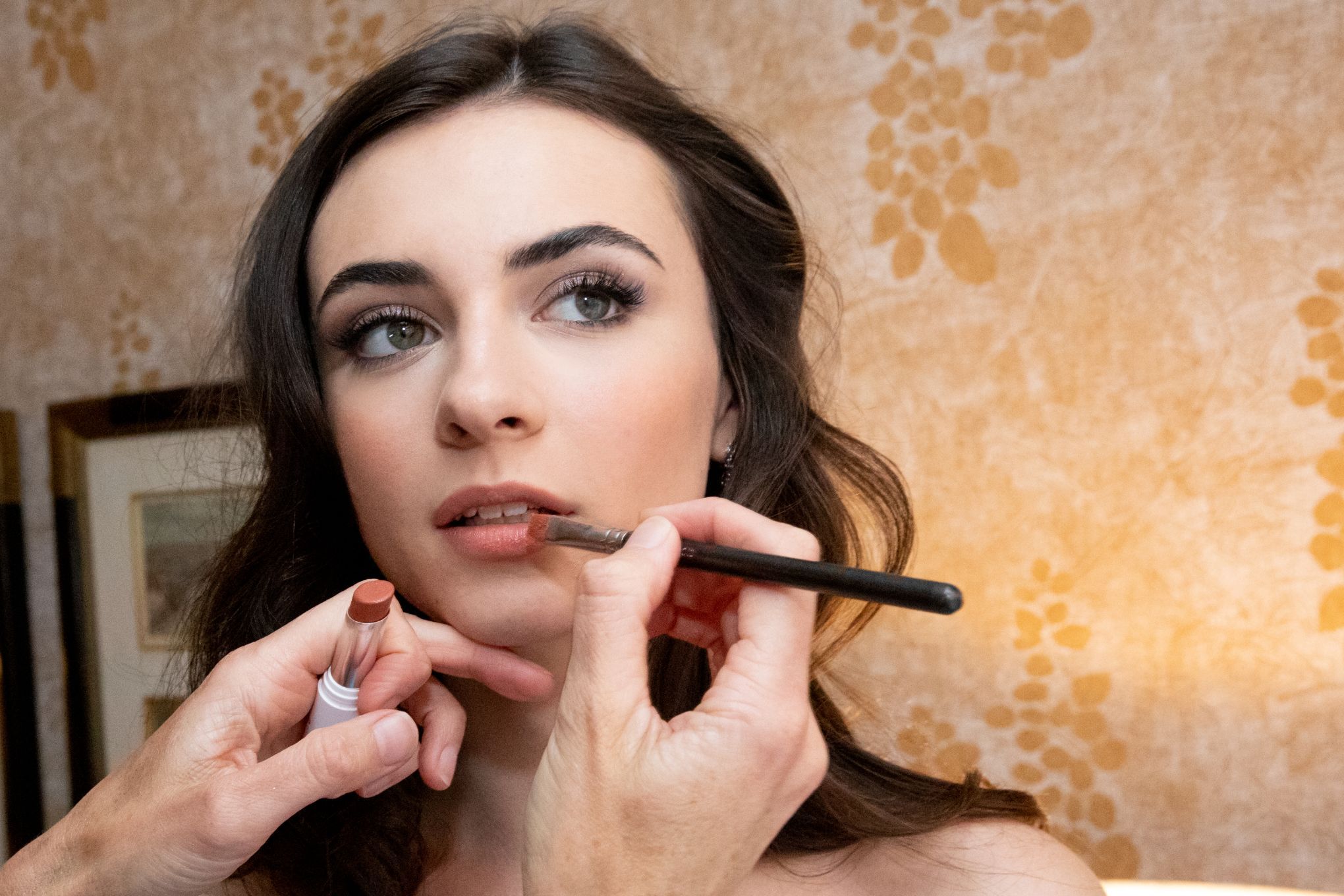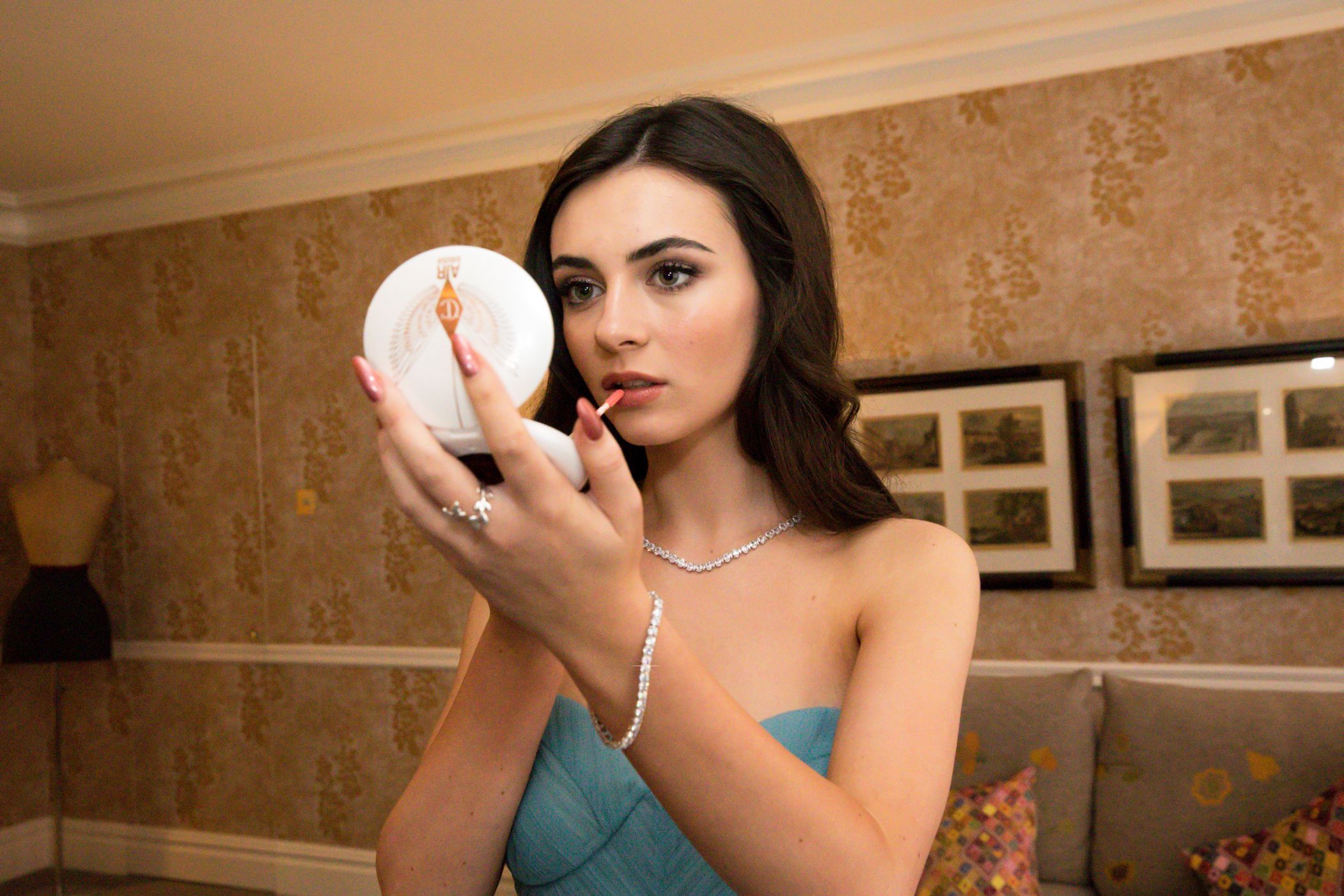 What's your go-to daytime look that could easily be transformed to night?
My favourite go-to outfit that I know will be doubling as my daytime and night-time look is a pair of wide jeans with black boots, a cropped t-shirt and my favourite vegan leather jacket. Perfect for meeting up with friends for a coffee or lunch or for drinks in the evening.
What are your favourite daytime shoes?
I'm a short girl but am a huge fan of long, baggy jeans… Not the perfect combination, especially when it is raining. So my favourite solution to this problem is platform trainers! I wear them absolutely everywhere and they have the added benefit of making me look like I had a growth spurt overnight.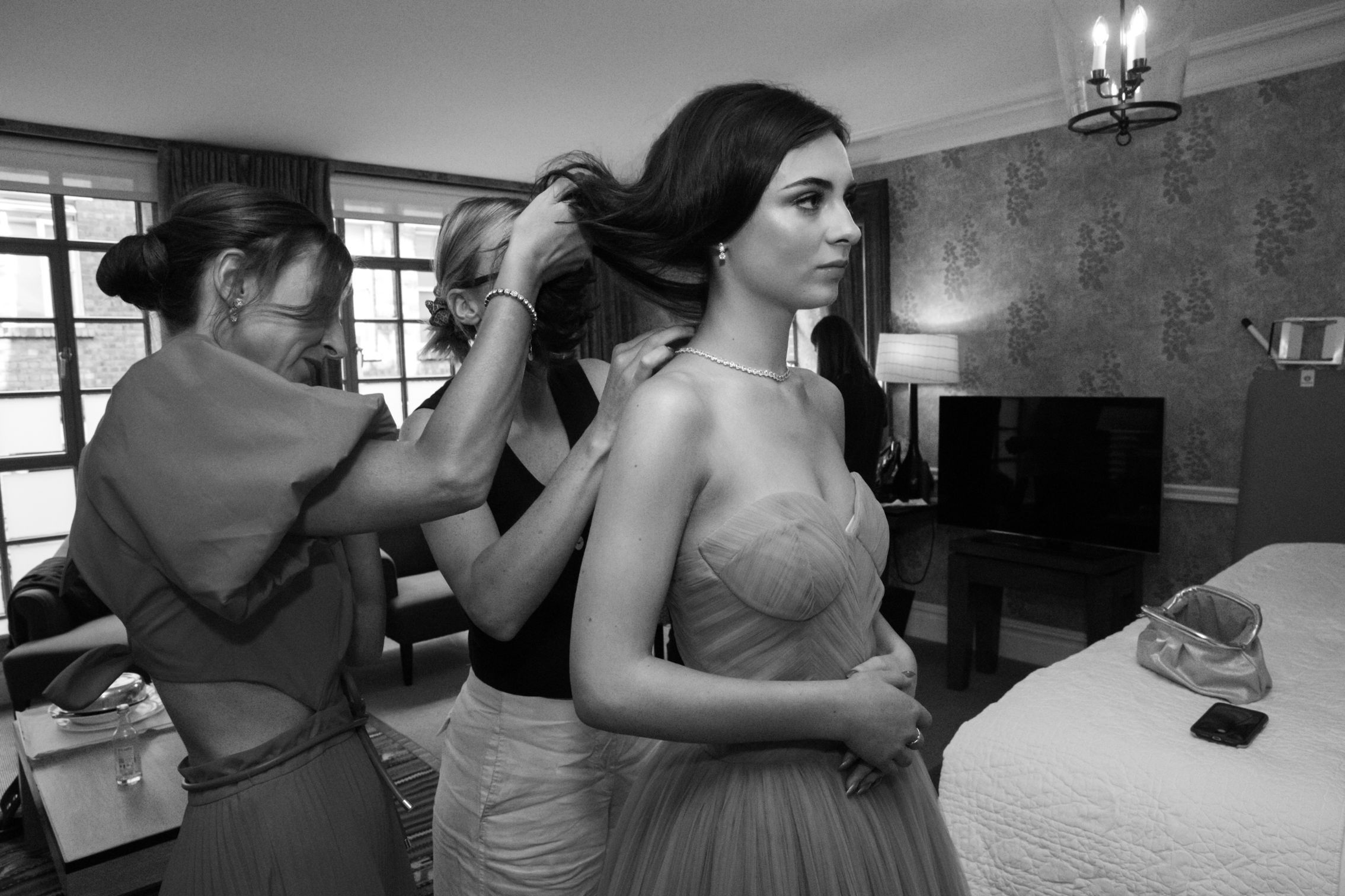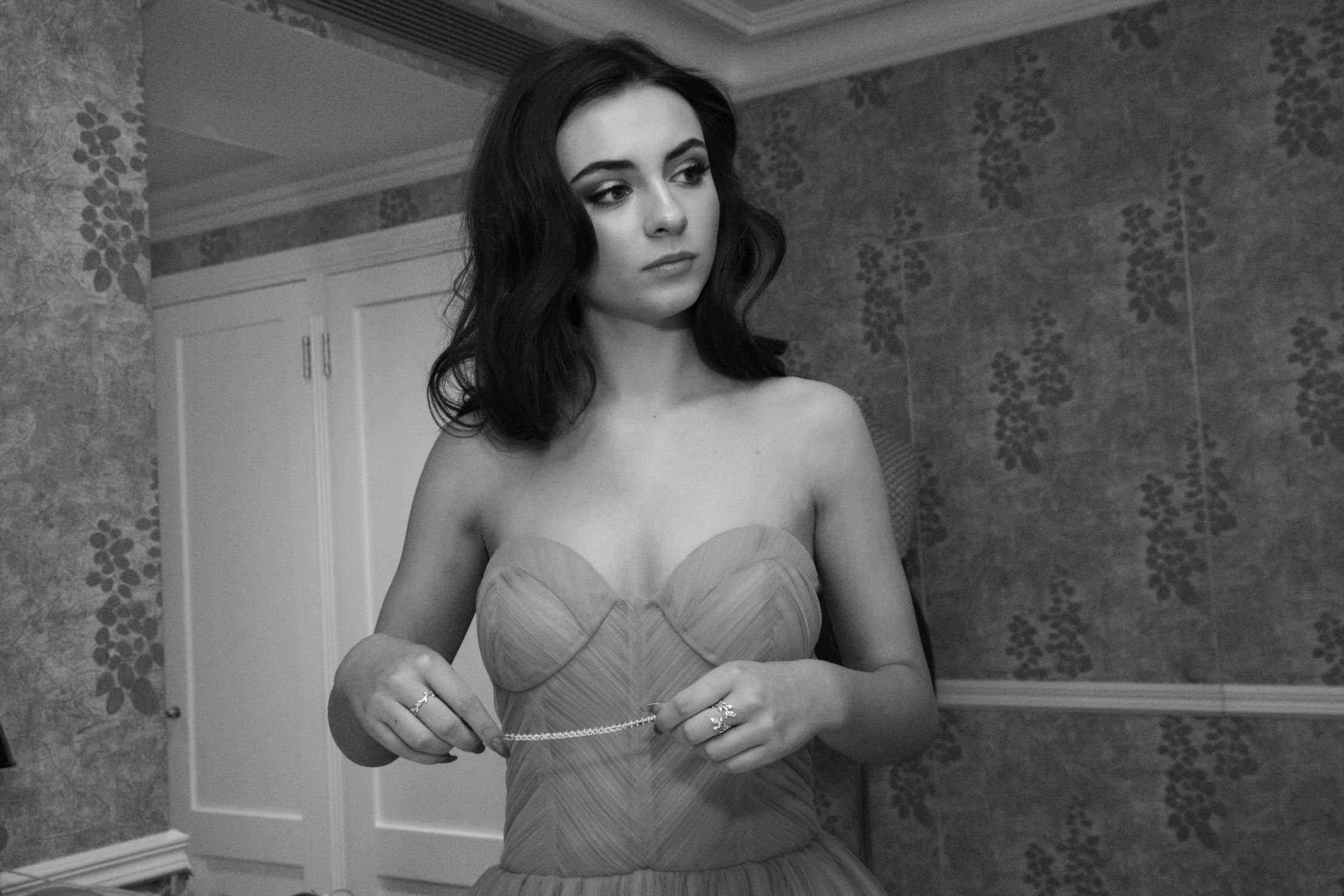 What music are you listening to while getting ready for a night out?
A little bit of everything but with a strong emphasis on the 80s and 90s. Oasis are always my go-to, a proper headbanger is the perfect way to prepare for a night out.
What's your favourite nighttime lipstick?
My go to is the bare Minerals BAREPRO Longwear Lipstick in the shade 'Petal'. I like to keep my make up quite natural and the colour manages to do just that while also standing out. It also always lasts so I never have to worry about reapplying it while I'm out.
What's a go-to song to play to get you in a great mood before an event or red carpet?
I think my current favourite is Blue Monday by New Order. I think it is the perfect song to get you fired up and excited. I hear it and feel ready to conquer the world.
What is something you like to have with you as you get ready for an event?
A speaker to play my music off of. Music just always makes everything better and I love being able to bop along to my favourite songs as I get ready.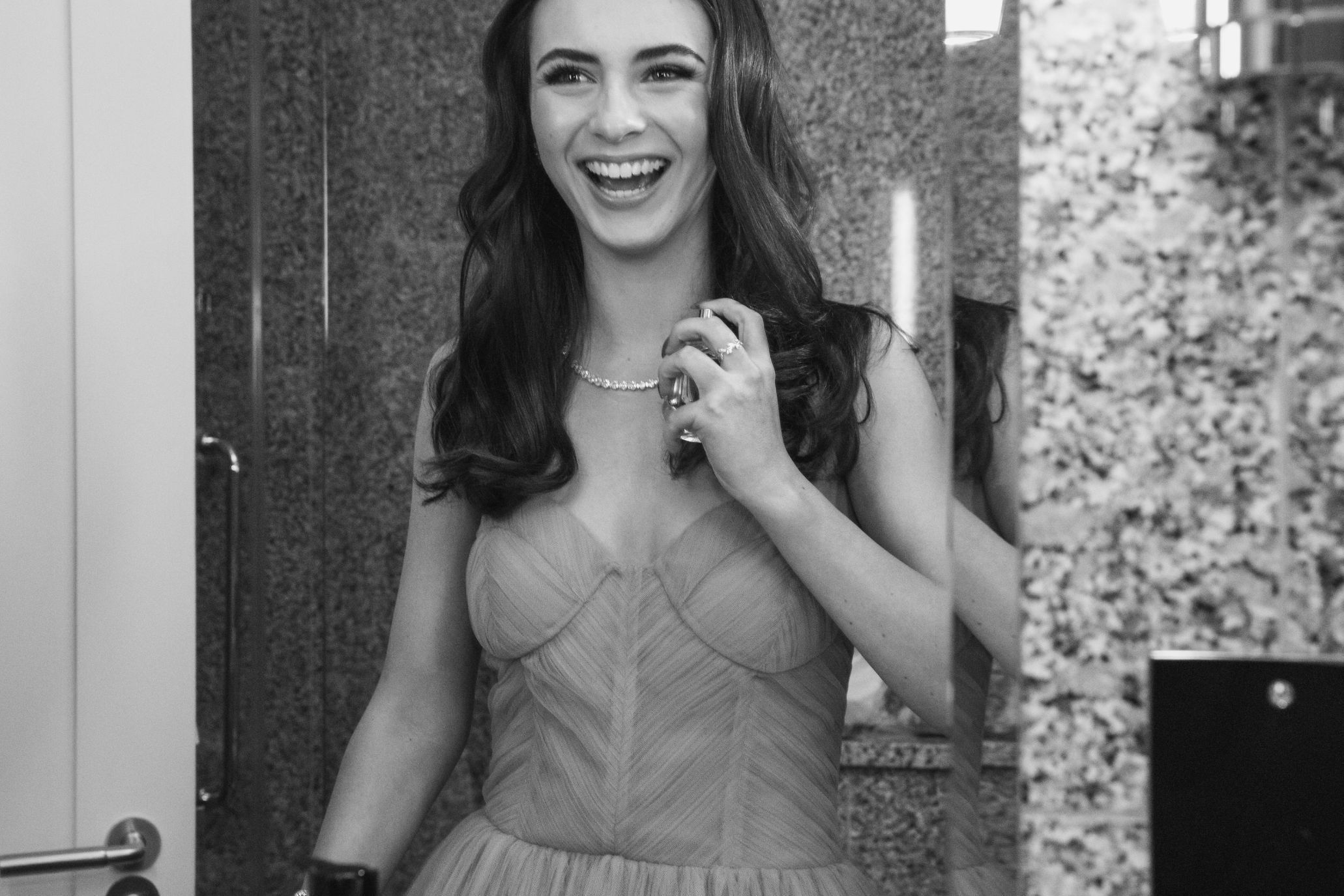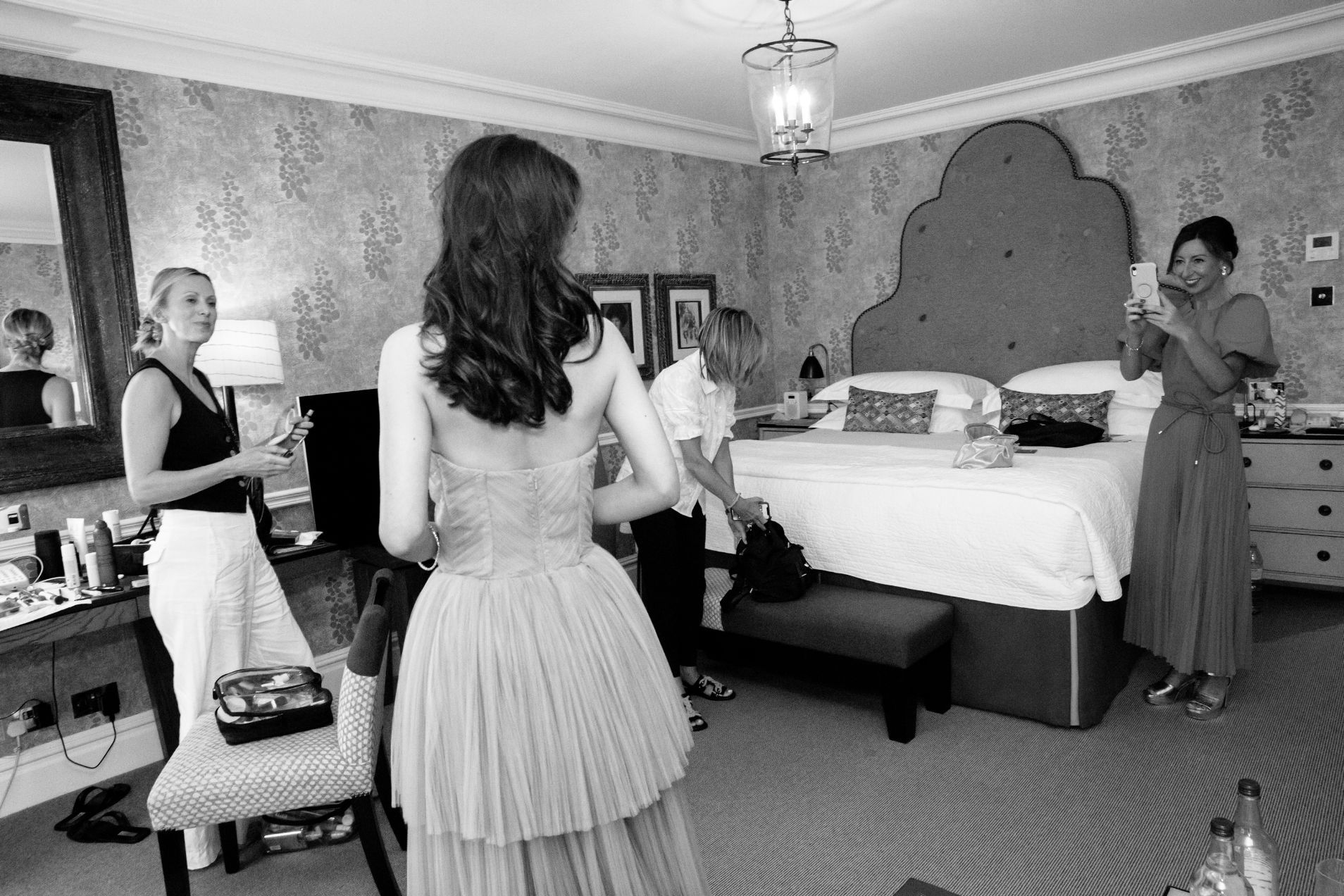 You started your career when you were 11 performing on the West End in Matilda the Musical. How have you grown and developed as an actress between then and now?
I definitely think that Matilda was what began the moulding of the actress and person that I am today. I was so young and it was my first big role and what a role to begin with! I was already very similar to Matilda in that I was a quiet bookworm (I could and cannot move things with my eyes) but the message of the show always resonated with me, especially the first time I ever saw it. The message of 'even if you're little you can do a lot' changed my life and then having the honour to share that message to so many other people when performing was a privilege and I understood just how much power a story such as Matilda had over people's lives and that is something that has always stayed with me.
Since then, I've been incredibly lucky to have so many different, amazing experiences both in my career and in my personal life and I think over the years I've become more open to trying new things, new ideas and becoming more comfortable within myself, which is definitely a credit to all the brilliant directors, cast and crew I have worked with. Every role is different and so is every job and because of that you learn to become flexible and try new things while also taking in new lessons and nuggets of knowledge from each of these different adventures and I have definitely become more absorbent in these lessons over the years.
It's amazing that you were able to get work experience during school on the set of Death on the Nile, which had you working in various departments. What was that experience like for you?
It was incredible! It was the most amazing, invaluable education I could have ever received. I've been lucky enough that I've been working in the industry since a young age and so have grown up watching all these departments at work and I really wanted a better understanding of what a day at work is like for everyone in all these different areas of filmmaking. I already had such admiration for all that everyone on a set did but stepping into each crew member's shoes for a day just gave me a new level of appreciation for the work that they do.
Every role on a film set is vital, without them the film could not be made and so I hoped to walk away with a better understanding of all the incredible hard work they do while also gaining an insight into the detailed workings of each department. It is an experience I am incredibly grateful for and it provided me with knowledge and an awareness that I will carry with me on every project I work on for the rest of my life.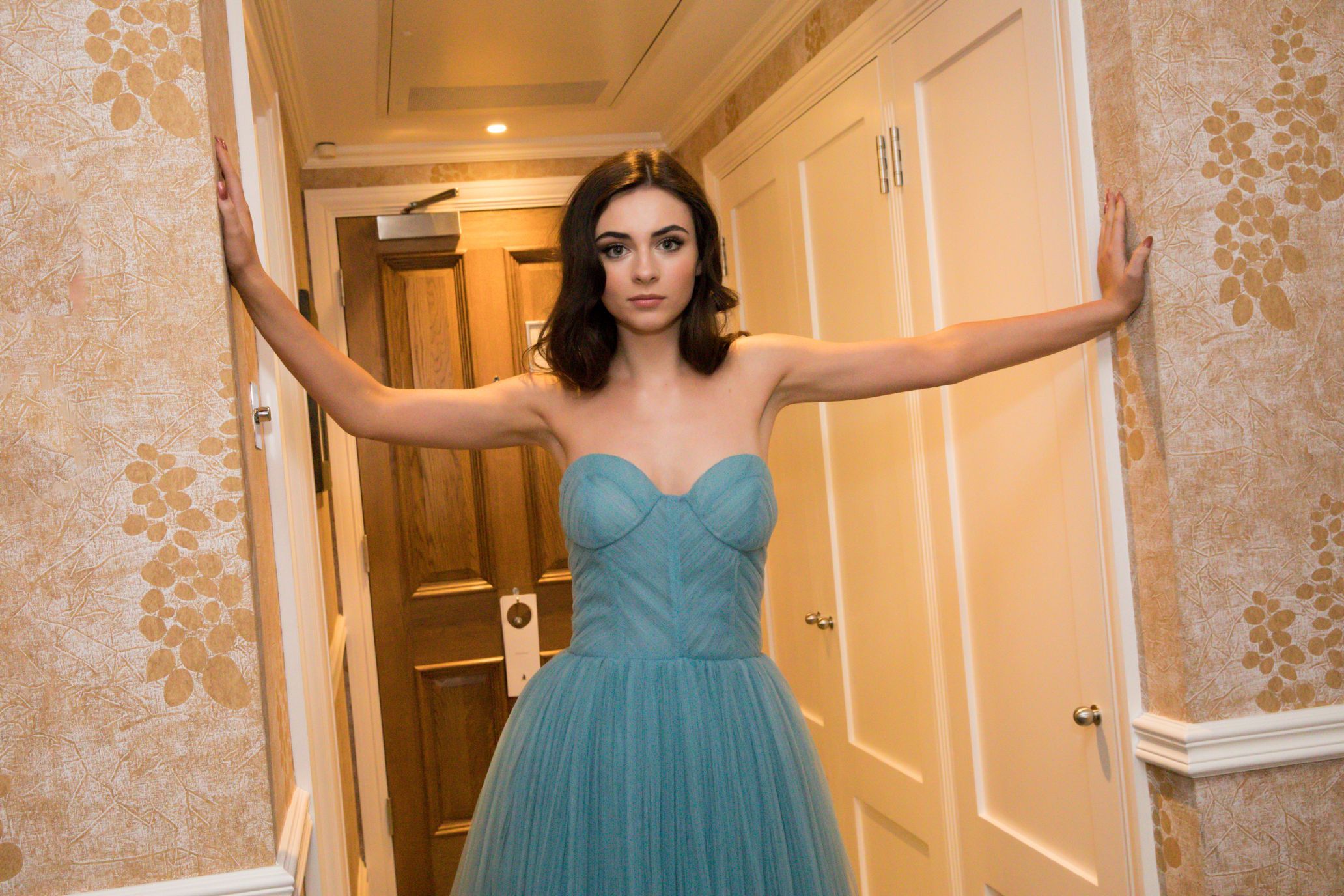 Your latest project is Greatest Days, a film adapted from the Take That jukebox musical. You portray Rachel, a huge music lover. What attracted you to the part and the film?
I remember reading the script for the first time so vividly. I was sat in my kitchen late at night and I remember bawling my eyes out. In reading it I had connected with the girls so much. I saw so much of myself and my friends in them so I really felt like I was along for the journey with them, just from reading the script. It's such a beautiful, powerful, moving story and I knew I would be so lucky and grateful if I was able to have a part in bringing it to life. Also the fact that the film is a musical is just amazing! I am a massive theatre kid and so the fact that I got to sing and dance on a film set was something I had only ever dreamed of. Especially with these songs. They have such great meaning to so many different people over so many different generations and that I was privileged enough to be able to perform them and be a part in giving new meaning to them is such an honour.
Was there anything in particular that you did to flesh out your character? Did you watch films on groups, like The Beatles, that caused mania in fans? Did you make any playlists for your character?
When first auditioning for the role, I dove straight into researching Take That. Despite the film not being specifically about them, it is their songs that shape this beautiful story and where so much of the inspiration for the story came from. I learnt as much as I could about them, while listening to their songs on repeat. I wanted to know as much as the fans do! These girls feel so close to The Boys, as if they know them, so much to the point that Rachel conjures them into her life as her guardian angels, and so I wanted to understand what it was to have known absolutely everything about a band, to the point that they became such an intimate part of your life.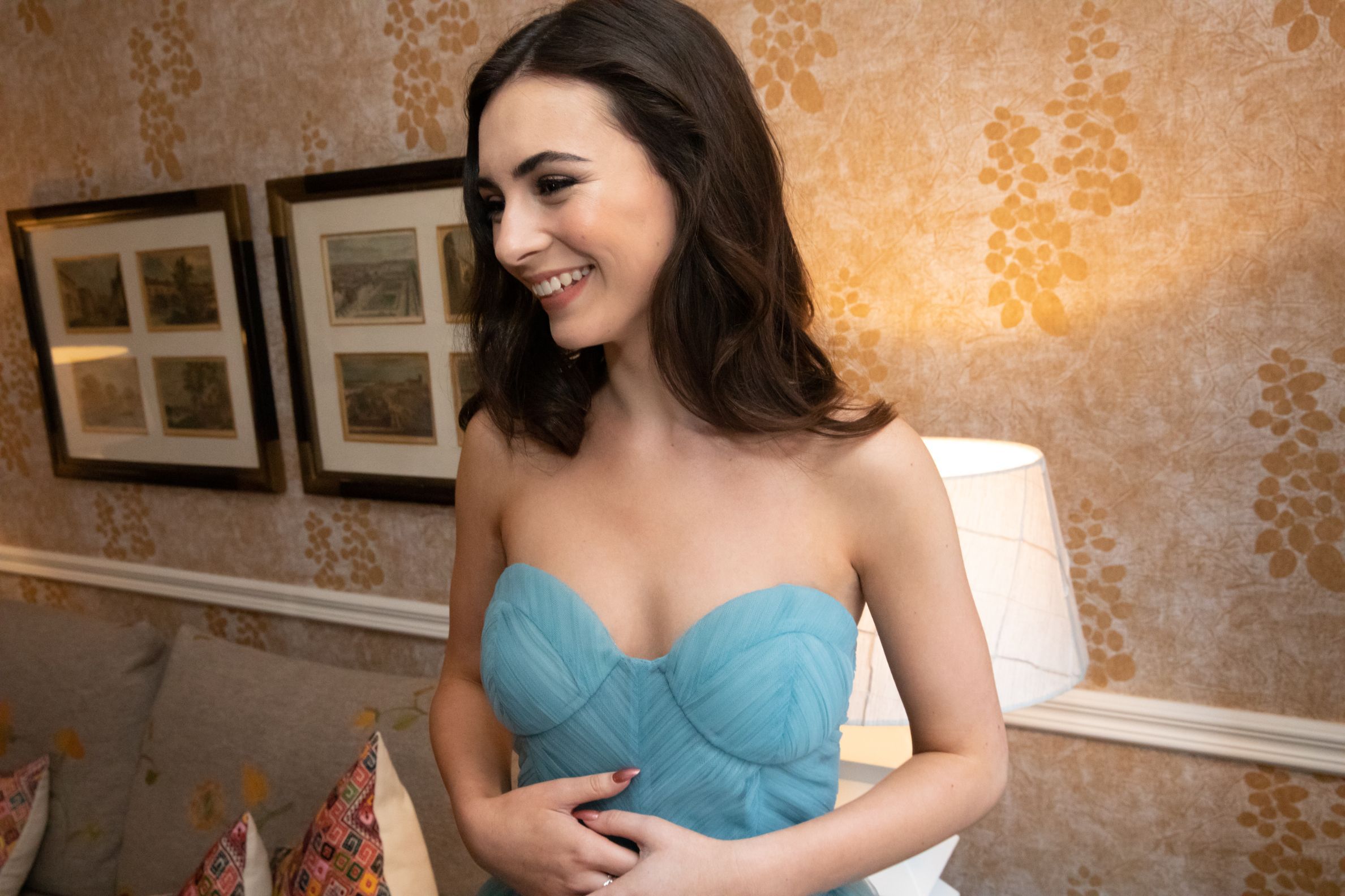 The wonderful Aisling Bea plays the older version of your character and in a past conversation with 1883, she stated that it's important to pick out certain things in one's character that you can relate to. In that case, what is something that you can relate you with Rachel?
I think one of the biggest elements of Rachel that I connected with is the role of peacekeeper she has taken on in the group of girls. She always wants to make sure everyone is happy, taken care of and at ease. I definitely would describe myself and have been described by others as the 'mum of the friend group'. It just gives me so much joy being able to take care and be there for my friends and I think Rachel is very much the same. Her friends and their happiness are her whole world.
Is there a musician that you personally feel crazy about like the characters in Greatest Days?
Oh my goodness there are so many, I am an avid music fan. I am a massive oldies fan and when I was the same age as my character I was particularly obsessed with Queen, they were my whole entire world. Now I think it would be Oasis. Even when I hear a song of theirs while out in a shop in a restaurant, I become so excited, it will make my day.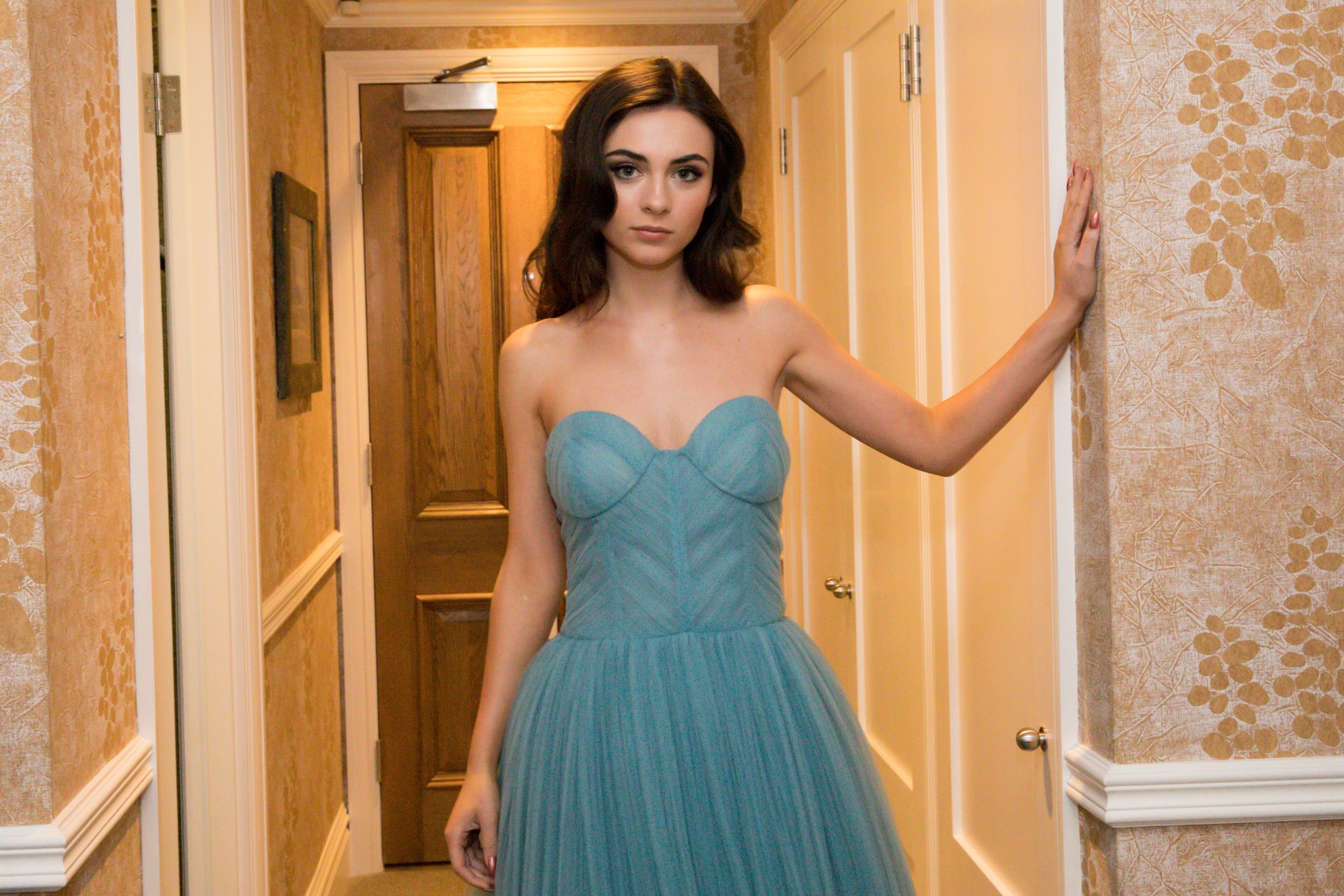 What do you think audiences will resonate most with after watching Greatest Days?
I think a lot of audiences will walk away after watching Greatest Days feeling rejuvenated. One of the core messages of the film is the celebration and appreciation of youth. In the film we see the two timelines of the girls, their sixteen year old selves and then 25 years later, and despite nearly everything changing in those 25 years apart, when they come back together we see a reincarnation of their teenage selves and I think it shows that we never lose that bit of ourselves.
Over the years layers of different experiences are laid down but still underneath all that is that sixteen year old self who feels invincible and immortal. And we should embrace that part of us more. Remember who we were and where we came from, the hopes and dreams we had and to keep that hope and invincibility alive. I think the film will remind a lot of people to not only do that, but will bring them back to their teenage years. And I hope that that nostalgia will leave audiences reinvigorated and empowered and that they will embrace that feeling as the girls in the film do.
Lastly, if you could manifest anything for yourself this year, what would it be?
I think I would manifest more projects! I do truly have the acting bug and at all times am desperate to be working on something. Acting really is my happy place and being immersed in a project feels like home to me. It's my most natural state and where I feel I belong and so really cannot wait to be working again.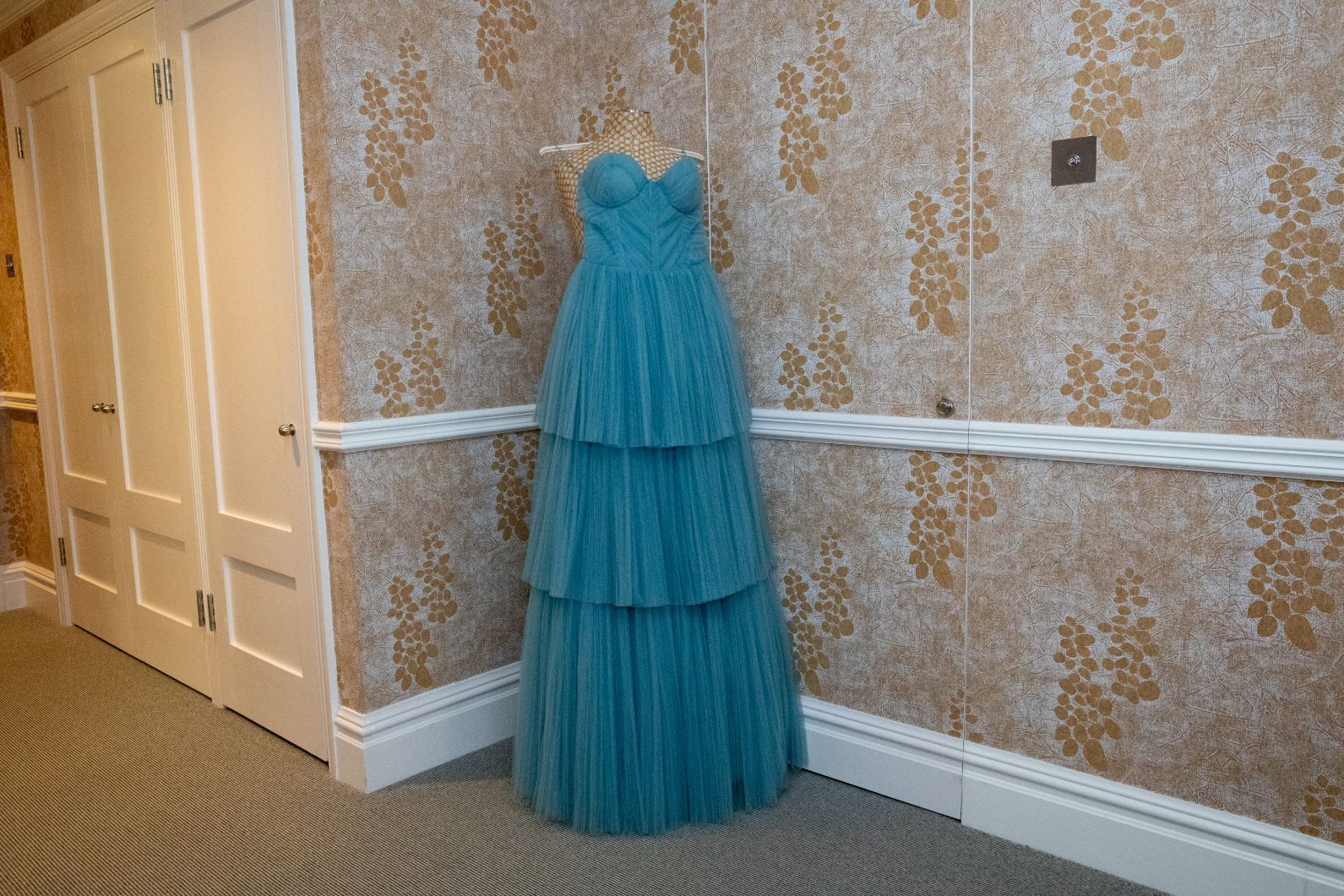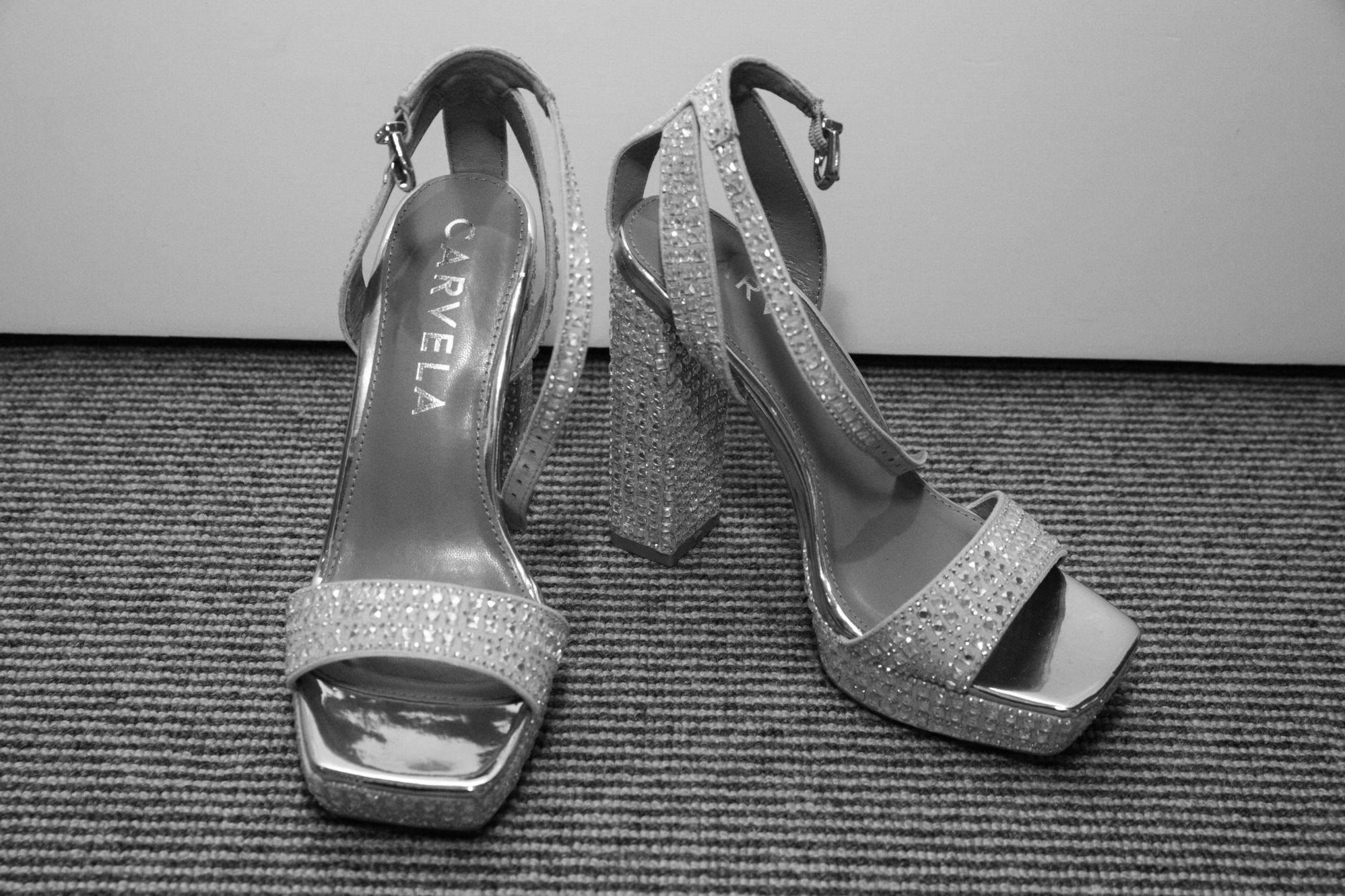 Greatest Days is in UK cinemas now.
Interview Kelsey Barnes
Photography Jemima Marriott
Hair and Make Up Charlotte Yeomans