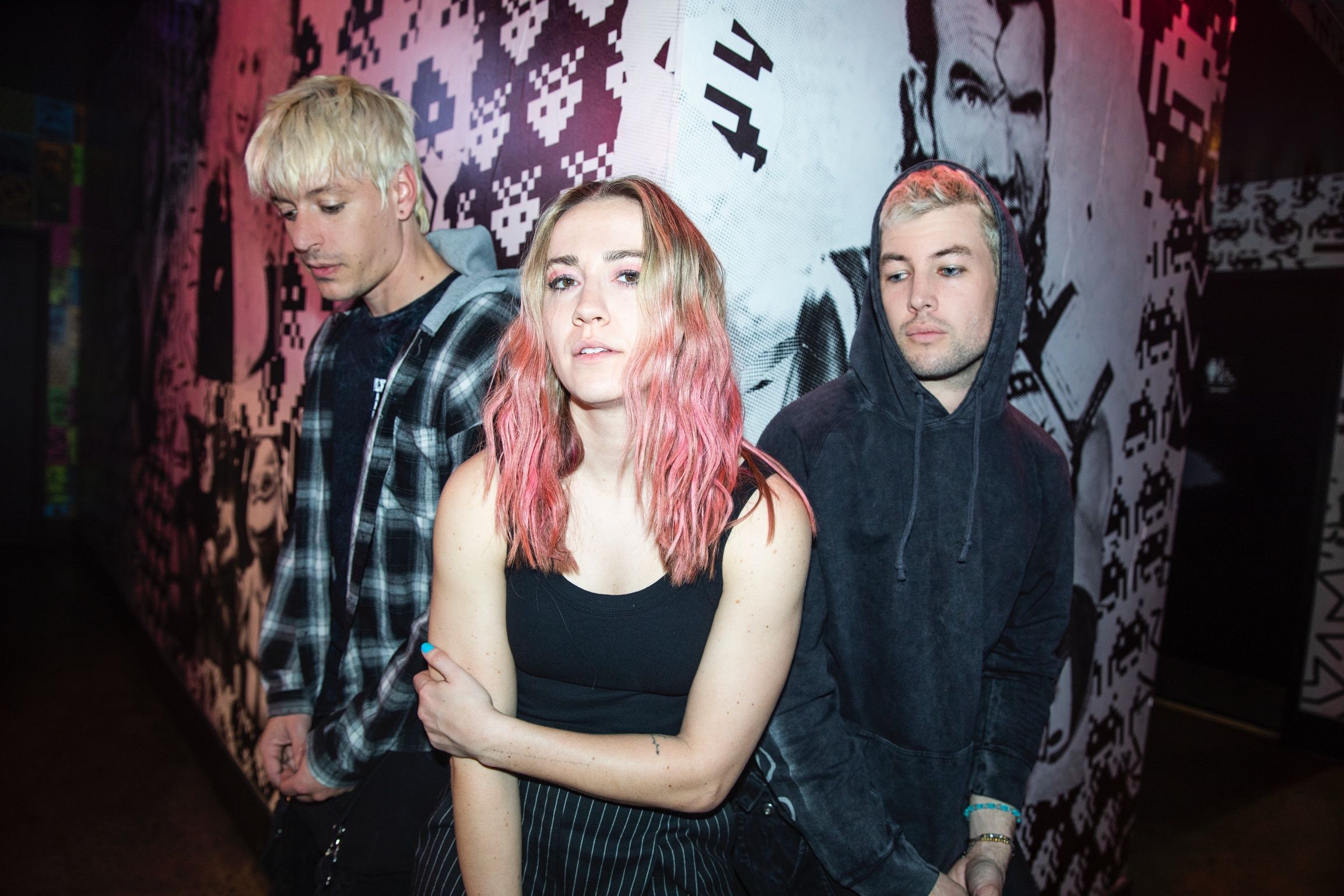 18 Questions with Senses
18 Questions With introduces 1883 readers to the brightest young artists, actors, creatives and beyond. From childhood memories and guilty pleasures to their latest ventures and upcoming projects, our goal is to bring you closer to the people who inspire and entertain us. 
---
LA pop-rock trio senses are electric. After meeting a few years back on Craigslist and immediately finding chemistry in the studio, the group has been steadily releasing singles over the last couple years. Last year, their single "Sleepwalking" received praise across press, Spotify editorial playlists and Alt / mainstream radio. They just dropped their latest single "gonna make sure," the breakup revenge song that you'll soon be blasting on your speakers. The track is electric, full of emotion and vulnerability, and a hook that will have you headbanging in your car. 
1883 Magazine chats with senses about "gonna make sure," their recent tour opening for Carlie Hanson, and their dream festival lineup. 
What's one exciting thing that happened to you this week?
Our new single 'gonna make sure' came out!
What was the last thing you read?
Dave Grohl's book 'The Storyteller' (not kidding)
Favourite memory growing up?
Madison – Anytime I would be up at the cabin in Wisconsin with my grandma – pure paradise
Nick – Having my golden retriever Jake growing up – he was my best bud.
Josh – I always loved going to the lake to swim, it was always the most relaxing.
Where was the last place you traveled to?
We all just went to Chattanooga to play a show – we'd never been there, and it was super cool!  Way bigger of a city than we thought it was.
What was the last thing that made you laugh?
Honestly I (Madison) laugh about absolutely everything so I don't even think I could pinpoint.  They laugh at how much I laugh.  But honestly when we're together there's always some sort of wild thing said that gets us going for a while.  Recently it was us talking about stool samples but the actual furniture.
What's your night time ritual?
Definitely a good face cleansing ritual with all the fun serums and lotions. Taking all of our dogs out, and sadly, falling asleep editing TikTok videos.
Who would be on your dream dinner party guest list?
For Madison it would be Miley Cyrus and Susan Sarandon. For Nick it would be Kristen Wiig for laughs, and Josh it would be Tom DeLonge. 
Favourite quote from a film or TV show?
Madison – "I'm not a box, I don't have sides" from Postcards From the Edge
Nick – "American cheese is the best cheese for a cheeseburger because it melts without splitting" from The Menu
Josh – "It's okay that mine's not movie quality" from Step Brothers
What's your go-to karaoke song?
Madison – "Heartbreaker" by Pat Benatar for sure!
Nick – Anything Creed.
Josh – "My Own Worst Enemy" by Lit, hands down!
Favourite item in your closet?
Madison – For me right now it's my collection of overalls. They are so versatile and comfy and fun.
Nick – I just got my new yellow sweatshirt from Deus Ex Machina that my boyfriend thrifted for me.
Josh – My first acoustic guitar I ever owned for sure
Tell us about your latest single "gonna make sure" – what's the inspo behind it?
A really awful ex. It's when you put so much into a relationship just for it to be one sided and the other person ends up treating you so badly, when you were genuinely trying. It's that irrational moment after a bad breakup that you just wish the worst karma coming back to that person.
Where is the best place to listen to "gonna make sure"? 
In your car so you can belt it at the top of your lungs as you pass people on the highway clearly not having as much fun as you
In a few short words, describe your music for someone that's never heard it.
Exciting, in your face, driving, and moody.
If you were to play a music festival, what would be your dream festival lineup?
Paramore, Miley Cyrus, Blink-182, Evanescence, The 1975, Billie Eilish, Bring Me The Horizon, Muna, P!nk– wow there are so many that would be awesome to play with.
What was it like touring with Carlie Hanson? 
We had such a blast. Carlie and her entire camp were so welcoming and fun. We truly could not have asked for a better headliner for our first tour. She absolutely loves what she does and it was such a good time. She is the homie!
What other bands/musicians inspire you when you're making music?
We're inspired by so many artists. Lately we've been really inspired by Waterparks, Muna and Miley Cyrus, but it really just depends on the day for us!
What is one song that you love and wish you had written? 
Hands down, "Landslide" by Fleetwood Mac.
Where do you hope your music career takes you this year and beyond?
We just want to keep growing and connecting with people! The tour was so exciting and we just want to keep that momentum going and get our music in front of as many people as possible.  Hearing how people connect with our songs has been the biggest inspiration and feels so good when you go to new places where a lot of the people haven't heard of us yet, and they tell us after which song they liked to hear and they've become fans. It's amazing!
Listen to "gonna make sure" now.