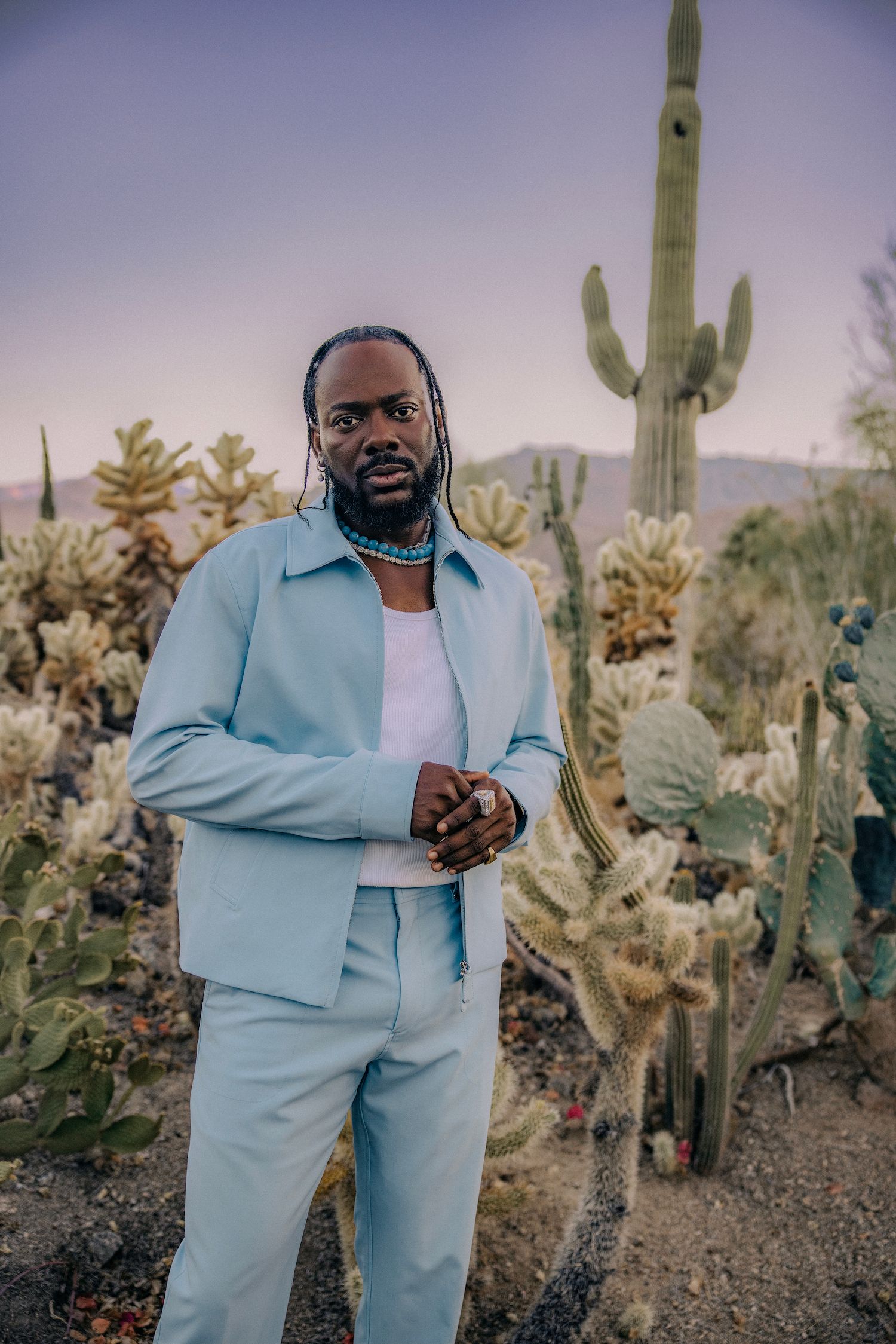 Adekunle Gold
Tequila Ever After is the latest album from the ever-evolving Afrobeats artist Adekunle Gold.
From his 2017 debut Gold to his latest release Adekunle has grown and transformed his sound like nobody else. Tapping into everything from High Life to Afrobeats to Afro-Pop and now with the infusion of R&B and Pop that you hear across his latest offering, his development into the international artist he has become is one that has been a journey and a half. With over 2 BILLION streams across his catalogue, 150M views on his YouTube, and 300M streams on his last album alone, he is on another level in his career and is only continuing to soar. 
Hailing from Nigeria, he gained traction when he released his debut single, Sade, in 2014. From that moment, he has been on a journey that has seen him release five studio albums, each of which has cemented his ever-evolving growth in terms of his sound and artistry, Not to mention his enchanting melodies, lyricism, and everything that has placed him as a name to respect in his genre.
Tequila Ever After is an exploration of a series of conversations over a drink of Tequila, which inspired the project after experiencing Tequila for the first time last April. The 18-track features, which feature several heavy-hitting collaborations including Khalid, Pharell, Nile Rodgers, Simi, Ami Faku, and Coco Jones, to name a few, is a perfect celebration of the carefree nature that exists across the project. Working with the likes of Kel-P and US producer HARV the album is a blend of what many have come to love and appreciate about the Adekunle Gold sound. Not to mention the continued growth and evolution with some of R&B, Pop, and Afrobeats finest to build this sound.
The album has arrived at a point in his career where he is getting the notoriety he deserves and has been building towards over his ten-year-plus career. He will embark on his most extensive tour later this year, including a stop at London's OVO Arena in Wembley. Not to mention having recently inked a global deal with Def Jam, Adekunle is elevating to a new level in this career, and this album is evidence of that.
1883 Magazine talks with Adekunle Gold about everything from his new album, finding inspiration in tequila, the upcoming show, his ever-evolving career, and more.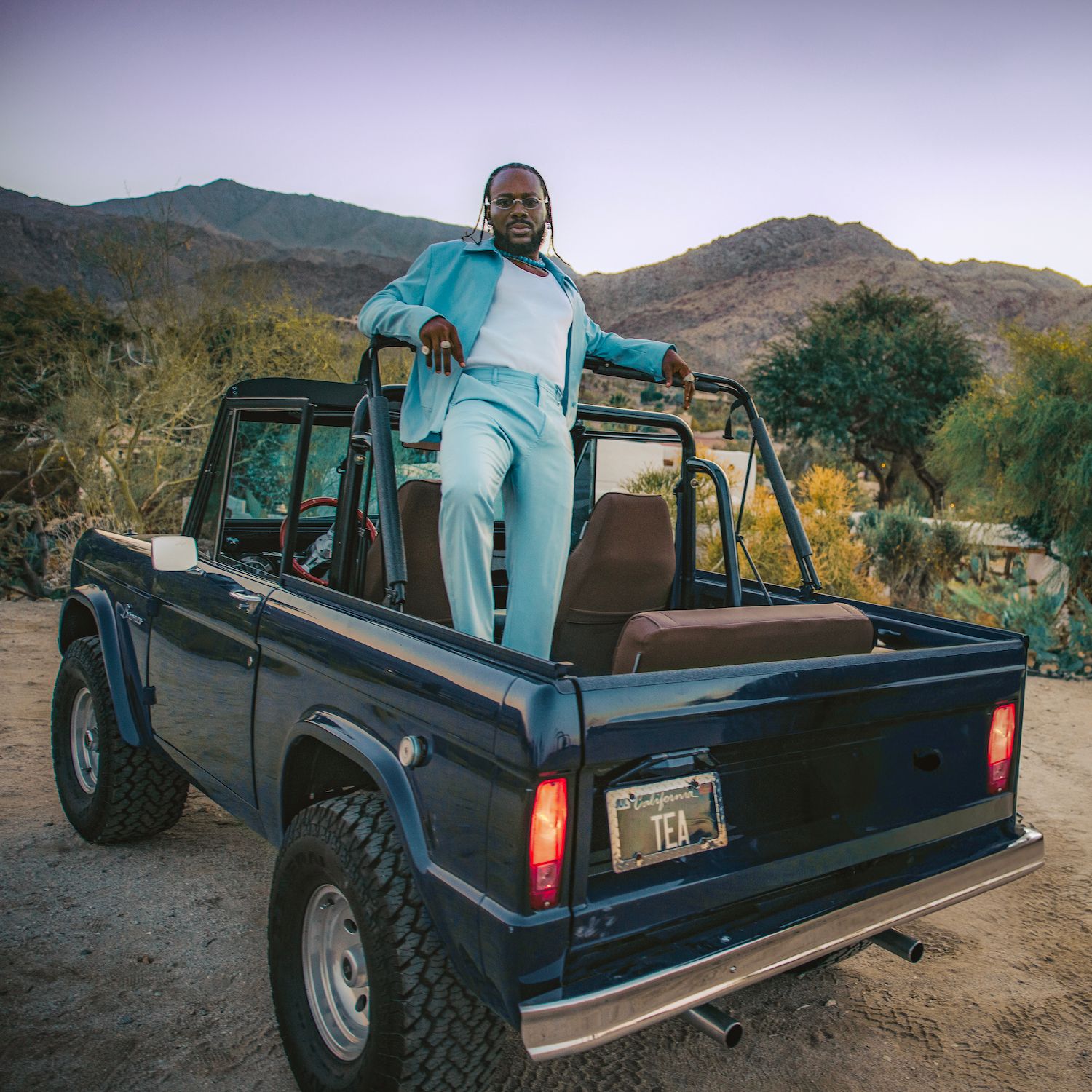 Starting with the project title Tequila Ever After, where did it come from, and how did it tie into the concept of the album?
I had tequila for the first time when I was in LA last April and it just gave me a light bulb idea. It was a great feeling, it was the first time I had it, and I'd never experienced anything like that. I felt so good after the one shot of tequila, and I just thought it was nice to make music that would make you feel like that. Everything on this album, Tequila Ever After, is a feeling I got from that one shot of tequila. I just decided to talk about it and that's how I came up with the idea of Tequila Ever After, even calling myself Tio Tequila. Tio in Spanish means uncle, so it's just embodying the experience I just found.
If people were to ask who Tio Tequila is, how would he describe that character and what he represents about this era?
It's easy to know who Tio Tequila is. If you see my Instagram, you see that it's fashionable, it's confident, it talks the talk, It doesn't hold back; Tio tequila is easy. I want to drink tequila, be with my family, enjoy the product, and good music. That's very much the essence of what you hear on the album.
How did that capture that idea of what you wanted the album artwork to look like, and how did that tie into the concept of the album?
I'm an all-around creative, so I visualize while I make the music. I'm already thinking of the album art. If this ever has a visual, what will it be like? I think of all those things ahead of time. The album art was simple — I just wanted to be happy next to the cactus and agave plants, which tequila is made from. I shot the album cover in LA and it was monumental for me, just because I wanted to do it exactly where I found the inspiration behind the album. That's where I shot the album cover.
You are very much known for your songwriting abilities, so how did the writing tie into the album's theme? 
I was clear when I started making this album — I told myself this would be a conversation between friends over shots of tequila. That's it. Everything on the album is conversations you have when you are when the tequila kicks in. When, after one shot, a second shot, a third shot, what are the things you say? What are the things that are happening? What conversations do you have when you have tequila? The stories and the songs came from that idea. 
No Party Dey Stop is the introduction to the album, so what was the choice of starting this album with that single?
It just felt like the right song. I couldn't tell you how; it's just intuition. This song feels like a celebratory one. It talks about where I am in my life, I'm saying I know who I am, and it felt like the right energy leading up to the album.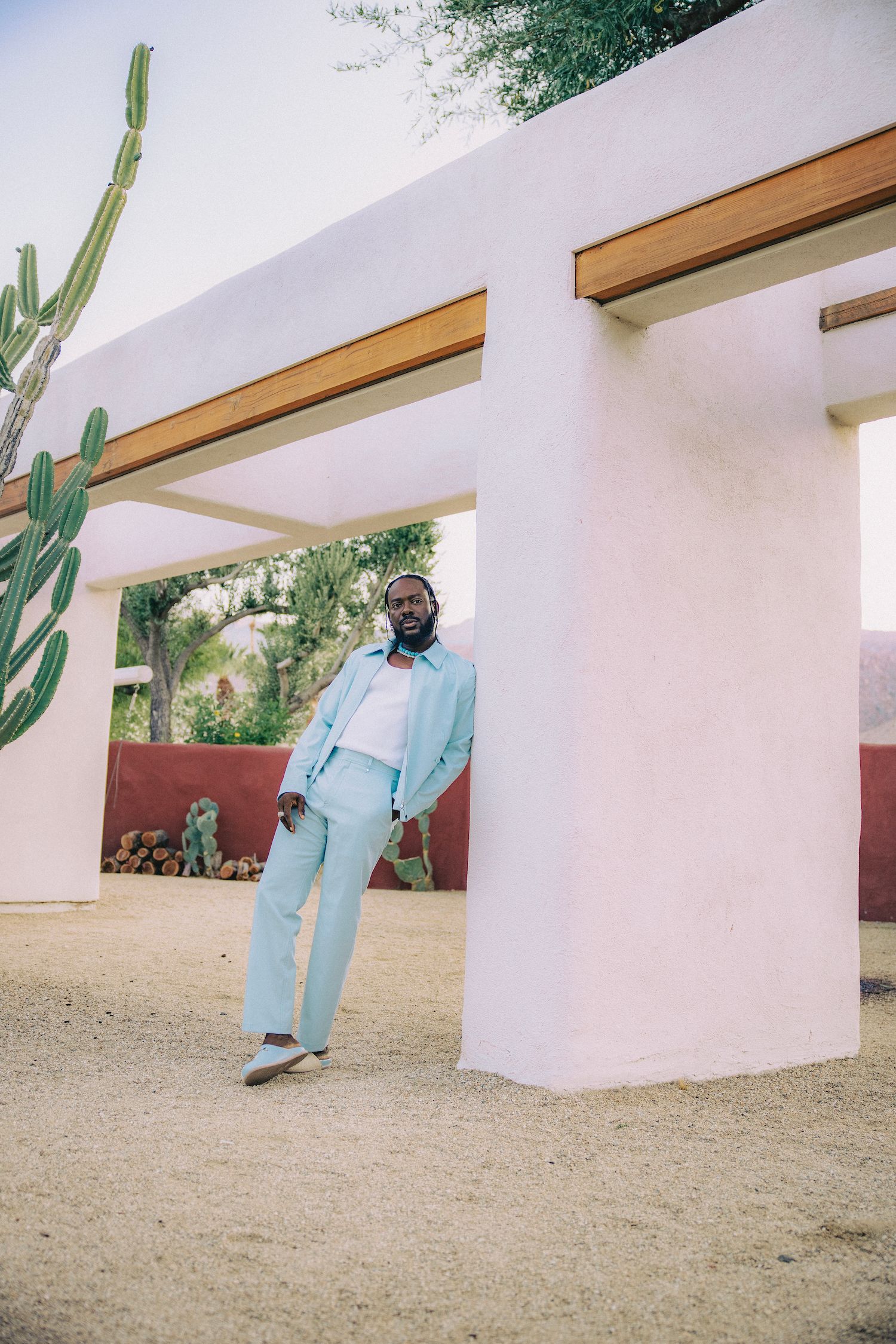 How did the process of making this album compare with previous projects?
The process of this album is way different from everything I've done because in the other albums. In the past, I've just written songs that I knew I wanted on the album and it was precise. For this one, I decided I was going to make 50 songs and I was going to pick the hardest 18. Eventually, I wrote over 60 songs that were all quality tracks, so choosing 18 out of the 60 is crazy. The kind of producers I work with on this one are also different. I have Kel-P and I have HARV, who produced Peaches by Justin Bieber. I have Bizness Boi and Tony Duardo, I have the features on this album and everything. Even writing some of the songs I took my time — if it took a week to get the right lyrics, that was fine. There was no rushing. With Def Jam and signing that deal, it's beautiful to see that I'm with a family that cares. It's not just people or a company jumping on the train of Afrobeats and finding the next big superstar to bank on. They care about the music and me, which makes me happy.
Can you tell us more about what was the collaboration process across the album?
It was good getting a studio with Bizness Boi. We had two songs already we worked on. Working with Pharrell in the studio, meeting a legend that I always looked up to for a long time, was a big moment for me. He is somebody who changed my life with his words, so finally meeting him and getting in the studio with Nile Rogers is a huge blessing. The song Falling Up featuring Pharrell and Nile just was a manifestation that happened for me and I'm grateful for that. Working with Ami Faku on Chasing Peace Of Mind and Habib Koite, a legend that I grew up listening to, and travelling to Mali to get him to play on my song, was a beautiful moment for me. Ami Faku lending a soulful voice on a song like Chasing Peace of Mind was such a blessing.
Reaching Tony, he captured my soul with this music. The song with Simi, Look What You Made Me Do is a banger that I loved — it was just genuine. I wanted to make a beautiful duet with Simi and that's just what we did. A huge shout to my best friend Michael, the A&R. My manager is the best one and she did the executive production and put everything together. And then Tunji, of course, the CEO of Def Jam, was always there for me in the studio. I've never seen a CEO that invested — that's how he's with all his artists. The process for this album, the producers, the artists, everything was an absolute joy for me.
You pulled together many collaborators in a variety of locations across the world, so how did the various locations speak to the sounds you hear on the album?
Since I went to different places, it was easy to imbed the culture and the sound. For example, on Chasing Peace of Mind, I went to Mali and then I got the Malian feeling. I made Don't Be a Baby and Soro when I was in Miami. Those songs, if you listen to them, it sounds like Miami. The songs that I made in L.A sound beautiful. As I go to these places, I invite culture, the environment, and the feeling. I like to see things, so some of the things that I saw, I put in the music as well.
What have each of your previous albums represented to you?
They represented where I am at each time. Gold was high life. That's what I felt then. About 30 was an upgrade between high life and Afro-pop and that's because I felt a bit more pop when I made it. Afro-pop Vol. One. I wanted to go all pop. I was listening to the likes of Post Malone and other pop artists. I was enjoying it and thought I can make this too. With Catch Me If You Can I was already aware of who I am and I just wanted to come out that way. So, with Catch Me If You Can and this one, I'm no longer confused about where I am. I know I'm the shit; I know who I am.
As an artist, what has the experience been like getting to this point?
It's been an amazing one. It's been a lot of fun, a lot of learning, and a lot of getting by as well. I've gotten too many rejections in my life where I try to pitch for something and then the response is, no, we can't do it now. It's been a lot of fighting and believing and trying to keep doing it. One thing that kept me going, as I said, is knowing the grace that I carry and the kind of artist that I am. The storytelling that I tell differently, the sincerity in my music… I'm a living testimony. That's one thing that's kept me going. It's been an exciting journey to get here. I'm not rated how I'm supposed to be, but I'm winning regardless. It's a beautiful feeling.
You have always been a fantastic performer, and your shows have always been top-tier. With the upcoming tour, how are you feeling about bringing the album to life, and what can fans expect?
Yeah, I'm just really excited to take this album on the road. You've seen the lineup on the album — just imagine this person coming out at the shows. I'm starting my arena level now and I'm grateful that I've built my career opportunity to this point where people find me credible enough to come to my show. I had a great time performing at Brixton last year; it sold out, and I believe that we'll do the same. It's going to be an unforgettable tour everywhere we go, but mainly because London is where I came first with my performance in my first headline. I'm attached to London a lot, so I'm looking forward to seeing people and performing this beautiful album on tour.
This era has been about you exploring your creative abilities outside of music, how has the experience been of expressing your creativity in new ways?
I am grateful that I can do this myself. I can think of ideas and I can execute them with my team. I'm also grateful that I have a team that understands me. My manager is the best one — we come up with ideas and then do it together. I always say that I'm blessed to be creative because I can't imagine not knowing what I want in regards to the branding, marketing, and album art. This album cover I designed myself; I've done it since Gold. I designed some flyers myself. I'm heavily involved in all of the creatives.
What are you looking forward most to with this next chapter of your career?
I am just looking forward to taking this beautiful album on the road. That's the number one thing I'm looking forward to right now. In addition to that, there are so many things to announce. I cant wait for people to see.
Tequila Ever After is out now, follow Adekunle via @adekunlegold
Interview Seneo Mwamba