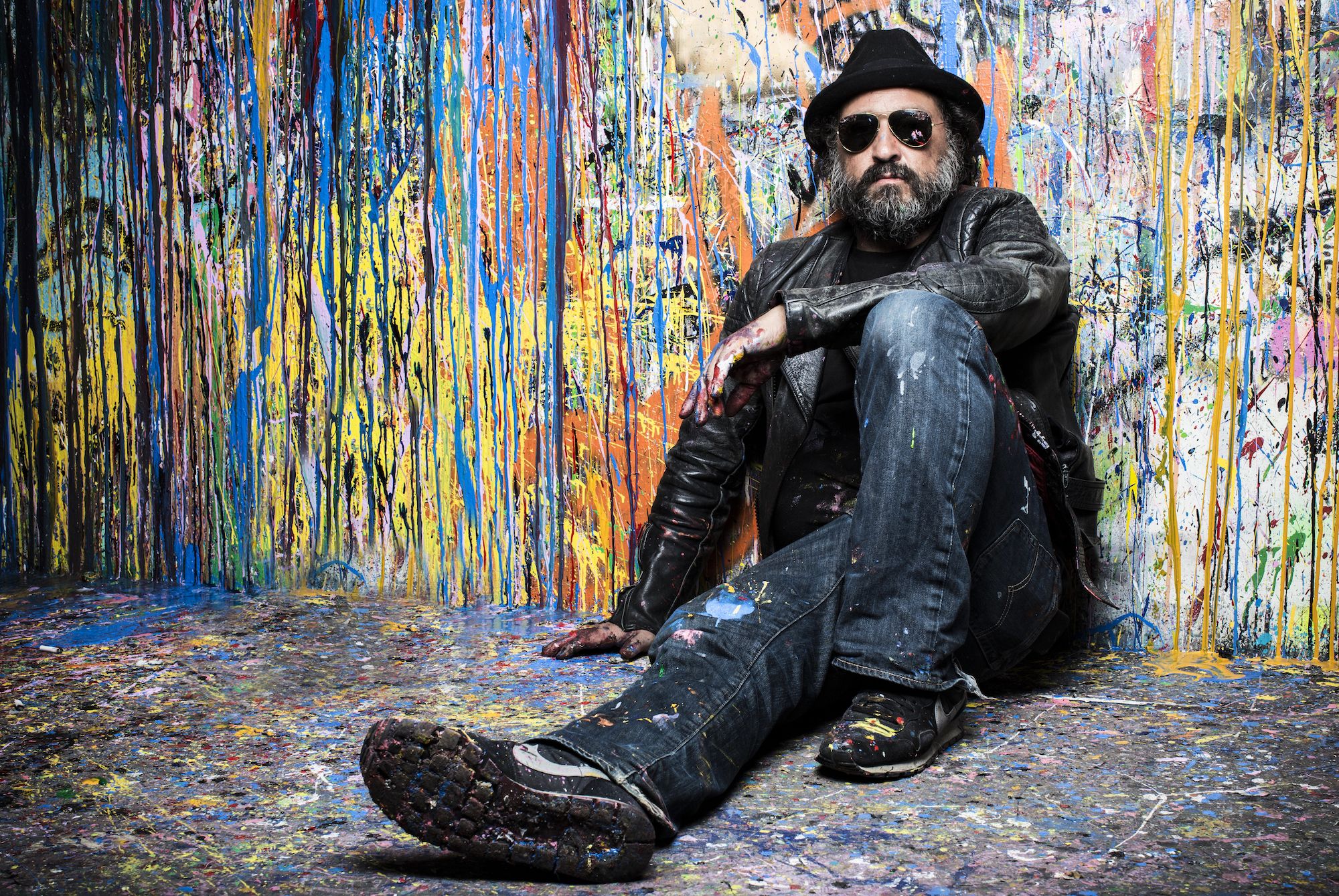 Mr Brainwash in London
Larger-than-life street-pop artist Thierry Guetta aka Mr Brainwash sits for a chat with 1883 Arts Editor to talk about his new mural in Battersea, his influences and what makes London unique.
Since rising to fame through his collaboration with Banksy in the 2010 Oscar-nominated documentary Exit Through the Gift Shop, Thierry Guetta aka Mr Brainwash has been on a steadily upward trajectory.
In just over a decade, Guetta, a French-born, LA-based former vintage clothing store owner with a knack for filmmaking and an ardent passion for street art, went from obscurity to stardom. His work blending historic pop imagery and contemporary cultural iconography into brightly coloured compositions has been exhibited on both sides of the Atlantic, and has caught the attention of collectors worldwide, including a number of notable celebrities.
Mr Brainwash was recently seen in London, the occasion being the unveiling of a 17-metre mural to commemorate the opening of the new Battersea Power Station development and tube station. 1883 caught up with the larger-than-life street-pop artist to talk about his new work, inspirations and future projects.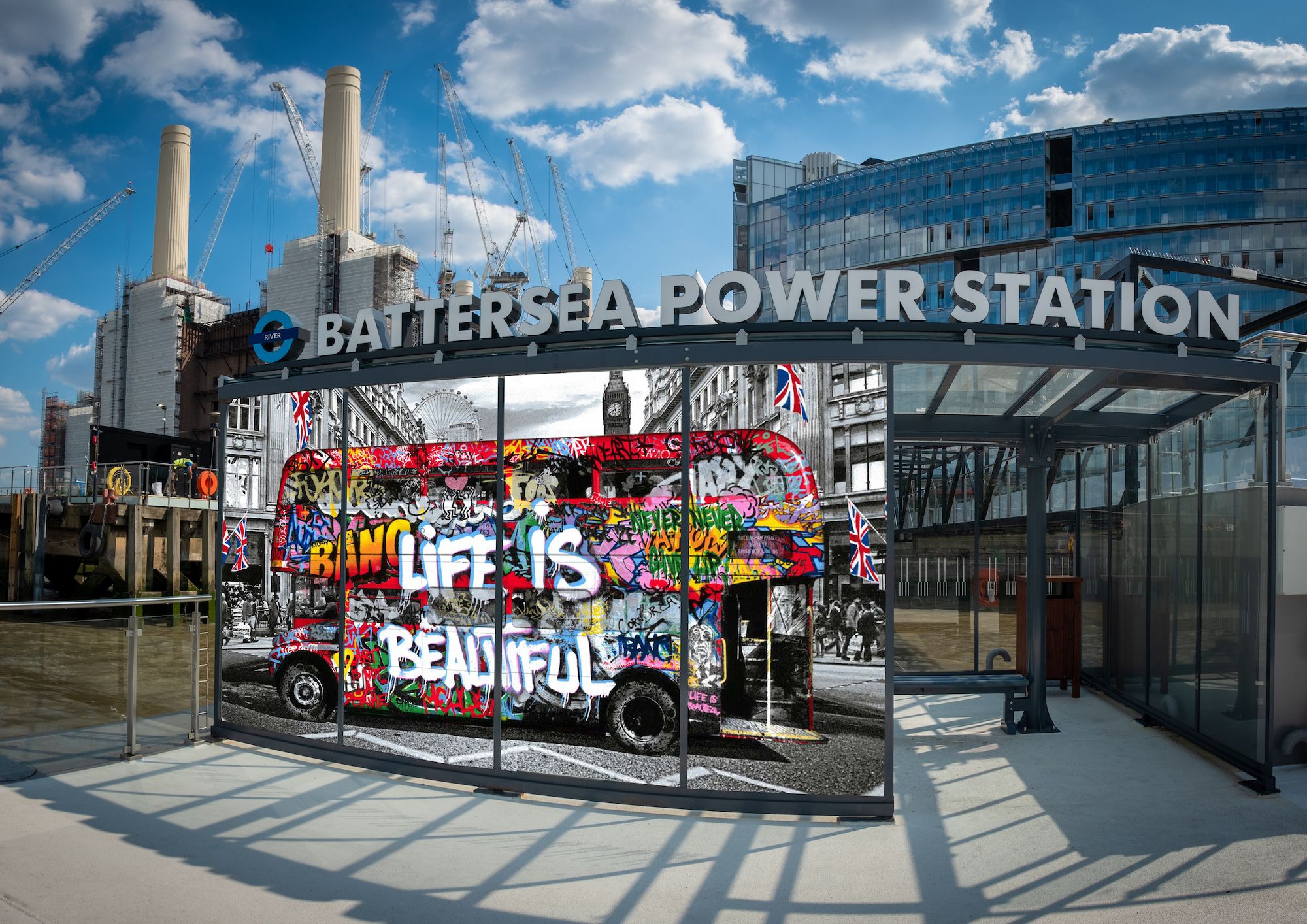 Hello Mr Brainwash; can you tell us about your new mural at Battersea Power Station?
My new mural showcases the history of what has made London great from British musicians, British scientists, British thinkers, and figures who have made London what it is today. I wanted to make something that showed key figures in Britain's history, and I remember the cover of a Pink Floyd album and that was in my mind. It is about trying to do something that is artistic and for the history of London. You know, I try to do something that represents what happened in England and how some people changed it by making England what it is today – music, inventions, and places. There are very important people who made London what is, and I have made art for people to enjoy the good of what these people created.
How did you get involved in the public art project for the new Battersea tube station if I may ask?
I get approached by many projects and I particularly liked the history of the Battersea Power Station building and I think it's very important. I love London and love the location. Sometimes, I get projects and they don't come to life. This was one project that I felt very good for me to do, and the building was easy to recall as it is a historic building with many stories. When they asked if I would like to be involved and they said, don't give up on that one and let's make it happen. And I just made it happen.
Out of curiosity, how do you like London?
I love London. There is only one London in the world. London is a city with a lot of characters. And you can go to any part of London, and you will discover different bars, different galleries, different shops, different points. It looks different for me all the time, every corner that I go. I feel that there is a lot of beauty, I think, in New York and London, and there is art in the streets and beautiful sculptures. I feel that it's a city that moves all the time, there are places changing all the time, and there is so much art.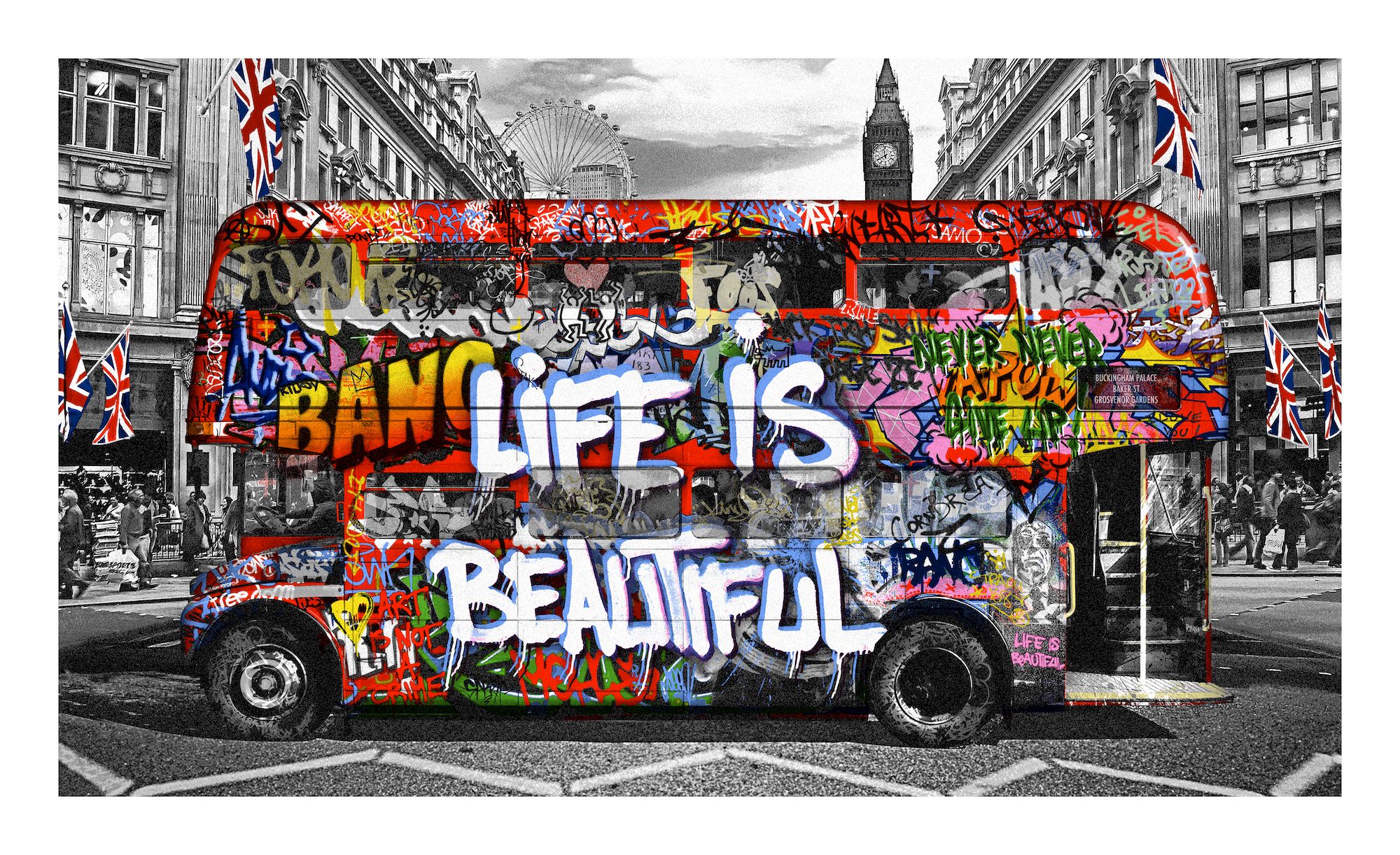 What are in your view the main differences between London's art scene and Los Angele's, the city where you live?
Oh, the two are two different worlds. There's a big difference. LA is like a new-born child; it is just beginning. LA is only around 220 years old whereas London has history and old buildings and streets. I think art is whatever you feel inside wherever you are in the world so if you are happy in London, you can express art in that way. Yeah, we think we have Hollywood sign and it's made with a metal sign that you can buy anywhere. But we have the sunshine and the beach. We feel like we are developing a new-born.
I feel it's not where you are. It's how you feel inside. So you can be anywhere in the world, London, Paris, Tokyo, or Los Angeles if you feel good, you can feel good anywhere.
What got you into graffiti art in the first place?
Ever since I was a child, I was drawn to art. Graffiti art chose me as there are so many legalities and time constraints with being in a gallery whereas with graffiti, you can just go do graffiti wherever you want, there are less rules. Graffiti is a way to have the freedom of expression without asking permission. There is only way to do it. You know, sometimes there are rules and geology and there is YOLO. A gallery would ask you to wait for two years or three years and then, the other option is the street. You just have to go down the street and do it. There are no rules. You can make it happen overnight.
What inspires you?
Life inspires me. When I wake up every morning, it's a new day and another life. I think what's important about life is having passion and patience.
Why did you choose Mr Brainwash as a moniker?
I feel Mr Brainwash was always with me, even as a child. It's all about brainwashing, we are living in a world of brainwashing.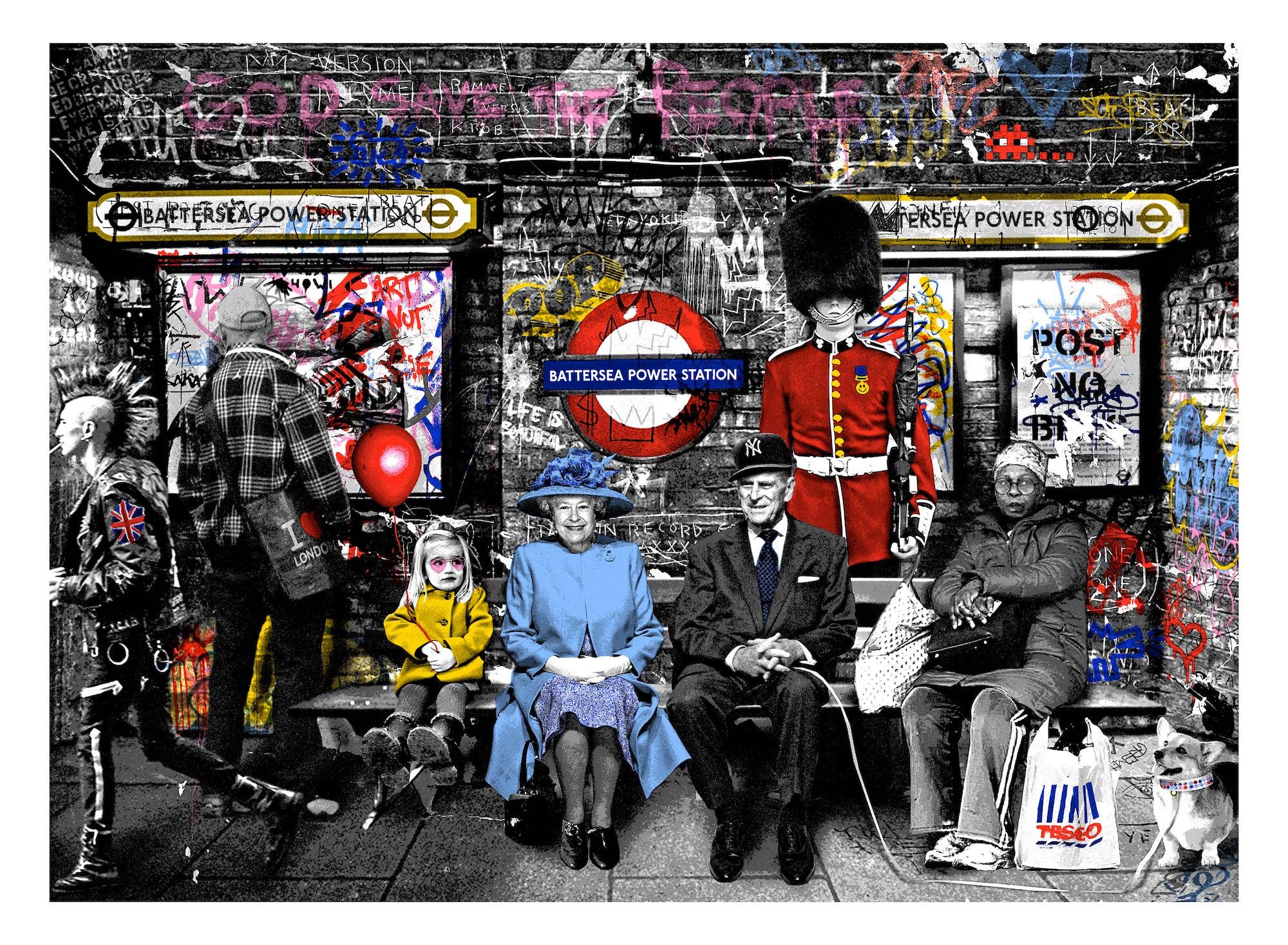 How has your life changed since becoming a world-renowned street-pop artist?
My life hasn't changed but has evolved. I feel like this is only the beginning and, like everyone, we all evolve. I have so much more that I want to do, I am just starting. I just evaluate everything in life and wait. It's just a part of my life, I don't choose my life. I'm living my life. So somewhere, whatever happens, happens. And I continue. And I feel like it's only the beginning of what I want to do.
What other interests do you have outside of art?
I like flea markets, furniture, books, objects – anything that has artistic expression is interesting to me. I don't have other hobbies as such, but I appreciate the art in these things. I see something that touches my eyes that is artistic. I just continue doing what I like and to develop my artistic way of seeing things.
What have you got lined up for the future?
I am opening a museum this December in Beverly Hills, Los Angeles on Beverly Drive where the Museum of Television was previously for thirty-five years. I am proud to be able to have a space designed by one of the best architects of our time Richard Meier (who created the Getty Center in LA). I feel very blessed to have that place.
I am going to do another movie as well. I will be in it, and I am working with some people so it's very confidential. We've been working for a while on it. It's not long now and we don't know what's going to come out of it. It's a big mystery and will be a big surprise.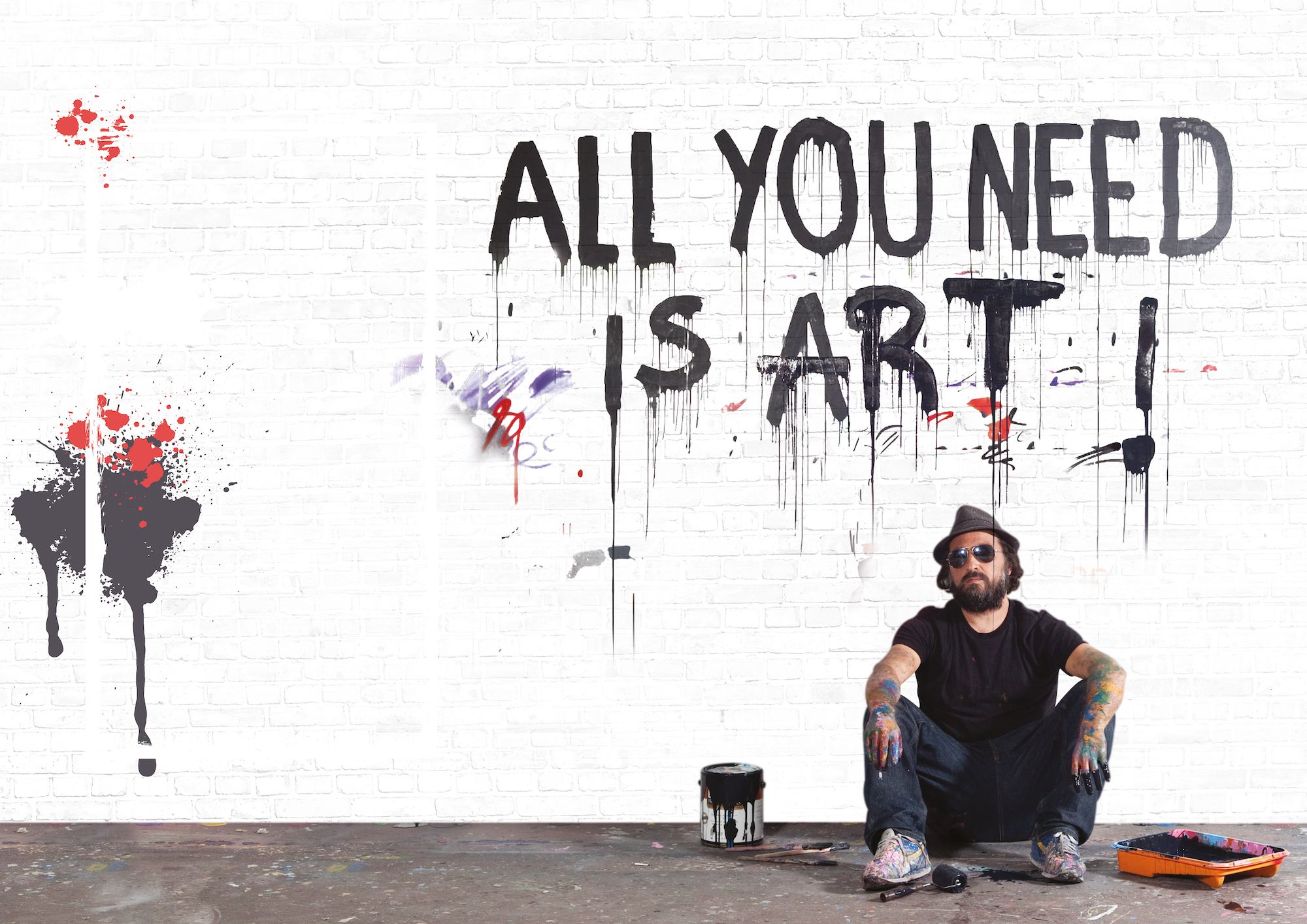 Works by Mr Brainwash are on display at Clarendon Fine Art, 117 Longacre, Covent Garden, London.
Since April 2021, Clarendon Fine Art has had an exclusive signed agreement in the UK with Mr Brainwash.
Words and interview by Jacopo Nuvolari