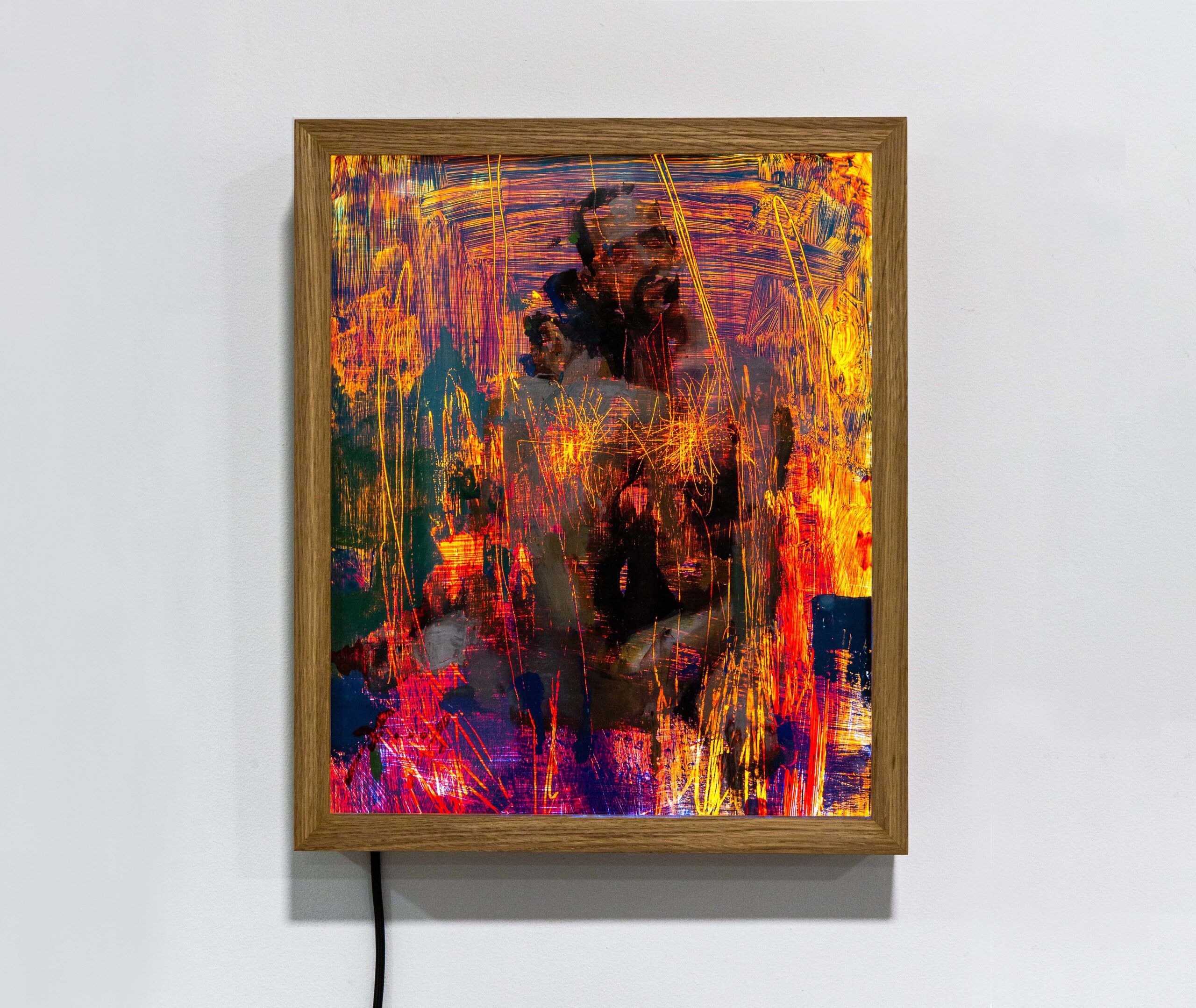 The Art of Human Connection: Painter Christian Hook Uses Science to Decipher Emotion in Painting the Invisible
From the small island of Gibraltar, artist Christian Hook has emerged as an artistic triumph, melding science and physics to create touching artworks.
His quest for meaning in human relationships and interaction led him on a journey to meet with leading scientists in their fields to understand the underbelly of touch, love, sadness, and the different currents of emotion which are invisible to the eye.
Christian Hook hosted a special preview screening at The May Fair Hotel in London for his documentary Painting the Invisible on Sky which will soon also launch on Netflix. After the screening, his family and friends joined him in celebration at his exhibition launch at Clarendon Fine Art Dover Street.
2014 Sky Portrait Artist of the Year, Christian Hook has painted Kristin Scott Thomas for the cover of the Financial Times How to Spend It as well as notable entrepreneurs, actors, and athletes such as Richard Branson, Sir Ian McKellen, Alan Cumming, and Amir Khan.
"I was on the beach looking at the night sky and had a small epiphany…" Christian Hook
As Christian lay on the beach looking at the sky, he realised that time is an illusion and what we see isn't a real representation of how things truly are. He found a loving Hungarian couple based in Hertfordshire who were happy to sit for him and share their joys, pain, grief and even their blood and hair which would all be intertwined into the paintings.
Theoretical physicist and author of Order of Time, Carlo Rovelli described how the universe is made up of interactions and relationships between atoms so reality is not made by objects, but by the way objects interact with one another, and the blurring that occurs between the imaginary constructs of past and future.
Oceanographer Dr Helen Czerski taught Christian about thermal imaging which he cleverly integrated with his light box paintings such as Connection, Aura and Lava.
CC Hart, a synasthete, explained how Synesthesia is a condition which allows people to see words, numbers, sounds and feelings in colour. It is believed that both David Hockney and Vincent Van Gogh have this condition as well as perhaps 1 in 300 people. As CC Hart watched Christian Hook paint, she commented on what colour shades she saw emitted from the posed couple and Christian integrated these colours and textures within his work.
Dutch scientist Maurice Mikkers studies the hidden landscapes in each tear. Replicating these patterns, Hook used fern pines to mirror this microscopic tear drop design into his work E-Motion Part I and II.
Collaborating with AI and neuroscientist Aldo Faisal, Hook monitored the couple's brain electricity activity when they danced and kissed, developing a 2-part artwork Synchronicity Part I and II.
This scientific exploratory journey is what Christian loves to give his art further depth and meaning. Christian Hook is intrigued by science and we hear has upcoming projects in film, music and perhaps a new artwork study on oceanography.
Clarendon Fine Art
https://www.clarendonfineart.com
020 7499 0947
46 Dover Street, London, W1S 4FF