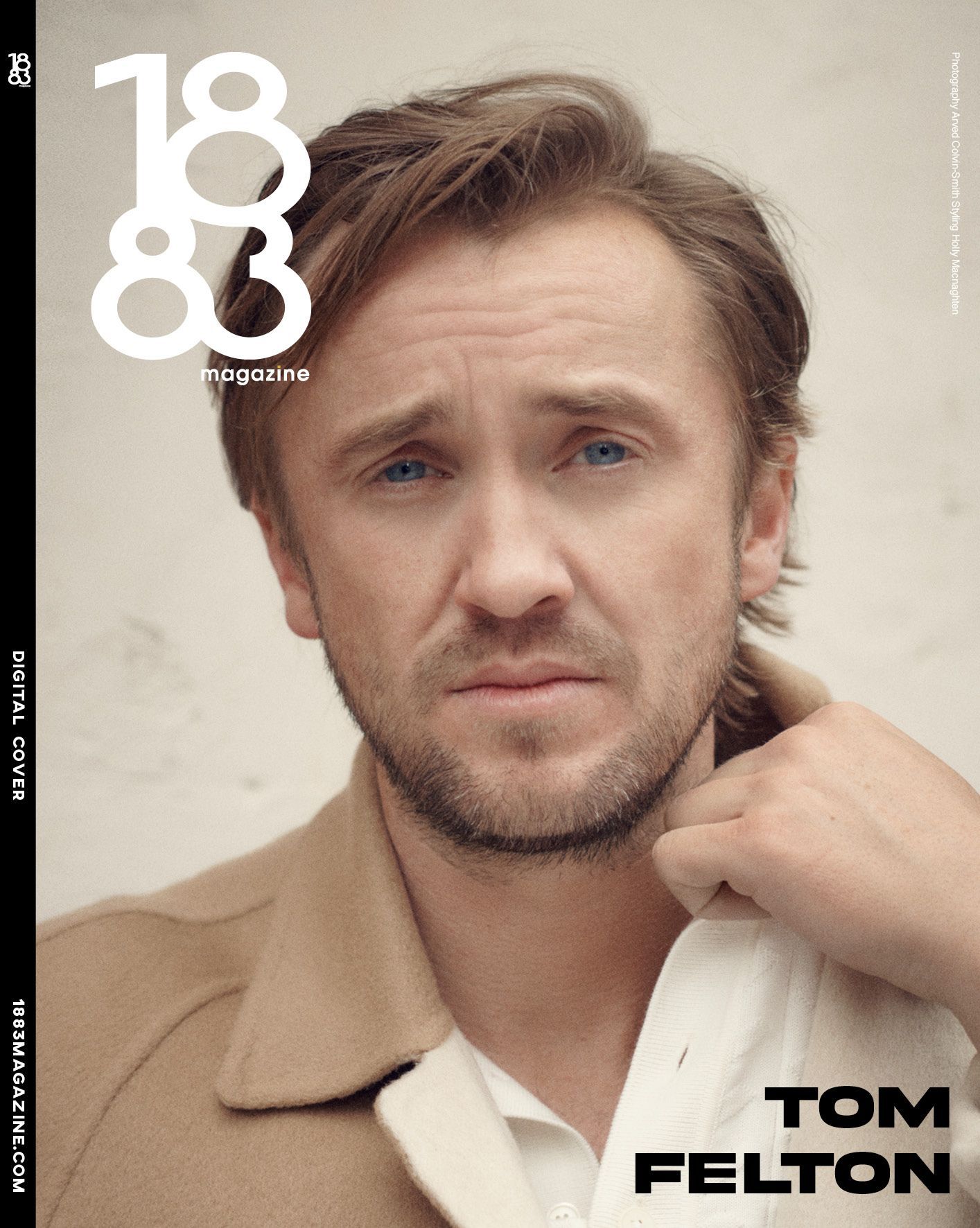 Tom Felton
Even though it's been 20 years since audiences first saw Tom Felton in Harry Potter and the bleach blonde locks he donned as he came of age have long gone, he doesn't mind still being called Draco now and then.
It's hard to imagine being on the cusp of teenagehood and getting cast in a role that would inevitably follow you for the rest of your life. It's a decision not many 12-year-olds have ever had to make. But for Tom Felton, the luck of being cast as the blonde villain Draco Malfoy is not lost on him, nor does he buckle at the weight of the fans' feverish passion and love for the character and the franchise. Instead, it's something he embraces; warmly reminiscing about his coming of age as a teen wizard and the impact it's had both on himself and his fans. It's why he's put pen to paper and written Beyond The Wand, a memoir of anecdotes, tales, and magical memories from his life at Hogwarts.
If you're unfamiliar with Felton's work post-Potter, let us catch you up to speed. Outside of his acting credits, which consist of roles on The Flash, Rise of the Planet of the Apes, and countless others, recently Felton has been leaning into new adventures that he describes as "slightly terrifying" but ones that need to be explored. This year alone he made his West End debut in 2:22: A Ghost Story, portrayed Guy Fawkes in an interactive theatre experience in London's The Gunpowder Plot, to writing and, eventually releasing, his aforementioned memoir. All three are brand new experiences for Felton, speaking to the love he has for his craft and his dedication to continuously push his comfort levels. 
At his core, Felton is a lover of the arts. Outside of the Potter hysteria and booking acting gigs, he began writing and recording songs. It was the first outlet he had that wasn't about portraying someone else. It was always just for him. Now, after several EPs and singles, he's dedicating himself to what fans have been asking for since his first body of work in 2008: live shows and a full-length record. Like with everything that Felton has touched prior, it's inevitably going to be good. 
1883 Magazine's Kelsey Barnes chats with Tom Felton about making his West End debut in 2:22: A Ghost Story, why he doesn't mind being asked about Harry Potter 20 years later, his upcoming memoir, and more.
Tom, to say you've been acting for most of your life is an understatement. You've been working since 1997. When you look back at your career, is it hard to comprehend how much you've grown and developed as an actor? 
It's crazy to think of it that way. Development-wise, I suppose I've been very lucky to have worked consistently since '97 with some of the best, nicest, and most talented people in the business. It's just as important to learn what you don't want to do versus what you do, and I've been really lucky to have good instances off-set, too. Harry Potter was the longest-running project but everything else I've done has been a different character from a different period. This allowed me to benefit from things and experiences and approach them with great vigour and enjoy every step of the process. 
Is it something that you're aware of as you've grown up and gotten older or is it something that you can't see or comprehend until you take a step back and reflect? 
Yeah, I do have to do that. It was in your country of Canada where I was filming A Babysitter's Guide to Monster Hunting in which I got to play the boogeyman. I didn't have to think twice about saying yes to that. I remember when I was going in on the script read with the team and I suddenly realized I was the oldest actor. I was the veteran and all these kids have never been on set before. Hopefully, I was the playful good influence that I had when I was that young. That was definitely a moment where I realized it was strange to be the veteran on a film set. 
You notice it when you're with other actors who maybe are just less experienced or more nervous about doing the job, so then it becomes a role to reassure them. Good acting can't be done with just one person — you usually need someone to hit the ball back. It's a new thing for me to be in moments where you get to be that person to calm everyone down a bit and not be the person that's terrified.
It's a full circle moment for you, then. It's really sweet that you can be what people like Jason Isaacs and the late Alan Rickman were for you when you were that age. 
Yeah, it is. Saying that now, the project I'm doing is something I've never done before. Doing stage work is new and I was absolutely terrified. But, I think you should be slightly terrified of any new adventure so it's a good thing. I've had such good fortune in everything. With this play, the people that I'm acting with have so much experience and they've been holding my hand the whole way. I love taking on new challenges and this has definitely been one.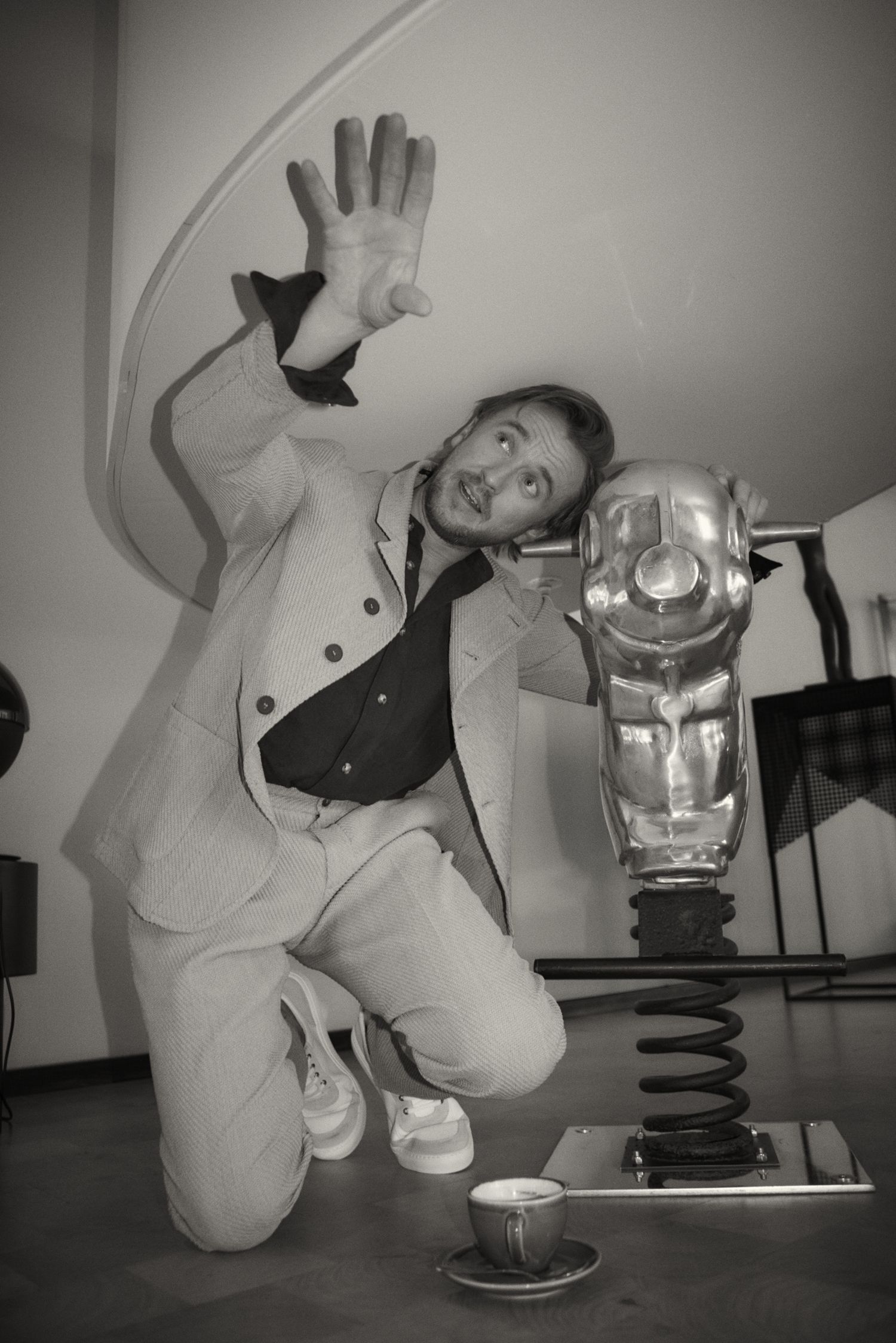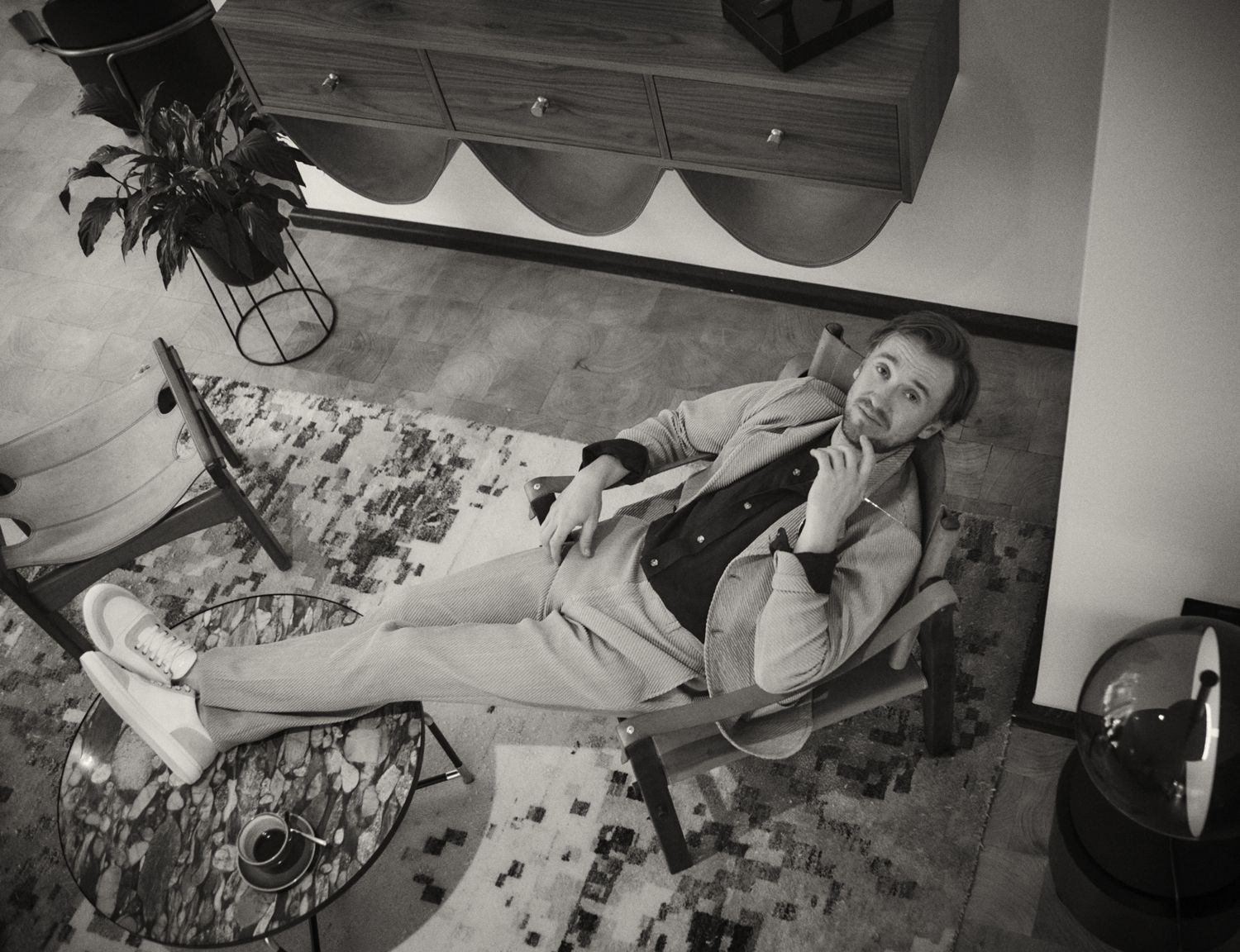 suit Oliver Spencer shirt Flax London shoes Harry's London
I read your first taste of acting was actually participating in a local theatre program when you were 6 — is that true?
Yes, yeah. I used to go watch my eldest brother. I'm pretty sure I was dragged by my mom when I was a youngster. That eventually led to me going into a drama group of sorts. I don't think it was a particularly high-class thing because I'm pretty sure I was just a snowman in the background — no Shakespeare or anything [laughs]. Yeah, it's been a while.
And now you're making your West End debut in 2:22 – A GHOST STORY. So, what was the moment when you decided now, after all this time, you wanted to embrace your childhood self and return to the stage?
I went to see the previous run. A friend of mine, James Buckley, was in the previous company. I went along one evening to support him not knowing anything but also knowing that I've never seen a ghost story on stage before. I was very intrigued to know how scary it can be or how much fun it was. Subsequently, I went three nights in a row to watch there are so many bits and pieces in it that you just start clocking the second or third time. In fact, I went five times [laughs]. 
You were addicted!
I just loved it. Even at that time, I had no idea or no concept that I would be considered for the next run. So, you can imagine my surprise when I got a phone call saying, "do you want to do it?" I just assumed that because I've been so many times, it was like "buy five coffees and get one free," but apparently they didn't even know I'd see it. That was a really happy accident.
How has it been seeing people's reactions? After seeing it so many times just as a viewer, have you been able to see people's reactions to the twists and turns in the play?
Yeah, without getting way too much, there's plenty of jumping and equally, probably more comedy than anything. There's lots of fun and it's very fast-paced. You can hear the audience listening if that's even logical. It's really cool when you get these temporary moments of just jumping out of your seat. You can definitely feel it.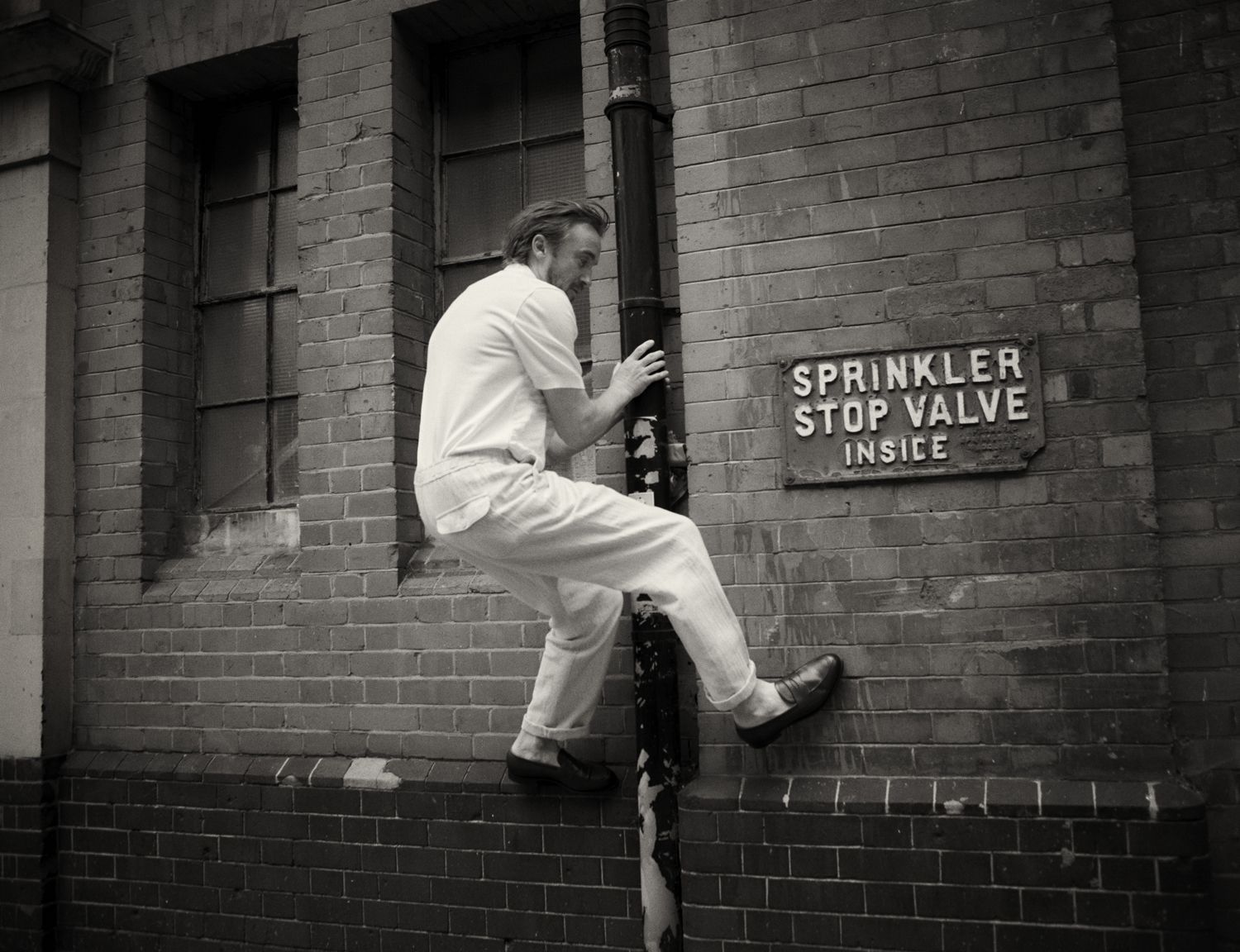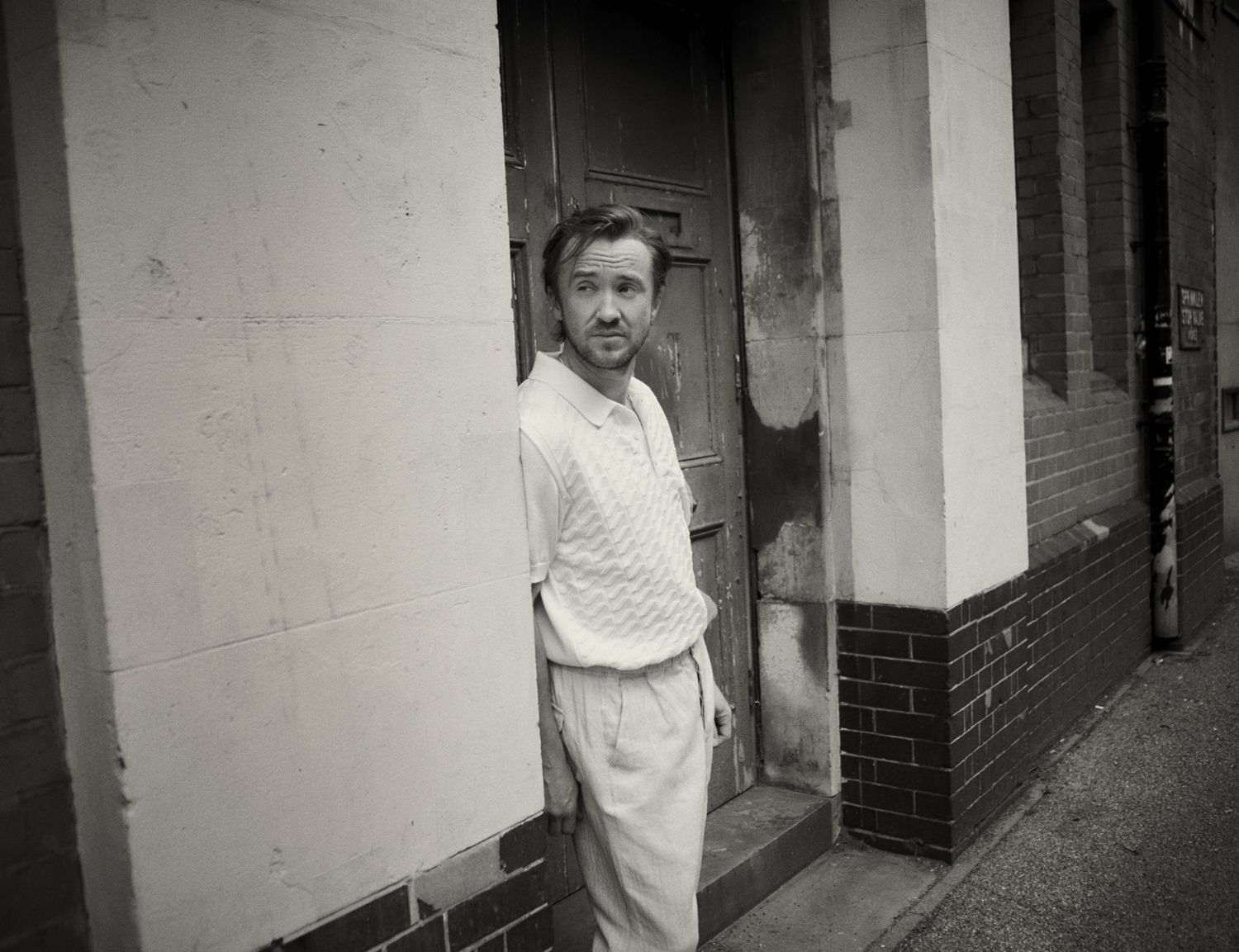 top + trousers Oliver Spencer
The stage is quite different from the screen; everything is instantaneous which makes no show like the last. I read the script is 140-pages and there's just the four of you on stage for the whole hour-and-a-half. It must be very different after coming from just screen acting for the last 2 and a half decades.
God, you're reminding me of the terror of going up there and remembering your lines! But that's the fun part. Something goes wrong every night. When I say wrong, I mean the word slips here and there. You just can't factor in all the different moving pieces that can occur on stage. One of the characters has to eat an olive and they nearly choked on it! 
I won't lie — at first, that was a monumental task for me. On a film set, more or less in my experience, you learn your lines a couple of days before and you do your scene and you'll never have to see those words again. You pick them up, you hold them intensely close to you, and then dump them whenever you're done. Whereas this is obviously very different. You have to sort of force your mind to change it because once you've repeated yourself for a while, your brain tends to want to find new ways of saying that. But, of course, if it takes someone 5 years to write a play you should be sticking to the script! 
Has it felt like you've been relearning your craft? It sounds like it's a new education for you. 
Yeah, absolutely. It's not so much relearning it but more just learning. Acting in such a broad word; it can mean so many different things and there are different ways of doing it. Whether you're working at a call centre and you really can't be arsed to listen to someone but you have to pretend, or you're on stage beating yourself every night doing improv comedies. I think it's really hard to say when something is good or bad. You're looking at it from an overarching perspective and with something like the arts, all opinions are equally valid. That's freeing in a way because it's not about being good or bad which is how it is on stage. It's about not letting down the other people that share the stage and the people backstage. There's a lot of very precise preparation and work that goes into making sure the show runs smoothly, so it's a team effort.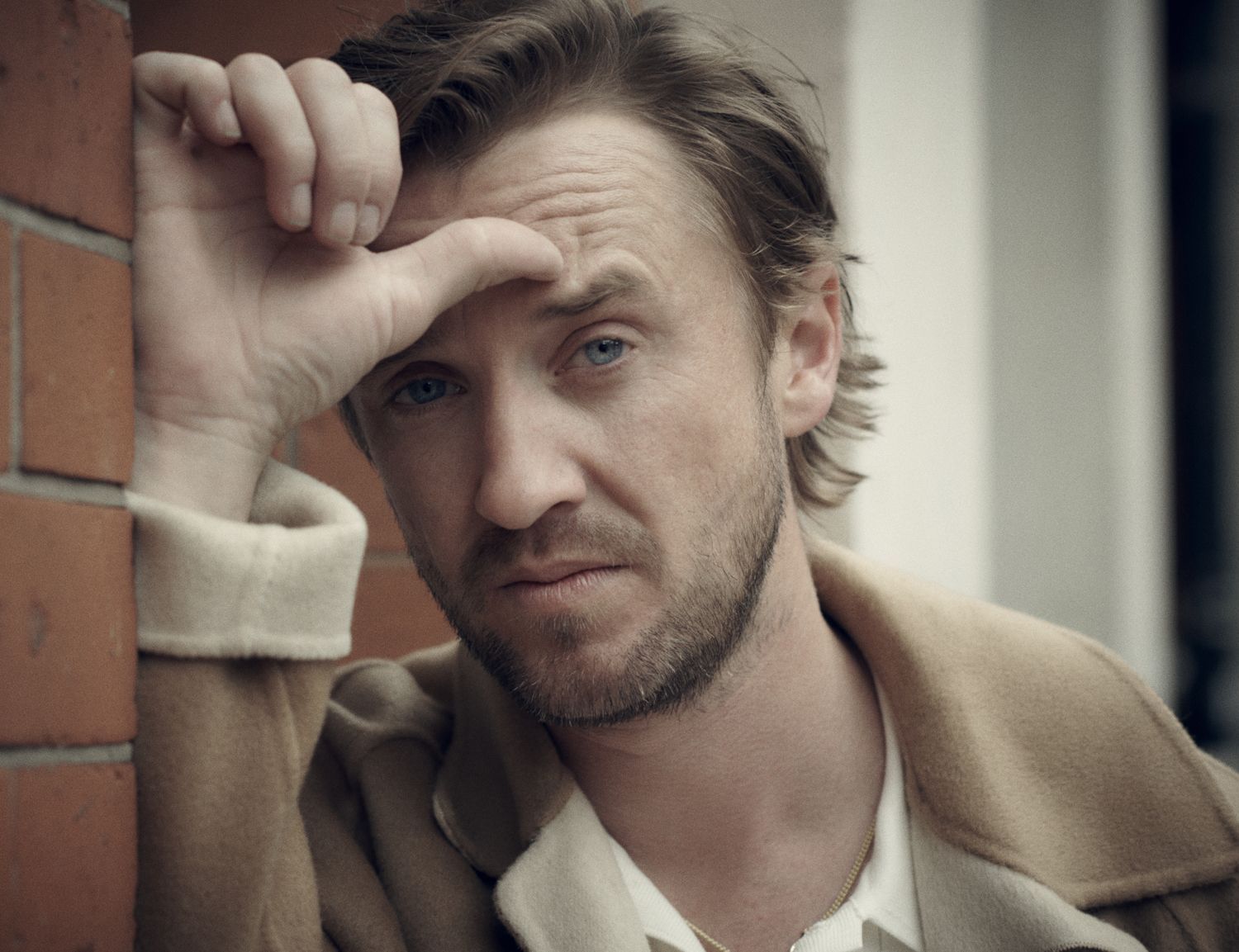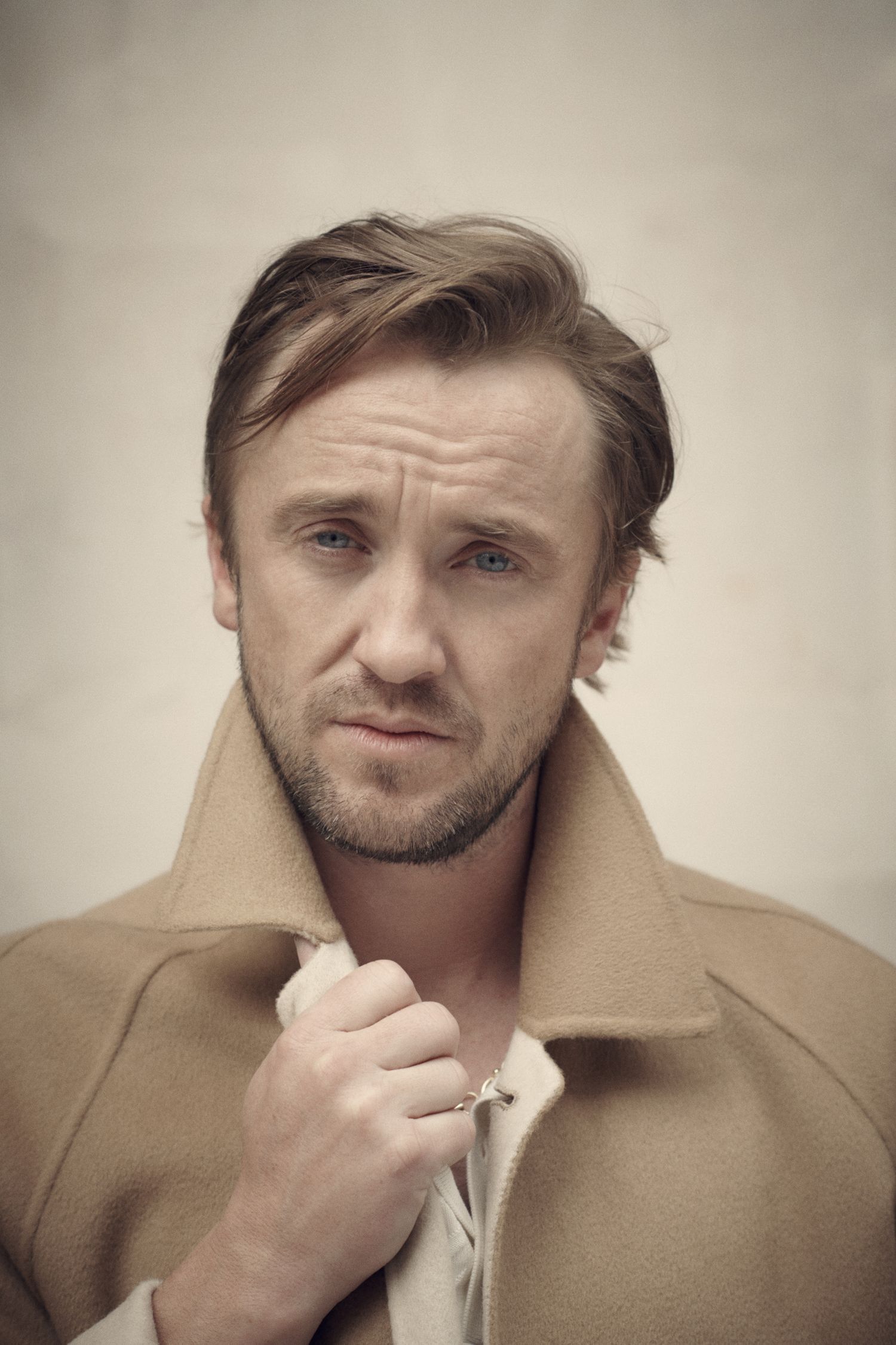 coat Connolly
You just announced your memoir Beyond The Wand. I'd love to know: why do you feel like now is the perfect time for it to come out and how long have you been working on it? 
I've been working on it for a while. It started with just my friend and me. I was writing down some of the more poignant memories that I had. I'm a bit of a writer — I love jotting, I've got endless notebooks everywhere. I used to lose everything I've ever had in my life but for some reason every note I have ever written I've managed to keep.
Same! Little scraps of paper, napkins from cafes, and everything in between. 
I'm constantly trawling through them to see what I can find. Now, this memoir is a collection of stories from my early film career. I realized the more and more I wrote down, the more the memories were fading or getting fuzzy with time — but they wouldn't completely fade if I kept writing. So, that's what I did. 
My publishers convinced me that I could put all of these stories into a great narrative. I tread very, very lightly because I did not want to do anything that I didn't think was absolutely perfect. A lot of these stories are amusing to me and I thought they'd be somewhat interesting for other people but not the most incredible thing they've ever read. It turns out that is the opposite. They love hearing about the audition processes or hearing how different people were on set and stuff. Those who read it told me to trust them and that my fans were going to absolutely love it. I think it's a good time to revisit some of those years, especially after the success of the 2020 year reunion
What was it like looking back on your experiences as a child actor, growing up on the screen, and the aftermath of the Potter films? Did you learn anything new about yourself while writing it?
I think so. It was interesting to revisit the timeline. After doing 10 years in Potter they all tend to blend in, so it's interesting to look at some of the stories that, again, I thought were just fairly regular for a child but instead were pretty nuts. It's been very cathartic, actually, to go through each chapter. I'm realizing how lucky I am. It's less about learning more about myself and more about learning how bloody lucky and how grateful I am for everyone that's been a part of me getting here.
While reading your recent interview with The Guardian, I found it really refreshing how grateful you are to people chatting to you about your time filming Harry Potter. I think people assume that when you make something as a kid you're going to grow tired of talking about it, but you've always been receptive to that love and passion. Is that something you've embraced as you've gotten older and had more perspective on your time?
Yeah, absolutely. I can see why people don't want to answer the same questions. It's utterly undeniable that the Potter fandom flame is not dying anytime soon and I think it's fantastic. When I was 14 it got an entire generation into reading and into being creative and having a wild imagination. That's not stopped, that's been passed down to this new generation. Some of them very kindly have come from the Philippines as a way to support me in the latest run. Things like that are the reason why I make sure to do stage door almost every night. I want to meet all these youngsters from all over the world, from all backgrounds, from all different walks of life, who all unify over their love of Potter for lack of a better phrase. I definitely embrace the passion and love they have for Potter. I mean, there are times when I'm having dinner with my mum that I'd rather not be asked to make a video or whatever [laughs].
Rightly so!
But otherwise, I'm very embracing of the positivity that comes from Potter.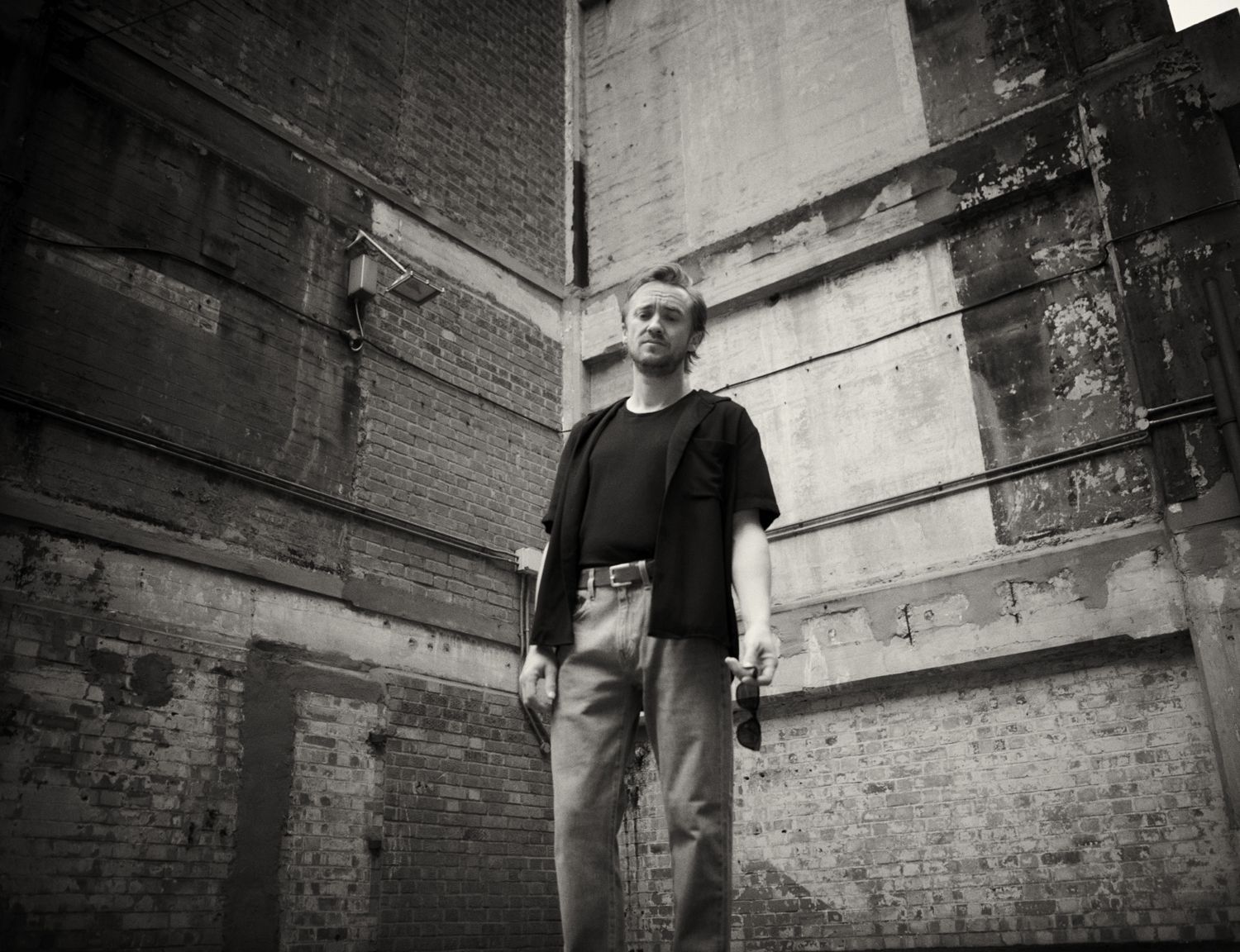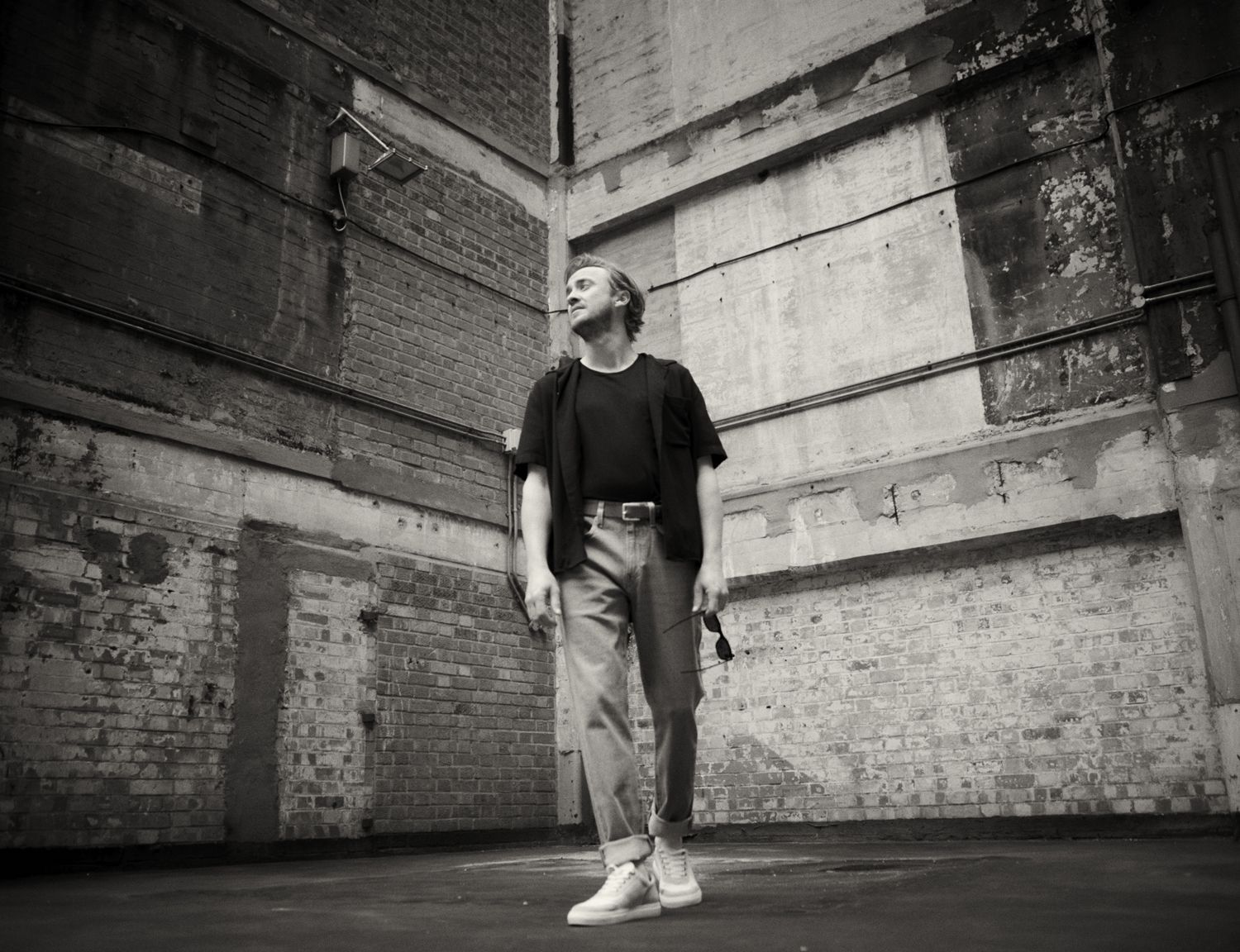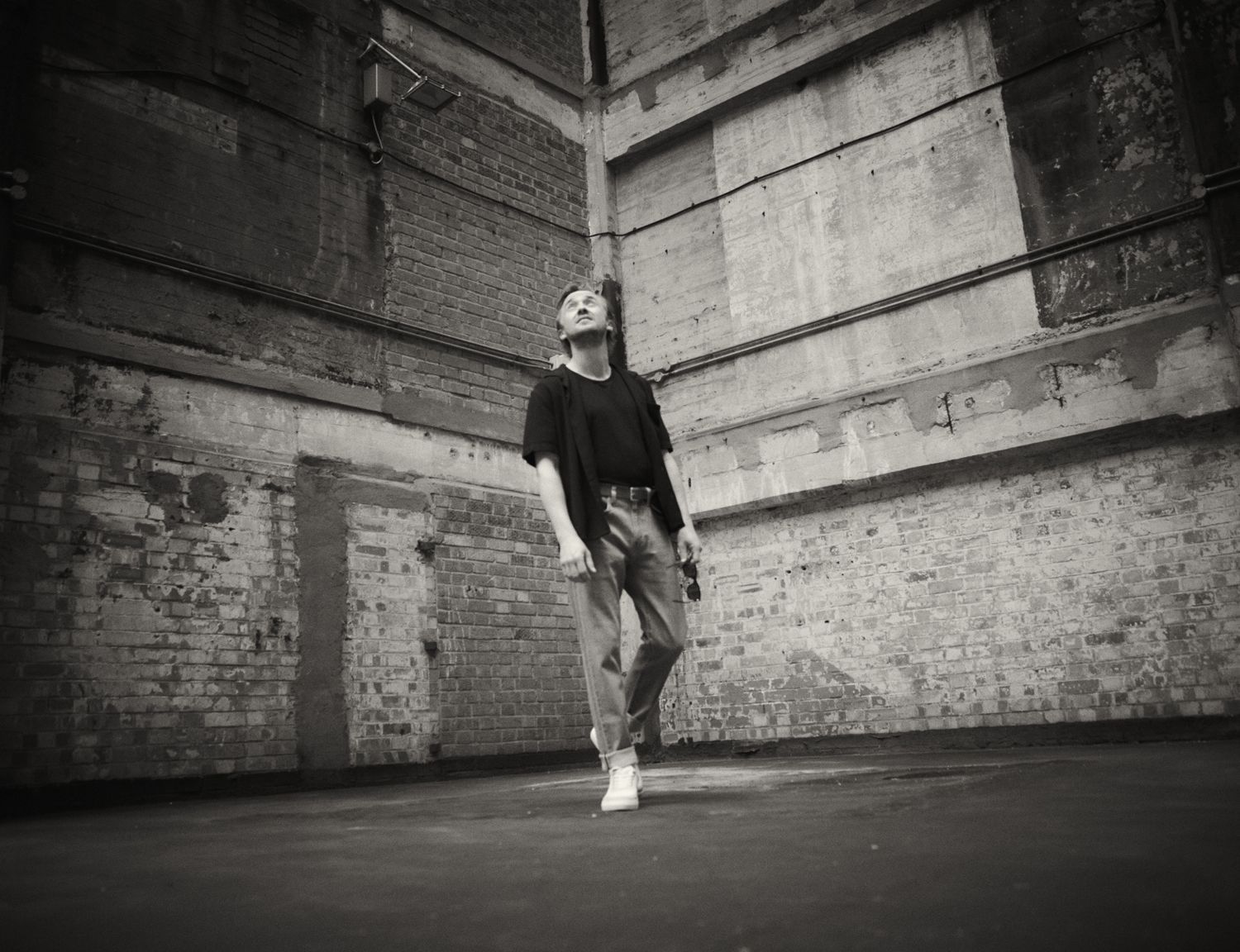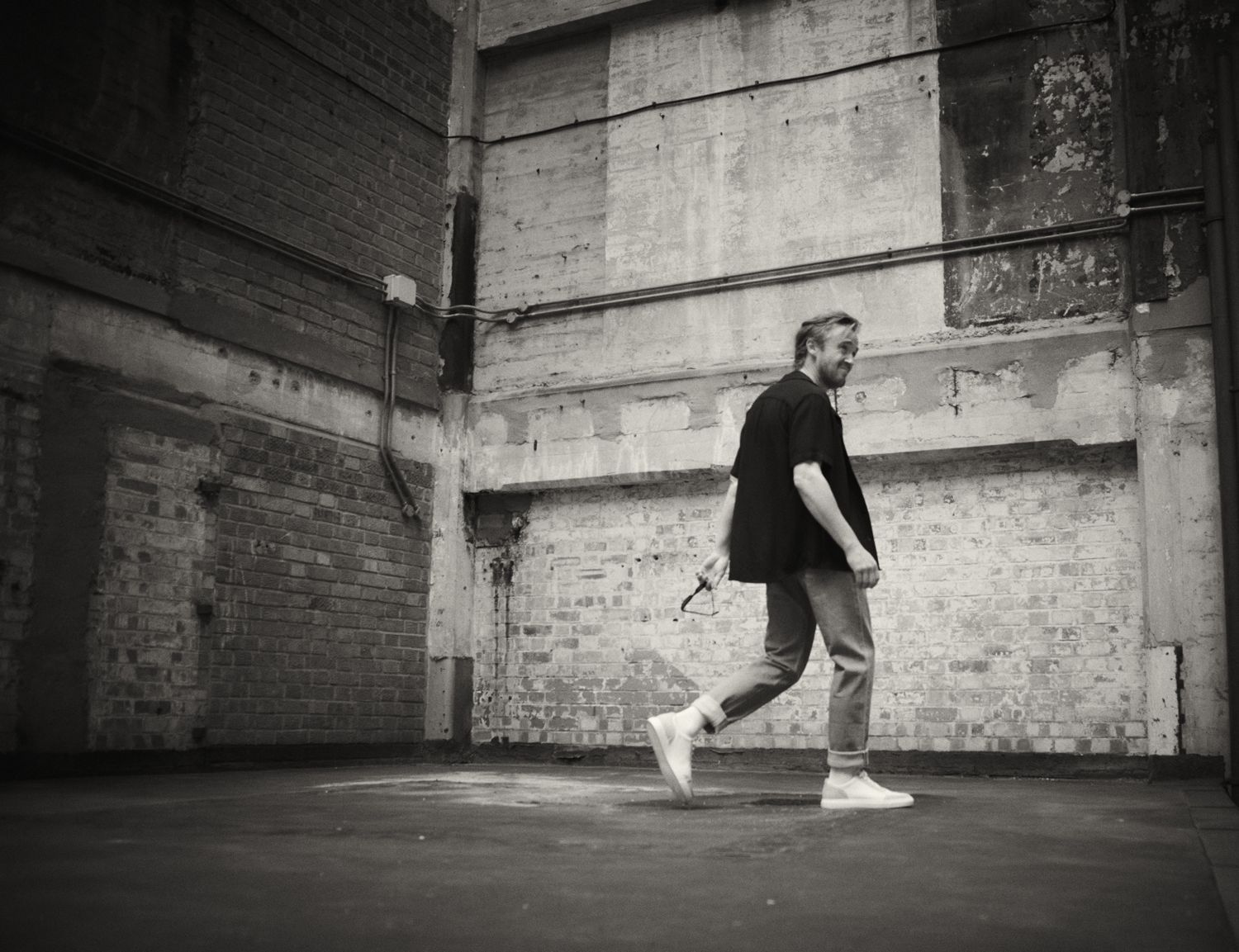 shirt Basic Rights t-shirt Sunspel jeans Levis sunglasses Tom's Own
I'd love to chat about writing with you — you write your own songs and released an EP last year and now with Beyond The Wand. As an actor, you're embodying a character and saying someone else's words. As a writer, it's all you. Is that something you find quite vulnerable or is it natural for you?
The whole writing of the book was really vulnerable and I'd completely forgotten up until last week that people are actually going to read it [laughs]! It was always just for me in the same way music has always been. I've done it just for myself, I've never really pushed for other people to hear it to validate me or to make it worth it. It can get frustrating if you have 100 voice notes on your phone and have all these different songs that you haven't really put together in one, though. I'm definitely taking a new approach recently with a bit of unified effort. Rather than going from just one idea to the next, I'm actually drilling out a certain project. 
I mean, looking back at the book now it feels like we were just starting yesterday. In reality, it's been well over a year. A lot of hard work has gone into it which I think is the reason why I'm very happy with it now. I really look forward to sharing it with anyone that wants to read it. Generally speaking, I think especially with writing or painting or noodling on the guitar, if you're doing it for yourself, and you enjoy doing it for that reason, then you're a lot happier with the results.
I don't want to put you on the spot but from what I've seen, people are dying to see you perform your music live. Any shows on the horizon?
I'll be frank and say that yes, I've taken the same attitude that I've had for the last year with the book towards my music now. I'm starting to take them to studios and get them polished by a professional. I'm taking music a little bit more seriously. The problem is with me and these songs… We have quite the back catalogue. In my mind that needs to be done before any new ideas come along. Part of it is like a therapeutic process of getting an idea and so then once that's done, we can move on to the next
In the same realm as writing, I loved the poem A Tale of Two Mindsets you recited with Tomfoolery. The beauty of prose like that is that it can pack such a punch in just 4 minutes. Has there been any writer, whether that's a songwriter or author, that has really inspired your own writing?
Oh, Tom. I love him. We've sort of been going back and forth and exchanging battles which I will describe as British banter. Just a lot of insults being thrown at one another. We're both good at keeping each other grounded. I've been writing to a lot of old hip-hop stuff lately, stuff my brothers had me grow up on like Tupac, Wu-Tang and Eminem. Work by Rudyard Kipling and Roald Dahl, who are masters at the absurdity of the fun and frivolity you can have with limited words, is inspiring to me. Writing is just a never-ending pastime; it just seems to keep becoming more exciting.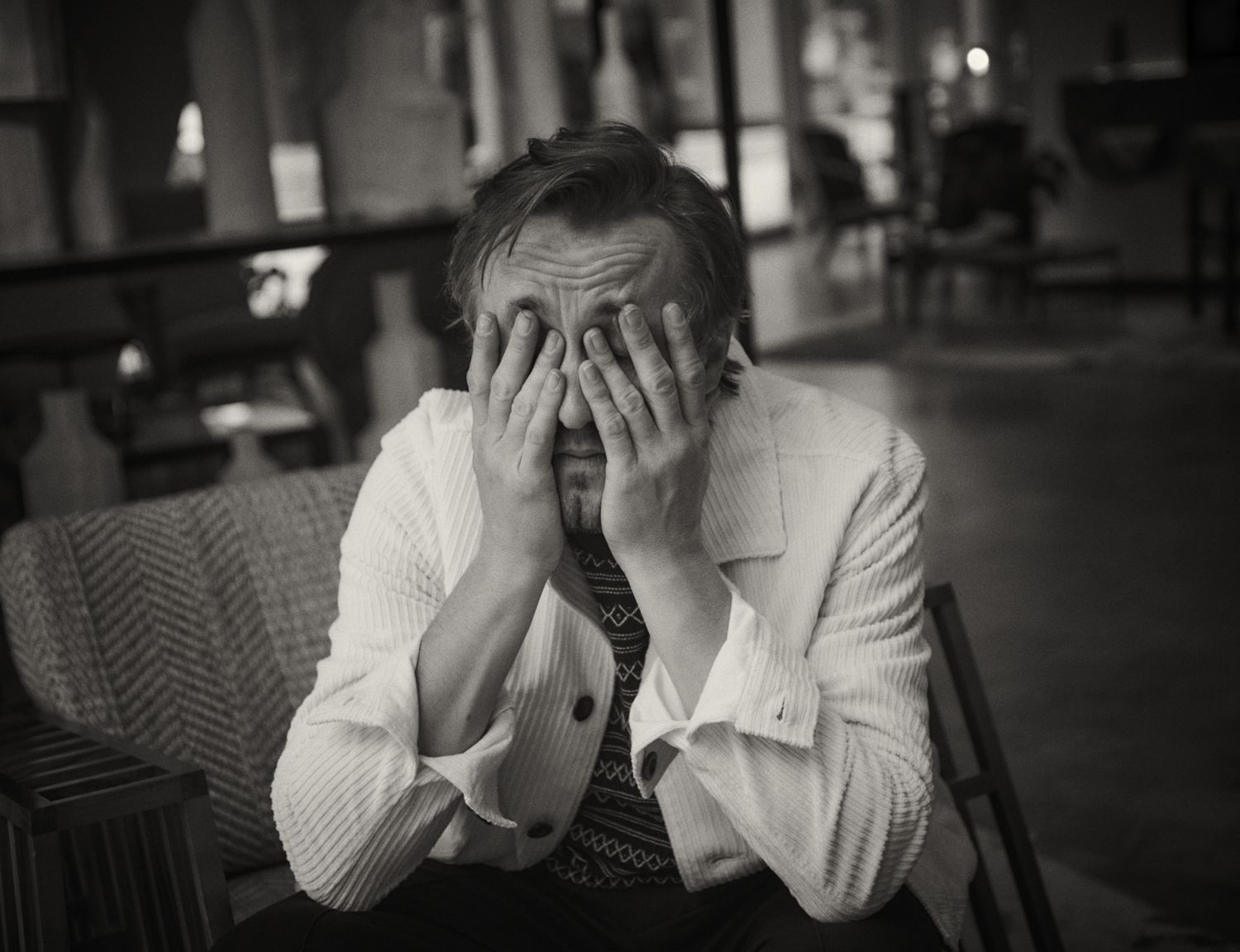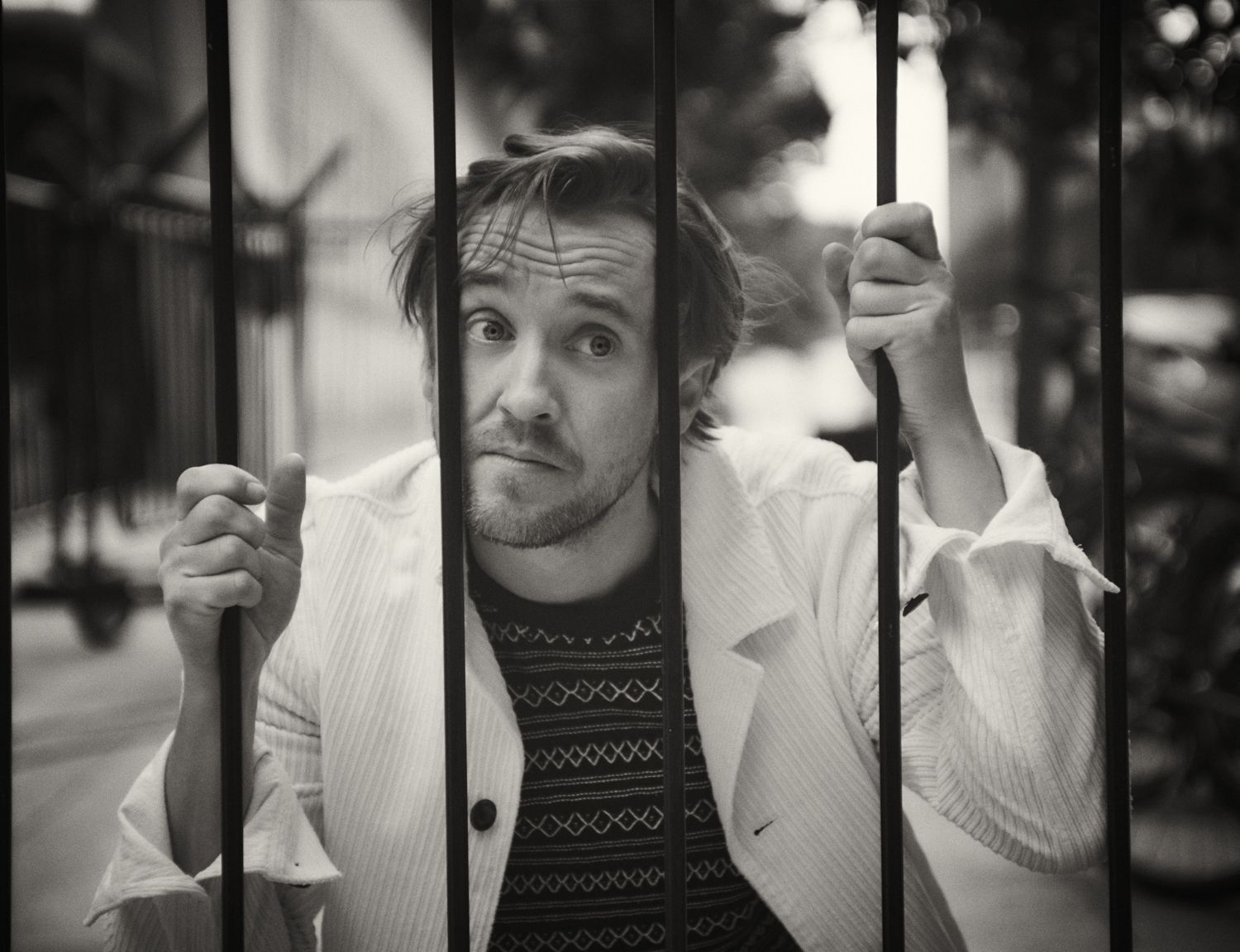 t-shirt Oliver Spencer jacket Mr P at MRPORTER.COM trousers Hugo Boss trainers Uniform Wears
Speaking of exciting… You're portraying Guy Fawkes in the immersive theatre experience The Gunpowder Plot. When you get asked to be involved in such a unique experience like that, do you want to immediately sign on?
Oh my god, you're the first person that has asked since I've actually seen it! I saw it two days ago. People were doing both The Gunpowder Plot and 2:22 on the same day and I knew some disgruntled boyfriend was saying "bloody hell now we saw you this morning." I had not seen the final final version so I was very excited to do that. I was blown away. It's such a completely new experience, I suppose I've never been anything like that. They managed to blend real-life theatre, as well as moving through one of the most historic buildings in London, and match that with their fantastic virtual reality segments of it. It's amazing. 
There is a funny story behind my visit. I arrived late so I missed my slot that was just going to be me and my mum. I thought that was the easiest way to go incognito. So I missed it, so my mum and I ended up being part of a tour with eight other people which is a massive blessing in disguise because the whole thing really is an immersive group experience. About halfway through, they say "Are you that guy?" [Laughs]. It was a bit of an odd one, but they were lovely. It was a group of Northerners from England on their 55th birthday. Yeah, we all had a laugh.
What a story! I feel like it was much better than going alone, especially since audiences obviously interact with you. It's something you've pre-filmed, but do you treat it similarly to your screen work or do you see it as like you're acting on a stage despite there not being an audience you can see?
It's very hard to explain how intricate and how well the whole story is. The actual filming on the day was for me filming in 3D virtual reality, which is very different from filming on a film set. Essentially I was sort of caged into this huge square dome-type thing where 85 different cameras are filming from every different angle possible. Everything that I had to deal with in regards to interacting with things that were not there, but Potter was already a good experience with that. When I saw it, I realized how it all fell into place. They've made me look fabulous. It was very rewarding to see how much technology and interactive theatre could work together. I think it's going to set a new precedent for interactive experiences.
Touching on your interview with The Guardian again, you mention dealing with impostor syndrome. It's something I and a lot of people relate to. What's your advice to someone struggling with it? 
A healthy balance is important. I used to struggle with the idea of success. For example, Harry Potter didn't have anything to do with me. The truth is if I wasn't a part of it the books still would have sold and the films would have been equally as successful. There comes a point where you have to let go. You have to think about how you're doing something and not be too worried about what other people may or may not think about you. There's a healthy amount of that because as soon as you think that the sun shines on your backside for everything you do, it's not a very rewarding place to be when things are great or terrible. You have to ride the wave, so to speak. You have to take the highs with the lows.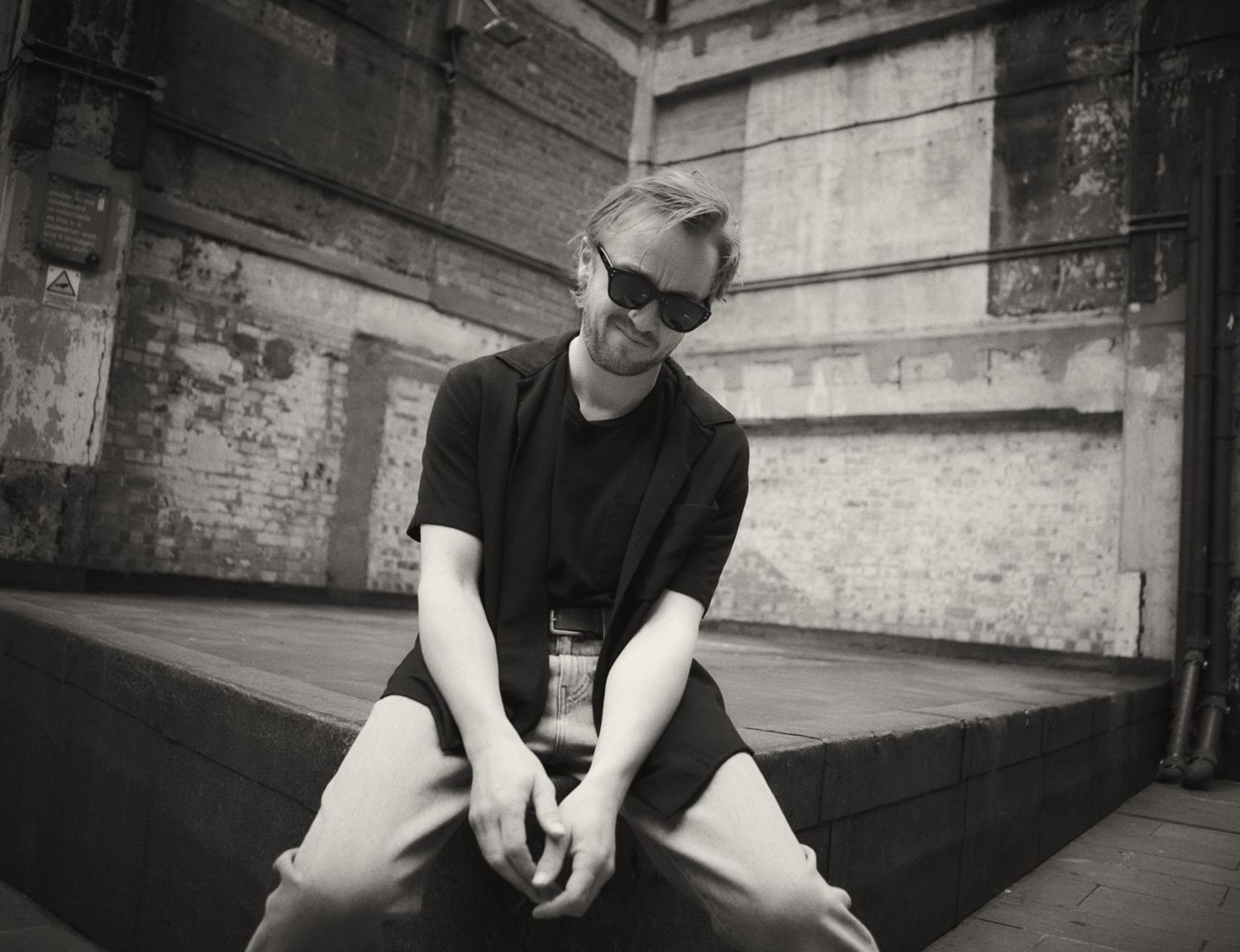 shirt Basic Rights t-shirt Sunspel jeans Levis sunglasses Tom's Own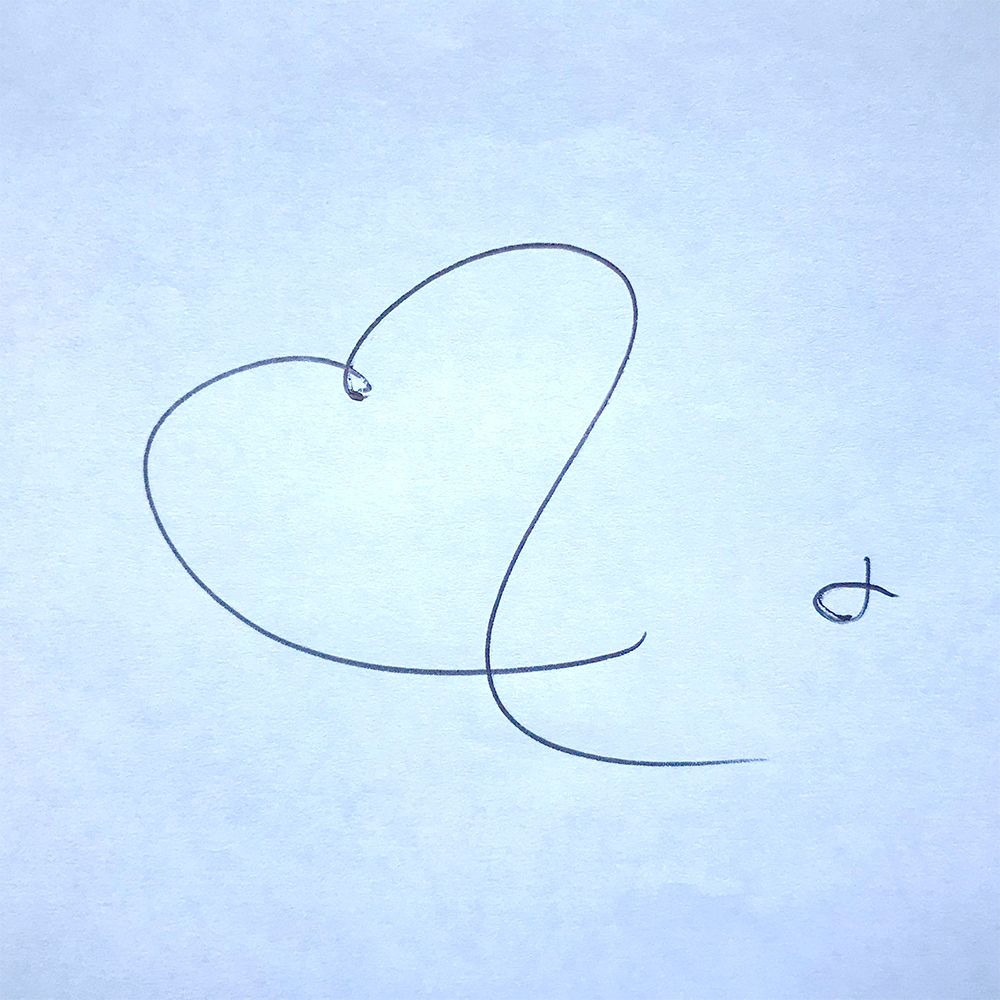 With that in mind, if there is something you could wish for as we enter the later half of 2022, what would it be?
Right now I'd say a nice chocolate ice cream [laughs]. It's hot out! But in all seriousness, it would be something very simple, like swimming with my dog in the ocean. She hasn't been back to the ocean since I left LA so I think she misses it probably as much as I do, if not more. 
Your dog is so sweet! Everything that you post with her involved is so wonderful and pure.
[Laughs] You say that but don't be fooled like me!
Thank you for the chat, Tom. It's been a pleasure. I hope you get that ice cream.
Thank you, Kelsey. I'm going to go get it right now.
Featured Image Credits – coat Connolly
interview Kelsey Barnes
photography Arved Colin-Smith
styling Holly Macnaghten
grooming Emma White Turle
grooming assistant Frankie Neal
production assistant Caroline Hawks
location Bankside Hotel
Pre-order Beyond The Wand and check out Tom Felton in 2:22: A Ghost Story and The Gunpowder Plot.