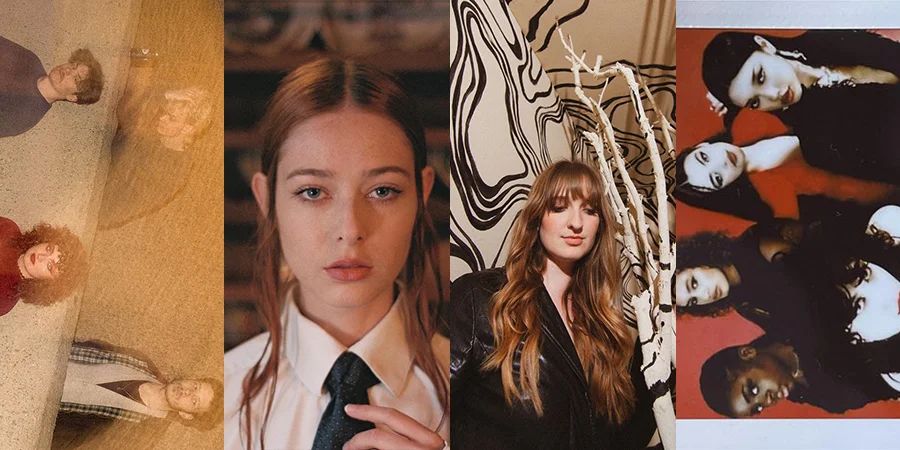 1883 On Rotation: EUGÉNIE, She's In Parties, Madison Cunningham
The latest in new music from EUGÉNIE, Madison Cunningham, CuteBad, She's In Parties & more on this week's 1883 playlist.
On rotation this week is the infectious new single from French pop artist EUGÉNIE. 4D is an intoxicating mix of lush vocals, pounding basslines and glitchy percussion. The singer-songwriter returned last year after a lengthy hiatus with the release of three well-received singles. Since then she's continued to cement herself as one to watch thanks to her sleek sound. CuteBad is a new girl band for a new generation. They've just dropped their sophomore single You Don't Really Wanna and it's a vibrant club-ready bop. Noah is a 19-year-old singer, songwriter and multi-instrumentalist. His debut single What The Other Boys Do is an alt-pop gem with confident vocals, introspective lyricism and an array of electronic textures. It's the first taster from his debut EP and it's a brilliant first example of what the rising artist has to offer.
Elsewhere Momma have unveiled their latest tune, Speeding 72. It's a soaring guitar track with strong vocals and It's taken from their anticipated new album Household Name which drops on July 1st via Lucky Number. Momma was formed by singers/guitarists Allegra Weingarten and Etta Friedman, the pair have recently supported Wet Leg on tour. Angelic is the first official single from the Essex-based four-piece, She's In Parties. Comprised of Katie Dillon (vocals/guitar), Herbie Wiseman (guitar), Matt Carman (drums), and Charlie Johnson (bass), the band have crafted a glorious slice of anthemic dream-pop. If you're a fan of Wolf Alice or 80s/90s shoegaze, then you need to check this group out. On the heels of a larger-than-life 2021, Madison Cunningham returns with her latest — Anywhere —an ode to the inner dialogue one has with the person they desperately want to speak to. Finally, Isaac Holman AKA Baby Dave has just released his debut album, Monkey Brain. It's an album that sees Holman in a more vulnerable position as he emerges from a tough period of mental health. The title track Monkey Brain is a touching track with soft vocals, light guitar chords, and emotive lyricism.
Listen to all this and more in our playlist now.