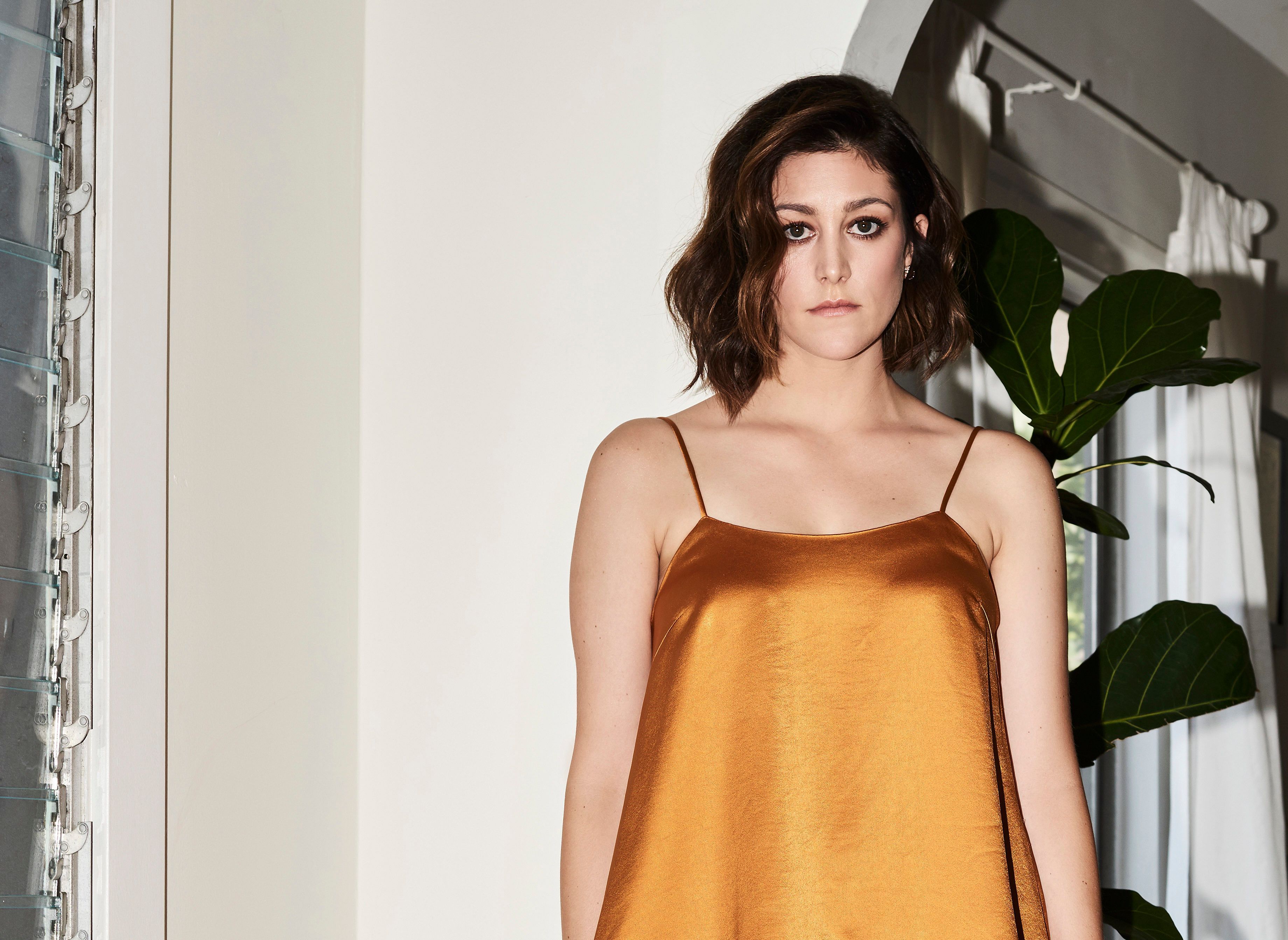 Caitlin McGee
Caitlin McGee is known for her striking presence throughout various film and TV appearances including The Marvelous Mrs. Maisel, Standing Up, Falling Down, I'm Dying Up Here.
Caitlin is now making headlines with her breakout lead role in NBC's new legal drama Bluff City Law which follows her fighting injustices while repairing broken relationships. She will also be seen playing Dev Patel's love interest in Amazon Prime Video's upcoming anthology series Modern Love which based on The New York Times' weekly column that explores relationships, love and the human connection.
We chat with Caitlin about her latest projects, her dream stage roles and her best advice which she happened to steal from fellow actor Bryan Cranston.
You'll next be starring in the upcoming NBC legal drama Bluff City Law where you're playing lawyer Sydney Keller. Can you shed some light on the show and your character?
Well, Bluff City Law is all about our firm Strait & Associates and the civil cases we take on in Memphis, Tennessee. It starts with my character Sydney and her dad Elijah [Jimmy Smits] trying to repair a severely fractured relationship. When we first meet Sydney, she's working at a soulless corporate firm but after a family tragedy, her dad pushes her to come back.
What appealed to you most about this character? How did you prepare for a role like this one? 
I love playing Syd because of her resilience and her relentless pursuit of justice. She's an insanely strong human being. She has had a lot thrown her way which has forced her to build up many defense mechanisms, and as an actor and a woman that hits home with me. The most challenging thing in preparing for this role was simply learning about the legal system! Sitting in on a few court cases, watching how performative lawyers have to be to convince a judge/jury to rule in their favor. Also, she wears some pretty dope suits.
You'll also be soon appearing in the Amazon series Modern Love which sounds like an interesting project. How was your experience working with such a powerful cast which includes Dev Patel, Anne Hathaway, and Andy Garcia amongst other amazing actors?
Honestly? It was intimidating as hell—that call sheet made me shake in my boots! I only worked with Dev, and he's an absolute dream of a scene partner. We had a challenging arc, believably portraying people falling in love in such a short amount of time. But he immediately dropped in and we riffed off each other in an effortless way. I was very lucky, between him and having John [Carney] as a director was such a heart-filling experience. I can't wait for people to see it.
Over the years you've portrayed so many different roles on TV shows and movies such as Plus One, Grey's Anatomy, The Marvelous Mrs. Maisel and Blue Bloods. In your own opinion, what has been your career highlight so far and why? 
I feel insanely lucky to have had a bunch of projects I'm very proud of, but I think a real highlight for me happened last weekend. There was a screening of Bluff City Law in my hometown of Boston and all my family and friends and cousins and agent and dog park pals and childhood neighbors got to see it on the big screen! It was surreal in all the best ways.
So, is there any dream role or character that you're really looking forward to playing in the future?
My background is in theatre; I trained in both musical theater and Shakespeare. So, my dream roles are all on the stage, also because my TV/film dream roles have yet to be written! But I have always wanted to play the Baker's Wife in Into the Woods and [despite it being written for a man] Mercutio in Romeo and Juliet.
Looking back over your journey so far, what advice would you have given to yourself when you were just starting out?
Breathe. And remember what your job is…it's not your business whether or not you get the gig. You are there to create, nothing more or less. There's power and freedom in knowing you are only in control of your own performance. Pretty sure I stole that from Bryan Cranston who says it better than I do so go look up his version.
What's next on your career bucket list for the rest of 2019?
I'd love to get back on stage at some point, I admire actors who do it all! Maybe create something of my own, direct eventually. Greta Gerwig and Phoebe Waller-Bridge are my dream collaborators; not sure it'll happen in 2019, but I hope to work with them someday. If I keep saying it, it'll happen, right? Like 'The Secret'? I haven't read 'The Secret', but this is my understanding of how it works.
Team Credits
interview by Khushboo Malhotra
photography David Higgs @ Exclusive Artists Management
styling Desiree Morales @ Tomlinson Management Group
hair Clayton Hawkins @ SWA
makeup Amy Oresman @ SWA
styling assistant Ashley Barnes 

Bluff City Law is currently airing every Monday on NBC!
Modern Love premieres 18th October on Amazon Prime Video!