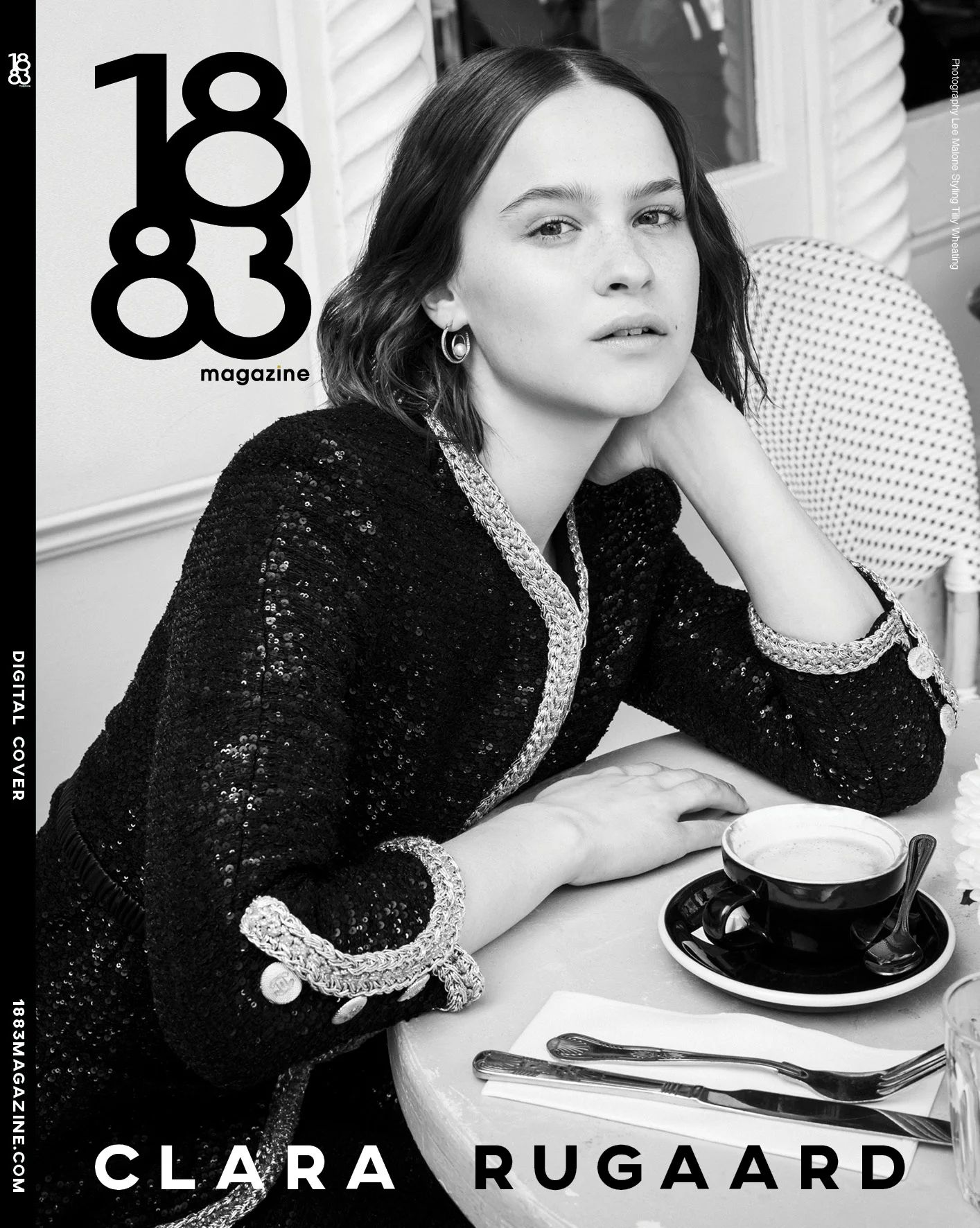 Clara Rugaard
Clara Rugaard creates a unique kind of magic as she breathes life and hope into Sky's new crime drama, The Rising.
On August 26, 1964, Disney released Mary Poppins. With Julie Andrews playing the title role, the film is full of catchy songs and quotes that beautifully capture the power of imagination, such as the iconic "supercalifragilisticexpialidocious" or Mary's simple statement, "Don't you know that everybody's got a Fairyland of their own?" In the almost half a century since, the now-beloved children's tale floated into theatres, countless children (and many adults) have found comfort in the fictional nanny's care. For one child in particular, the story led to even more. Danish actress Clara Rugaard found not only solace and hope in the magical story but also the beginnings of a career.
The now 24-year-old talent first graced the stage as Jane Banks, one of Mary's charges, in the 2004 production at the National Theater of Denmark, auditioning simply because she was "absolutely obsessed with that movie." The role was her gateway into a love of acting and what is now a blossoming yet already noteworthy career. She played Juliet in the highly underrated Shondaland and ABC Studio's production, Still Star-Crossed, can be found alongside Elle Fanning in Max Minghella's Teen Spirit, took on the role of Daughter in Netflix's Sci-Fi Thriller, I am Mother, and most recently stars in Sky's The Rising.  
At first glance, it might seem hard to draw parallels between the magic world of Mary Poppins and a paranormal murder mystery but when I thought about it, they weren't that difficult to find. The driving force behind each story is hope. While the hope in P. L Traver's novel's classic adaptation is optimistic and jovial, The Rising, its dark deed already done, finds its strength in its hope for justice. Both tales are full of magic and require the use of imagination and each features children yearning to be cared for. The Rising is Sky Studios' debut in-house production and the choice to have Rugaard lead the all-star cast is one of many correct decisions made. 
With countless crime dramas filling the airspace, The Rising proves itself to be a must-watch due in part to an unusual conceit — the series opens with Neve Kelly, played by Rugaard, realizing she's dead — but mostly to the raw vulnerability and emotion showcased by the actress in the victim role. Rugaard is mesmerizing as Neve, breathing life into a character that viewers rarely get to see "living" and by creating that rare sense of safety within the role that makes the audience forget that there is no true happy ending for the character — only an injustice to be righted — making the watch all the more enticing.  
In a candid conversation that spoke volumes about Clara Rugaard's warm and bubbly personality, she chats with 1883 Magazine's Sydney Bolen about why The Rising is a special project for her, her love she carries for her character Neve, and more.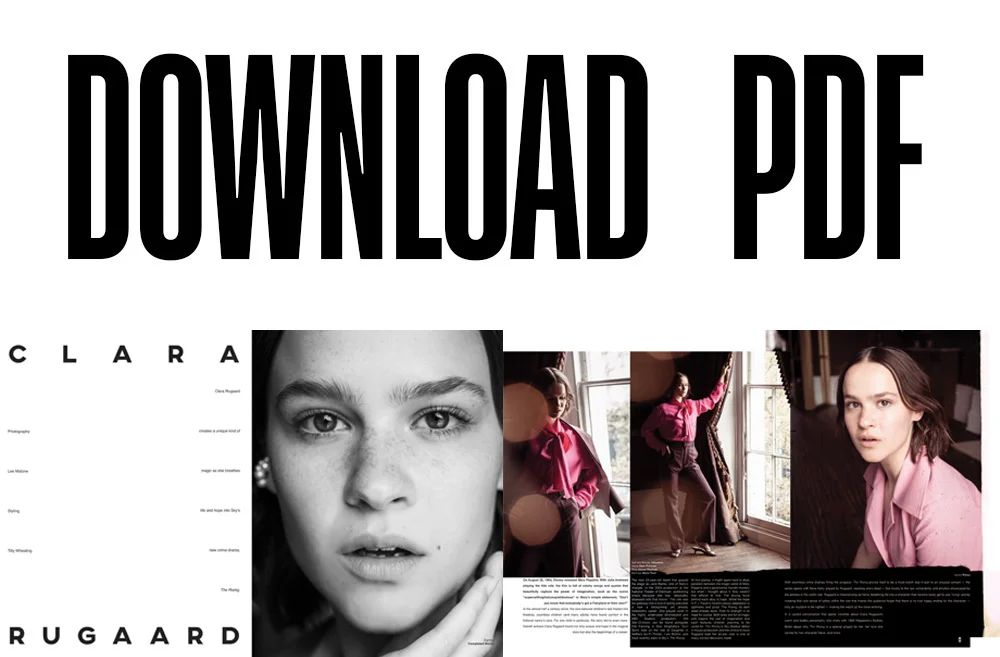 I am so sorry I was late. My alarm didn't go off. I happened to wake up, saw that it was 7:30 am, and flew out of bed.
Oh, that's okay. No worries.
Honestly…I went to bed late because I was watching The Rising. I love it. 
Were you?!
Yes! It's great. You're so good in it. It's so good. I have two episodes left.
Wait, you've seen more than I have! I've seen the first two [laughs]. I'm so glad you like it. That makes me very happy.
I'm very picky when it comes to mysteries, so you should be very excited! [laughs] 
Oh, yes! I feel like in the first two episodes it takes a second to set the scene and who the characters are. That's so good to hear.
Did you tear through the scripts as I've torn through the TV show?
Yes, I did. Well, they sent me the first episode initially. I tore through it. It's such a page-turner and filled with interesting, complex, amazing, and dynamic characters that made it all the more enticing and intriguing to want to be a part of. I think the beautiful thing The Rising does is subverts the crime genre or the "dead girl" story and gives the victim a voice. It gives her the agency to right the injustice and right her deciding fate.
As an actor, how did you feel about playing that conceit, especially in the first episode where she is essentially invisible?
It's such a devastating scenario, being taken away from the people that she loved. The part that I think is even harder is being able to see the people that she loves grieving her. It's a strange thing to have to act, for sure. It's very difficult to put yourself in that space and try to understand how one would feel in that situation. But for her, for Neve, it's all the more reason to exist. In this other realm, she can hear people talking about her as if she's just a victim. She knows that's not who she is, so she tries to get through to tell people, to say, "I'm still here, I have a voice, I have more to say and more to do." She's given a second chance which is very empowering.
I love Neve. I 100% I'm setting myself up for heartbreak. It's like when you watch Romeo and Juliet and you're thinking, "they're not going to die in the end. It's fine." Watching The Rising, you forget that she's dead. It's not fixable! 
[laughs] I know. It really is heartbreaking.
I'm so interested to see how it's all going to play out. Who is Neve to you?
Neve Kelly is a skilled motocross rider, a young woman who grew up in this rural community, and someone who has always struggled with belonging and feeling like she belongs in the community. Whenever I start with a new character, I think it is very important to set up their backstory. For Neve, it was quite interesting because I had to figure out who this person was when she was alive. Apart from the flashbacks, I didn't get to set foot into her mindset before her death, which would be a very different mindset. I think she's such a cool character. She's very human. That was essentially what drew me in when I read her on the page. She is so complex. She's so resilient and insecure, but also super confident and cocky. It's a coming-of-age story, really. Sadly, she goes on this journey to become the person that she was always meant to be in her death. She's so relatable in many ways but, in so many other ways, she's so much cooler than I'll ever be. 
[Both laugh] Don't you love when that happens? You can step into her for a little bit.
And convince people that I'm actually that cool! Yeah, I can ride a motorbike. I can do all of it.
Exactly. For someone your age, you have quite the roster. What draws you to a role?
Relatability is key. With any storytelling, being able to relate to what you're hearing or looking at is key. That's what everyone is yearning for, that connection. Also, just good scripts with good storytelling. What I think The Rising does beautifully is it encourages young women to stand up for themselves when they've been done wrong. It's got such a beautiful, powerful message behind it. I love that I get to do that through my job. I love that through creating art we get to inspire viewers. I'm shaped by the movies and the shows that I've watched and so inspired by them. I love to think that I get to be a part of doing that for other people. I guess it's me finding purpose.
I love that. It's a wonderful way to think about it. Do you always consider who you might be impacting when you take on a role?
Not always. I do feel very privileged to have gotten the opportunity this time around. I really do feel that Neve stands for such a beautiful idea and represents that for young women, and young people in general. This is definitely a unique situation. That's why she's so special to me.
I think she's really cool. I really like her and as I said, know I'm going to be really sad in the end. [both laugh] I read The Rising filmed in The Lake District. It's on my list of places to go. How was your time there?
It was amazing. It's such a beautiful place. I'd been there once before with my family because we like to go hiking. 
Oh, fun.
Yeah! We went on a holiday there. Everyone stayed in a little cabin. It's breathtakingly beautiful. The pace of life is so different from the hustle and bustle of London. It provided us with a beautiful backdrop for the show that speaks to the vastness that the world it creates, the sense of isolation that completely puts the audience in Neve's headspace. I think that's very clever. We had a beautiful time. The only thing is we fought with the elements of the Northern weather quite a bit. There was a lot of scuttling away to try and take cover when the torrential rain started. But that just made for an even more memorable experience.
That sounds lovely, rain and all! This question is a bit odd, as your character is dead, but if you could give Neve one piece of advice, what would it be?
I would tell her it's okay to be different. I think a lot of people feel they stand out and that's a bad thing, but it's not. Typically, the people who make you feel like it's not okay are just jealous. They're envious that they don't stand out themselves or aren't willing to go against the current and do something they genuinely love for themselves. I would tell Neve that it's okay. You can do that. You're very cool for doing that.
That's good advice. A decent amount of your roles have a musical element, would you ever consider releasing music?
I would love to do that at some point. I do write songs outside of acting. I took up the guitar during the lockdown.
Oh, that's fun!
[chuckles] I'm sure a lot of people did. Expression through music has always had a special place in my heart. I love that I get to do that in my movies and my jobs as an actor. But, maybe one day I'll dabble in the music scene.
Never say never. Did you always know you wanted to act? 
Funnily enough, I wanted to be a singer growing up. That's how I fell into acting. When I was 10 years old, my dad saw a newspaper article saying that the National Theatre in Denmark was looking for little kids to audition for the roles of Jane and Michael Banks in Mary Poppins. At the time, I was absolutely obsessed with that movie. I still am very much. I was already that weirdo running down my school corridors with jazz hands, my dad would say "I'm sure you'd be great at that." I auditioned and ended up getting it. That then sent me down to industry acting. Music was a factor for me from the start.
I love that it was Mary Poppins.
I loved all the magic. It's such a beautiful story and was a perfect way to enter this world.
I agree. Out of all the roles you've played thus far, which was the most challenging?
They've all been quite challenging in different ways. I would say Neve has been quite challenging because she is in so many ways so different from me. On the surface, I had a voice coach to help me with a specific accent. I had to have a Bedfordshire accent, which God knows if that translates through the show.
I can't tell you. All my American ears hear is British. [both laugh]
The motocross side of things as well. It was a long job. It was six months. In a lot of ways, Neve Kelly is the biggest challenge of all the roles I've taken on.
Looking back, which one do you think was your favourite once you were done with it?
Oh, I can't pick. They're all my babies.
That's a good problem to have.
Yeah, it is. I think I've learned something from every single role that I've taken on. They shaped me in many ways and I couldn't be without any of them.
What have you learned from Neve?
I've learned how to ride a bike [both laugh]. The impressive, scary and dangerous stuff, isn't me. But, I do ride in the show. Proudly so. I can't think of anything deep and meaningful, right now. [chuckles]
No, you're good. That's a genuine thing. Do you want a motocross bike now? 
I definitely did. When I took the training that first week, my stunt double, Katy Bullock, who trained me was like, "oh, you should get your license after this. I was like, "yeah, I'm going to do that." Now that I'm back in London, the idea of riding around on a motorcycle absolutely terrifies me. So, I don't think it'll be happening quite yet, but maybe someday.
Looking to the future, what is your dream role? 
I've been really lucky to take on very different roles. I always find this question quite hard to answer because I don't know if there's anything specific. Something that I've been thinking about quite a lot recently is playing a villain.
Oh, girl. I love villains. 
Because they're so misunderstood.
Exactly. 
There's so much to dig your teeth into there. They're always great characters. Having just said that I never know how to answer this: a villain. 
I totally get that. To wrap up, While I was doing my research, I came across Press Play. I read one sentence of the premise and I'm so excited. 
Oh really?!
Yes, the plot seems so cool. 
I know! Press Play is coming up this year. I think in the summer. I'm really excited. I had such a great time shooting in Hawaii. 
Oh, what a bummer! [laughs]
I know, twist my arm. I've realized that all my characters have been really stressed out. In this film, my character discovers this time travel element and wants to go back in time to right an injustice and is stressed out about it. [both laugh]
If the character is stressed, you've got it.
Yeah, I'm your girl! [laughs]
All episodes of The Rising are now available on Sky Max and NOW.
Interview Sydney Bolen
Photography Lee Malone 
Styling Tilly Wheating 
Hair Issey Hyde
Make up Harsha Chavda
Location Beach Blanket Babylon, Notting Hill, London
Cover image credits
All Clothing Chanel Earrings Completedworks