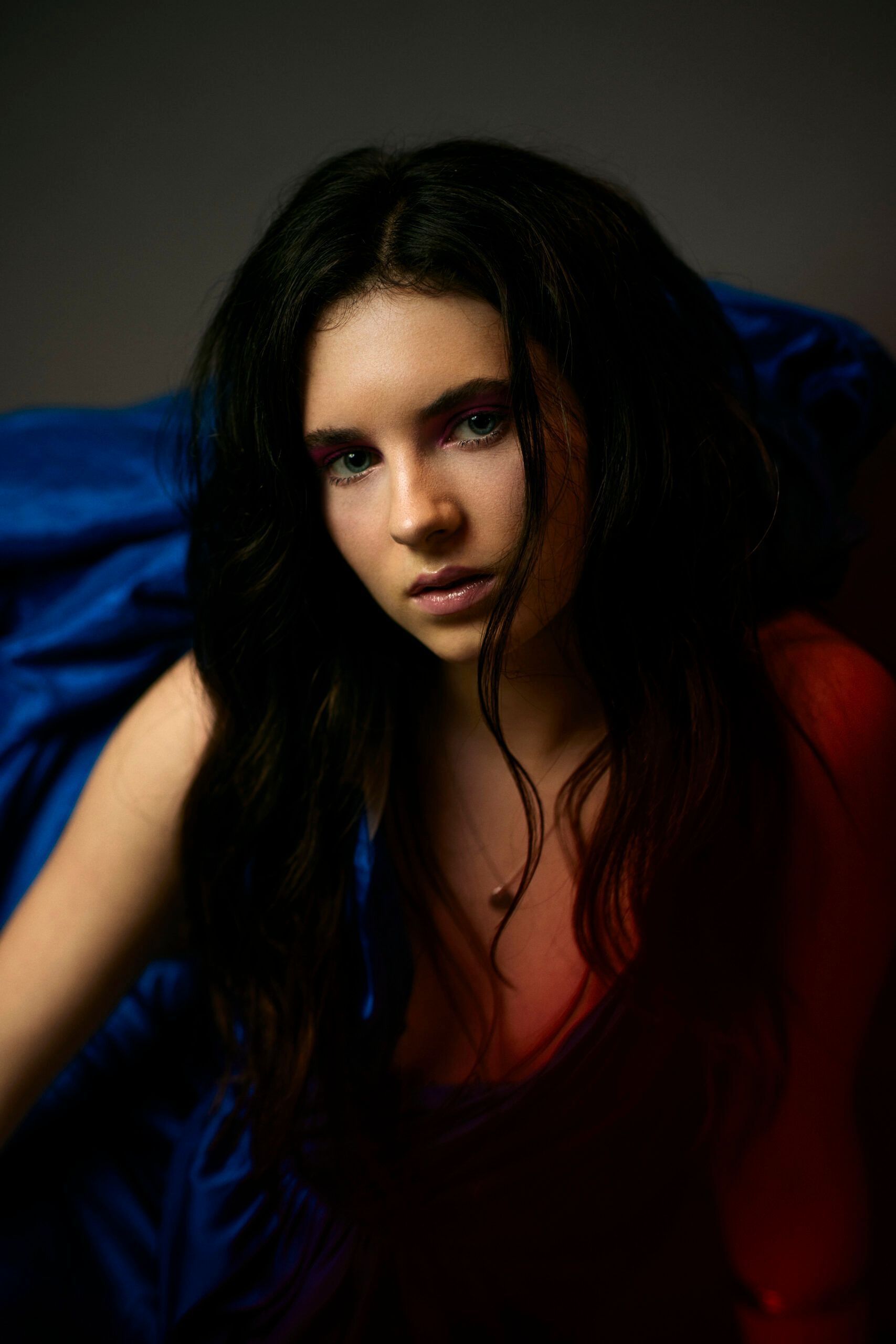 Darci Shaw
At sixteen-years-old, her first film credit was portraying a young Judy Garland in the award-winning film Judy. Alongside Renée Zellweger, who performed the star in her later life, the film became an instant Hollywood hit.
Two years on and Darci Shaw's role in Netflix's newest paranormal show – based on the world of Sherlock Holmes – couldn't be more different, yet is looking like a promising fit for her next blockbuster project.
The life and work of the fictional detective has prompted numerous on-screen renditions; with portrayals from Benedict Cumberbatch and Robert Downey Jr in opposing series, to Millie Bobby Brown depicting Holmes's younger sister in Enola Holmes. Now, Netflix welcomes a new dynamic to Sir Arthur Conan Doyle's timeless tales; The Irregulars.
Created by Tom Bidwell (My Big Fat Diary), the supernatural thriller set in the Victorian era follows the life of a group of street kids, sidestepping the focus that typically lands solely on the famous residents of 221b. Struggling for money and seeking a better life, the gang accept a request from Dr. Watson, who recruits the kids to help him solve a string of crimes. The mysterious Sherlock Holmes appears aloof whilst his name remains intact, as the show follows a dark and paranormal avenue and the team discovers that everything is not as they've been told. A key member of the gang is Jessie – played by the brilliant Darci Shaw – who discovers she has the power to see things normal people can't and perhaps the gift to ultimately solve the mysteries.
The series takes inspiration from the original Baker Street Irregulars; fictional characters from Conan Doyle's books. The street boys, employed by Holmes as intelligence agents, are who Bidwell has ingeniously adapted for the new series. Although the series doesn't follow the regular Holmes avenue that fans may be acquainted with, Shaw was fixated on the show being her next project from the offset. "I just loved being part of a Victorian production," she explained. "To have a Sherlock Holmes adaptation with supernatural powers in it, I just thought that was so cool."
We caught up with Shaw who told us about her audition secrets, her admiration for fellow scouse actress Jodie Comer and how she transforms her accent so effortlessly with each role she depicts.
Congrats on The Irregulars! How are you feeling ahead of the show's release?
I'm so excited but also quite nervous. I think it's one of those things when you're doing a Sherlock Holmes adaptation, it's always going to be up for criticism because it's been done a few times and there's a lot of fans already out there who love previous versions. I think this version is so different, so hopefully people will be able to see past that.
Your character, Jessie, is gifted with a superpower. What first attracted you to playing this character? 
I originally read for the role of Bea (Jessie's sister). On the train home from the audition, I got a call asking me to self-tape over the weekend for Jessie and to start looking at that part instead. As soon as I read her breakdown, I realised her cool journey from where she begins and where she ends. She has such a great character arc and so many different sides. She gets to show a softer, more human side with Bea but then she also has these emotional scenes too. I think it was the whole range of emotion and character that drew me in. I think watching it as well, Thaddea did such an amazing job and I can't see anyone else playing Bea. We all found the right fit in the end.
Do you have a favourite moment that stands out to you in the series?
I think (in) the whole series, there is a kind of turning point where the guys realise just how serious the whole thing is. In the first episode, someone gets murdered and I think that moment is a real hard hit for all of them and they realise that lives are at stake and they're dealing with something that they have no experience in. Then, I think you see them evolve and grow and adapt to the surreal circumstances they keep finding themselves in. I think it's fun to watch because they have very human reactions to everything and you're experiencing it with them. They're seeing these shock horror things and you're seeing it with them, so to see them put all these experiences under their belt and become such strong characters was amazing.
How was it filming a period drama and transforming to the Victorian era?
I absolutely adore period drama, I think it's probably one of my favourite things because of the costumes. I think back and every day I was wearing six or seven layers! The role is so broken down, so even the colours and marks on each costume are all historically accurate. There's a reason why that stains there or it's the colour that it is, and it's because it was from the Victorian era and because of the fumes and chemicals that were around back then. I think little details like that really help you get into character. The transformation from when I used to walk onto set in the morning to when I came out was insane! I wore these clip in extensions, I don't know if you noticed but my hair looked very heavy and dense which it was! The transformation is crazy because we were caked in mud every morning. I had mud in my ears, mud under my nails and you go home in that stuff and walk into the Co-op and people are staring at you and you just completely forget! My hair looked ratty because they put so much clay in it to make it look like it had so much texture, so it was all these details. Me and Thaddea were in the make-up and costume for two hours each morning, so there's a lot of preparation before you even get on set. I remember the moment I first walked onto the street where The Irregulars lived and I had no idea what it would look like, but they'd built the entire thing and added bits of building onto ones that were already there. It was just incredible, it was like walking back in time.
When did you film the production?
We filmed from September 2019 and finished October 2020. We were two weeks from finishing when Covid-19 hit but I think the schedule was quite optimistic. We had a five-month interlude and when we got back we finished it in a month. It makes you realise how much you miss it when you're away and I think it was the crew and cast I missed more than anything. You build strong relationships with people after you've spent six months together. It was weird to come back and everyone have masks on, I didn't recognise anyone at first because they'd either lost weight or completely changed their hairstyle!
Originally, they told us they were going to shut down production for two weeks, then it became five or six months. I think we kind of knew after the four-week mark, we were like yeah, this is going to be much longer and it's much more serious than we first thought.
Why did The Irregulars catch your eye – what was it about this show that made you want it to be your next project?  
The main thing about it was that it had so many genres in one. You've got the horror but you also have the drama and deep emotion and then you've got comedy moments. There's also this cool gang camaraderie dynamic. The fact that everyone in it is young gives it a fresh, modern edge to it, which I loved. Something is constantly happening and there's never a dead moment in the show, it's very action-packed and I really loved that. To have a Sherlock Holmes adaptation with supernatural powers in it, I just thought that was cool.
Are you a Sherlock Holmes fan and have you watched any of the previous shows?
Yeah, I'm a huge fan of the BBC production with Benedict Cumberbatch and I've seen some of the other productions. I'd say I was a fan.
The series is also written by Tom Bidwell, how was it working in his world?
We had rehearsals at the beginning, with just the five of us, because on-screen it needs to translate that we've known each other for our whole lives and that we're a close-knit team. We had rehearsals to try to build up relationships and Tom came in and gave us a sort of Q&A of all the characters and we asked loads of questions about their back stories and qualities, their flaws and strengths as people. I think he really reiterated that all the characters are very different from each other, they have different personalities but that's what makes them such a great glue and they stick together so well. That was really fun to get him in the room and ask him so many questions. When you're reading the script, it's quite incredible this world he's created, it's like a different universe so it was interesting for us to fire loads of questions at him. He knows the characters like the back of his hand, so he could just answer everything.
How did you get involved in the series?
Once I'd read once for Jessie, I think I must have gone up and down to London about four or five times just auditioning. I did chemistry reads with potential Spike's and then I did a chemistry read with Thaddea (Bea), which was the final stage. It's a weird feeling getting further and further down there's a smaller group of people they're interested in and you become more attached to a character, so it's almost harder to be rejected at the very last point. It's hard to detach yourself from it, especially when I found out it was filming in Liverpool. I try not to set my heart on things because it can be really disappointing if it doesn't go anywhere, but I loved this part and luckily it went my way.
Prior to The Irregulars, in 2019 you starred in Judy and played the young Judy Garland. How was it delving into the life of such an influential figure?
Judy was my first ever film credit, so I was very much a newbie: I didn't know how a film set worked or what happened on a set. All I knew is that I wanted to be on one and act on one! When I arrived, it was quite overwhelming. The pace that everyone works on is very fast and it can be an overwhelming environment to be on, but I just adored it. I got to step onto a set where they'd literally recreated half of the yellow brick world, which was just surreal. There was a part of me that felt a bit of pressure because when you're playing someone that lived and they have a family, it's very personal and I just wanted to do the best job that I could in the most respectful way. I didn't try to imitate her, I just tried to take the essence of her and spin it in a different way which we all worked on. I had a dialect coach that worked with Renée (Zellweger) as well, so they tried to match our accents and make sure it made sense; as she got older she'd sound like that when she was younger she'd sound like this.
How did you research the part?
I read a biography about her and then did a lot of online research. I watched a lot of films from that era. I think she started making films from 1937, so I watched films from 37-42, that kind of bracket from when she was quite young, and just tried to look at her mannerisms and the way she spoke. With the dialect coach we'd also study texts, so we'd watch a Judy Garland interview and have the texts in front of us and study her musicality, the way she spoke and the rise and fall of her voice. I really picked it apart and tried to make sure we hit every mark in that sense as well. It was a lot of research before because as I said, the pressure you feel. I wanted to make sure I could give it the best I could.
You mention that you had a dialect coach. How have you found transforming your accent? Whether it's for Jessie or Judy, as you have quite a strong scouse accent
Accents have always been a really big thing for me because coming from Liverpool, not that there's a prejudice, but there can be a bit of hesitation in terms of, can you do the accent. People don't know if you're capable of it or not. So, for me, I've always made a big effort to work on my accents from a young age. Sometimes I would go into auditions and speak in a completely different accent right from the offset, just so people weren't looking for faults or mistakes in it and I'd talk the whole time in that accent. I don't do that anymore, that would be weird! I was just desperate to try to get my foot in the door somehow or break-in, so I tried everything I could to make an impression on people and give myself the best shot.
Jodie Comer from Killing Eve is a great example of someone who's from Liverpool and has mastered accents!
She is just so talented and was such a role model for me. There's a certain number of actors that come from Liverpool and she was one that stood out. I've followed her career from when she was younger and seen her rise throughout her career. Even when she was younger, you could see how talented she was. Every accent she did was flawless and it was really inspiring to watch. It made me think I need to really work on my accents and get myself up to scratch! When you're looking at someone like that who has mastered their craft, there's a real sense of pride in the city because of how well she's done.
You turned 16 just after playing Judy in the show, which was the same age that Judy was when she played Dorothy. How was the experience of performing in such a huge production for your first film credit?
It was amazing but it was almost a warning too of what the industry could be like. As much as it was such a brilliant experience and it was a bit insane to be honest to be cast in that role, you also must go on with caution once you've played a role like that. You think about all the things she (Garland) went through, and the things she faced throughout her life. This industry can be brutal and really savage and tough at times, so I've always bared that in mind too.
How did you come to play the role of Judy, what was the audition process like? I imagine there was huge competition for that role
Yes, there was. I did a self-tape at first and then they put me in for a recall but there were so many rounds. There was a dancing round and I did a skype with a dialect coach to make sure that I could do the accent. I think even from the offset, I knew this was going to be a really cool role and probably very hard role to get close to doing, but I was determined that I was going to do anything to try set me apart from the other girls.
I remember on the category breakdown it said, standard American accent, so I remember looking up Judy Garland and thinking, that's not a standard American accent that she speaks in, it's definitely a period accent from the 1930's. It's called a transatlantic accent, so I tried to give a bit of a hint of that in my tape. I don't know whether that made any difference but I managed to get called in. I remember when I got called in for the second-round I thought I'd messed it up and I was distraught. That was the beginning of me going up and down to London for a big audition, and I was just terrified. I remember shaking uncontrollably, I had just turned fifteen at the time. I think to then go in a room with Fiona Weir, Rupert Goold and a camera, I was just so scared, it was so intimidating! Obviously, they were lovely, it was just me in my head. I messed up my lines a few times and had to start again and I remember saying to my Mum at the train station, I honestly think this one has gone out the window. Then a week later, I got another call saying I had another recall. The things that go through your head are just crazy!
Did you work with Renée (Zellweger) throughout the production and discuss the character you both played?
We met a few times and she was a very lovely, down to earth woman. She was just so sweet and very softly spoken. She was very complimentary and came out of her way to congratulate me on the role. At the end of filming, she sent me flowers and was just lovely. It was kind of crazy to see someone who I'd seen before in Chicago and Bridget Jones, who was just so normal. When you walked onto set she was just talking to everyone. She was so personable and very bubbly, just really lovely.
What kind of role would you like to play next?
I would love to do a whole range of roles. My favourite are period dramas, because of the costume, make-up and design of it all. I'd quite like to play someone in upper-class society, as that's something I've not done before, or maybe a musical; something that's really happy. I've done a lot of crying in roles recently! I think people need cheering up and a bit of a lift, so maybe that's the future. I started doing musical theatre as a young kid, so I'd love to go back and do theatre. That's the first thing I did that made me realise I wanted to do acting. I was part of a theatre company in Liverpool called Everyman that was a youth theatre. I remember they put on a show Fiddler on the Roof, and I auditioned for one of the younger daughters. Just to be part of that was so fun and I got to see these professional actors up close. My first love was musical theatre.
If you weren't acting, what would you be doing?
I've thought about this before. I've always had a creative brain rather than an academic or logical brain, so probably something to do with making. I'd try get myself involved in set design or costume, maybe dress making. I'd love to try do something like that, or painting. Though I also love yoga, so maybe I'd move abroad and be a yoga teacher!
The Irregulars, premieres on Netflix, March 26
Interview Miranda Bunnis
Photographer Yoshitaka Kono
Styling Vesa Perakyla
Hair Davide Barbieri
Make Up Chantelle Phillips   
Location Portobello Hotel, London
Top image credits