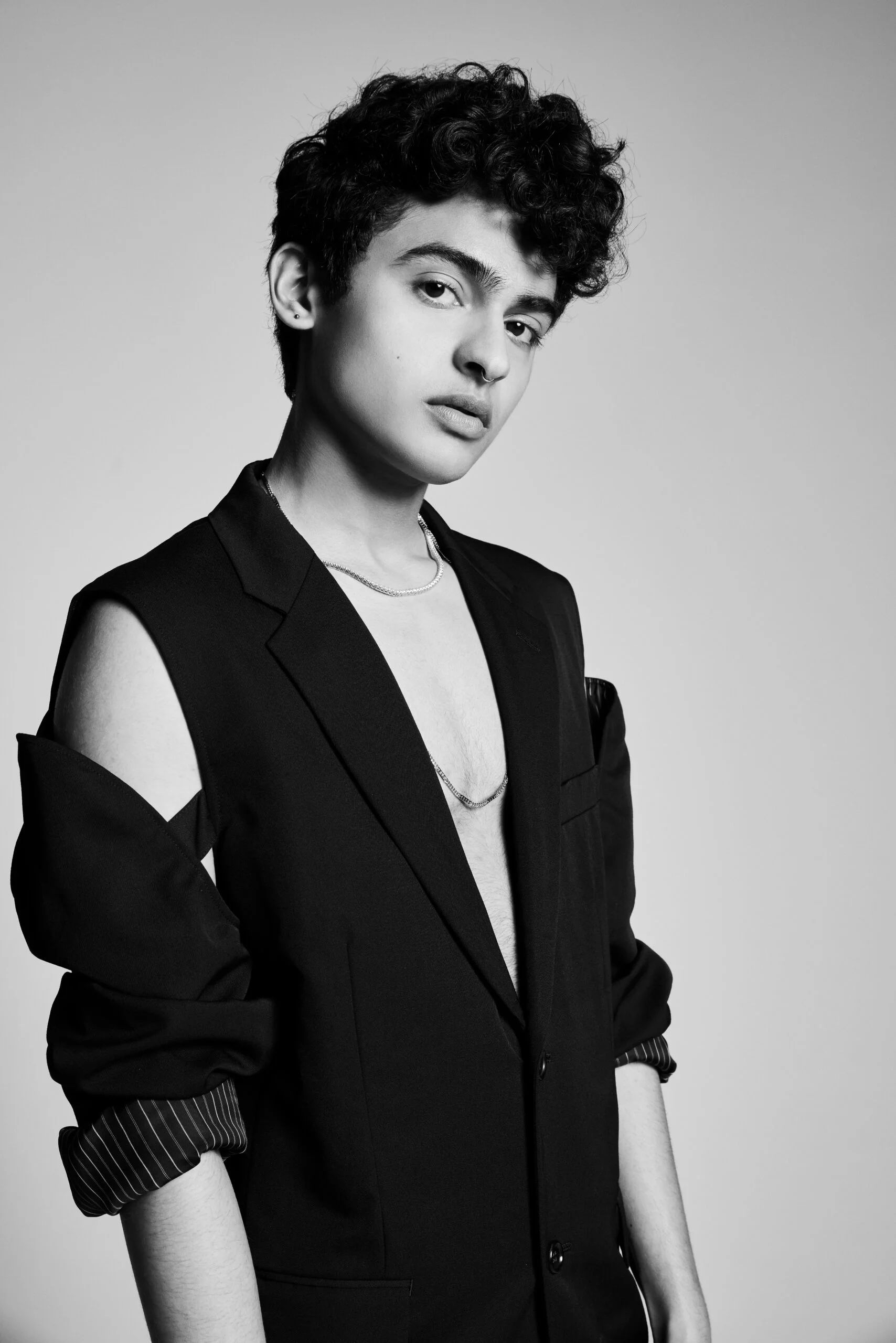 Sydney Mae Diaz
Actor Sydney Mae Diaz is hoping teens see themselves in the characters in a way that's never been seen on TV before in HBO's newest gen-z series, Genera+ion.
For decades, studio execs and writers have been attempting to tell an authentic, true story of what it means to be a teenager in high school during that time and for decades, a lot of them haven't exactly hit the mark. Luckily for teens today they have Genera+ion, the newest series on HBO. Created by 17-year old Zelda Barnz, the series follows a group of teenagers at a high school who navigate sexuality, love, friendship, and family in a conservative community. Sydney Mae Diaz plays J, a philosopher stoner who has a knack for comedic timing. 
1883 caught up with Sydney to discuss all things Genera+ion, what it was like to be in a franchise like Ghostbusters, and what's coming next with their band anxioushum.
You grew up in New York — whenever I speak to actors I'm intrigued to hear how the place they grew up shaped them. How did New York shape you as both a human and as an actor?
New York instills this fast pace lifestyle in you. I'm generally always running quickly, in different ways. The audition process shapes you differently between LA and New York, too. There's this chaos of running around, getting trains, and having to stay focused in New York. I think New York was a perfect training ground because it translates well to being on set and having this mindset where you need to get to where you're going quickly, whether it's to an audition or to set. 
I know you're in LA now shooting, do you see a big difference between those who grew up as actors in LA versus how you grew up in New York?
A lot of my friends from LA, especially on this show, took classes and studied and were able to jump into auditioning a lot earlier. Whereas for me, I was focused on the education aspect of it and getting the degree. I was still professionally auditioning while I was in school, but I didn't book any work until I was fully out of school. I wanted to fully commit to doing something professionally rather than having school, rehearsals, and classes at the back of my mind. 
I just watched the first two episodes of 'Genera+ion' and I'm loving it so far. For those who haven't heard of it, can you tell me a bit about your new series 'Genera+ion' and your character?
'Genera+ion' focuses on a group of kids in high school, we're all part of the GSA group there, and it follows their different points of view in different situations. It's a cool concept because what may be happening to them in their life might not be seen by the other characters. They are all dealing with their queerness and sexuality, but it isn't the sole focus of it. It shows that teenagers are queer, but not all of their problems stem from that. I think that's important because a lot of the times in media, you only see queer characters and how their life is so hard because they are queer when that's not always the case. There are always other hard aspects going on that queer kids go through, too. 
You play 'J' who is the stoner philosopher of the group — can you tell me a bit about them and was there anything you read, watched, listened to, to get into the mindset of 'J'?
I play J who is Chester's [Justice Smith] best friend. J often has the comedic parts and he always has this underlying philosophical wisdom which you can take at face value, but he's really fun to play. To get into J's head I made a lot of playlists. I'm driven by music, so I focused on a couple of artists that helped me get into character. I modelled J off of my youngest brother and his favourite rapper is Playboy Carti so there's tons of his stuff on that playlist. 
What did your brother say when you told him you modelled J after him?
I don't even know if I've told him outright, but he thought it was kinda funny that I was picking his brain for J. He's the youngest person I know that has graduated high school recently, so having him as a reference point was very helpful for me. 
Rather than placing its gay and bi characters as side characters and plots, 'Genera+ion' puts them all at the forefront, which is different than a lot of shows that try but fail to be completely inclusive. How does it feel to star in a show that is highlighting and lifting these voices?
It's amazing, honestly. To be part of a project like this, I couldn't ask for anything better. To see all these different faces and voices celebrated on-screen makes you happy that something is available like this for the younger generation. On the other side, it makes you almost mourn for yourself a bit… you think about how you would've loved to see this on-screen yourself growing up. It would've helped give me the right vocabulary and information rather than having to seek it out myself. Seeing people on-screen makes it easier to accept those voices that are within yourself and that's important for kids to see. I know it took a very long time for me to see myself reflected, so hopefully shows like these push the timeline a bit and make it less hard for someone to find themselves.
In the second episode, the characters talk about what they would want to do before they die. Your character said the ten-pound burger and rainbow milk challenge, but what would your answer be?
I have to think about that….. I feel like a lot of the things I've said related to this topic are not true….. I know — cage diving with sharks. I think it would scare the shit out of me, but I think that's something I need to do!
You'll also have your big-screen debut in Ghostbusters: Afterlife later this year — how does it feel to be joining such an iconic franchise?
The experience has come and gone and I still don't have the words for it. It was my first time out of the country, we shot in Canada around Calgary. That was my first time on a big movie set because at that point I only ever worked in TV and theatre. The director, Jason Reitman, had so much trust in our cast. He encouraged us to improv and interact with one another because we were mic'd up the whole time. I was overwhelmed by that because he put so much trust in our hands to help tell this story from a franchise his father started. It was scary at first because that much trust is a bit jarring, but it helped build my confidence as a professional. When someone is placing that much faith in you, you have to be doing something right. It was a life-changing process and I loved the entire cast a lot. It's beyond anything I thought I could ever have as an actor.
Especially being in a franchise like Ghostbusters, I can only imagine the pressure and bliss you were feeling. 
Right! Everyone knows the songs, everyone knows the films even if you haven't watched them, everyone goes out as the characters for Halloween. It's an experience I'm going to probably think about for the rest of my life. 
You're also a singer/songwriter for the indie rock band 'anxioushum'. Is music something you've always been interested in since you were a kid?
I wanted to be in a band before ever wanting to be an actor. Pre-pandemic, I was constantly at concerts in New York and seeing my friends perform or play shows of my own. When I wasn't auditioning, I'd be going to concerts. It's such a huge part of my life.
I know you're focused on acting, but would you want to go on a tour with your band?
Yes! That's another life thing I want to do before I die. I would love to go on tour. I just miss live music so much. Sometimes I'll put on a live record just to get 1/8th of the serotonin I used to get from concerts. 
Literally! I feel you. A few weeks ago marked 365 days of no live music and I do not like it.
I think it's the longest I haven't been to a gig since I was probably 13. 
Lastly, what else can we expect from you in 2021?
Ghostbusters is out in November and we have the rest of this block of episodes of 'Genera+ion' and then a few more episodes later this year. I'm planning on going back to New York and recording some new music to release. I'm still auditioning and looking to see where my next project will take me! 2021 is just going to keep hitting the ground as I've always been doing
'Generation' can be seen on HBO Max
Interview Kelsey Barnes
Photographer Bret Lemke
Fashion Stylist / Editor Krisana Sotelo
Grooming Ashley Donovan
Top image credits
Black suit COMME DE GARCONS: FROM PAUME Los Angeles
[embedyt] https://www.youtube.com/watch?v=LaW_mdEqwpg[/embedyt]