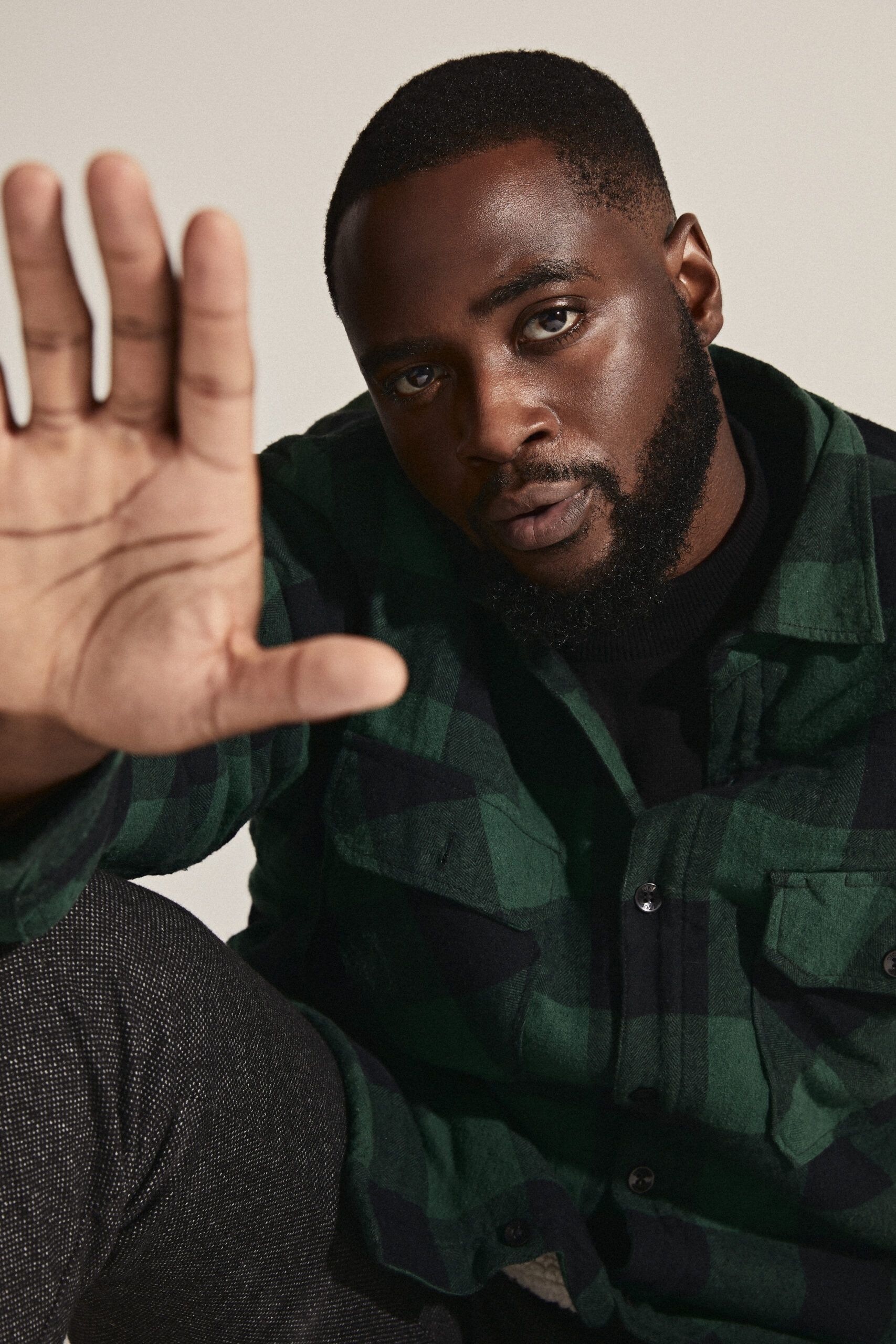 Dipo Ola
With Sky/HBOs 
Landscapers
 set to be this season's biggest drama, Dipo Ola reflects on what drew him to the true-crime retelling.
Dipo Ola's resume may appear to be filled with the dark and dramatic, but he will be the first to tell you he is not a horror fan. What has drawn him to his projects is "a coherent vision." The Oxford School of Drama alum made his on-screen debut in Channel 4's critically acclaimed series Bagdad Central, was featured in the beloved BBC anthology show Inside No. 9, and is best known for his starring role in Alibi's We Hunt Together alongside Hermione Corfield. Ola's latest project is no different.  
The Sky and HBO miniseries, led by all-stars Olivia Colman and David Thewlis, revolves around the true story of a couple that discover dead bodies buried in the back garden of their Nottingham home. Describing the show as unique and unconventional, Dipo seems to have thrived in the creative atmosphere. While the premise might be a bit gruesome, the cast and crew were nothing but, enabling the actor to embody his character, an empathetic solicitor named Douglas who brings a bit of warmth to the harsh realities the protagonists face.   
Dipo Ola spoke with 1883's Sydney Bolen about working on his latest project, his time at his alma mater, and what kind of stories he'd like to be part of in the future.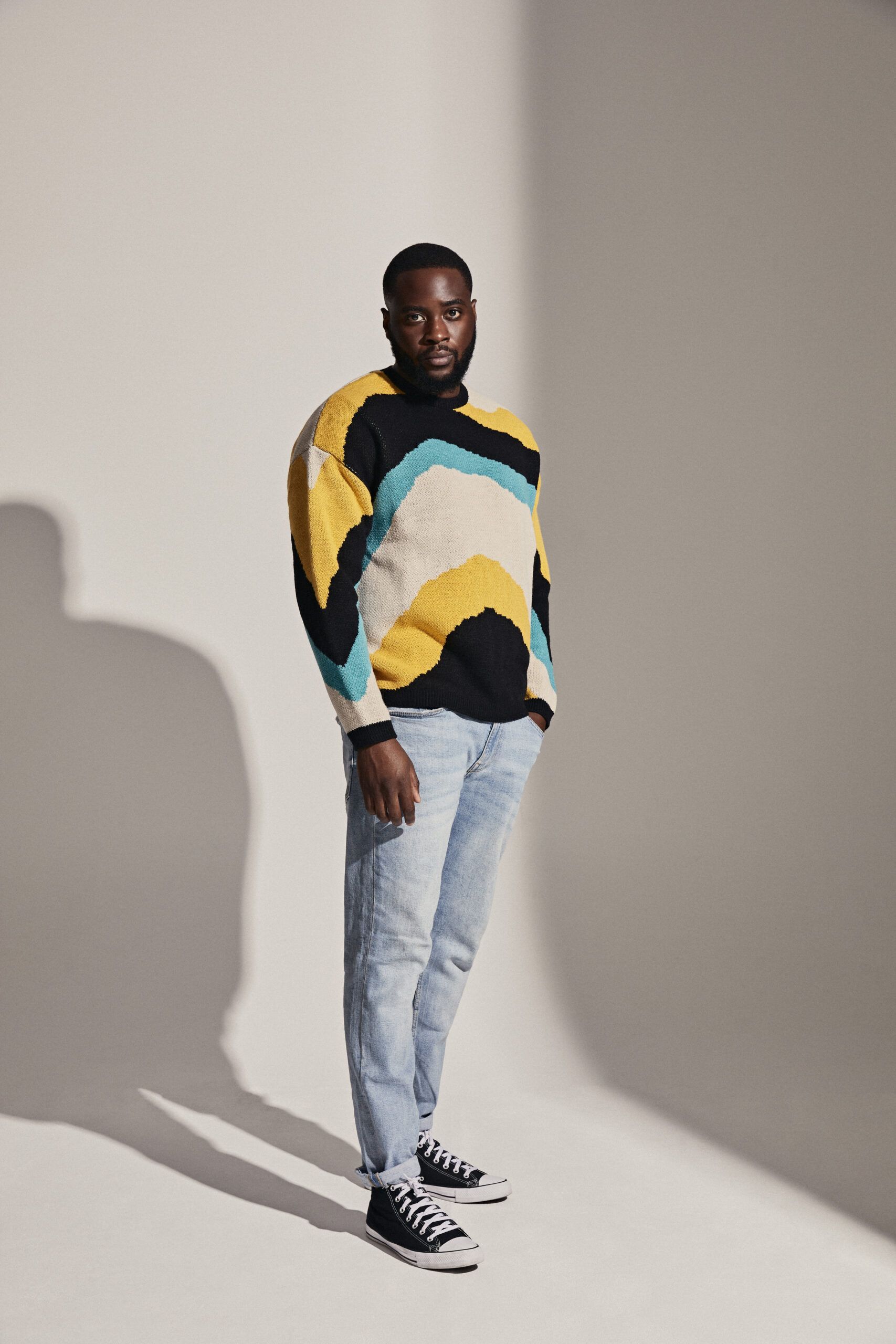 Congratulations on Landscapers! I love the premise for the show. Tell me about your character?
Douglas is the solicitor that ends up working with Susan (Olivia Colman) He's a real empath and he really tries to seek out the best in people. Over the series, he ends up developing a unique relationship with Susan and Chris (David Thewlis) because he looks for the good in everyone and wants to help people to the best of his abilities.
The show is based on a true story. Right now, there's such a fascination with true crime. Are you a true crime fan? 
I'm a bit hit or miss with true crime because I don't like watching horror movies or films. I know it's not the same thing, but I'm a bit of a jumpy person. Gruesome details make my skin crawl. I did watch a few true crimes shows. I watched Don't Mess with Cats and the one about the hotel.
Oh! The Cecil Hotel?
Yeah! I watched it, but it took me a while because it gave me such a weird feeling. I would run away and come back. This feels completely different. Maybe it's because it's a bit closer to home since it's set in the UK. Were you familiar with it?
I wasn't familiar with the case prior, no. When you got the role did you go back and look at the original material?
I didn't because I knew that as an actor, I have to present a story as opposed to the case. I wanted to make that distinction and try not to go too deep down the rabbit hole of what actually happened, the minute details, and stuff like that because what happened affected real people. When you're doing a project based on real events it's always important to respect the narrative and not seek anything other than the story that you're telling.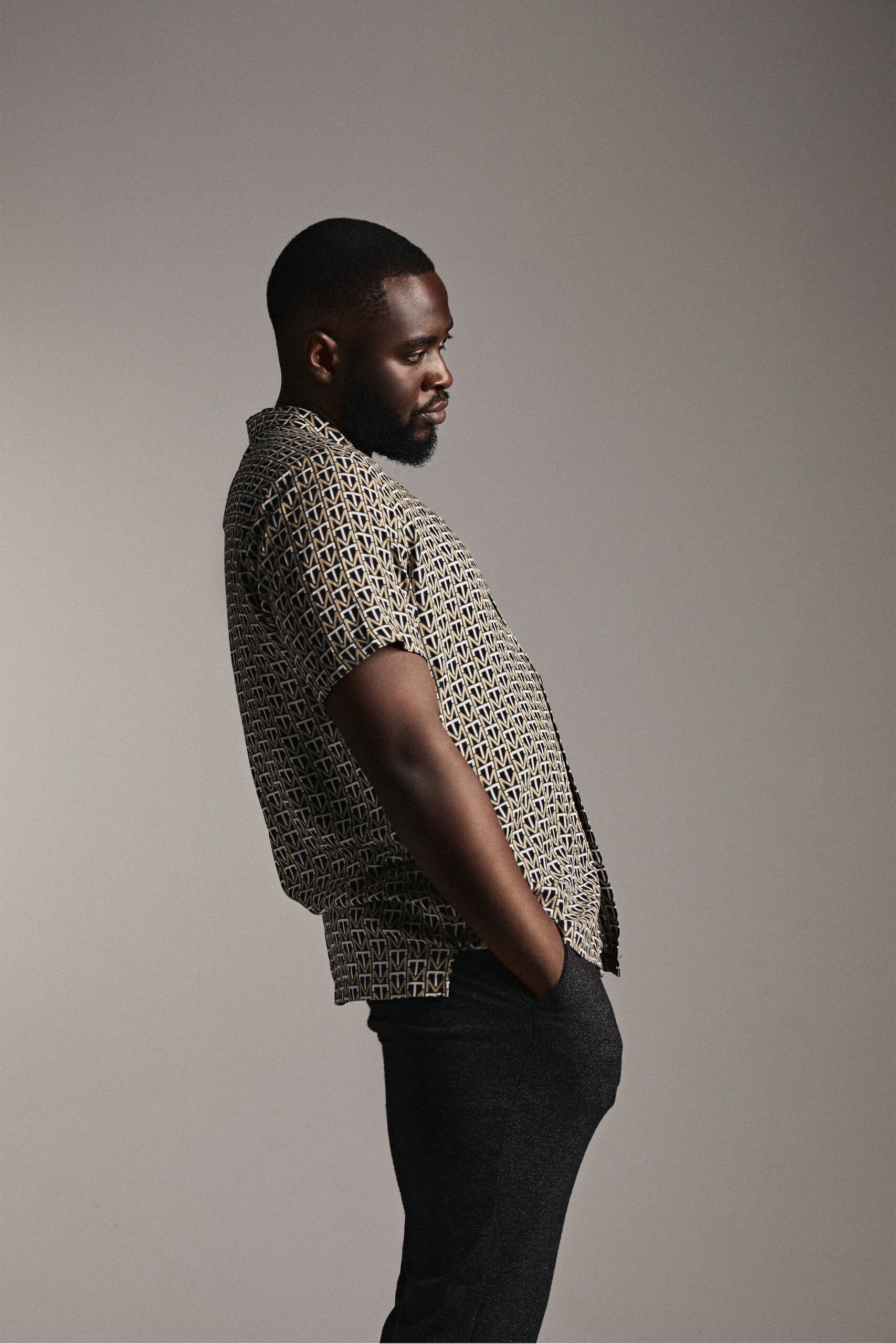 The show boasts Olivia Colman and David Thewlis as its lead couple. What was it like working with such beloved and talented actors?
Honestly, where do I start? It was amazing. Away from them being so talented, they are just super nice. They are the nicest people. 
As a fan of them both, that lovely to hear. 
Olivia just helped me choose my holiday destination. [both chuckle] My brother married his longtime girlfriend in August. They're both huge Harry Potter fans. The day before the wedding, I sent David a message like, "obviously this is not a thing you do, but if there's any way you can find time to send a message to my brother and his wife that would be amazing!" He was in Paris at the time, but bless him he sent the most amazing video that ended up being part of the best man speech. Everybody loved it. I'm so eternally grateful to him.
Wow! How fun! Not going to lie, I'm kind of jealous.
[laughs] It just shows that not only are they super talented, but they're also the nicest and most giving people. The knowledge that they have about the industry and this story was so helpful. As an actor coming up, it's perfect because, not to discredit myself, you can cast literally anybody alongside these people, and it's going to be a great story. I was completely privileged to work with them.
Landscapers is a limited series. It's a contained story.
Unfortunately, it is. Yeah.
Did that change how you approached the character knowing that there is a definite ending instead of the opportunity to build more? 
I don't believe there's ever a definite ending unless a character's arc literally ends because I always discover new stuff. I was having a conversation with one of my friends and he was like, " I'm only just now understanding the character." He's three-quarters of the way through his project. It's one of those things where the more you spend time with the character the more you think about how he or she or they would develop. It takes time and it's not always apparent from day one. Olivia and David were involved with the script from 2019. I came on board in 2021. I had a different perspective going into filming than they did. There was all this information. I had to decide "What do I take? What do I not?" I don't think a character's story ever ends. It's just about execution. I think a limited series is attractive because you get closure. If you're a fan of something, I think that closure is nice.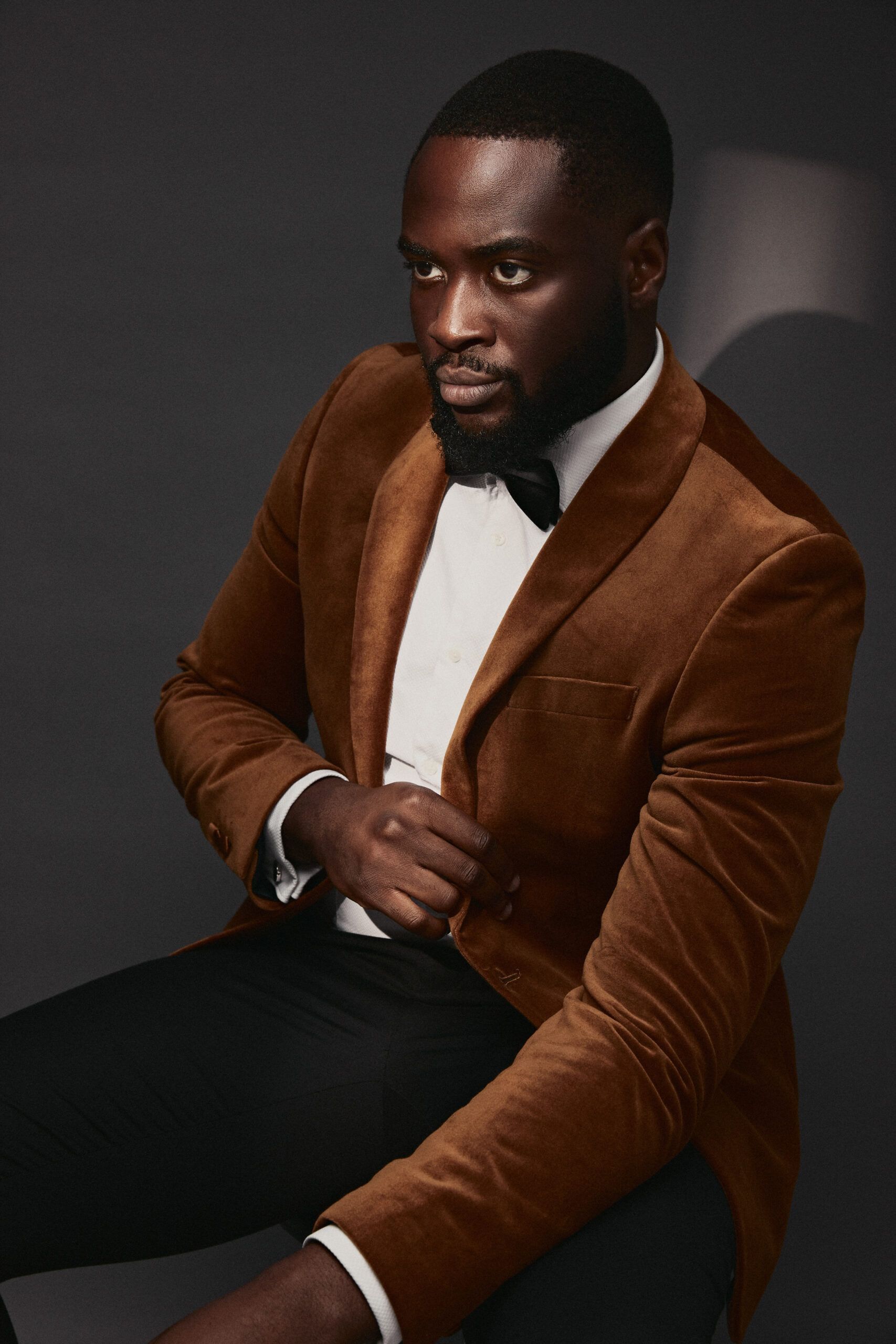 Because there's always the risk of something not getting picked up for another season? 
Yeah, exactly. I was watching You on Netflix recently. It's going into season four. I'm amazed there's more to the story.
That show just keeps going.
I do think it makes sense to finally go to the City of Love since Joe is so obsessed with it. 
I agree. Originally, I thought it was gonna be a limited series. I do know they've surpassed the book series now.
Oh really?
Yeah. Netflix is just freestyling at the moment.
[laughs]
I had the pleasure of talking to Babou Ceesay earlier this year, whom you starred alongside in We Hunt Together. Looking back on that experience, what was something you learned? 
Well, first off, I need to say that Babou is like family to me. We met because he went to the same drama school I did like a decade before. He came back to give a talk and we connected. We'd been keeping in contact and we were like, "bro, we've got to work together. Somehow we've got to do this." Eventually, We Hunt Together came along. I think one thing I learned from him was you've always got to present yourself for any part. You get a lot of clues from the character for free because normally, unless you're playing a very specific character, there's a lot of you that resides and resonates within the character. I think sometimes actors can get a part and create a huge thing around it when in actuality people want you to just do the thing that you do. I've taken that forward. It's crucial for me.
He and I talked about that a lot. He had really learned a lot from his characters. It was so interesting to speak to him about how much of himself he puts into the characters he portrays. 
I think that's the place you have to work from because there's so much you have to give, just as a human. I think playing Douglas, helped me realize that everybody's going through something, so try to help people out when you can.
If there was one piece of advice you could give Douglas for what he goes through in the series, what would it be?
I'd say as long as you tried, then be satisfied. As long as you tried your best, you can rest assured that there was no other way. That's a great question.
Thank you.! As you mentioned, you and Babou both studied at Oxford School of Drama. He told me about an assignment everyone has to perform a "self song." Did you also have to do that? 
I did. I did.
How was that experience for you? Because I would have run out the door.
It's something you do at the end of your first term and you wonder. "how much do I give?" Because no one knows you. They know bits of you, but they don't know you. But, you'd only really be cheating yourself, if you don't go for it. I think people do it to certain grades where they go, "I'll give them this," and then they're satisfied enough that they've sung this song about themselves, but when you do it, you don't really feel it. It happens and everyone's like, "oh, that was great, but to you, it's just your life. Then the next year you watch it and it makes sense.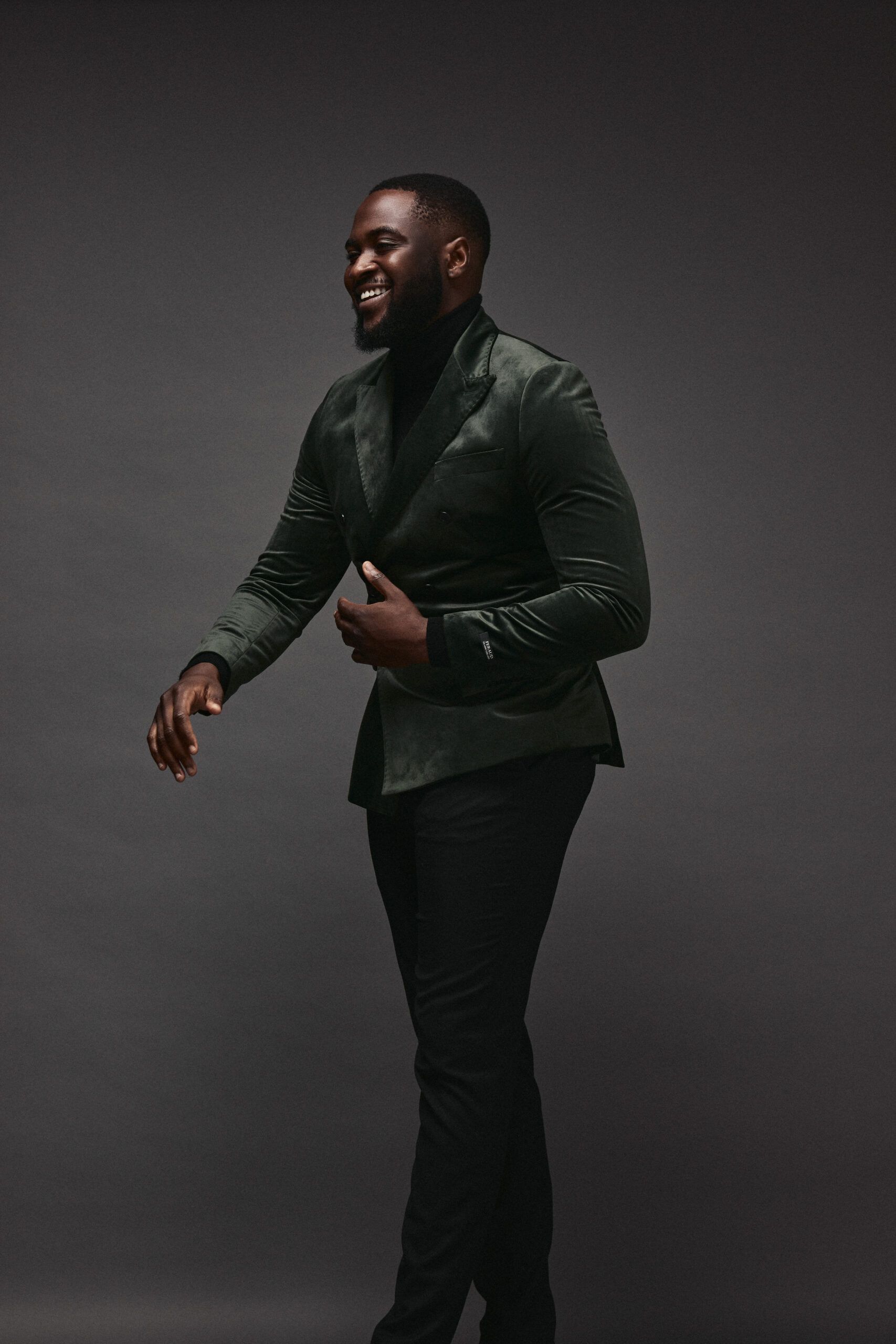 [gasps] You go back and watch it? I didn't know that. 
 Yes. In the third year, you do it in front of the whole school.
[gasps again]
[laughs] Even though it seemed like such an inconvenience to do, if you can sing a song about yourself, you can pretty much do anything.
[laughs] I would have been like "nope, I'm done. Thanks for having me. It's time to go."
[laughs]
Overall, how did that experience at Oxford shape you as an actor? 
You've always got to be grateful for your roots and the people, things, and places you go as you develop a career. I wouldn't be in the position I am now, with my representation and my team, without them. You've always got to give kudos to where you came from. I've met some amazing people and been able to do amazing work. I know this whether I'm thinking about it or not, but other people are looking at my history saying, "he's been here and done this and he knows these people. He has a publicist." I've been fortunate in that way. It's all a part of the journey. A lot of people say, "the journey is the film" instead of the other way around, so I think it is important to thank the experiences that led up to that.
What was something you learned there that stuck with you?
I came into this industry on a whim. I didn't have a huge background in acting and knew very little about this industry. In school, we were talking about actors and kept talking about this guy called Mark. His name was Mark Rylance. He's one of the greatest actors of our generation. Obviously, I know that now. [both laugh] But during the session, I didn't know who he was. My classmates were blown away. People got over it very quickly. I felt silly for a little bit. It didn't last forever. What I learned from that experience was even if you feel silly for not knowing something, ask the question and gain the knowledge. When we did rehearsals for Landscapers when everyone was there production asked if we had any questions. I was like, "yeah, why is it called Landscapers?" I had no clue. I didn't make the connection. It's always okay to just say, "I don't know what's going on. I'm not sure about this." That's something I try to take on. You can ask my agents. Sometimes when they talk to me, I'll be like, "Talk to me like I have no clue what's going on." A lot of people in the industry are in that position, but just want to seem like they know. Sometimes I have no clue and that's fine.
That's great. I like that. In an interview you did with Square Mile you said you would like to star in something you've written/created. When given the reins, what kind of stories do you want to tell? 
Funnily enough, one of the things I love most about Landscapers is that it's quite unique and unconventional. All my favorite things are very different and very stylized. One of my favorite films is Drive. It has such a clear vision. I would much rather be a part of a very clear vision whether the film as a whole is great or not, that something guaranteed to be successful. I love when somebody goes, "this is why I want to do. This is how I want it to look." We Hunt Together had a very clear vision. I've been very fortunate that most things I've done have had a very clear vision for what it is they want to achieve. That gets me excited. That's the stuff that I will do. I'm writing stuff at the minute and trying to get into the process of maybe one day getting my own thing onboard. I would definitely produce the unconventional and stuff that is a bit confusing. Stuff like Squid Game.
I just finished that. I watched it all on Halloween. It feels weird to say I loved it, but I was entertained.
I totally get it. Squid Game is so unique and so far-fetched that people sometimes rebel against it and go, "well, it's not realistic." But I think over the last 20 months life has been very far-fetched. It's been very very different from what we expected. I think our stories can be as well. It reflects society being all over the place right now.
I agree. I've really liked seeing the content coming out that was made during the last 18 months because what I've found from interviewing people is the projects that they've made under COVID protocols are the ones they are most excited for people to see because everybody had to come together to make something safely. Would you say that you share that sentiment?
100%. Everybody that worked on the project was so zoned in and focused. They were all so creative, so amazingly talented, so resourceful that I wanted to do the best possible job. Everybody was pulling in the same direction all the time. I was genuinely sad when we wrapped because I felt like I met so many great people on this job. Everyone was so amazing at their jobs. Toward the end of filming, I was stressing over what I could give everyone as a thank you gift. I needed to show gratitude. I was so in love with everybody and so grateful to SISTER, South of the River Pictures, and HBO/Sky for getting everything together and being really ambitious.
I'm excited for it to come out. I will be watching. Lastly, you're at the beginning of your acting career perspectively- as we move into the next year, what are some things you're hoping to achieve in 2022?
Just continuing to work, to be honest. Funnily enough, since I told the Mark Rylance story, we actually met. My friends and I were talking to him outside of Brixton after one of the matches. One thing he said was, "tell true stories." I think that's all I want to keep doing. I'm quite an imaginative passion and I love experiencing other worlds. I love the world of cinema and like games. One of the things I'm looking forward to is the HBO project called The Last of Us.
Oh, with Pedro Pascal!
Yeah! I love the games. I love the world. I'm a huge fan. But more importantly, it's such an amazing story. That's the kind of thing I want to be a part of. Amazing stories made by amazing people in really nice workplaces. I don't care about winning anything. I just want to meet people who have met me and can say, "he was really nice."
That's a really good way to look at it. I think when people get too specific with their goals, they close themselves off to some things.
Yeah. Give me a good story and a happy cast and I'm happy.
Landscapers is on Sky Atlantic and streaming service NOW 7th December
Interview Sydney Bolen
Photographer Ian Hippolyte