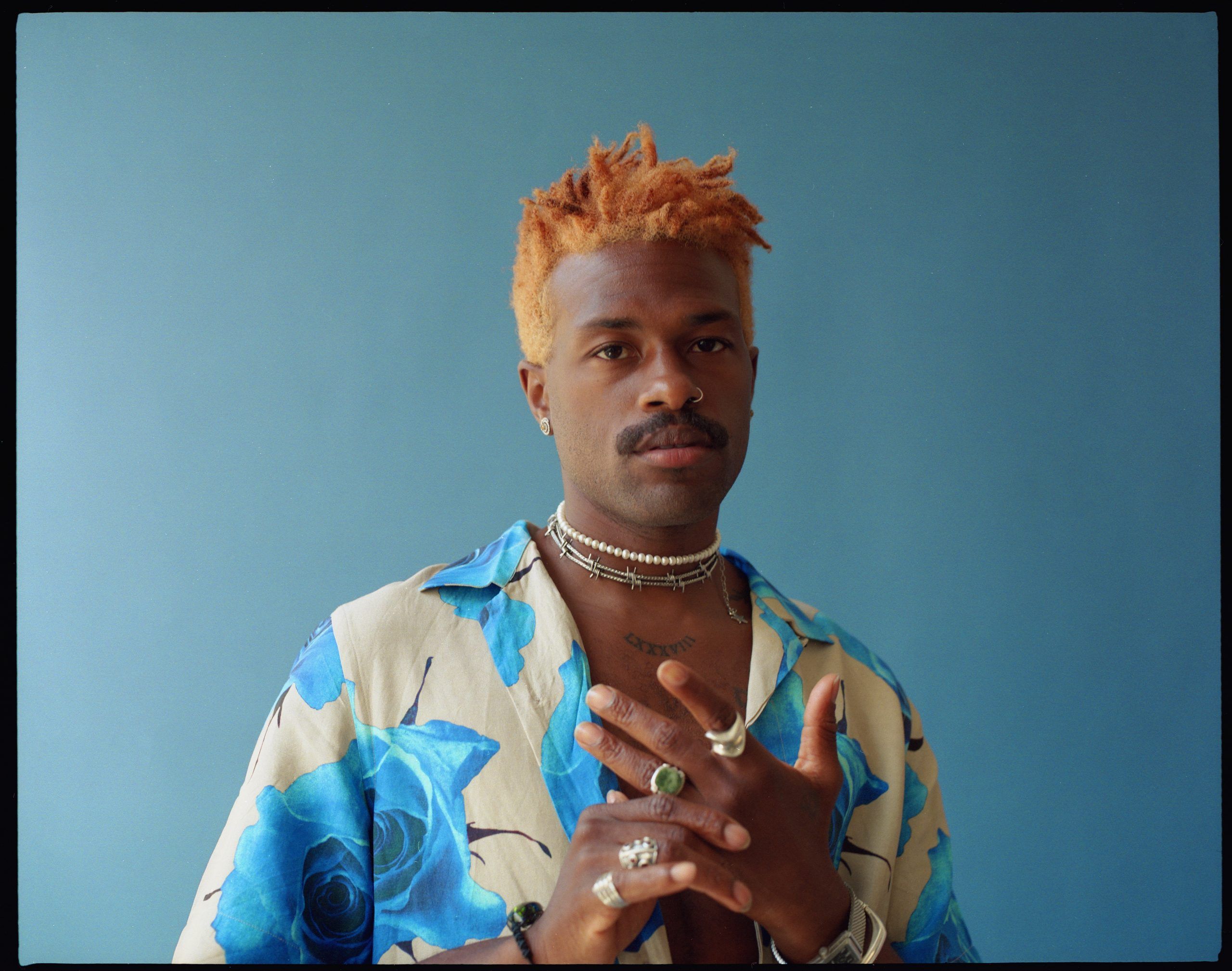 Duckwrth
Musician, designer and fashionista, Duckwrth is a multitalented individual on the rise.
American artist Jared Lee goes by the moniker Duckwrth and he's undoubtedly one of the most exciting and versatile acts currently around. The rapper and songwriter is known for his genre-bending sound, lush vocals and has already amassed a global cult following. Yet Duckwrth is no one trick pony, he's also a talented graphic designer and fashion connoisseur. It's also been a big year for the rising artist as he's wrapped up a sold-out U.S. tour in support of his new body of work SG8*, been announced as a key support act for Billie Eilish "Happier Than Ever" 2022 tour,  he's attended various fashion events, and landed a spot on Space Jam 2's soundtrack.
So with everything going Duckwrth's way, we caught up with him to discuss SG8*, how he wants to prep for his Billie Eilish support slot, and more.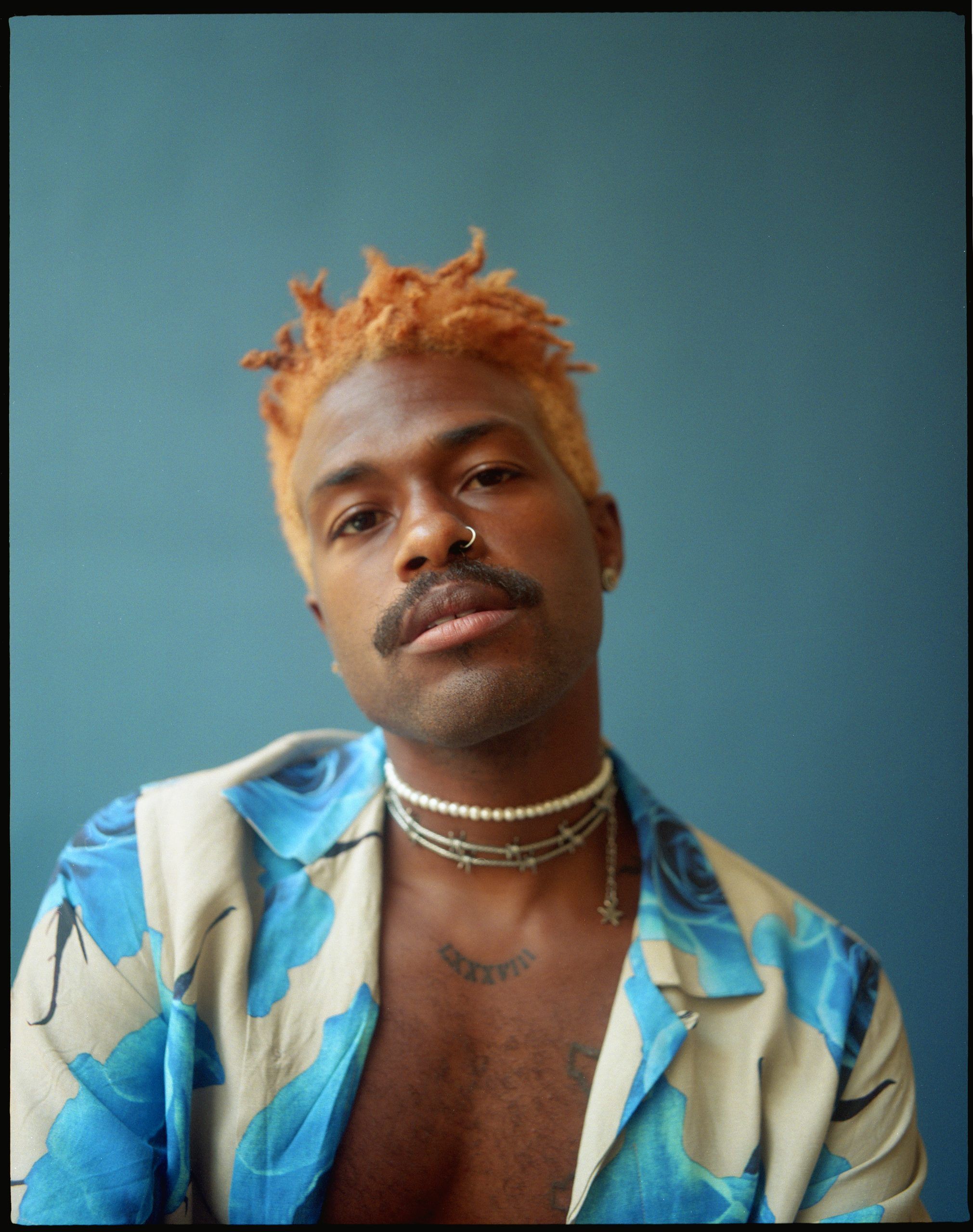 Hi Duckwrth, thanks for chatting with 1883 Magazine. Let's chat about your latest body of work, SG8*, which dropped in September. What were the biggest challenges you faced when making this album?
Duckwrth: The main challenge was actually writing anything of substance. I found myself writing about the same old shit. Sex and women are the sort of subject matters I usually kind of write about a lot haha. But I felt that people really didn't need to hear songs about that sort of stuff at the moment. We're still going through the pandemic and things seem better, we're in a different phase of it. But when the pandemic first happened, everything felt much more heightened. So I just kind of dug into that and wrote. It was a snapshot of right now.
There's been a lot of exciting things happening this year, you recently finished up your sold-out US tour and earlier this year, your track "Settle The Score" was on Space Jam 2's soundtrack. Tell us how the tour went and how the Space Jam opportunity came about….
Duckwrth: Yeah, that tour was crazy. I was just happy to be back out doing what I do best. And you know, throughout the tour, people really knew the music. I haven't really experienced that before when people know the music word for word, singing at the top of their lungs. So it was very satisfying. And then for Space Jam, I think Warner Brothers reached out to the label I'm on [Republic Records] to get artists to feature on it. That was the same sort of thing which happened when I was on the Spider-Man Into the Spider-Verse soundtrack. But I think because I did the Spider Man film,  it helped out in terms of getting a song on Space Jam. I think that is how it happened anyway.
Cool, it must always be nice when you see your work out there in different forms of media like a movie…
Duckwrth: Yeah, it definitely is. It's very surreal. This is something I've wanted since being a little kid, in one way or another because I wanted to be an animator. I saw myself in that way, so to see myself in movies, but more so for the music that I make, It's just as satisfying. It's pretty crazy.
For anyone who doesn't know, you're also a graphic designer and fashion connoisseur. What inspires your work and how do you get out of a creative rut if you ever get stuck in one?
Duckwrth: What inspires my work a lot is observing, I people watch a lot haha. But I'm  also inspired by human behaviour, even if it's just my own behaviour. I just like documenting things, creating snapshots of moments in life, nature and other things. But those are what primarily inspire me the most within music.
Duckwrth: I just stop making music and I stop designing, I just leave it all for a bit. Writers block is kind of for a reason. It's like whatever is responsible for that link from the beyond to us being a vessel to create and recreate, whatever is responsible for that, It shuts off  because it needs to recharge. I find that after I do a big project like an album, I always have writers block. I have nothing to talk about and that's because that part of me needs to be recharged. I usually just listen and stop creating and go live some damn life and then go back to it.
I admire how passionate you are about your work, it's clear that  music, design and fashion are so important to you. As a creative, do you find it easy to finish up a project and then move onto something else? It's so easy to spend countless hours on one project in effort to perfect the most smallest details of whatever you're working on….
Duckwrth: I think if something is not clicking, then it will be time for me to move onto the next project but if it is something that is working then I would devote my whole life to it. I usually change my hair based upon a project or whatever I'm creating. I get very immersed in what I do and it becomes my whole world . It becomes what I breathe, what I eat and what I study, literally everything. But that's if it is working.
Next year, you'll be joining Billie Eilish on tour for her US dates throughout March and the first week of April. As you're going to be playing to some huge crowds, it's going to be an amazing opportunity to win over new fans. How do you prepare for such a big tour like this one? And do you have any pre-show rituals?
Duckwrth: I haven't started prepping yet but I want to imagine the Billie Eilish arena tour to be as if I'm an Olympic athlete training for the Olympics. It's a big deal, I want to get a trainer, I want to get my body right, I want to get the muscles right and toned. I also need to definitely get way more sleep. And I just need to be in front of a mirror, with my band or even just by myself and then just really study like what I am and what I want to present on tour.
Duckwrth: So this is all being formulated at the moment. But I definitely want to train like an athlete because it's that intense, performing in front of 30,000 people is like a different bone. It is a different muscle. You know, because you really have to play with energy and the transference of energy and be captivating. Especially you're not the main performer. If you're the main performer, you don't have to flex your muscles that hard, you can still put on a great show but the crowd is there for you. So when you're the opener, you have something to prove. You have to prove yourself worthy to be opening.
Duckwrth: We normally do vocal warm-ups, I watch a live performance video, someone like Queen or Prince or any live show to get me in the mood. It also reminds to be, when I'm performing , intentionally there. A lot of times you can find yourself being outside of the moment when you perform. So at that point you're just like a robot. If you're actually present in the moment and being very intentional down to like how you can point your finger then when you see the videos that are taken from the crowd, you can actually be happy with them because you're there in the moment. I  normally hate watching back videos, I'm always like 'wow, why did I do that?' or 'why is my back slumped at that moment?'  I just remember to be intentional with everything I do on stage. That's what I like to do.
You've mentioned in the past that you had a strict upbringing when you were growing up, how would you say this has impacted the person you are today? And as a music fan yourself, when was the moment that you knew you wanted to pursue music?
Duckwrth: The strict upbringing was from a religious standpoint, and I don't really pull from every part of it. But some things have helped. They used to say 'be in the world but not of the world' and that's something that has always stuck to me because it makes you feel a bit different. You should feel a little bit different one because you're an individual and unique. Masses will go towards certain things like sheep but you have to kind of pull yourself away from that and always think as an individual and that's one things I learned in my upbringing.
Duckwrth: But my upbringing also helped myself learn to just avoid certain things. This is going to be be too much information right now and it's a bit crazy but I've never done cocaine before and I was offered cocaine yesterday. I was pressured, they just kept putting the key towards my face and I was like 'nah, I'm good'. I know that I don't need any other addictions. I'm not saying I don't do other drugs, but with the way I was raised, it's definitely helped me to be able to avoid certain scenarios and make wiser decisions. And I think wisdom is what my mom has instilled in me. It's important to understand that everything has consequences. So if you start this, you're going to have to finish it. So you're going to have to take the repercussions that come from your actions. So my mom raised me well, is my main point haha.
Duckwrth: That's a great question, I guess I was always around music because my family are musicians. It was always just a thing for myself, like 'I'm gonna be in a band'. But I know  every kid. I guess it didn't become serious until I was in high school because I was writing raps and poetry. I had a homie who was playing guitar and we would play together. We did school performances, he'd play guitar and I'd rap haha. At the time, I thought I could see some sort of future in it. But I was like 'no, I'm not going to be doing this shit. I am a designer', you know? So then in my senior year,  I applied for a school in San Francisco for design, so I could become a designer. And my homie was just making music at the time and he asked if I wanted to join in on one of the songs and that is when I truly caught the bug, I loved it. It made sense to me just in the same way that design makes sense to me. I think that is when I  became super serious about music  even though it sort of happened accidentally.
What would you say have been your personal career highlights so far (from music, design, fashion – literally any of them)?
Duckwrth: I mean one of the most recent highlights is definitely the cover art for SG8, the project I just released because I got to design it, like all of it. My friend, Lea Winkler, took a photo of me, specifically the back of my head,  and for some reason I just thought the back of my head was really nice. And I was designing the art work for another song but it didn't work and  I kind of liked the direction of the photo. Sometimes when I design, I can become a little bit manic and I won't stop until my idea or design is fully realised. So I started working on the SG8 cover from 9am in the morning and I didn't stop until 3am. I pretty much just kept going and kept like hammering out the design and I ended up having the  cover for SG8. 
And then from there because it happened so quickly, I sort of thought 'I don't know, maybe I should be considering another cover for SG8?'. I had three months of trying to beat it. Nothing did. For me, that was a crazy accomplishment because I haven't designed the cover of any of my projects in a while. Usually they've just been photos as the cover art. Actually, with my album SuperGood, the cover has two different photos and I put them together. And then I pushed work on the colouring and bringing some of the glitter and  shine out. So I got to design it but not like the whole thing.
Duckwrth: So I think SG8 is just a great accomplishment and then actual the body of work pushed me so much to be introspective and to take my introspective thoughts that I usually never like reveal or put in music. I felt very  vulnerable and as a Taurus person, I'm not really good with emotions haha. So it was very vulnerable moment, but I felt pretty good about it.
If you could design/collaborate with anyone in the world, who would you love to work with? It can be from the world of design, music, fashion or whatever you like…
Duckwrth: I would like to work with fashion designer, Jonathan Anderson from LOEWE. We were n talks but I really appreciate how wild and crazy and explorative of a designer he is. He pushes it. so I would like to design some garments with him, like a tour outfit or something. I'd also like to work with Pierre Paullin's son, Benjamin Paulinlin. They make mid-century modern furniture. You know that tongue chair? It's a chair that literally is shaped by the tongue and that is Pierre Paulin's work. His son took over after his dad passed and he's spearheading the operations design and stuff. I would love to design a furniture piece with him as well.
Duckwrth: In terms of music, I would like to design for my homie Jordan Ward. He's a singer and he sort of does alt-R&B. He's amazing. Another would be Willow Smith, I think we would make something extraordinary because she's so insane, I love her so much.
Duckwrth: I don't know why I always think about this but it would be cool to do something for the Rolling Stones. I don't know for some reason that just really intrigued me, designing something or even taking an older band or like an older funk band that are reuniting and help introduce them to a younger generation or a younger demographic. And I if I can design it, and put the whole mood together and everything like that, that would be insane.
With SG8*, what would you hope your fans and people take from it?
Duckwrth: Just the message of knowing that it's ok to feel alone. I felt an intense amount of anxiety for the first time during covid. When I listen to music, I like to listen to music that has a similar beat, something that I can personally relate to, you know. So I know that I'm a part of something bigger or that I'm not alone. So I think that's something I want people to take from SG8. It's also importnat that people just give themselves time, we're going back into life again during the pandemic and everything's moving at the pace that it was before covid, maybe even a little bit faster. I would hope that people just be patient with themselves whilst all this is on and understand that we just went through and we're still going through a traumatic event.
Duckwrth: This pandemic has pretty much paralysed the whole world. I've never seen the whole world be on the same beat, anywhere you go everyone's like wearing masks, and  feeling  anxious. I've never seen that in my whole entire life and that's something that's really insane. I feel like we are kind of going back to the normal  swing of things. So I guess the main thing is just that you need to take time. 
Duckwrth: Another thing with SG8, it was more a snapshot of life. Look at Michelangelo or look at these different painters from the past, they kind of documented their time. Even music from past eras documented the times. Like 60s music reflected the civil rights movement and the ups and the downs of time time period.. So I think artists and musicians are sort of like documentarians. So I think the biggest thing for me with SG8, I wanted to document what we're living through but I wanted to do it from a different, more colourful perspective. 
Finally, what's next for Duckwrth?
Duckwrth: As SG8 is already out, I want to just  keep finding ways to reintroduce it to people and help keep it on people's radar. So I'll be doing that via  shooting more visuals, doing graphic design that coincides with SG8 and touring it. So I'll  just be keeping a finger on the project. And, of course, getting ready for the next project and setting up the character I'm going to be portraying in it. But for now, just keeping all attention on SG8, making sure everyone loves it haha.
SG8* is out now. Follow Duckwrth @duckwrth
Interview by Cameron Poole