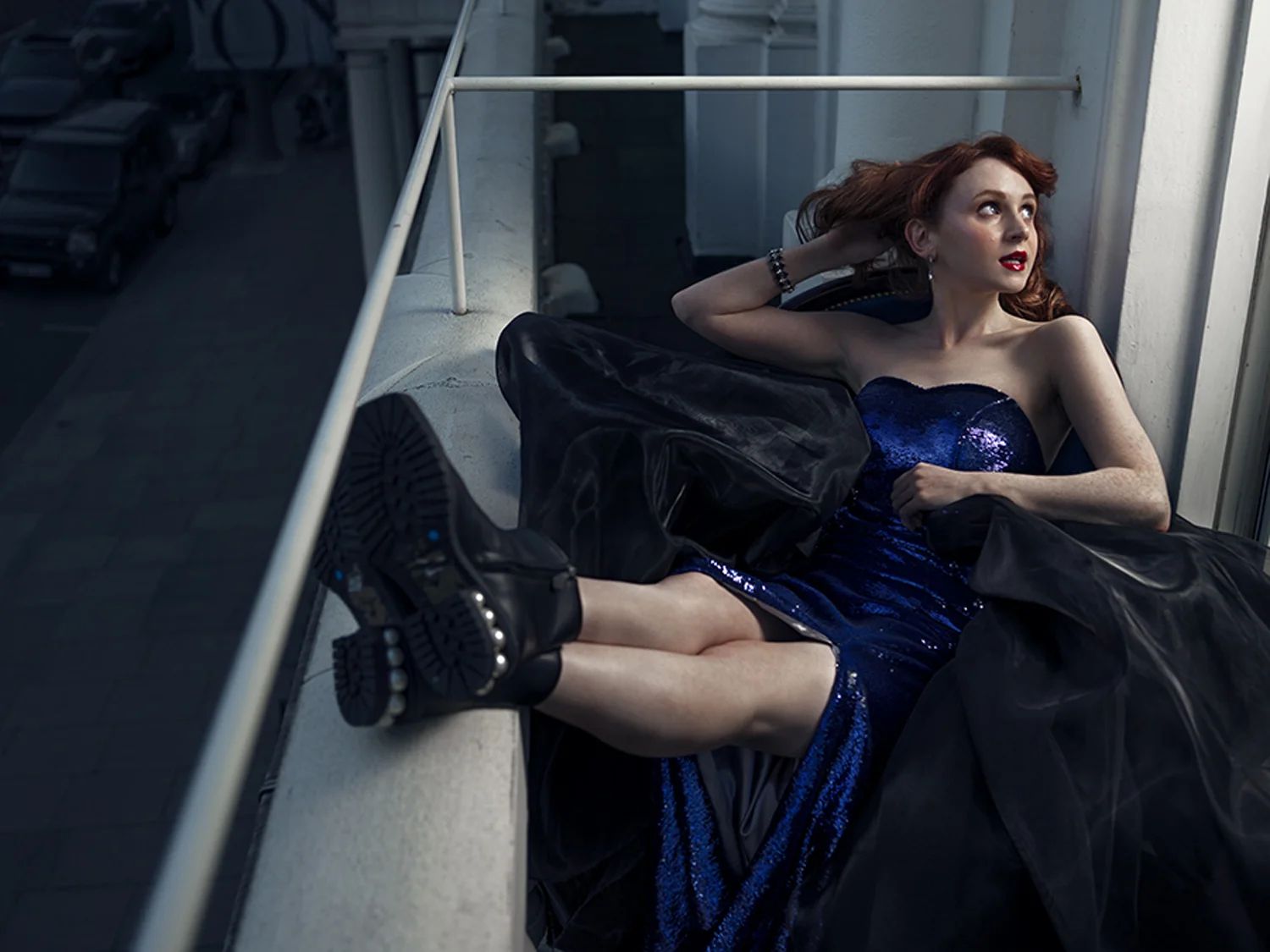 Jenn Murray
"You go to the cinema together with strangers, and enjoy it as a community. That's what I love about it. And I think the act of people coming together is very important today," says actress Jenn Murray  (Dorothy Mills, Brooklyn, Love & Friendship, Fantastic Beasts and Where ToThem) at The Kensington Hotel who'll be gracing our screens in Joachim Rønning's adventure film Maleficent 2: The Mistress of Evil.

 
Jenn made her acting debut in 2008, with appraisals from critics for her astounding and eerily performance of Dorothy Mills in Agnès Merlet's psychological thriller of the same name, which tells a tale of a mentally disturbed young girl. Now, Jenn will be portraying Gerda, the right hand of the villainous Queen Ingrith, played by Michelle Pfeiffer in the Hollywood sequel of a beloved fairy tale, and also starring Angelina Jolie and Elle Fanning.  
"Do you remember the exact moment when you heard the news that you were cast in the movie?" I ask. Jenn pauses on the other end of the line before reminiscing about the career-changing phone call. "Yes, I remember it exactly. I was living in California at that time, and my team rang me, they were all in the room together which is always a good sign. I had been in a mix for a few things, and I didn't know which offer it was. I was so happy and delighted when I found out." 
Within two days and, as she cheerily says after sitting down, Jenn had to get back to London and start working on the film, following the beloved characters (and introducing new ones) five years after the first film. Is Jenn allowed to reveal her character's, Gerda's, storyline in the long-awaited movie? The actress is unapologetically honest – it's hard to keep her character's storyline wrapped up in secrecy. Including the sort of sinister skills, as Jenn recalls, she had to master. "Gerda's the right-hand woman and loyal servant to Queen Ingrith, played by Michelle Pfeiffer. She's the ruthless female lead of an entirely male army which was such a gift from the movie's director, Joachim, to be given. I've trained for quite a few combat scenes, gaining specific sets of skills. One of them was dealing weaponry," gushes the actress, before adding: "My favourite actors transform and I believe that actors can do that. Completely. But someone has to give you a chance to show this and do that."
Jenn has some warm words not only to the director but to her fellow cast members from the movie who are embodying strong female leads – a positive shift in the industry which has been noticed by many. "Angelina and Michelle are exceptional actresses first and foremost. When you're on set, working opposite them, they're at the top of the game," reminisces the artist. "What pieces of advice have you received from them?" I enquire. "There are no short cuts in this industry, and longevity is key. You need to try and make good choices as well as furthering your growth as a human being in life. Not on set, not on your job. Angelina and Michelle taught me that the things that you do privately, and just because they're not seen, it doesn't mean that they're not happening or they don't mean anything to you. For example, when you said can you remember that moment when I've heard the news about being cast next to them, well, I do remember that moment because it was a private moment of triumph for myself. And nobody was witnessing it."
With fairy tale genre in such high demand, how does Maleficent's story differ from others? Jenn reveals that the inspiration behind is the key ingredient in making the movie one to watch. "Maleficent is a different story. First of all, it's a sequel which is expanding the original story. There are new characters in the sequel – like Michelle Pfeiffer, Chiwetel Ejiofor… ("And Gerda," I add) the storytelling in itself is quite intimate, but it's all about family dynamics, love and also about following your part. That is what's so great about this film and these women who are at the forefront – they all have ambitions of their own, they're all trying to be understood. I think as for children seeing this film it can be quite inspiring, especially for little girls as it shows they can be the centre of their own storylines. They don't need to be submissive or to be a male figure to be deserving." 
While humbly reminiscing about her experience on set and defining it as a gift, I wonder how did Jenn find her way into the industry in the first place? She gently remembers her idyllic and simple childhood spent with her siblings in Belfast. "I didn't know anybody who was an actor, and I didn't know anyone who knew a professional actor. My childhood was just my childhood – beautiful and simple – but within that, there was a dream in my imagination that grew, and nobody was telling me that I can't have it. I just took it step-by-step." When the actress was 18-years-old, she ventured to New York, deferring her place at university. She attended a four week acting course before getting into drama school, which changed her life. "Then acting was all about putting a happy face and making people laugh in the audience," she says. But opening her vulnerable side to the audience made her make a promise. Not to anyone else, but herself. 
Before saying our goodbyes, I can't stop but wonder – did acting give confidence to this  softly-spoken, humble and talented woman I'm speaking to today? "Acting feels like a part of me, giving me confidence or not. When I do it, it makes me feel who I am," Jenn assures me. "Though it's the challenging moments that build my confidence the most."
Maleficent: Mistress of Evil is in Cinema now
By Migle Kriauciunaite @miglekrau
Photography Tom Oldham @tommyophoto
Stylist Roxlene Henley www.roxlenecreative.com
Lightning James Hole @holephoto
Photo Assistant Tanja Zogg @tanja.zogg
RetoucherRyan Tehee at Happy Finish @_tehee_
Location The Kensington, London
[embedyt] https://www.youtube.com/watch?v=zNoR3UWPNzU[/embedyt]