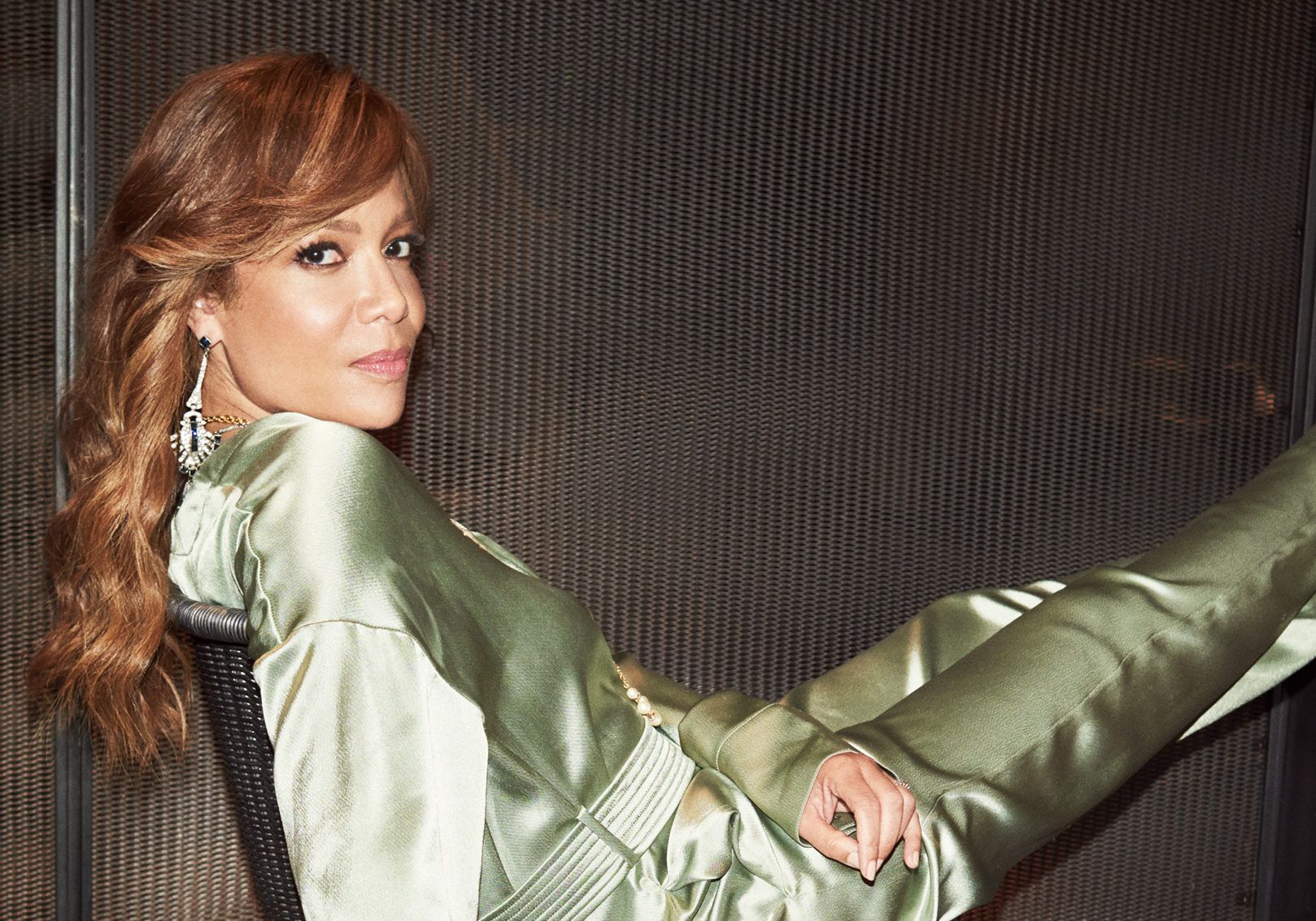 Sunny Hostin
It's an undisputed fact that Sunny Hostin is one of the busiest people in the news industry.
After serving as a federal prosecutor bringing perpetrators to justice, Sunny moved into journalism and covered everything from Casey Anthony's trial to Conrad Murray and was the first national reporter covering the Trayvon Martin case. In 2016, she joined the famous round table of The View as a legal correspondent and co-host and has held that seat ever since. Now, the three-time Emmy winner is adding a few new projects to her plate: a new memoir, a new podcast, and a new hosting gig on Investigation Discovery's Truth About Murder with Sunny Hostin.
The show, which is also executive produced by Hostin, is different than the typical true-crime docuseries you'd normally see. Rather than keeping in a similar vein to other true-crime shows, Hostin was adamant that the series focuses on the victims and their loved ones instead of glorifying criminals. The cases, which were all hand-picked by Hostin herself, focuses on stories that were unlikely to be previously covered by the national news. It was important to Hostin to put stories including people of colour, the LGBTQ+ community, and other marginalized individuals at the forefront. She knows 'armchair detectives' exist in every demographic and it was time to see their stories shown on television. Sunny Hostin is, without a doubt, a voice for the voiceless.
Right after filming for The View, 1883 Magazine had a chat with Sunny about the Truth About Murder, what it was like writing such a personal and open memoir about her struggles and overcoming adversity, and why she strongly believes all criminals will be brought to justice regardless of how long they are on the run.
What was the inspiration and motivation behind creating a docuseries like the Truth About Murder?
I had been approached quite often about doing a true-crime series because of my background as a federal prosecutor—I had prosecuted child sex crimes and other crimes as well—and also because of my job on The View. Nothing had really spoken to me because I was sort of tired of seeing the same thing over and over again, which was true-crime series that focus on getting inside of the mind of a serial killer. I saw a lot of focus on the criminals and I just didn't want to add to that. When I met with ID [Investigation Discovery], they told me that I could do whatever I wanted to do from my perspective. I also wanted a show that was just visually different that really looked like how a film would look; I explained that to ID. I also stressed that I wanted to tell the story of what happened to victims; what happened from a victim's perspective, what happened to the victim's family, what happened to the community, what happened to these law enforcement officers that dedicate their lives to try to bring justice to these victims' families, and what happens to the survivors because, oftentimes, there sometimes are survivors of violent crime. Rather than focusing on the criminal, I wanted to show what happens to the best friend that loses someone and now has no one to call in the middle of the night, has no one when she's hurting or has no one to call when she finds out that she's pregnant. That human element is oftentimes missing in true-crime series.
I also wanted to highlight people of colour. I wanted to highlight people in the LGBTQ+ community. I wanted to highlight single moms. I have to say I was a little surprised when ID said, 'No one has done this. Let's do it.' And I agreed. I also said I didn't want to do celebrity cases or even highly publicized cases. I mean, how much time have we devoted to Casey Anthony, how many times have we heard about OJ Simpson? Those stories are really important, and I know that but I didn't want to do that, and ID was okay with that, too.
I really went and just tried to find stories that would have affected anyone that could've been someone just next door to you. What I found was that when I would show up at a town, people knew me from The View, but they were shocked that I was in their small town. They'd be floored when they would see me walking into a diner to get something to eat and I would start hearing whispers like 'Isn't that the lady from The View?' Then they would ask why I was there, and I would tell them I'm investigating something that happened. Everybody in the town would know what I was talking about and even the family of the victim would ask why did I choose that specific case. They were gratified and really humbled that someone cared and that's what I wanted. That's what was really important to me.
Even with fictional crime stories, it's never really focused on the victims and the ripple effect it has on families and loved ones.
Exactly.
For the series, you spoke with a lot of people close to the victims. Did you find sitting with victims' loved ones difficult?
It is really difficult. I've done it so much when I was a prosecutor; speaking to victims is a part of it. You get assigned what's called a Victim Witness Advocate when you are a prosecutor and it's someone that's usually trained in the psychology of being a survivor of the psychology of trauma. The person I always had was this woman named Marcy and she was the most empathetic woman ever and I'd bring Marcy with me everywhere, so that was pretty easy for me. For the series, I didn't have Marcy with me when I was meeting with loved ones. It was different for me because I almost didn't realize how much weight she took off of me. It was actually more difficult than I expected. In our first episode, my interview was with Gloria [mother of Danielle Marshall] and when she explained that she still relives the fact that she didn't give her daughter that last kiss because she never saw her daughter again. Now, I changed my daily practice because sometimes I leave in the morning before my children are awake and, unfortunately for them, my kids get woken up sometimes a little earlier [laughs] because I need to see them before I leave. I need to hold them, I need to hug them, and that's only because of Gloria. The series has definitely changed me.
At the end of that episode when Gloria was talking about how she feels her daughter all around her, you were quite open about your own grandmother and how you feel her around you all the time, too. It was a really touching and powerful moment.
Thank you. I can't believe that it made the cut. I felt like sharing that because sometimes, with the show, you're interviewing someone, and you forget about the cameras at one point. Gloria had never really spoken about this before. In fact, she didn't want to be interviewed so that episode almost didn't happen. She canceled several times. For a show like this, I would pick the cases and then my scouting producer goes out and makes sure that we have our locations and the people we need to speak to. I was called and was told Gloria is just not going to do it. I said, give me her number, and they said, 'Oh, well, usually don't do that' and I said, 'No, no, I'm going to do it.' I called her and she said, 'Is this Sunny from The View?' and I said, 'Yes!' I explained that I would never exploit her pain and I'm not going to push her to do something that she doesn't want to do, but I really want to tell this story and I just think it can be so impactful. I told her I just think if she tells this story, it could help someone not become a victim and get out of that situation and that I hope she would share her journey. She said she would do it, but even when I got there she was crying before the interview and she almost didn't do it. It's difficult for some of these folks to trust that you won't exploit their pain and you will honor their loved one. I was very careful to do that because I do think sometimes with true-crime, there is a voyeuristic part of it and you do want to tell a story and you want to let people be part of that armchair detective piece, but I think our show does it differently.
It felt different when I was watching it just by how it was filmed and how it shows you stepping into the role as a truth seeker and not glorifying what the perpetrator did, but more so focusing on leading up to it and what impact it had on the victims.
Oh, I'm happy you feel that way. It's important because in the media there's a divide—there are some journalists that won't even say a perpetrator's name when you have something like a mass shooting. My friend Anderson Cooper won't even say the person's name because you don't want to give them that glory. For example, in the Mollie Olgin and Kristene Chapa story that we just aired yesterday, we could highlight that story because Kristene wanted him named because she wanted to be able to give him the message that she survived his terror and that she put him in jail. But I understand Anderson's position and I agree with him. You don't want to give them the glory that they seek. I want to honor the victims.
I read somewhere that you were the first national reporter to actually report Trayvon Martin even after people above you didn't think much of the story.
Yeah, I did.
You touched on it a bit earlier, but I'd like your thoughts on something that I felt was different with the Truth About Murder. The show focuses on the crimes that we don't hear about, specifically people of colour and the LGBTQ+ community. Why do you think some news outlets and/or some TV shows are so hesitant to highlight stories about victims that aren't white, cisgender, and straight?
I think for far too long people immediately believed that those stories wouldn't rank. They believed that people didn't care about those stories in much the same way that people didn't believe that a movie like Black Panther would sell tickets, which is absurd. We know that that is not true. In much the way that when a little black girl goes missing, no one hears about it. There are no amber alerts for those kids, in much the same way that we hear about all these hate crimes against black transgender women and people don't talk about it. It's just a travesty. As a member of the African American and Latino community, I know that people care and I just refused to buy into that narrative. I've also done the research, I know that, at least in the African American community, African Americans consume more media than any other demographic! It's not only traditional media but new media as well. They are also disproportionately affected by criminal justice and disproportionately distrust criminal justice and disproportionately love true crime. So, the fact that no one pays attention to that community is ludicrous. I just don't understand it. It's really weird.
It's crazy.
It's so odd and it just means that there need to be more journalists of colour, more journalists that are in the LGBTQ+ community, or more journalists that are allies that recognize the gap and try to fill it.
What would you say you learned about yourself while creating the series?
I definitely learned I am still the person that goes all-in. I'm kind of like a student, that's what they call me here at The View. I read every book from every guest that's coming on and I watch every movie for every actor who is coming.
You do your research!
Yeah! It's just my thing, it's just what makes me comfortable. I was like that as a prosecutor. Clearly, I've hosted a show before but I've never executive-produced a show. I just learned that I clearly am that person! [Laughs] I threw myself into this in a way that my co-executive producers and executive producers said was not normal. I just wanted to see everything, I had to see every script, I had to see every piece of footage, I had to see every cut. I just cared a lot about this project. I worked really hard on it and I couldn't step back from any piece of the process. I thought that I could, but I can't. That was something I learned about myself that I just had to accept.
I would say that's a good thing!
[Laughs] I guess! I didn't see my family for six months because I worked on The View for five days a week and I shot the series every single weekend for six months. Then you're in post-production and I was able to see my family but when I was at home when everyone was asleep, I was reading things and being a little crazy and obsessive about every detail. I did learn to live with a little less sleep! [laughs]
You're also the narrator of a new ABC News podcast called Have You Seen This Man?
Yeah, I am!
The story is insane. How did you get involved?
I really can't believe it. I know the criminal justice system is constantly evolving, but it is kinda shocking to me that someone could commit a heinous crime like this and remain a fugitive for 45 years. What bothers me the most about it, among other things, is that I know sexual predators. That's what this guy is. I don't want to give too much away, but he fathered a child through another sexual assault. These criminals don't stop even as they get older. He's still on the run but he sort of blended into the very fabric of South Central Los Angeles and he moved across the street from the middle school and he likes young girls. It's likely he reoffended and reoffended and reoffended. They just get better at it. I know that rate is the most underreported crime in our country, likely in the world, but definitely, I know the stats in our country and with child rape, the stats even go lower. What we probably have out there is a serial predator and that kind of thing, for an obsessive person like me, it just keeps me up at night. I got involved in the podcast after I was done shooting the docuseries. Luckily, U.S. Marshal David Siler, who's involved in bringing this guy to justice, is just as obsessed about this as I am. I know he's still alive and I really think that we will catch him with the help of these other armchair detectives that love this stuff as much as we do.
As a prosecutor, I feel like you have to be someone who believes truth and justice will always prevail, even after so much time has passed. Would you agree?
Yeah, I really do. I really believe in the system. It has often certainly not work for so many people, especially for marginalized people. But I do believe that it will. It was Dr. King that said, 'The arc of the moral universe is long, but it bends toward justice.' I really, really believe in that. I think it bends towards justice, always.
I feel like you have to have that kind of mentality in order to work as a prosecutor or in criminal cases.
Yeah, you have to believe there's a better way and a better day coming.
Early next year you're releasing your memoir, 'I Am These Truths', which will explore your own journey growing up in poverty in the Bronx to becoming an assistant U.S. attorney (AUSA). I'm really excited to read it.
Thank you!! I'm excited to release it.
I feel like you're quite open about it already on The View, but did you find it difficult writing and sharing personal stories about struggles you experienced as a child?
Yeah, I found it extremely difficult. I found it more difficult than I thought I would only because I'm such a transparent person on the show but seeing it on a piece of paper was really difficult. It was actually really difficult for my family because there were just some things that were really quite personal. There are things personal for my parents as well. I didn't want to ask their permission, but I wanted to call them and tell them that I was going to be sharing this. My mother at first was horrified and my dad less-so; he was the one that was saying, 'you remember that?'. I think they thought that they had sheltered me so much that I wouldn't remember certain things which was kind of interesting. I think that was what was most difficult.
Yeah, it's one thing to talk about yourself but involving other people too can be hard.
Yeah. What was interesting is that I actually kept on pushing back my deadlines with my editor. She kept on asking if I was done and I was, but I wasn't ready. I think I just wasn't ready to let it go. Then finally she asked to see it and I sent it to her, and she said it was one of the most flawless manuscripts she had ever received! [Laughs] She said it had been ready for a long time, and it had been. I just wasn't ready to let it go yet. It was actually supposed to be released even earlier, but I just held it. I'm actually releasing a fictional series which will come out even before the memoir. I'm actually happy that it's coming out before because the memoir is going to probably be more painful. What I'm happy about it—and I said this to so many people—because there isn't a day that goes by that I don't get a tweet or message that someone either says to me 'I'm a college student and your career is such an inspiration and thank you for your voice', or a mom says 'I just told my little girl about you and I'm from the Bronx, so thank you!' It really keeps me going because when I was growing up, I didn't have anybody in my family that had gone to law school and I didn't have anybody in my family that was on television or had anybody that looked like me on TV. I didn't have anyone. If someone can read this memoir in the same way that I read Justice Sonia Sotomayor's book, then it will be worth it. My book is also going to be translated into Spanish, which is something that the Justice, who I now know which is a really crazy thing that I still can't believe, insisted that I do. If a little girl or a little boy reads it and says 'Well, maybe then I can do it, too' then the pain that I went through in writing it will be worth it.
Team Credits
interview by Kelsey Barnes
photography Neil F. Dawson @ Wilhelmina Artists
styling Chaunielle Brown 
hair Ro Morgan @ The Wall Group
makeup Faye Lauren @ Exclusive Artists using M·A·C Cosmetics 
casting + production Angeliki Sofronas
styling assistants Flik Styles, Michelle Copeland and Latrice Cole
location ASSET, New York

Truth About Murder with Sunny Hostin is currently airing every Tuesday on Investigation Discovery!
The ABC News podcast Have You Seen This Man? is available on Apple Podcasts!
"Have You Seen This Man" Hosted By Sunny Hostin Premieres Today

His crime was brutal. His escape was unbelievable.Now, after nearly 50 years on the run, a one-time death row inmate is the subject of one of the nation's most intense manhunts.Join me as I host the podcast "Have You Seen This Man" premiering today: https://abcn.ws/366jzhw

Posted by Sunny Hostin on Wednesday, 23 October 2019