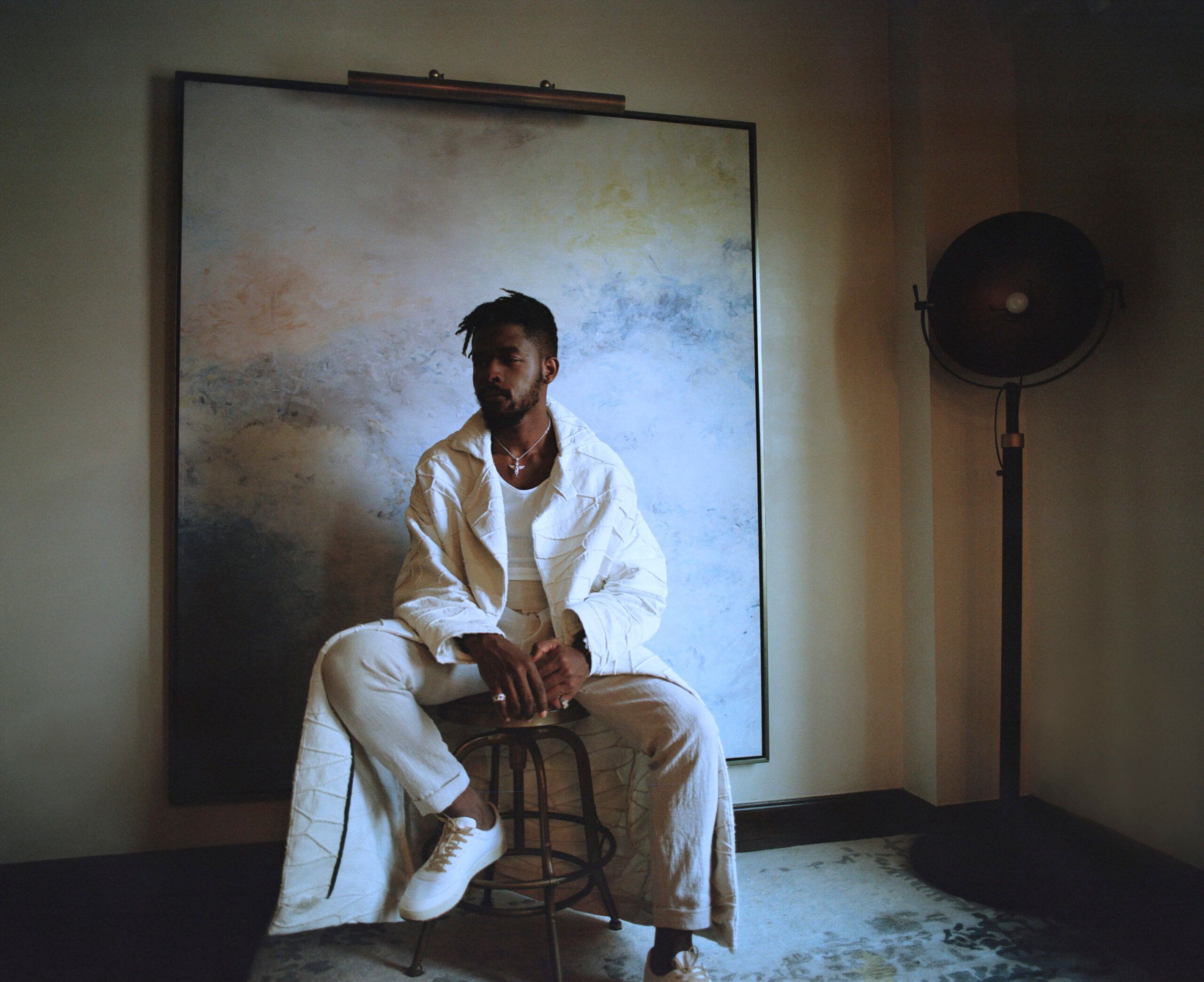 Johnny Drille – 'Before We Fall Asleep' – Track By Track
To celebrate the release of his debut album "Before We Fall Asleep," Nigerian singer-songwriter Johnny Drille pens an exclusive track by track for 1883 Magazine.
A debut album serves as an introduction to an artist; a body of work that showcases their ability to weave personal narratives through each track in order to create a collection of songs that leave a lasting impact on their listeners. With his debut record "Before We Fall Asleep," Johnny Drille does that (and then some). Fans of the Nigerian artist have been patiently waiting with bated breath for the singer's first body of work ever since the release of his first single "Wait For Me' over six years ago. Now, with "Before We Fall Asleep," Johnny Drille gives listeners a chance to dive into his headspace and listen to Drille's ability to flex his knack for blending a myriad of genres with his Afrobeats roots.
To get further insight into the album and each song, Johnny Drille penned an exclusive track by track for 1883 Magazine.
My Kind of Brown
The song touches the theme of self-love, the track focussing on admonishing a love interest about embracing who she is and putting aside her insecurities "you're so much more, you've been hiding in your shell for way too long..you would never know if you don't love yourself ". I'm implying she is my kind of person but she has to work on herself by loving herself so she can see herself in the light that I see her.
Loving Is Harder
'Loving Is Harder' has more upbeat tempo, the lyrics focus on the relatable and sincere dynamics of a relationship – the inconsistency and craziness that could come with it, talking about wanting to being in love without problems but with reciprocated love and energy.
Ludo
'Ludo' is a board game mostly played by Nigerians in West Africa that involves tossing dices around a board, which is what I compare my heart to in this song. Like 'Loving Is Harder' it has a catchy and danceable beat, the lyrics convey a strong message of having the strength to walk away from a toxic relationship choosing to protect my emotional and mental wellbeing instead of being played like a "ludo".
A Million Stars (Ova)
Teaming up with the legendary Don Jazzy 'A Million Stars' is a song pleading to a loved one, putting pride aside and baring it. We sing about taking responsibility for ruining a beautiful relationship and begging for another chance where they can start all over again.
Odo
Odo is a slang in Nigeria used to refer to a loved one. I worked with Nigerian R&B/Pop group Styl-Plus on this track, Odo is a song of affirmation to a loved one.
Driving In The Rain
In 'Driving in the Rain' I express my love, desire and affection for a girl, infusing the Bini dialect in this one. I teamed up with Ladipoe and there's acceptance of letting his guards down, he sings about being in love and wanting to be there for her if only she accepts the love he is offering. The use of the phase "driving in the rain" explains what I'm willing to do for her.
Before I Let Go
"Do you still believe in us?, Do you still believe in love" forms the chant that opens the song, the song talks about love that has gone cold between two lovers, the case of two people in a relationship who have drifted apart in the course of their relationship which sees the party who sees the love as one sided talking about not knowing how much longer they can hold on to whatever it is that they share as it's obvious they are grown to be "two songs on different keys.
A Change of Heart
This song follows a journey of experiencing the chills and uncertainties of falling in love.
In The Light
I collaborated with the talented Ayra Starr on this track. It has a mix of Afrocentric and pop sound, and we sing about baring it all in a romantic relationship without holding back despite past strife and heartbreak. 'Come In The Light' is a duet that follows the frustration of someone in love who yearns for the affection and attention of his partner.
Lies
With the voice of activist and acclaimed father of Afrobeats Fela Anikulapo-Kuti solemnly but clearly speaking at different times in the song 'lies' is a song that touches the theme of politics in the album. Infusing Rock and Afrobeats like never heard before, the song calls out politicians who make empty promises just to be voted in power but never fulfil their political mandates. Calling out the systems that don't work and political antics 'Lies' reminds the public that the power is in their hands and they can decide the future they want with their votes.
Lost In The Rhythm
The song follows the trials of a young person trying to succeed in an environment that works against them.
Sweet As A Mother's Love
An emotionally moving and powerful song with the use of Bini language, good choice of words, vocal and sound range. This riveting song explicitly describes the feeling of one who is experiencing love so pure and sweet it is likened to a mother's love.
Sister
This song is quite personal to me as it's about my sister. 'Sister' is a song of hope and encouragement. With the help of the choir and the introduction of other musical instruments, the track applauds the strength of the weary hearted while giving words of motivation and affirmation.
Clocks
This duet with Chylde narrates the frustration of someone in love who yearns for the affection and attention of his partner.
Sell My Soul
'Sell My Soul' is a song of affirmation and statement where I sing about holding on to my standards and values despite the temptation he faces.
Johnny Drille's debut album "Before We Fall Asleep" is out now.