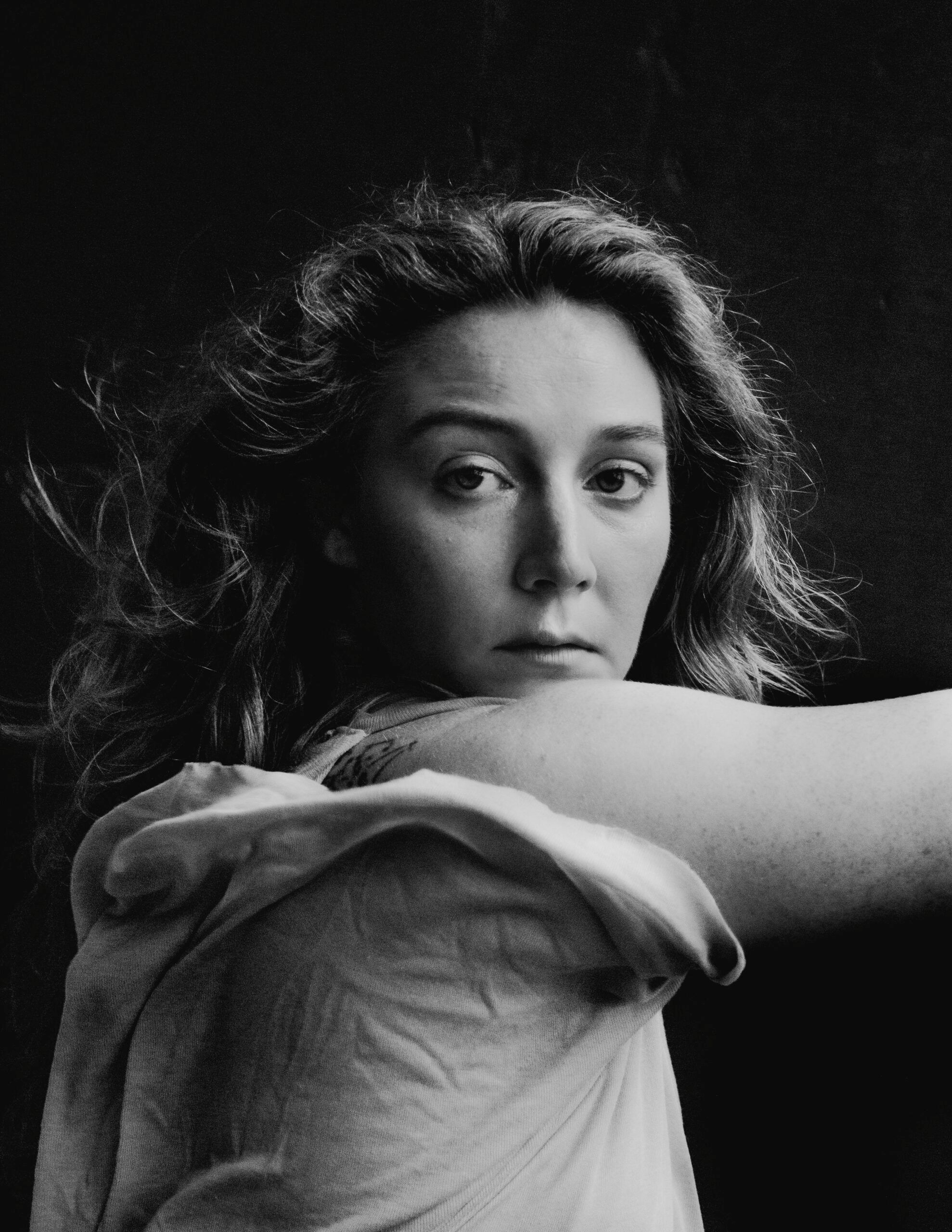 Kayli Carter
I

n a fickle industry, 

The Marvelous Mrs. Maisel'

s

Kayli Carter isn't here to just have one moment of success.
No other series shows New York in the 60s better than Amazon's The Marvelous Mrs. Maisel, which just wrapped its 4th season to critical acclaim. The season starts with the show's heroine & stand-up comedian Midge Maisel feeling uneasy and humiliated after getting dropped from a tour. To put it plainly: the fiery, fast-talking Midge is lost and aimless. After a fateful meeting in jail, which tends to be a common theme for Midge, she attempts to restart her career by… becoming a burlesque club's comic emcee. Kayli Carter plays Gloria, a burlesque dancer that meets Midge in prison and introduces her to the club and, in a way, serves as the catalyst for everything that follows Midge throughout the rest of the season. In the role, Kayli Carter approaches Gloria and her world of burlesque dancing with a strong reverence, familiarizing herself with what it would be like for someone like her in the 60s.
Conscious or not, Carter's own fears of Hollywood is something that she shares with Marvelous' comedienne; there's a feeling that, at any point, Hollywood could make them the darling ingenue of the moment and chew them up & spit them out soon after. For Kayli Carter, it's not about being the actress of the "moment," but what matters most is the desire to create strong, timeless performances that speak to her as an actress and a collaborator to her fellow creatives.
1883 Magazine's Kelsey Barnes chats with actress Kayli Carter about The Marvelous Mrs. Maisel, sexism in the 60s, the pitfalls of being an ingenue in Hollywood, and more.
I know you studied at the Savannah College of Art and Design for performing arts, but I want to know how you decided you wanted to pursue acting as a career?
I didn't really think that I was going to, actually. I did a lot of high school theatre and was involved in it since I was a kid, but I'm a little bit of a pragmatist; I thought it was an unreliable line of work. Being from Florida, I didn't think I could pursue it. I didn't know anyone in the business, my parents have no connection to it, acting just felt like something I was going to do for fun and then get a real job. When I was in high school, we were part of a competitive theatre group and every school in the state would show up to compete. I realized after spending all of my lunch periods in my drama teacher's classroom reading scripts every day, I was taking it a lot more seriously than everyone else. I didn't understand why they weren't getting as swept up in it as I was. One day, I looked at all of the empty seats in our high school auditorium and I just thought, I have to try to do this. I'll find a job if it doesn't work out, but I knew I needed to try. 
I feel like there's a little bit of a full-circle moment there with you looking out to like that auditorium with all the empty seats and that's what you got to do in The Marvelous Mrs. Maisel.
Oh, yeah. Asking to go out and stand in the centre of the stage is something I actually always do before a show when I'm warming up. It's my favourite view in the world.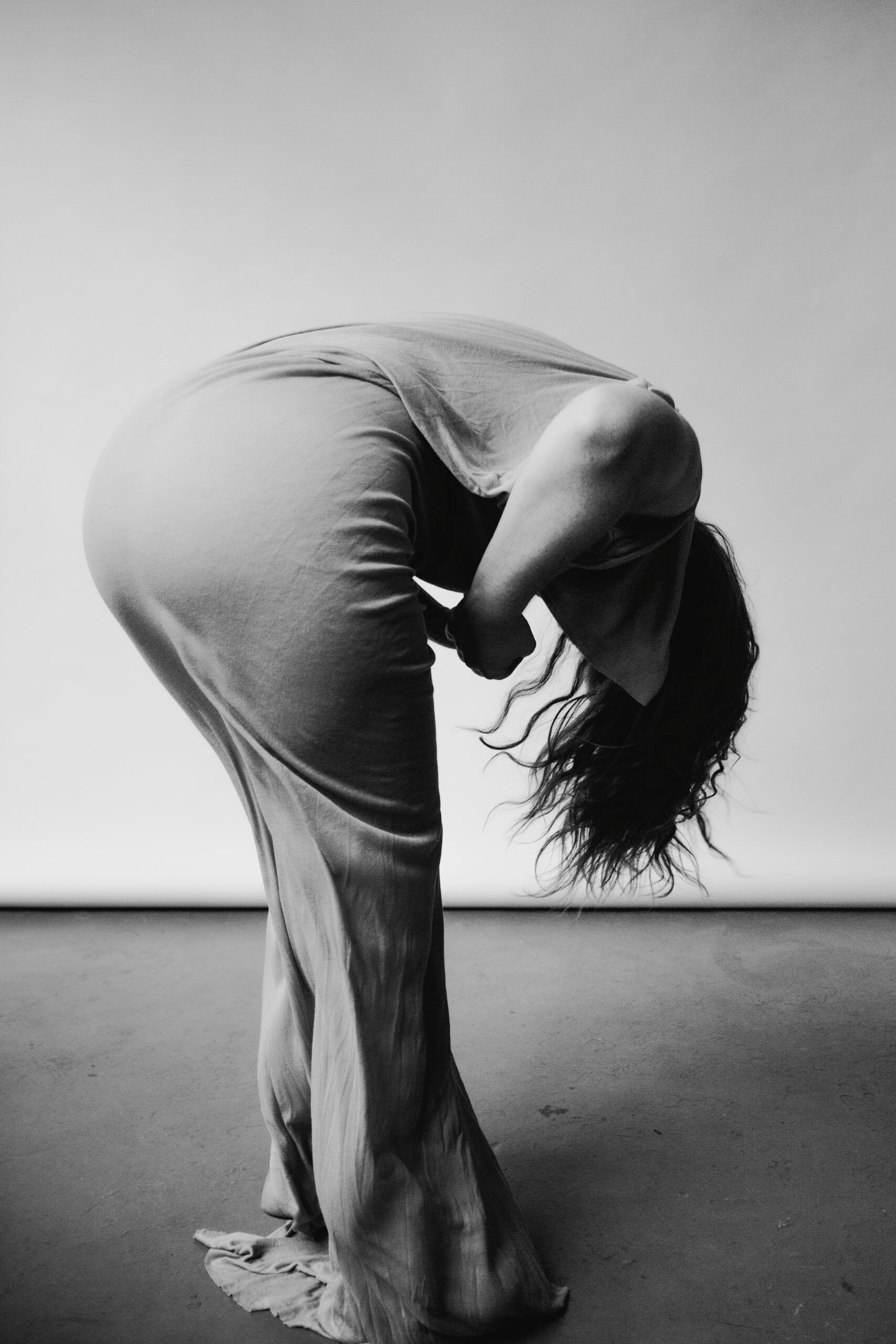 Draped house gown Corban Harper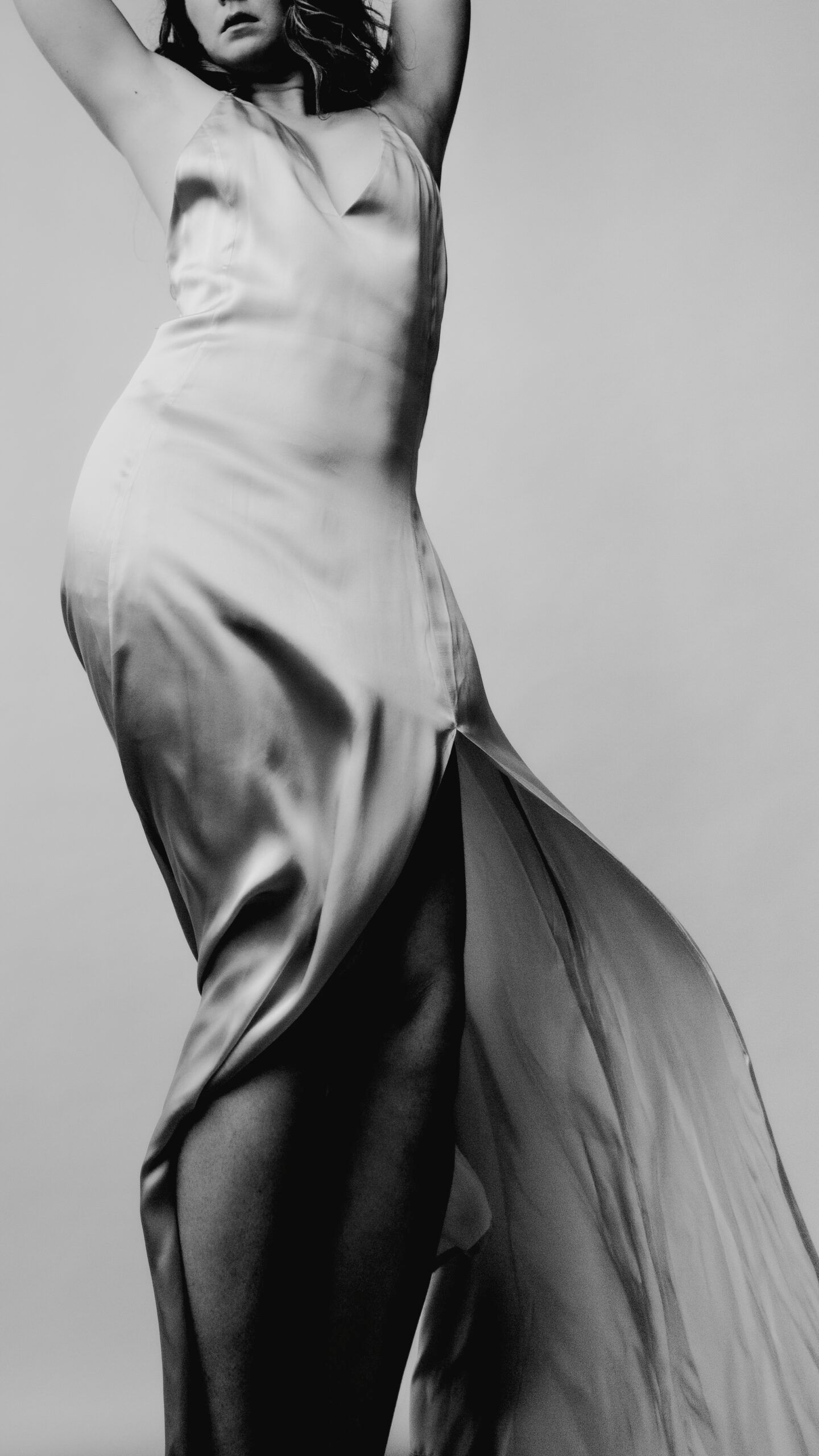 Dress Sleeping with Jacques 
I love how all of your projects are different from the last. I actually watched Let Him Go during quarantine as it was on HBO randomly and I was hooked. When you get a script like that, what typically draws you to it?
I did that job right after I finished Mrs. America, which also had a storyline of intimate partner violence. That was very much on the brain anyway. Let Him Go is not something I would typically do because I don't see myself centred in a thriller type feature very often, but Tom, the director, is such an incredibly smart person who understands that in order to make a thriller, you have to give extreme credence to the characters first. All good thrillers should be character and story-driven, it's less about jumpscares and blowing shit up. I couldn't wait to work with Diane [Lane], Kevin [Costner] and Lesley [Manville] who I'm still so deeply in love with. 
I get asked to play mothers on the run all the time, that's a really big cornerstone of my career so far. Being these women who are really mistreated by their partners and left alone to raise children, which of course, is not my experience of the world, is interesting. I will always prefer that to playing teenagers. People try to nicely tell me that I'm too old to play certain characters and if the team is great, and the writing is great, I'll go in, but every time I read for a teen I feel so weird!
Yeah, it's a weird thing in movies and TV! I can't imagine playing someone ten years younger than me.
We're similar ages—nobody writes anything about this period of our lives. Worst Person in the World was my favourite movie this year and it speaks to it. 
I saw it at TIFF, it's one of my all-time favourites now.
That performance is incredible. Nothing happens to us between 18 and 30. Nothing happens, there is no ground to cover. So I do understand why I'm only getting asked to play mothers because in period pieces you can employ someone to play a 23-year-old who already has a child. I can't get behind that anymore. It's all going to the gen-zers, which is fine. Whenever my agent tells me that they loved me but I don't have the "vibe" they were looking for, I know it's because I'm too old! I do the New York Times crossword, not Wordle! It's fine! I get it.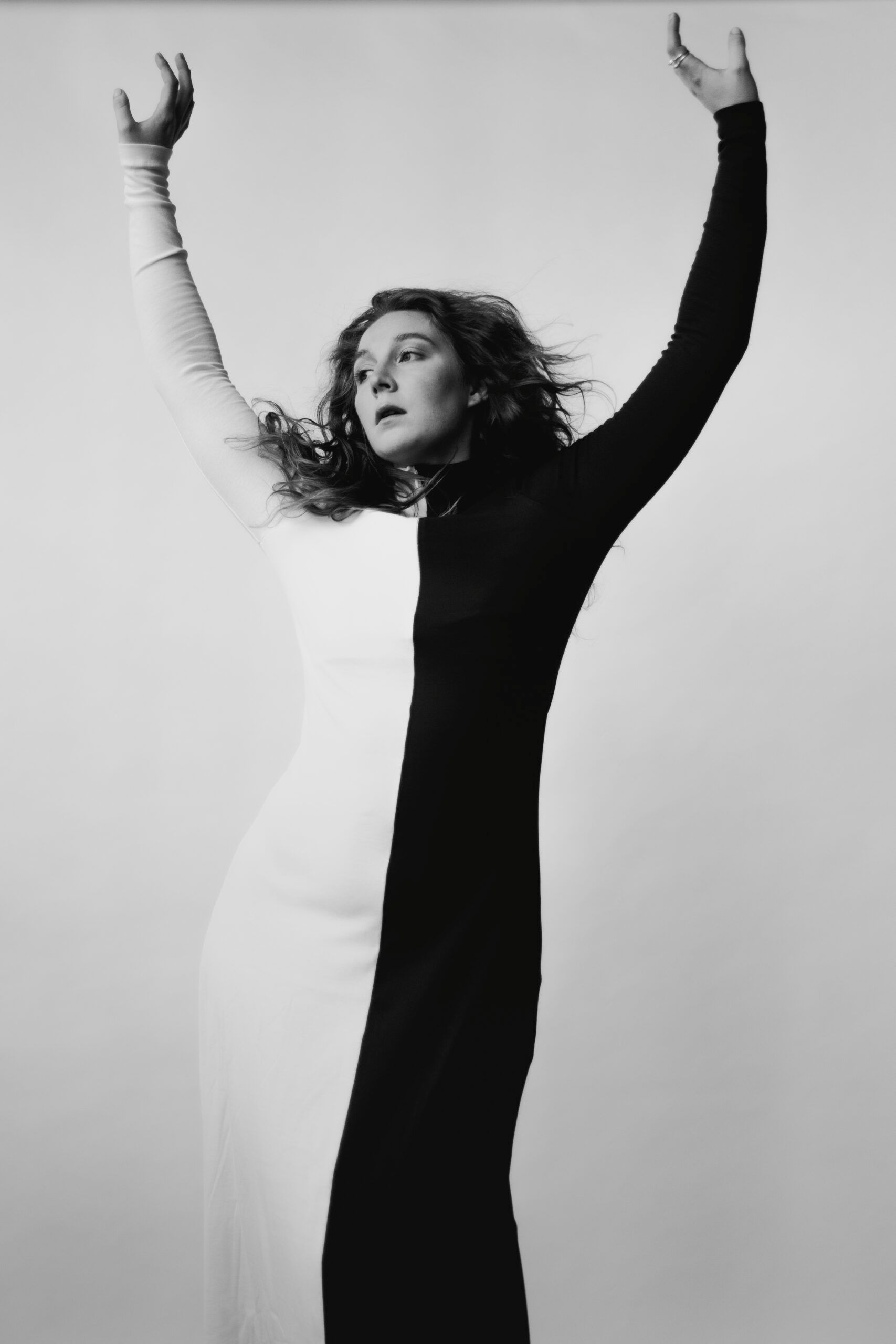 Dress Rosetta Getty Rings Hirotaka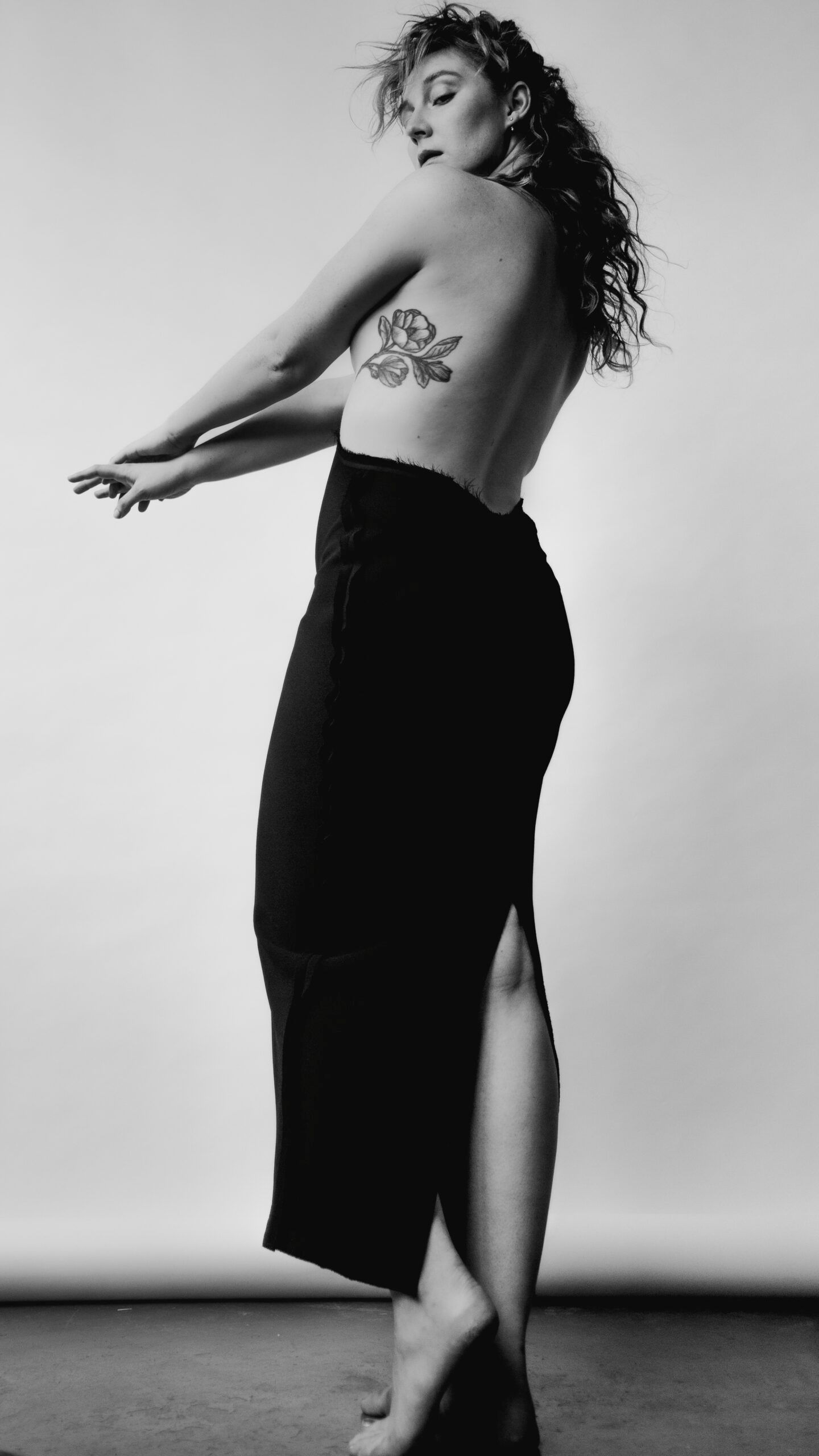 Bias slip skirt Corban Harper Earrings Nadri
Is there anything that you do to flesh out your characters?
I do love music as a way to get into someone's head. I think it's such an easy way to zone out away from your own self. When I'm getting ready, especially in Maisel, there's so much that's involved from the hair and make-up to the costumes. In the fittings when I talk to costumers, I get a really good sense of the way this person is choosing to present themselves to the world. It's the best insight any actor could get. It's very different from what's going on internally and how people present themselves. I always think that's a really helpful place. I never want to be someone who creates a backstory that isn't there because I don't necessarily find that helpful for me. We don't go around thinking about everything that's ever happened to us on a daily basis.
It's so true though! It just becomes a part of us, not something that is weighing down on us all the time. 
Yeah, as an actress it's helpful to know general things because everything that is written in the script is extremely important, but I get so much out of writing down everything that person says about themselves. I'll go through the script and pick out those things, what other characters are saying about them, and what my character is saying about other characters.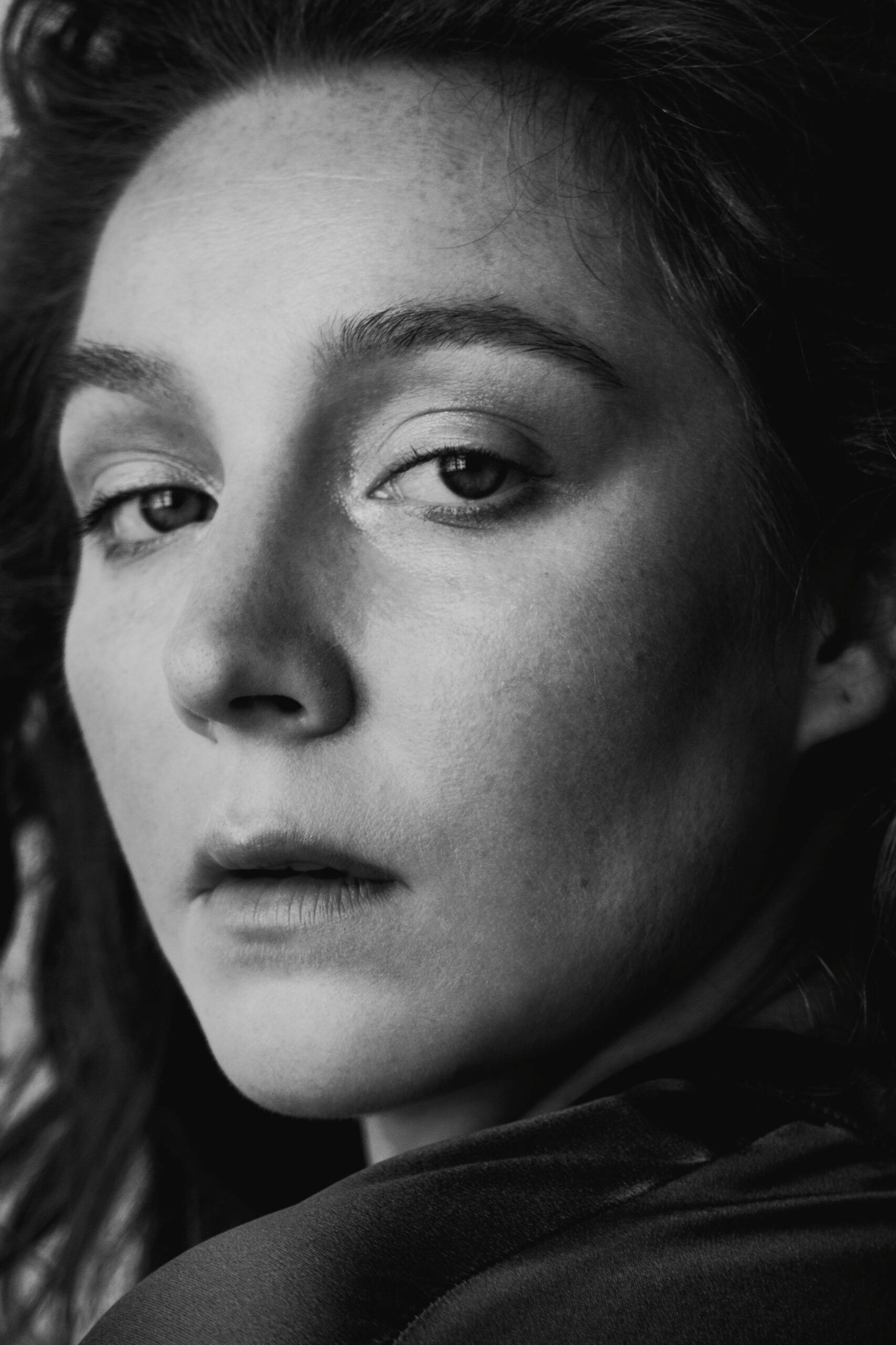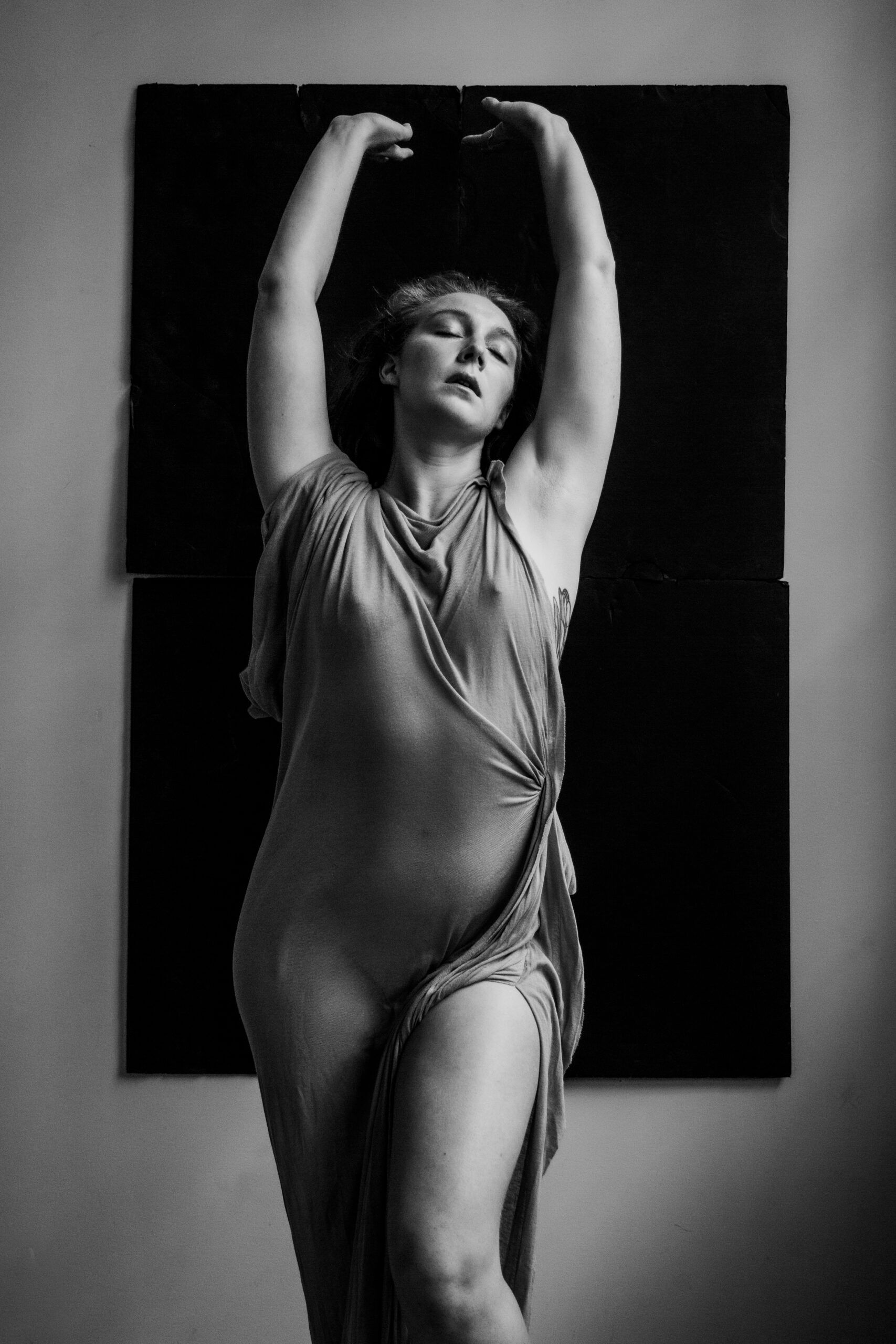 Draped house gown Corban Harper
Let's chat about The Marvelous Mrs. Maisel! What was it like booking that gig?
I actually replaced someone in this role, I wasn't really expecting to do it. It was at a period during the pandemic where obviously things had just run dry. I've known Rachel [Brosnahan] for a while because we have mutual friends and I've done a workshop of musical with her—the table read of Almost Famous—that we ended up in together. We have a lot of similarities in the way that we think about the business and our taste and there's a lot of overlap there. 
I've always loved Amy Sherman-Palladino and Dan Palladino, I'm a huge fan of the Gilmore Girls and of Maisel of course. It's just an iconic New York show that I know I'm going to be so thankful that I was a part of. It feels like being in Seinfeld or something the equivalent that is just going to be around forever. It's timeless, it's a New York institution. They invited me to be a part of it and it was one of the first times actually that like anybody's ever thanked me for being on a set which I thought was so absurd! I was sitting in sweatpants for months, not doing anything because of the pandemic, and they thanked me for coming. They were very complimentary about my work prior to this and so excited to have me, I felt really welcomed. Then, the cherry on top was getting to just talk with Rachel every day.
She is the best. I've never talked to her or anything, but I just get such good energy from her. 
She is such a good person and incredibly savvy about the type of things that she's trying to make with her production company, which is all I talked to her about because I'm also interested in doing things outside of acting. Acting in Maisel was like a masterclass on how to be an actor-turned-producer by Rachel Brosnahan.
The costumes are insane. What was it like first getting into that costume and then having to produce a big number in it?
Yeah, they are unbelievable. Every single stripper that would come around the corner I was just in awe of. I just kept thinking, how did they make all of these and when did they do it? And how do they find this many ostrich feathers in any location?! 
As a viewer you forget the detail that goes into a show, this is hours upon hours of work looking into minute details.
The very first time I went into the theatre—which doesn't actually exist, it's built on a soundstage—it's as if you're actually immersed in that world. There's seating, there's an actual bar, there's all of the wings and offices in the back with a loading dock. It's all connected as it would be. It's incredible for us because it gets you into the right mindset. I walked in and I could not believe the attention to detail. They have better production design than almost anyone. 
It's something I took note of when I was watching Midge just walk down the hallways, there are notes on the wall and rags hung up. All of these details are small but they add so much context. 
Yes! And all of our make-up stations in the dressing room would have fully written out postcards from guys who'd left us notes at the door, or Playbills taped to the mirror. The audience barely sees it, but they are there for us to make it more real. It makes my job much easier.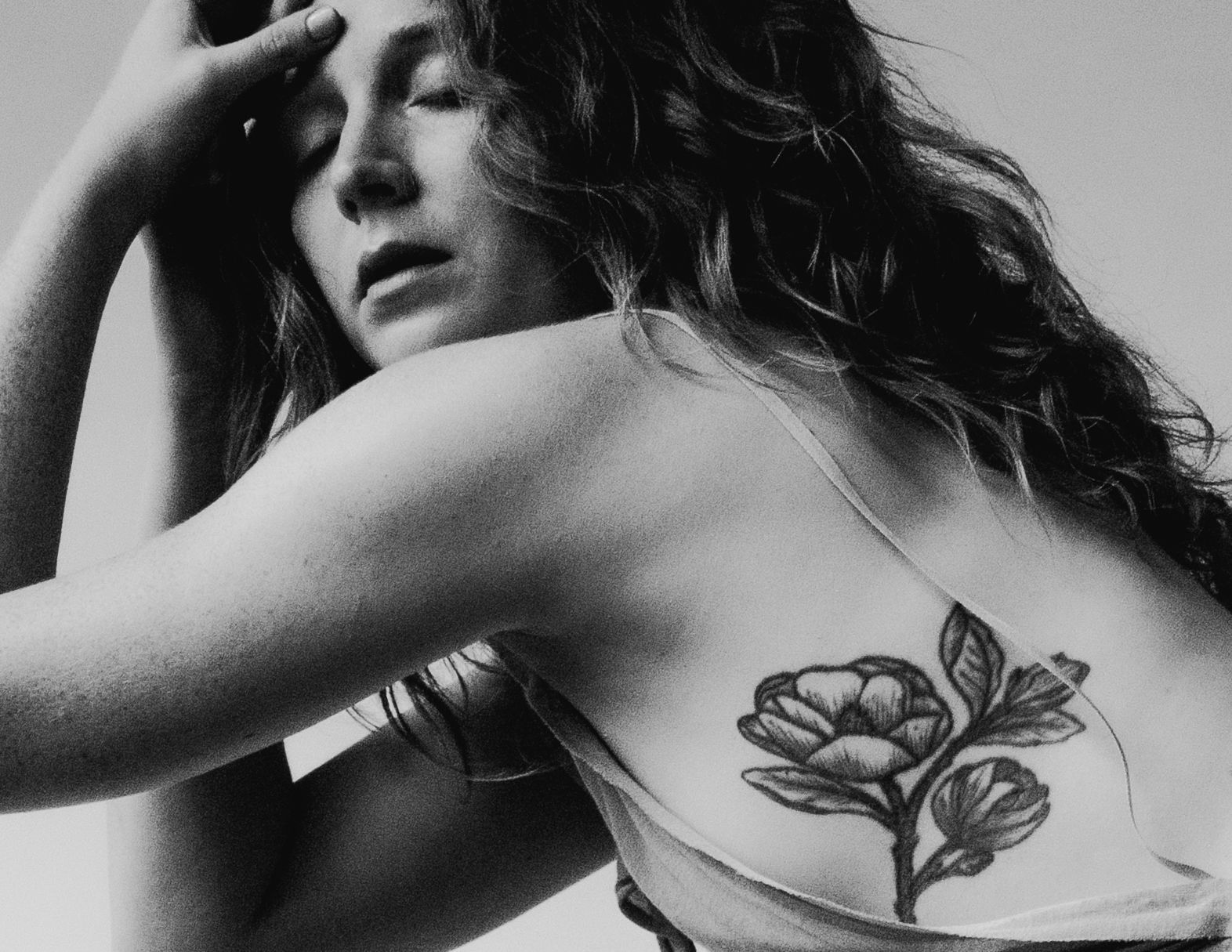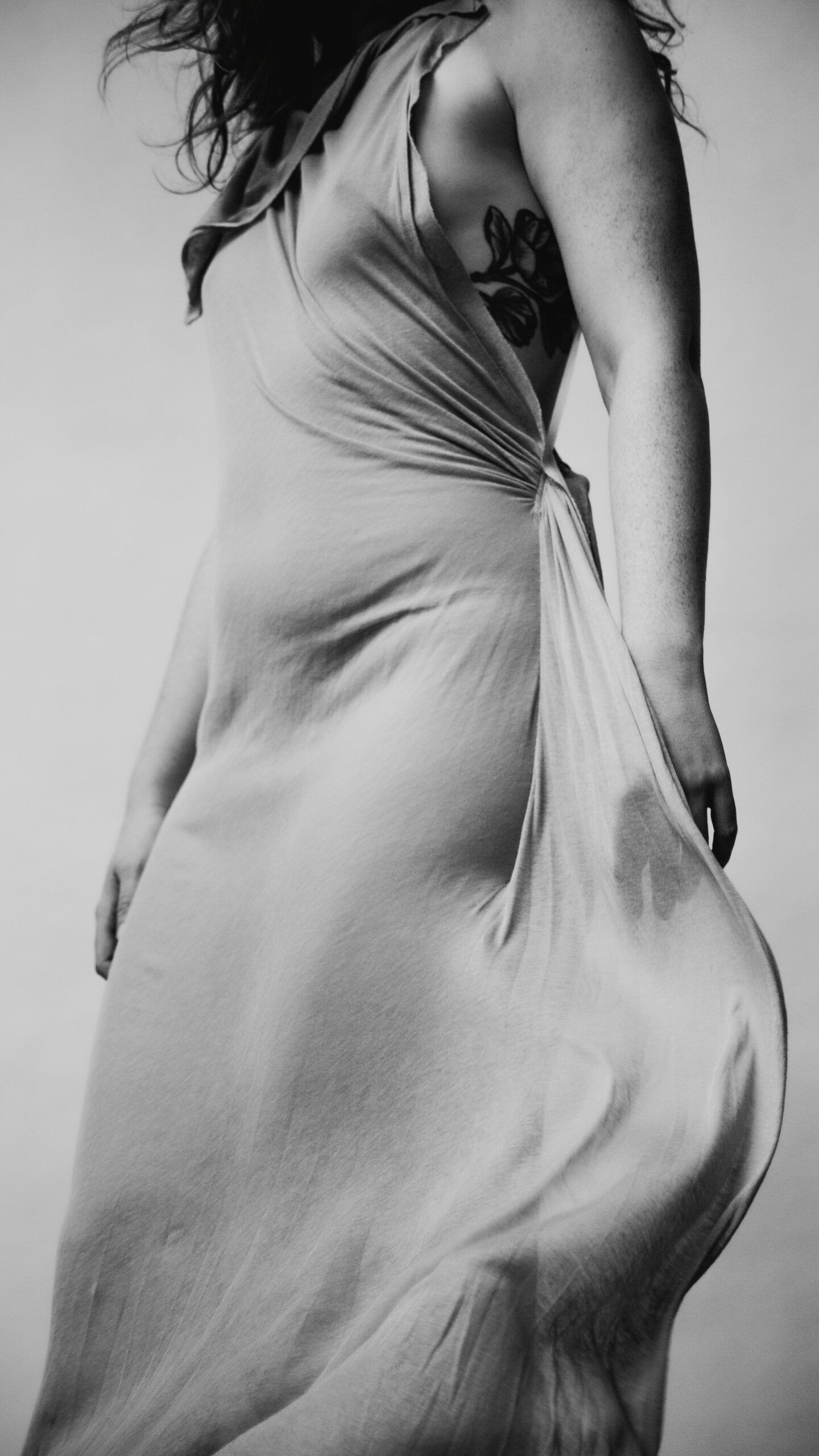 Draped house gown Corban Harper
My favourite line was when Gloria said "You're almost as funny as the male comics" to Midge and she replied, "We'll work on that." I sometimes forget that the show is still set in the 60s when there was a lot of sexism. How has it been to explore those themes?
There's a lot of really interesting research to be done about strippers trying to unionize in the 1950s and early 60s. Instances of burlesque dancers and the way that the police would frequent these burlesque clubs and if the women didn't like their advances or didn't agree to go out with them, they would wait outside to take them to jail at the end of the shift. There were a lot of really interesting dynamics to learn about.
This is a group of women that don't know their worth and have been consistently told that they're not worth very much. How you have to navigate the politics of 1960 when one of the only tools you have is your sexuality and your body… It's not something that I have to think about in the same way that Gloria has to think about it. There is a hierarchy for all of them because they're in service to men all day in their line of work. I do think that having a person like Midge come in and demand better treatment was shocking to them because they wouldn't dream of doing it.
Yeah, even with Midge making Boise knock instead of just barging into the dressing room or telling him he can't slap them on the ass anymore. They were surprised when Midge called them ladies! That whole scene might be comical, but there are so many layers to it. 
I don't know how many women-owned strip clubs exist, but I wonder what it would be like to see sex work that is laboured by women instead of being owned by men who employ women. Of course, that's not gonna happen in the 1960s but I'm not even sure it's occurring now.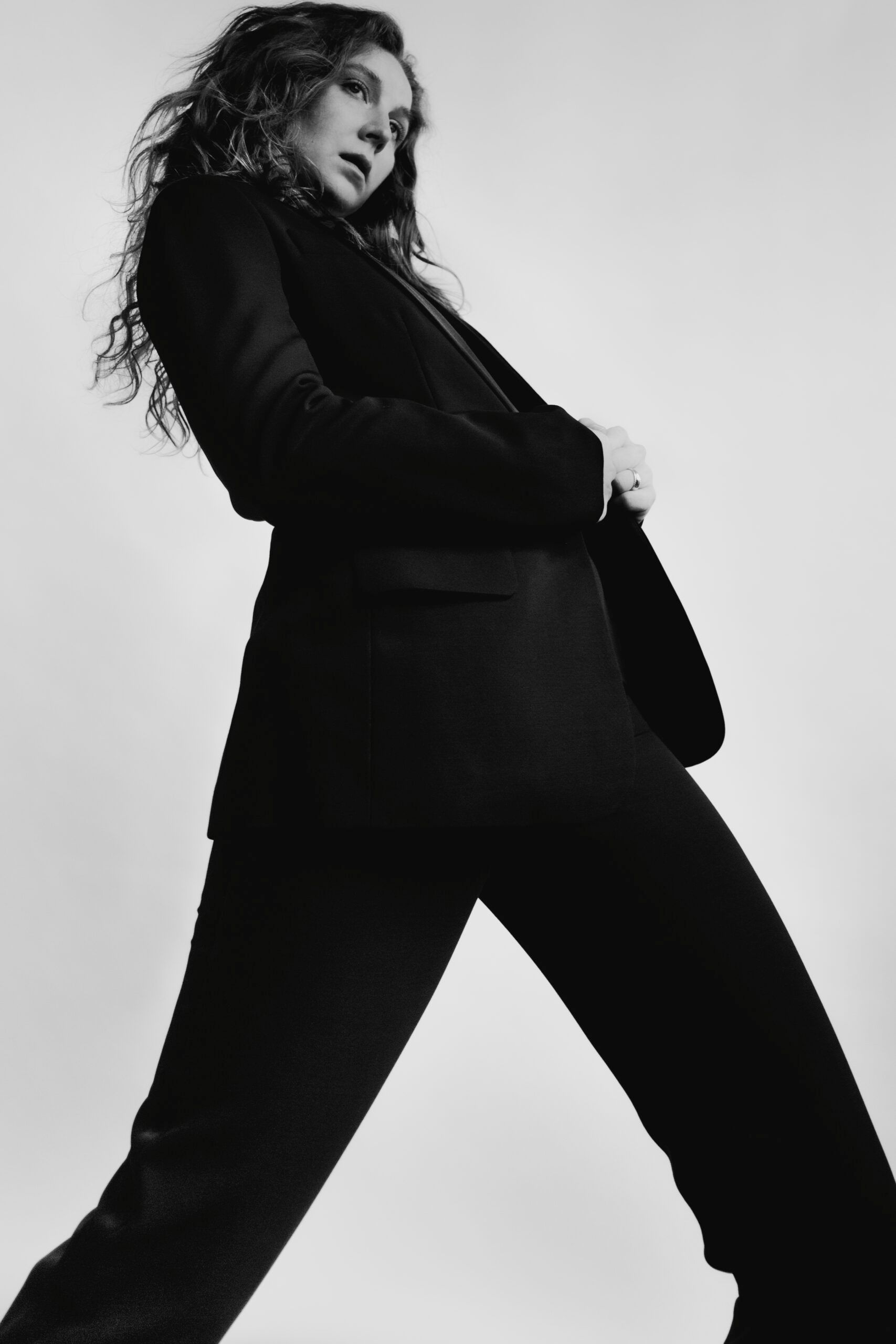 Suit St John Ring Mejuri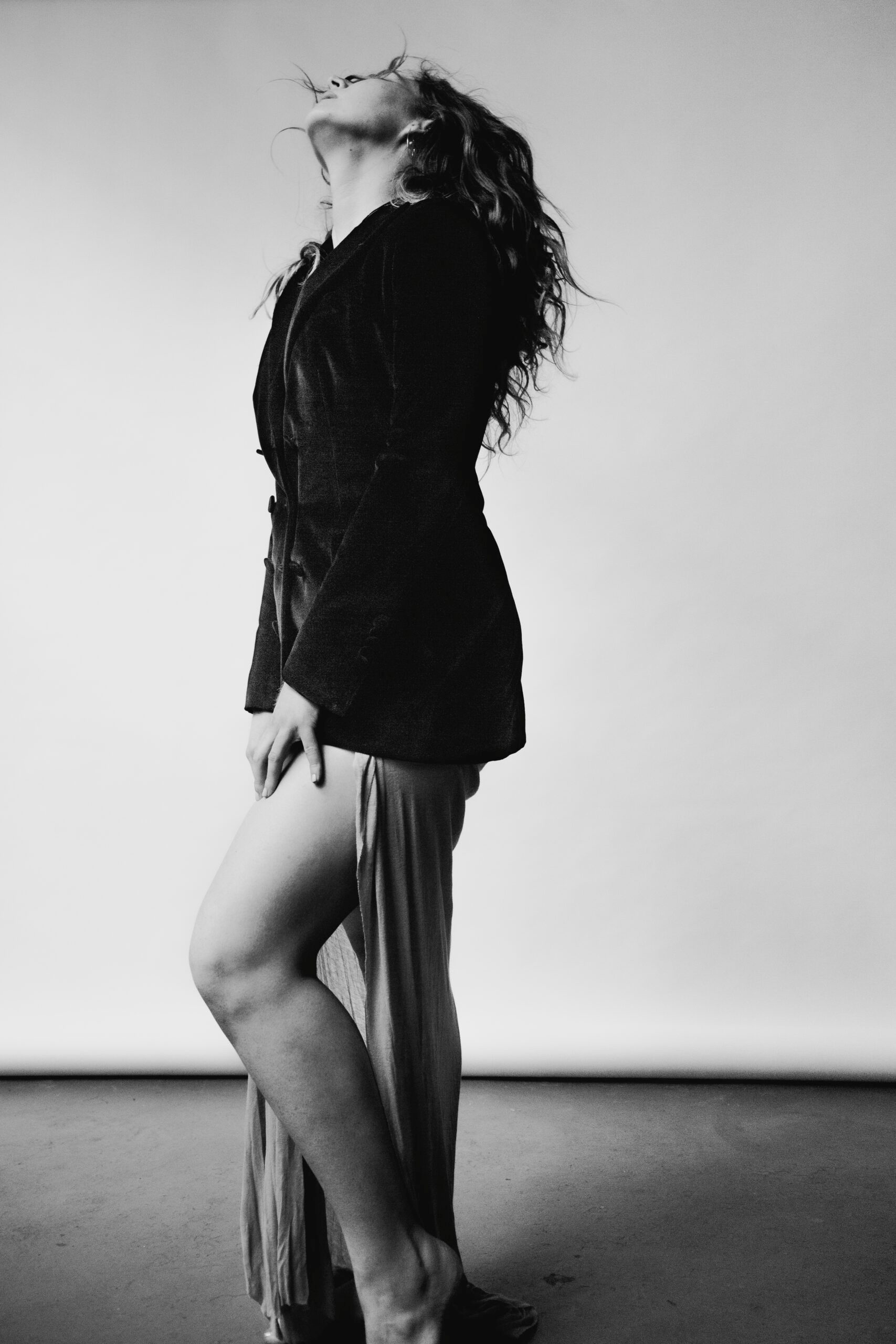 Blazer Blazé Milano Draped house gown Corban Harper
I loved the op-ed you penned for Teen Vogue around Trump's election; it was so powerful and moving and important. Is writing something you'd like to pursue further?
At that time I asked my publicist if we could seek out press that was just beyond being interviewed and if I could write things because that's something that I love doing. I am working on several of my own projects right now and I love collaborating with others. I'm writing a screenplay and writing, as you know, is an uphill battle. I'm trying to be patient with myself and be patient with the amount of time it's going to take for these projects to be what I want them to be. I want to be able to have the kind of team around me that I want because I see things very clearly. I'm writing a screenplay that if I laid on my bed and closed my eyes, I could see the whole thing start to finish. It's this horrible act of writing! [laughs] It's hard to see things so clearly in your head and trying to translate that on paper. 
I understand wanting success right away; we live in a society that is obsessed with instant gratification and being on the Forbes 30 under 30 list. 
I am always more interested in people who have like been here forever and then everyone is suddenly made aware of them.
Phoebe Waller-Bridge is a great example of that. 
Yeah, or Kathryn Hahn who I love. I worked with her on a movie and she's one of my favourite people. It was so strange when WandaVision came out and everyone was losing their minds — how did you people not know?! I've been in the number one fan club! She's been giving us the best performances for years.
I'm always more interested in people who have been going for years and years and years and consistently, time after time, delivering great work. I'm so afraid of having a moment — I don't ever want to have a moment. If I do, I want to have been here for long enough that people don't use me and throw me away. I think we have a tendency to do that to young women especially. We blow them up, put them everywhere—every photo shoot, everyone wants to dress them, everyone wants to cast them—and then we're done with them and think she was so overexposed. Where does she go and what does she do? I'm so, so afraid of that.
I just want to be here, doing this, trying to make great performances every time and be a person that creatives know that if they need somebody who can do a great job, they can call me. I want to be here for a very long time… and maybe then give me a moment.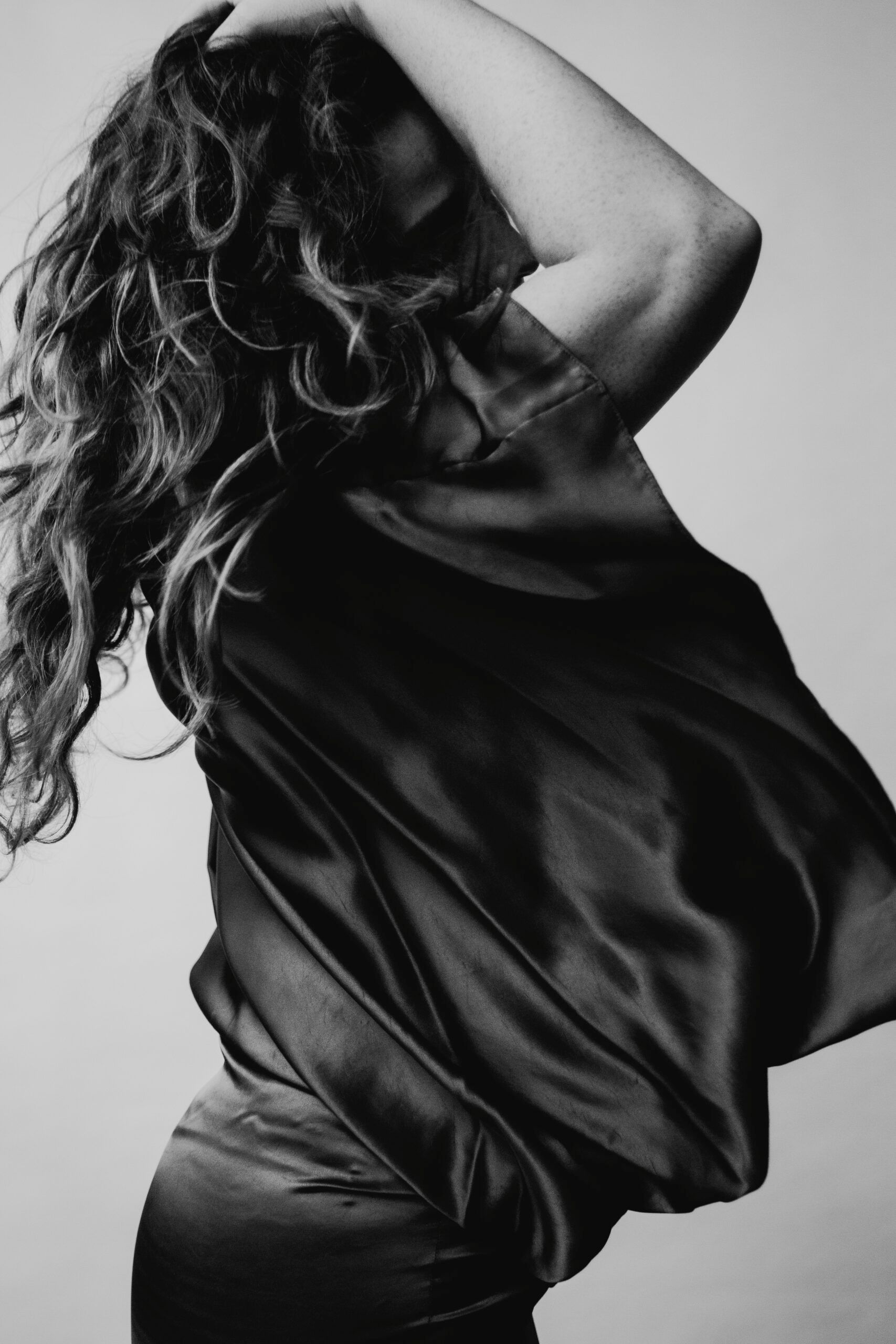 Draped satin gown Corban Harper
The Marvelous Mrs Maisel is streaming now. Follow Kayli Carter at @kaylicarter.
Interview by Kelsey Barnes
Photography by David Goddard
Styling by Emily Sanchez