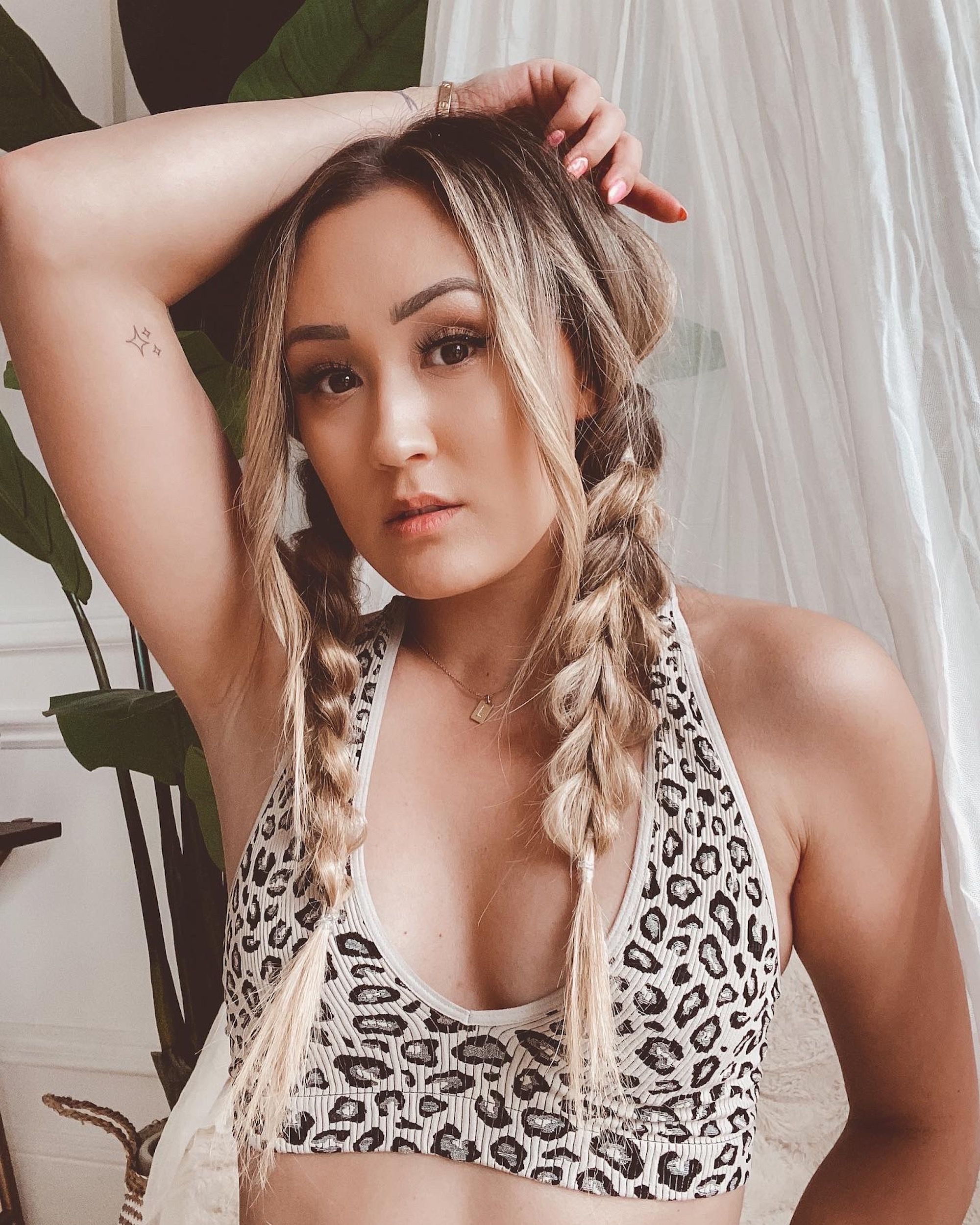 Lauren Riihimaki (LaurDIY)
Tagged as the 'millennial Martha Stewart' by Forbes, Lauren Riihimaki (aka LaurDIY) is an innovator with a vivacious personality to match. 
Positive, down-to-earth and incredibly creative, Lauren has maintained her dominance on YouTube as the premier digital DIY channel for over 8 years and is now making the incredible leap to the non-scripted, tween competition series Craftopia as its Host & Executive Producer set to premiere 27th May on HBO Max.
A crafter for life, a champion for open conversations on mental health, and a passionate animal lover, Lauren is an inspiration for people from all walks of life regardless of age, gender or geography.
Speaking to 1883, the 26-year-old social media personality walks us through the challenges and her experience producing and hosting Craftopia, continuously keeping fans on social media engaged, advocating for open conversations on mental health, and much more.
Where did the idea for Craftopia come from?
Warner [Media] and the production company approached me in the early stages of the show and brought me on as executive producer to help bring the show to life. I was part of the set design, the challenges, and the casting. They wanted me to be the host as well. We came together in a collaborative effort to make the show the best it could be.
What were the challenges of playing the dual role of host and executive producer? How was it different from being in front of the camera as a YouTuber? 
Hosting isn't something I had a lot of experience with so that was a learn on the fly process. Reading off the teleprompter was something I had to get used to — a lot of the show was personality-driven but for the intro and outro and introducing the kids, it was teleprompter-heavy. It was such an interesting and new dynamic process to have hands-on involvement in such a big production. I film and produce my own content at home, but this was taking what I do and scaling it up. It was really cool to see all these different moving parts of the show coming together. It was amazing to be part of it!
What was the most unexpected obstacle during the filming process ?
The biggest challenge was the burnout from filming so many days in a row. We filmed for three weeks, six to seven days a week for fourteen hours. It was living and breathing Craftopia, so finding motivation and inspiration was hard. The kids were amazing so as soon as we were rolling it was easy to be excited, but it was a physical and mental toll to be on and bring 110% energy on to set every single day.
Children these days have a lot of exposure while still retaining their unique imagination. Did you find yourself inspired by the kids on Craftopia?
These kids were so incredible. They all had their specific niche — some liked crafting cosplay, others had an interest in crafting with food or crocheting. They were so talented; they have their own expertise but were also able to be innovative. The set had such a great inventory as well, so it was so cool to see these kids look at a certain supply and think of utilising it in a way I'd never thought of.
Is there a particular memory from Craftopia that stands out of one of the children on the show using supplies in a way you didn't think of?
There was this one kid Jonah who was this crochet master! He was able to incorporate his niche into a particular genre of a challenge that was incredible, and it definitely inspired me to learn how to crochet. I think that'll be my next task during isolation!
Besides crocheting, are there any other types of arts and crafts you haven't tried yet that you'd love to attempt? Are there any projects you've tried your hand at multiple times, but you couldn't master?
Pottery is something I've never done before, so I'd love to learn more about that. Candle making, working with resin — anything with clay and molding is something I've not dived too deep into. As for stuff I've failed at, there are probably a lot of DIY fails. With the amount of crafting I do, there's bound to be fails. One thing I really shy away from is anything too detailed, I have high patience and tolerance, but things like drawing or painting a face involve too many details so you can't really go with the creative flow. Fine, specific details are something I definitely don't try because that's not an expertise I have.
Were there any arts & crafts shows you watched as a child to get your creative juices flowing?
I loved Art Attack! Aside from that, I don't think there any shows for arts and crafts, but I think Art Attack was the 90's crafts show that everybody watched.
You've had your YouTube channel for over eight years, and you've grown with the times. How do you manage to keep your content fresh — not just for yourself, but with keeping your fans of a wide age range engaged?
I try to keep a finger on the pulse of what's trending. TikTok has been a massive inspiration to keep up with what's happening and what's going to happen next. It's a new platform so a lot of trends show up there before YouTube or media picks up on it! One of the best things about crafting is that it's not bound to any one age group. A lot of kids do arts and crafts and might grow out of it, but crafting is very much centred around self-expression and creativity and that doesn't have an age range. So, when I'm thinking of ideas, I usually think of what I'm interested in doing, what people might like regardless of age and what can be made for cheaper rates at home. For example, right now DIY masks are something people are looking into. So, I think it's about being aware of what's happening in the world and thinking of creative solutions.
When it comes to social media trends, what's an art/craft trend that you'd love to see trending that hasn't caught on yet? 
I think Epoxy Resin DIYs are definitely on the rise. I've been super inspired lately by the resin crafts I've seen, and I definitely think it'll be something big.
When it comes to your brand and merch, what's something you'd love to add to the product range now or in the future?
We're working on tie-dye kits right now alongside LaurDIY branded white hoodies and t-shirts with a cute black graphic on it. The clothes are cute and creative by themselves, but the tie-dye kits allow people to really hone in on their creativity, and make them their own!
You're a huge advocate for open conversations on mental health. So, what advice or words of comfort would you give to people who might be struggling at the moment?
Everyone is feeling similar emotions right now. We don't have a guide to get through this. It's okay to feel how you're feeling. Even if someone else feels differently, it doesn't mean that what you're feeling is invalid. Take time to take care of yourself mentally and physically.
How has crafting personally helped you get through your own struggles?
For me, crafting has been an escape. It keeps my hands and mind busy as I focus on something positive and relaxing. You can let go, let the creative juices flow and do whatever you're feeling because there's no wrong way to craft. During these times, where there are so many rules and regulations, crafting is something with no rules!
Aside from crafting, what other outlets do you have?
Being outdoors is relaxing. I'm lucky enough to have some outdoor space at home where I can be safe. I've also picked up an acoustic guitar; I haven't played it in so many years. Playing with my dog and getting fresh air has been super relaxing.
What's something related to crafting or to your fans that recently made you smile?
Any time a fan recreates a DIY inspired by something I've done is so motivational. Recently, I did a DIY paint-by-numbers and there were so many Mother's Day crafts where people made their own creations inspired by that DIY, which was so sweet!
Speaking of gifts, what's the best DIY gift you've gotten from someone?
When I hit 1M subscribers on YouTube, my parents threw me a surprise party and instead of bringing actual gifts — friends and family brought recreations of DIYs from my videos. It was so cute, and effort was SO appreciated. The best DIY gifts I've ever received are custom sweaters, mugs, pillows + blankets with my dog on them!
What do you consider the personal highlight of your career so far? What's next for you? 
Craftopia has absolutely been the highlight and the overall brand behind what LaurDIY represents. Without years of crafting and fostering an incredible community of creatives, so many of the opportunities like Craftopia wouldn't have been possible. Hopefully, a season 2 is next!
Finally, what's one question no one asks in an interview you wish you were asked? 
Can you show me your dog? [Moosie, Lauren's Mini Bull Terrier has his own Instagram @moosetheminibully]
interview by Malvika Padin
Catch Lauren Riihimaki (LaurDIY) as the host of new competition series Craftopia streaming on HBO Max from 27th May!
[embedyt] https://www.youtube.com/watch?v=vXzRha-pKLw[/embedyt]