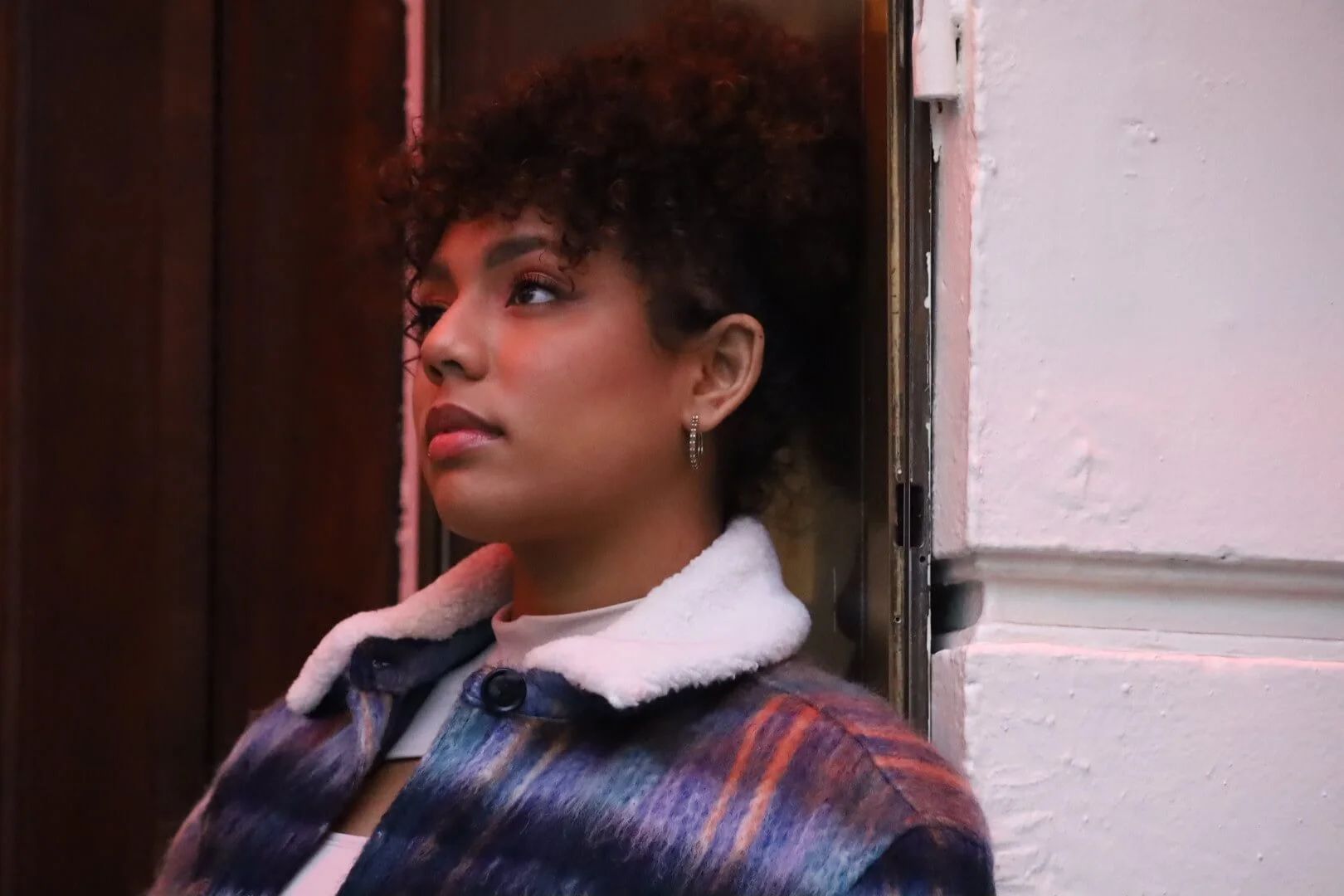 Liisi LaFontaine
Having made her West End debut in Dreamgirls in 2016, Californian Liisi LaFontaine returns to London to play Satine in Moulin Rouge at The Piccadilly Theatre.
Singer/Songwriter Liisi spent the pandemic writing music and has arrived in the UK with an album worth of music. She describes her music style as more R&B and pop than musical theatre, making Moulin Rouge an excellent showcase of her incredible vocal capabilities. It just takes one quick YouTube search to see Liisi performing live in concerts and cabarets with effortless vocals giving a stunningly emotive performance as herself. Right now, she is focusing on opening Moulin Rouge. After two rescheduled opening nights and 10 days of cancelled performances due to the omicron variant, Moulin Rouge finally got its opening night on 20th January.
Liisi plays Satine, the role made famous by Nicole Kidman in the 2001 Baz Luhrmann film. The musical follows the film's story of the two lovers Christian and Satine and features some of the most loved songs including 'Your Song' and 'Nature Boy' but now boasts an updated array of pop songs. There are 70 in total arranged and orchestrated by Tony winner Justin Levine, some of the newer songs include favourites such as Katy Perry's 'Firework' and Sia's 'Chandelier.' Alongside the updated soundtrack, the stage production gives the iconic character of Satine much more agency.
In conversation with Amelia Walker of 1883 Magazine, Liisi talks about developing the role of Satine, how she allows herself to feel authentically in her songwriting, and what the year ahead looks like for her as a West End leading lady.
Firstly, welcome back to the show! After 2 rescheduled opening nights, you have finally opened on the West End!
Thank you! It's felt like a long time coming, we stopped and reopened about a week later for five days and then shut down again and then reopened on the 31st.
This has been quite the journey to opening, has it been nice to have longer in terms of getting a feel for your character?
It has. I feel like if we were to open when we were originally supposed to, it would have been amazing. Now, I feel like we've all lived in it for longer so it feels more organic and comfortable and all of the characters have deepened. There's a definite difference in how all of us are playing it; we all had a traumatic life experience happen right in the centre of this before we've opened so a lot of the emotions are deeper. On our first show back, everyone was crying! In the final scenes, the company surrounds me, I can hear them and and they were all crying. It was this experience of exhaling after just not knowing what was going to happen and we still don't know—anything could happen again, but we are all feeling grateful. Since the show has illness within it, and the fact that there are illnesses in the world, these are things that are very close to home. There are a lot of things that we can and have gone deeper on.
The show is visually stunning and the music is recognizable, the arrangements are amazing, so much of the show. does the job for us, but I feel like when you can add an element of emotional connection, that's when audiences like "oh!" If we had opened on the first original date, it would have been sheer excitement and an amazing atmosphere but this now feels more like it's ours. That is nice because there are three versions of Moulin Rouge in the world right now; the New York version, our version and an Australian production. Thankfully, the team has been amazing with making sure each company has its individual feel, they really encourage us to find our own characters so there's no copy and paste from production to production. I think it's cool that we've had time to really marinate and establish the characters.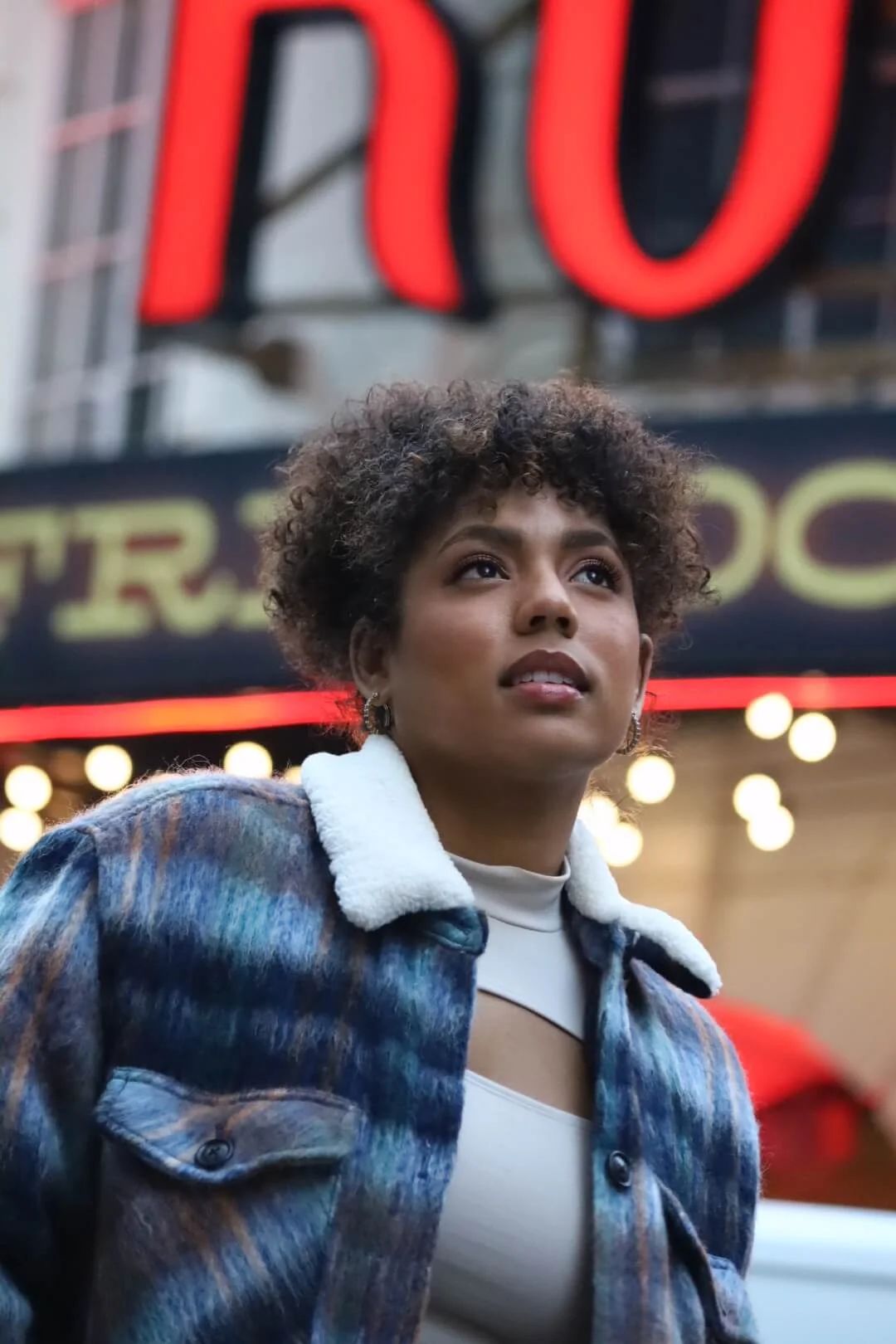 That's really encouraging to hear because the show is different from the movie and Nicole Kidman's portrayal is so iconic. As an audience member, you don't want to just see different interpretations of a movie character when the show is its own organism. What was the rehearsal period like and finding what you wanted your Satine to be?
It was just so open, this is actually one of the kindest and most collaborative teams I've ever worked with. There are so many conversations that happen. There's very little 'this is what you're doing'. It's more a case of 'what do you think about this? How does this feel on your body?' We definitely had conversations about race, because obviously at this point in France in the 1800s, a Black woman or a mixed woman would have been the meat of the show. But at the same time, The Moulin Rouge is supposed to be a place where everyone is welcome. It was always a melting pot of classes and cultures and I feel like a kind of as much as historically maybe it doesn't, but emotionally makes sense for it to be such a diverse cast. We have 13 brown people in this show and then beyond that, we have a lot of other different races. For Black History Month, we're taking a picture of all the Black people in the cast, we were looking around and saying "there's so many of us," especially for a show that is not traditionally Black.
Looking back on the movie it is very white, so it's great to see proper representation in the stage productions. I think one of the good things to come out of the pandemic was the spotlight that was shone on the inequality in the theatre industry (in April 2021 actors and activists organized 'March on Broadway' a protest that called for equitable and safer working environments, more inclusion for people of colour/disabled artists and the LGBTQ+ community) there is still a very long way to go,
I don't think it will be the norm until a generation passes. Diversifying is going to be a talking point. In every interview I've ever done I've talked about the fact that I am a mixed woman playing Satine. It shouldn't matter, I guess I was the right person for the part but it's a conversation that we, unfortunately, have to have. I think for people of colour as amazing as it is we've had all of these conversations, they're exhausting and traumatizing.
It shouldn't be on the people who are experiencing it to be having those conversations, it should be the people at the top who have continued to benefit and perpetuate the racism in their industries
The conversations are born out of trauma, they're born out of police brutality, and born out of a lack of representation. It's not like they're like 'oh my gosh, we should change this' it's because so many terrible things had to happen to get to that point. I feel like ours is one of the most diverse industries out there yet we're still having these conversations. I think I'm positive about the future and I feel like we're on the right track. I'm just I'm very grateful because, with Satine, it was only a conversation about race when I brought it up. They said we didn't cast you because of that reason. We don't need that to be a part of the show or part of your journey. Unless you would like it to be, then we can incorporate that, and I think that's the best way to move forward.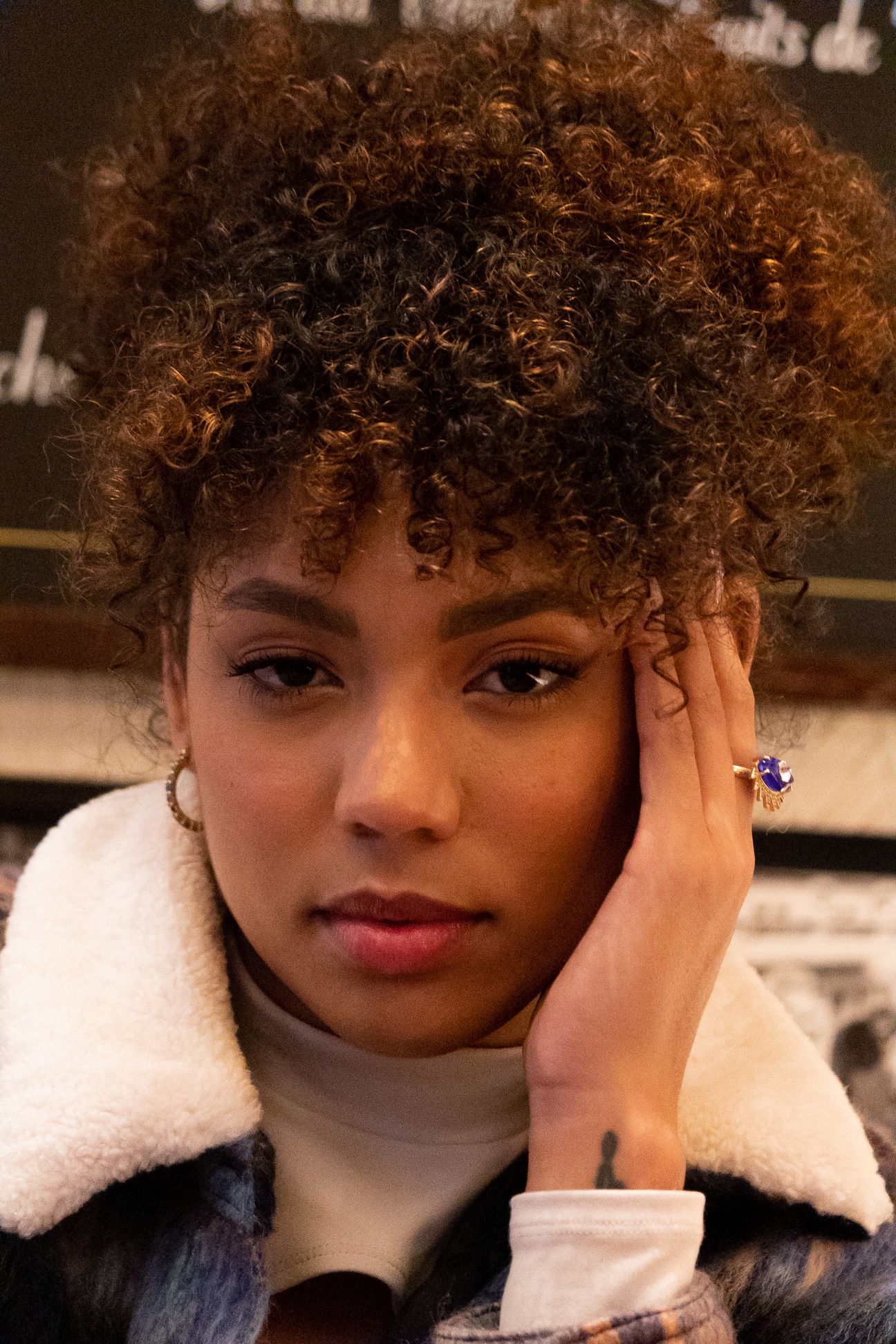 Exactly, let's move backwards to your last time here in London with Dreamgirls, you started playing Deena in 2016. As an actor, how have you grown from that experience?
I was 22 when I did Dreamgirls, so I was quite fresh. That would have been my senior year of college so I was still really young and there was a lot of life experience that I didn't have. Since then, everything has changed. I've done a lot more acting work, a lot of intensives and coaching. I moved to New York shortly after I finished Dreamgirls, so I did a lot of stuff with Broadway people, a lot of workshops, so many concerts, endless auditions where I would get to the very last round and you're like 'my life's about to change!' and then you don't get it. Looking back though, I am thankful because things would have shut down with the pandemic.
That's a great attitude to have, everything got you to be in the right place for Satine. Do you get a different reception from audiences playing a more beloved character, with Deena, the audience wasn't always behind her, whereas with Satine, she is the star of the show.
I think so, but I tried to make Deena as three-dimensional as possible. Dreamgirls is Effie's story and we are there to support her story. With Moulin Rouge, this is a completely different feeling. This is Satine and Christian's story and it's all about the sacrifice and selflessness that comes with being an artist a lot of the time. The show humanizes all the people who work to create this community. Yeah, I feel a difference in the sense of I feel like everyone is rooting for Satine and with Dreamgirls, no one was rooting for Deena!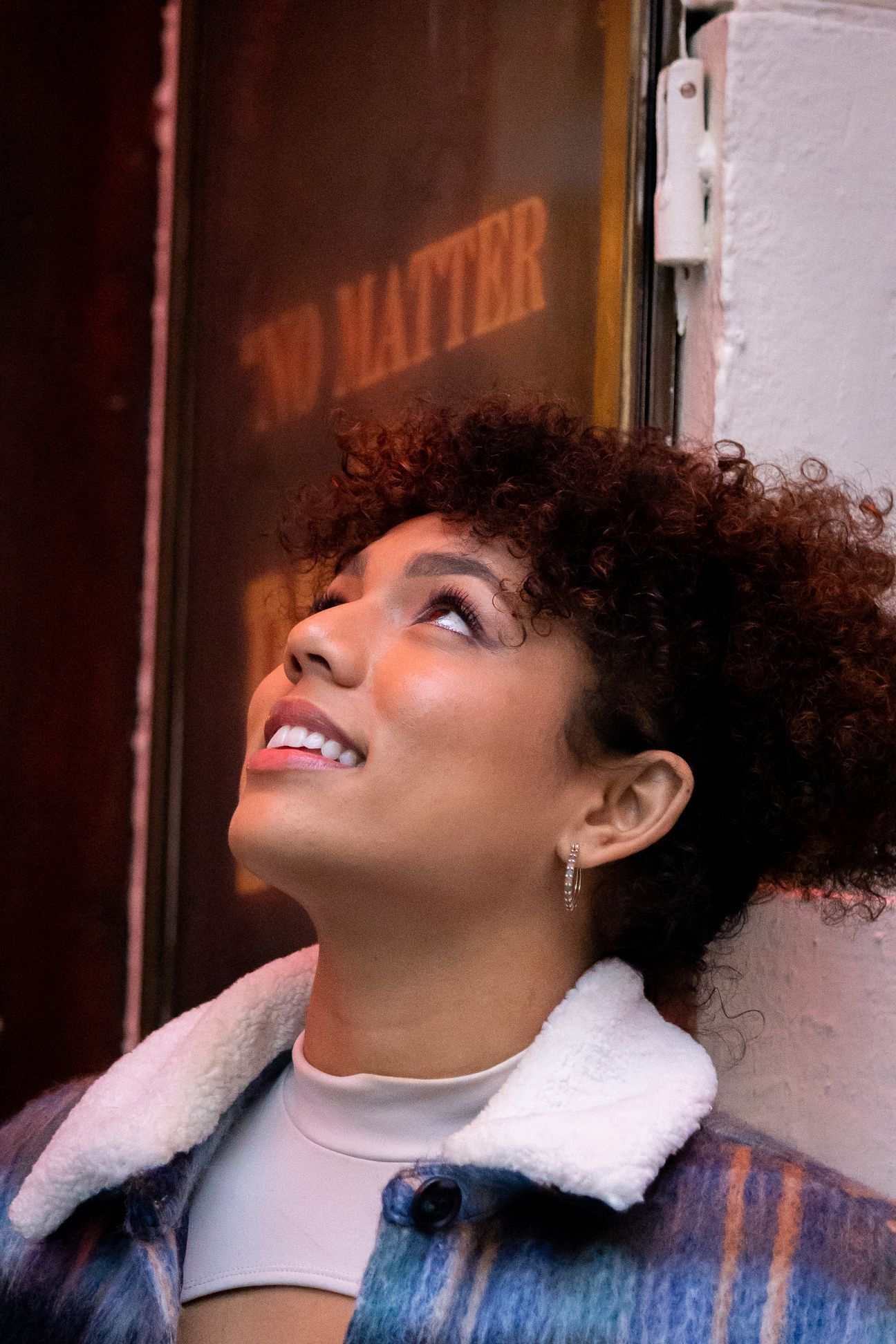 I read somewhere that when you were in high school your mom [singer and actor Nita Whitaker] always highlighted how important it is to tell a story and to speak through your songs like it's a monologue to kind of harness the story and the words that you're saying. Watching you on stage, you can really see that you took that advice on board. That's a really important tool to have as an actor but you're a songwriter as well. I'm really interested in how that kind of approach impacts your songwriting too because you act a story so fully and emotionally. What's the songwriting process like for you?
That's a really good question! I think songwriting for me is so therapeutic. I wrote a lot before the pandemic, but it was always kind of sporadic and I didn't really have a lot of time to dedicate to it because I was always auditioning for a show or doing someone else's stuff. For me, songwriting is being able to fully be myself. I'm either writing about my personal experiences or I'm taking something my friend told me, some heartbreaking story. My favourite songs are the ones where you're listening to it and suddenly your chest gets tight. Or you feel a little tingle. I feel like to create that you have to go to that place emotionally.
During the pandemic, I wrote almost a song a day. I would just go downstairs into my basement at my mom's house and just listen to YouTube instrumentals, I just listen to them over and over until an emotion came up. I would listen to a bunch and sometimes I would feel nothing. And if I feel nothing, I'd go to the next song, and see if it made me feel anything. Then I'd sing a melody and then I'd make words to go with how the melody felt. If I felt sad, I'd ask "Why am I feeling sad? What am I sad about?" and then I would write about that specific emotion. Even if I look back on the songs and I'm not feeling that same way, it brings me back to that feeling. So many of those feelings are universal, all you can hope is that someone else will listen to it and with how specific you are with your imagery hopefully people can relate and they'll feel the same way you felt when you were in it.
I think people are always able to connect with music on such a personal level, there are so many instances where I see people say "they wrote this just for me, how did they know how I was feeling"
I remember when Adele's album came out, the number of people that were like "was she in my bedroom? Did she hear exactly what I was saying" there's a lot of artists that do that, and that only happens when you're writing it from an authentic space. It's always best to just like write what you know. I'm a consumer as much as I am a performer, I've gone to theatre my whole life. Musical theatre specifically is so grand, it's often about these big moments of high notes and the dance numbers. My favourite parts were always like the moments of silence, the moments where two people are looking at each other and you can actually feel it because there are also times when they're looking at each other and you're thinking 'this is staged, they are blocked to look at each other' but those authentic moments where you can really feel it are my favourite.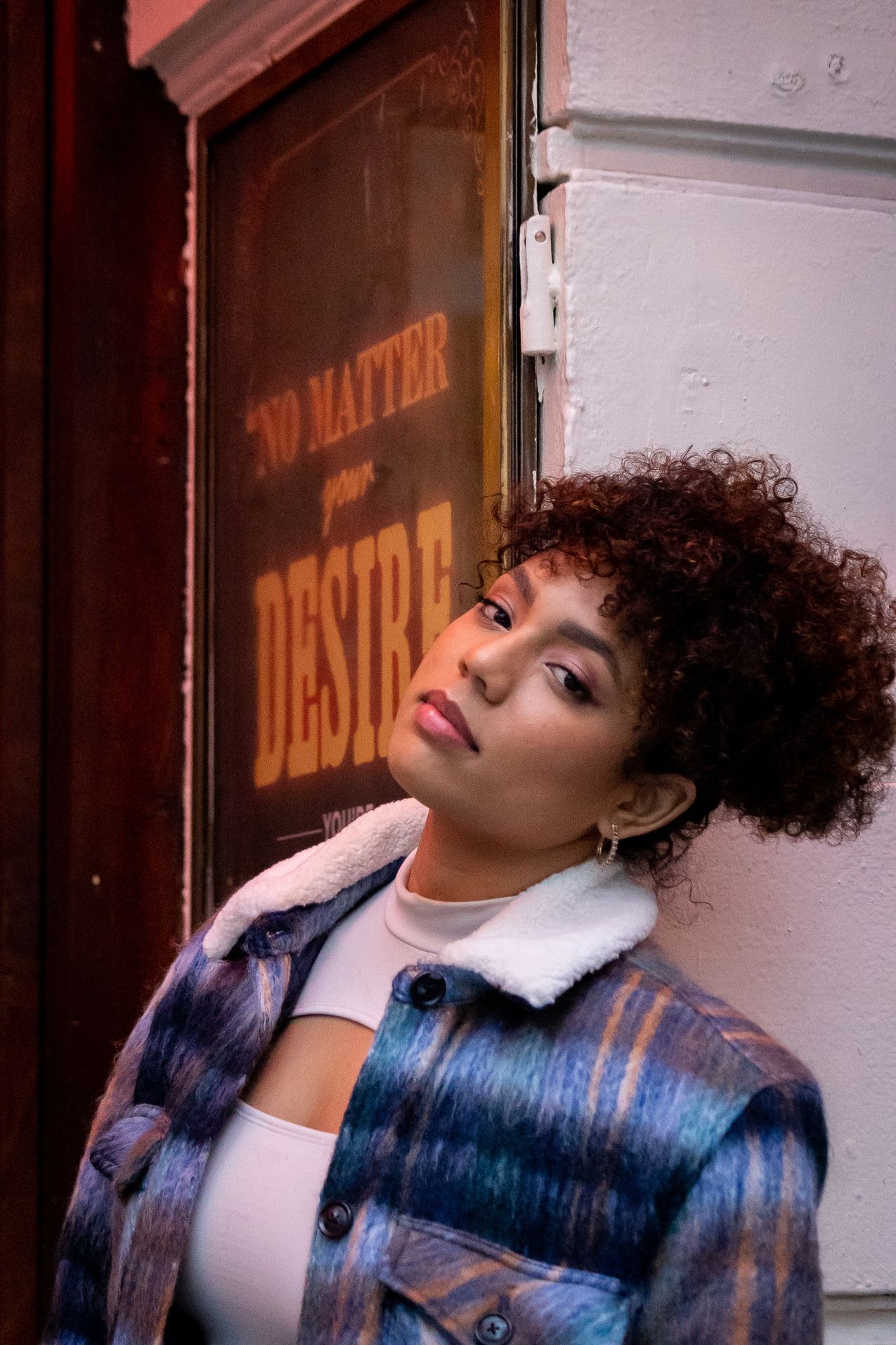 Knowing those moments are so important to you as an audience member, I feel those are the moments to really watch Satine and stay on that journey with her. How have the audiences been for Moulin Rouge so far?
I feel like the show automatically brings out the craziness. In the best possible way people just lose their minds, each shows the energy of a Saturday night show. When I say crazy, I mean in the best possible way. The lights are so bright, and I don't get to look out into the audience very often that sometimes I don't conceptualize that they're there until the lights come up and everyone is on their feet. I can hear people crying at the end, and that makes me cry. I feel like people understand that it's such a give and take of energy. We can't do it without that energy coming back to us. The thing that's amazing about this show is there's such a fan base already. It's hard for us to get tickets for our friends and family! But it feels amazing to feel surrounded by other people, and everyone is feeling different things for different reasons but when you're all feeling the same thing it's such a powerful experience. It's very cathartic.
Once the show has officially opened, what does 2022 look like to you, if you could manifest the year ahead, what would you like for Liisi?
Ooh, I really want to be able to travel this summer! I want to really utilize that and to be more present, I think that's really important. During the pandemic we're all hyper thinking about the past, you're nervous about the future. There's so much richness in what's going on right now, so I want to be more present. I really want to focus on my health. I feel like obviously during the pandemic we're just doing what we can to get through. So being much more conscious about what I'm eating when I'm meditating, mind-body connection, all that good stuff!
I really want to start putting out my music. I have so much music—there's an album's worth ready to go. I'm very much a pop and R&B singer, much more so than musical theatre. That's why I did Dreamgirls and that's why I love this show because it's not as traditional as most musical theatre shows. It is nerve-wracking because people know you as one thing and switching over you don't know if people are going to accept it or want you to stick to the other thing but I do theatre, TV, and film so I think I just want to do it all. 2022 is going to be abundant personally. I want it to be abundant for all of my friends and family and I want the world to try and heal a little bit.
Interview & photography by Amelia Walker
Moulin Rouge is on West End now. Follow Liisi LaFontaine at @liisilafontaine.