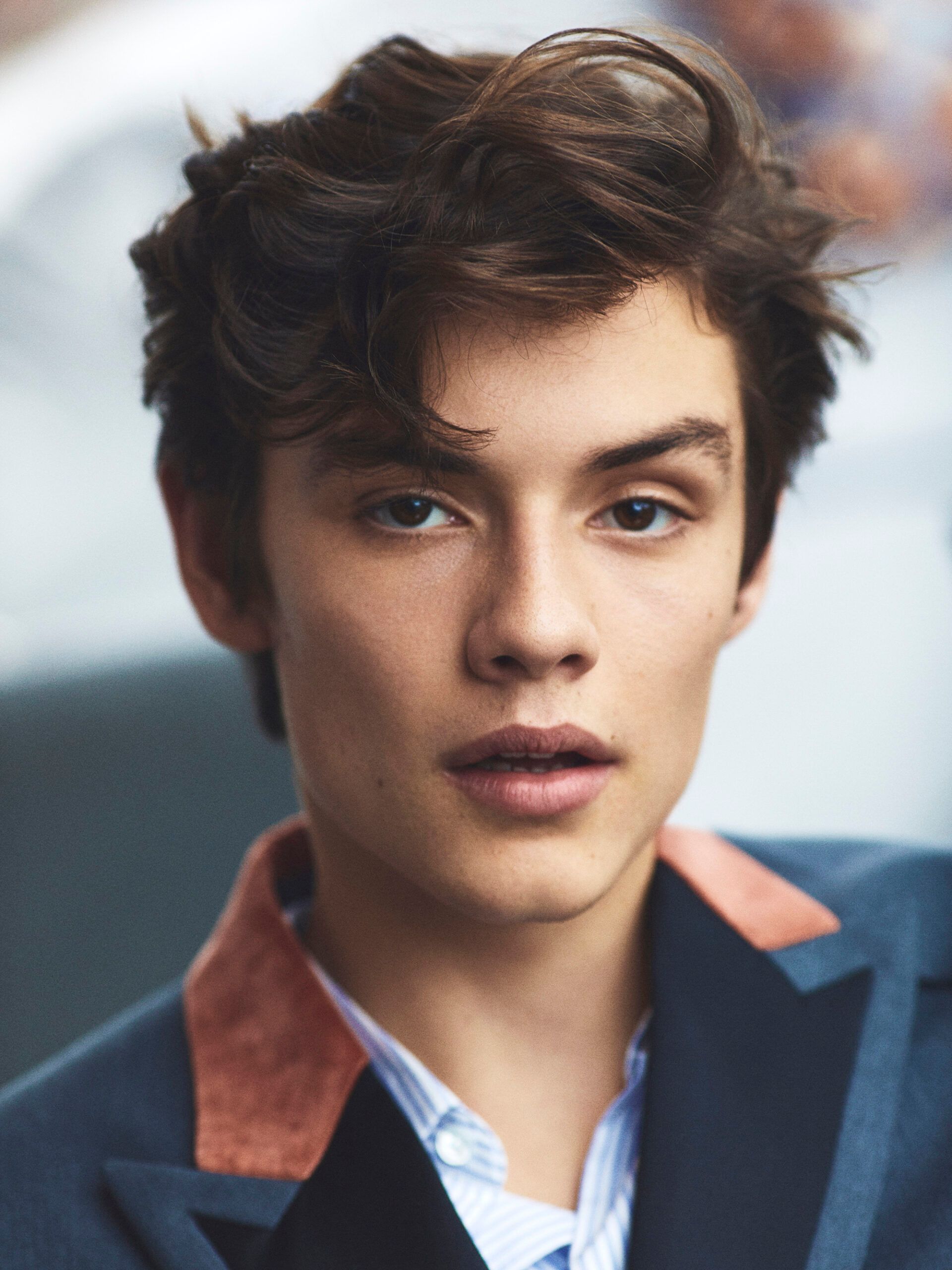 Louis Partridge
Slated to star as Lord Tewksbury in the upcoming Netflix film Enola Holmes, 17-year old Louis Partridge is setting himself up to become one of the next big stars in the cinematic universe.
With a uniquely captivating performance opposite Millie Bobby Brown, Partridge displays a set of skills that can't be ignored. Balancing movie-making, promotional interviews and schoolwork are difficult, yet interesting tasks for Louis Partridge. Filled with gratitude for the career path he's been able to carve out thus far, he credits his parents' casual acceptance of his interest in acting as one of the keys to his success.
Partridge developed an interest in acting at the age of 10 after playing the role of Maid Marian in an all-boys production of Robin Hood. While other kids his age went off to play rugby on the weekends, Louis was on set. With previous roles in Paddington 2 and Netflix's Medici, Louis Partridge was able to reinforce his love for this eclectic pastime. But it wasn't until he landed the role of Lord Tewksbury in Enola Holmes that he really believed he could turn acting into a career.
1883 spoke with Louis Partridge about his audition process for Lord Tewksbury, what it was like to work alongside the talented Millie Bobby Brown, and what he likes to do to stay calm and centered. There were also some slight protestations at the mention of his highly-acclaimed David Brent impression.
You're currently starring in Enola Holmes as Lord Tewksbury who sort of gets swept along on Enola's crazy adventure in the movie. What were you most excited about when you got the script for this part?
Well, I think I was most excited about sort of the action stuff we had to do. So, I mean I read the first scene that he's [Lord Tewksbury] in, and originally, he was meant to be running on top of the train with Enola. So, I was really excited… my palms were sweating as I was reading it, and I was like 'Gosh, this is awesome!' because I've never done action before. But the director [Harry Bradbeer] decided that was too cliché. So, they do the train jumping off instead. I did not know how they were going to do it until the day [we filmed] but yeah, there's a lot of green screens and harnesses and everything.
I've seen a lot of behind the scenes of making a movie and the harnesses seem super uncomfortable. You didn't get acclimated to that at all, I'm sure.
[Laughs] No, not quite.
Were you nervous about how to capture that on-screen chemistry between Enola and Lord Tewksbury which borders between romance and friendship? Or did you feel more confident as you started filming?
Yeah, definitely. I mean, I was actually feeling okay about it. I mean, it sort of happened quite so relatively naturally with Millie [Bobby Brown] on screen. I don't know… it was something about us slipping into our characters and then the director, Harry, was there to say 'Too much, too little' which I think is really helpful to sort of strike that balance and is so important when you're creating something that's not one thing. And it's sort of a blend between things. But no, it actually came really, really naturally which is weird considering that me and Millie are such great mates.
I think it came across while I was watching Enola Holmes which was great!
You saw the film? You saw the film? Awesome! [laughs]
Yes! Yes, they sent me a screener and I felt like I was seeing a little secret. [laughs]
I felt the same when they sent me the script. You have to sign… before auditioning, I had signed an NDA to get the script, so it was very much like….
Oh wow, I didn't realize that they were very hush-hush about it!
Yeah! They were which made it all the more sort of exciting and nerve-wracking, I suppose.
I'm sure that adds an element to you coming into the project being like, 'Okay… who can I talk to about this? Can I even talk to anybody about this?'
The trouble I had with that was that it was so hard at school. I just wanted to tell everyone. I'm sure every actor must have this, but I just basically wanted to tell everybody.
You've accomplished these really interesting milestones so far in your career and you're still really young, so when did you realize that acting was something you wanted to continue doing with your life? On top of school and everything else?
I mean, until quite recently I didn't really see it as a career. I just saw it as, oh you know, 'I'm doing this film next week.' Like it's still very exciting… it's like a hobby that you go away, and you do. And like some people went on to play rugby or football on the weekends, and I sort of did that [acting]. But then it wasn't until recently until Medici or Enola like, 'Wow, okay, this is getting quite serious' like I can… I can do this and get paid for it.
My whole life, my mom and dad have been telling me actors get paid… on average… actors get paid nothing, like the amount of actors that just don't get work is crazy. It's the most unsecure profession in the world, like, don't, don't go into it. And then my dad's mom… so, my dad actually wanted to be an actor when he was young. But his mom was like, 'You can't, you need a proper stable job.'
So now your dad's like, go ahead.
Yes. Yeah, exactly. He's loving it. Living vicariously.
Is your dad why you got into acting, to begin with? I read that your first acting role was as Maid Marian in a school production of Robin Hood, so how did that gender-swapped production come about?
I was at an all-boys school so there wasn't much choice!
Oh, okay, that explains it!
They must have thought I was the most feminine. [Sing song voice] 'He loves me, he loves me not' [laughs]. No, I didn't really know where it came from, but I kind of loved it. And then I did a couple of short films just because someone was like, 'You should get an agent, you should try it.' And then I'm… here.
It's been kind of a whirlwind journey over the last seven years.
Crazy. Yeah, Enola was definitely a milestone… you talked about milestones, like it was still so, so surreal. And I think it will continue to be… that I was in a film with these people.
I also heard through the grapevine that you're really good at impressions, particularly a David Brent impression.
Oh my God [laughs]! Oh, I know where this came from! I know exactly where this came from! My sister was at the [1883] shoot with me.
Yeah, she was saying that you might have even been channeling David Brent a little bit for Tewksbury so how did you get into impressions?
It is not an impression! I do not do impressions [laughs]. I don't know but I just ended up watching this program, you know The Office?
Yes.
Yeah, I haven't seen the American Office with Steve Carell, but I just watched the English version of The Office so much. I just love it, like there's so much to it. So yeah, I just ended up speaking like him [David Brent]. It was so weird. It was just a period of time like that's all I would do. It was really bad, and I get teased for it now.
If you were to star in another Holmes adaptation in the future, would you rather play Sherlock or Mycroft?
Oooh! I mean, I have to do a lot of acting for Sherlock like he does the whole… the whole problem-solving is not something that comes naturally to me, by any means. I think I'm more naturally suited to a Mycroft character.
I can understand that. I watched the Sherlock series with Benedict Cumberbatch and just the little ways that you can see him processing things as he's acting… I don't know how he does this; my brain is just blank.
I'm the worst at problem-solving. I'm so bad. I can do riddles. Riddles I can do… actually, easy riddles! Anything else…
I'm not good with any of it, word problems, problems solving riddles. I'm very 'deer in headlights'. I play everything minute by minute; I'm always just like 'We'll see what happens.'
I can just about do Sudokus. I've actually gotten quite into those [Sudokus]. I've started doing them on set because you have loads of times where you're not doing anything. There's this little book that I have. You know those?
I do! But I can't figure them out. How do you master them? What are your tricks?
Don't do the ones that are hard [laughs]! I do those and not crosswords because the crosswords are too hard. You know the ones in the newspapers? I don't know who does those, or how.
That's interesting that you do Sudoku on set. Is that an easy way for you to kind of take a breather between scenes?
There are a few things I do that are like… you just completely forget what you're doing, and one of them is playing piano, one of them is washing the dishes, and I think Sudoku is another one. But yeah, I really love that. You know, your thoughts just sort of run… I love that so much. And Sudoku is like that because I'm not a mathematical person at all.
Me either. It is really funny that you feel like that about washing dishes because I've always been like that. I always volunteered when I lived at home to be the one to wash the dishes because you can totally zone out and it's oddly relaxing.
Exactly. I don't know what it is about it… you sort of get into a rhythm. It's probably a form of meditation or something.
It probably is. I think we're onto something here. Spread the word.
Group dish-washing sessions, every Sunday.
I'm sure your parents are glad that you're like, 'Oh, I'll do the dishes!'
The funny thing is that I barely ever do them. [laughs]
[Laughs] Oh, no!
Now with this interview, they're gonna be like, '…dishes?'
Team Credits
interview by Sam Cohen
photography + video director Mark Cant
DoP Paul Blundell
styling Fabio Immediato @ TheOnly.Agency
grooming Brady Lea @ Premier Hair and Make-Up using Boy de CHANEL and CHANEL HYDRA BEAUTY Camellia Water Cream
production Angeliki Sofronas
location cloudM rooftop bar @ citizenM Tower of London

Enola Holmes premieres 23rd September on Netflix!