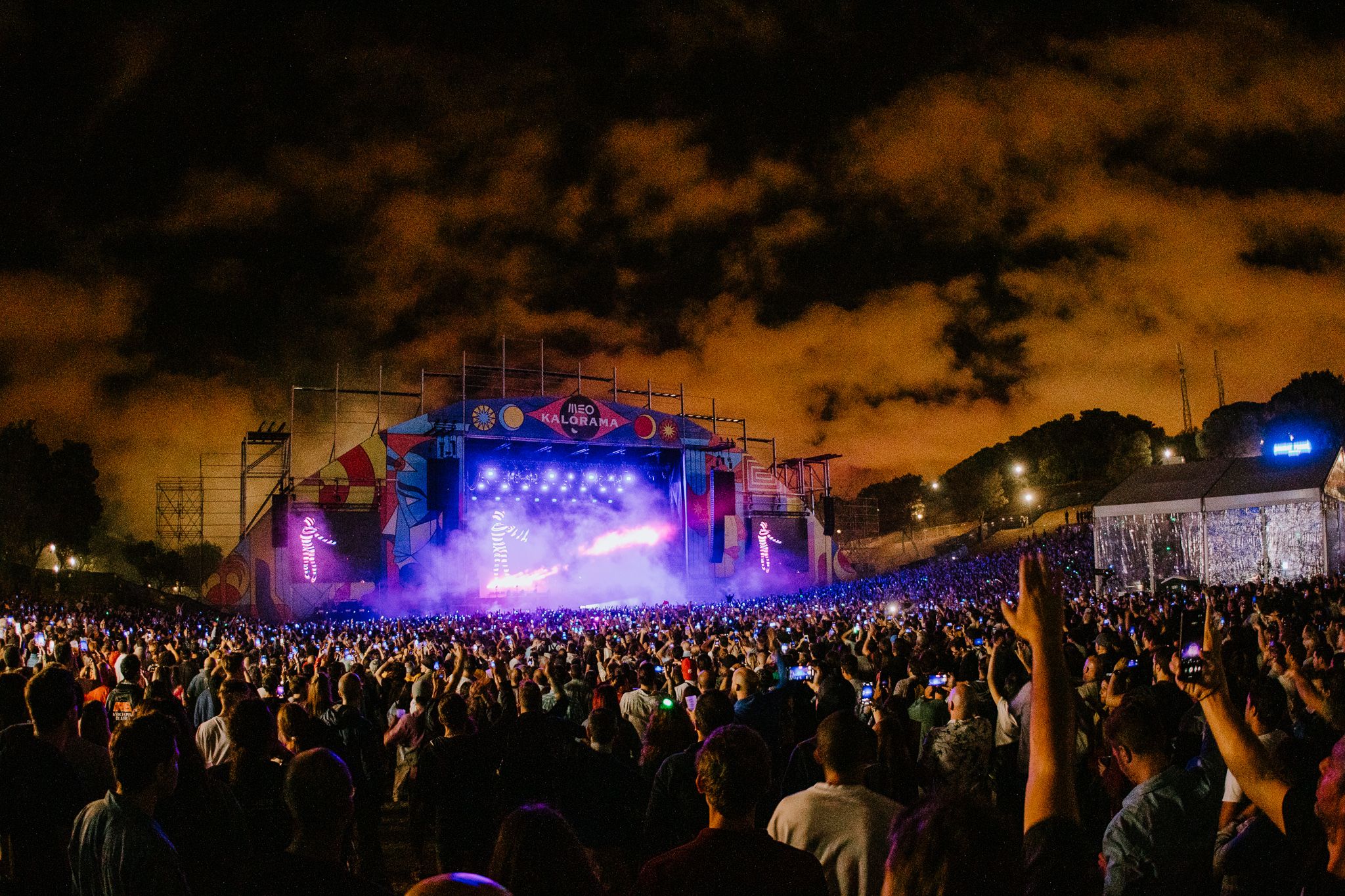 Meo Kalorama Festival
Sun, sustainability, and nonstop dancing were the order of the weekend for Meo Kalorama's debut outing.
Passport and suncream at the ready, I set off on my first-ever flight. Travelling from London to Lisbon for Portugal's hottest and newest addition to its festival season, Meo Kalorama. Held in the beautiful surroundings of Parque De Bela Vista, the inaugural 3-day event is all about art, sustainability and of course, music. In line with Agenda 2030 and the Sustainable Development Goals established by the United Nations General Assembly, Meo Kalorama is building a future legacy by committing to sustainability, innovation, and inclusion practices to determine new behaviours. 
Having never experienced a European festival–or been abroad for that matter–I didn't know what to expect but had high hopes and I can tell you now, I was not disappointed in the slightest.
The festival has a campsite away from the main grounds and there are many different hotel options nearby with great public transport links to and from the event. Something commonplace at festivals in Europe is having the music begin much later in the day allowing ample time to soak up the country's culture and indulge yourself in excursions. With the music beginning at 5pm I took the opportunity to delve into what Portugal had to offer…
Day One: 1st of September.
The bright sun beaming down on the Portuguese buildings told me there was only one logical thing to do this afternoon, head to the beach. We took a short car ride to a beautiful sandy beach near Costa Da Caparica over the Lisbon bridge from where we were staying for a few drinks and some lunch.
Walking into the festival grounds for the first time I noticed how perfect the space was, the hills around the main stage resemble a natural auditorium allowing fans to get a great view from almost anywhere in the vicinity. As the area started filling up with punters ready to listen to British singer-songwriter, James Blake, we grabbed a spot on the grass to listen to his experimental sounds. His music is still as innovative and fresh as it was almost 10 years ago and he put on a great show. A wonderful start for what was to come.
I had one thing on my mind for the first day of music: Years & Years. Don't get me wrong, I'm partial to the booming beats of The Chemical Brothers and was looking forward to catching electronic pioneers Kraftwerk do what they do best, but seeing what Olly Alexander had up his sleeve for Lisbon was what I was looking forward to the most. Olly was wheeled out in a telephone box which served as the vessel for the beginning of a few tracks and some dancing later on in the set. The entire production was wonderful and chock full of props. He had a wonderful set of backing singers and his backing dancers were on point acting out the music videos you saw on the big screen. "Buena Noche, Lisbon" Olly shouts before going straight into the fun and upbeat track, Night Call.  Serving us bangers in the form of Sweet Talker, Sanctify, and If You're Over Me. The dancing I partook in had no end it seemed apart from a welcome lull in the form of The Pet Shop Boys cover, It's A Sin. The song was used as the intro for the poignant Russel T Davies drama of the same name in which Olly played the lead and was outstanding. With a few songs left, the crowd was loving every second before the final track, King. I really enjoyed their set, Years & Years are worth a watch. 
Moving from the main stage, Palco Meo, to the mid-size Palco Colina, we headed to watch electronic music pioneers, Kraftwerk. Looking around the audience we realised we were missing out as everybody else had a pair of 3D glasses on their head. The screen behind the group onstage showed a 3D video correlating to their set making it a very immersive experience. 
A welcome addition to the festival was their branded reusable cups. Coming in at one Euro each, once you had it you were encouraged to use it for the rest of the day or even better, the whole weekend. Alleviating a lot of litter from the disposable paper cups at a lot of other events and only costing around £3 a pint was a welcome surprise.
Thursday night headliners The Chemical Brothers did not disappoint. With their production transporting you on a psychedelic trip they opened with their classic track, Block Rockin' Beats and the crowd instantly moved to the big beat sounds. Following a few more tracks was a more recent release, MAH. The visuals on the screen for this were outstanding showing a man with a mask on chanting "I ain't gonna take it no more" over and over before the beat dropped. Their set list had something for everyone rounding off the first day of music perfectly. As someone who doesn't profess to have a huge interest in electronic music, I thoroughly enjoyed it and wouldn't be surprised if I found myself at another 'Chem Bros'–as they are lovingly sometimes shortened to–show. 
Day Two: 2nd of September.
Today, waking up and feeling fresh gave me the chance to visit Sintra Village. Famous for its 19th-century architecture alongside its villas, gardens, and royal palaces and castles, it is well worth a visit. The Quinta De Regaleira, a short walk uphill from the centre of the village was a wonderful place to spend the afternoon. Upon paying the €10 entry fee–a small price for such breathtaking views and history–I spent the next while exploring. It is definitely a place to add to your itinerary, I could have easily spent the whole day there but alas, it was time to head back for more music. 
Looking through the line-up I noticed each day had a different feel to it. The first day had an emphasis on electronic and dance music while the second seemed to be more about rock and indie. The first band to see were Liverpool four-piece Crawlers playing the Palco Futura stage for their last festival of the season. Opening with their upbeat and catchy track Statues, the energy they possess is infectious and people were literally dancing up a storm on the dusty ground. The band announced the release of their first mixtape dropping on the 28th of October and treated us to a few unreleased tracks. A memorable moment came in the form of their TikTok-viral hit, Come Over (Again) before closing with their track Placebo.
Giving us a taste of the Portuguese music scene was local artist, The Legendary Tiger man. After a discussion on what could make him so legendary, we heard whistling coming from the stage signifying we were about to find out. Opening the set to the sound of thunder before rolling into track The Saddest Girl On Earth, he used two microphones to quickly transition between vocal effects. The set offered the weekend a welcome change in the form of his blues-driven, one-man-band style music. His band alongside were outstanding and was a very enjoyable listen. 
Before I knew it, it was time for Friday night headliners, Arctic Monkeys, who easily drew the largest crowd of the weekend with many Brits making the journey to see the newest offerings from the Sheffield four-piece. Opening with Do I Wanna Know, they were on top form with the crowd instantly singing along to every note played. Despite favouring tracks from AM and Favourite Worst Nightmare, there was an eclectic mix of songs to enjoy. It felt like a winding path through their discography with a more relaxed middle in the forms of Cornerstone and That's Where You're Wrong to name a couple before treating us to the unreleased I'm Not Quite Where I Think I Am from their upcoming seventh studio album, The Car landing on October 21st. Picking things back up towards the end we got to hear the track that first put them into the spotlight nearly 17 years ago, I Bet That You Look Good On The Dancefloor before an encore including Arabella and closing their set with R U Mine?. I loved my first taste of live Arctic Monkeys and look forward to catching them again after their new album has been released. 
Still feeling the euphoria from Arctic Monkeys' set, I walked over to the Palco Colina stage to catch the downtempo trip-hop beats from British musician Bonobo. Finishing off the day perfectly, I was entranced by his Nu Jazz and World Music influenced style which was the calm I longed for. 
Day Three: 3rd of September.
All too soon it was the last day of music, while I didn't want the weekend to end, my feet were certainly ready for some well-needed rest. For the last of our excursions, we headed to a wonderful market in the serene town of Alfana. Full of local people selling their wares I picked up a few bits to take home before a short walk to the beach. For lunch and maybe a few cheeky cocktails we drove to LX Factory, it has a wide range of restaurants and bars alongside independent shops–think Brick Lane or Boxpark in London. A beautiful end to our exploration of the city. 
For the final day of music, I first headed to the Palco Colina stage to watch Canadian electroclash musician and producer, Peaches. With the weekend sadly lacking in female headliners, Peaches did her best to make up for it with her empowered femininity. Being familiar with some, but not all of her work I was looking forward to what she had in store. This was the last stop on her tour celebrating the 20th anniversary of The Teaches Of Peaches album. Known for her bizarre and smutty stage shows representing the limitless experimentation of self-expression and with too many wacky outfits to list, Peaches is as entertaining musically as she is visually and was one of my favourite performances of the weekend. Her backing dancers were wonderful also changing outfits multiple times. At one point Peaches takes off her over-the-top stage outfit to reveal a black body suit bearing the words "Thank God for abortion". Playing songs such as Boys Wanna Be Her and Fuck The Pain Away–which was used in the hit Netflix show, Sex Education–she had our attention from start to finish. 
The next act was the polar opposite of the upbeat and quirky show we had just watched. It was time for Nick Cave And The Bad Seeds to take to the Palco Meo stage. Opening with the fast-paced track, Get Ready For Love I knew we were in for a treat. The Australian rock band's music lends itself to being played live but with a career spanning 24 albums and almost 40 years, it must be no mean feat choosing which songs to play. A few of my personal favourites were in the forms of Tupelo and Red Right Hand which a lot of people may know as the theme song to the British crime drama, Peaky Blinders. Spending a good portion of the set behind a piano, Nick Cave was just what everyone needed after a heavy weekend. Swaying along to songs such as The Ship Song and Into My Arms, I didn't want the set to end but sadly The Weeping Song marked the end of the performance and almost the end of our weekend.
Saturday night headliners, Disclosure started their set off with their track, White Noise before leading into F For You. Like with many bands from the weekend their stage production and visuals were stunning with on-screen appearances from Slowthai and Aminé during My High. The British electronic duo were on top form and the perfect end to a fabulous weekend.
Meo Kalorama was a triumph and exceeded my expectations. It was well-organised with only a few minor hiccups and had great stage splits meaning you could catch parts of almost everything going on. Back home now with the memories of the weekend playing in my head, I look forward to the next time I'm waiting in an airport for my flight to Lisbon for Meo Kalorama. 
Review by Gabi Oates 
Featured image by Pedro Francisco