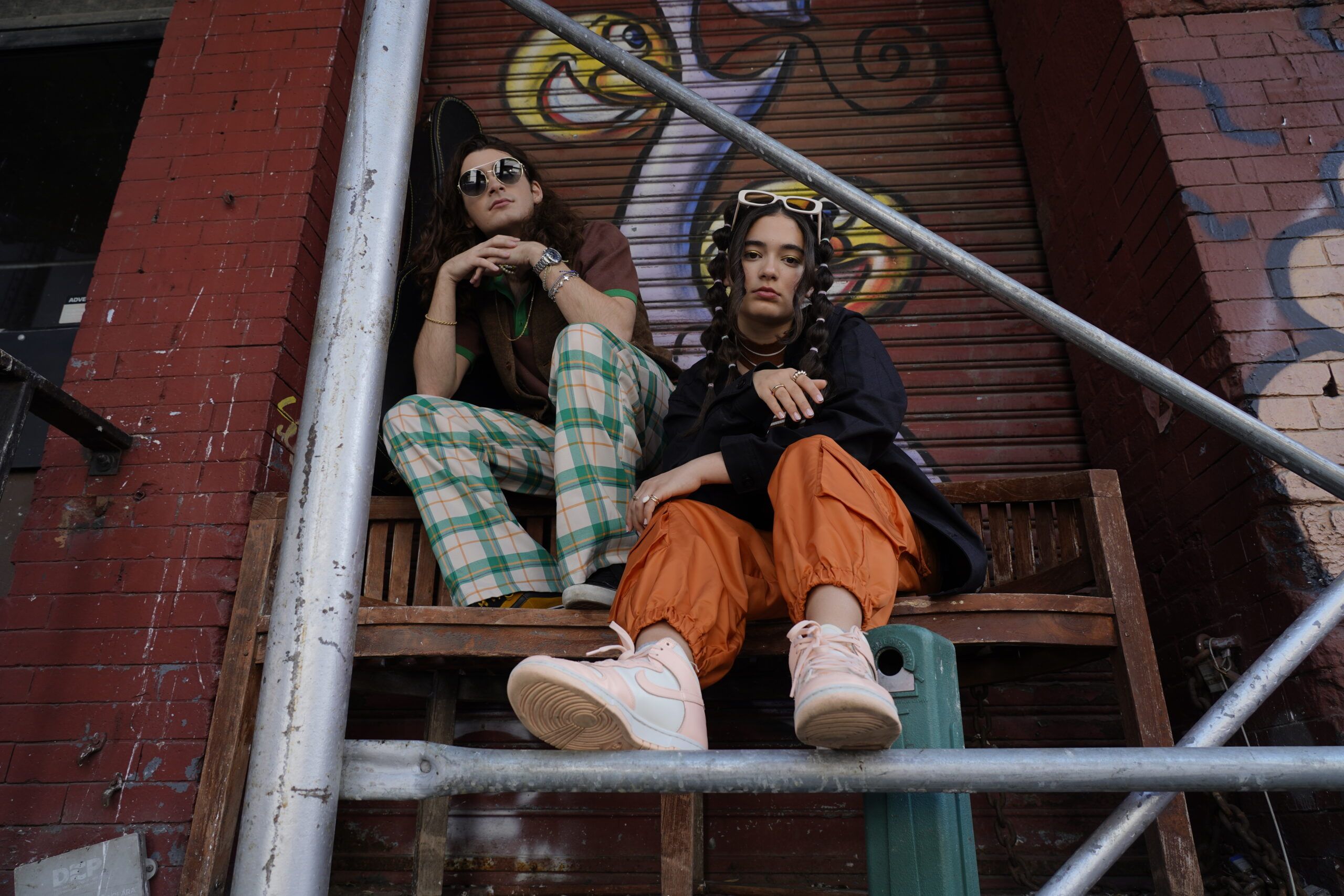 Muo Duo
Get ready to feast on Muo Duo's punchy new single Gourmet.
When it comes to sibling duos, no other pairings make better music than Muo Duo. Since making their debut in 2020, Miles From Space and sister Winter have crafted a discography that is as unique as they are; blending genres and sonics to create music that is different than their last. Their new single Gourmet is a perfect representation of that ethos. Bringing along rapper Ausar to join in on the feast, Gourmet sees the duo at their most powerful and serves as just a taste of what to expect on the rest of their EP, Tasting Menu.
1883 Magazine caught up with the budding duo about their new single, their EP Tasting Menu, and so much more.
What was it about music that made you want to pursue it as a career? Did you always want to do it together as siblings?
Music is addictive. Whenever you get that moment where everything comes together and the tune just hits, it is the most amazing feeling. We're always chasing that while writing our songs. Performing and sharing with an audience is also a pleasure and a privilege. We just want to share those good vibes and chase a dream!
We were actually brought together during the pandemic when my family was quarantined in Vermont. We had both been musicians separately but being together in the mountains for six months away from everything was when we decided to start collaborating. From making tracks in a bedroom in a make-shift mattress fort sound booth to making tracks with big-name artists and recording in the studio. We've come a long way since those days but not too long ago.
With sounds in indie meets hip hop, you're both artists that blend genres. Why is it important to you to not stick to just one genre or type of music?
Every new song that we approach is like an adventure. I never really know where it is going to go or where we'll end up. Of course, I listen to anything and everything I can get my hands on so all of those influences come through in the genre-bending sounds. We also love having conversations with different people in our work and hearing their stories and opinions. Hip hop is such a collaborative genre with feature verses, which lends itself perfectly to working with many different artists. We're just so lucky to be able to collaborate with so many great artists so far!
Can you tell us a bit about your new single Gourmet and the inspiration behind it?
Gourmet sets the stage for our new EP "Tasting Menu." I was really inspired by theinstrumentals which I produced before the vocals came together. The beat is just so smooth! The track is a welcome to the table inside the little world that we've made for the listener's
pleasure. Kind of like an Alice in Wonderland down the rabbit hole vibe. After hearing Ausar's voice I knew he would be a perfect fit for this one. The tones of all our vocals on the song just blend so well and make such a mood.
How did you get introduced to Ausar? What was it like working with him?
We were so lucky to be introduced to Ausar by Englewood B.U. who is featured on another track on the EP "Rat Race Pt. 1" The Chicago rap scene is just so rich with talent. It has been a pleasure to work with some of the top-up and comers on this project, as well as established Chicago names like Mick Jenkins, who dropped a great verse on "Music Machine." Ausar definitely got right into the project and really hit the themes spot on, while also giving his own spin and perspective. He is a name you're going to want to watch out for.
What did you learn about yourself while writing and recording it?
It was a really wild process writing and recording this project. We did work and recorded in both New York city, where we are based now, and Chicago. It is always anxiety-inducing to jump into a new project. Thankfully all of our collective experience really came together and it was a real confidence boost moving forward. Working with big artists like Mick Jenkins and Guapdad 4000 really lit a fire under us because we're just excited to see what we can do if we're lucky enough to get those kinds of resources behind future projects. It was inspiring seeing how a really experienced musician is able to bring that level of quality to their vocal performance.
It's part of Tasting Menu, a 6 track EP. Where did the name of the EP come from? Are there certain themes that tie the entire EP together?
The idea of the "Tasting Menu" was to showcase a little bit of everything we can do. From production, to feature curation, to vocal ability, and songwriting prowess, we really wanted to give the listener a new experience on every track. The central idea behind the record is about chasing dreams and not giving up, believing in yourself. All told by different voices throughout the project in the form of a crazy lineup of feature verses! Like a conversation going on at a grand dining table. The food theme is strong throughout taking many different forms from song titles to thoughtful bars all around.
You're both gifted musicians outside of Muo Duo; Miles has ties to Julliard and Winter has performed on Broadway. How have these experiences shaped you as artists?
We are really just out here to learn the rules in order to know how to break them. My classical education from studying at Juilliard and Winters history with performing on Broadway as well as in the children's chorus at the MET Opera has given us a perfect foundation and a trained ear that we bring to our stylized songs!
How have you brought what you learned from these experiences into Muo Duo?
At Juilliard, I studied the French horn so you can hear all the brass, including trumpets, all played by me throughout the record. It is a really unique sound to have that rich live brass section so we hope you enjoy it! I also was a composition major so I have been studying songwriting for a really long time and try to hone my experience for everyone's listening to pleasure. Winter is an experienced performer with great vocal ability so it's a perfect combination with the sibling vocal blend that you can't get anywhere else.
What 3 songs would you choose to soundtrack your perfect day?
Three songs that I think would make a perfect soundtrack are …
"Feel I All Around" by Washed Out
"Wat U Sed" by Isaiah Rashad
and "Sabor a Mi" by Eydie Gormé and Los Panchos
Lastly, what can we expect next from you?
We have some new songs in development always so look forward to more drops from us. Full music videos for some of the songs off this EP are also on the way so be sure to check us out on youtube. Also, we are booking gigs so prepare to see Muo Duo live. It's going to pop off. We have a show coming up at Mercury Lounge in New York August 10th. Come through! Definitely be sure to follow us on Spotify and @muoduo_band on insta and TikTok so you can join us on the journey. We are just getting started!