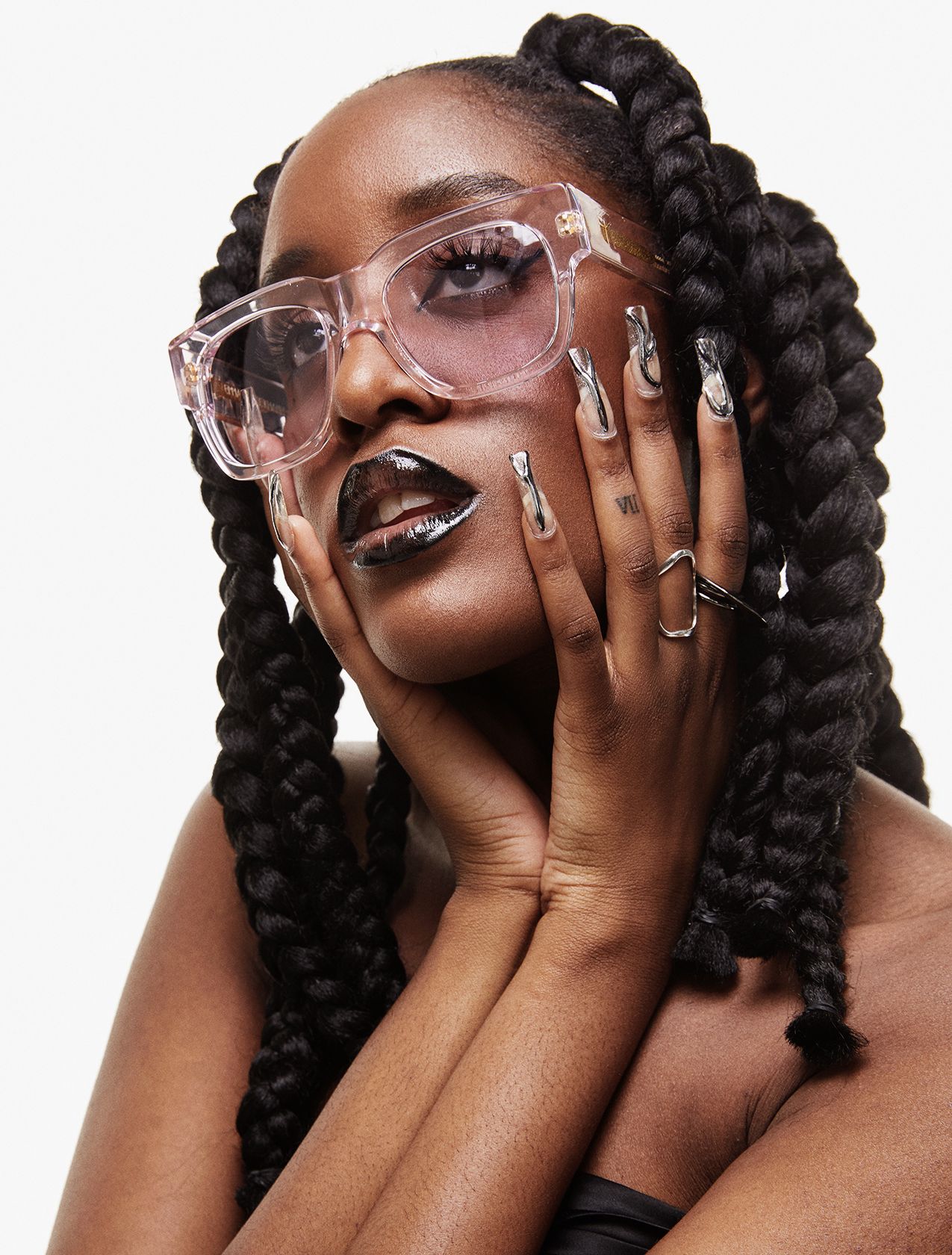 MYSIE
With her new EP, let MYSIE take you on a joyride.
For an artist that spent her most formative years in southeast London listening to everything from Chaka Khan to Thundercat, it's clear that MYSIE was always meant to be a distinctly unique artist. With an ability to twist and turn a sonic soundscape with lyrical prose, MYSIE is an artist that understands the power music as on a person's psyche — which is why she uses it as a way to verbalize everything from heartbreak to coming to terms with change. After the release of her debut EP Chapter 11, 3 years ago, a song she wrote when she was 17 was the standout. Rocking Chair, a tale about being stood up. Although it was simple in nature, it represented the path MYSIE was creating for herself — one that is on her terms.
Now, at 25, she's writing from a different place and perspective. No longer is she the girl writing about being stood-up, but writing for the girls that are going through what she did as a teen. Her EP joyride is kaleidoscope of emotions and sounds. Using the inspiration of a joyride — and the juxtaposition of that against a turbulent relationship — is what ties all of the songs together.
1883 Magazine chats with MYSIE about her joyride EP, her growth as an artist, using songwriting as therapy, and more.
How have you grown as an artist since your two previous EPs — 'Chapter 11' and 'Undertones' to now with 'joyride'?
There's been huge growth from chapter 11 till now. It's so weird to think that Chapter 11 was way before covid. I think the biggest thing I'd say would be having confidence in my intentions and making bolder choices to push myself artistically. I find that as I change and develop as a person, my music changes with me. I've been sitting on 'joyride' for a minute, so it's amazing to look back and see where I was then, and where I'm currently now.
'joyride' explores the tumultuous moments of love and how two people change and grow while in a relationship. What did you learn about yourself while writing and recording the EP?
I've learned two key things while writing and recording my EP. The first thing: self-awareness is key. Being self-aware was something I was uncovering while creating this project. To be conscious and aware, I realised I have to go through the bad eggs in order to find the good eggs. joyride is really about taking the hits, and figuring out what's right for me, facing reality and putting myself first which I eventually do by the end of the EP. I was slowly becoming aware of my reality whilst being in the thick of it. I also learned that it's super easy to point the finger, and not hold any sort of responsibility. Asking questions was something we did regularly while making the ep. Am I always going with what's familiar to me? Is that why I'm finding myself in the same situations? What are my inner patterns? Is this attention or is this genuine connection? These questions I'm still figuring out the answers right now! I've realised its a journey.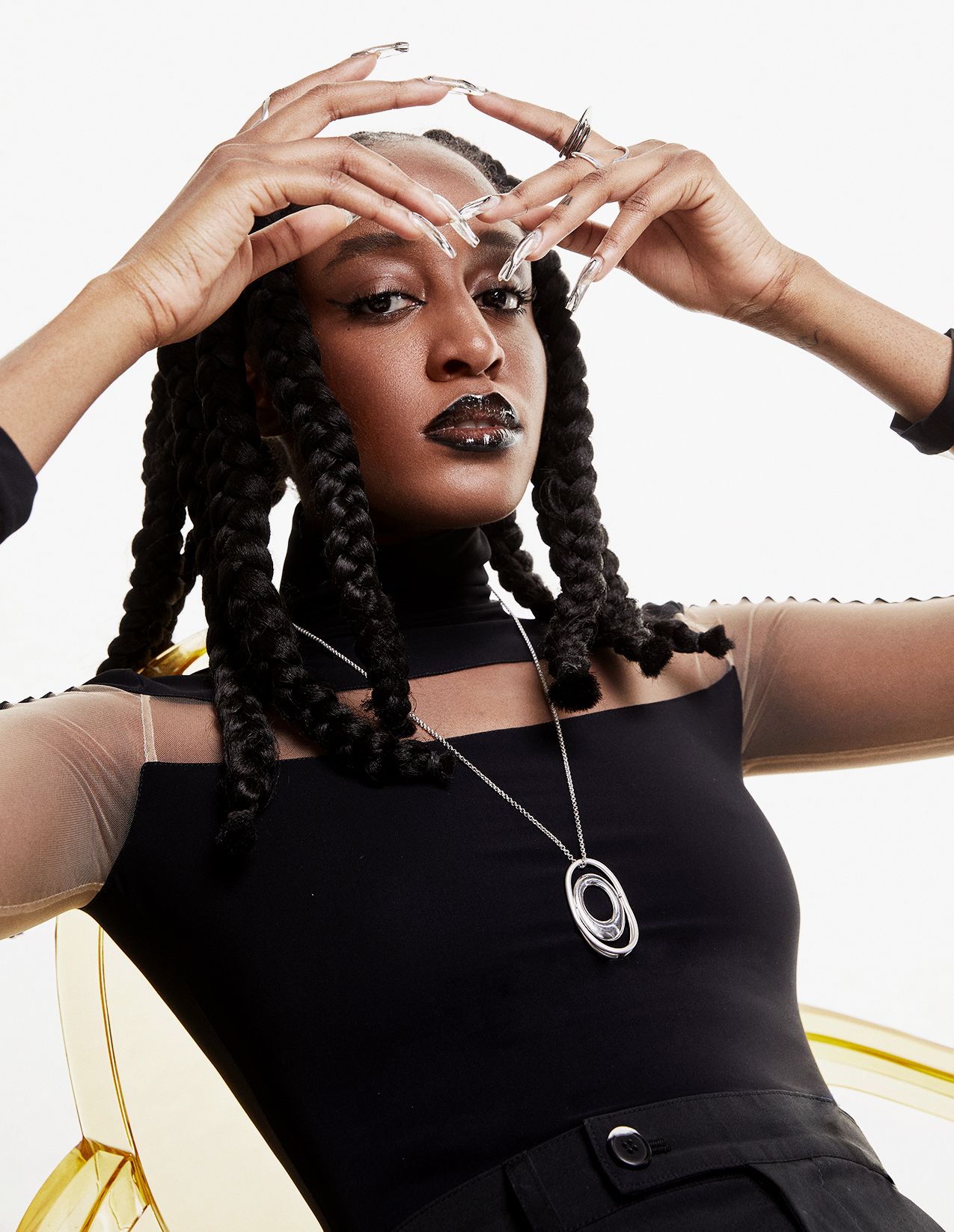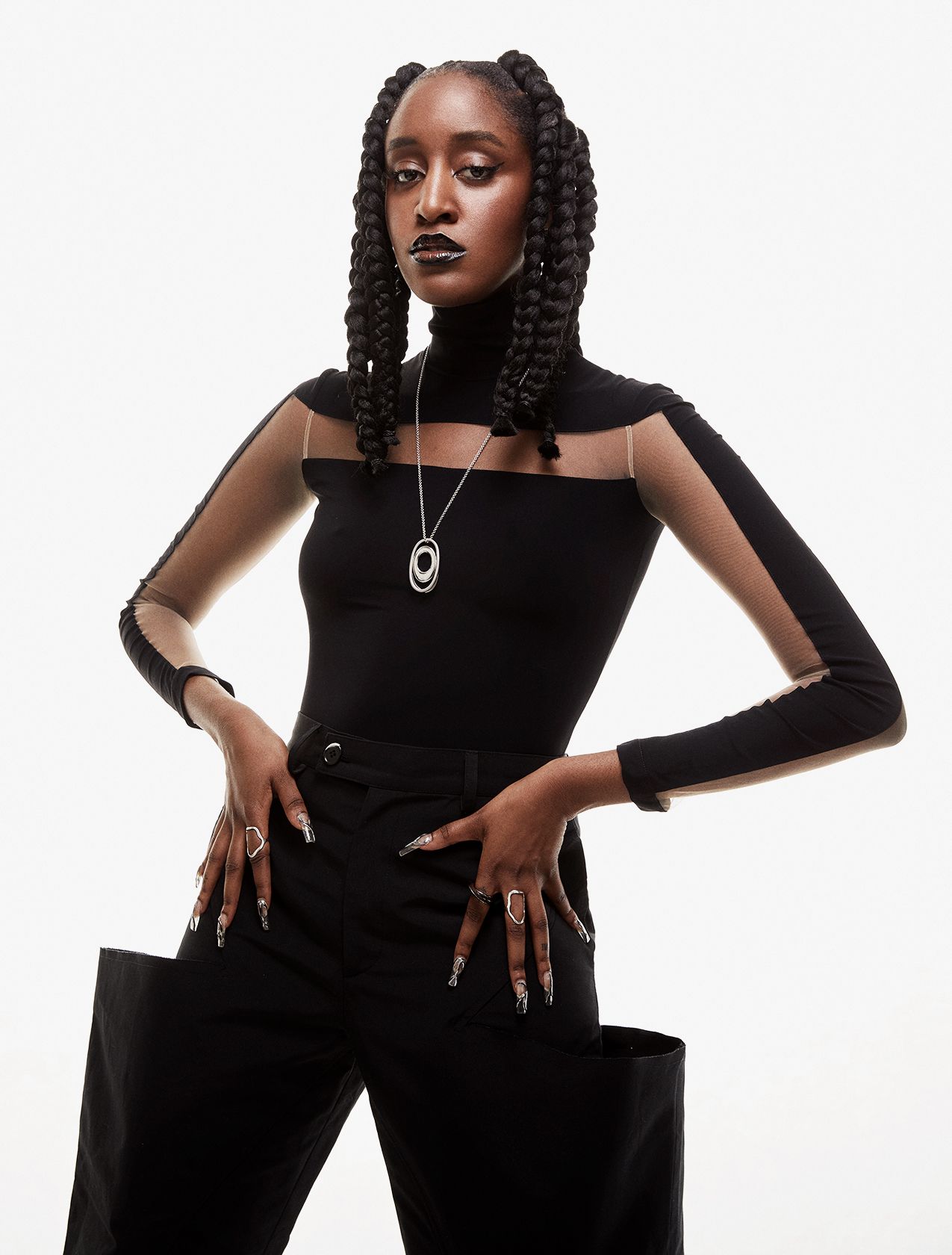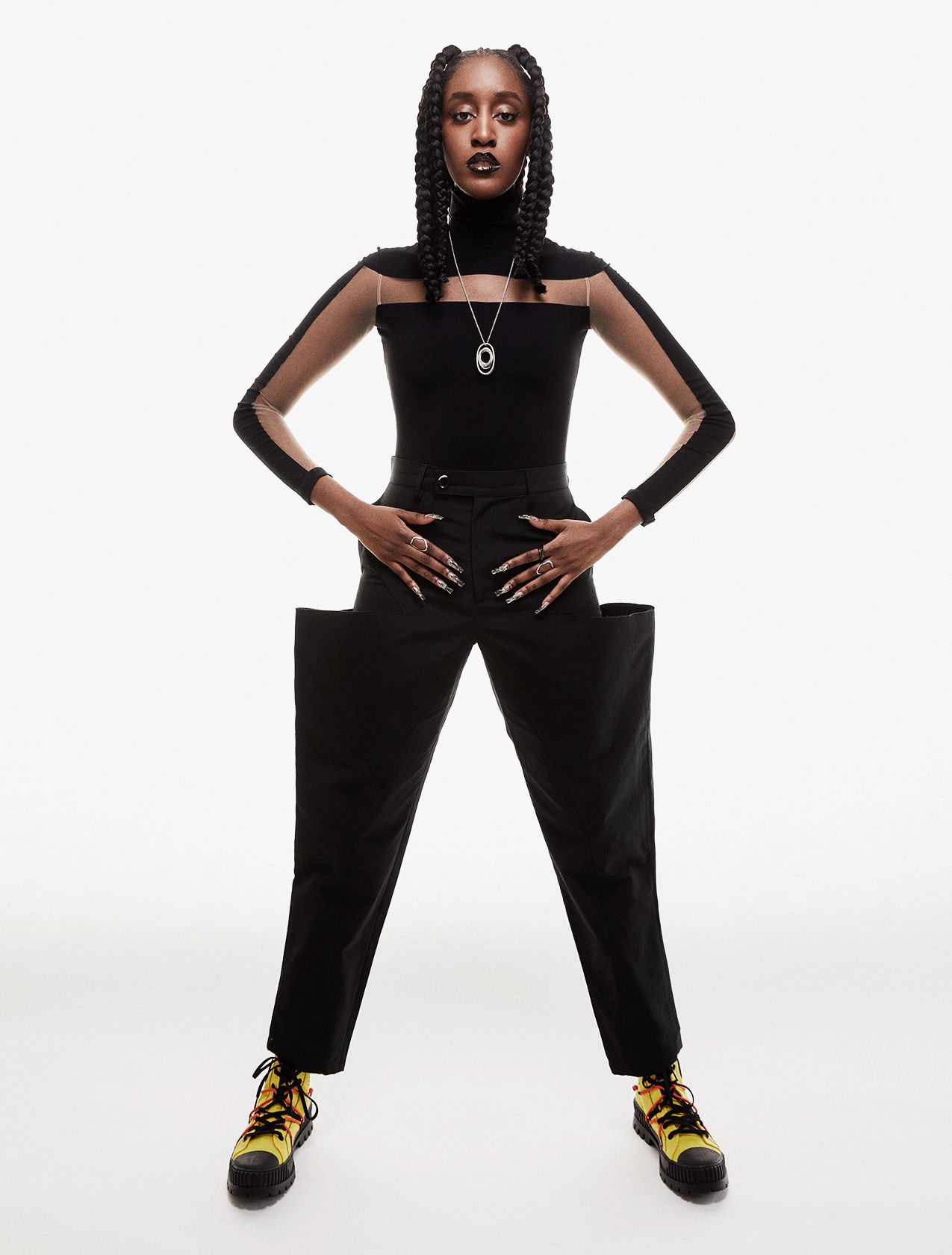 Bodysuit Room 24 Trousers Velvet Glove Trainers Palladium Necklace and Ring Mi Manera
Would you say there is a through-line connecting all of the songs together? Certain imagery or themes that appear throughout?
The main theme is the breakdown of a relationship and the struggles it brought. Love and lust have been a strong theme for me whenever I'm songwriting, its been a huge part of my life. I think underneath what runs in the EP is the struggle to face reality, the pressures of being in a long term relationship, and dealing with denial.
Talking of songwriting, I was wondering as a songwriter how has your relationship with self-doubt changed throughout your musical journey so far?
As I grow older, I get better. I'm actually the best I've ever been when dealing with self-doubt. From my personal experience, it's important to not identify with it or make it a part of my identity. It's not me!!!!! One of the biggest things I've learned is that connecting to your inner child really free's you of that. As a child creating art, I did whatever I wanted with no expectations, or even being scared to fail. As children, we play and thats exactly what I want to keep on doing with my writing. I want to create a different experience with my listeners each time.
'after the storm' is a standout track on the EP — can you tell me a bit about the song and the inspiration behind it?
after the storm closes the EP, and I wanted to offer a song of hope. In the session, I was speaking to Fraser about a Tik Tok I stumbled across of these kids in Burkino Faso, collecting these dragonfly like creatures right after there'd been a storm. The guy documenting was amazed as to how happy these kids were after a storm. I saw a different perspective to this video and made me look inner and actually reminded of this Beyoncé lyric that goes :'after all the rain you'll see the sun come out again'. It's a lyric thats always resonated with me, in every situation, whether that's professionally or personally. The imagery and the sentiment of both these inspirations completely connected me to write this song, and sonically gives a look into where I'm heading next with my music.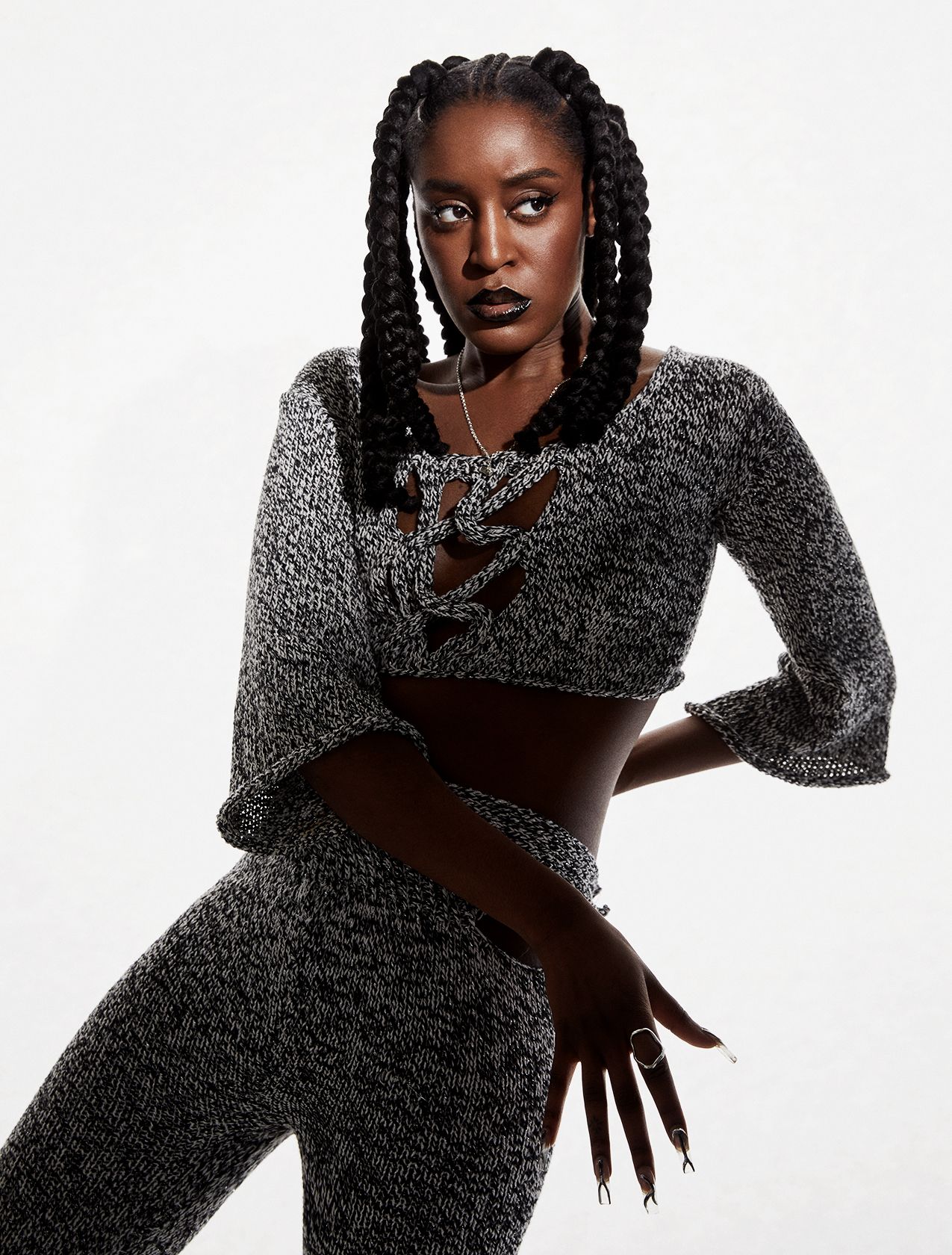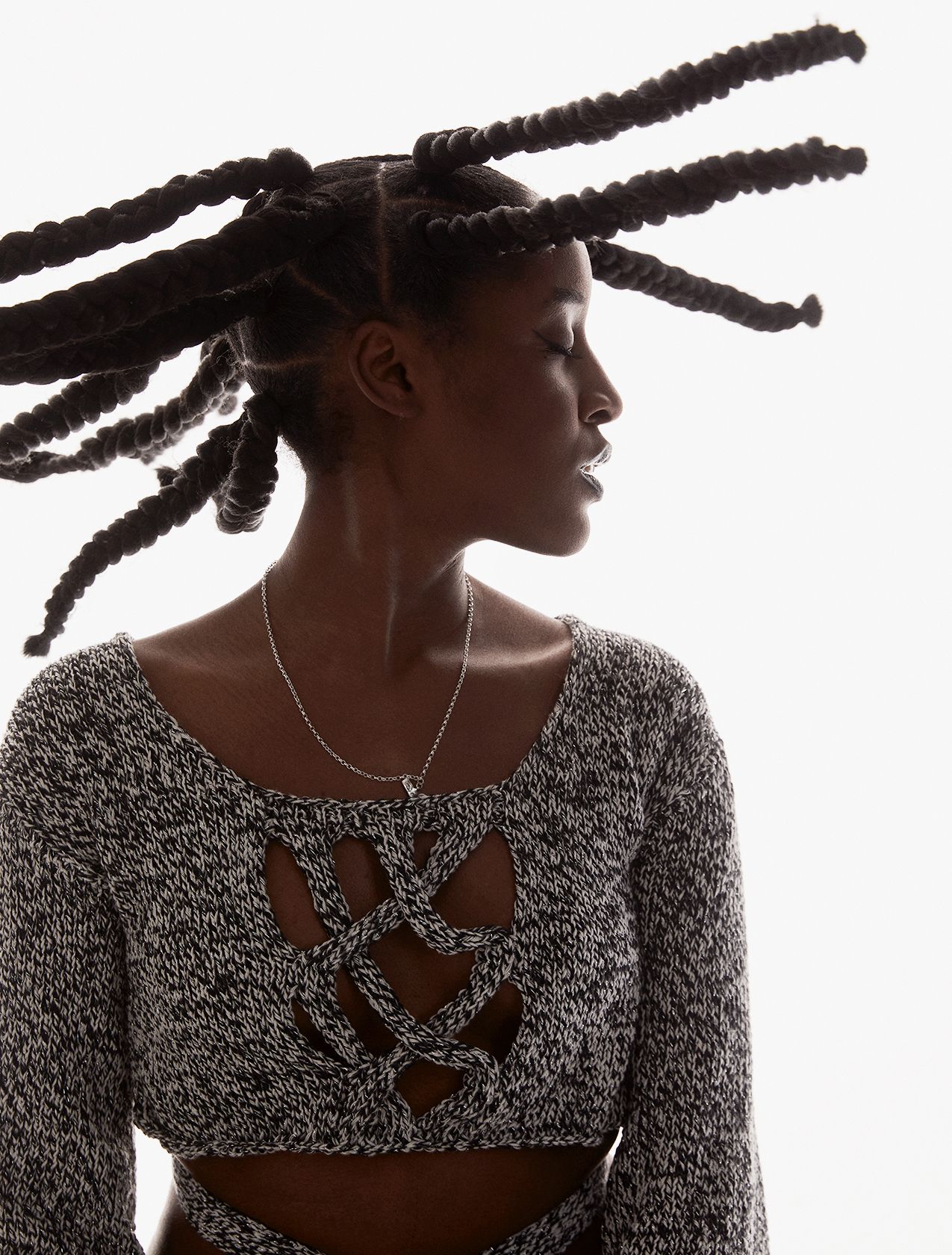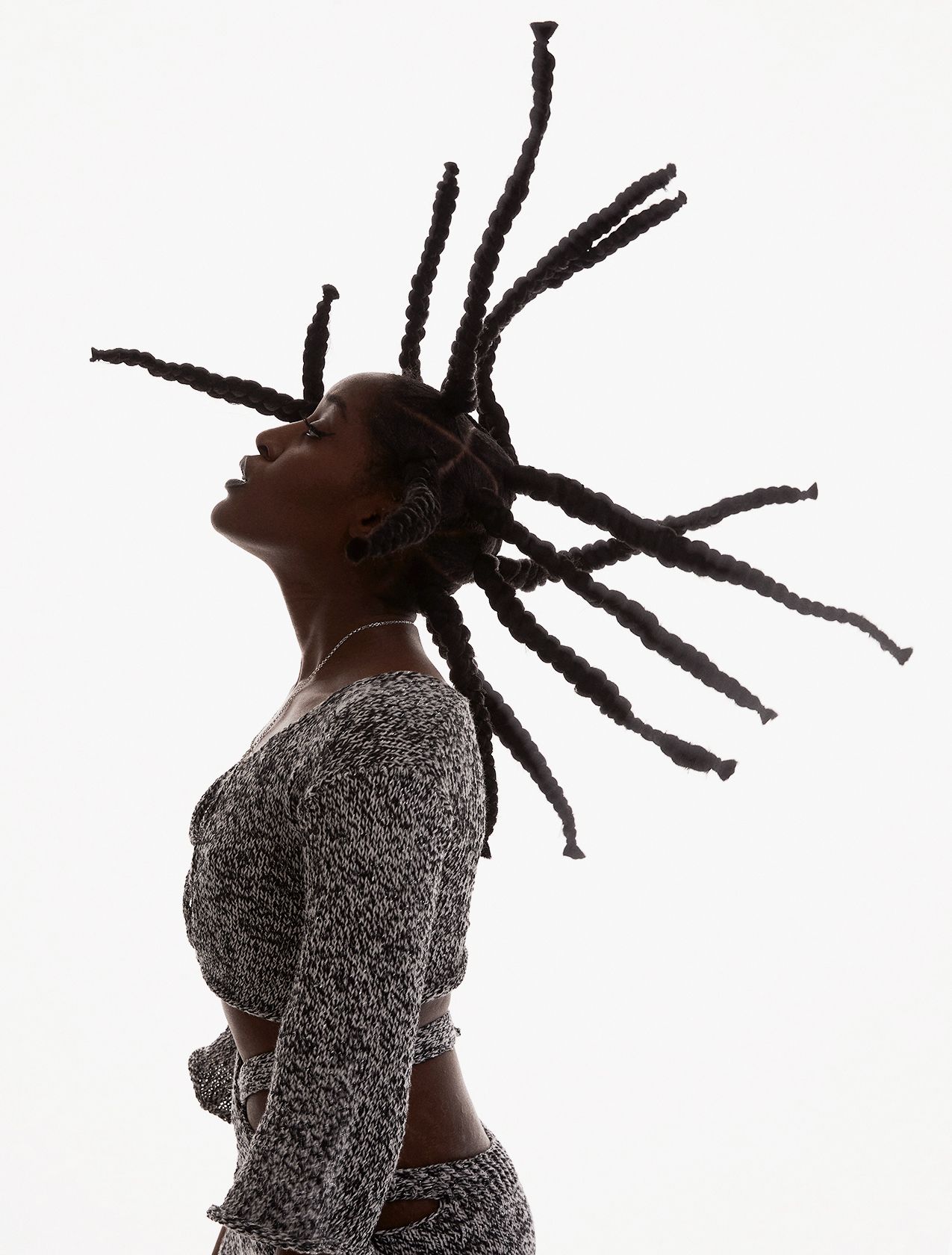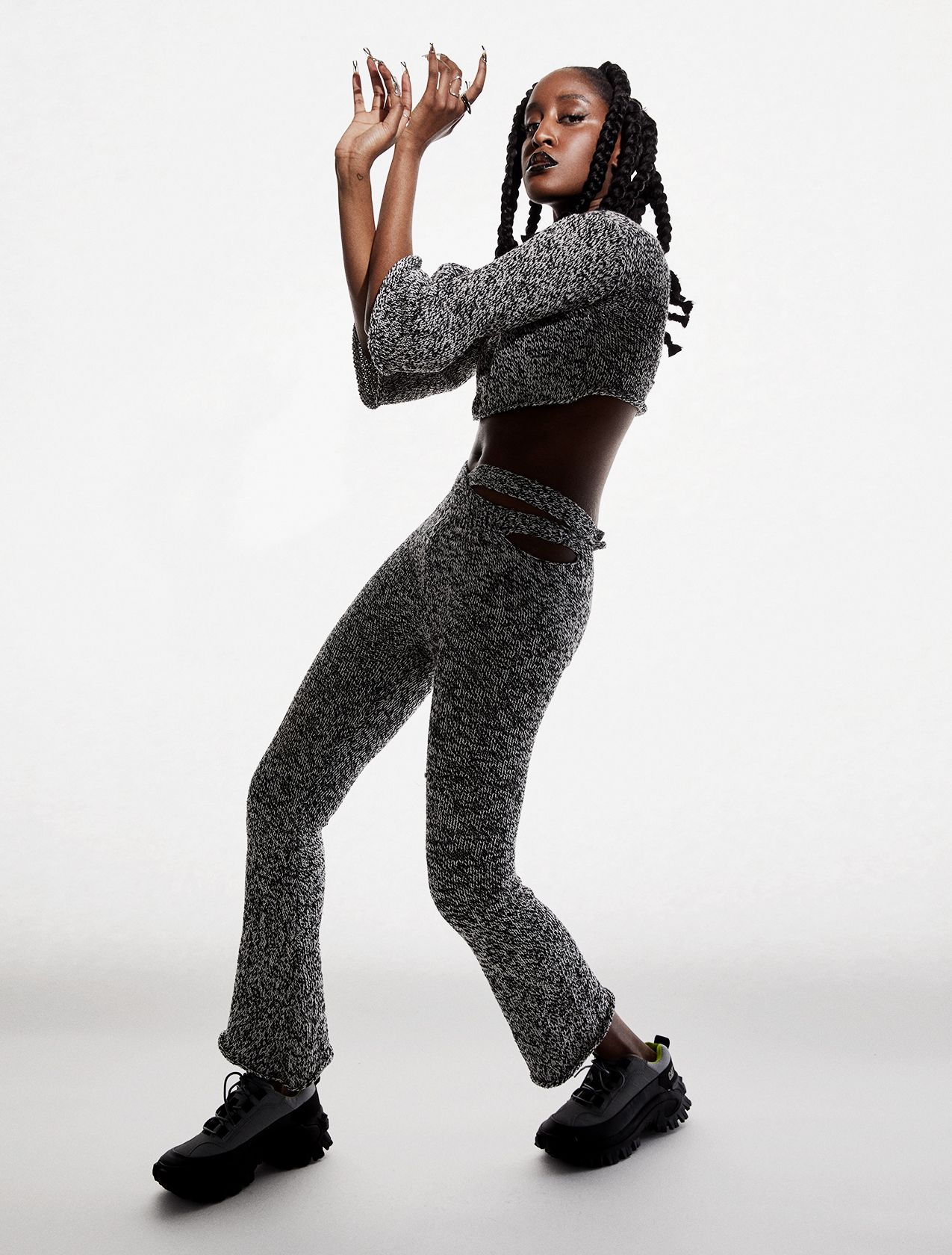 Knit Top & Trousers Sarah Regensburger Trainers Cat Necklace Rat Betty 
What was it about the track 'joyride' that made you want to name the EP after it?
The project started off with a writing session i had with gold spectacles right after making 'undertones'. We wrote 'joyride' when we were still doing online sessions during lockdown. At the time i was listening to a lot of afro pop, in particular brenda fassie. We were having conversations about our experiences in Africa and that just kind of fed into the music. I knew I really wanted to write something sonically that had this afro feel to the groove underneath with the bass. I loved every minute writing this song, and it really became the root of where all the other music came from. It was only really after I finished the project, I realised everything I'd been through within my relationship and even the creation of the project felt exactly like i'd been on a joyride. So much centred around this one song, and It just had to be the name of the EP.
How would you like this EP to represent where you are on your artist journey?
I see each project as an uncovering of myself each time. I'm growing with my music and its unreal to see how people are reacting and connecting to the EP. I was in such a different space when I made it and artistically I already feel like I'm in a totally different space now. If I were to use an image to describe this EP and where I am on my artistic journey, it would have to be a very high cliff, and me on top of it with my arms wide open. Limitless! Theres so much more to come as I keep exploring, I think that's the beauty of it, it's only the beginning, and there's always more to uncover.
As an artist that dances between genres, has it always been important to you to never constrict yourself to a certain label?
As a person, I've never really fitted into one particular group, I've always been a bit of everything and everyone. I genuinely think this leaks into what I do as an artist. I've never really felt the need to put my music in a box or put a label on it. However, what I do know is that every ounce of influence that I feel within my music, and what I create, is with total intention. We were super meticulous when it came to the sound of this EP, and made very specific choices when it came to writing and producing this EP.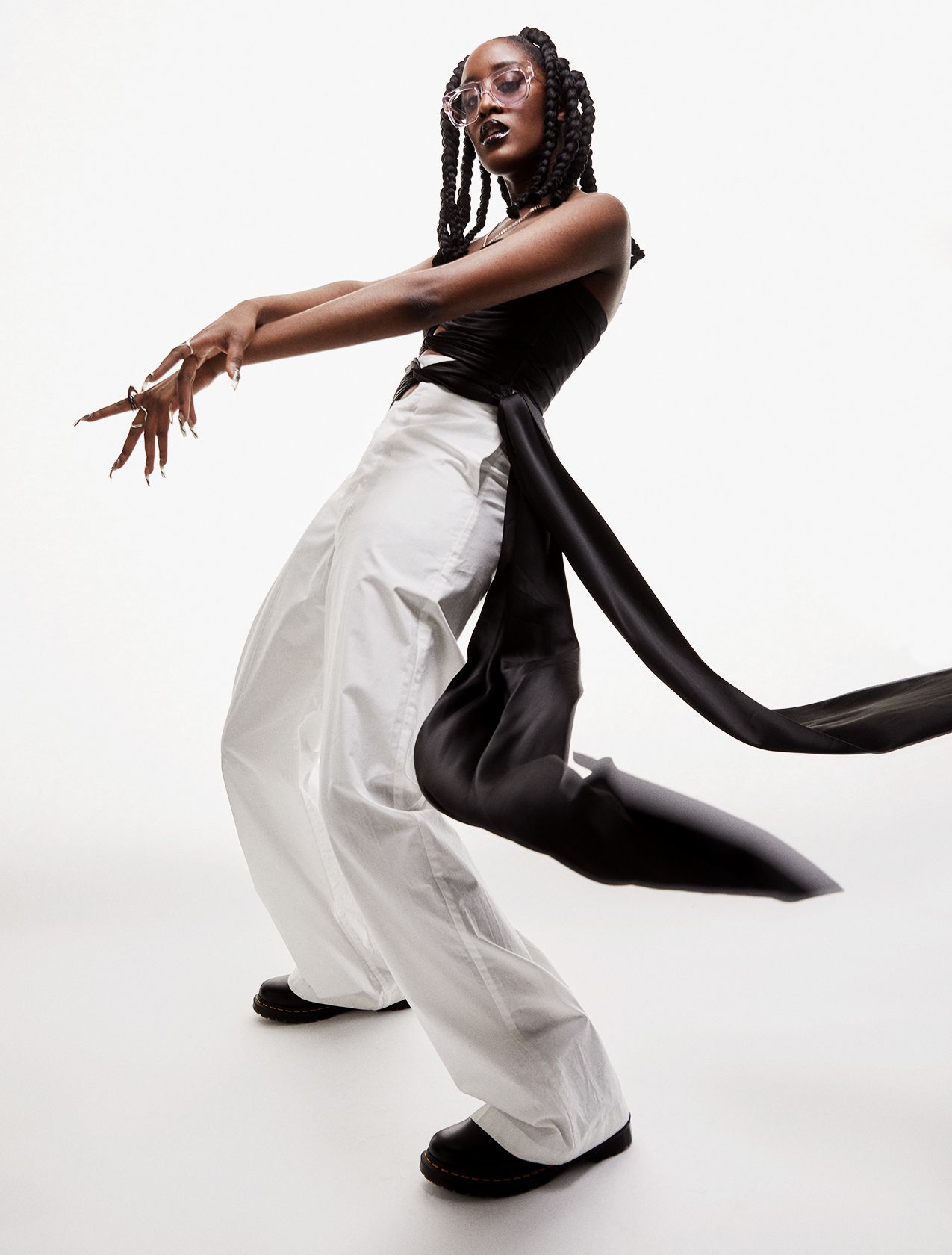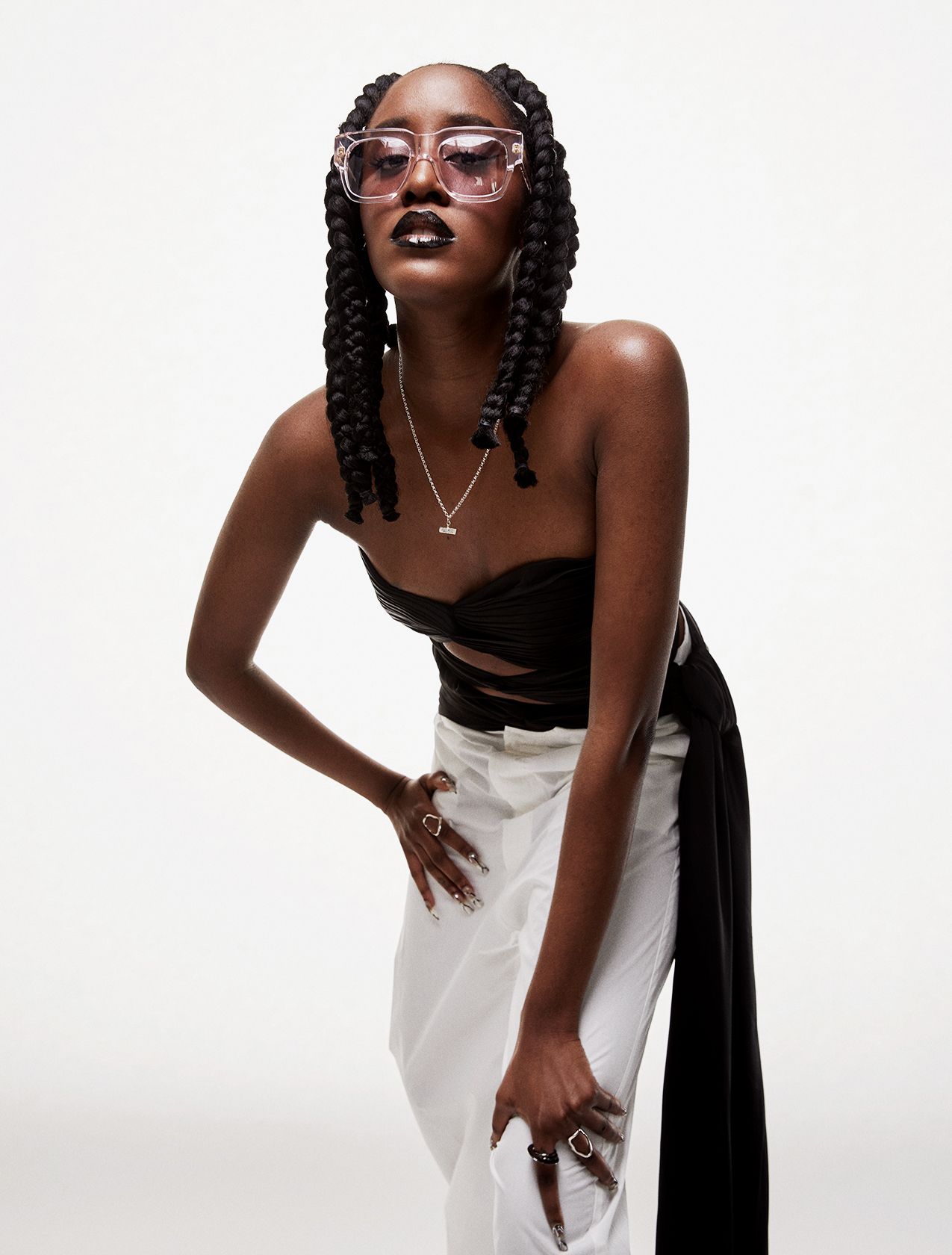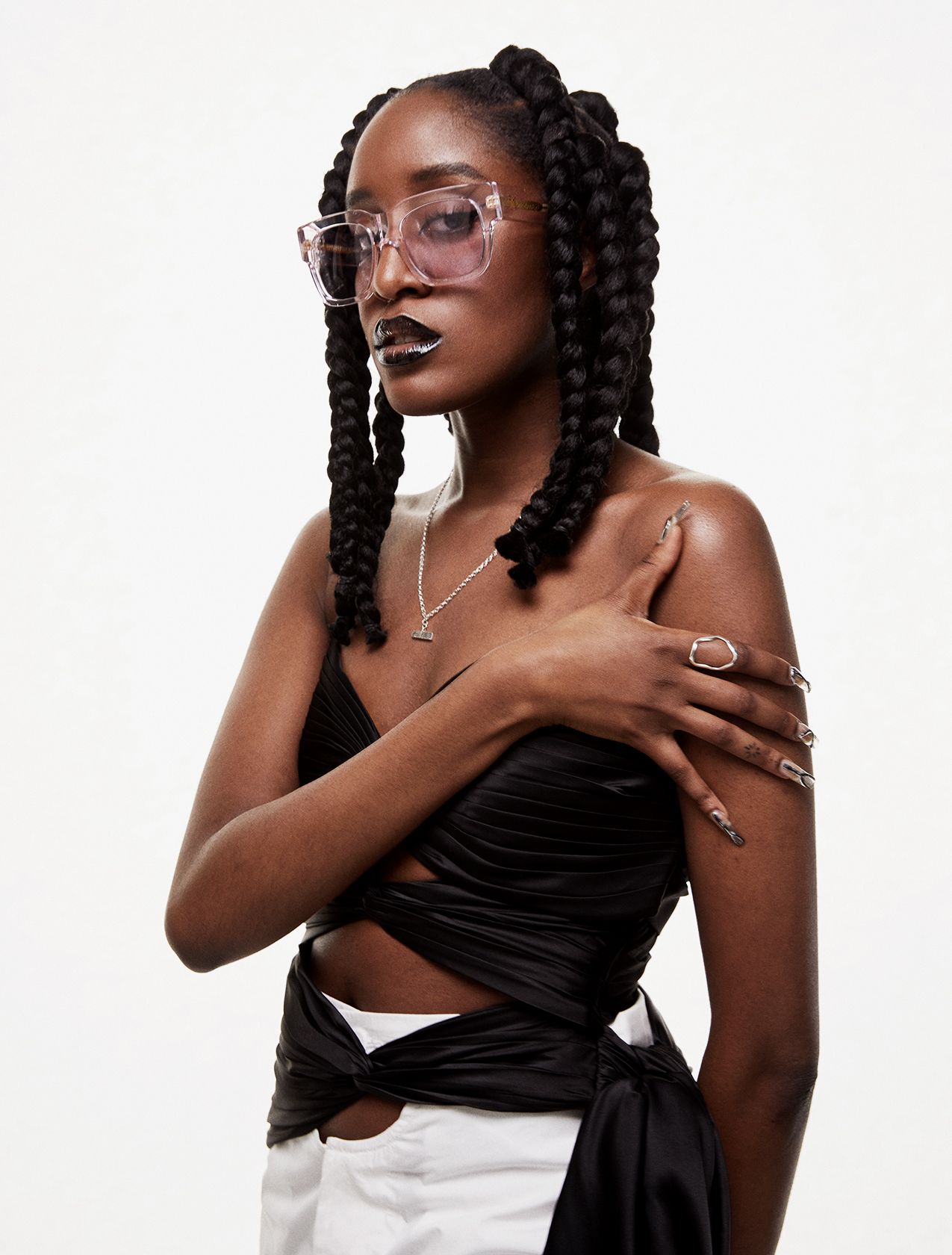 Top Stolen Studios Trousers Igor Dieryck Sunglasses Emmanuelle Khanh Boots Cat
As a deeply confessional songwriter, would you describe songwriting as a form of therapy — a way for you to make your feelings and thoughts more tangible?
Absolutely. During the process of this EP, a lot of my songwriting came from a stream of consciousness. Essentially journalling my thoughts, my feelings and emotions at that time. That type of freehand writing—letting thoughts escape you without judgement—that's the rawest stuff you're gonna get. Songwriting is one part of my therapy, its cathartic for me and gives so much relief and clarity at the same time. I hope this EP speaks to many; as an artist I've often felt in solitude within my feelings but you forget there's always someone else experiencing something similar.
Your headline show is coming up next month! What can people expect from it?
Vibes, vibes and more vibes. Anyone coming to my show, this is a formal warning, please be ready for the energy!
Lastly, if you could manifest something for yourself this year what would it be?
It would be for more & more people to discover my music, oh and a fire collab with Rosalia.
Interview by Kelsey Barnes
Photography by David Reiss
Styling by Toyo Tsuchiya
Makeup by Rebecca Hampson using Charlotte Tilbury
Makeup assistant Christine Wan
joyride is out now.