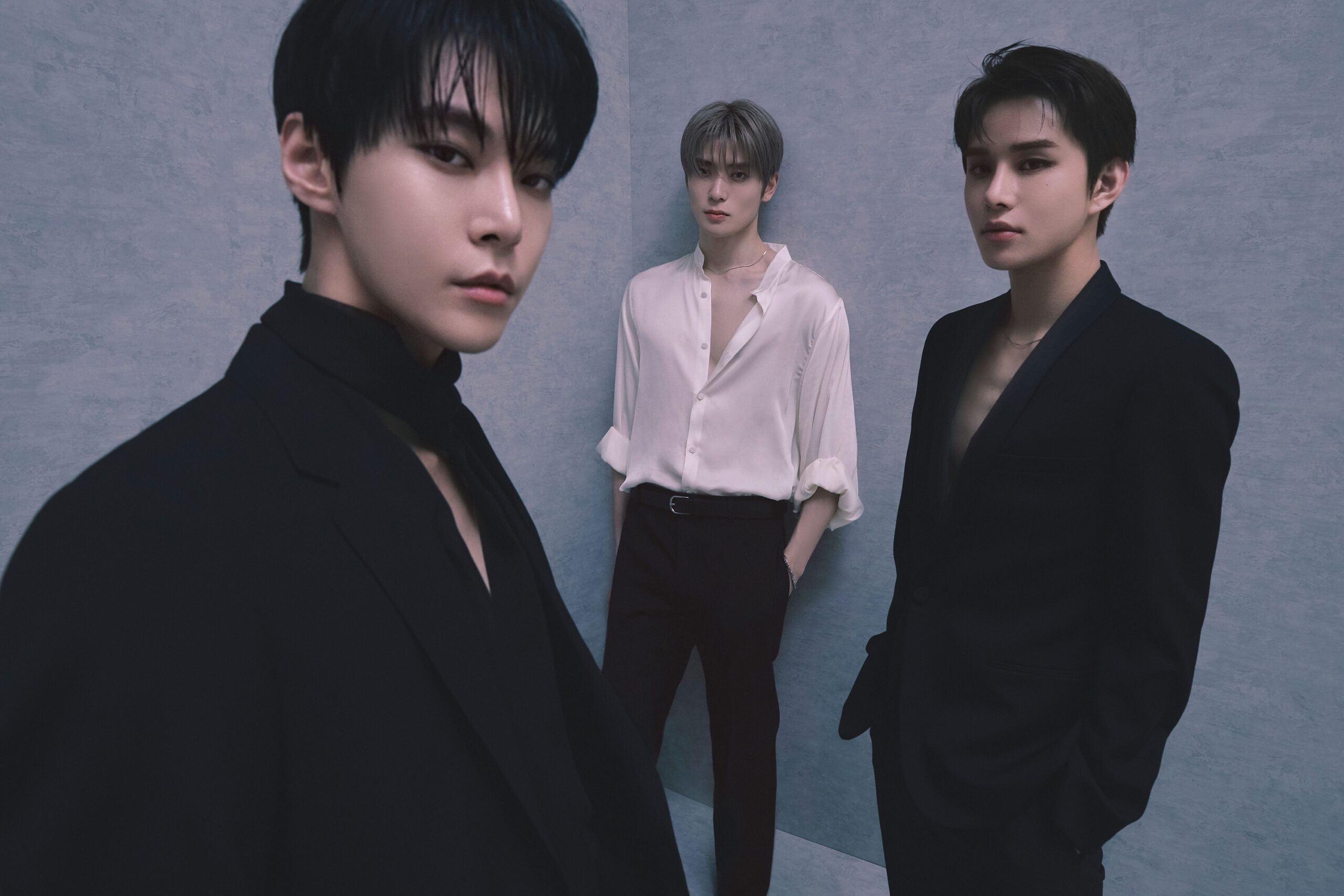 NCT DOJAEJUNG
NCT's latest subunit, DOJAEJUNG — comprised of members DOYOUNG, JUNGWOO, and JAEHYUN — have released their first mini album Perfume, a six-song collection of shimmering, romantic pop that showcases the members' smooth vocals.
Given the remarkable versatility that the three have already proven as members of NCT, as well as the excitement surrounding the subunit since it was announced by SM Entertainment earlier this year, it's little surprise that the release of Perfume has cemented DOJAEJUNG as this spring's most thrilling trio. 
The R&B-inflected pop of Perfume has already delighted fans, and the combined talents of DOYOUNG, JUNGWOO, and JAEHYUN are sure to win over new listeners as well. In the lead-up to their debut, marked by memorable promotions including short films for each member and the release of an actual fragrance, the trio's inimitable chemistry and attention to detail have been on full display. Across the three mini-films in NCT DOJAEJUNG ❮THE MUSIC FILM❯ 'Triangular Theory of Love,' the members each depict a theme of Perfume, setting the stage for the EP's mature perspective on romance and stunning accompanying visuals. 
NCT DOJAEJUNG chats with 1883 about the making of Perfume, each other's greatest strengths, and much more. 
How would you describe your experience preparing for your subunit debut?
JUNGWOO: I'm excited and happy since it's our first time showcasing this unit. I'm looking forward to this opportunity of showing a new side of myself as well.
DOYOUNG: The music we're showing as NCT DOJAEJUNG is a style we all enjoy and really like. We put in a lot of effort into the preparation so that our fans can listen to the album as soon as possible, and it was an exciting and joyful experience. 
In what ways has working on Perfume contributed to your chemistry as a group? 
JUNGWOO: I enjoyed the process of sharing our thoughts and opinions in order to lead the album in a better direction. I believe that we've become even closer than before as we worked to achieve greater results together. 
JAEHYUN: Because we've been together for such a long time, we know what each other wants or thinks, just by the look in their eyes. We just did what we've always been doing, and I think that's why we were able to release such a great album.
The title track is a strong example of each of your unique vocals; what do you feel are each other's greatest strengths as performers? 
JUNGWOO: DOYOUNG is very logical so he's quite composed and has this sense of determination. JAEHYUN is smart! He has a lot of knowledge, and as for myself, I think my strength would be my emotions. I'm very sentimental. (laughs)
JAEHYUN: DOYOUNG's biggest strength is that he's logical and wise. JUNGWOO has a very attractive voice and great vocals. I'm a bit more on the sentimental side which I think adds to show more variety.
DOYOUNG: All members have great vocal skills, and our vocal chemistry is especially good. Each member has a different vocal charm, but the harmony we create together is quite beautiful.
Your performances in the mini films ahead of the EP's release got a lot of praise from your fans. What was the process of crafting these visual teasers for Perfume? What was your favourite scene to shoot in NCT DOJAEJUNG ❮THE MUSIC FILM❯ 'Triangular Theory of Love'? 
JAEHYUN: The whole process of filming the teaser content for this first mini-album was a new and fun experience. My favorite scene in the music video is when I search for a plane ticket to London in order to chase after an ex-lover whom I miss. Although the scene was edited, I did actually search for a ticket to London to really fall into the role. It helped immerse myself in the scene and that's why I like it.
DOYOUNG: Watching each other act was fun, and it left us with precious memories. Everyone's stories went well together, but I personally think our most natural side came out when we filmed JUNGWOO's story.
NCT DOJAEJUNG ❮THE MUSIC FILM❯ 'Triangular Theory of Love' are described by the titles "Passion," "Commitment," and "Intimacy." What message do you hope that Perfume themes convey to fans? 
JUNGWOO: Just like perfume, I hope our album is one that NCTzens can slowly fall for just like perfume. I wish this album can be a memorable one that leaves an impression on those who listen to our music.
DOYOUNG: I personally hope that the album will show passion. Since we're leaving our first impression, I hope it'll be a memorable one.
What three words would you each use to describe NCT DOJAEJUNG?

JUNGWOO: Happiness, joy, love 
JAEHYUN: DOYOUNG, JAEHYUN, JUNGWOO
DOYOUNG: DOJAEJUNG is pure, fresh and sexy [laughs]
Interview Juliana Ogarrio
Perfume EP is out now.