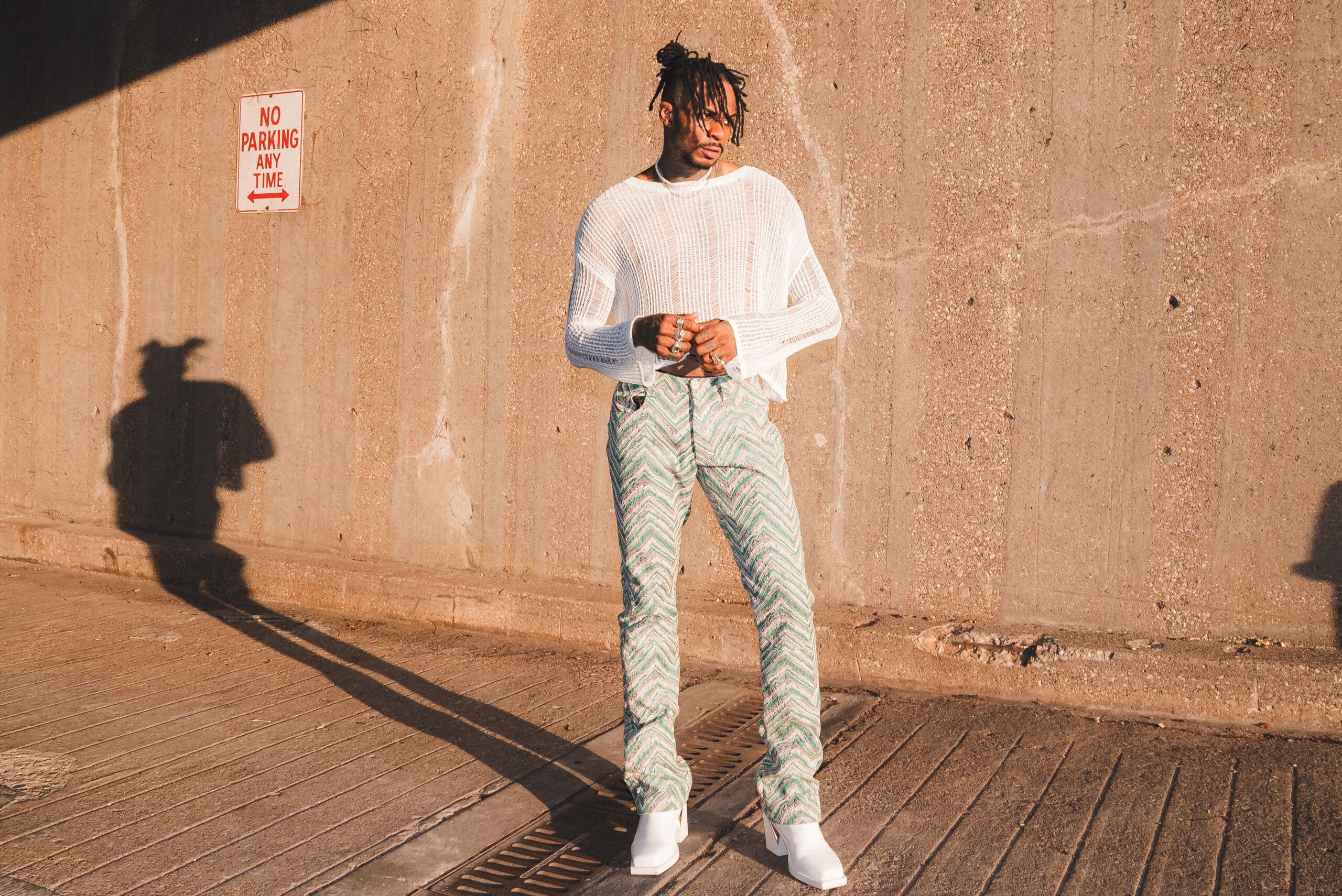 OWENN
Although his time opening up for Taylor Swift on the Eras Tour is coming to a close, OWENN's future is looking brighter than ever.
It's been a big, bold, beautiful year for artist OWENN. Since signing his record deal with Republic, life has been a whirlwind as he shifted from being a dancer for some of the music industry's biggest artists to pursuing his own artist project. It's a path that has seen him grow tenfold and one that has taken him to where he is today — opening for Taylor Swift on her stadium tour tonight at SoFi Stadium in Los Angeles. Being hand-selected by Swift herself is a feat in itself, but it's an indicator of what the industry would've eventually uncovered: OWENN is an artist that is not just here to work and perform, but here to inspire. His talent is demonstrated succinctly through his songs — a dynamic mix of genres and sonics, blending together to create something that is uniquely his own.
A few days before his SoFi debut (while wearing a Speak Now (Taylor's Version) cardigan gifted to him by boss lady herself), OWENN chats to 1883 Magazine's Kelsey Barnes about his new single "Dark Side of the Moon," playing stadiums and opening for Taylor Swift, and more.
Between your debut single "Pretty Girl" and now, how would you describe the way you've grown and developed as an artist?
Oh, that's a good question. Honestly, so much has happened. I've been doing this actively for five years now and I feel like I've grown so much in between singles, from releasing songs to performing and being in the studio. I feel like each time I put a record out I learned something new or there's a new experience. Even now, I just put out "Dark Side of the Moon" and I'm on tour playing stadiums opening up for Taylor Swift. I've just been going through so much, it's been great.
Something that I love about your music is that it's hard to define it to one genre — "Luv" is a more stripped-down track whereas "Rest of my Life" sounds like it would be played at a club. Has it always been important to you to not be stuck in one box in regards to labels?
I'm actually gonna talk about this. There's this formula that I think that people in the music industry believe, and it's that you have to have one straight genre so people can latch onto you. But there's this other side where you should be able to explore music. The umbrella of being an artist, from their aesthetic to how they approach records and release stuff, that's what I've always wanted to do. I've always looked up to Rihanna, for instance, and even Taylor and Beyonce, it's all women that I have worked for who would never be put in a box. Rihanna has done so many different genres of songs, Taylor can do a whole folk record and then come back to pop and then go to country. That has been such a goal of mine. I love all types of music and I want to explore that.
With "Dark Side of the Moon" in particular, it does sound like a new chapter is about to happen in your music. 
It definitely is. I worked with a new producer that I hadn't worked with. His name is Rob Grimaldi, he's incredible. He's incredible, he did "Butter" by BTS. Working with him was just a different kind of flavour, but I was ready to kind of embark on something that was a little bit more pop and a little bit more in the realm of what's going on [in music] now. That was something that I kind of dove into with "Dark Side of the Moon" and I'm glad I did because the record turned out amazing.
Dancing can feel quite vulnerable but music even more so. Was that ever difficult for you to grapple with between the two?
I don't think so. I think it kind of wraps itself into one. I remember loving the fact that I can emote and keep singing like how I used to dance. I like that I can emote with both and be vulnerable without being vulnerable. 
You were born in New York and moved to Atlanta, how do you think these two places influenced you as an artist?
New York is my home and that's definitely been a strong and strong influence on my music and just how I approach things in general, like fashion. The artists that I love all have strong ties like that and stuff, too. Atlanta, too, in a way, but I was in and out of Atlanta because I moved to LA at 17.
You've mentioned fashion, so I definitely want to talk about that. It's almost been a decade since you first started working with Taylor in 2015 for the 1989 Tour. As someone who develops 'eras' for each of her album releases, I'd like to touch on your style and your creatives, from your single artwork to the lyric videos. I saw you work with Jaquel Knight, a creative director. What has that collaboration been like for you to develop your own distinct era and vision?
Well, it's so funny because me and Jaquel grew up together as best friends. He's done all of the Beyonce stuff like "Single Ladies" and was part of her creative team for her tours. I remember him telling me that I don't want to be one of the artists that don't care about the artistry and don't care about certain things. He's always kind of beating it into my head. I've been on jobs with him like when I danced for Beyonce and we definitely cultivated this culture together. Me being around all these great artists definitely took some of that — like the work ethic and creativity — and encouraged me to do it, too. I'm actually excited to jump in headfirst and embark on that even more when it's my headline show. He's been a driving force and a backbone in my team.
Has fashion been something you've always been intrigued by as a form of expression?
Yeah, I'm a fashion head. I love clothes, I love clothes. I'll say it one more time: I love clothes! Fashion is a super big part of me and my expression. How I feel is going to be reflected in what I'm wearing. I think the last show in Minneapolis I had on and a Comme des Garçons skirt. I remember before that show, I had worn another outfit that was a crop top. It all depends on my vibe and mood, sometimes I just want to be comfortable so we put that outfit together and figure it out. 
What are we kind of feeling for the LA show? What's the vibe? 
I'm scared! [Laughs] I think we've put too much emphasis on it.
You'll be fine, I'm sure you'll look incredible.
Currently, I do not have an LA outfit. It's fine! [Laughs]
For your visuals, are those something you're developing as you're writing or does it come after?
Sometimes when I'm writing it, I think of certain visuals and I dive in when the song is finished. I can listen to it over and over again and sit outside by the pool room and envision stuff. Sometimes even me just being in the city, like when I'm in New York and listening to a track and walking around looking at people while the music is on. That all helps me develop new ideas.
My best friend and I actually have a real affinity to the song King of My Heart because we were selected during it to meet Taylor, we even got a crown tattoo in honour of it, so when the both of us found out you were pursuing music and you were going to open on some dates for Taylor on tour, we drove 5 hours to Detroit to see you open! 
Wow. I almost got choked up in Detroit when everyone was putting up their lights as I was singing. It meant a lot to me. 
It was a beautiful moment! How has it been to now be seen as the artist on stage vs. a dancer, especially in front of Taylor fans?
I would say it is surreal. It's just crazy. From being one of our dancers to now is just… I say this in the show, but she could've picked anyone in the world to open and they would've said yes. But she picked me, and when I say she picked me I mean she really, really picked me. Taylor has 100% control over everything. She is such a strong business woman and person in general. She has so much control over her life and career. She could have definitely picked whoever she wanted but she chose me to be there. I'm just forever grateful for that and for her in general.
She's the best, she's always lifting people up. Is there anything you'd like to say to the crowds and fans that you've performed for over the summer?
I want to say thank you, truly. It means the world to me. I want them to know I appreciate supporting me through all of the other stuff too, from dancing for her and acting in the "Lover" music video. Thank you for being on this journey and I hope they stay with me forever because I'm here to stay.
Lastly, if you could manifest something for yourself this year, what would it be?
If I could manifest anything it would be to be able to perform more for people and for people to really love and be inspired by music. I want to be someone in the music world that is a staple artist and someone who inspires people like the artists that have inspired me. 

You have an incredible story and I know people resonate with it, so you should be very proud of yourself for that. Break a leg on Friday — if people still say that! 
[Laughs] Thank you! You can say good luck or break a leg, I love both. 
Interview Kelsey Barnes
Photography Cindy Ros