Rhys Wilkinson
Having graduated only a year ago and now in his second year in the West End hit musical & Juliet, Rhys Wilkinson has already achieved more than most.
Understudying two of the lead roles in the show, he is adding producer to his increasingly impressive repertoire with a concert called Connections at The Other Palace on Sunday 18th September, starring an array of popular West End stars. Rhys, having trained at Urdang, has had a whirlwind of a professional career so far that is flourishing as he takes on new creative ventures. Rhys is not only a performer but a talented choreographer and creative director, showing talent and an appreciation for working both on and off stage. 
1883 Magazine's Amelia Walker sat down with Rhys to discuss how the concept of this concert came about and what it has been like to go straight from drama school to understudying two lead roles in an Olivier award-winning musical. 
Connections is described as 'a cosy afternoon of nostalgia, celebrating the power of music and the connections it has created in all of our lives' which sounds like an ideal Sunday! How did the idea to produce a concert come about? 
It's something I've always wanted to do and I feel like I have grown so much with & Juliet. As I entered my new contract with & Juliet, I set myself some career goals for the year ahead, and I feel like I'm nearly there. As a performer, the skills I'm known for aren't necessarily my singing – I only actually started training in singing when I got into drama school. I did school productions but singing was where I was less skilled. I knew I was a pretty good dancer, I've been training in it since I was seven, and I knew I loved acting, and I found this whole world of musical theatre where acting and singing went together, so I went to college to train in that. 
When it came to Juliet, they offered me first cover for the character of Romeo (who sings hits including Bon Jovi's It's My Life and The Weekend's I Can't Feel My Face). I got thrown on as Romeo for the first time very last minute and I was so eager to prove to myself that I could do it. You accept a job and you're like 'yes, I can do this' but until it comes to crunch time, you don't know. I see the audience like a jigsaw puzzle, so much of what a show gives relies on the audience. The right people come together and they'll be sat next to someone else who will laugh out loud at a joke, and that will give them the encouragement that they can react to what they are watching and the atmosphere can change so quickly. 
Once I had conquered that Romeo show, when it came around to my second contract, I said that I would also like to give the character of Francois a go. They had a lot of trust in me that I was able to do it, and I have done it now. So it feels like I'm in a place where I do want to take singing and acting seriously. That year, actually, I had been to see so many concerts, in particular, I'd been to see Jessie J and I just was in awe of the atmosphere that she creates. When it's just her in a room, singing one of her songs and it's stripped back and it's comfortable, that is something I would like to do. It would never have been something that I would consider because I don't know if I have the talent to do that, I didn't know if people would necessarily pay to hear me sing, but now that people have because of the show, I thought well let's just do it, what have we got to lose? 
The point of this concert is to celebrate music, and to celebrate what music means to me – it is such a powerful tool that we all have. I researched music as an art form and how it connects with our memory and triggers different parts of the brain. I don't know about anyone else but I can put on a song and it can take me straight back in time, to a location and I want to explore that and the songs that did that for me and to invite an audience to see if it does that for them too. When I think of any of the songs in Juliet, even the original pop versions of them, I think of my times in the show. 
I think & Juliet is such a great example of how such well-known songs can be reinterpreted and reimagined. Britney Spears' I'm Not a Girl now has a completely different meaning – in the show, it's sung by a character trying to capture how they are feeling concerning their gender identity. Even though some of these songs have been imprinted on our memories for so long – it adds a completely different layer to the songs we've known all our lives. 
I think that that's kind of what we want to do with the concert. There are a few songs that we've selected that have a meaning in our world, but in the concert, we want to give a different meaning. We want to give different takes on what people know -we've got the gorgeous Josh Cottell, who's currently the MD on Billy Elliot, making all these rearrangements for us. What you said about Juliet is interesting because that's what we want to do: we want to give some of the songs a new narrative. 
Music is so accessible to us now, with streaming services, you can have any song at any point. I think it's important to not be afraid of associating and linking music to certain parts of your life, because as much as anything, music is therapy, it can heal you. I was at college during the Covid-19 pandemic. I went home for the bulk of it, but for some of the lockdowns, I was here in Islington. I was taking classes but I was on my own. So much of that time was spent listening to music whilst walking along the canal – it was such a blessing for me when Lady Gaga released her album Chromatica. She has always been such a huge source of inspiration to me as a human and as an artist. 
When I was growing up, it was that classic story of just not quite fitting in. Lady Gaga was such an outlet for me as a young person, she was an icon because she is someone who also felt like she didn't fit in. She has done so much for so many communities, like the gay community and the trans community, and to be able to listen to her music and feel part of something, something bigger than you, it's an amazing feeling. We were in lockdown when Chromatica came out and it was just what I needed and it reminded me so much about how much music is about connection. Even speaking about it now, that connection deserves its concert, to celebrate it, and rather than celebrate artists singing, it's about celebrating the power of lyrics and what they do to people – how they can transform and transport you. As humans, we are so lucky that we have the power to connect, it's quite a vulnerable thing to do.
When it comes to my connections to songs, few come to mind at such polarising ends of the spectrum of emotions. There's a song called I Miss Her by Jessie J which she wrote about her grandmother having dementia. I associate that song so much with my grandfather going through a similar thing because the lyrics were so powerful and relatable. I asked my mum to listen to the song and I just remember us both crying so much. There is something so special about the way songs can reflect your own emotions so quickly. 
On a happier note, there's a song that is so special between my friendship group in my hometown which is History by One Direction. I can't quite comprehend how powerful it is that three minutes of an audio file can make me think of the people that I love the most in the world. It's such a special thing to have, I love how you can just sit and listen to one song on repeat for so long when it means something to you.
The concert is most definitely for those kinds of people, the people who have such strong core memories to music and that's what I want to get across. We're going to talk to the audience, they're not an audience to us. Yes, it is a show but we want it to feel as if you're just going to come and sit in my living room and listen to music. That's where I listened to music – it's the main place and when we were doing set design, I wanted it to feel like a home and not a set. I wanted the atmosphere to be cozy and homely so that when you come in, you think 'oh, I feel like I can sit here and enjoy some music for an hour and a half' the way you would if you were going to sit and play your favourite album. We want you to be able to sit and relax.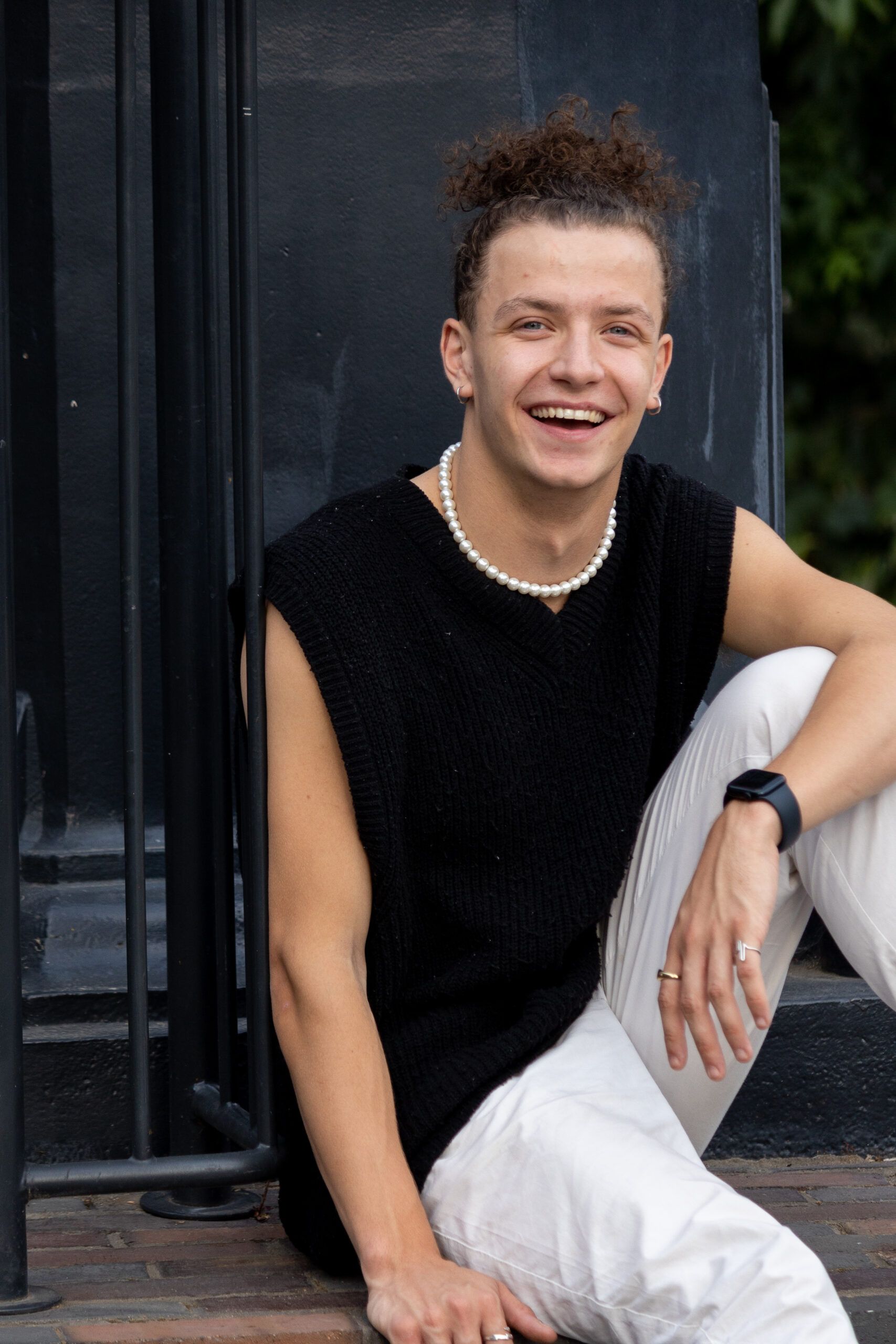 Something I've learned recently about musical theatre fans, especially because I've seen a lot of them in person, is that they want to hear their favourite performers sing their favourite songs. During the lockdown, so many performers used the platform Cameo and people would request different covers there. 
With bringing Grace (Mouat) she has got such a fan base and people who want to hear her sing and that's what we want to celebrate. There's a picture of me at Grace's final show in & Juliet where I am just sobbing.  
I think that picture is one of my most cherished possessions because it just perfectly describes my relationship with grace and how much I was gonna miss her. I adore the new cast and having the best time of my life. But we got so close so quickly. It was only six months but I felt like I knew her so well. That photo just was hilarious for one, but two, it just encapsulated everything: it's exactly how I felt about her, upset that I was losing that part of our friendship and that we weren't going to be together.
When choosing people to be a part of this show, I knew I had to choose those I had a connection. It was important that a part of our friendship involved music and that we were connected through music. There's such a range of people, there are Grace and Billy who I know through & Juliet, then there's Nathaniel Morrison who was my Dad's agent and he is just like a big brother to me. We also have Eleanor Jarvie, who is my best friend in the entire world. We live together and it felt wrong not to include her because we both love music – we adore just sitting and just saying 'Alexa, play_'.  
Our next performer, Oliver Tompsett, I can't tell you how much I've learnt from him – and I'm still learning from him. I think my ensemble character, Richard, has a very close relationship with Shakespeare and does the lines at the start of the show. Our relationship in the show revolves around him telling me what to do and then outside the show, it's very similar – Oll tells me what to and what not to do career-wise and life-wise. On the morning of West End Live when I was asked to perform as Romeo – which was one of the scariest moments of my life – the first person I called was Oli. I also called Jocasta (Almgill, currently in Grease) who are two of the wisest people I know. I was very aware that West End Live is a very exposing atmosphere and I wanted to do it to the best of my ability, I couldn't say no, so I called my family, I called Jocasta and I called Oli, and he gave me some advice about the mics and how the volume is different with the handheld mics they have for West End Live, Oli was a massive help in that environment. The whole day I was waiting for the official performance video to come out, wondering if it was ok or not and Oli just stood by my side the entire time – he's just the most wonderful person to be around, especially when you're on in an understudy track- he's so supportive. He just has one of those kind hearts and he's so freaking talented. The opportunity to have him come and sing at this concert is massive for me. 
Then we also have two of my teachers who are also performers, Genevieve Nicole and George Ure – to be able to sing with people who have had such a positive influence on my life in the career I want to have is amazing. There is a massive link for me between singing and my anxiety. I'm very open on social media about my anxiety and my mental health. I did a lot for mental health day and there's a highlight on my Instagram that has lots of links to mental health sources and things on how to improve it. My sister is a therapist and we were very conscious about mental health and being aware of the world that we live in right now. For a while, when it came to singing, the idea of breathing and concentrating on your breathing just with a little bit too much. When I was training, it was just something I just couldn't quite get my head around and George worked with me so much on getting all of the anxiety I had about that out. He just helped me come a long, long way and I wouldn't be in the position I am today without him
To have different people from different parts of my life interlocked with each other is so special, I had to sit down and think 'who do I want to be part of this concert?' The people that I've picked are all fantastic but I want it to be less about us singing and more about the songs that we are singing.
Picking songs must have been hard, especially when you are so musical, who are your biggest musical influences? You've mentioned Lady Gaga.
Lady Gaga is one of my biggest musical influences. I'm not a massive fan of concerts – I miss out on a lot of them because I just prefer to listen to music and watch them back on YouTube videos. I've seen a few people live that I love but it's just not the right environment for me to listen to and enjoy music. But I have listened to every single one of Lady Gaga's albums and every single song. Another artist that has had a massive impact on my life is Harry Styles. I have only discovered him very recently – I wasn't a fan of One Direction, I wasn't a huge fan of their music but then Harry came out and did his stuff and it just blew me away. His music makes me feel good and it sets such an atmosphere and creates a mood I want to be in. His approach to gender and clothes is so refreshing. I enjoy expressing myself through my clothing but I am cisgendered – I identify as a man and some rules constrict us and our clothing. Yet Harry's approach goes against them. I saw him at Radio One's Big Weekend in Coventry and he performed his new album, I was obsessed with seeing him being authentically himself. 
When I was young was when my dad and I would sit and watch Jools Holland on a Friday night. I got so much music from that, like Christine and the Queens. It was artists that maybe I wouldn't have discovered on my own. 
If Connections does well, would it be something you would like to turn into a series of concerts? 
I thought about this, because I think there's something really special about only being able to see something once and it is a one-off – I would love there to be a future for it, my idea is for it to travel and connect with lots of different people, like maybe take it to 54 Below with the friends I've made in New York, or take it to Australia – I like the idea that it's something that can evolve. I've called it 'Volume One' because I'd love there to be more volumes of it, I'd love to do a Christmas Volume because there's so much I associate with Christmas musically that has nothing to do with Christmas – for example, the song All Star by Smash Mouth is something I associate with Christmas because the movie Shrek would always be on at Christmas time. 
I'm so very grateful for this to even be a thing and be so well received. I always remember watching a TV show where someone at the end said "if you're going to fuck up, fuck up brilliantly" and that's how I live my life artistically, I have to try, and if I mess up, I want to make sure that it's the best mess! I have an amazing team of people that I can create with and I want to try doing everything, 
There is a lot of stigma in our industry about not being able to wear a lot of hats. I want to be able to prove that I can do many different things and I can say "look at all of the things I can do!" There should be no extent to my happiness because singing brings me happiness, producing brings me happiness, choreographing brings me happiness, directing brings me happiness, performing brings me happiness, and dance brings me happiness. I don't think there should be a limit to what I should be able to do to achieve happiness. I just adore being able to go on stage every night.
You're doing what you love, and isn't that what everyone wants in life; to be doing something that they love?
I'm very lucky to be coming into circumstances now where I'm being paid for doing the things I love. I get to do a show every night. I always say this, but little Rhys, he would be so happy right now. He would be kicking himself, I am living this dream that I've had since I was so young, and am still so young. It's just truly amazing. 
Connections is produced by Paper House Productions and stars Rhys Wilkinson, Oliver Tompsett, Nathaniel Morrison, Grace Mouat, Sarah McFarlane, Billy Luke Nevers, Genevieve Nicole, Eleanor Jarvie and George Ure. Tickets are available at https://theotherpalace.co.uk/connections/
Interview and photography Amelia Walker