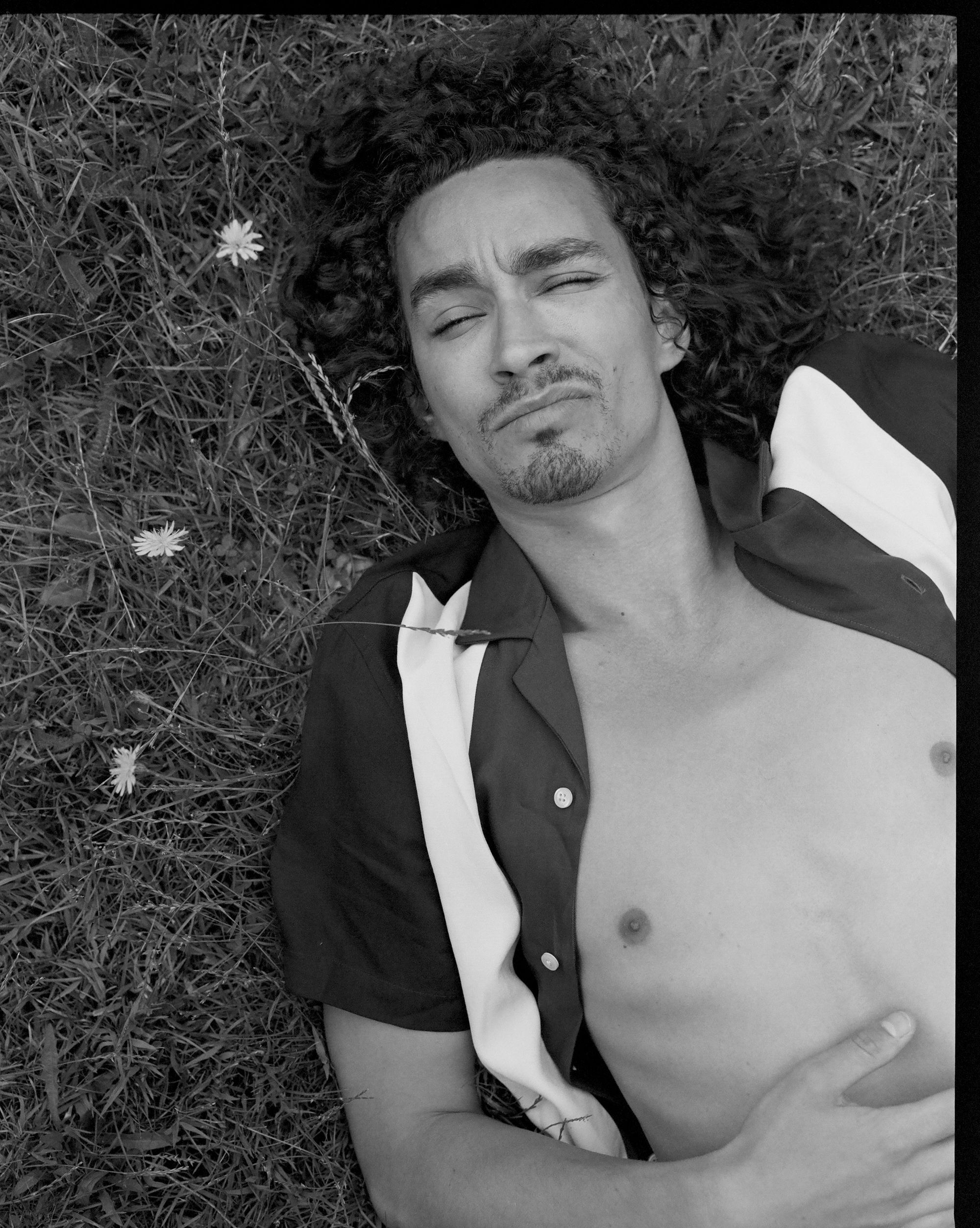 Robert Sheehan
Robert Sheehan has a distinctiveness that keeps his trajectory more or less vertical.
The Irish actor possesses something that very few people do: a potent mix of talent, intelligence and charm that can be dashing, even enigmatic at times, as well as a highly attuned versatility which has contributed so well to mollifying and menacing characters alike.
He's part of a generation of actors that have each sky-rocketed in changing variables — although none of them quite share the same aura that Sheehan consistently exudes. His latest role within The Umbrella Academy is further evidence that the actor is in constant development. The comic book Netflix adaptation developed by Steve Blackman and Jeremy Slater is another form of cinematic escapism that Sheehan handles with unwavering precision. His character, Klaus, has evolved more complexly throughout two seasons than most characters do in ten.
Here's his journey through the fantastical universe of time travel and superheroes with daddy issues.
The second season of The Umbrella Academy explores similar emotional topics as the first one. Sir Reginald Hargreeves [portrayed by Colm Feore] is the catalyst for the siblings' turmoil once again. How would you define The Hargreeves children?
They're all deeply strange in their own ways. At the start of the second season, they're all on their own, which gives you an insight into how they led their lives before the first season started and were brought back together by their father's passing. The reason they're strange is because of a very messed up upbringing.
Would you say that their upbringing made them perceive themselves more as assets rather than people?
I was listening to this chat from Dr Gabor Maté [renowned addiction expert] and Russell Brand; they were studying the distortion of emotional intelligence in native and remote communities. When any kind of psychological injury happens in any part of your life, it distorts your emotional trajectory. And so, the longer it's left unaddressed, the longer it takes to fix it. The Umbrella kids are a perfect example of that.
The first season was only eight days in their world. It's not a considerable amount of time to do that kind of healing, especially when you're not treated as a human being as a child, and you're treated as a number. Mostly you're a piece of property. But it's much more fun to watch characters not address it than address it. Or solve it indirectly. For example, starting a cult. That's a great example of someone not addressing the trauma of their childhood.
Why do you think Klaus started a cult in the first place?
He developed techniques for manipulation and charm early on. When he fell into 1963, he just used what tools he had available. And all the foresight. He's just a highly exploitative character. Highly self-involved, highly narcissistic. He's walking that tightrope between self-hatred and self-love. He's in the extremes of both, and I think if you psychologically profiled cult leaders, you'd find similar characteristics. Narcissism is one of them.
There are a plethora of sides to all characters. Despite the evident flaws, what do you respect about Klaus and his multi-facets?
The honourable thing — if you can say that about Klaus — is that he's highly adaptable. He takes his environments and runs with them. He finds a way to live, and I think that's an outstanding quality to have. For honour — you need to scrape the bottom of the barrel with Klaus to find it. But that's what makes him so fun.
What do you think is his most evident development?
Klaus is a bit more grown-up. I really like him now. He's a bit slower, hasn't had any artificial stimulants for three years now, so he's had time to settle into somewhat of a depressed state. And I think he's tolerated it by starting a cult and having hundreds of people shower him in love. That was his substitute for alcohol and drugs. But he realises that these band-aids are more trouble than they're worth eventually.
Would you say that you're more pleased with the way the second season panned out?
I thought the second season managed to outdo the first. It might be an American way of thinking about it, but it also might have everything to do with my subjectivity. I was much happier with my performance in the second series. I'm very relaxed, but not in a 'sitting back' kind of way.
All siblings go about their own lives and reinvent themselves in the new timeline. The movement started by Allison [portrayed by Emmy Raver-Lampman] in 1963 is not only still poignant in 2020 — but social unrest is happening as we speak. Do you feel that The Umbrella Academy has done its part in advocating for diversity even further?
It's an interesting coincidence in terms of timings. It's the same situation. Pull-overs, stop and searches, unnecessary murders of young black men. It's actually worsening right now. I think The Umbrella Academy world has done its part in showing solidarity. It's a lovely aspirational world in terms of diversity — whether racial or sexual. It's not emphasised, it's not made a thing of. It just exists, and it's normalised as it should be. I suppose that it's an aspirational representation. I don't think we're quite there yet in the real world. The evidence is consistently showing us that we aren't. But the Umbrella world is not real. However, it does have the power to show us societies of better values and diversities as a form of escapism. There's a lot to be thankful to Steve Blackman in that respect.
For a second time, Klaus has a chance to go back in time and reinvent himself. And he starts a cult. But since he experienced love for the first time in season one — that's becoming the driving force for his actions in season two. How do you define love?
I think we, as people, are love. It's a strange thing. You can try to explain these things with evolution, but it's like trying to solve a watch by one clog. But primarily, I think we are all love, but on different frequencies.
What's your relationship with spirituality?
Spirituality is the negotiation with your inner self. I think that over the past few years, I've vastly improved my inner world. I'm now able to look from a higher place at any negative emotions or negative thinking and not allowing it to consume me for 3 hours and be short with people and be unhappy.
When you start to negotiate spiritually — and by spiritually, I mean internally with yourself — you begin to gain dominion over all those things.
The past four months have been a period of stillness and navel-gazing for all of us. Do you see the world differently now?
I think the lockdown taught us about how much magic energy we get from other people. It's a kind of exploration of The Last Man on Earth / I Am Legend sort of. It was interesting exploring the idea of what we are when the herd does not surround us. We are social herd creatures and we do move in packs. But mostly, people are magic. And we need each other.
Team Credits
interview by Adina Ilie
photography Alexander Beer
styling Vix Adams
special thanks to The Lord Stanley

The Umbrella Academy season 2 premieres 31st July on Netflix!
[embedyt] https://www.youtube.com/watch?v=Me0eoCwLj-A[/embedyt]