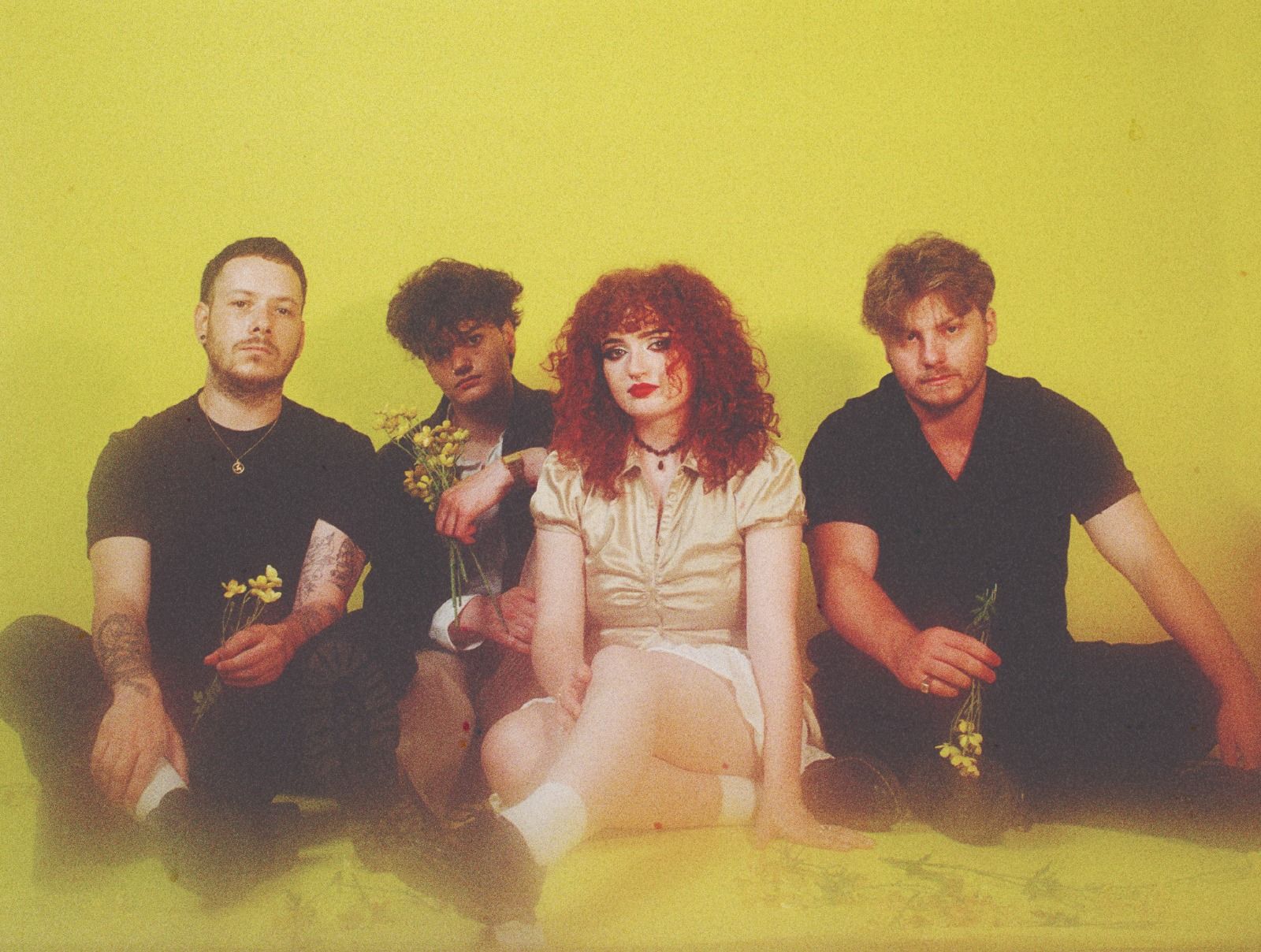 She's In Parties
The Essex-based hazy dream pop four-piece, She's In Parties, are positioning themselves as the next exciting band to watch.
Their debut EP End Scene takes us full circle on a coming of age journey through the trials and tribulations of growing up – rising above personal obstacles. With the intention to create an 80s coming-of-age soundtrack, it's easy to be swept away in the chords as the band have delivered a dreamy soundscape, transporting us into the world of teen angst, new experiences, and then some. If you like early 80s and 90s shoegaze or indie pop ideals, you're sure to relate to their fresh new take. The EP is a welcome form of escapism, it's what you would imagine the child of Wolf Alice, Cocteau Twins, and The Cure to sound like without being contrived in the slightest.
The band formed after frontperson Katie Dillon realised she wanted to be in a band and enlisted the help of schoolmate Herbie Wiseman as guitarist. Charlie Johnson was recruited on bass and when their original drummer went off to university, a friend of Katie's put her in touch with Matt Carman to fill that position and the four-piece were formed. Spending much of their early days bonding on Zoom during covid hasn't stopped them becoming a tight-knit outfit on and off stage. Having already played the likes of Latitude, Truck Festival, and Boardmasters, the quartet are more than eager to make progress, excited to be embarking on a string of shows supporting London-based indie group Bleach Lab with their own headline performances sprinkled in for good measure. Kicking things off with a homecoming show at Colchester's Three Wise Monkeys, you can expect, in their words, "Hella Noise" and "All the classics!"
1883 Magazine's Gabi Oates caught up with the group to chat about their debut EP, how they formed, and the bands and artists that influence them.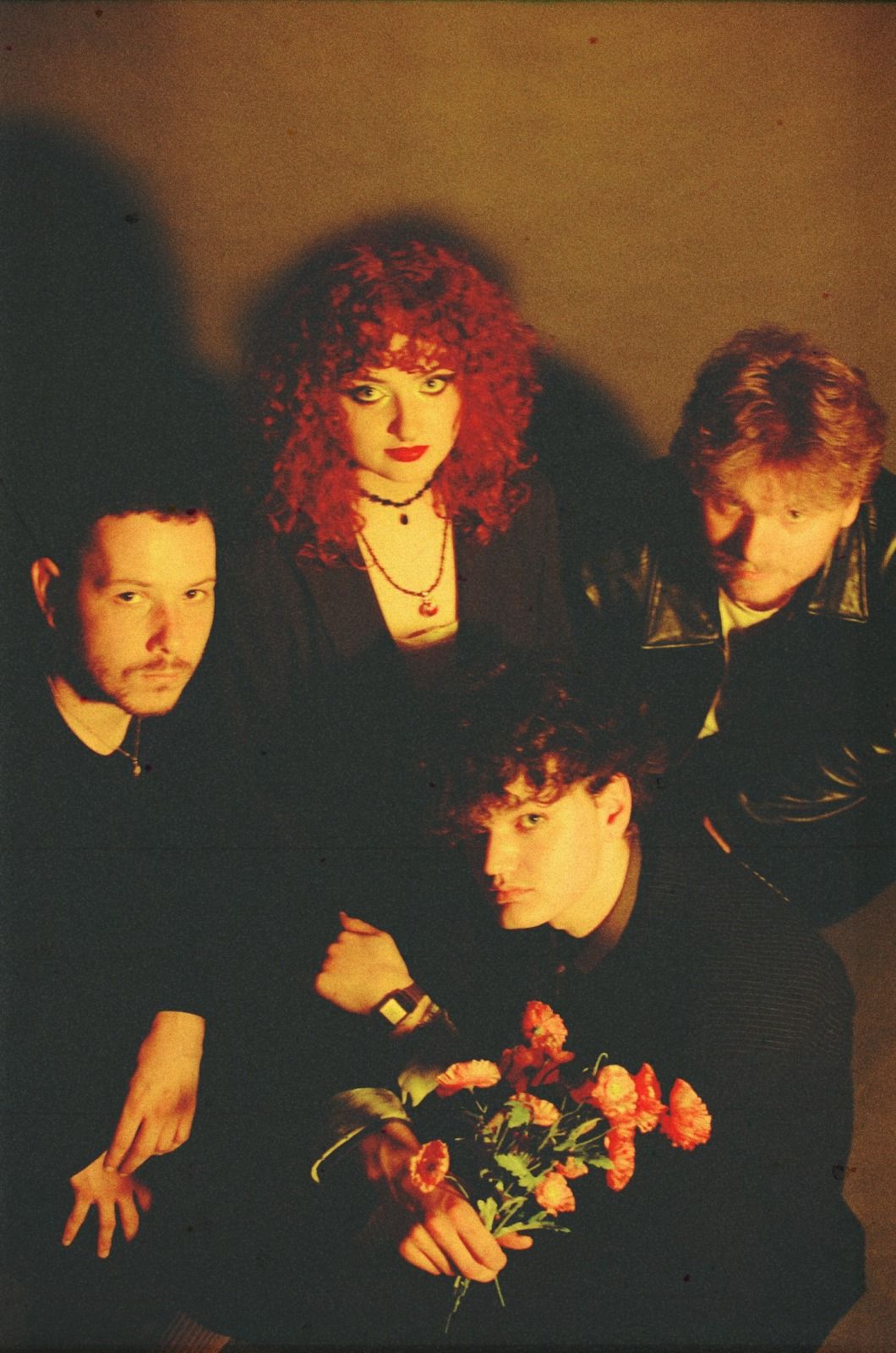 Katie, Herbie, Matt, and Charlie, thanks so much for taking the time to speak to 1883 Magazine. Your debut EP End Scene is out now. How are you guys feeling about your first proper body of work being released into the world?
Katie: Pretty Good!
Matt: Excited but nervous.
Herbie: It's nice to be able to tell the story properly rather than just releasing a single and trying to get it all into one song. We don't particularly feel as if we are stuck in one place when it comes to genres and the way we sound, so being able to express that in a proper body of music feels pretty cool. I think we'll continue to try and experiment more in future projects as well, which is what we're currently doing.
Katie: We've had it for so long too, it's one of the songs [on the EP] we have had since the start of the band; Summer Haze. Technically it's already out but it is pretty cool having it on this release.
How would you describe your sound to people who may not have come across you yet? 
Katie: It has definitely changed since we started, it's changed a lot. We started off quite shoe gaze but its becoming more indie pop now.
Herbie: When people ask me what genre we are I'm like "I guess dream pop?" Yeah, we'll go with that.
Katie: We're always progressing so our music is always changing. Even as individuals we're constantly changing–I know I am! We also have quite a dark song we play live which is quite cinematic and completely different from what we usually do with the dreamier stuff.
Herbie: I'd describe it as; we like to dance, but also cry ourselves to sleep at 3AM.
Katie: I think we're always going to be consuming all the different genres and styles in the music around us and using that to our advantage in our songs.
Herbie: We all have very different tastes in music, you can kind of get that in the way we write and what our music sounds like. I don't think it will ever be the same song repeated, unless we write Cherish again which we could do for fun [laughs].
One of the tracks, Summer Haze, is a song you had written already. It's  something you have played for years but has now been changed to be added to the EP. Would you say that was maybe the starting point for the concept of the EP?
Katie: Lyrically all of the songs I was writing were about me growing up and going through adolescence–it had that coming of age feel anyway so was already there. When we were putting together the EP–I think it was Herbie's idea–we had Velveteen which sounded very 80s, coming-of-age at the end of it so we just went with his idea on that one.
Herbie: Yeah, lyrically all the songs Katie was writing were taking about growing up and then musically it kind of went with it too and we just thought "Shit, this actually works as a story".
With the track order L Word is before Velveteen and in L Word you sing about finding it difficult to say 'love' but then in the next track sing 'I love you'. Was it a conscious decision to have such progression weaving through lyrically? Was one written to fit the other at all?
Katie: L Word came first, I think.
Charlie: L Word and Velveteen were written on the same day.
Katie: Yeah, I think the lyrics were already there for Velveteen and then someone said it had a very coming-of-age feel so I changed the lyrics to write it as more of a love story between two people. It wasn't what I was necessarily feeling at the time or coming from my brain but it worked as telling a story in that song.
Herbie: I love that narrative though, I remember thinking about how you've got Summer Haze which is about experimenting and a whole teenage freakout type of thing.
Katie: Yeah it's about instantly becoming aware of everything around you and how there's so much going on in life.
Do you think lyrically, it all fell into place with the storyline so to speak?
Katie: Yeah, for sure. For example, Ritual is about owning it, you know? "I'm a woman and I'm owning it. I'm able to be by myself and be independent" all that kind of stuff. Summer Haze is like "Shit, I was being a teenager and I've tried something that failed." But that just life, right? You're growing up and trying different things whether that's weed or drinking too much. So there are so many different stories within all the songs which you can piece together however you want.
I'm interested to know if you all have a favourite track on the EP and why?
Matt: My favourite track is Velveteen because the ending is so massive and it just concludes the whole thing.
Herbie: Yeah I think Velveteen, in terms of narrative and instrumentation I think we're all quite proud of it.
Katie:  I think we're all in agreement here. Velveteen just encapsulates the whole EP, I really hope people enjoy it.
Your name She's In Parties is taken from the Bauhaus song title of the same name and musically it's apparent you take inspiration from the likes of them and Cocteau Twins. I'm intrigued to know who's music has had the most influence on the sound you've created for yourselves that we maybe wouldn't expect? 
Herbie: I would say The Police, specifically Andy Summers' guitar work. It does kind of make sense though; with his use of guitar synths and reverb, also, his–and the whole bands'–use of reggae rhythms. I think I take quite a lot of inspiration from them, especially Andy's guitar riffs, I don't think I make it as prominent as I want to but I will.
Katie: I've always loved Glen Hansard, he's an Irish artist who I think co-created the film Once. I remember watching it as a kid and it was just incredible – he's the most amazing songwriter ever. He first came from the band The Frames and I think in terms of songwriting, I've really tried to take inspiration from him and how he forms songs. I don't think I've ever seen him before in an interview but I've really thought about it and I just love his work and The Frames–so that's probably my inspiration, along with Paramore.
Matt: I grew up listening to emo music, I guess. My Chemical Romance, Paramore, that kind of stuff and then I was listening to The 1975 quite a lot which led me on to listen to bands like Japanese House and get into that dreamy feel.
Herbie: Metal music for me is a big inspiration. Bands like Meshuggah, Bring Me The Horizon, that's how I got into playing guitar as well.
It's always great to see a band who are extremely tight, not just sonically but personally too. It's easy to see you guys are great friends on and off stage. How did the band initially come together and when did you realise you guys had something special as I know a lot of your early bonding was through lockdown. 
Matt: I was so nervous when I had my sort of 'audition' for the band. I hadn't drummed in like, 2 years before it but had heard some demos from the guys and I thought "Wow, Katie's got some really good songwriting abilities" so from there, I was in. Well, I was hoping I was in. [laughs]
Katie: Our story is quite cool, I really appreciate where we started to where we are now. We're pretty much a family at this point and no one fully knew each other three or four years ago. We have such an interesting relationship now, it's like family and we work really hard at what we do but also sometimes we go "I don't like this" or "I don't like that" but that's how it should be, you know? We're all really opinionated people because we all really care about the music.
Herbie: It's about trying to reach a mutual ground because a lot of the time one of us may not like a certain thing so we're like "Well, you're gonna have to fucking deal with it" [laughs].
It always helps when you're super close because you can be brutally honest with each other about what you like and don't like…
Matt: It's definitely grown to that but it wasn't always the case.
Katie:I think we've all really changed as people and grown up a lot together so loads has happened but all for the better because we're where we are now.
Herbie: I think we are writing our best music now because of it. We can always be like "Actually, let's try this because I think it will be better" and if it sucks, it sucks; if it doesn't, it doesn't. We're not scared to say anything to each other anymore.
Speaking of live shows, you already have some impressive appearances under your belt performing at the likes of The Great Escape, Boardmasters, Truck Festival, Latitude, as well as supporting The Amazons and Courting at 100 Club London. What has been your absolute favourite live show so far be it a solo gig or festival? 
Charlie: Mine was supporting James Marriot, it was a Christmas gig and there was a cat in the crowd.
Katie: Yeah! The cat in the crowd [laughs]. I'm gonna write a song called the cat in the crowd.
Charlie: That was my favourite by a mile, it was so surreal. The room was packed, the crowd was so nice, and there was a cat.
Katie: I think my favourite was when we played in Scotland, we were in Glasgow which kind of reminds me of Dublin so I was like "Woah, this is really nostalgic" in some weird way. The gig itself was amazing and I really liked the venue, it felt like we'd gone back to the 80s playing these really rough clubs and afterwards we went to this little Scottish town on the outskirts. It was really cool just playing pool in a random pub.
Herbie: The venue was Barrowland, the small room – a festival in Glasgow where there were loads of people which was mental.
Katie: My mum had been saying I should ask the crowd if there were any people from Ireland there because loads of people from Ireland are in Scotland so I was like "Okay, go on then". I went "Are there any Irish people in the crowd?" And there was just silence [laughs].
Herbie: One guy just screamed "No" from the back of the crowd.
Matt: I want to say my favourite was our late gig at The Great Escape festival, it was 1AM and we said we would drink and not really care about the gig because everyone else would be drunk and I had a great time!
Similarly when it comes to dream venues or festival slots, are you all in agreement?
All: Ally Pally!
Katie: I would love to play in Dublin and be like "Hey, I moved away from here so long ago but I'm back!" [laughs].
Herbie: To be honest, all I want to do is sell out the Arts Centre in Colchester. It's not all I want to do ever [laughs] but definitely in the near future.
October will see you kick-off a string of shows supporting Bleach Lab with some of your own headline performances nestled in. Starting with a hometown show in Colchester at the beginning of the month to celebrate your EP release, what can we expect from a She's In Parties show?
Katie: Hella noise.
Matt: All the classics!
Herbie: Pretty much every song that we have out plus some new ones and confetti canons–at the colchester one at least.
She's In Parties' debut EP End Scene is out now. Follow She's In Parties by clicking here.
Interview Gabi Oates