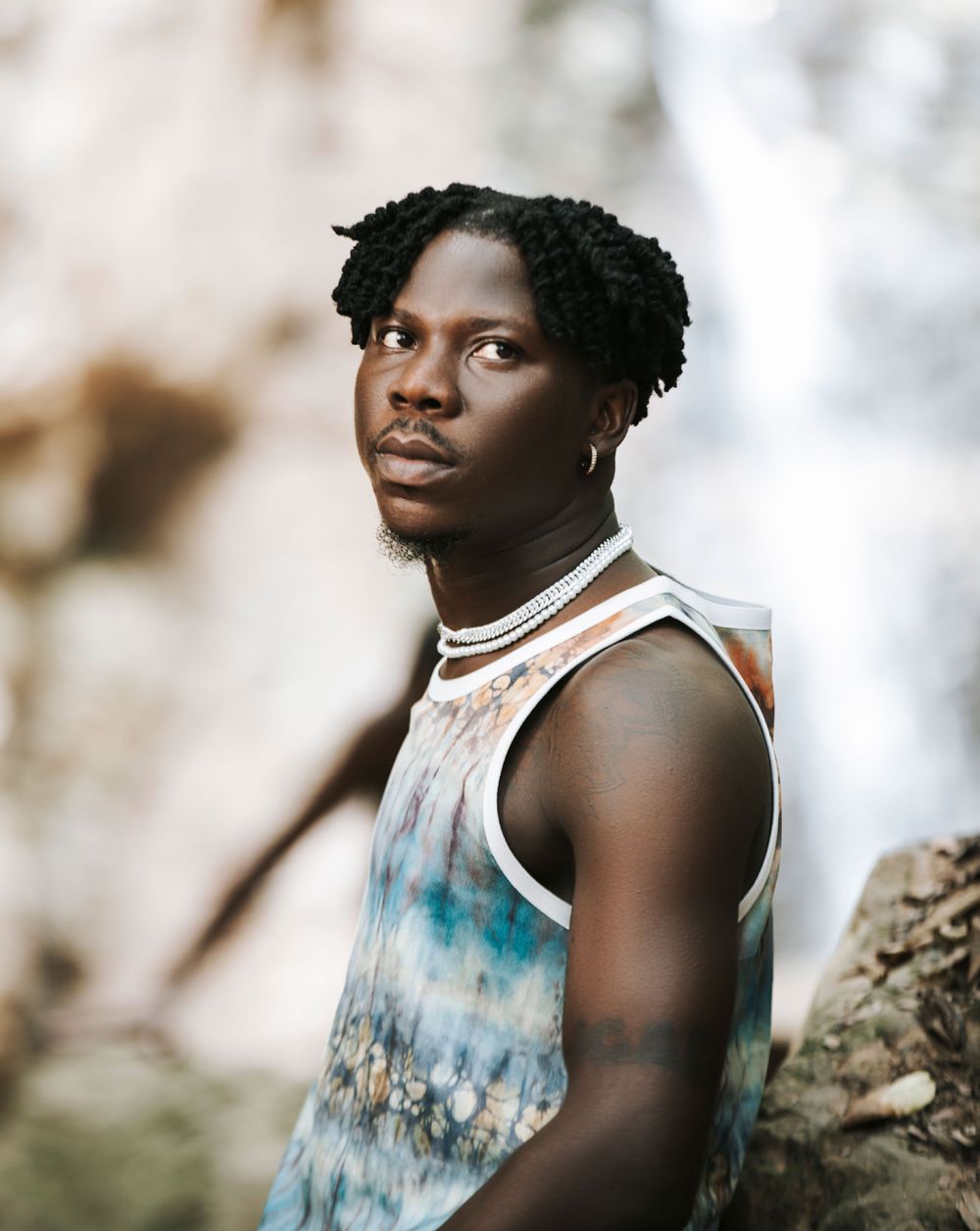 Stonebwoy
Stonebwoy, born Livingstone Etse Satekla is a Ghanaian Afro Dancehall, Reggae artist who hails from Ashaiman in Ghana. As somebody who has been cemented in the space of Afro Dancehall, he is a multi-Grammy nominated artist and is somebody who has been representing Afro Dancehall throughout his career.
He is entering a new phase of his career signing a global deal with Def Jam Recordings, 0207 Def Jam and Def Jam Africa. Stonebwoy is extending his talents beyond the continent of Africa. The release of his single Therapy and its visuals which were released last month marked a new chapter for him in terms of his music and his ambitions of reaching people all over the world.
Speaking with him on the new single, we touched on everything from pioneering Afro Dancehall, The Grammys, staying true to yourself and continuing to represent for Africa.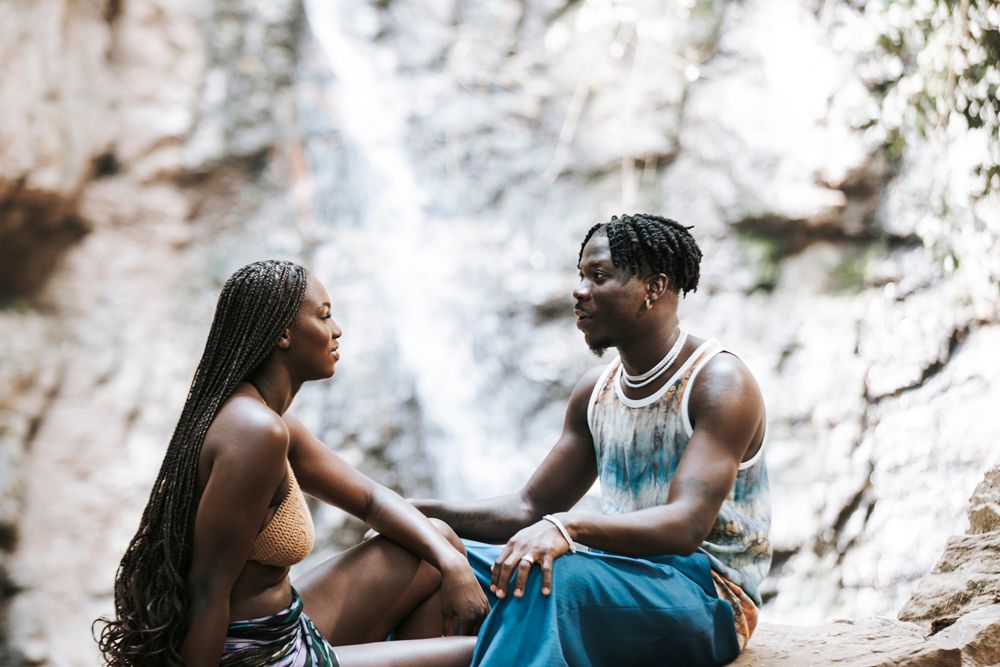 Starting from the beginning where did your love for music begin?
I think I'm one of those kids who have always had music running through me from the beginning until I got mature enough to appreciate all of the different genres and sounds etc. But It didn't just happen along the way no no no, I'm not one of those that along the way you realize you love music, even listening to music you want to do it. No, not me, I was born with it right from the beginning up until this date. Probably if my parents had a camera it would be more obvious to document it specifically, but several incidences have been captured from the early times. I'm talking about as far back as when I was in children's choir school, performing, writing plays and all of those things.  
Coming from that environment and having African parents, haw was your talent nutured over the years?
I think at the point where it needed their actual consent where either I was going to take it on as a full-time job or I was just gonna focus on something else, at that moment I think there comes a time where you have to force the acceptance from others, because we have to prove that we are worthy of that support. As parents, they care about you so much and so they want you to do well in life. I can clearly remember that around that time a career as a musician would rather not be chosen over a career as a doctor or as a lawyer, up until when it became very stable where musicians were showing luxury and good living and seriousness. You find out that a lot of them were entrepreneurs as well, doing a few businesses, educating themselves formally, then it turned around to become something that parents will be proud of. At that time I've had to prove to be supported, but you know my mother has always been in support, my siblings have always been in support and fortunately, or unfortunately for them, before I took it seriously to focus on that was the only thing I could see in my near future.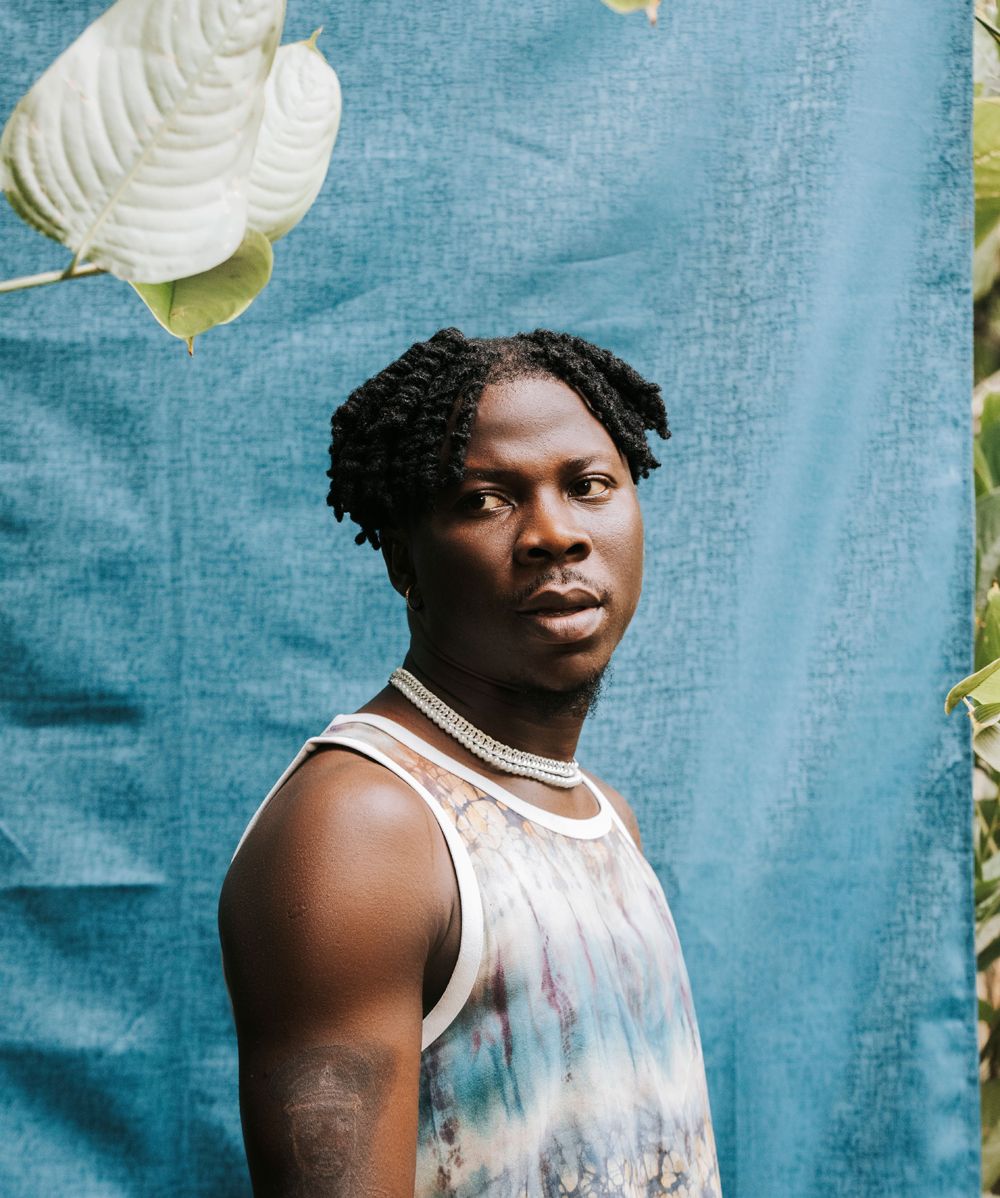 How did where you grew up in Ashaiman, Ghana influence and impact the music you make?
Growing up in Ashaiman, which is one of the biggest towns in the capital you hear a lot of Reagan music, you hear a lot of Dancehall music, you hear a lot of Afro, you hear music from all around, because that is a city where everybody lives. So, therefore, you can understand that there are choices of entertainment, especially music-wise. So that is responsible for my foundation, you know, through the era of the hip hop, the R&B the hot core dance into the reggae and the Afro beats of today, you know, have all inspired and informed my musical character bringing me to this level of where I am now. And I got inspired by Reggae and Dancehall because expressing my talent through Reggae and Dancehall was something I felt was very fitting for me. So in terms of the influence, I felt that that was an avenue where I could express myself the more because I felt like I would be limited if I chose any other style to represent my foundation. 
With the change on how we consume music of the years, how has this impacted your career?
I think the impact that it has had on my career personally is that I've been able to grow. All those technologies that come from when we were in the studio using analogue equipment and you know even with the CDs and all of the things, they all had to come to improve upon the way music is accepted or consumed. So as a creative, you would have to equip yourself with all these modes of transformations quickly enough, to be able to align yourself so that it's not difficult for you to jump into the next space, the next phase of technological advancement when they popped up. So I have been able to tailor myself in that manner. And I'm grateful that my style is futuristic and universal so much so that I can easily weave into anything that was happening. Because first and foremost, the message is the core. The rhythm and the sound are the core and your voice is an identity, and if you have a weak identity, you're gonna fade out in no time. You have to have a strong and original identity as a voice to be able to transition into all these new ways of technology, because all these things do alter the sound or probably change the mindset of people and how they listen to music.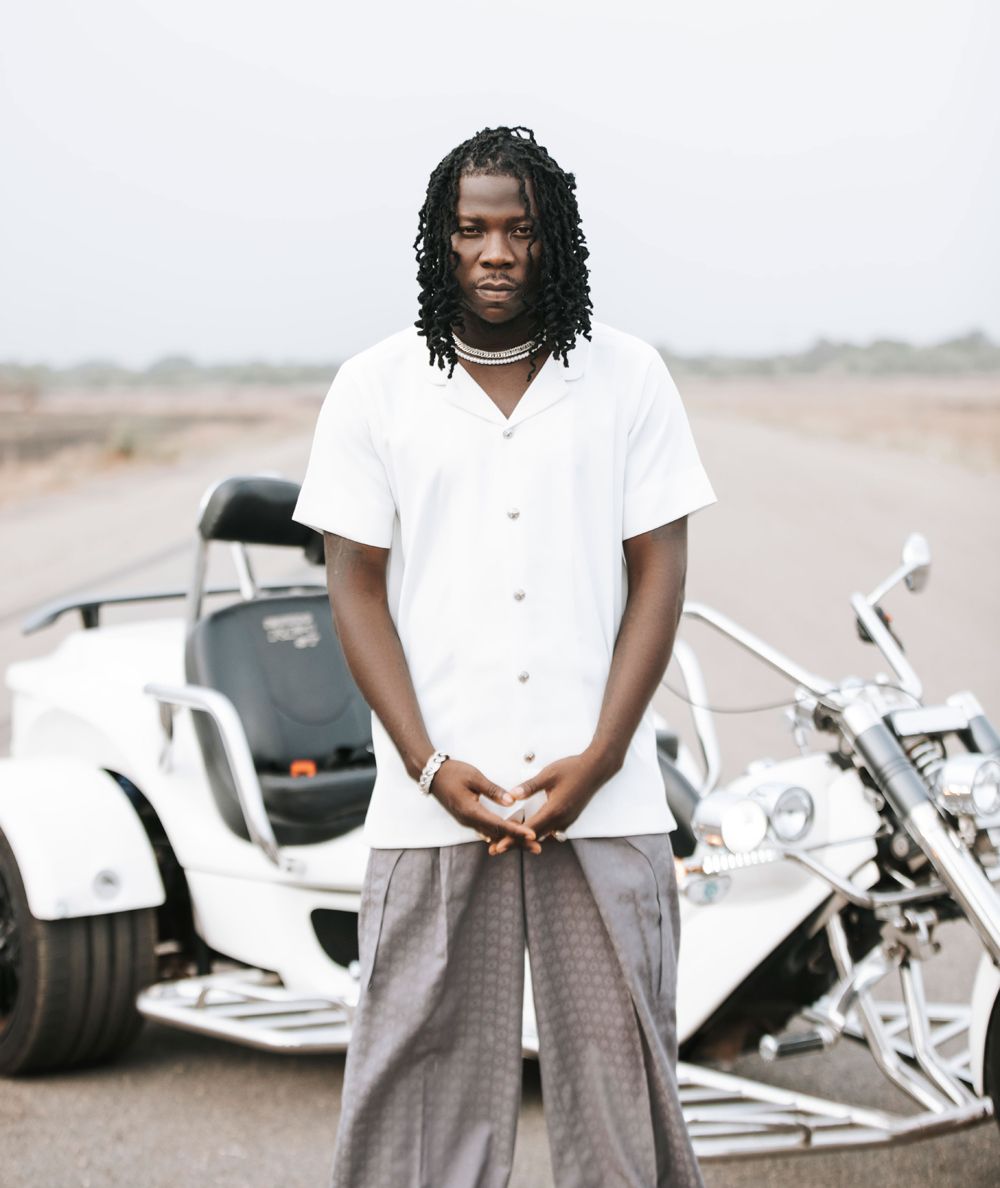 As you release you new single Therapy, how are you feeling at this point your career?
You know I've been on the scene contributing to this new era that has been spanning from between 10 to 15 years and putting in the bits and bits to get it to where it is today. Afrobeats has become an umbrella name for every other thing that comes into what you hear. I am a proud representative of Afro Dancehall, Reggae, I am a core foundation of that style because I focused on it and pushed, preached, and propelled it to the world from my angle where it has gained a lot of attention and also giving a lot of hope to so many kids. Yeah. I know I've inspired, still inspiring people and inspiring myself because I am like them. So that Afro Dancehall style has become something that is, it's made a lot of people comfortable now, creatives can now feel the ease to want to create around that inculcating style they have. Because coming from where I did, you would have had to prove yourself on one journey in one style. So in my career, at this point, I think it's a beautiful moment where we are growing where at a point where the world has paid a lot of attention and now needs to pay more attention because it's getting fine-tuned. It's now getting to cut into a different audience, not forgetting the fundamentals or the foundation audience, you know, they would always find what they have to find in their end. Now we're taking all that audience along with us to the world. Yeah. You know, it's not like we've not been doing it before, but now we want to concentrate on the rest of the world and bring them close to where we are from. Yeah. At this point in my career. So I'm not only creating for my original fans or my original support base, but I'm creating with my original support base in mind, but for the rest of the world, you know, so it's a beautiful moment. 
Afrobeats is being recognised more regularly in the West. For example Wizkid and Burna Boy being Grammy nominated for Afrobeats albums, you have been nominated yourself plus worked on a Grammy nominated Reggae album. How much importance do you put on this validation?
I think that this is a very big conversation at the moment, and there is a lot put on things like The Grammys and the gratification and the validation that it brings for an artist. But I think that one thing we have to be careful about is that we have to not be too drowned in the awards, in the awards mentality of validating quality or validating African dominance. When I say this, I'm saying this to the beautiful masses out there who love our music, who wants us to get to the sky with it, to the moon and back with it, we have to understand that we appreciate the support so far, the parts that are going to reveal and show is when we use this modern tools, which is the internet, the YouTube, the Spotify, the numbers, when we are jumping on those, solidly, turning out for the concerts, Making sure, continuing to rack up the venues and that we're good. We're gonna continue to be in business for a very long time, but when it comes to the awards, determining a lot of things. I want the masses to also understand that we don't have to put, everything into the awards. You see, when you deserve it is beautiful, when you deserve it and you don't win it, it doesn't hurt compared to when you don't deserve it and you win. And so I think all of us have worked so hard and are deserving of so much accolade and the best of it all is when there is consistency and support to continue to grow the African culture. The sound might change a little bit to add to the fan base, but that shouldn't be a thing of debate or a thing of controversy where there's a fright of the style being watered down and all of that. Let's allow creatives who have been gifted the talent to create beyond a certain standard to express themselves because it's not everybody can come out to and do things that are out of their comfort zones anyway.
You have just dropped Therapy, the first single from the new album, how does this represent your new material and what can we expect from the album?
When you take a critical look at my catalogue, you realize that way before now, I always considered myself as gifted beyond the normal, you know. As much as I have my identity as a Ghanaian artist who is rooted in the freedom of expression, which I consider Dancehall Reggae, Afrobeats that's my foundation and everything else can fall on it. The truth is it's not watering down anything. It's just opening space and this song is a song that's going to have an album and other follow-up singles. It is usual for anybody who follows Stonebwoy to give you something different but remains true to your identity. So there's no, cause for alarm here. All I can ask for is more support, because we have to always improve. Imagine the telephones we had 20 years ago and the telephones we have now, they've improved over time. But also the times before are not out moulded, those have had to be the foundation, and in the next 20 years we might just walk up to a wall and grab something instead of having the phones we do now. So to me, it is the same as creativity, you can never run away from your identity as an artist, no matter what kind of genre or what kind of style, your voice is unique to you, your tone is unique to you. You just have to blend them well in whatever there is, diversifying so that you can continue to create and serve the masses.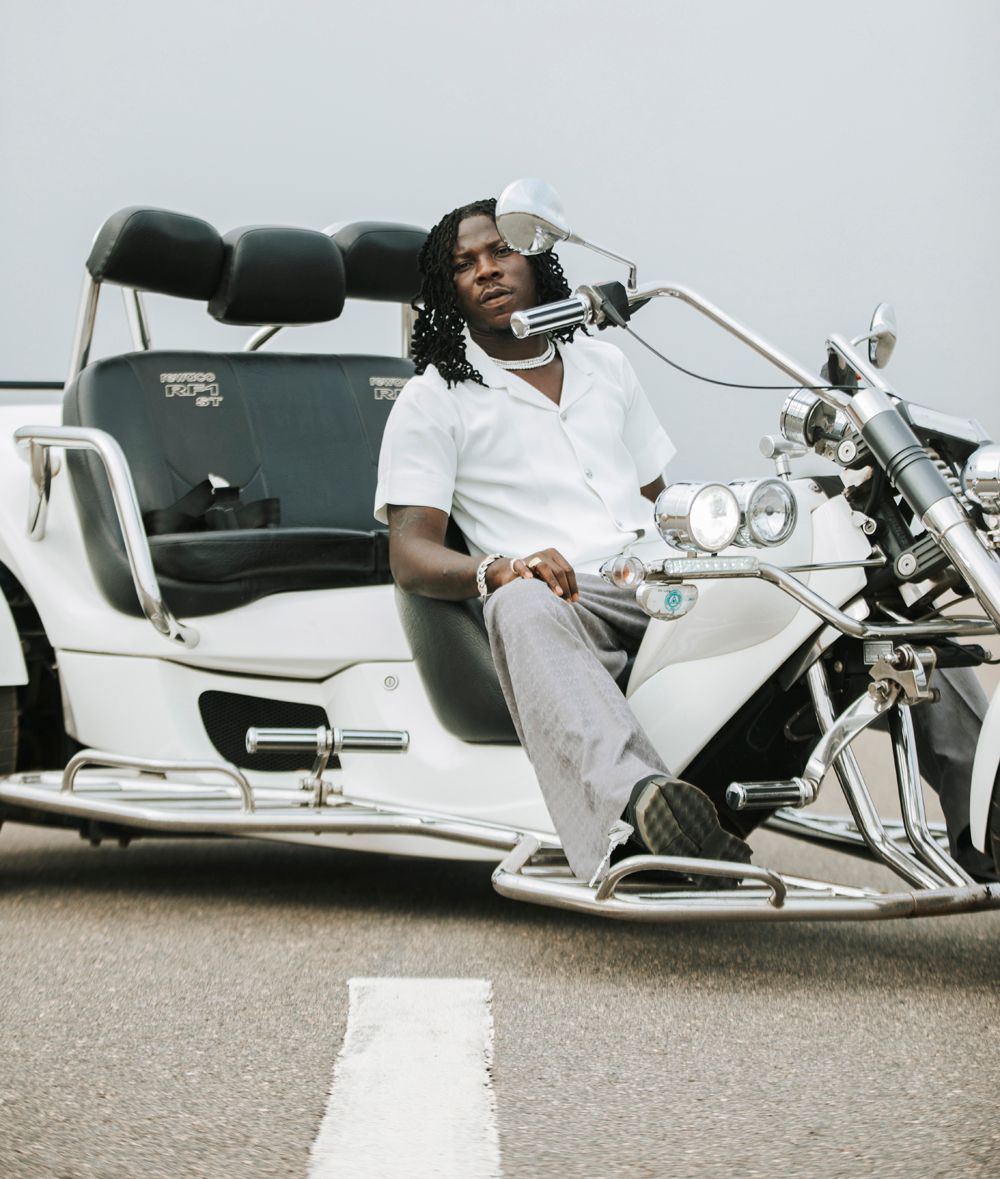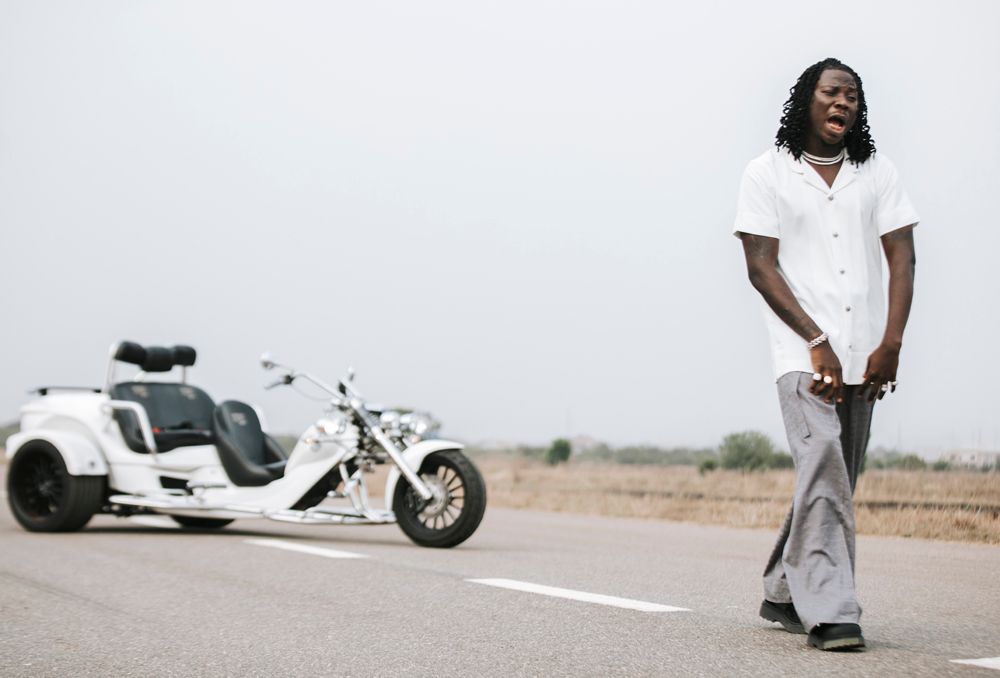 What is the concept behind the visuals of the video for Therapy?
The reality is that if only I could even bring out what is in my mind, visually, for most of the right songs, it'll be epic. Trust me. It'll probably be a movie cuz I'm uh, I love to write, I love to think. I love to envision I'm that kind of guy. So that visuals, that video, when you pay critical attention to it, right from the mood, the choice of model and the facial expressions all tell part of the forms part of the narrative. For that video, she coming in on a horse I'm coming on a bike, and whisking it away in the end it all says something. The horse is all-natural. The bike can also speed and run, whatever, but it's artificial. There are a lot of things hidden in that video that will take a lot more time to break down. Why did I come in that? Why did she come now? Why are we walking in a straight line? The whole narrative is that it is a journey. The love of life is a journey. You know the living together, you know, communication is key and how it's a responsibility for me as a man to take the naturalness of a woman and multiply it because I believe women and multipliers. You know, so the visuals express more than even what the song is talking about. Yeah. So that it gives you more meaning into what the song is talking about.
How do you want this album to represent you, especially to those who are new to your music?
At this moment I'm representing the African continent differently more than any other artist is doing from the continent of Africa. There's only one Stonebwoy, there's only one solid representation of the African sound combining the Caribbean diaspora and its Africanness of it. So when you hear Afro Dancehall, always remember that. Yeah. Stonebwoy stuck his head out to put that in the scene. It takes a lot of resources, a lot of sacrifices, you know, to want to represent the bigger picture because we are the same people. This same genre of music has been our heartbeats, whether Afrobeats or Reggae Dancehall we all know the differences. It's a combination of moving your feet and beating your heart is all it takes and that's what I'm representing. So, anybody who doesn't know Stonebwoy, go check it out. You know we're taking it to the world so check me out. We're representing Africa through the Caribbean, just the sound, you know, the unity, the oneness, the diversity, you know, and just understand that even if it's called Afrobeats, it's just an umbrella. Tons and tons of unique styles exist within those parameters. And we have to consider those.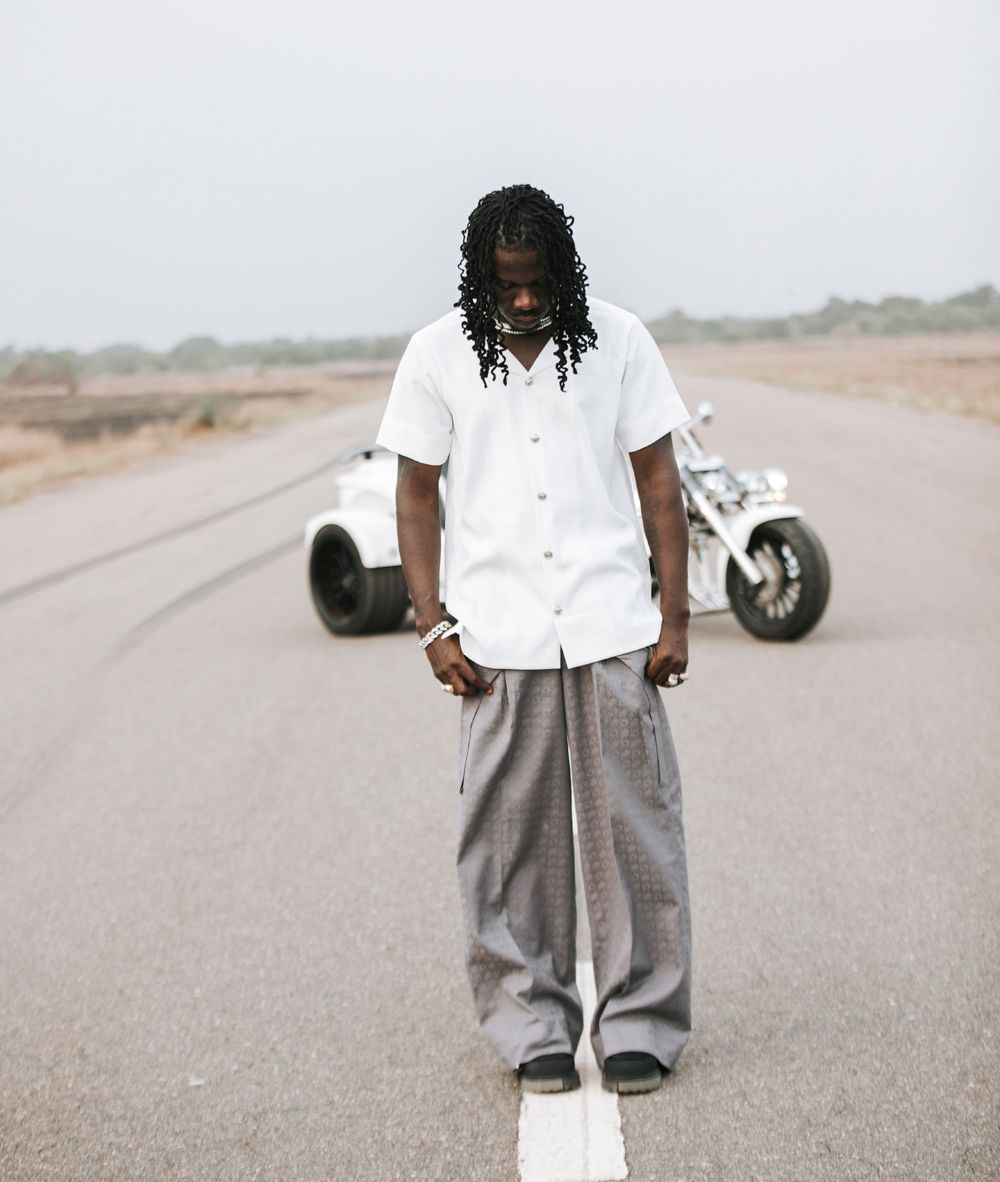 What can we kind of expect in the next phase of your career?
You know, we're growing and there are high expectations for me to deliver a lot more because we're still young and vibrant and I'm gonna be giving you guys music, you know, creative content entertainment, you know what I mean? And educating and standing firm, as well as a foundation member, still cause that's what I hope to do. The goal is to stay relevant without doing just anything for relevance. Times and things are changing and we are losing the core, mostly and therefore it's short-lived and we lose the way back to the core. But I am one artist who is willing and always studying and wanting to represent some of the good old fundamentals that have always, you know, been there.
So expect a lot more from me and I'm expecting a lot more from the people as well to open their minds, to open their hearts. And get on the next level with all of us, because there are tons and tons of African artists who will need your attention. Open up your ears, your heart and your mind and enjoy Africa.
Therapy is out now, follow Stonebwoy via @stonebwoy
Interview Seneo Mwamba