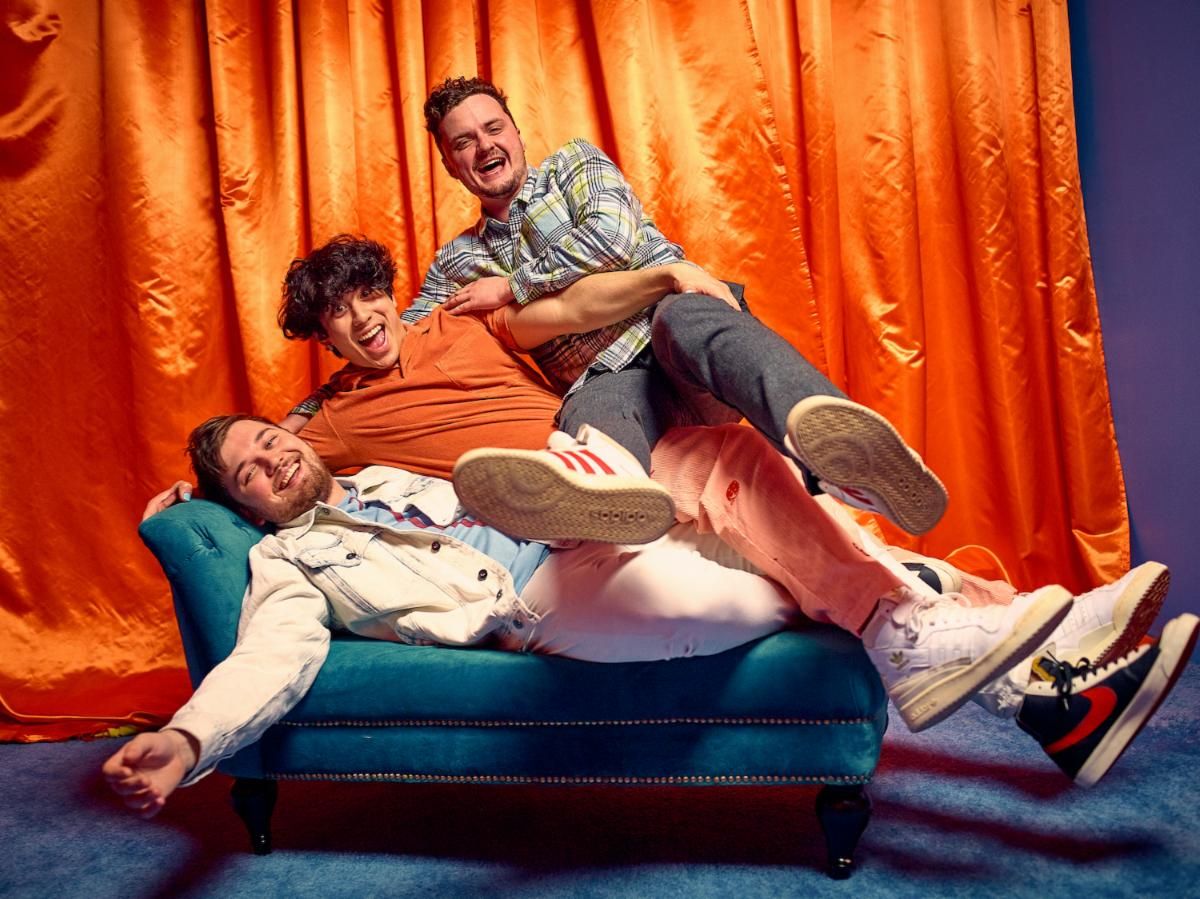 The Happy Fits
With their upcoming album, Under The Shade of Green, The Happy Fits move into the next phase of their career filled with bigger venues, a devoted fan base, and a fresh perspective.
The alt-rock-pop trio, The Happy Fits, made up of Calvin Langman (electric cellist/lead vocals), Ross Monteith (guitarist/vocals, and  Luke Davis (drummer), utilized the pandemic to not only grow their fanbase but also shift their writing perspective. The New Jersey trio was originally founded by Langman and Monteith, with Davis coming on board to help record their debut EP Awfully Apeelin' in 2016. Featuring self-reflective tracks about growing up and entering adulthood, the EP's "While You Fade Away" was added to Spotify's Fresh Finds playlist, catapulting the band to fast fame. By the release of their second album in 2020, their rise was only picking up speed. With the introduction of the pandemic, Luke, Calvin, and Ross moved onto a digital platform, often performing on YouTube and Twitch live streams. The response to their online content made them realize both the joy of and need for true connection with their fans which they brought to the road during their 2022 tour. Alongside this new connection, was a yearning to write about more than themselves, to focus on what was happening in the world around them.
The band's upcoming third record, Under The Shade of Green, is the culmination of all of this. The album focus' on how they've grown, what they've learned about themselves and the world, and their anxieties about what may be around the corner. Yet, fans of the band will find it is still distinctly The Happy Fits. As seen on the already released tracks, Changes and Dance Alone, the sound is still the bold vibrant indie rock sound they have come to expect and love. It's just matured into something even better.
1883's Sydney Bolen spoke with The Happy Fits about their most recent tour, how they've grown as artists, their upcoming album, and more.
Hi guys! How are you?
C: We're doing good! We're in Louisville right now. We had to postpone the show because we got some ridiculously aggressive cold. It sounds like we've smoked 100 cigarettes, but I can guarantee you we don't smoke.
[laughs] No worries. I get it. It happens. How's the tour been so far?
C: We just started week 11. It's been long for sure. It's been all sorts of things. We did four weeks of headlining and then we hopped on The Maine's tour for about five and a half weeks. All those shows were just incredible. The Maine having us was so huge for us because they were playing to like 1000 people at night, which was the first time we've done that.
How do you think you've grown as artists or individuals since the start of this tour or what is something you have learned while on tour? 
L: We've only done one support tour since the beginning of our band. Being on The Maine's Tour, we really got to see what people would consider the next level from where we're at right now. We've learned a lot about how all that works. It's a lot less work for the artists. They have loaders and there's catering. It's really neat how well they take care of you at that level. On the production side, The Maine had the five of them and an entire crew, so they had a bus of 12 people. There's a lot that goes into a production of that size. It was a cool perspective for us to see.
You can kind of plan ahead now. I've noticed that you have a lot of fan incorporation elements to your shows. In this parasocial world that we live in, how do you maintain a relationship with your fans?
C: The pandemic pushed us to go into social media, and try to better connect with fans. It ended up being way more awesome than we thought it would be. I think when we started, we were very hoity-toity. We thought we didn't have to do that. But then we couldn't play live shows anymore, so we started doing live streams on YouTube and Twitch. We'd have the comments going as we were playing, and it was so awesome to see everyone's reactions from all across the world. We'd get people from Malaysia, Scotland, Germany, Belgium, and lots of other places. That inspired us to stay more in touch with our fans. Now, it feels like our fans are our foundation.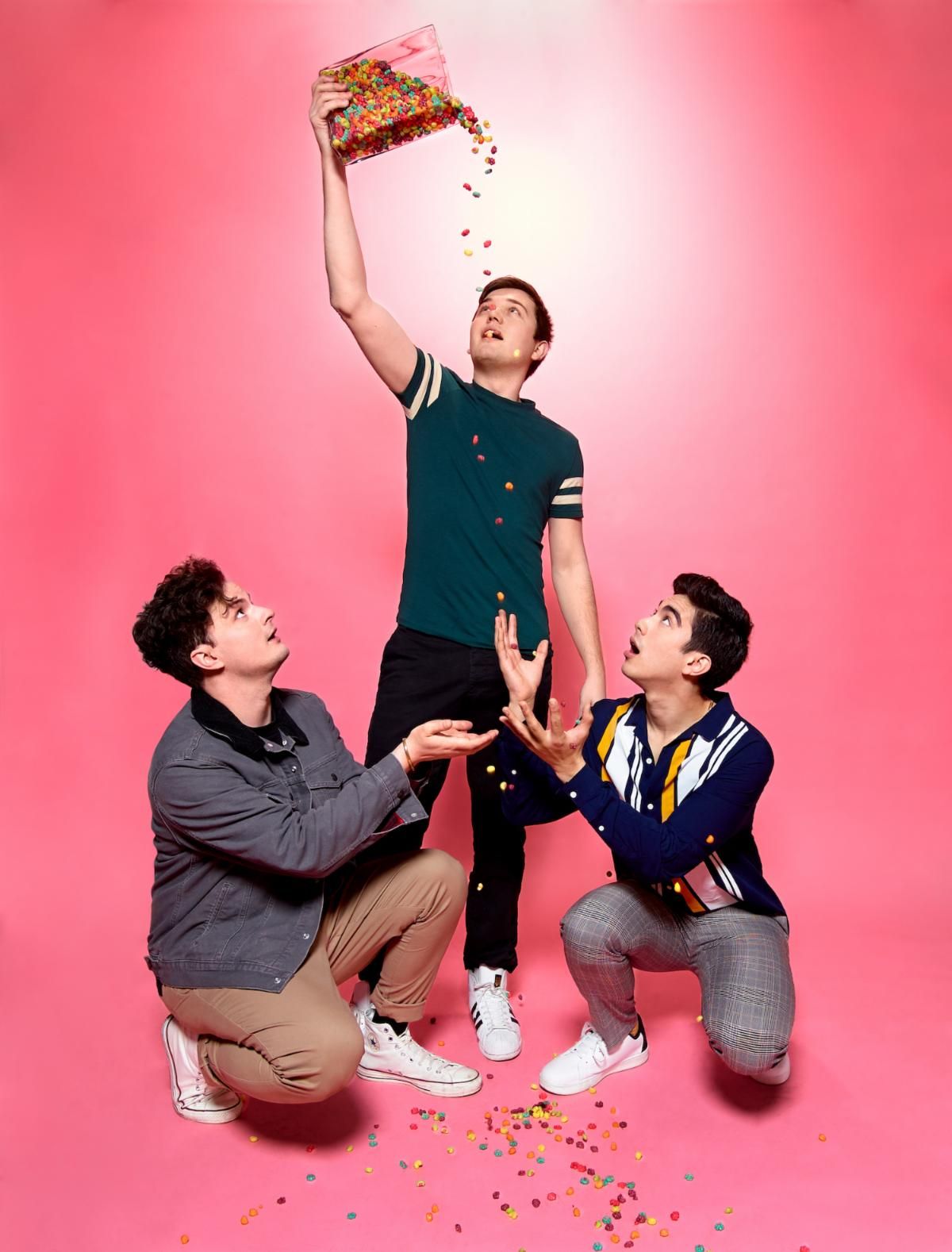 That's good because the longer you keep them around, the longer you get to stay around.
C: Yeah. It's awesome that a lot of the songs that we write are about growing up. We started writing when we were 17, so it's been this diary of how we've been losing our innocence and getting to adulthood. It's cool because a lot of our fans are young and experiencing the same thing, so they really connect with that.
It's always good to have a fanbase that can grow with you. It makes for a special relationship that keeps going and growing. Calvin- I read the essay you wrote for Atwood Magazine on finding your identity and voice through rock and roll. I really enjoyed it. In the article, you talk about how you started down this path wanting to play classical music. What was the original spark for the thought "I can play cello in an indie rock band?"
C: My grandfather was pretty elitist. He only listened to classical music and he would never listen to rock and roll. But, my dad would always listen to rock. We grew up with this radio station, The Hawk, which is just classic hits of the 70s, 80s, and 90s. From an early age, I loved Billy Joel and Elton John, and then as I got older, Mr. Brightside was what got me into indie rock, which transferred to Bombay Bicycle Club, The Fratellis, and all those great indie rock bands. That was the music I would listen to all the time growing up even when I should have been listening to my pieces. I knew deep down that I wanted to be playing that kind of music. As I started getting older, I noticed that I was writing in my head a little even though I wasn't writing on paper. I would come up with little jingles that felt like indie rock songs. It wasn't until I saw these two Croatian guys called 2CELLOS that I realized I could do it. They're brilliant classical cellists, but they play covers of rock songs. 
Oh, cool!
C: In 2008, they put out Welcome to the Jungle and it blew up on YouTube. I'm not a very subtle player. I love putting all my weight into the strings and that's how they were playing. I was like, That seems like something I could do." Ross and I started playing together our senior year of high school and it's not that I didn't want to play bass, I just didn't know how to. But the cello could play power chords so easily. People seemed to catch on to it.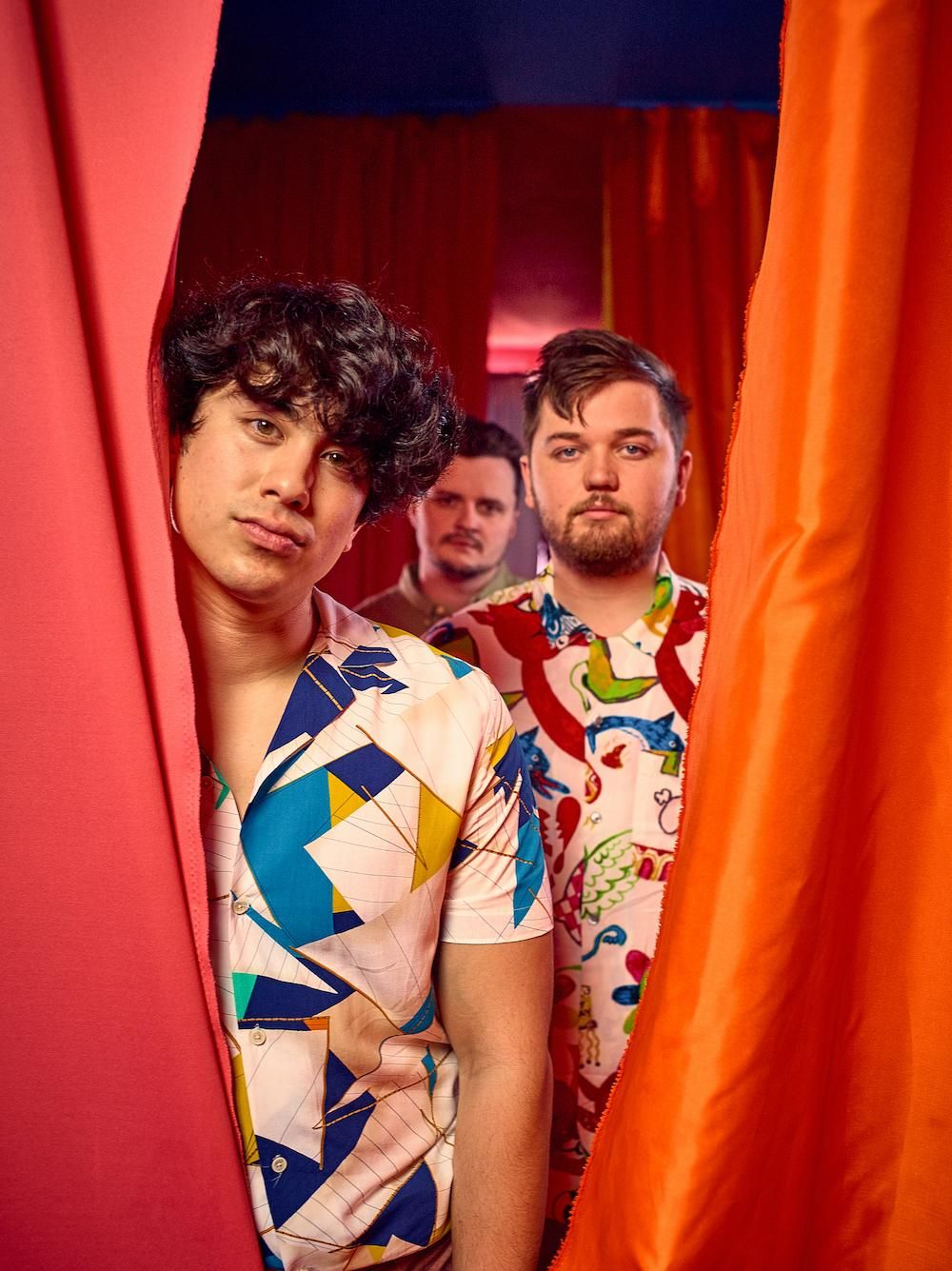 That's awesome. I also read that after you released your debut EP, that was supposed to be it, but Awfully Apeelin' started getting noticed, so you came back together. What was the original plan for Ross & Luke?
R: I went to the University of Delaware. We recorded the EP over the summer before we left for college. We just recorded those four songs. We had more, but we didn't have the money to make them all.  It was just a little summer project that we could share with our friends and family before we went off to college to "do more with our lives."
C: "Become a cog in the system." [all laugh]
R: I didn't know what I wanted to do, but I was taking history and political courses. I quickly learned that I hated that, but those were some of the only subjects I was okay at in school. It was very dull. Two weeks into college, I got a call from Calvin saying that our song was added to Spotify Fresh Finds.
Oh, that's a big one.
R: Yeah, the big one. In 24 hours, we're getting all these emails. I was like, "oh, no, what do I do?" Over the next month, I had a bunch of calls with my parents and these two guys. I was kind of unsure but my parents were the ones that were like, "go for it." I was worried about wasting their money for a whole semester because they were paying my tuition. But, eventually, we all committed to it. 
L: I'm actually best friends with Ross's older brother, Kyle, who was in my grade. I was going to William Paterson University for what was called Popular Music emphasis. I was going to school for music, but it was kind of like mixing a performance degree with a business degree. I was there for a year and then they asked me to be their drummer. I wasn't going to school for drums either. I just picked drums back up because someone needed a drummer, so I bought a kit and had been with this other band for like four months at the time. I hadn't played kit in like four or five years, but I was classically trained on percussion. I ended up recording two songs with them. It was an awesome project to work on. 
C: We paid him $70.
[laughs]
L: I lived two weeks off that money. It was great. I wasn't officially in the band. I had to have a long "we'll see how it goes" phone call with Calvin. I get it. They founded the band. My parents were on board so I decided to take a semester off and see how it went. We haven't been back to college, so…
It seems like the gamble paid off. Do you have any advice for people that might be where you were then and trying to decide which path to take?
L: You should go for it. 100%. You can take a semester off. At least for me, you can still hold your scholarships for up to two semesters off. At least a majority of them. I think it's important to talk to your school about it and see what your options are. Obviously, talking to your parents as well is very important. But, if you have the opportunity to do it, 100%. Because if not, you're going to be kicking yourself in the butt 30 years later asking what could have been. Plus, school is always there. I don't think this opportunity is always there.
R: That was what convinced me. My dad was like, "you can go to school at any point in your life." He went back to school for a second doctorate when I was going to high school. You can go back whenever you want to. If you want to pursue something that you're passionate about you might as well do it while you're young, able, and willing.
Definitely. As a listener, the biggest difference I find between your music then and now is the perspective. The more recent songs are broader in scope. What inspired the writing change?
C: I think over the pandemic, there were a lot of things that happened in the world that made me want to take a step back from myself. The whole Black Lives Matter movement, the election, and the insurrection were pretty jarring to take in. Before that, I was very focused on myself and our career. The political climate made me take a step back and realize that bigger things are going on in the world. I felt like there wasn't a lot of discussion about what was going on in this artistic space. It was honestly something that I spent a lot of time thinking about, so it felt very natural to write about it.
I think it's good that you're already in a place as both writers and a band where you feel like you can write about things outside of yourself. It takes some people a long time to get there. Were you listening to any specific artists when you decided to lean into the shift?
C: IDLES was a big influence on me. They're a British punk rock band.
L: They're great. 
C: They make very powerful music. 
R: It's very socially relevant. 
L: He's funny but also very serious at the same time. He calls people out.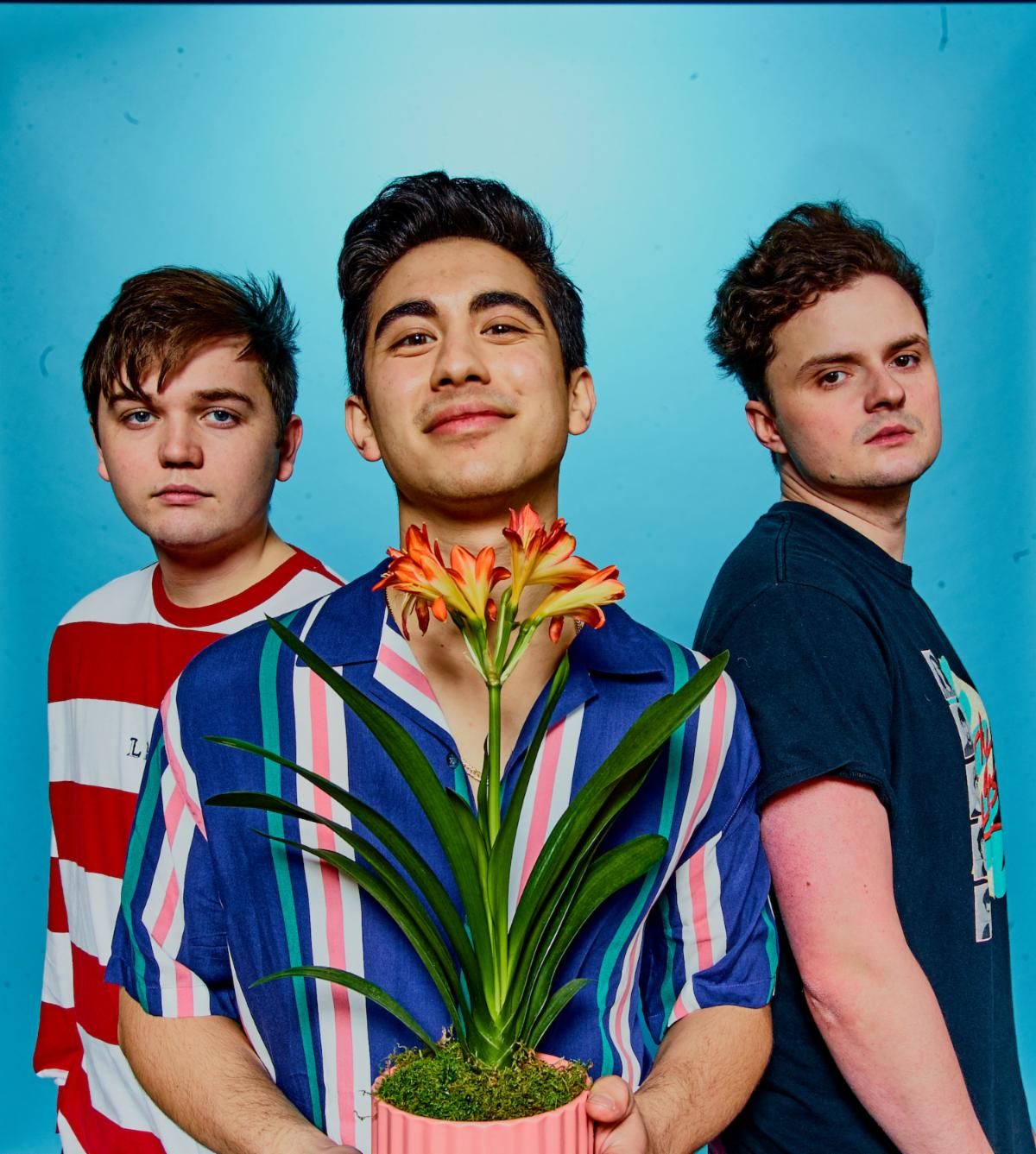 You're gearing up to release your third album, Under The Shade of Green. What are you looking forward to most?
C: I'm excited for people to hear the songs and then to get back on the road in the Fall. 
Oh, so you're only taking a baby break from touring.
L: For us, this is one of the longest breaks we've gotten in a very, very long time, so we're super excited. This is my favorite album we've ever made, so I'm extremely excited for everyone to hear the whole thing. The Fall Tour is going to be in rooms similar to The Maine's tour. We are getting an opportunity to get to those big rooms. We're super, super excited about that. It has been six months of really hard work. Even though the pandemic, we didn't stop, so finally seeing people's reaction to our music is going to be incredible.
How did the title come about?
C: It's a lyric in our song In The Lobby, which is going to be on this upcoming record. It's about lobbying. Other countries call it corruption, America calls it lobbying. In a lot of R&B or rap music, there's the glorification of having money and wealth and fame. I figured a lot of wealthy people in America are just lobbyists. No songs are glorifying that, so I thought it'd be funny to write a song about being a sleazy government politician. There's one line in the chorus, "Hide under the shade of green, I can be a Kardashian." It's about how the more money people have, the more damage they can do, but can hide under all the money.
I like that title. Finally, as you look to the future, what do you hope people take away from your music and your band?
L: We've been a band for six years and are going strong, a lot of it has been about growing up. The beginning songs were very self-reflective, about growing up and life. They then progressed to the fact that these are tough times and growing pains, with "What can we better?" vibes. A lot of Under the Shade of Green is about being aware of what's going on around you in the world. I think a lot of it is that we, as artists, are expressing our feelings and exposing our souls. It was almost therapeutic to write these songs because life is really scary. We found a lot of people relate to how we feel and how we're scared about everything going on.
C: There's a big alt-right talking point that the left is "feelings over facts." I think that's just so silly because all decisions and laws are just about feeling. Feelings have a place everywhere and are part of everything.
R: We want people to connect to those feelings, to have an outlet if they feel the same way as us.
L: We've been very lucky that a lot of people do relate to our songs. We have the best fans ever. We're super grateful. We write how we feel and hope that it translates to other people. Then they can take it in whatever way that they want to. There are a lot of ways to interpret music in general. I think it's super important to remember there's not just one opinion about a song. There's no one feeling that it evokes, it can be many different things for many different people.
R: At the end of the day, the best part about being a band is when you get those messages that are like, "You've helped me through a lot. You helped me through this pandemic or you helped me through a breakup." That's how we know that people are connecting with what we write about. That's special. We want to keep a comfy space for people to let out their emotions in ways that they maybe didn't have before.
Interview by Sydney Bolen
Dance Alone is out now.