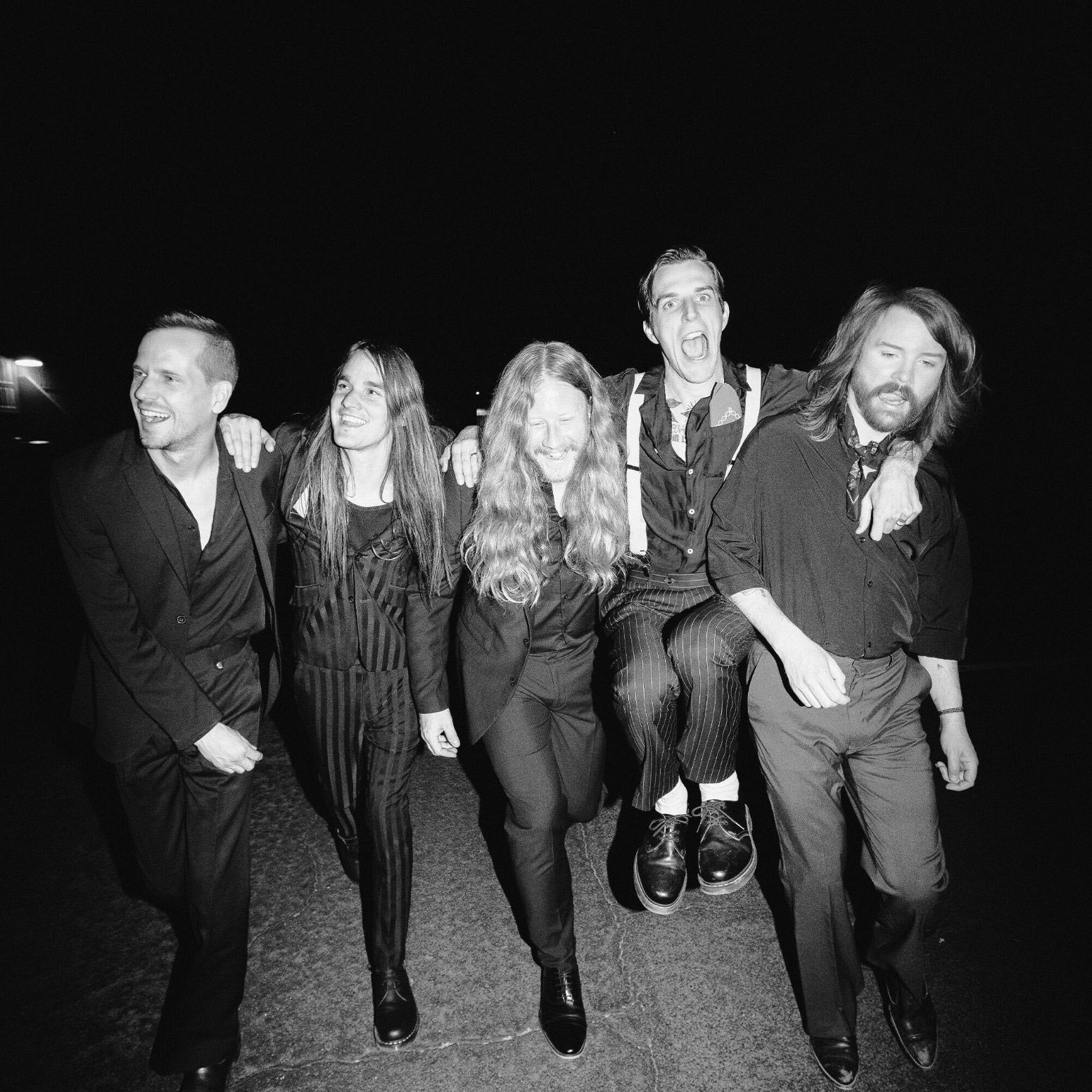 The Maine
For over 15 years, pop punk group The Maine has been building their musical empire. Formed in 2007 in Tempe, Arizona, The Maine has since released 8 studio albums, created their own music festival, and cultivated a dedicated fanbase that feels more like a family. Defying genre with their unique sound, the band has been labeled as alternative, rock, emo, and every genre in between. Huge festival performances such as Leeds and Reading, as well as various tours and festivals around the world, have allowed the band to share their music with a vast audience, building their fanbase year after year.
Their legacy heavily involves the number 8123, which originally was the number on a parking garage where the band members would hang out growing up. Since then, the number has been mentioned in songs, became the name of their music festival, and even became the name of the fanbase (the 8123 family.) The Maine is gearing up to release their ninth studio album, which is self titled. They've chosen to release it on August 1st, 2023 – 8/1/23. This album signifies a full circle moment in the band's career, and both the title and release date are very intentional.
Ahead of the album release, 1883 Magazine chats with The Maine about the significance of 8123, and what fans can expect from this new era.
Congratulations on your dual single release earlier this month, "blame" and "how to exit a room," how are you feeling about the fan response?
Thank you! It was certainly a leap of faith for us because we've never done anything like this before. I think the hardest part was choosing which of the two songs we would have to show slightly more love to post-release, knowing that we could have been wrong. Ultimately, our fans seemed dead split on which was their favorite, so I don't think there was a wrong choice there.
This release is the beginning of a new era for The Maine, what does that feel like for you?
It feels like new territory for us, and that's exciting. It's hard to put the feeling into words with this being our ninth album, we've done it so many times. Something about this record feels different to us, however. I think if you're familiar with our band, this album will feel very new, but if you zoom out a little bit, you'll notice there are a ton of familiarities still baked into everything we do. It's a self-titled album, and to me it might be the most deserving of that title.
In the same vein, are there any specific goals or visions for this era? What can fans expect that's different from your last release, XOXO: From Love & Anxiety In Real Time?
Absolutely. We want to take all of our favorite things we've learned from every single album and pull them into this era. Shows are going to be high energy. We want people to show up ready to dance. We're leaning into the fun side of live shows. I picture a rhinestone cowboy, possibly crying. That's the vibe.
The number 8123 has held significant value to the group throughout your career, can you tell me what the number means to you now? What emotions and memories come to mind?
For some of us, it started as an address, a meeting place, somewhere we could go to be ourselves. I think over the years we've tried to serve that idea as much as possible. I really hope fans can attach their own meaning, with their own experiences, to what we're doing. It's subjective. The idea is that we're all in this together, but at the same time, celebrating those things that make us uniquely us. It's been wild to watch our community take this and turn it into their own. 
This upcoming album is self titled, and is being released on 8/1/23. Can you tell me about the significance of this, does it feel like somewhat of a full circle moment after releasing music for over a decade?
It certainly does! As I was saying, I think this album is a huge step forward in terms of the sound of our band and how we are perceived. We really wanted it to be a risk. We have the freedom to make whatever we want to make, and this was no exception. At the end of the day, no matter how hard we tried, we also understood that our band has a baseline frequency. A default setting. It was there the whole time. So to answer your question, after doing the absolute most to write something daring and bold, we found strands of the old "us" all the way through it. Self-titled just made sense. You can hear a little bit of every era in this one. 
Can you tell me a bit about the creative process for this upcoming record? How did it differ from your last project?
For this album we knew we wanted to focus on writing and more importantly; thinking about things differently. In order to do this, we knew it was going to be hard to fly the ship as producers at the same time (which is what we did for XOXO). We brought in one of the only people we trust in the entire world to help bring this idea to life: our buddy Colby Wedgeworth, who we've worked with on three previous albums. And to be honest, the three albums we've done with Colby prior to this one turned out to be pretty pivotal in the trajectory of our band. As soon as we got in a room together and talked about what we were trying to do, Colby was in and we got straight to work. Knowing that he was the final check gave us such a wide runway to play around with new ideas, and Colby is a great listener. I think he was an integral part of this process and I know we're all very thankful that he was in the room with us. Aside from that, our mindset was basically just "we would normally do this thing, so let's start by trying the opposite". It was hard, but eventually we became comfortable being uncomfortable. Some great ideas bloomed out of that.
Over the years, your music has progressed alongside the band. How do you feel your sound has evolved over time?
It's like anything. If you pay enough attention, and you care enough, you get better at things. It's hard to apply this to something as abstract as music, but I think the things we have been paying attention to all along are pretty basic. How does this song feel live? Will this work when we play it on stage for the first time? Will people have fun? Luckily, we have a ton of examples and experiences to draw from, looking at the last 8 albums. Also, our tastes change. We're not listening to the same things we were back in 2007. Like it or not, that plays a huge part in how you see yourself.
Do you think that you still have the same intention with your music that you had when you first started, or has it changed over the years? 
Yes and no. When we first started out, all we wanted to do was reach as many people as possible, no matter the cost. We wanted to make this last, and have a lifetime dedicated to writing and playing music. So far, it's worked out pretty great, which allows us to focus on the finer details: personal well-being, happiness, family. As you get older, you have to weave these things in. We're at a very exciting place in life right now. Each of us have grown into our own individual person. Things are crazy, and beautiful, and evolving all the time. Through all of that, however, this band has been a rock in the middle of each of our lives. We still want the same things we did when we were kids starting out, we're just a little more purposeful in our approach. One thing that has not and will never change is our intent when it comes to putting out the best music we possibly can, and trying to grow our 8123 community. 
Following up on that, what do you want listeners to take away from this new album?
I hope everybody has a completely unique experience when they put this thing on. I think it will make you want to dance, maybe reflect at times, maybe cry, maybe break some shit. It's all in there, and I think one of the most beautiful things about it is that anybody can approach it from any state of mind and hopefully find something to pull out of it. But mostly, we want them to dance.
You'll be hitting the road on the Sad Summer Festival tour this summer! This isn't your first time touring with the fest, what are you most excited for about being back with SSF?
We're so excited to be back on Sad Summer Fest! We played the inaugural year and then did it again 2 years later. This will be our third time. It's going to be a blast. So many awesome bands and good friends out here, and it's going to be a month-long party. I think we're all just itching to get out there and play some new songs.
You never charge fans for meet and greets, which is definitely a rare and admirable thing. Can you tell me about this decision, and how it has shaped your relationship with your fanbase?
It's just a choice. No hate on people who do it, but we're just human beings. It feels pretty weird to take money from somebody in exchange for a few words or a photo. I just think it's a simple thing, and we've never really seen it as something that needs to be monetized, it certainly makes the entire exchange feel a little tacky.
To finish up, are there any upcoming releases (prior to the album) that you could share a bit about? We definitely have some tricks up our sleeves, but where's the fun in ruining the surprise? In the meantime, "blame" and "how to exit a room" are out!
Interview Brigid Young
Photography Guadalupe Bustos