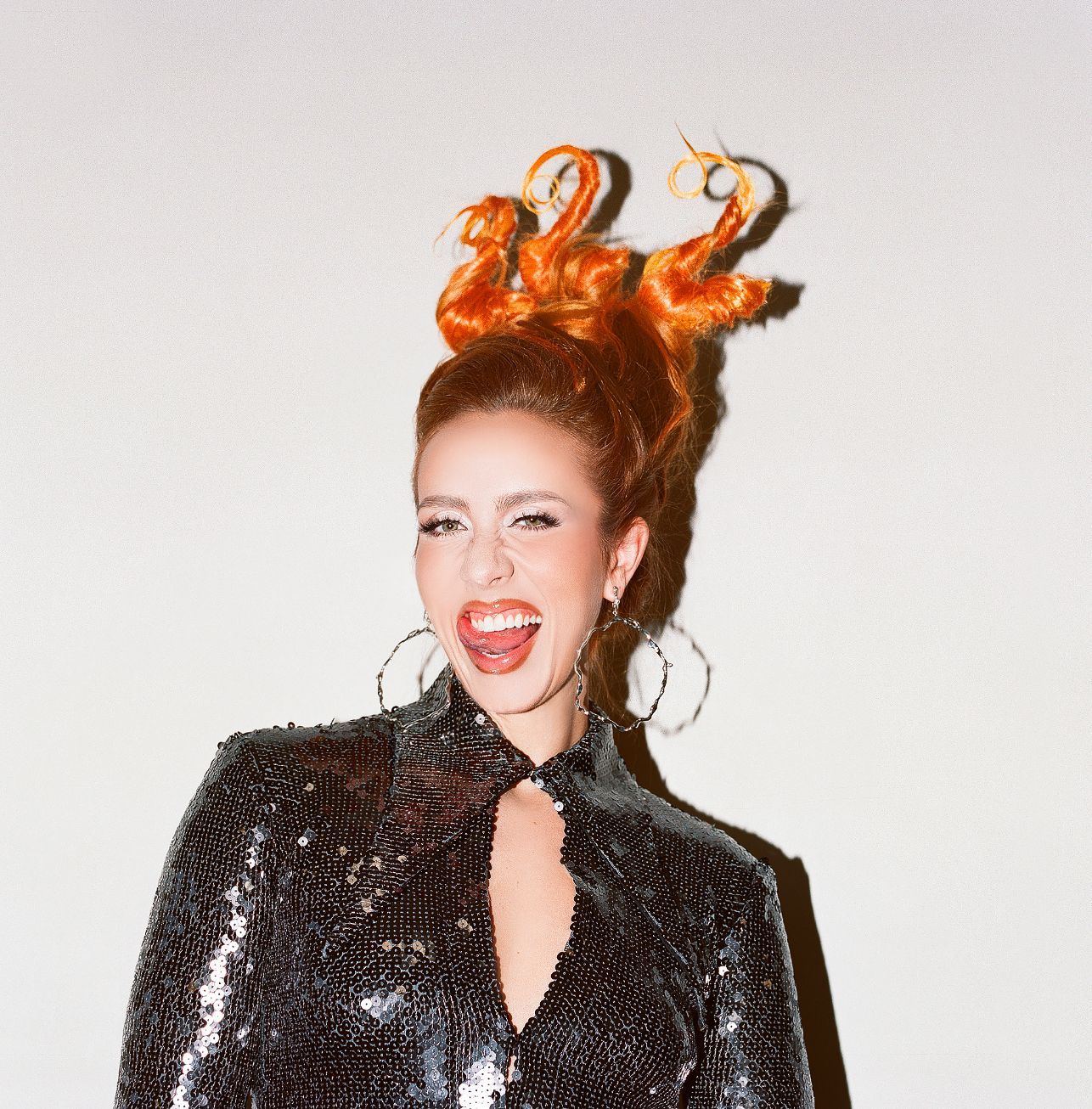 Behind the Scenes with Ralph
Canadian queer pop diva Ralph channels magic and love in her new EP, 222.
After hitting a spot in her life where she almost gave up on music altogether, inspiration struck. Making art isn't a 9 to 5 job – the stars have to align at the perfect time – 2:22 in Ralph's case. A smart meeting place somewhere between Dua Lipa's Future Nostalgia album and Robyn's "Dancing On My Own", Ralph's 222 EP is packed with punchy danceable tracks that will surely make your summer playlist. 
2022 was a juggernaut year for the Toronto-based pop star. She was selected as 1 of 50 musicians across Canada alongside Alessia Cara, Reve, Roy Woods, Lilyisthatyou, and Johnny Orlando, to sing in Kids Help Phone anthem 'What I Wouldn't Do (North Star Calling), the largest mental health movement in history. So far in 2o23 Ralph has played a headline show at SXSW and was featured on Canada's Drag Race Season 2 winner Priyanka's new track "Bad Bitches Don't Cry".  This fall, Ralph will embark on a headlining North American tour. 
Fresh off her EP release, Ralph speaks to 1883 about manifestation, infusing her music with honesty, and shares behind-the-scenes moments from the making-of the 222 EP. 
Congrats on the release of your new EP! How does it feel to have it out in the world?
It feels great, always a little surreal. We had a really fun EP release party for friends and industry folk, it was at my friend's vintage warehouse and I performed inside a skateboard ramp and had whackers dancing on the rim. I'm feeling hopeful and grateful and happy to have it out in the world. 
What is the significance behind the number '222' ?
When I first started dating my girlfriend (who is much more learned in astrology) over a year ago, she pointed out that I kept texting her at 2:22 and maybe it was my angel number. After that, it felt like 222 started following me, I saw it everywhere. We looked up the meaning and basically 222 signifies alignment and trust in yourself, encouraging you to take note of what you want, where you are and where you want to be. They also say that angel number spottings are messages from your ancestors, friends/family passed on, or spirit guides, which I love. It made me feel inspired to think that someone beyond this earth was looking out for me and planting little omens and seeds of encouragement. It really helped motivate and inspire me as I worked on the EP, so it just seemed like the obvious title. 
You mentioned in a post celebrating your new EP that there was a moment you wanted to quit music. How did you find the strength to pick yourself up and keep going?
Yeah, I felt really bummed for a while, being an independent artist is hard and if you start doubting yourself, it becomes even harder – you really need to be your #1 cheerleader in the metaphorical music "game". I remember trying to write songs with producers but I just wasn't excited about them, they didn't feel fresh and reflective of the artist I feel I am now. So, I sat down in front of my keyboard on a rainy day, ate an edible and decided to write a sh*tty little demo alone, since I couldn't seem to vocalize what I wanted. I came up with 'Just a Rose' (original demo title was 'Back Burner Baby') and FINALLY felt excited about a song – it showed off a new range of voice and the lyrics were unlike anything I'd ever sung before, sort of a motivational brag track about an artists who has an amazing comeback after feeling obsolete. I sent it to my friend Jim and he wrote back "dude, this is sick – let's work on it!" And that was how I got myself back in the headspace again. I think I needed to find that vision and assurance that I could make something that would engage listeners and make people go "OH!" 
Where do you find inspiration? 
I write from an auto-biographical place, so whatever is happening to me and around me inspires my writing – I'm always writing lyric ideas in my phone notes. I was literally doing that the other night during the Beyonce concert, frantically typing out a thought while scream-singing '1+1'. I also carefully select collaborators who I think will bring new ideas and energy into the studio, like Devon Cole who wrote 'Scary Hot' with me. She's so unabashedly herself and her songs are so fun and witty. I wanted all the songs on '222' to feel very honest and authentic, while also revealing a slight evolution in sound and confidence – I feel like the last year has been a big for me in personal growth and discovery, and I wanted that to be reflected in the music. I think having so much control over this EP and stepping into new roles has made me feel very powerful and joyful, so I hope those emotions are evident within the songs. 
In your career so far, what are you most proud of?
I'm honestly really proud of this EP and all the visuals that go along with it! I co-produced a song, I edited, directed and produced music videos, I designed and made my own outfits, I executed my own EP release party…I feel like I'm continuing to step into myself as a creative and competent individual. I think I've given away too much power in the past, and this last year I've really gained a lot of confidence and felt a lot of happiness, which I hope will radiate and make people feel drawn to the project.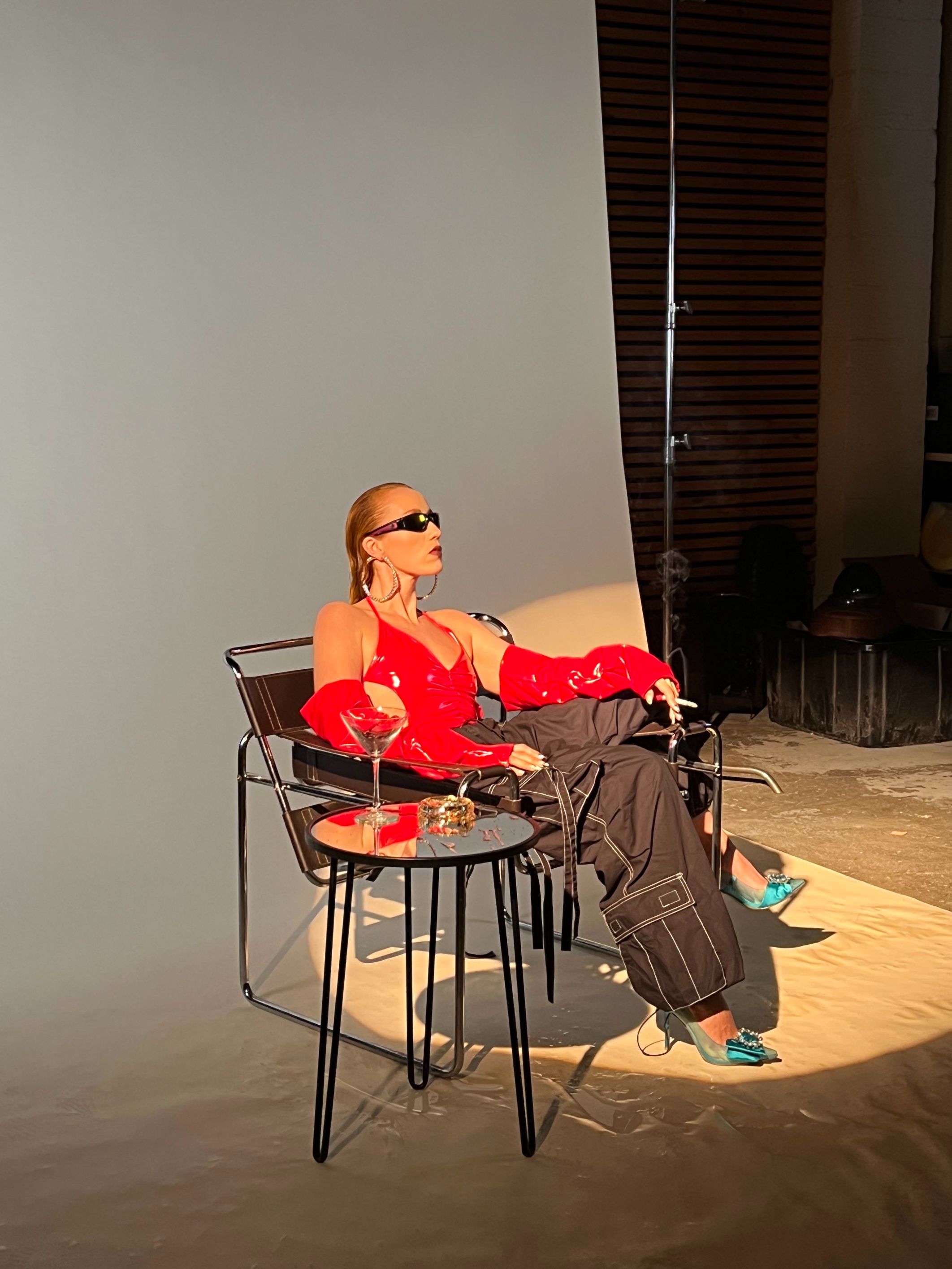 This is from the set of the 'Scary Hot' music video, we had to last minute source looks for me and I found these pieces at a Goodwill in LA (random fake latex jumpsuit that I cut into a bodysuit, Betsey Johnson prom heels and huge raver pants.) At first my director Arden was like… "I don't get this look" but the moment we put it all together, she was like "ok wow, nevermind, this is so hot." This pic reminds me to be resourceful and to stick with my gut, since I feel like this outfit is amazing and really helped define the vibe of the video!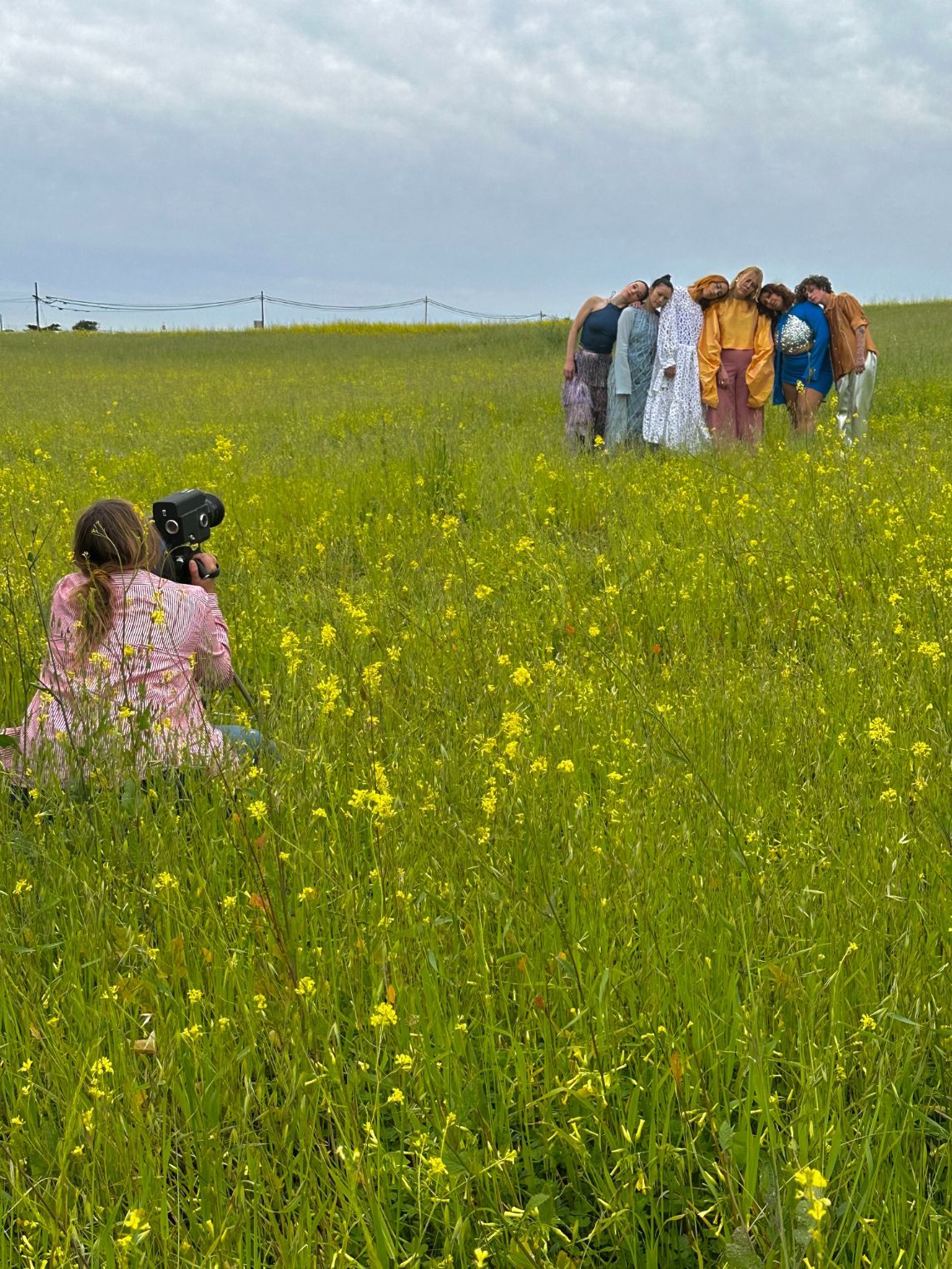 This is from the set of the 'Pain Relief' music video, which I directed, produced and edited. I put together a small crew and cast of women and we shot on a film camera in Malibu, driving from location to location and trying to catch the light. This picture reminds me of the gentleness and joy of the entire experience, being surrounded by female talent and feeling extremely supported as I tried these new roles. It was so beautiful and perfectly encapsulated the energy of the song.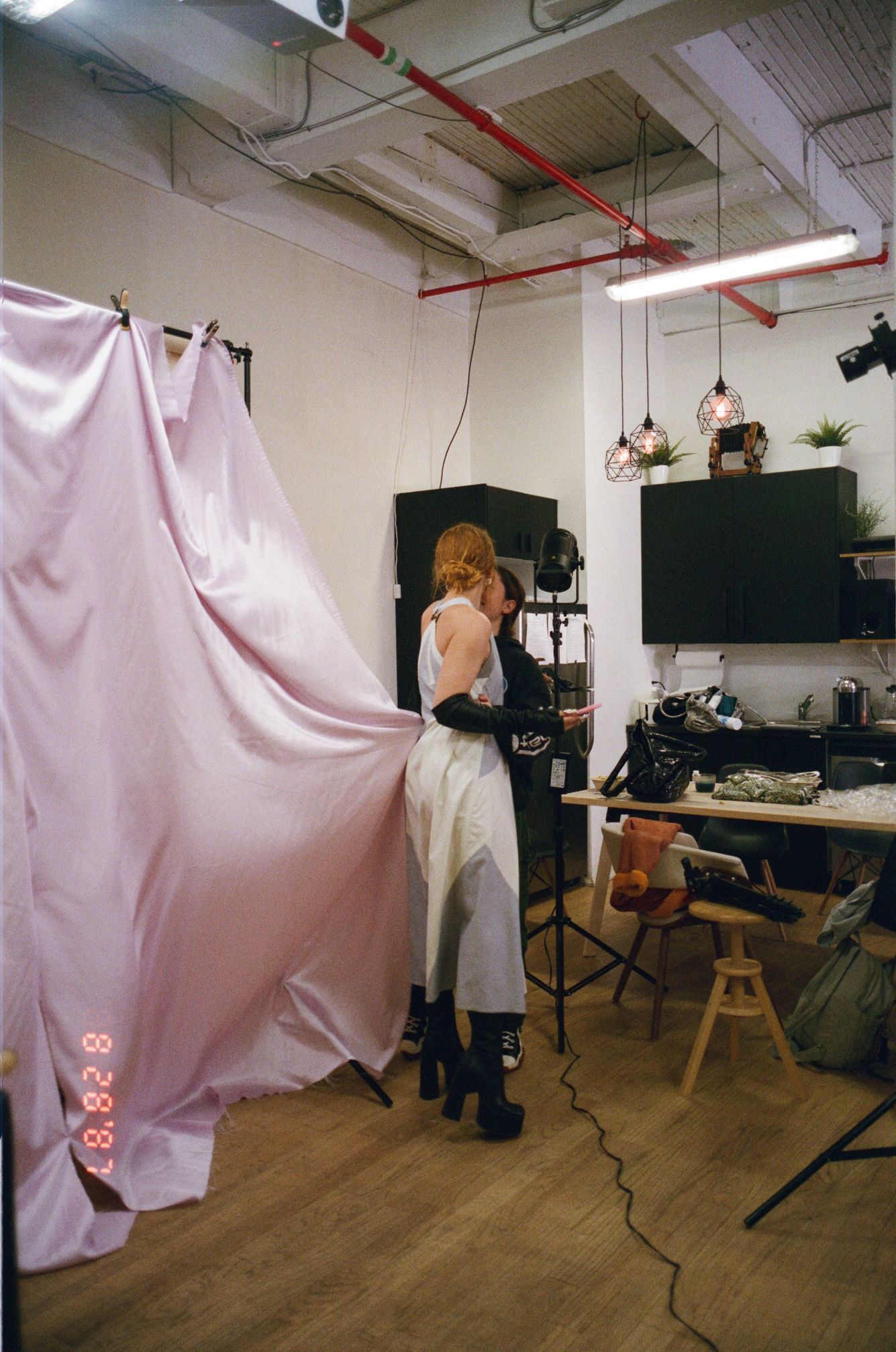 This is a pic of me kissing my girlfriend Jaimee on the day we shot visuals for the EP. She came to set and brought everyone lunch and helped out so much. We shot 7 or 8 looks in just a couple of hours, and my team was so driven and hyper about the concepts, it felt so nice to have other people invested and excited by my art. I remember feeling so happy and grateful this day, I just knew the visuals were gonna look fab.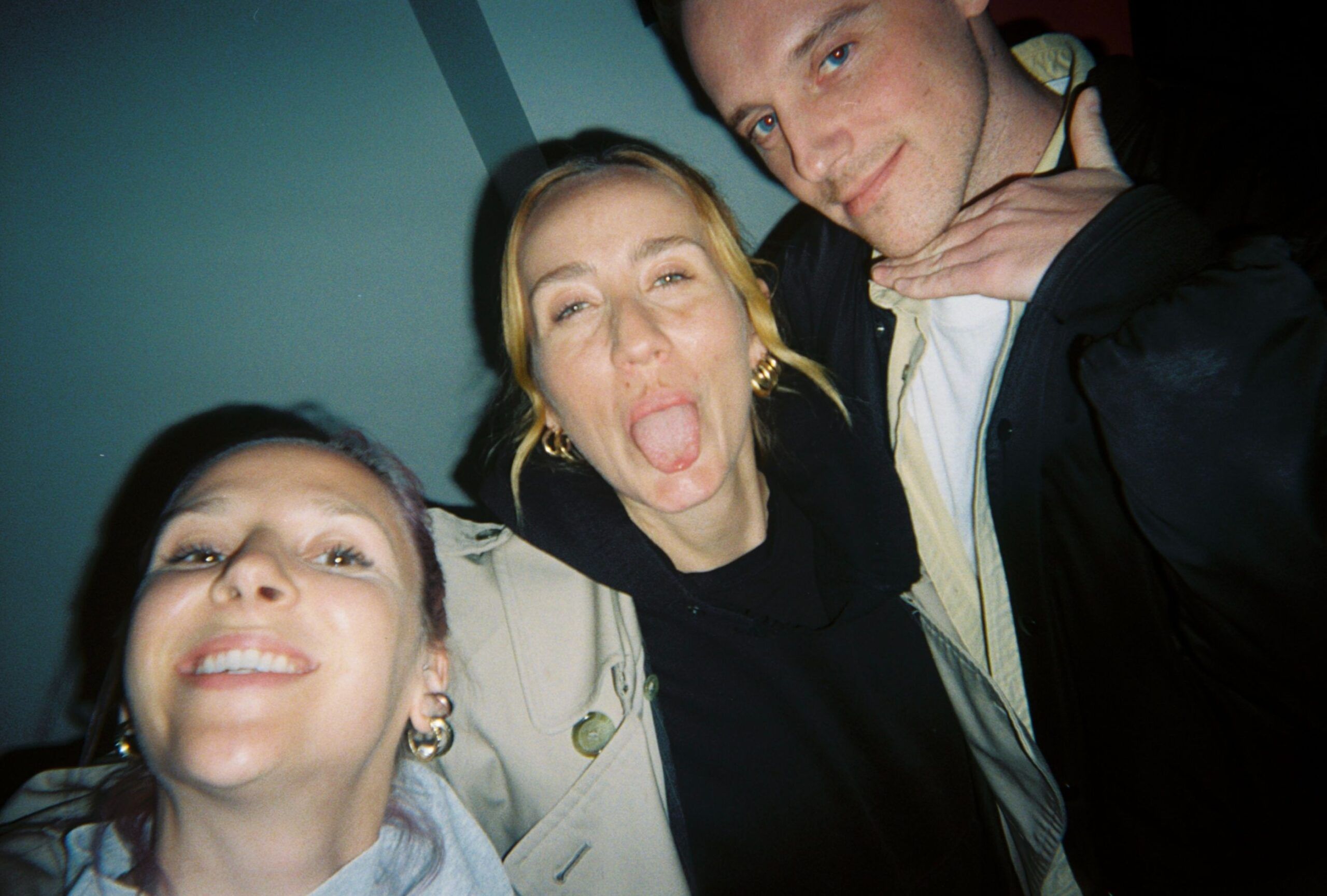 This is me, Devan Glover and Michael Goldchain, right after we wrote 'Sweetener'. It reminds me of all the laughing we did in the studio, and sort of embodies the feeling of connection and encouragement that existed between myself and every single person who contributed to this EP. I feel so lucky to have had such positive sessions with people who really understood my visions and believed in them, especially my executive producer Giordan Postorino.  
I took this selfie during a session with my friends Jim O'Brien and Joe Law, it was early on in the writing stage and we were working on my demo of 'Just a Rose'. We were recording my talk-sing part (which was something I'd always wanted to do on a song) in a makeshift studio set up that involved a very hot blanket over my head. The day was so fun and the energy in the room was infectious, it created the spark that I needed to motivate me to write the rest of the EP, so I guess this moment was really formative!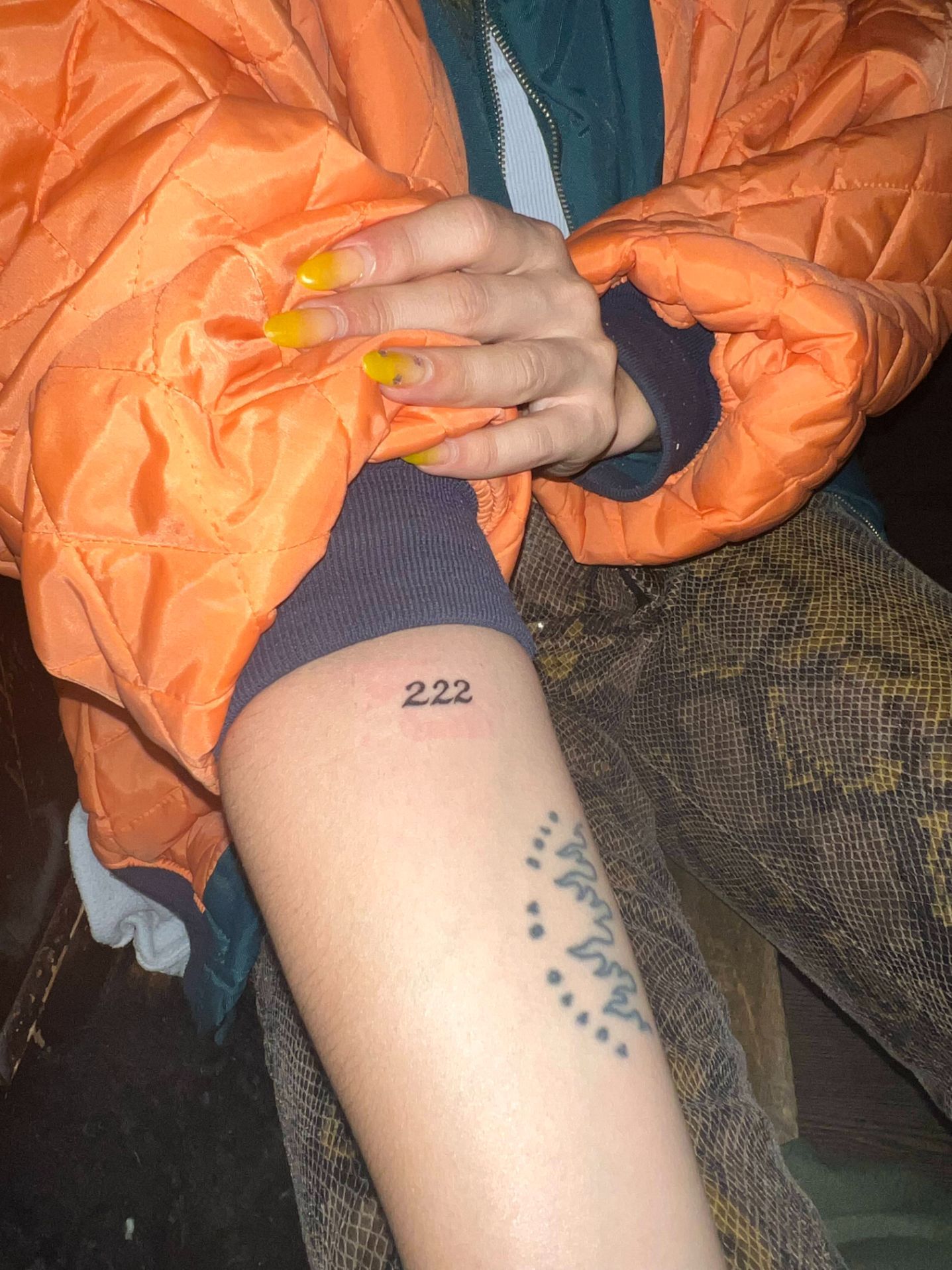 This is the '222' tattoo that my friend Emily did for me! I wanted to pay homage to the angels for *guiding me* and reminding me about my passion for music and my reasons for doing what I do. The last year has been very important and I wanted a memento to remind me that I need to trust myself always. 
Listen to Ralph's 222 EP out now. Follow Ralph at @songsbyralph.