Will @KingOfTrainers be the next billion dollar brand on UK's # 1 Shopping App – OOOOO?
"The next billion dollar brand will not be a clothing company. It will be a person. We are trying to support the next generation of selling, which is real people sharing real opinions….it is not shops."
Sam Jones, co-founder of OOOOO social commerce platform
OOOOO is a live-streaming video commerce platform that helps people earn a living doing what they love.
The company was founded in 2020 by Sam Jones (ex-Wish) and Eric Zhang (ex-TikTok) and they have offices in Oxford and Shanghai.
OOOOO have studios in their offices in Oxford and are building studios in offices across the UK. They have also created a studio in Soho London, for creators to use, to access stock 24/7.
The app follows a mega trend in China for live shopping, already estimated to be worth US $180 billion dollars a year in sales.
Through the OOOOO platform, consumers can access real people reviewing real products in live shows, which they can buy in a couple of clicks from the OOOOO app.
For merchants, OOOOO is a trusted layer helping to sell more products to informed consumers. This saves brands using black boxes like Facebook or Google to find consumers.
OOOOO helps creators start businesses from their bedroom with a smartphone app -without worrying about marketing, logistics or inventory.
The app launched in November 2020 selling cosmetics products in the UK, with many live shows each day. 100 brands have joined the platform.
"The real stars of the app are real people able to sell from their bedroom at a time when the retail industry is collapsing." Sam Jones
This brings us to popular OOOOO content creator @KingOfTrainers, Franklin Boateng.
Ghanaian-English social media entrepreneur Franklin Boateng became viral as the @KingOfTrainers, attracting the attention of JD Sports who then sued him over the use of the name. Franklin won the right to use it for his personal brand. He has had ups and downs as an influencer, creating a successful account for his now 6-year old son "Prince of Trainers" before taking it down due to racist abuse. He has since taught hundreds of people about content creation and social media and was most recently invited on a TED talk.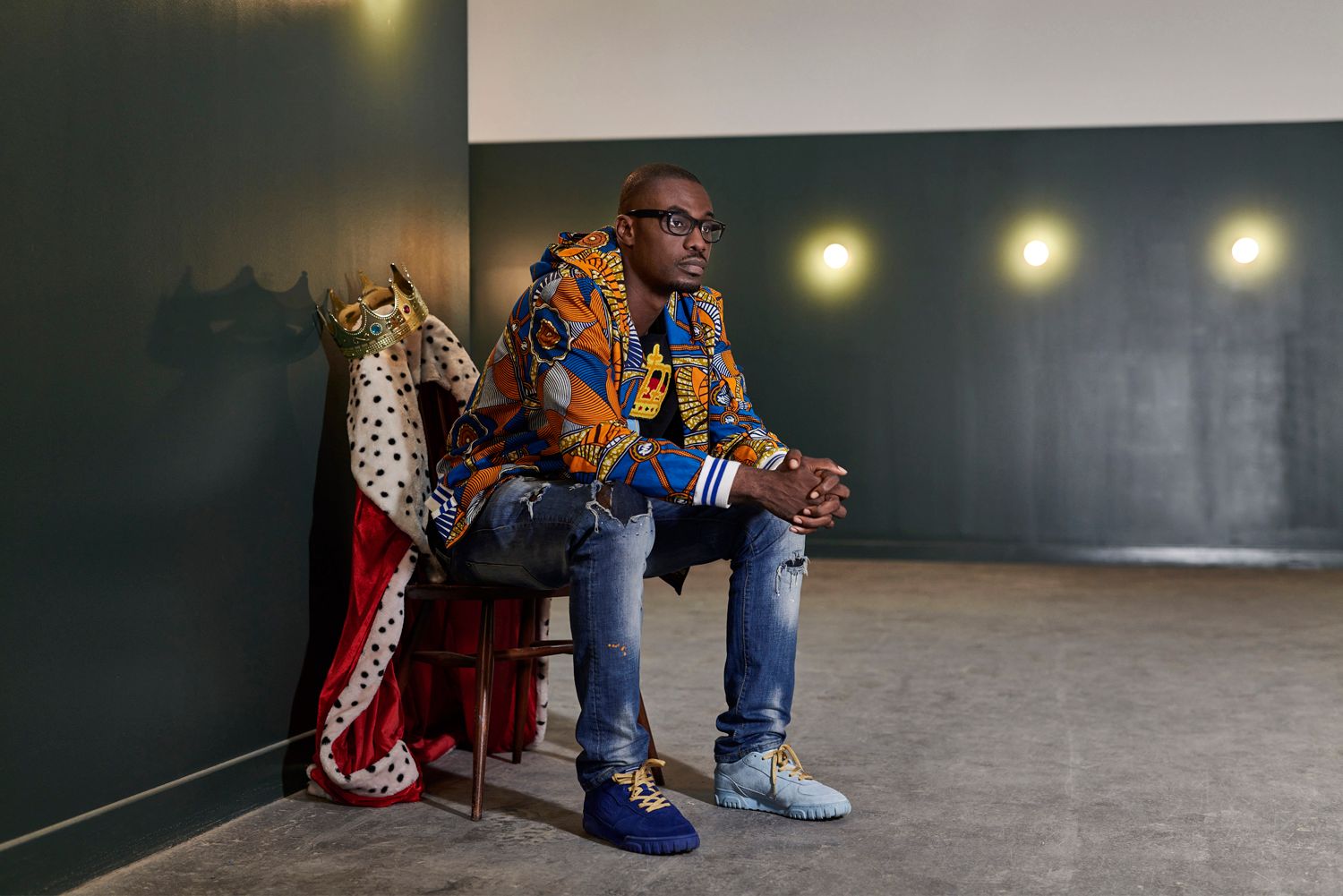 1883 Q&A with @KingOfTrainers, Franklin Boateng
What's your age?
A real King never reveals his age lol nah I'm 41.
What's your Profession?
Teacher / Content Creator / Business Owner
Why are you an influencer? 
TBH I kind of stubbled on to it I've had a nickname "KingOfTrainers" since I was a kid and started teaching social media and using my own strategies and my audience and voice grew.
What is the exact place/county/country you're from?
London grew up in North London Tottenham but my heritage is Ghanaian.
Where do you currently live exactly?
Leafy Enfield North London
What's your story how you became a content creator?
Sam OOOOO founder was in a meeting with my friend and business partner and my friend told Sam I have the perfect person for you to help sell trainers.
Why did you join OOOOO?
Simply is a great app and platform. I truly think it's the future of retail and I like taking chances on new apps first.
What do you like about this app and how is it different than other apps?
It's brilliant I haven't seen anything like it that actually is a fun way of shopping and getting discounts.
What's the most money you ever made using OOOOO?
To be honest, I've just started but I would say I've sold over 100 pairs of Trainers in around 3 weeks nearly 4K in value.
What's your main source of income? 
I teach digital marketing and have other businesses but OOOOO will soon become one of the main incomes.
How has COVID-19 effected your business? 
Not really, Zoom is a saviour.
For more information on OOOOO visit www.ooooo.com/how-it-works
Interview by 1883
[embedyt] https://www.youtube.com/watch?v=9QRK8iZcMFU[/embedyt]