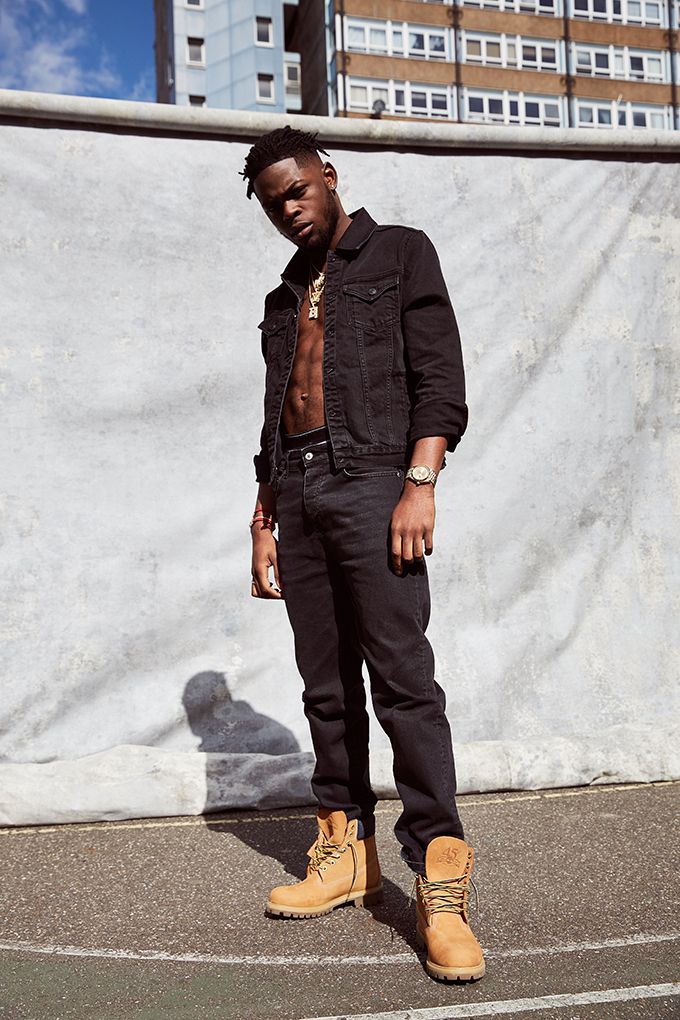 Yxng Bane
Yxng Bane has had one of the most eventful years, without a doubt. The singer first received attention with his remix for Ed Sheeran's 'Shape Of You' – very quickly he has risen to one of the highest anticipated newcomers in the UK of all times and still has an incredibly bright future ahead.
Last year he rose to the charts with his collaboration with Yungen on the summer smash hit 'Bestie', quickly followed by his cuffing season anthem 'Rihanna'. This year he has again charted with his solo banger 'Vroom', made appearances on huge stages in the UK and abroad and collaborated with major clothing brands. Only the other week he has released a brand new mixtape 'HBK' followed by a sold-out UK tour, again proving he is definitely here to stay. We had a chat with him about his journey so far, his partner in crime and what fashion means to him.
First of all, you have had such an exciting year. What were your absolute highlights, considering 2018 is coming to a close now?
There is loads. I think every single moment was great. Performing with Wizkid was amazing, being at Afrorepublik was amazing. 2018 has just been amazing. It has been a great year.
Sounds like a great year indeed. So do you already have plans for 2019?
Bigger and better, all the time. That's the plan for every year.
I mean, looking at you journey throughout the years every year has been bigger and better so 2019 will probably mark world domination.
Thank you, hopefully!
You've also toured through the UK, with pretty much every venue being sold-out. Do you prefer performing in more intimate venues or in rather big ones like you do now?
I'll be so honest with you. I prefer the intimate ones. When it's smaller and more intimate it feels more real, do you know what I mean? The smaller it is, the closer you are with everyone and you really really feel it.
Fair enough. So where has been your favourite show so far?
My favourite show ever, that has got to be one of my first ones. It was in Birthday's, that was probably my most favourite one.
Wow, that's interesting. You also recently collaborated with the brand Timberland. What does fashion mean to you as an artist?
Fashion to me is another way of expressing yourself. I'm in a tracksuit today. Fashion for me has always been about expressing myself, and to experiment. It makes you look good, feel good and so on.
Do you have a favourite brand?
I have a few! I have a few favourite brands, Balenciaga for example. Off White's Virgil Abloh, especially now that he is with Louis Vuitton as well… Yeah man, I'm really into that fashion world.
Love that. Let's talk about your brand new mixtape 'HBK'. Needed Time is the title track, what does the song mean to you personally?
I feel like with Needed Time it was the best way to summarise the whole feeling of being away, knowing the goal but knowing that patience and time is the only structure. That's why I kind of decided it was the lead track and when it was created it was very honest, and very authentic.
The mixtape also has barely any features. Why did you think the likes of Kojo Funds, DJ Tunes and Eyelar were the best fit?
Kojo, that's my brother. The collaborations weren't a conscious decision. I was just creating a lot of music and you know, Bane is known for working with a lot of people. I have done loads of collaborations, so questions about collabs get asked a lot.
Obviously you and Kojo Funds are partners in crime anyway.
Oh, yeah we are definitely partners in crime! Hahaha.
Time is running out, but thank you so much for speaking to me.
Thank you very much.
Follow Yxng Bane via @yxngbane and for tickets for his HBK European tour visit www.listings.ticketweb.co.uk/yxngbane.
Interview by Antonia Künzel
www.antoniakuenzel.com