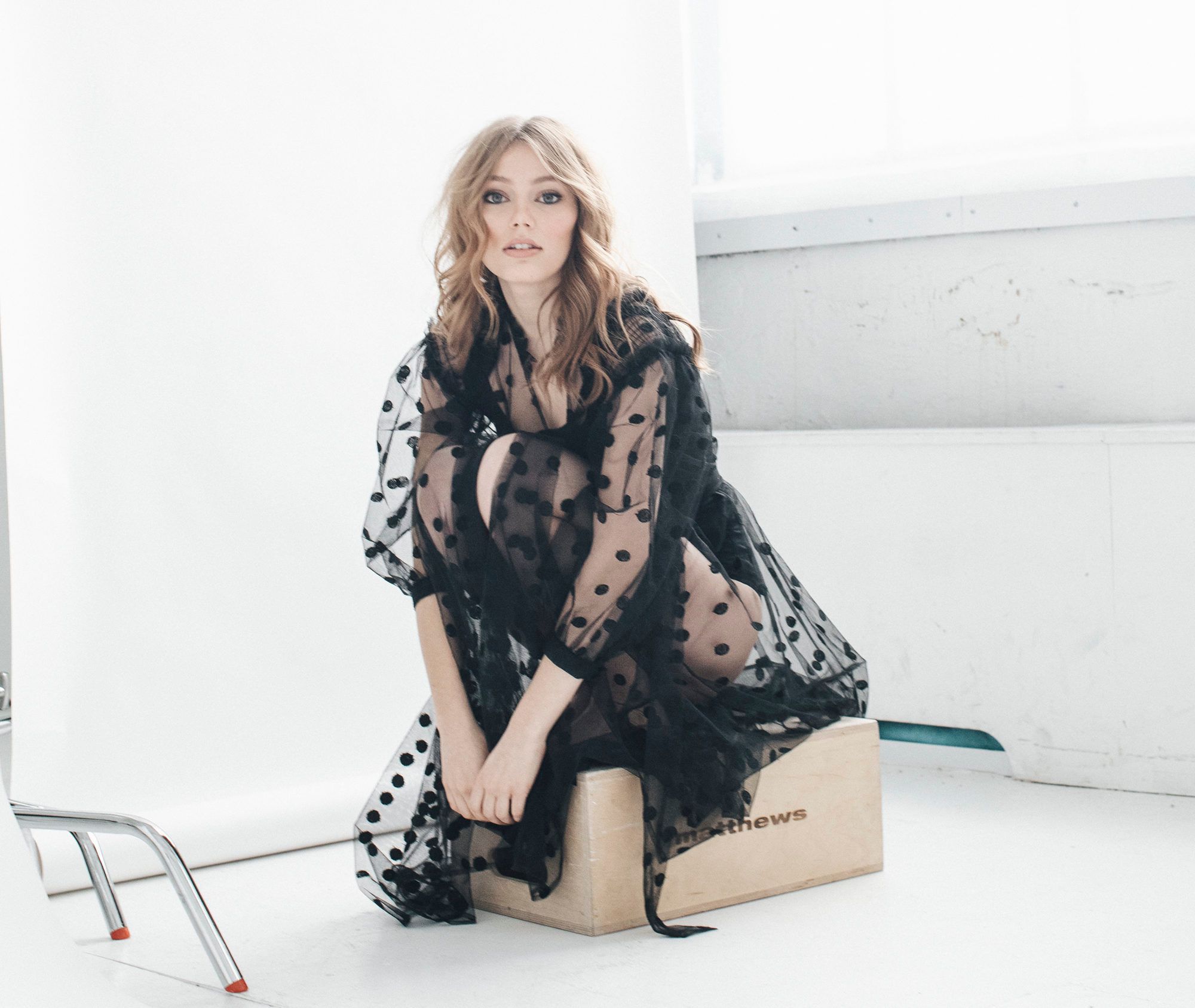 Grace Van Dien
Coming from a long line of actors, one could say that it was written in Grace Van Dien's blood to become one herself. Her father is Casper Van Dien, who has starred in films like Starship Troopers, Tarzan and the Lost City, and most recently Alita: Battle Angel. Her great grandfather is Robert Mitchum, known for being an actor, director, author, poet, composer, and singer.
Van Dien stepped into acting scene beginning in 2010, slowly thickening up her filmography with roles in films such as Army Dog, The Bad Twin, Awaken the Shadowman and more. In 2017, she had a recurring role in Showtime's White Famous as the character Ryann. Soon after, she starred in Netflix's Greenhouse Academy as Brooke Osmond, which is about students at an elite boarding school for future leaders. Her character is the love interest of Alex Woods, one of the lead characters of the show.
Most recently, Van Dien has been starring in The Village on NBC. It's been described as even more emotional and heart-warming than This Is Us, so viewers should grab an extra box of Kleenex for their tears. Van Dien plays Katie Campbell, a teenage girl who has just found out she's pregnant. Her single mother also went through a similar situation when she was a teen herself, bringing the pair even closer together.
She also stars in Charlie Says, opposite Matt Smith, as the late actress Sharon Tate. The film is about the Manson family and Van Dien will be playing the actress who was murdered by the cult leader. The film premiered last year at the Venice Film Festival and it will also be going to the Tribeca Film Festival in May.  
We sat down with Van Dien to speak about her current and upcoming projects as well as advice she's been given by her father.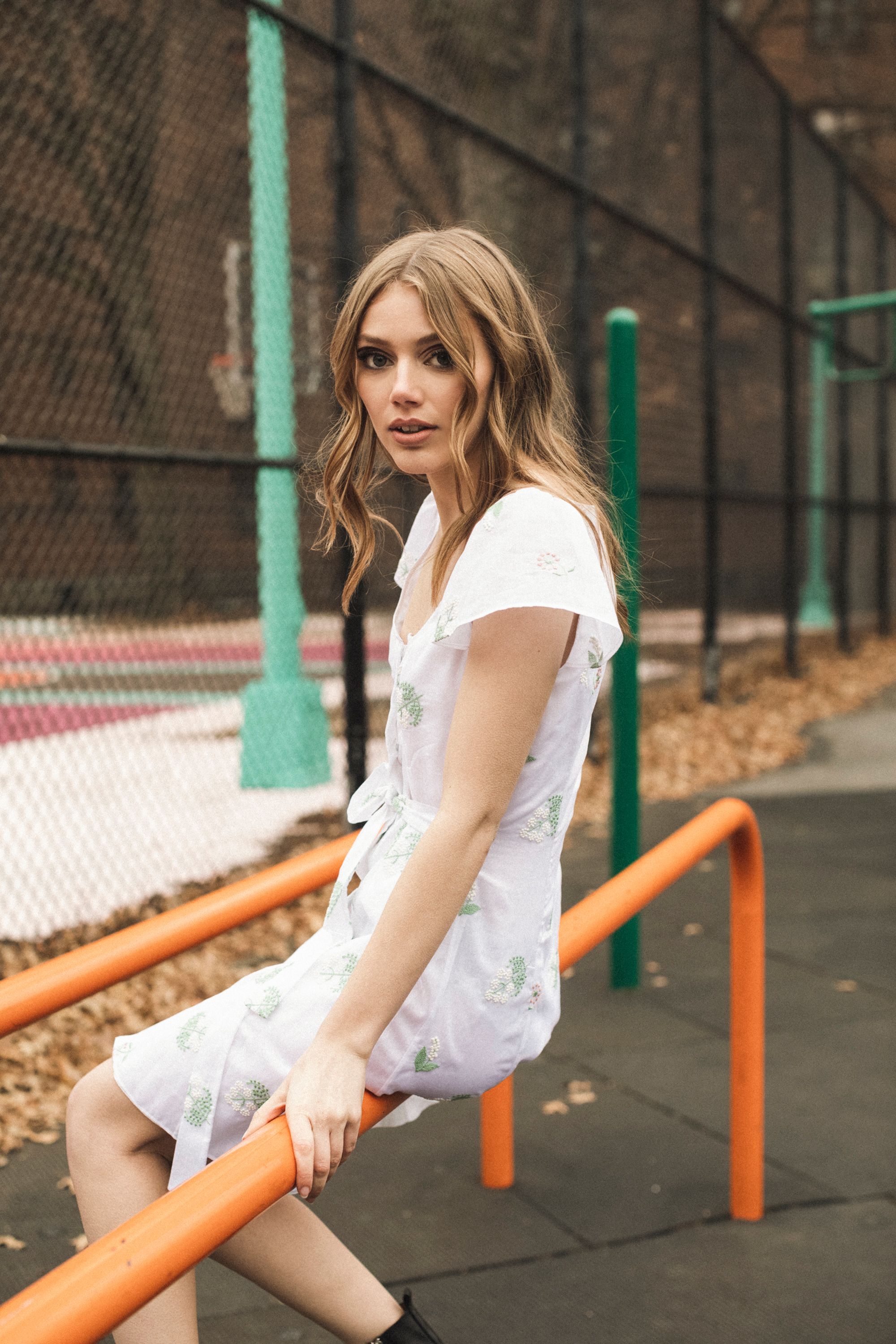 dress Markarian
boots Dr. Martens
The Village was shot in New York. What was that experience like and are you a fan of the city?
I had always wanted to move to New York because it just seemed to match my pace more than LA. I fell in love pretty immediately and often told people "I never want to leave." But growing up in LA, I never had to live through a cold season so I definitely had my moments of "I want to leave and never come back."
Your character Katie is a creative person. Would you say you're similar in that sense?
Katie and I have a lot of similarities. We both paint, we both play with yarn, we both have a love for Sylvia Plath. The difference is – everything I do, Katie does better.
There are a lot of characters and dynamics on The Village. Was there anyone you really enjoyed doing your scenes with?
From day one, the person I work alongside most is Michaela McManus, who plays my mom on the show. I really could not be luckier for it. After spending months with someone, sometimes at ungodly hours and in the horrible cold, you really get to know all the ins and outs of them. Through and through, Michaela is one of the best people I have ever met. And to top it all off, she is massively talented.
What kind of growth or trials and tribulations can we expect from your character in the first season?
You find out pretty early on that the biggest thing in Katie's life right now is that she's just found out she's pregnant. When I read that in the first script, I knew there were a lot of ways the story could go but I had my hopes that no matter what, Katie would ultimately get stronger from everything she experienced. I feel really protective of Katie and didn't want her to break. Of course, it isn't up to me, and every time I got the next episode script, I was shocked with new advances in the plot… but never disappointed.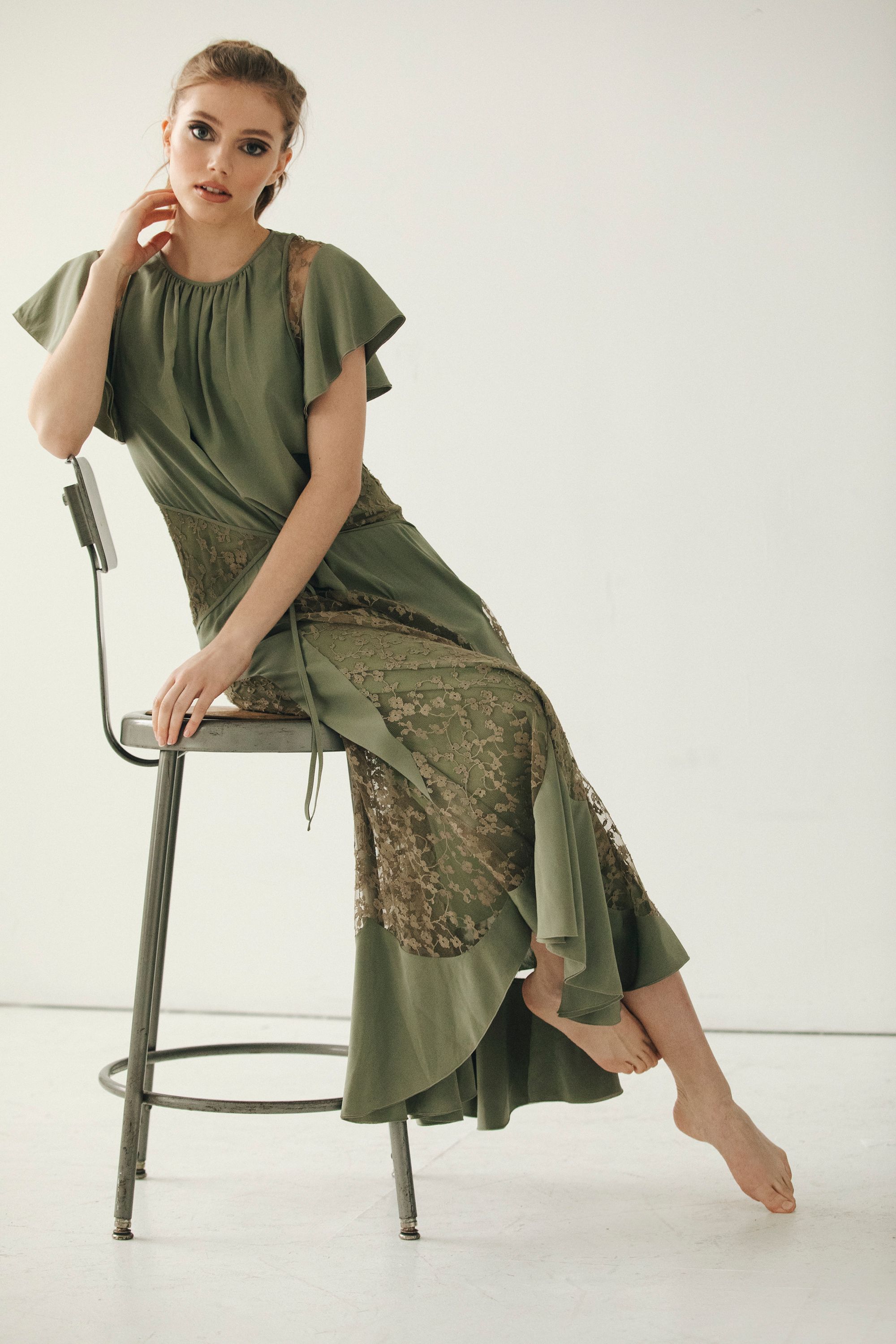 dress Chloé
Upon getting your role in Charlie Says, did you do any research on the case and what had happened?
My part in the movie Charlie Says is very small but to me, it was important to get it right. I was fairly unfamiliar with the whole case beforehand, so I did a lot of research leading up to filming. It was hard to hear a lot about it. It hurts to think about.
Can you tell us about your character Sharon Tate?
From everything I read, heard or saw; Sharon was the most kind, delicate, and bright person. I really fell in love with her.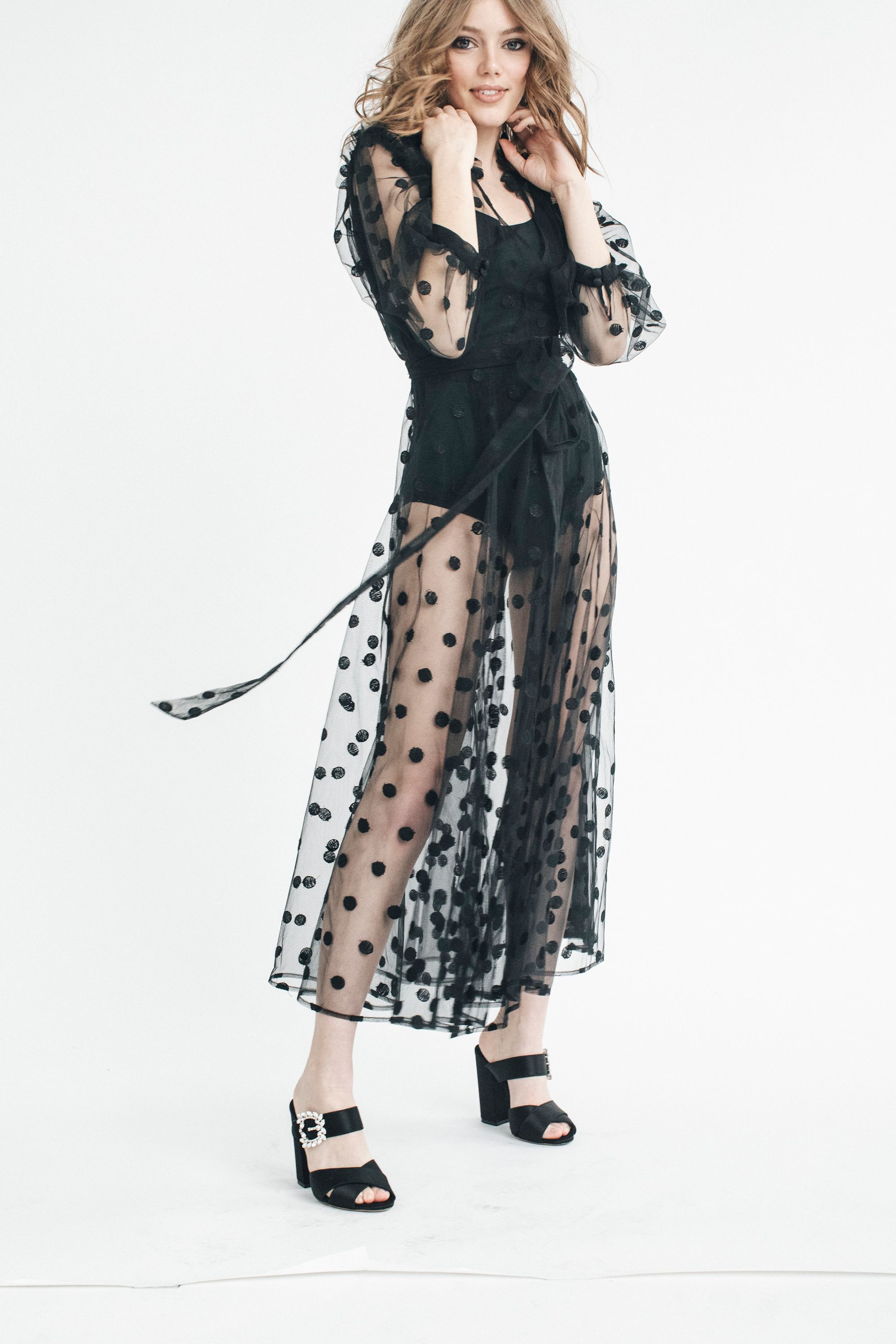 dress Jill Stuart
bodysuit Everlane
What is your favorite memory from working on Greenhouse Academy?
I met my best friend on Greenhouse Academy! Reina Hardesty! We barely had any scenes together on the show… I think maybe just one. But off-screen, we were inseparable and have pretty much been just that ever since.
Has your dad ever given you any acting/life advice that you've followed through on?
Any time I've had a real struggle with my relationship to acting, my dad has been the one to guide me through it. It's helpful to be reminded that everything I feel towards acting and the inconsistency of it as a career is a common feeling we all get.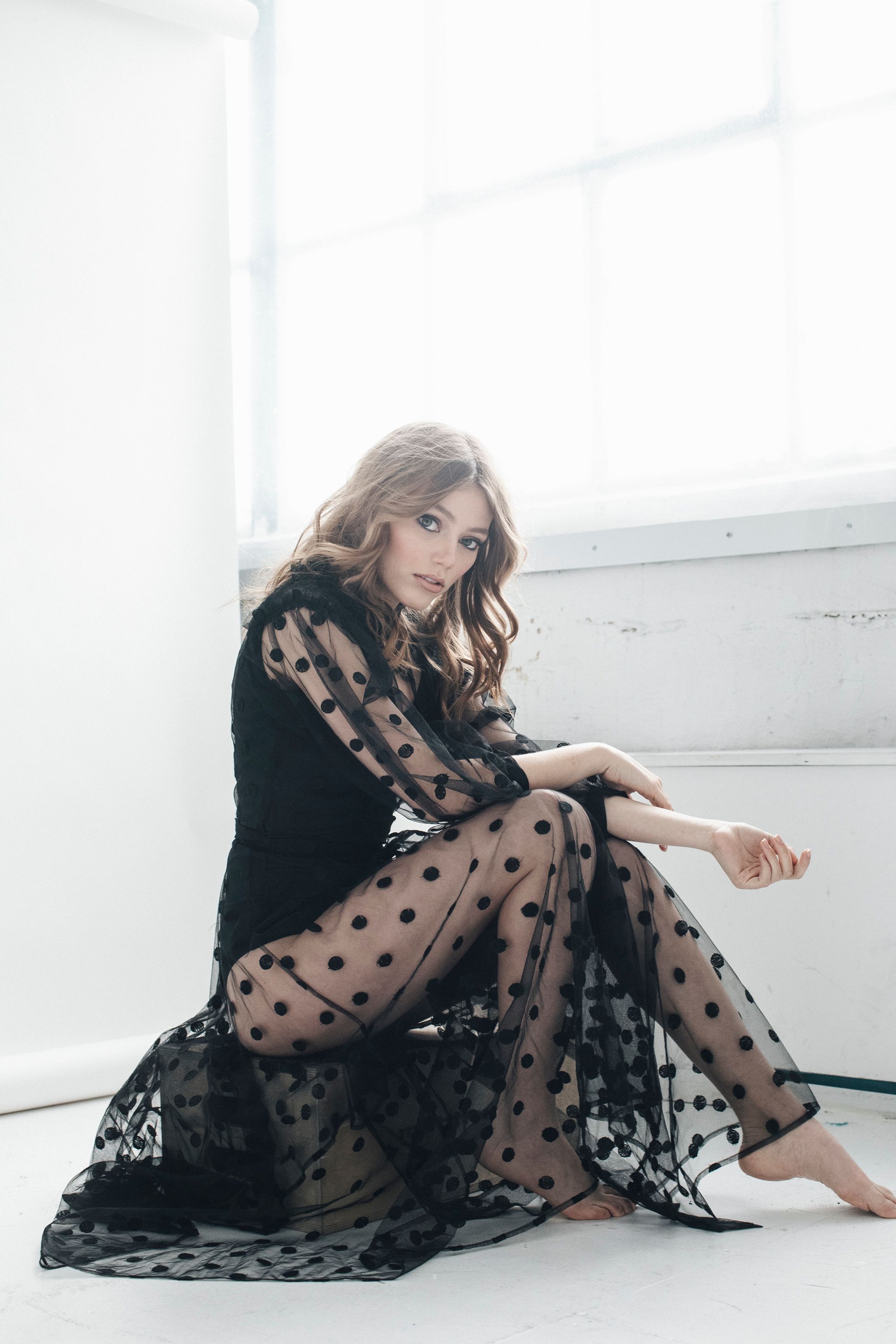 dress Jill Stuart
bodysuit Everlane
Is there anyone you admire whose footsteps you'd like to follow in for your career?
I like a lot of the choices Joaquin Phoenix makes. I think he's a brilliant, soulful actor and seemingly wants to make art always. I want that.
Team Credits
interview by Naureen Nashid
photographer Victoria Stevens
styling Emily Sanchez
hair Owen Gould @ The Wall Group
makeup Marygene @ See Management

Watch The Village Tuesday nights at 9pm EST on NBC!