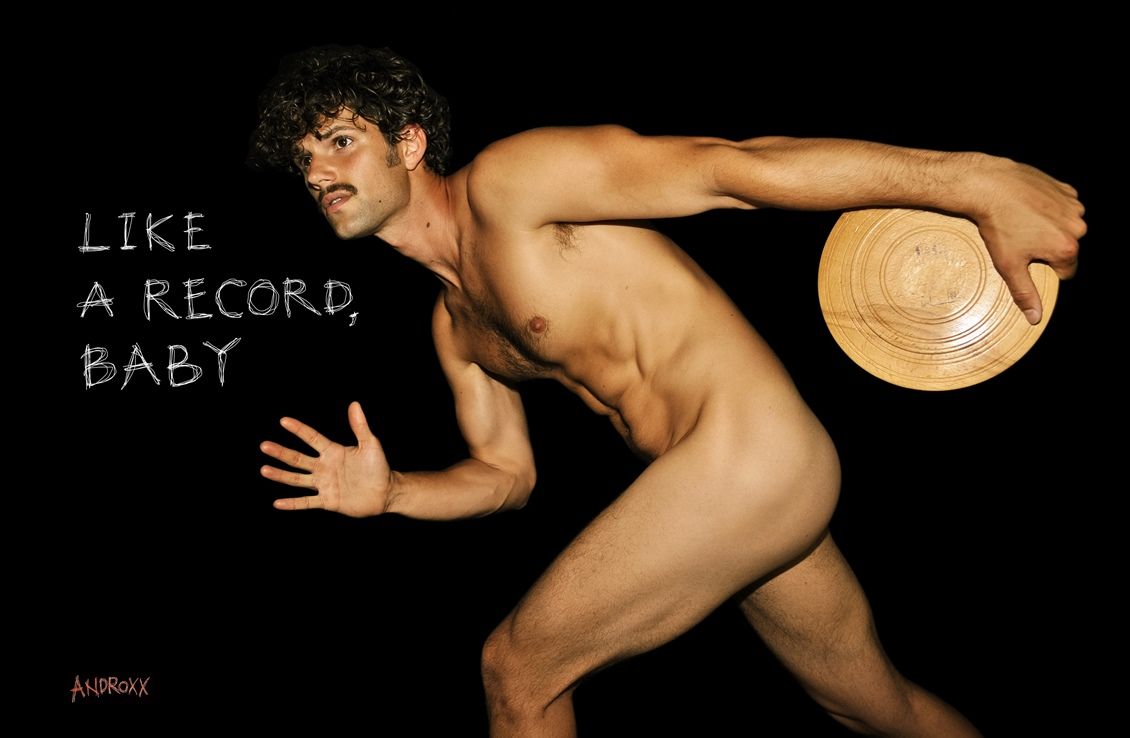 Androxx – The Game of Life
There are times when life feels like an exhausting uphill slog, and nothing seems to make sense anymore.
There are moments when we feel bewildered and powerless in the face of mounting challenges well beyond our control, and all we wanna do is scream at the top of our lungs "Stop the World – I wanna get off!".
However fraught with uncertainty and worry it may be, life is the game we are called upon to play, and it doesn't allow for time-outs when things go sour.
During the two years since our last interview, New York-based visual artist and photographer extraordinaire Androxx hasn't been twiddling his thumbs, waiting on the sidelines for the storm to pass.
Despite the pandemic and accompanying lockdown measures, he has kept the ball rolling, creative-wise, and even managed to (almost) complete a new series – aptly titled The Game of Life.
As with his previous works, The Game of Life is a well-balanced mix of eroticism and pop culture, of sauciness and humour – but also a call to live life to its fullest, making the most of our time on the playing field.
In conversation with 1883 Arts Editor, Androxx discusses his new work, talks about life in the time of Corona, and remembers his mentor Natasha Reating, the Washington socialite and art connoisseur who helped him find his feet as a young artist.
Hi, Androxx. Thank you for finding time for 1883. It's hard to believe it's been two years since our last chat; how have you been?
Hi, Jacopo. It's really nice to talk to you again. And man… that's definitely a question without a quick answer. The last time you interviewed me, we were literally a week or two into the pandemic. None of us had any idea what lay ahead.
And I guess my journey through 2020 / early 2021 was like a lot of other people's – there was sadness, anxiety and disbelief in the mix. Getting vaccinated was obviously a huge turning point. Then after a period of relief, we navigated the confusion over the variants. My husband and I also each dealt with the loss of a close family member during this time.
Despite all of this, we did our best to focus on the positives – we had each other, we had food to eat and we had a roof over our heads. We had music, books and movies. A lot of people weren't so lucky.
When I look back on the second half of 2021, I almost see it in "chunks" – these sweet spots where we got to feel like the world was back to normal – and then the parts where we had to revert to being cautious. But there were definitely many joyful moments for us last summer / autumn. Seeing friends and just getting back into life, you know?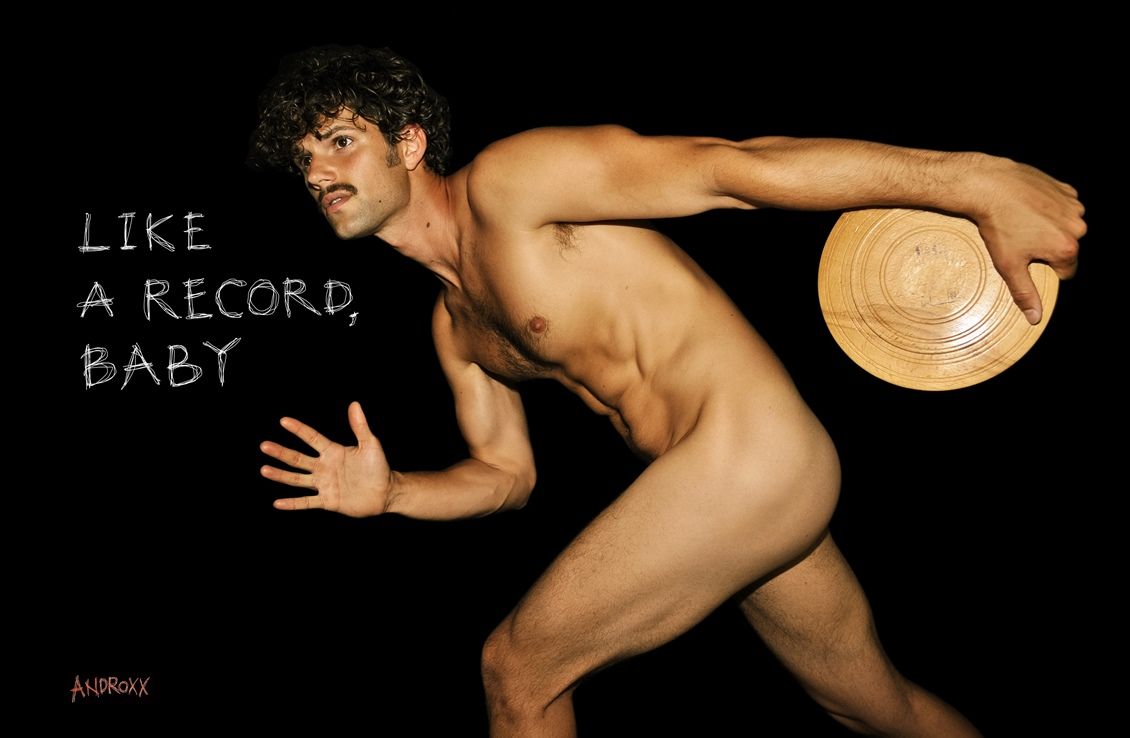 Androxx, You Spin Me Round (Like A Record) (2022) – Model: Max Jablonsky
The Coronavirus situation provided an unwanted, unfortunate obstacle to your work as a photographer; what's kept you creative during the pandemic?
Well, since I shoot indoors with very specific lighting, I wasn't willing to take chances in the pre-vaccination period. My art is important to me – but it wasn't worth the risk. And a planned gallery show evaporated, so like so much of the world, I found myself in a state of limbo – especially when it came to creativity.
But early last year, I set out to do a video interview series. In it, I asked ten diverse artists I admire to talk about music that helped get them through 2020. It was a way to virtually connect with other creative people and that was a big bright spot. I also did some writing for my curator / editor friend Emily Colucci – who I know you're a fan of.
Last time we met, you had just completed one of your most "political" series to date – Pop Life. Today, we preview The Game of Life, which is undoubtedly a more lighthearted series compared to your previous one. Can you tell us how it came to be?
In January, 2020, I had put the finishing touches on Pop Life. Many of the pieces were a response to three years of coping with the worst President in American history. So this time around I wanted to create a body of work that was truly – well, like you said, lighthearted.
I started thinking about doing a series called Let The Games Begin. The idea was pretty straightforward – shooting sports and games setups "my way" – adding text from songs and taking the concepts to a pop art place. But throw a pandemic and a chaotic election in the mix – the idea morphed into The Game of Life.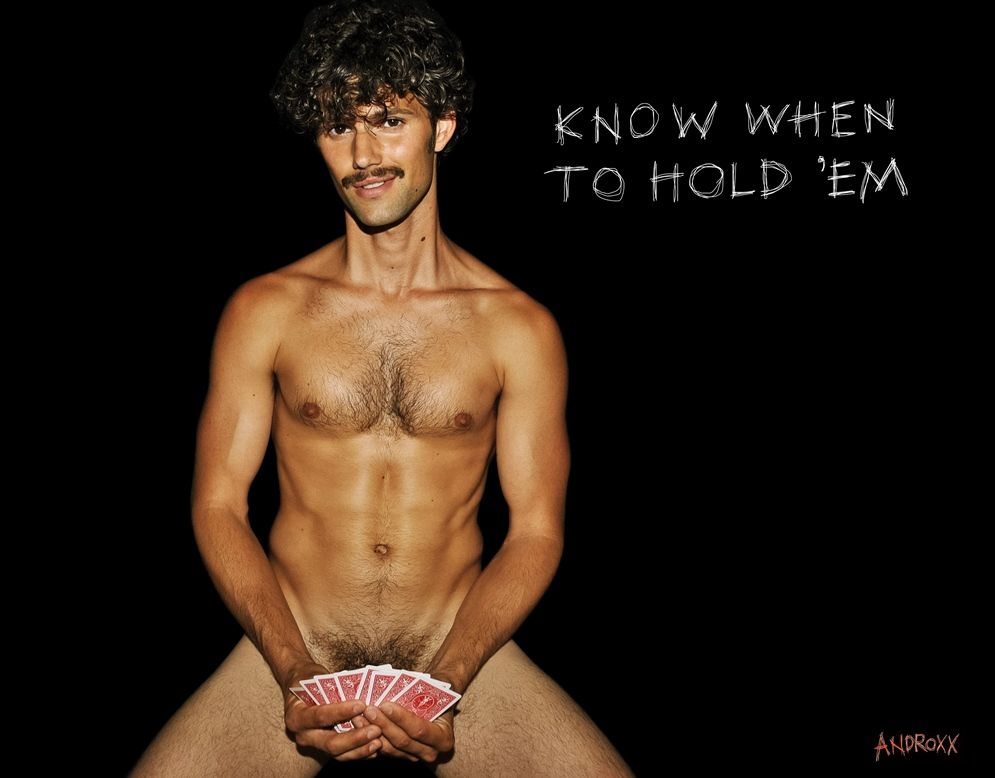 Androxx, The Gambler (2022) – Model: Max Jablonsky
The series features Max Jablonsky, with whom you've worked in the past. What makes Max such an ideal partner for you to collaborate with?
Well, aside from the obvious – being a rather genetically-gifted humanoid (Laughs) – there's a lot going on with Max. He's smart, he's fun to work with and we share a jet-black sense of humour. I've photographed him for each of my last three series. Each shoot has been totally different and each time he's knocked it out of the park.
Shortly after the pandemic started, Max and his girlfriend left NYC to stay at a friend's house in the country. My husband and I had also left the city. As it turned out, we were only two hours away from each other. And after a couple of months of being isolated in our separate little worlds, we decided to shoot. After that, I didn't take any pictures for a year.
Can you tell us a bit about the three pieces shown here with Max?
Happily! (Laughs) So when we met up for the session, we were very happy to see each other. But were both in a funky, stressed-out headspace. We talked nonstop for an hour – basically unloaded on each other.
Then we said, "OK…now let's have some fun." And hopefully, with You Spin Me Round (Like A Record) and The Gambler, that's what you get. No deep message – just Max bringing my ideas to life – and doing it beautifully.
Then there's the Gotta Serve Somebody piece. The lyric is taken from the Bob Dylan song – and it does speak about religion, in a way. I guess it has a slightly deeper subtext.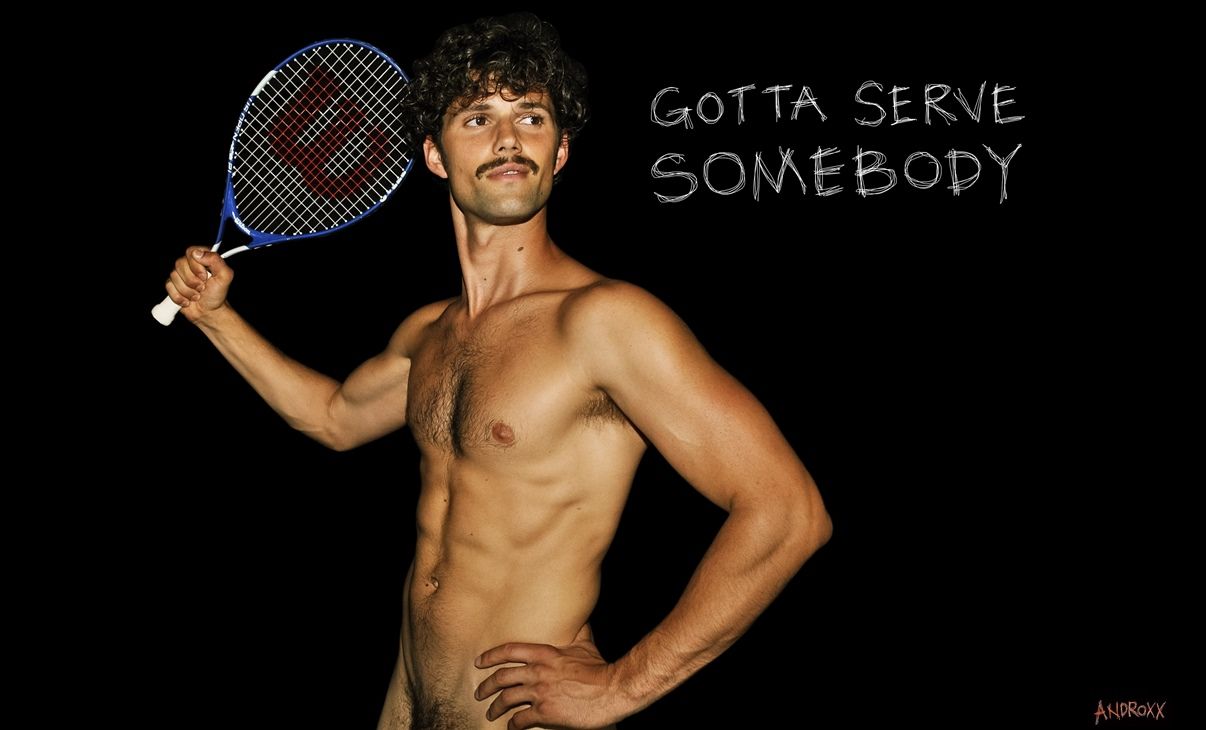 Androxx, Gotta Serve Somebody (2022) – Model: Max Jablonsky
This song came out shortly after Dylan embraced Christianity, correct?
That's right. And here's where I have to say that I'm not a huge Bob Dylan fan. I understand how very important he is in the history of music, but I simply don't get a lot of pleasure from his music or the sound of his voice. I've gotten into many arguments over this! (Laughs)
But being a big Beatles fan, I'd read an interview online that John Lennon did for Playboy magazine in 1980. In it, he talks about his disdain for organised religion in general. He even wrote the song Serve Yourself in response to Dylan's track. I consider myself a nonreligious person, so I felt more drawn to the Lennon lyric – but the phrase Gotta Serve Somebody worked better with the photo.
And I also think you can take the religious aspect out of it. I hope I do a good job of "serving" my husband, my friends and people who may enjoy my work. But the idea of having to serve some sort of mythical figure "up there?" I'm with Lennon. Most of the truly spiritual people I know don't identify with any one religion.
The Game of Life also features Ignacio Naudon; tell us about him. How did your collaboration come about?
I first met Ignacio a decade ago, when he was a 20-year-old beach lifeguard. I was experimenting with outdoor photography at the time – and got to know him a bit through an older guard who was a mutual friend. Then I focused solely on studio work – which led to my first gallery show – and we lost touch.
Fast-forward to last summer, which is when we reconnected. In the past decade, he'd signed to a modelling agency, gotten an MBA in media and become an Army Reserve officer. He's incredibly smart and personable and he shatters all of the preconceptions one might have of a "military guy". He does this incredibly intense thing several months each year, but is one of the most cheerful people I know.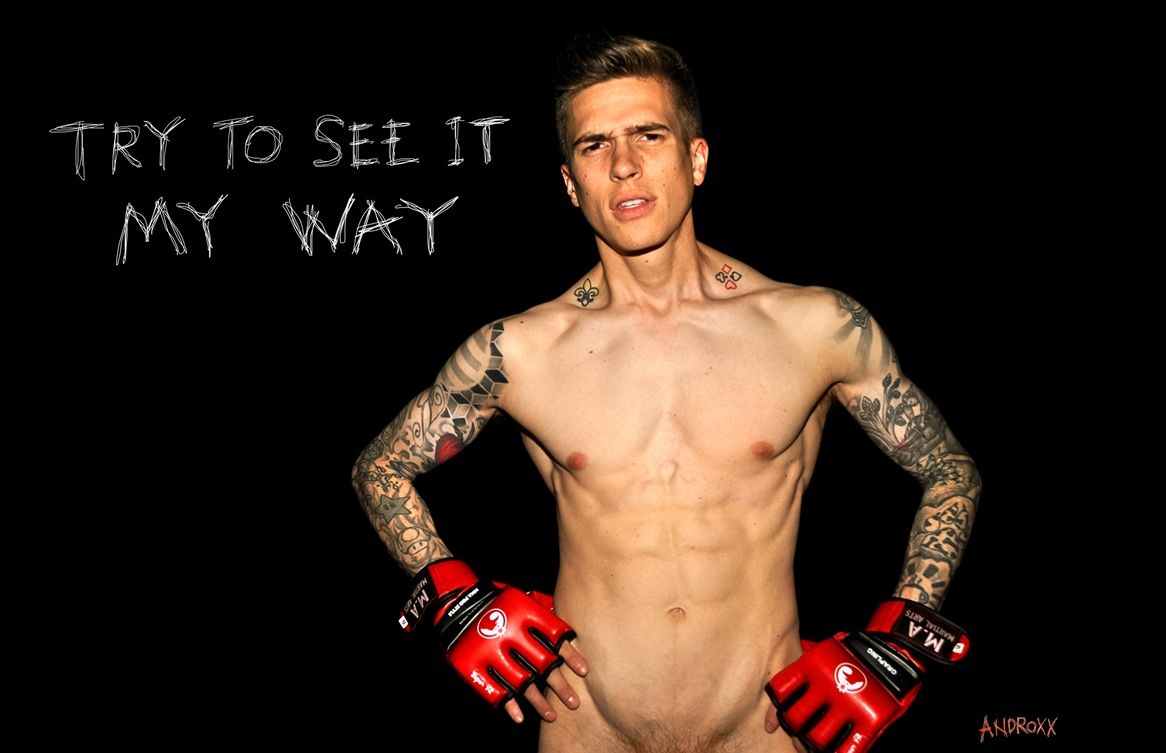 Androxx, We Can Work It Out (2022) – Model: Ignacio Naudon
It seems the two pieces with Ignacio, This Used To Be My Playground and We Can Work It Out are a bit more serious in tone. What can you tell me about these two shots?
It ties into why I changed the name of the series. So much has happened recently that's been beyond our control. Sometimes it feels like we are being played with – like pieces on a game board. We Can Work It Out addresses the chasm that continues to exist between the left and the right in American politics. And even though The Beatles' lyric is hopeful, Ignacio's confrontational stance and the martial arts gloves are meant to make you wonder, "Can we really work it out?" – even though I try very hard to be optimistic about it, I'm honestly not sure of the answer.
With Playground, I was simply thinking about the wistfulness so many of us feel for the past – even the recent past – lately. But with Ignacio sporting the whimsical vintage t-shirt and a huge smile, there's still a feeling of positivity in the photo.
Natasha Reatig, your friend and mentor of many years passed away in 2019. Natasha was a well-known fixture of the '80s and '90s Washington, D.C. cultural and arts scene; may I ask how you two met?
I met Natasha when I was 18 years old. I'd fled the Midwest and was a freshman in college in D.C. and I was so happy to be in a big, interesting city. But I was still searching for something. A few weeks after I arrived, an upperclassman told me about a woman who held a weekly artists' salon in a neighbourhood called Adams Morgan. I didn't even know what the word "salon" in that sense meant. I knew it was a place where women got their hair done, but that was about it. (Laughs)
You know that moment in The Wizard Of Oz when it goes from black-and-white to Technicolor? I'm not kidding when I say that's the way it felt the first night I walked into Natasha's salon. She was this beacon of beautiful, madcap energy. We hit it off immediately. She was much older than me, but I never felt that age gap. And the salon itself was really something. It was full of artists, musicians and filmmakers. Fascinating people, beautiful people, crazy people – a real Bohemian enclave. Not everyone was my cup of tea – but no one was boring.
I was looking for a different kind of education – and she really gave it to me. She taught me so much about life. And she ultimately opened my eyes to the fact that it was possible to pursue a career in the arts – which I realised is what I'd really wanted all along, but was suppressing it. One year later, I left college and moved to New York to pursue music and eventually begin my art / photography career.
We had a great platonic romance. Even though we were born decades apart, she felt like my contemporary. As she approached old age, Natasha stared it down and basically said "Fuck you". She totally defied it.
I was very, very angry when she left this earth. I felt robbed. She was such an integral part of my husband's and my lives – losing her was a completely destabilising experience. It's only recently that I've gotten to a place where I can be grateful for the fact that I had her in my life for so many years – and not dwell on the loss. But it took a while.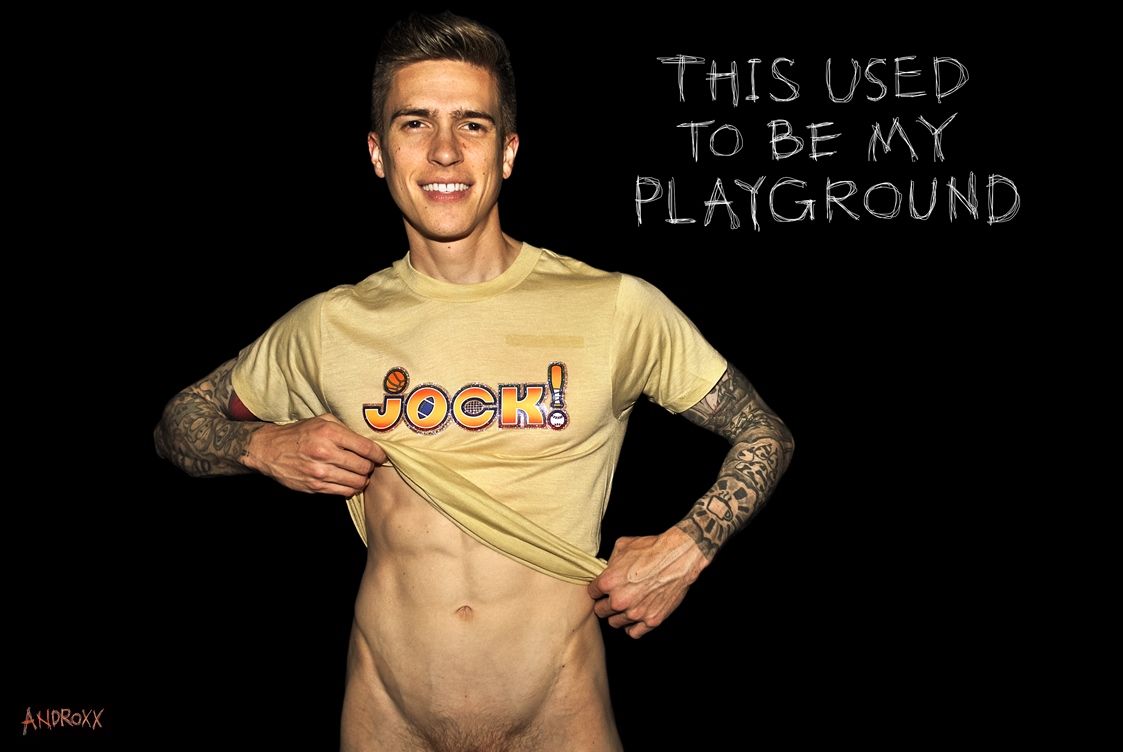 Androxx, This Used To Be My Playground (2022) – Model: Ignacio Naudon
How else do you think your friendship with Natasha influenced your development as an artist / photographer?
Well, I think that once I started doing my photography in earnest, she was always "in my head". If you're making art, first and foremost, I think you need to please yourself. If you don't come from that place, you probably shouldn't be doing it. But for me, right after that, came my husband and Natasha.
They were usually the first two people to see a piece. And when she'd praise a new work or call out a reference that not everyone would get, it made my heart leap with joy. Natasha was an art lover and a sensualist. And she loved the mashup of sex and pop art references that ultimately became my trademark.
I'll tell you one quick story you might enjoy. Shortly after we met, Natasha gave me a vintage "PUNK" t-shirt that she'd bought in the late '70s. That shirt wound up being used in a piece entitled Blank Generation and was on the wall in my first NYC show in 2013. She got a huge kick out of that – and people still inquire about that piece.
And finally, what does the future hold for you?
Well, Jacopo, as far as my art goes, the next step is to finish this series and explore the possibility of another gallery show. While it's great that people are able to see and purchase my prints online – there's nothing like having the actual large-scale work on the walls of a space in a real bricks-and-mortar building.
On a personal level, my goal in 2022 is to continue to enjoy time with my husband, stay healthy, see friends, take in art and just enjoy the days and nights. With the war in Ukraine, we seem to be going from one global crisis to another without even having a moment to pause. But despite that, we have to live our lives and focus on the positives.
And every now and then, if I meet a member of the younger generation who shows a keen interest in things like alternative music, pop art or indie film – I find myself doing a version of what Natasha did for me – turning them on to what I consider to be the "good stuff." I guess I've officially gone from student to teacher. (Laughs) I think Natasha would be pleased.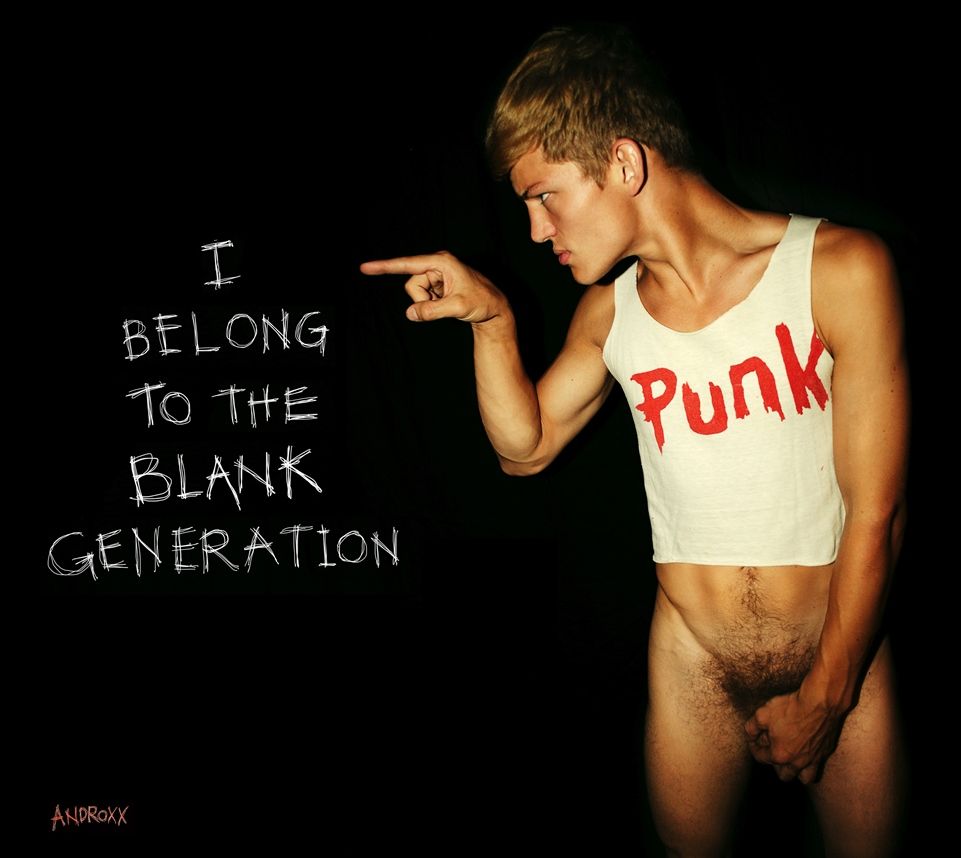 Androxx, Blank Generation (2013) – Model: Sebastian Sauvè
Words and interview by Jacopo Nuvolari