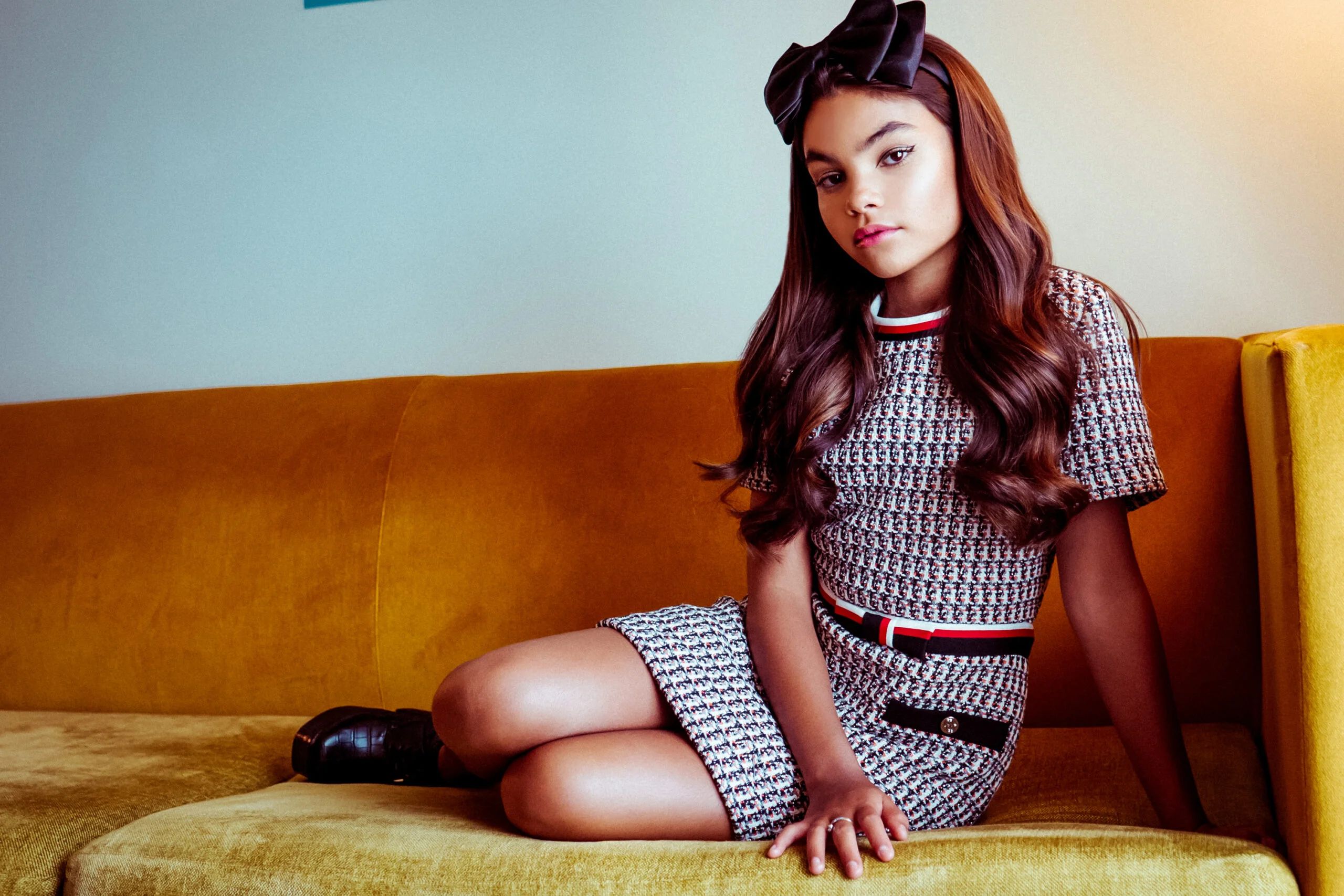 Ariana Greenblatt
It's hard to imagine Ariana Greenblatt isn't even a teen yet and she's already been eye-to-eye with the enemy Thanos in Avengers: Infinity War, voiced an iconic role in the Scooby-Doo adaptation Scoob! and starred in one of Disney's best sitcoms, Stuck in the Middle.
If that wasn't enough, Greenblatt is starring in the book-to-film adaptation of 'The One and Only Ivan' [by Katherine Applegate] along with the likes of Sam Rockwell, Bryan Cranston, Danny Devito, and Angelina Jolie. When speaking with Ariana, it's obvious that this project which is based on a true story about a gorilla kept in captivity with other wild exotic animals pulls at her heartstrings; although she's still only 12, she's eloquent and passionate when she speaks about her love of animals.
1883 spoke with Ariana about The One and Only Ivan, why it's important for her to represent the Latin community, and why she thinks Audrey Hepburn would be proud of her.
Can you tell us about your latest film The One and Only Ivan which is now out on Disney+?
The film is about Ivan, a gorilla who has been held captive in this circus at a mall for a very long time with a bunch of other wild animals. It's a story about friendship and keeping promises. My character is Julia who is a very sweet and caring girl. She loves animals just as much as I do in real life. She becomes Ivan's best friend and she also is a voice for Ivan; she inspires him to get into art, which obviously helps Ivan get his voice heard even if he can't speak to humans.
Did you read the book before you started filming?
Before I even started acting, I actually read the book in third grade at my school when I used to live in Florida! One day I was going through my camera roll and I found a photo of me reading 'The One and Only Ivan' to my class! I thought 'there's no way, that's crazy!' Like, a full-circle moment. I love the book; it's one of my favourite books and it has such a beautiful message, especially for the younger generations to get educated about animal captivity.
Do you think fans of the book will be happy with the adaptation?
Yes, I think they will. The movie is incredible and the message behind it is even more incredible, and I think people of all ages will enjoy the movie no matter what.
You're used to working with actors like Josh Brolin when he had his motion-capture suit on for Avengers: Infinity War, but what was it like having to act as if there were actual zoo animals while filming The One and Only Ivan?
I was at a little bit of an advantage because I already knew going into this movie how to use my imagination towards the motion capture and green screen. It's crazy cause some days it could be like someone in a huge elephant costume, and you have to imagine that they are a real elephant! You just have to get used to it. It's really cool. Ben Bishop is the person who actually played Ivan; he would do the body language and the motions and the sounds, and it was really crazy to see how he embodied the gorilla!
The film also stars Bryan Cranston and Angelina Jolie who voices Stella the elephant. You might not have worked directly with Angelina because she was a voice actress, but what was it like working with them?
Yes, you are right about that, I didn't work with her because she just was the voice actress! But I did get to meet her once or twice. We were filming a normal scene one day, and then I turned around and saw Angelina walk onto the set with all her kids and I was starstruck — I did not know what to do! I had to act cool. She was so sweet and really calm and nice to be around. It was incredible.
Working with Bryan was amazing too; I got to work with him for about three and a half months in London. He's so funny and such an amazing person to work with. I learned a lot from just watching him and seeing his instincts with his own character. Even if I wasn't in the scene, I would be backstage watching him just because he's so natural with his acting and he's so grounded and incredible. I definitely learned a lot.
Your character Julia likes to draw — I read that you personally drew all of the drawings used in the film!
I did! That was very special for me. I got to draw all the things that are in the movie. I could be having a break from acting or from school and I would draw when I was bored, and they put them in the movie which is so awesome.
Were you able to keep any of the drawings that were used in the film?
I'm pretty sure there was a hero one, the ones that they used in the movie, but I'm not sure if I kept them. I'll look later today and see!
I know you're still in school so how have you been balancing your acting work, school, and your other hobbies?
I try to find the best balance. I think balance is key when you're in school and acting. I have a great studio teacher that's always with me when I'm doing movies but during quarantine, I've been doing Zoom calls for school. In the beginning, it was really hard for me to focus but I got used to it! [laughs]
I'm very creative so in quarantine, I've been learning how to edit YouTube videos, baking, and I've been cooking a lot with my mom. I am also learning how to skateboard which is great! And of course, writing songs on my guitar.
One of your next projects is the adaptation of Lin-Manuel Miranda's musical In the Heights where you play a young Nina. You're part Latina — your mom is Puerto Rican. What was it like being part of a predominantly Latina cast?
I mean, I love surrounding myself with Latina people; I think they are amazing. I didn't get to work with Lin-Manuel Miranda but I have met him in the past before, and he's the best ever. In between scenes, I didn't get to work with Leslie Grace, who is the older version of my character, but I did get to hang out with her when we weren't filming and she's so nice and lovely. The whole cast is great! I also got to meet Anthony Ramos! I got to meet and hang with him.
Did your time on Dancing with the Stars: Juniors help you prepare for In the Heights?
Yeah, for sure! Even before I started acting, I was a dancer in the very beginning. Dancing with the Stars: Juniors was super fun and nerve-wracking, but it helped me with In the Heights for sure just to help pick up the dance routines really quickly.
With more representation of minorities in film and television, how important is it for you to represent Latin American culture appropriately?
100%, I'm so glad you said that. When I grew up, I didn't see a lot of people that looked like me, like other Latinas. If I'm able to be that person for another kid, then that is incredible and I want to be very inspiring in the Latin community as well. I'm trying to do as much as possible at a young age, and I just hope to get more opportunities as Latina in the future and I hope we can shine and be amazing!
You also worked with another Latina actress — Gina Rodriguez — in the Netflix film Awake. How was it working with someone like Gina?
Gina is one of my favourite people in the entire world. I love working with her; she's incredible and inspiring. Being able to work with a fellow Latina who has been very successful and has won awards is amazing and really inspiring. I hope I can work with her and see her soon after quarantine! She's like a family member at this point; I love her.
I noticed that Audrey Hepburn is one of your favourite actresses.
I adore her! She's all over my room. If I could be in any film, it would be Breakfast at Tiffany's. It was one of the first movies I saw her in and ever since I watched it, I loved it. The vibe is so good. Her character in it is so funny!
It's great because Audrey Hepburn was very passionate about animals too, so I think she would've been very happy with your role in The One and Only Ivan.
It's so cool to think of that! Like, she would be proud of me for The One and Only Ivan! That's probably one of the reasons why I love her so much; she really loved animals just as much as I do!
Who are some of your other acting heroes that you would love to work with?
Jim Carrey, Leonardo DiCaprio, Natalie Portman, and Tom Hanks; he's amazing!
You turn 13 really soon — you'll officially be a teen! What's on your birthday wish list?
I love neon lights, so I hope I can get one of those for my birthday! I'm not doing anything crazy for my birthday; I'm just going to relax with my family. I just want to spend some quality time with my family!
What else is coming up for you this year?
Love and Monsters is coming out soon with Dylan O'Brien which will be amazing! I have other movies coming in the future, but I obviously can't talk about them! But hopefully, I can talk about them soon.
Featured Image Credits
dress Maje shoes ASOS ring Pandora
Team Credits
interview by Kelsey Barnes
photography Samantha Annis
styling Jessica Paster @ Crosby Carter Management
hair Paul Norton @ Tracey Mattingly Agency
makeup Marina Gravani @ Tracey Mattingly Agency
casting + production Angeliki Sofronas
location Hotel Erwin, Los Angeles
special thanks to Sunset Kids for providing clothes
The One and Only Ivan is now streaming on Disney+!
[embedyt] https://www.youtube.com/watch?v=I-uIQDRS4a8[/embedyt]