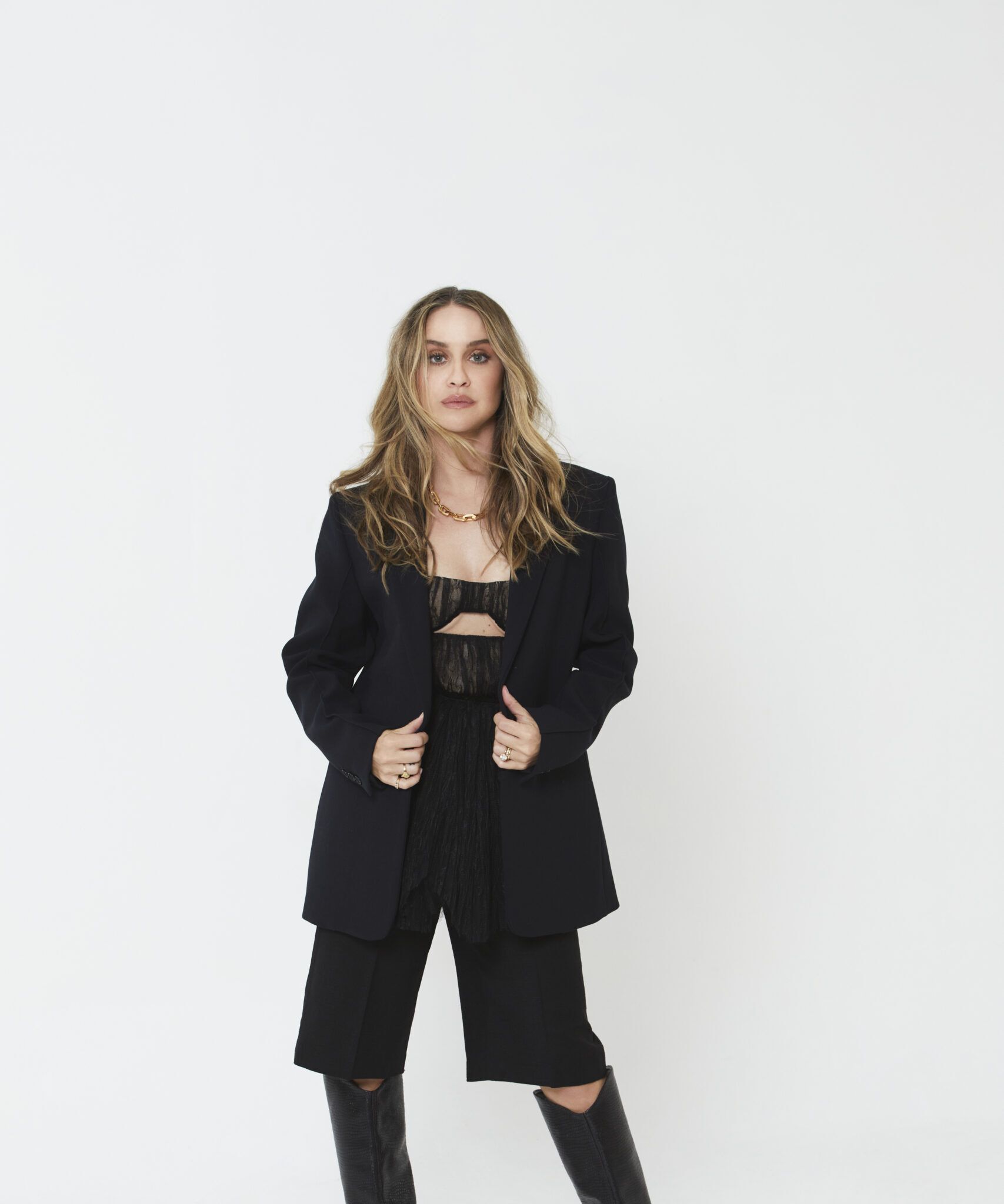 Becca Tobin
With her starring role in the new Disney+ show Turner & Hooch, her witty and relatable podcast The Ladygang, and her overall welcoming demeanour, the multi-talented Becca Tobin is definitely someone you want in your corner.
Becca Tobin's name is familiar to many a millennial. She first graced our TV screens as Kitty Wilde on Fox's internationally acclaimed Glee. Coming from a musical theatre background that included training at the American Musical and Dramatic Academy, Broadway's Rock of Ages, and touring with the Trans-Siberian Orchestra, the musical sensation was a natural segue into the world of film. Since the finale, the Georgia-born actress has appeared in other fan favourites such as Zoey's Extraordinary Playlist and Hallmark films, A Song for Christmas and Love at First Dance. While the stay and home orders of the past year did send Glee on a bit of a revival tour, Becca is now starring in the new Disney+ comedy series Turner & Hooch, opposite Josh Peck.
Outside of her acting career, Becca co-hosts a nationally beloved podcast turned brand, The Ladygang with friends Keltie Knight and Jac Vanek. In the hour-long episodes that drop every Tuesday, Becca is funny and charismatic, talking with ease and openness about her everyday life, and speaking with her over the phone was no different. The conversation ebbed and flowed, covering all manner of topics from both Tobin's personal and professional life. It felt similar to a chat one would have with their older sister or longtime friend.
1883 Magazine's Sydney Bolen spoke with Becca Tobin about her new Disney+ show Turner & Hooch, staying authentic and vulnerable, The Ladygang community, and more.
To start, let's talk a little bit about Turner & Hooch. I watched the first few episodes and I have to say congratulations! What a cute show.
Oh, thank you.
The dog is so cute.
[laughs] He's so cute.
This is your first series regular role since Glee. How do you think you've grown as an actress between then and now?
Oh, gosh. I've grown so much. Glee was my first TV job. Before that I was working in theatre – and musical theatre at that. I had never done any TV. I had done no work in film. I look at Glee as my training in the field; by the end of the show, I think I got pretty confident with the medium. I've had the ability to work and do projects here and there between Glee and Turner & Hooch. In those interim years, I've been able to mature as an actor, coach a little bit more, take more classes, and just get more experience. By the time Turner & Hooch started I felt more comfortable because I'd spent enough hours in front of a camera or in a class. Do you about know the 10,000-hour thing? Maybe I hit my 10,000th hour on Turner & Hooch. I think that's the biggest difference between Glee and now. On Turner & Hooch, I was a little more self-assured and really competent in what I was doing.
That's great to hear. Tell me about your character: Brooke.
Brooke is an assistant United States attorney. She's very business savvy. She's a boss lady. She's very driven. She comes from a successful family. She is the ex-girlfriend of Scott Turner, Josh Peck's character. They come into each other's lives again in episode 3 and we get to follow what it's like for them to work professionally together and what that does with their personal relationship. She's a fun character to play. My mom and my sister are both attorneys, as well as my dad. I'm very used to seeing women in suits and successful, powerful women. I'm glad I had the experience of seeing women in my life do this job for real because I was able to bring that to the character.
How did the fact that your mom and sister are lawyers influence what you brought to the character?
It was definitely less intimidating to take on the role because, as I said, I've witnessed both of them take on the profession of law and become very successful in their own right. So, to me, that's such a reality. I was able to see it with my own eyes. There aren't a lot of people that have the experience of seeing so many powerful women in their innermost, most intimate circles. So, it was exciting and it was nostalgic for me to take on the role, to put on the suits every day, and walk around with a briefcase. It was really sweet to sort of channel my mom in those scenes.
Yeah, I bet. It's cool that you got to almost honour what they've done through what you do.
It was cool. They were really excited when I told them. When I told my whole family I was playing a lawyer, it was pretty hilarious because I'm the only one who's not in that profession, so I was like, "Look, you can suck in school and still be a lawyer on TV." [laughs]
Turner & Hooch is a follow-up to or a rebirth of the 1989 film. Had you seen or were you a fan of the original film before you got the role?
I was only a couple of years old when the original movie came out. I had seen parts of it here and there and I was familiar with the title when I heard it. It was always a recognizable title for a film. It wasn't until I was auditioning for the role that I went back and watched it. I just fell in love. I'm such a fan of Tom Hanks, everything he does so, of course, this was no different. I was excited that the way they chose to make the series was as a continuation of the story and that they didn't try to redo or remake it. It's less pressure that way. With Josh's character playing the son of Tom Hanks' character as opposed to playing the same character Tom played in the film, it allows the storyline a little bit more flexibility and creativity.
I totally agree. I think anytime something is a continuation instead of a remake, it brings in the old fan base while attracting a new fan base instead of risking angering the old fan base by redoing the original.
It's so funny you say that because I went back and I looked at some of the press releases from when they announced that they were doing a Turner & Hooch series on Disney+ and a lot of the comments were those fans of the original being like, "don't mess with perfection," "please please don't change it." I was really happy to find out that that wasn't what they were doing. I'm curious now how those people have reacted to it. I'm sure the original fans are pretty excited that it was not a remake and I hope they think that we're doing it justice in continuing the story.
The past week has been Turner & Hooch week on [your podcast] The Ladygang. Have you enjoyed merging these two areas of your career?
To be so honest with you, I was very nervous to do that. I was excited, but I was a little bit hesitant just because I usually compartmentalize these two areas of my life. Acting is always in one category and then The Ladygang was this other outlet for me to be silly and candid and sometimes inappropriate. It's like having your boyfriend meet your parents; I just wanted everybody to get along and everyone to be impressed and everybody to feel good. I think we succeeded. It was surreal to have all these really important people in my life in the same Zoom room. I was just smiling from ear to ear. Keltie made a joke that she felt like she was meeting the other woman.
Oh my gosh. [chuckles]
She was like, "well, we thought we were her family and she has this whole other family!" [laughs] It was exciting. I'm happy that The Ladygang community got to know the three people we've had on so far. They have been very receptive to and loved Josh [Peck], Lyndsy [Fonseca], and Vanessa [Lengies]. I'm hoping to get some other people on as well in the future.
When you started the podcast over five years ago, did you ever dream it would turn out to be as big as it has because now it's this massive cultural phenomenon?
It'll be six years in December, which is nuts! I never, ever thought that was gonna happen. I still sort of haven't wrapped my head around it. Even when you referred to it that way, I was like, "what is she talking about?" I'm still a little shocked and stunned that we were able to turn what was supposed to be this side hustle into a big brand and that it has become this community of thousands of women around the world who all connected over a silly conversation I have with my friends for an hour every week. It's funny. When you're putting a lot of your energy into one thing, with me it was acting, and a little bit of energy or hard work into the another, I've found that the universe laughs at you. You think you're going in one direction, but then it sends you in another direction for the betterment of you as a human. Since you don't know it at the time, it was so confusing to me why this thing that I wasn't so invested in during the beginning was the thing that broke through but those are the rules of the world universe, I guess.
No, I agree! [laughs] Do you have a favourite episode or a moment or a collaboration that you're most proud of, after all this time?
I'm so incredibly proud of everything that we did in those six months in Vancouver with Turner & Hooch. We watched the first 20 minutes of the pilot on a lunch break, while we were still shooting the series. Production had gone through and edited enough for us to be able to view it right before the Christmas break. It sounds cheesy, but they turned it on and it's on this big screen and coming from this big projector and I started to get so emotional. I'm not even in the pilot! [laughs] I just felt so grateful to be a part of something that is turning out to be so wonderful. It's so entertaining and so well done. But, more than that, we shot it in the middle of a pandemic. A lot of people had to leave their families for six months. None of us went home for the holidays. We're following these intense protocols because of COVID, so it means a lot to watch it now. I'm so proud of this series and how we stayed so safe. Everybody had their eye on the prize and was so driven to make something special. To me, this is the thing I'm most proud of — just this whole series in general. It's pretty spectacular to see what a bunch of people can do in the middle of such a crazy time.
It's been cool to see what has come out of the height of the pandemic because now we're getting to the point where we get to see some of that.
Yeah! I know that there's such a huge percentage of actors who weren't working during that time because there was barely anything shooting. Of all the actors and the industry, I feel so grateful that I have the experience of shooting during the pandemic because it's historical. We're going to be able to talk about the time that we went to shoot a series in the middle of a pandemic and what that was like. As terrible of a time as it was, I feel like it's going to be a cool thing to look back on and be able to talk about from experience.
It's that hindsight 2020 thing — going through it, and still going through it to some extent and in some places, was awful. But, coming out the other side, I think as a society we're going to have moments that we're proud of.
Yeah, definitely. When you're on set everybody has pretty common goals, but there's a lot of other stuff going on in everyone's lives. We have social lives and families, but this was such a concentrated time. All we had happening was production. It had to be that way because we had to focus on staying the course. It was a really special experience.
It sounds like it. You, Jac, and Keltie have worked with several philanthropic organizations. While they have all been great causes, were there any that were more near and dear to you personally?
I love that we've done a few things to raise money for Bethenny Frankel's Foundation, BStrong. That's been cool just because we really admire Bethenny as a businesswoman and a philanthropist. Being able to rally our community to raise money for a foundation where we know the funds are being used really responsibly and effectively is great. On a smaller scale, at the beginning of the pandemic, we knew a lot of women were working the front lines as doctors, nurses, EMTs, and firefighters. We have a lot of those women in The Ladygang community. We reached out to some of the brands that we have worked with over the years, the ones that we really loved and connected with and we asked them if they wanted to donate products to fill care packages for the women in our community who were having sleepless nights as they worked night shifts at the hospital or otherwise keeping us all safe during the pandemic.
That's so cool.
Yeah! We sent out several hundred care packages filled with amazing goodies that these brands so generously donated. Selfishly, that felt the best because we knew the women receiving these care packages were women who tune in and have supported our brand all these years.
That's amazing, I didn't know about that.
We had girls reach out and say "I'm not a nurse, but my mom is a nurse and she's just exhausted. Can we send her a care package?" It felt like such a good thing to do because you feel very powerless in those moments. There wasn't a whole lot we could do, so that was nice. We also have an exciting partnership coming up with the brand Saalt. They make menstrual products. They're amazing! When our clothing line goes on sale in the Fall, with every order on the website we're sending a menstrual cup to a community and a woman in need.
Oh wow!
Yeah. We're really, really excited about that partnership because it's an awesome brand and menstrual cups in general, I don't know if you've gotten into it or if it's TMI, but I think they're very cool.
I haven't yet, but it's on my list of things to branch out towards.
Woman to woman, I am a recent convert and I'm into it. One of our employees that The Ladygang is twenty-three and she's very young and hip and really into zero waste. She follows all these influencers whose whole lives are committed to living zero waste and helping people find ways to lessen their waste. She was the one who told us we needed to get in on this. She's our resident Gen-Z and got us all to convert. It was a pretty funny experience.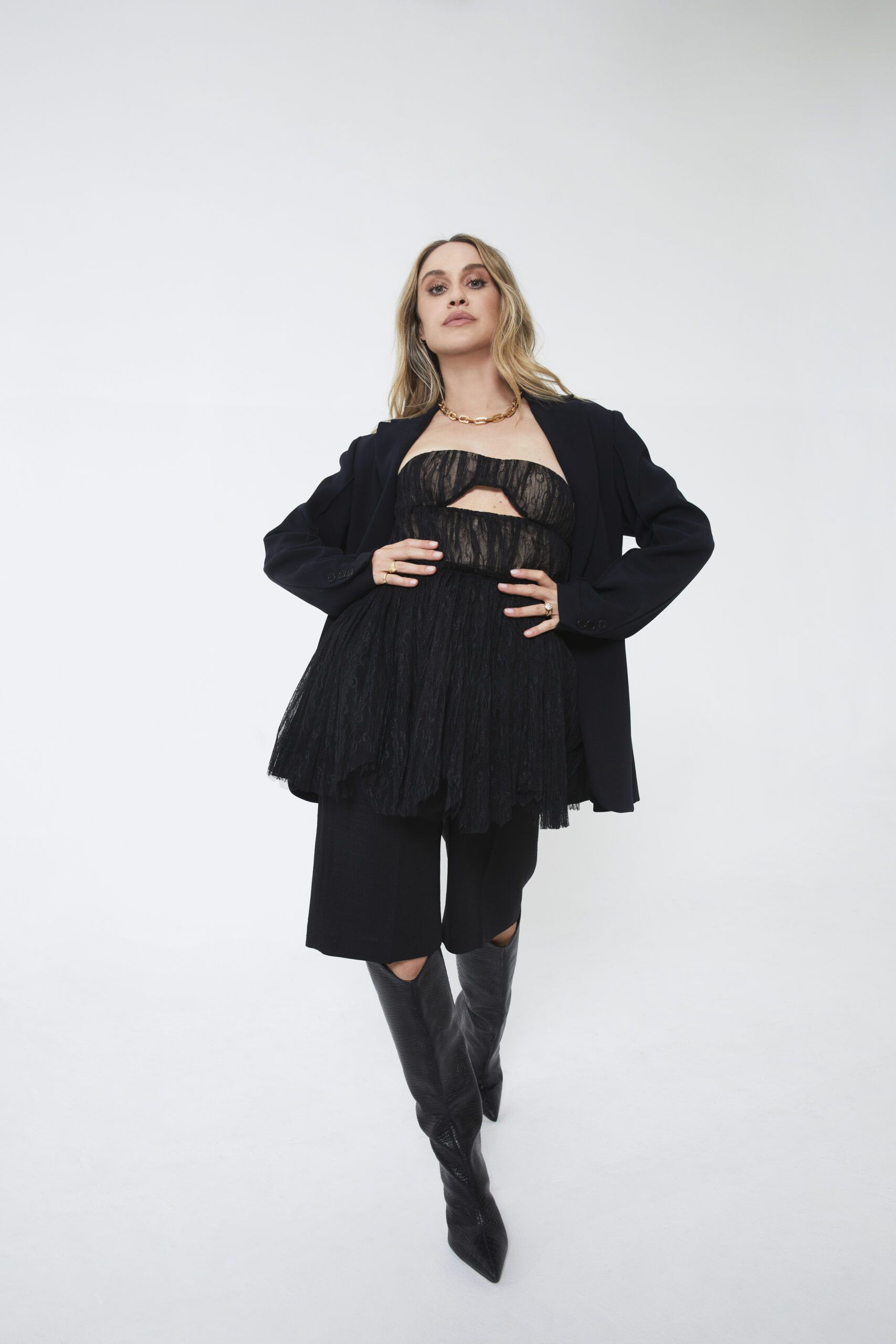 To close, listening to The Ladygang, and watching you on Tamron Hall Show, it was so refreshing to see how honest and open you have been about your life's journey. Is there a piece of general life advice that you were given that you feel helped make you who you are today?
Oh, good question. I wish I could say that me being open was a conscious choice, but it's because I come from a long line of TMI women. My grandmother, my dad's mother, was this extremely sassy woman who was supposed to be this perfect 1950's housewife, but instead was very outspoken, and cussed like a sailor and talked about things that women at that time were not supposed to talk about. She was somebody whom I was very close to. My mother is a similar type of woman — I think my dad married someone similar to his mother as men do. My dad coming from that type of woman is very outspoken and his dad was the same way. So I come by openness honestly. I know there are times where it's probably a flaw. I'm uncomfortable in places where people aren't being open and honest. It's hard for me when people are guarded or not sharing — that's their prerogative. It's my problem and not theirs, but I find that I connect better with people when I'm being my most vulnerable.
I get that. I'm the same way. Surface-level relationships aren't my favourite.
I think that's because when you're vulnerable, you usually get somebody else who's willing to be vulnerable as well. I have shared a lot about my life. One of the things I wasn't sure about sharing was my fertility journey. But, Keltie and Jac have been super supportive of my doing so. They've been telling me how it has been very helpful for the women in our community. I don't read or look at a lot of the feedback when it comes to the fertility stuff because I'm still in it. I did a few episodes about it and I'm happy to be open about it. I could talk about it all day long. I should tell you right now, I'll probably pressure you into freezing your eggs because that's my thing lately. [chuckles] I'm not quite at a place where I want to see the feedback from the community directly. Jack and Keltie will come to me and say, "we've got this amazing email and I just want you to know you're on the right path. You sharing this has been really important to a lot of these women." Hearing that from them was really good advice. It was freeing. I realized I was holding a lot in and going through a lot of stuff internally and it was affecting my work, my acting, my everything. It was like I was all stopped up, but as soon as I was able to open up and release what I was feeling, a weight was very much lifted.
I've been watching your videos about IVF and I find them so interesting. I'm not at that point in my life yet, but what you said on the Tamron Hall Show about arriving at this decision hit home with me. I'm twenty-six and feel like I am nowhere near starting a family. I've enjoyed watching your journey as a way to wrap my head around what options there are.
I don't ever want it to come across as a cautionary tale because at the end of the day I'm just grateful for the incredible science we have now and for my fertility doctor, Dr. Daneshmand. He's one of the best fertility doctors in the world and as he helps me get to the finish line, he's also been educating me so much.
No! It doesn't come across as cautionary at all.
Oh good. I want to impart so much of what he has taught me on to young women because when you're young and focusing on your career, you don't think there's a window closing. It's not even something on your radar! I always say the position we've been put in biologically is really unfair.
I hate it! It's so dumb.
It's so fucked up! I think that that'll be my biggest question when I die. I'm going to ask whoever is there: why, why us?
[laughs] Why do women have to have a biological clock and men get to run around and do whatever for as long as they want?
Yes! Why do we have to be the ones to physically carry the baby and then breastfeed the baby? It's crazy to me. I know it's a magical experience, but there's also a lot of stuff that's not magical about it.
I've got a couple of friends right now who are pregnant. Watching them go through this journey of being so excited, but now also being so ready to not be pregnant has shown me that.
It is pretty comical. It's very much like a mixed bag, but I would say, the majority of the women in my life who have experienced carrying a child and giving birth have reviewed it by saying there's a lot of romanticism to pregnancy. I think what we see in the mainstream is not really everything there is. Not to say that it's not great and not incredible, but it's also really fucking hard. I can understand why at twenty-six you have no desire to think about it because I'm thirty-five and I don't want to think about it. [both laugh]
Team Credits
Interview: Sydney Bolen
Photographer: Claire Leahy
Stylist: Natalie Hoselton
Fashion Credits:
Jacket: Tre by Natalie Ratabesi
Corset: Tre by Natalie Ratabesi
Shorts: Pinko
Shoes: Schutz
Jewels: Jenny Bird
Check out Turner & Hooch on Disney+ now.