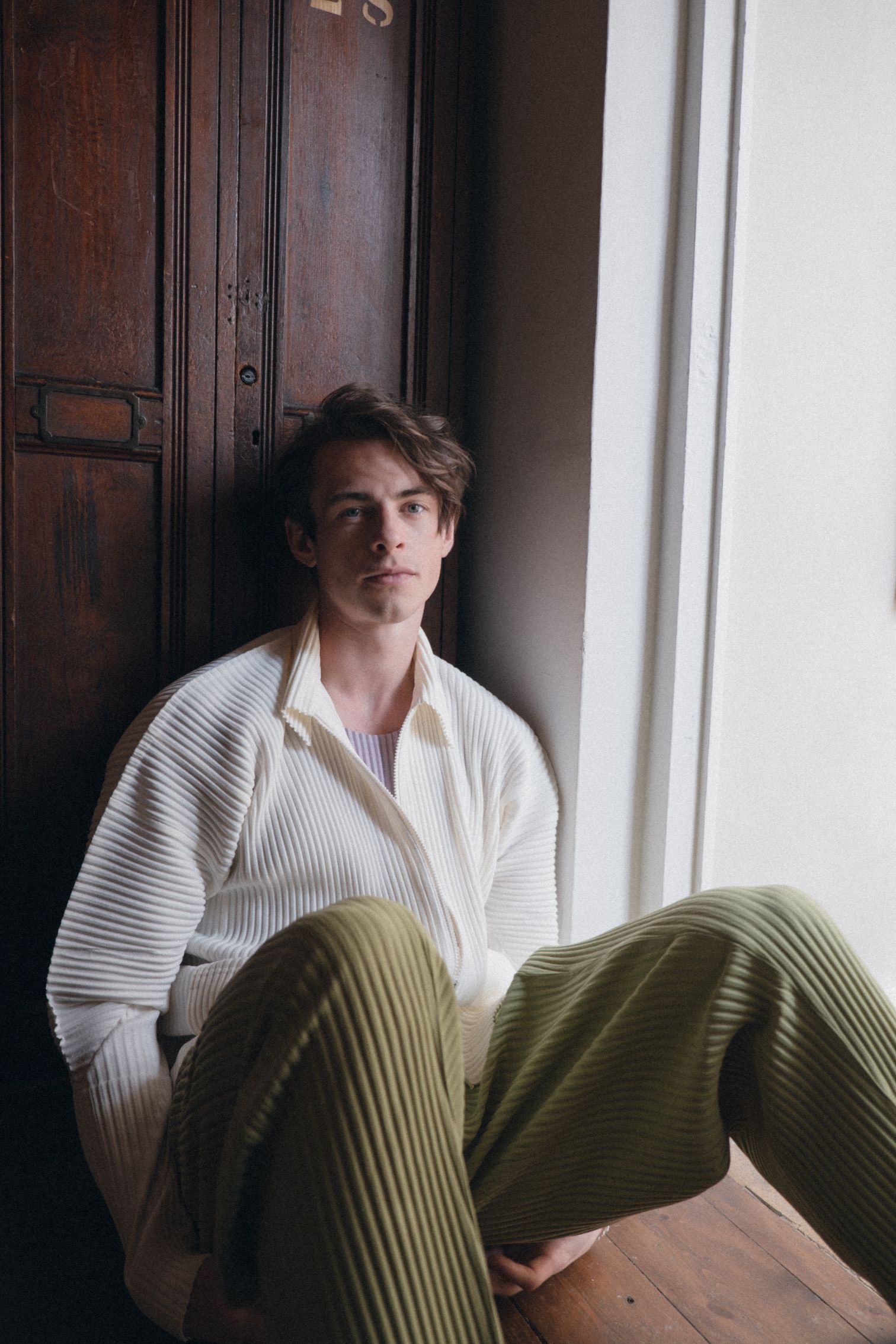 Ben Radcliffe
With an upcoming breakout role in Apple TV's Masters of the Air and a pivotal part in Netflix's Anatomy of a Scandal, British actor Ben Radcliffe is due for a career-defining year.
British actor Ben Radcliffe is having a very busy year. The Leeds native built his following after snagging a lead role on CW's Pandora and can also be found among familiar faces in Disney's The Lodge, Cuban Fury, and BBC's Hetty Feather. Although his upcoming roles seem to be what will set Ben Radcliffe apart as he transitions into the next phase of his career. Since wrapping the Apple TV's highly anticipated Band of Brothers sequel, Masters of the Air produced by Tom Hanks and Steven Spielberg, Radcliffe has added multiple roles to his resume. The most recently released is showcased in Netflix's Anatomy of a Scandal.
Netflix's most recent crime drama comes from the mind of David E. Kelly who is best known for the HBO hit, Big Little Lies. Based on the book of the same name by Sarah Vaughan, the show chronicles the story of James Whitehouse, a successful Westminster politician who is accused of rape. Ben Radcliffe plays the younger version of the lead role in scenes set at the time of the purported transgression.
Ben Racliffe chats with 1883 Magazines's Sydney Bolen about filming Masters of the Air, playing roles that matter, his Anatomy of a Scandal character, and more.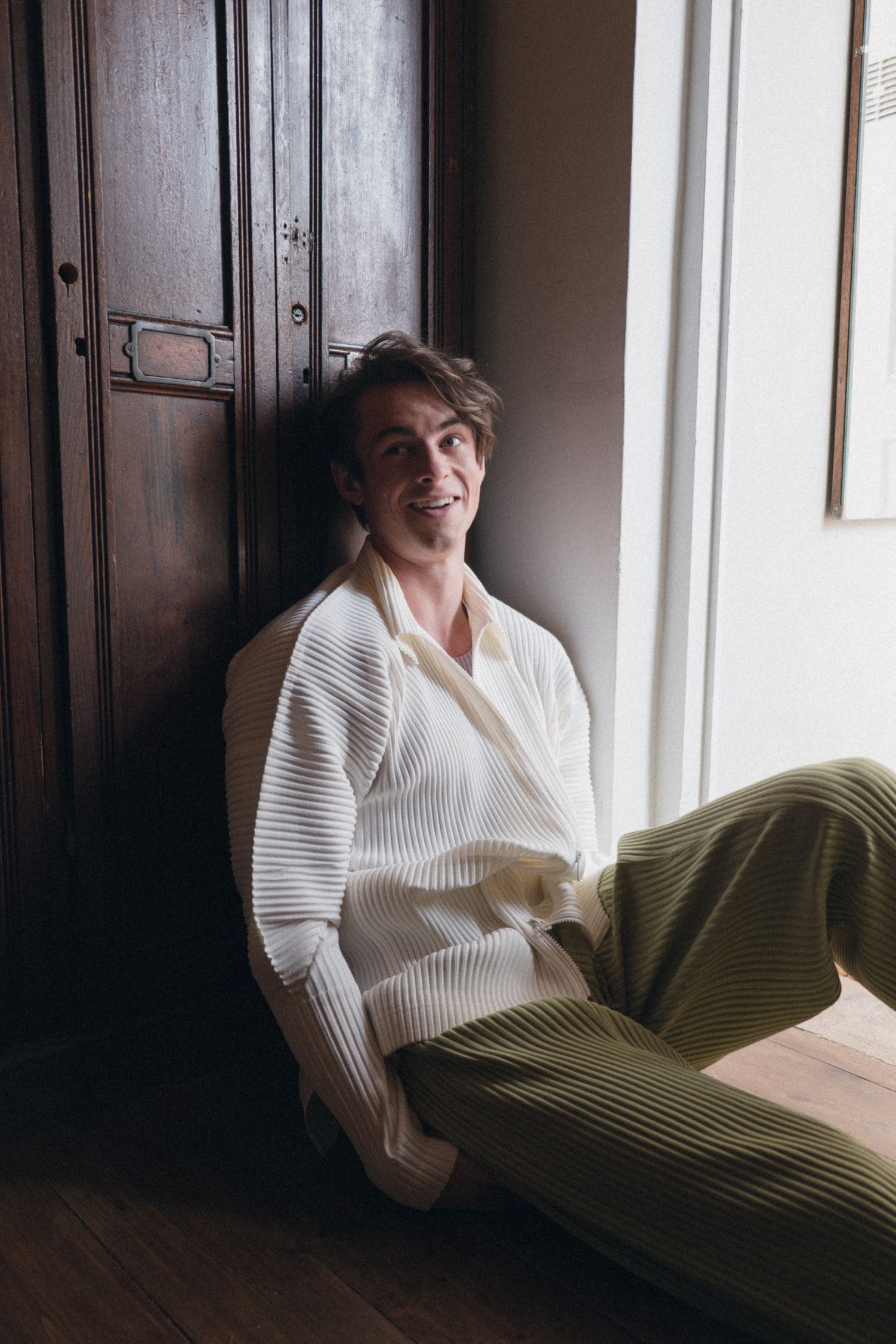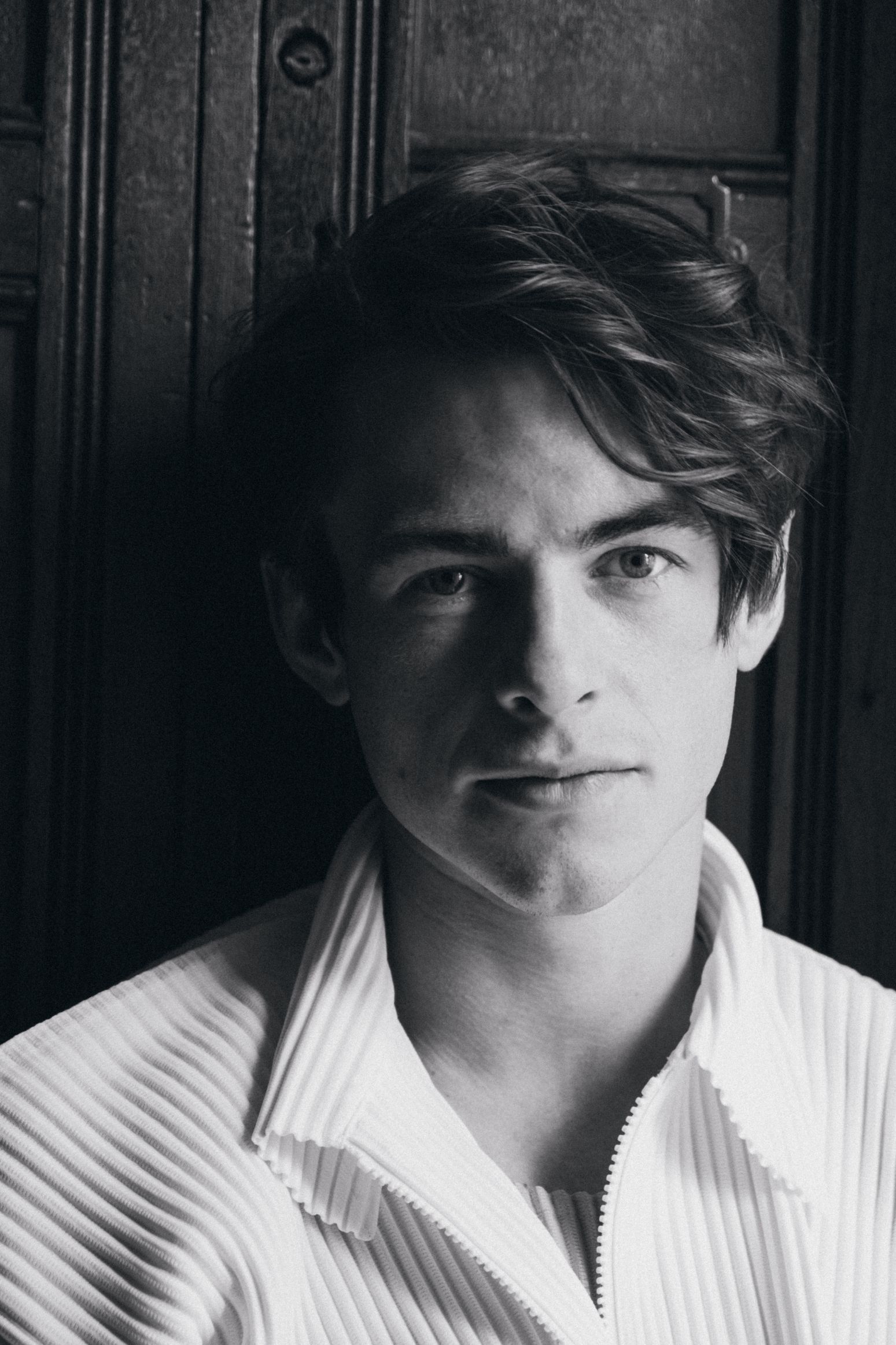 Full look Homme Plissé Issey Miyake
You're having a decently busy year so far. Congrats. How are you feeling about it?
I'm feeling good. It's been a great year. Anatomy of a Scandal has come out, which has been cool. I just finished another film as well, so all is good.
You're currently filming Masters of the Air, correct?
No, we finished filming that in December. 
Oh? Well, IMDb lied to me. It says filming.
It was a nine-month shoot so it was very long, but it is over now.
It has quite the cast. How was filming the project?
I would describe it as immersive. The budget on that show is crazy. They almost did everything for real, you know? A lot of it is filmed in planes, so we got to sit in these planes that were on gimbals. They would move around and had this thing where we could look out of the windows and see enemy planes coming towards us or the sky. So, we didn't have to do much acting at the end of the day. It was pretty damn cool.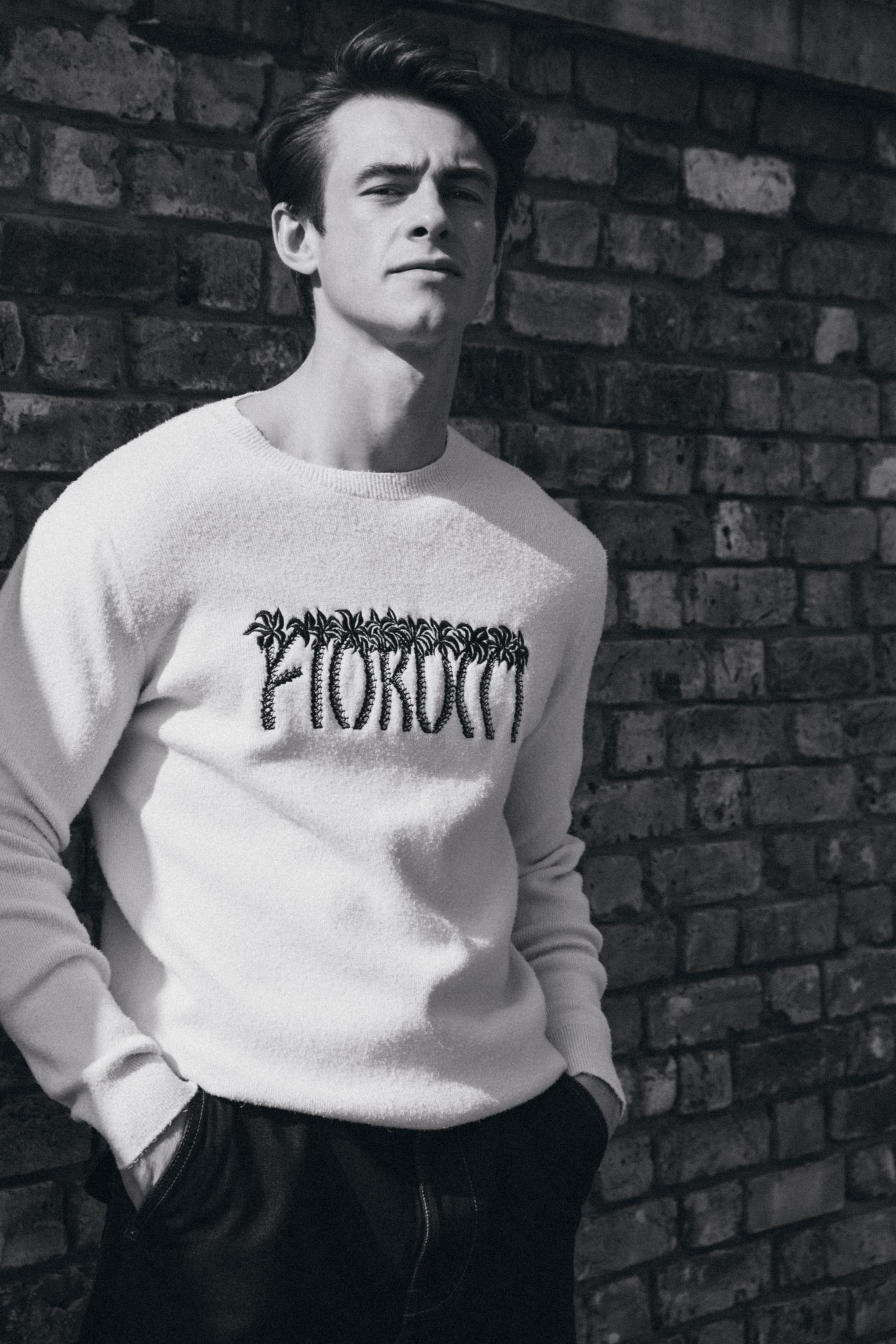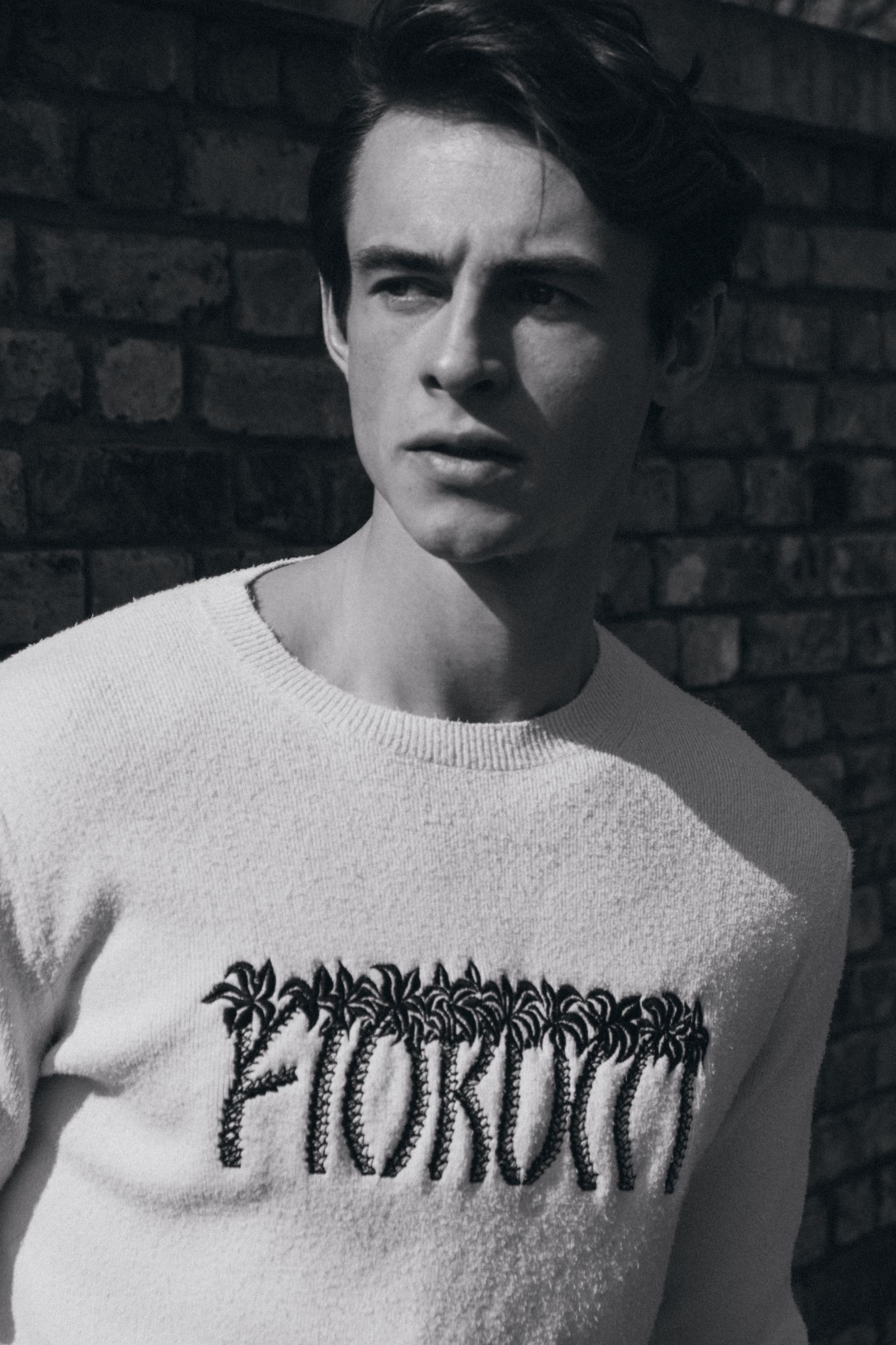 Jumper Fiorucci Jeans Moncler
Wow! It sounds like it. I know people are excited about it. There's a lot of chatter already. Tell me about Captain John D. Brady.
He's a pilot from upstate New York, a nice guy that looks after his crew, and a good team player. It's a very big ensemble cast. There are a lot of unbelievable things that happen in the show. There's some very mad stuff that happens. It's a really exciting, cool project.
I'm excited to see it. I read that it was filmed all around England. Which location has been your favourite?
We spent about three or four months in Bovington filming some prisoner of war scenes. It was muddy, cold, and just not very comfortable. That was probably not my favourite, actually. [laughs] It's the last thing I remember. The coolest place was the airfield. They used Abingdon airfield. I think it is unused now, but it's a big runway. They had three or four proper B-17 airplanes that were taxiing around. Just being on those runways with the planes, and all the army vehicles, was cool to see.
It sounds like a heck of a show to film.
Yeah, it's mad.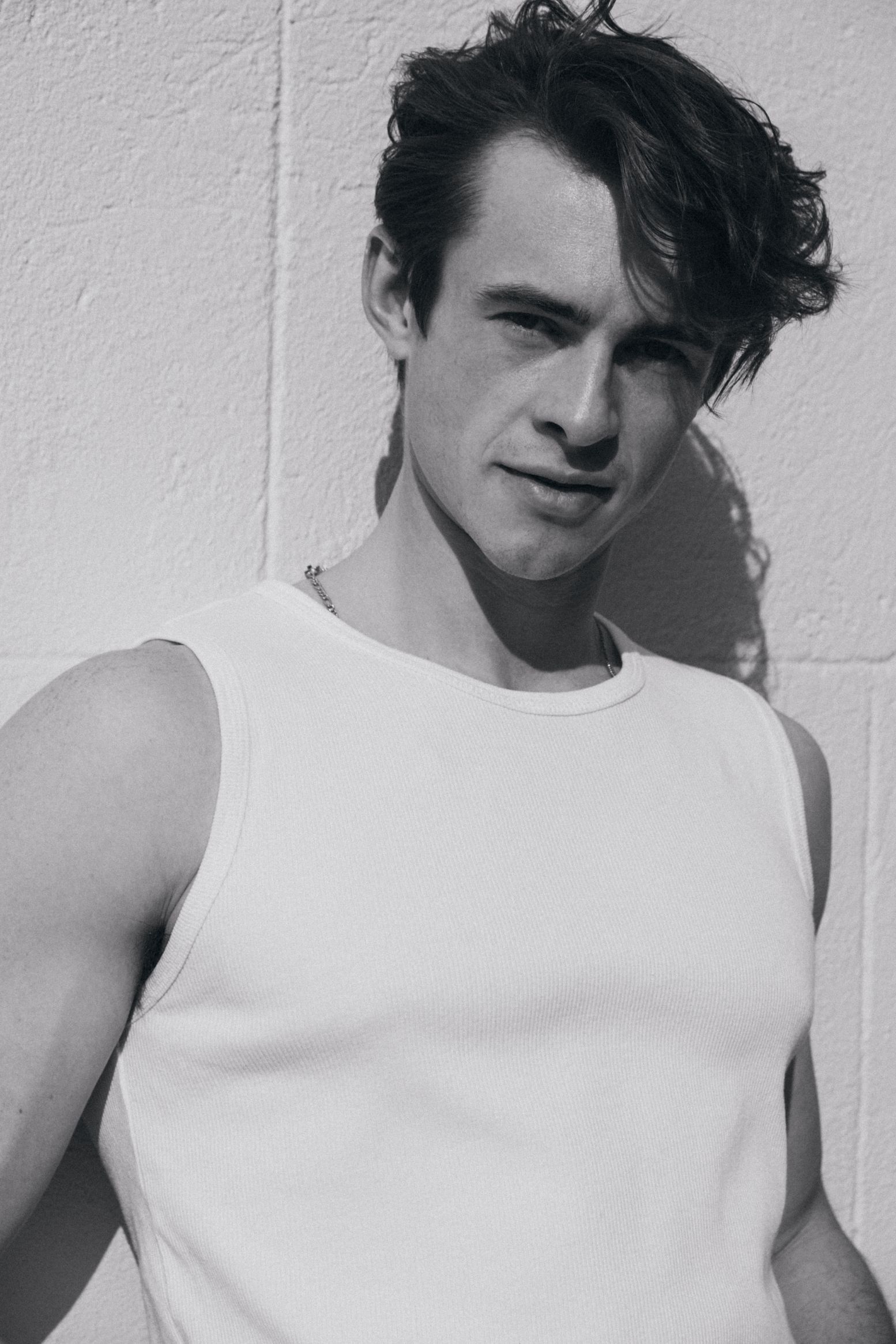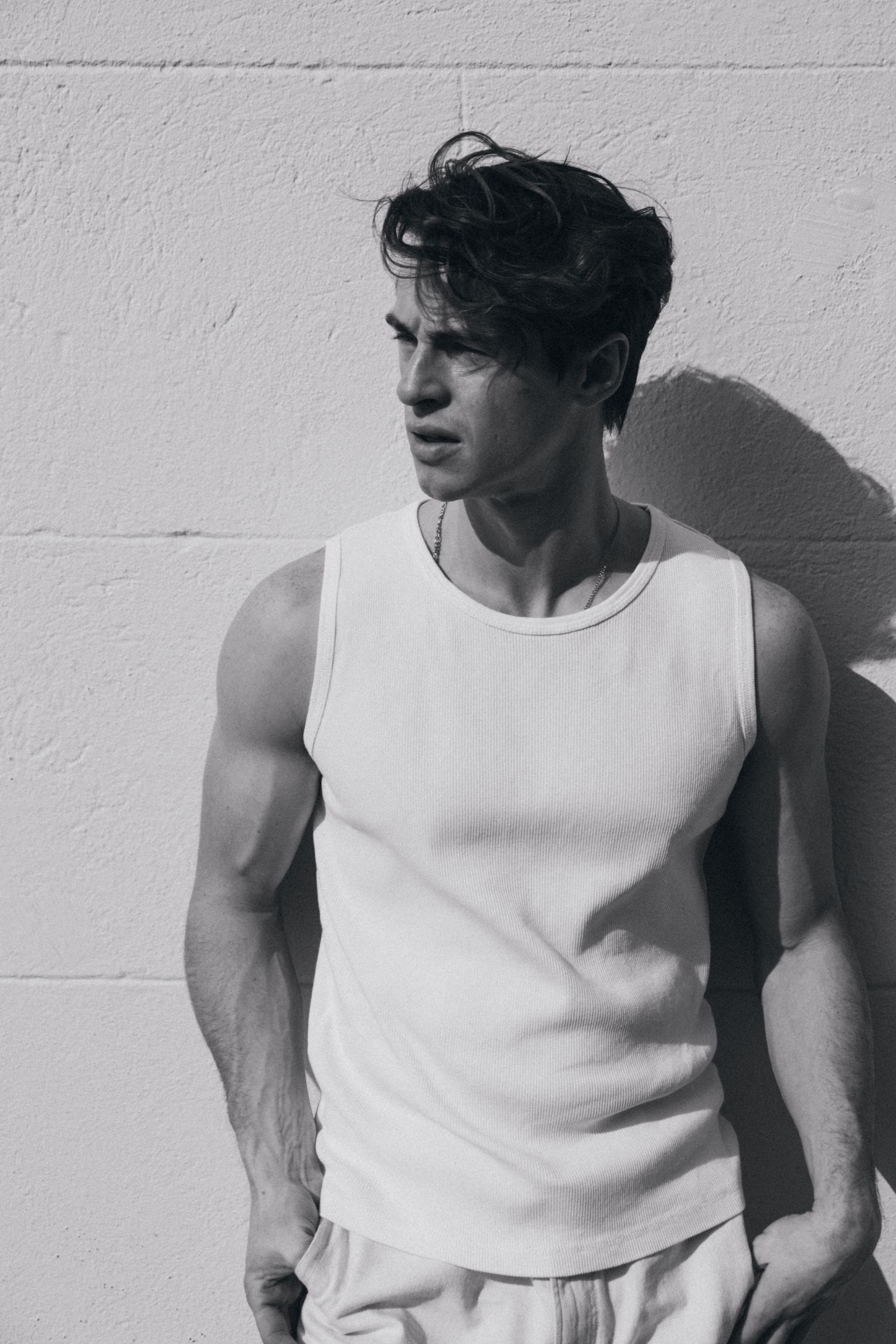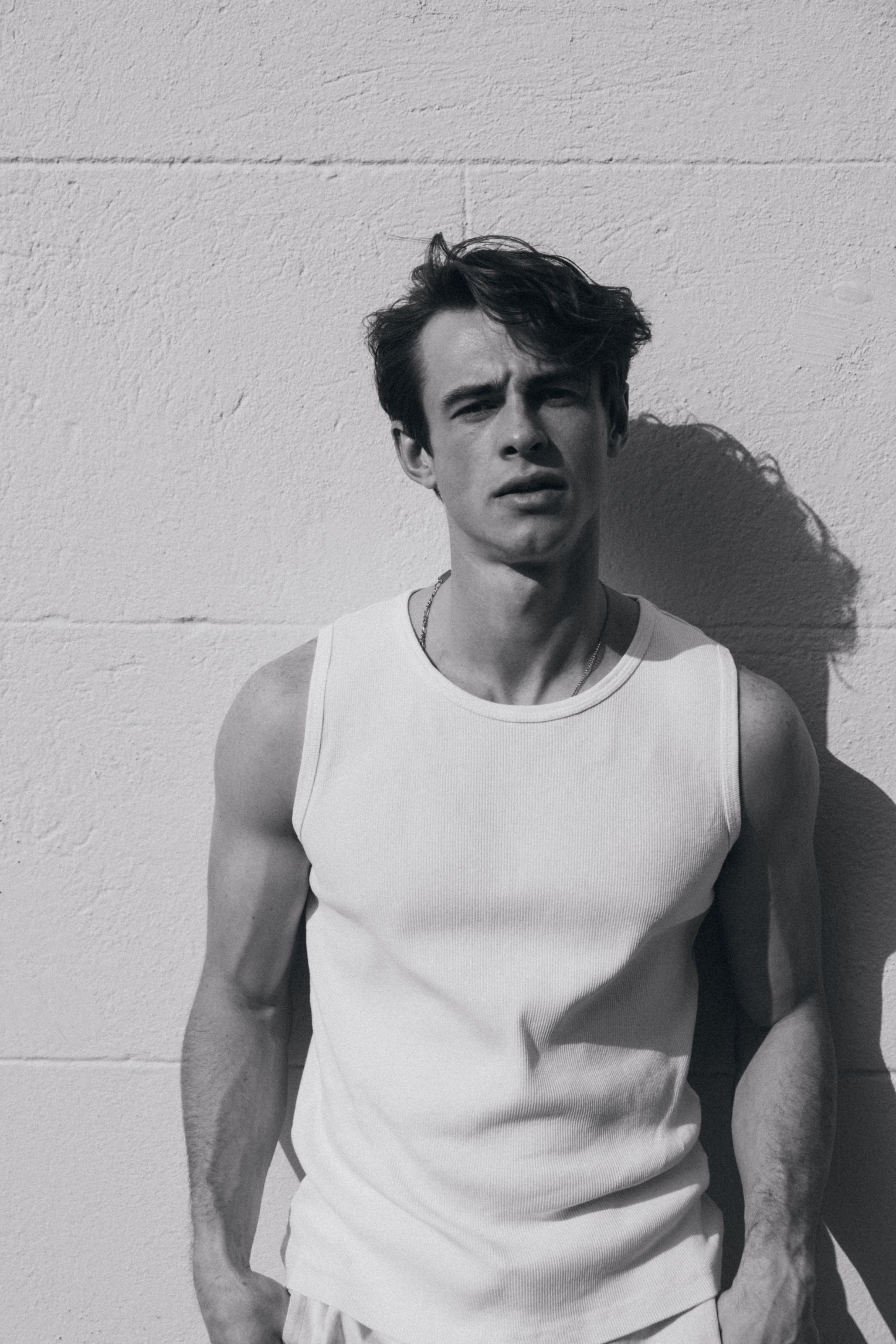 Necklace Completedworks Vest Dolce & Gabbana Trousers ARKET
Anatomy of a Scandal was recently released on Netflix. It's a pretty heavy show, to say the least. You play a younger version of James Whitehouse. Let's chat about the character. He's not very cut and dry.
He's a very confident chap. The thing that I found most interesting about this character is that on the surface, he's a charming, competent guy. But it's his privileged upbringing that gives him this level of confidence, where he feels like he can't do anything wrong. Obviously, he does. But, that's a really important part of the show. It's the privilege that informs his worldview, so he just thinks he can do anything he wants. He was a really cool character to play.
When you approach this kind of character what do you do to prepare?
I always make sure I research when and where a story is set to try to understand where that character has come from. For this character, I tried to get my mind around what it would have been like to go to one of those all-boys private schools and the narrative of the time. I looked at loads of magazines from the 90s and it's incredible how skewed to the male perspective everything was. It was very informative about how I chose to play the role.
Anatomy of a Scandal is adapted from a book. Did you read it prior?
Yeah. It's a really good book. I think the TV show added a little bit of extra nuance to the characters, as well as another level of detail. But, it was very useful to inform my character choices.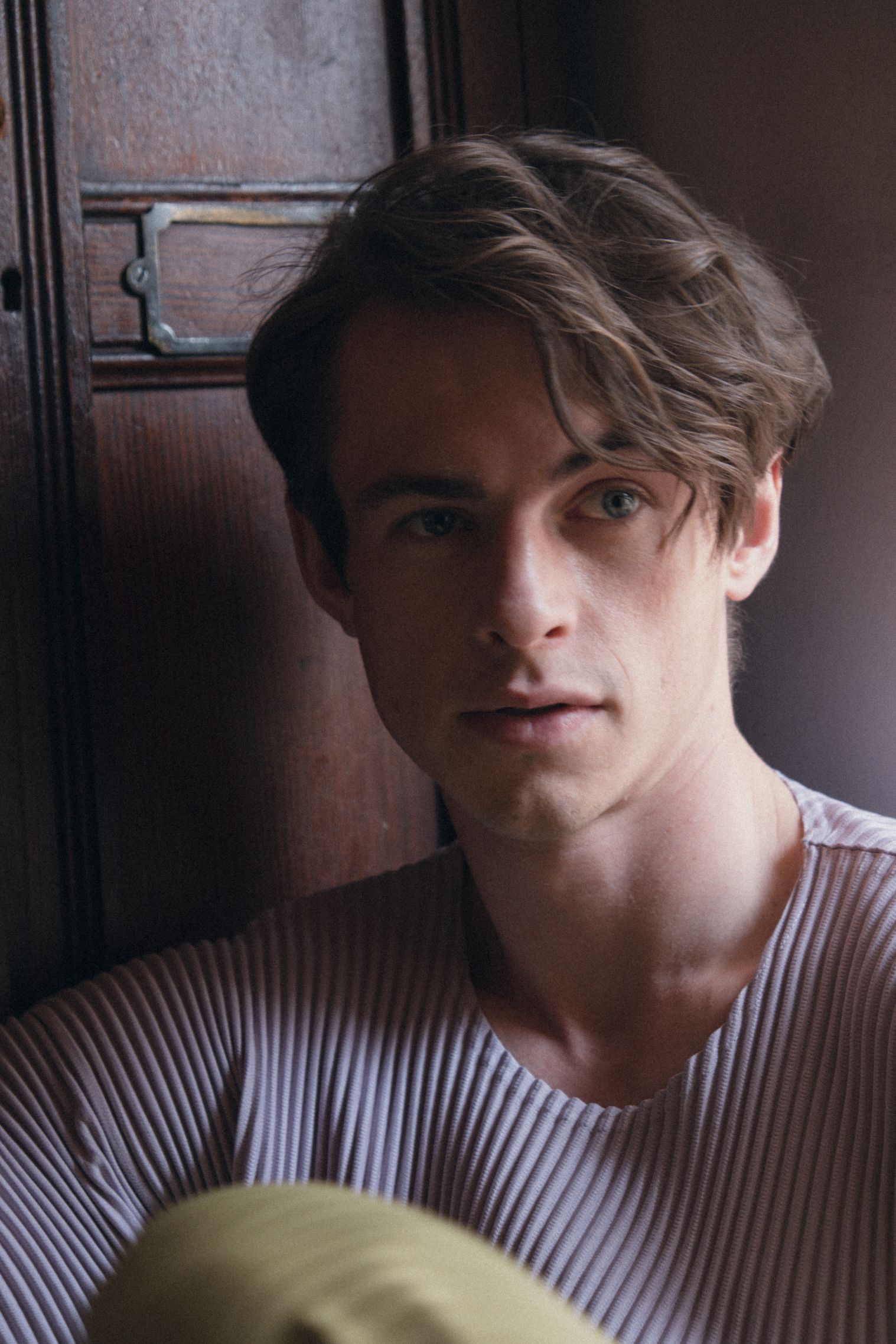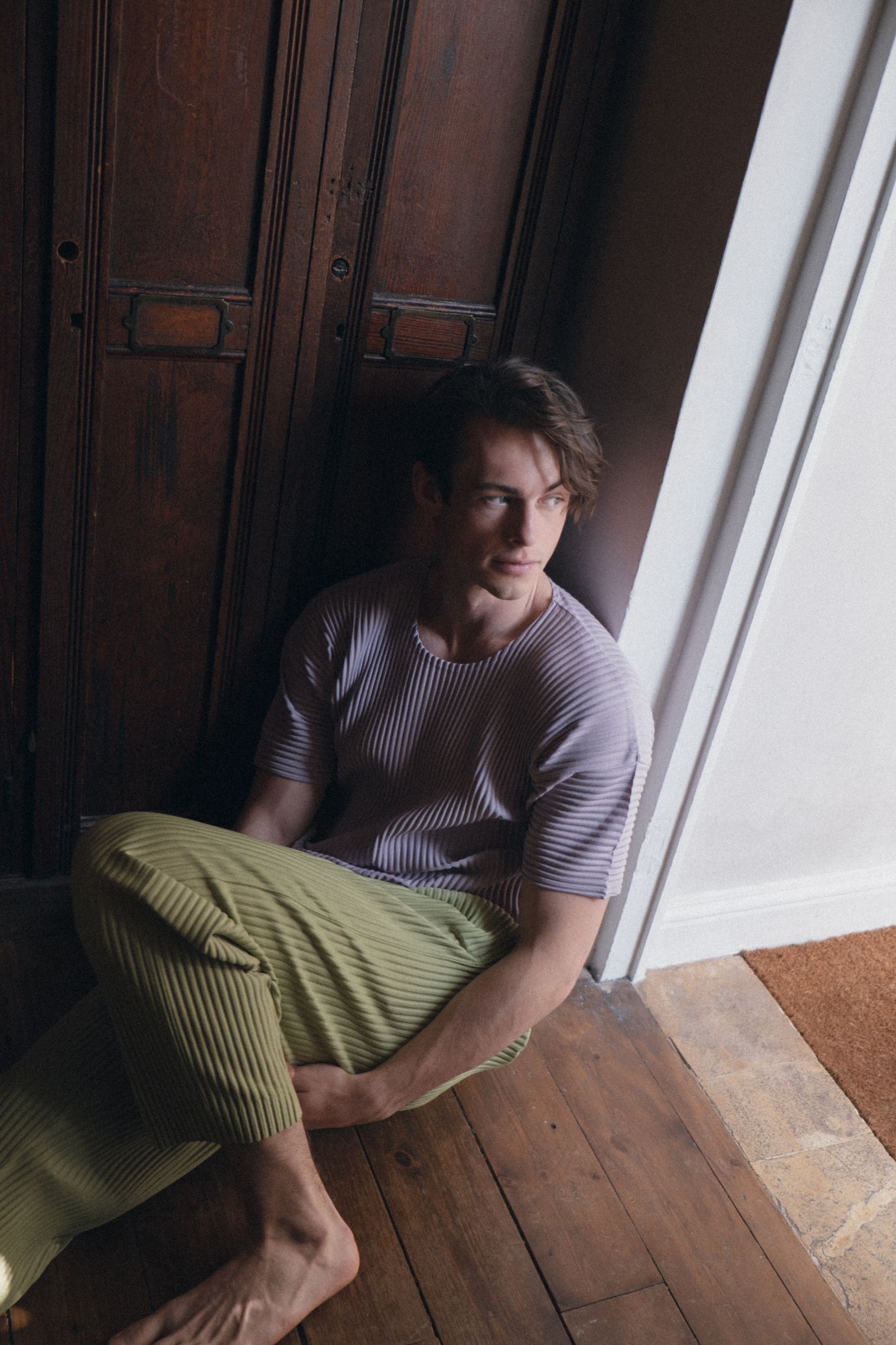 Full look Homme Plissé Issey Miyake
As you're playing the younger version of James did you and Rupert Friend [who plays the older] collaborate at all on the portrayal?
A little bit. But not as much as you'd think. I think they did quite a good job with casting because we are kind of similar in the way we perform. I worked mostly with the director on the character. Rupert and I didn't focus heavily on being similar and sharing character traits. I don't think any of the younger version cast focused on it. I think that the casting did that part of the work and then what was more important to S. J. [Clarkson] was our performance. Rather than just imitating the older characters, it was more about playing the story and the scenes that we were in and making sure they were right and good. 
It's always interesting to me when you've got two people playing an older and a younger version of the same character.
Yeah. Sometimes it's a bit jarring. It's hard for me to say when it comes to this, but a lot of people have said to me, "Oh, my God. You guys look the same. It's really believable." Hopefully, most people think that.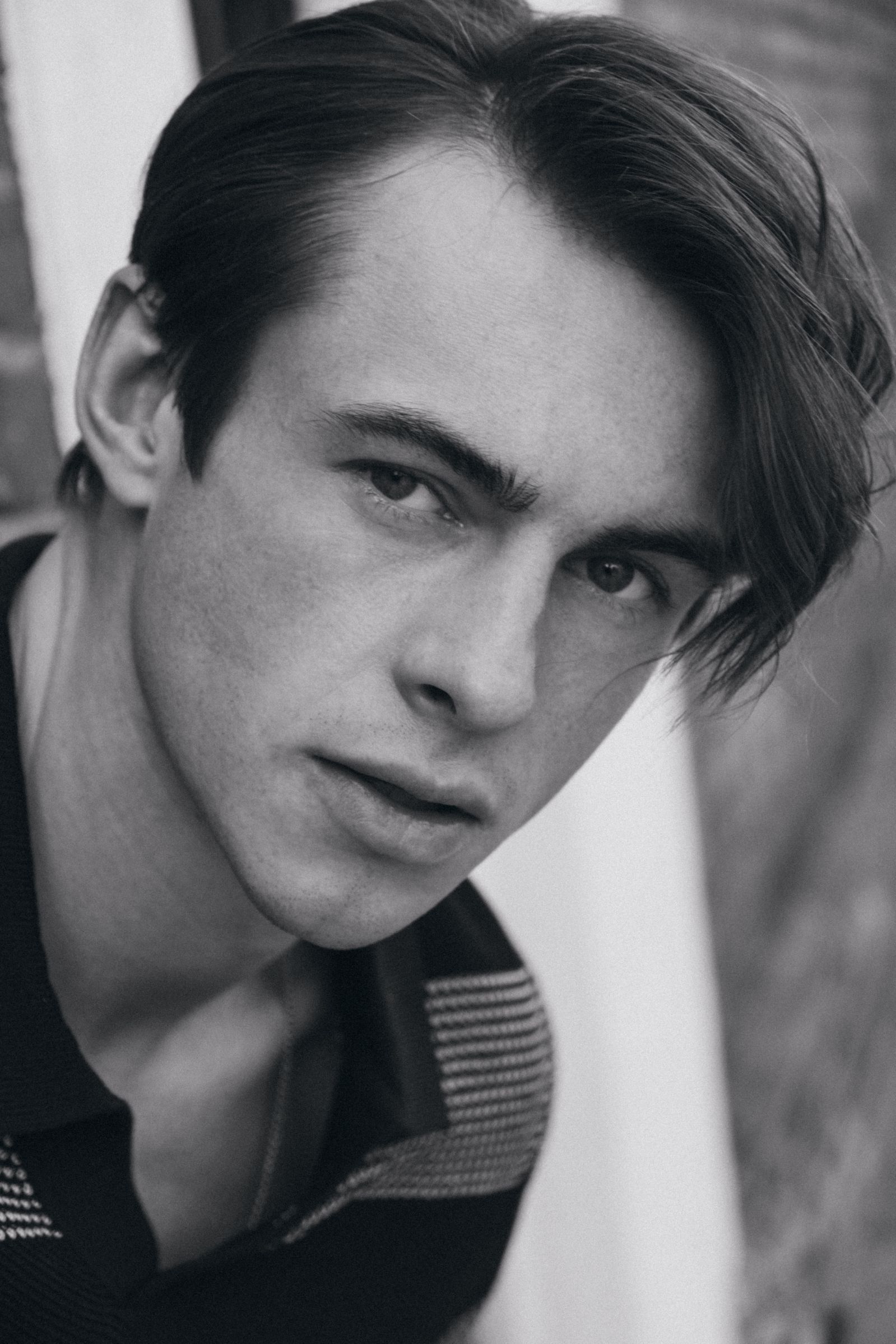 Necklace Gucci Shirt Monclear
Have you learned anything about yourself while playing this character?
Well, to be honest, James teaches people a lot more about what not to do than what to do. I've probably learned a good amount about acting and performing, but nothing about myself.
That's learning.
Every job you do you learn new things. Working with new actors, you get inspired by new people and you pick up new things. I always think that with every single job, you should get better and better.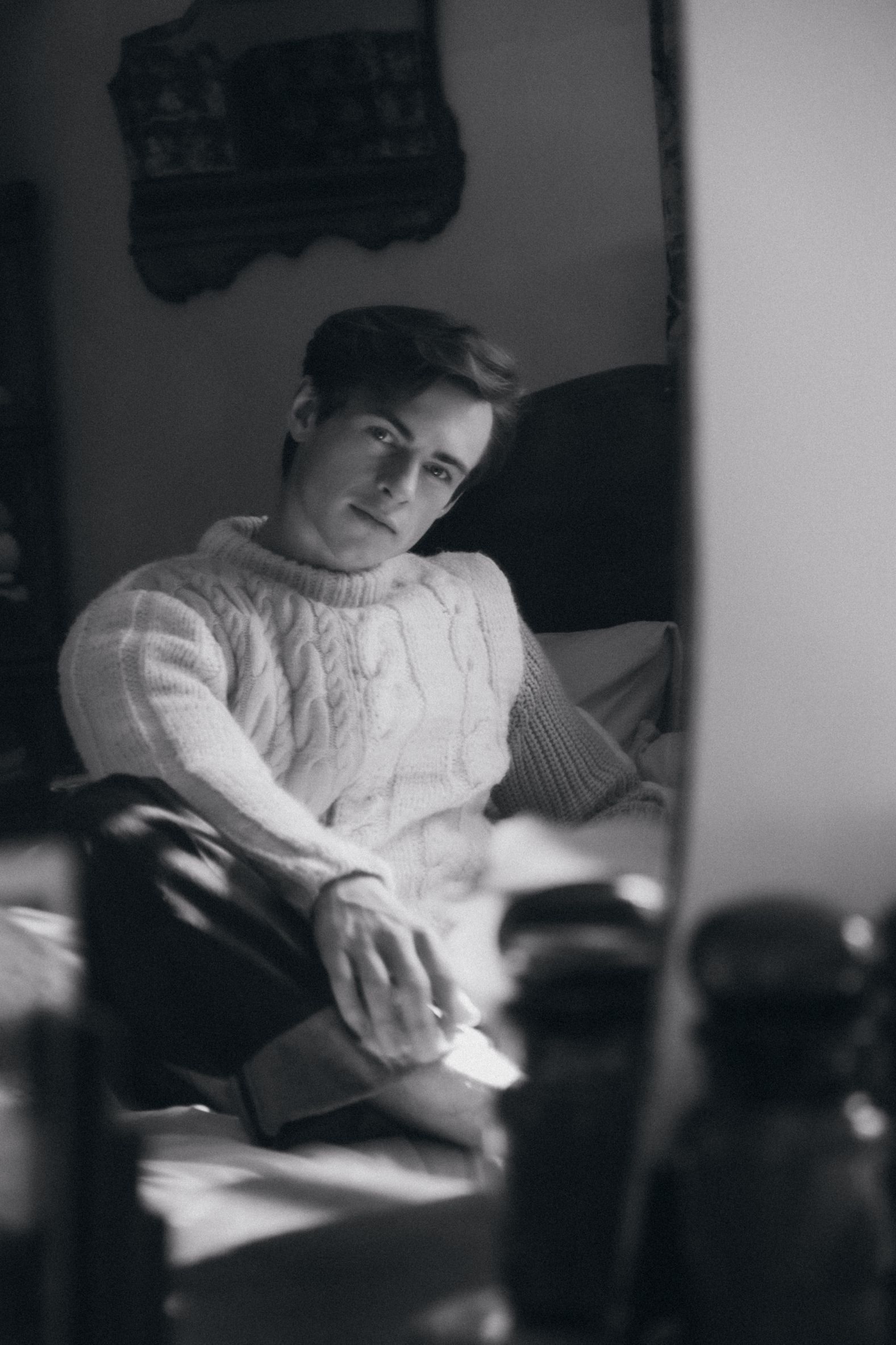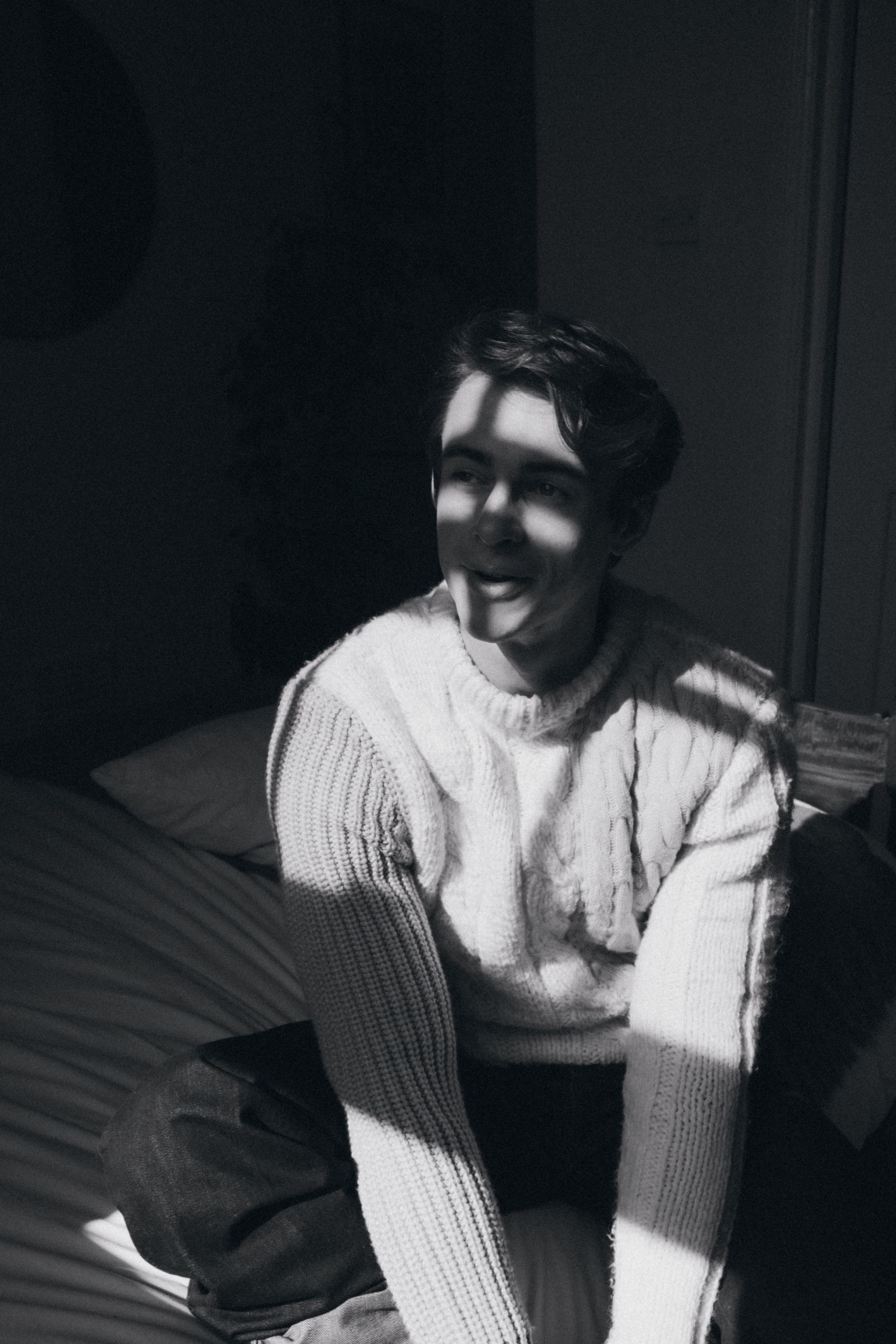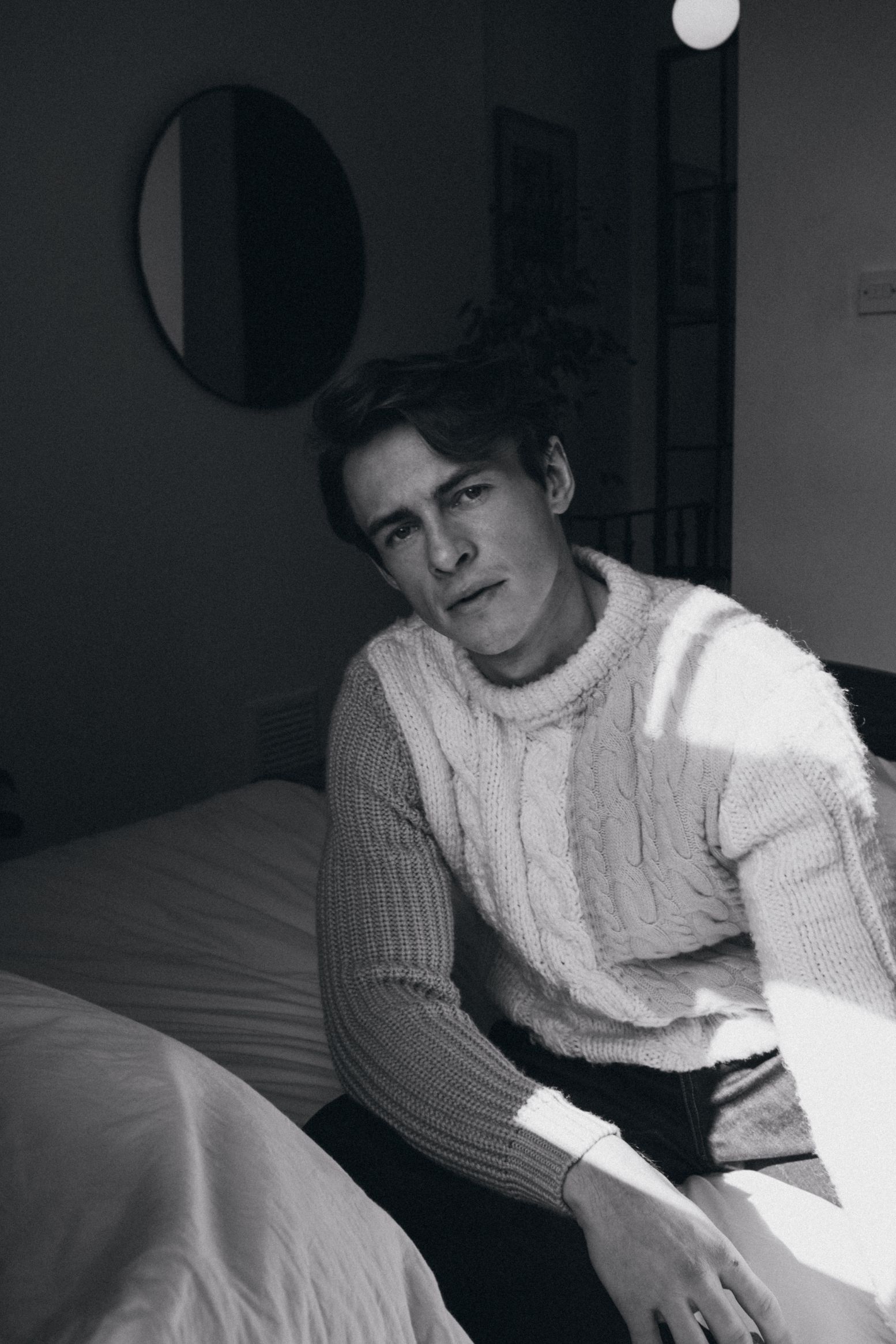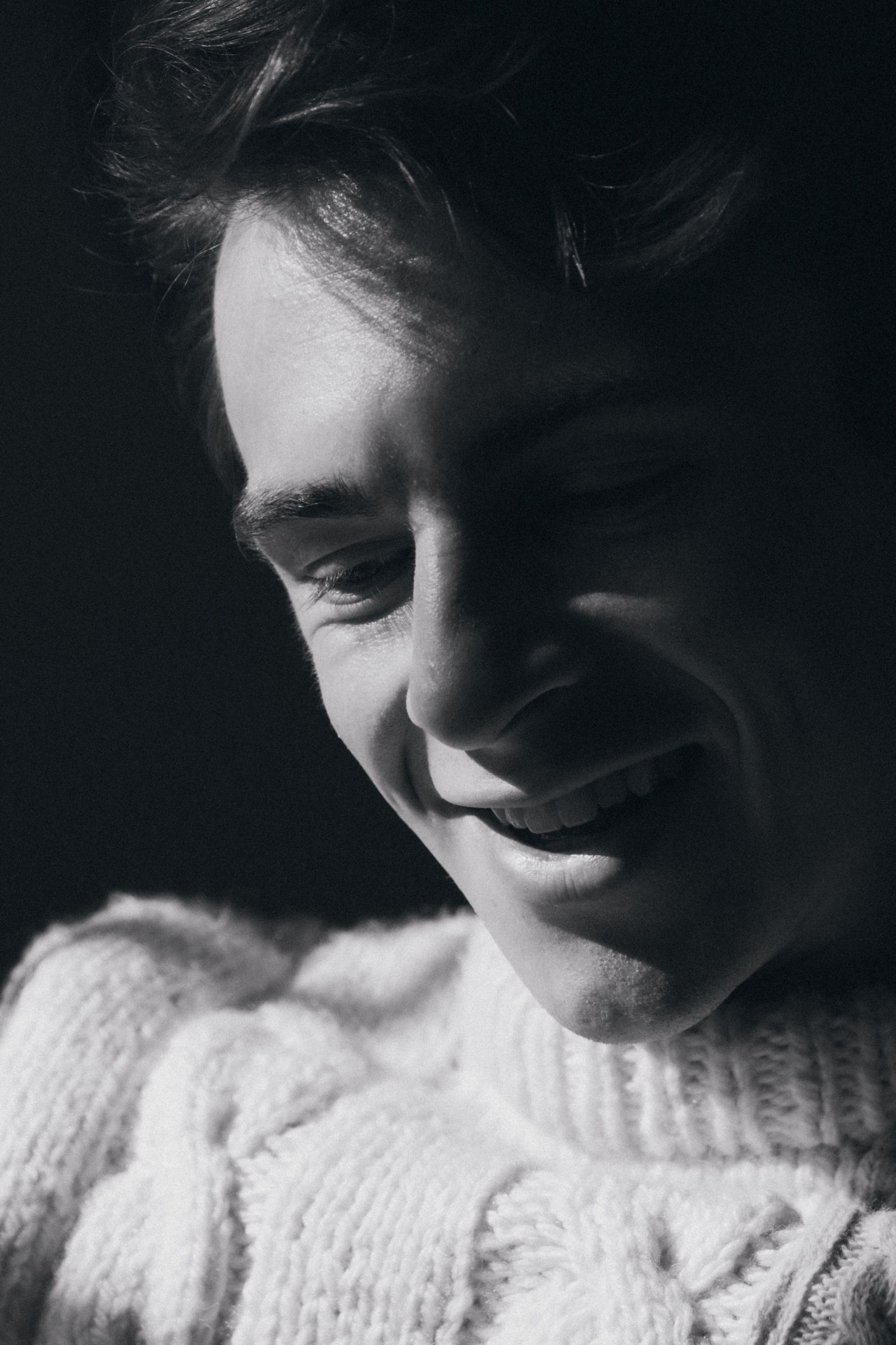 Jumper Daniel W. Fletcher Jeans Moncler
I'd like to think that's how most things work in life. Since you've filmed Masters of the Air and Anatomy of a Scandal has come out, do you think your two characters would get along at all?
No, no way! I don't think a pilot from the 1940s who has the war to focus on would even want to interact or say hello to James Whitehouse, an extremely privileged young man from Oxford. I'm sure young James would love to chat to Brady but Brady wouldn't be interested. Brady has good intentions. James doesn't.
Which did you find more challenging as an actor?
They were both challenging in very different ways. The subject matter in Anatomy of a Scandal was a challenge that I was really happy about. It was a very enjoyable challenge. It was the first time I played a role that felt like it mattered to people and was important. We were telling an important story, which is rare. Most actors are just trying to get jobs. If one comes along that matters and is about something very topical, I can't believe my luck. Playing Brady was challenging because I had to be an American from the 1940s. But they were both good fun.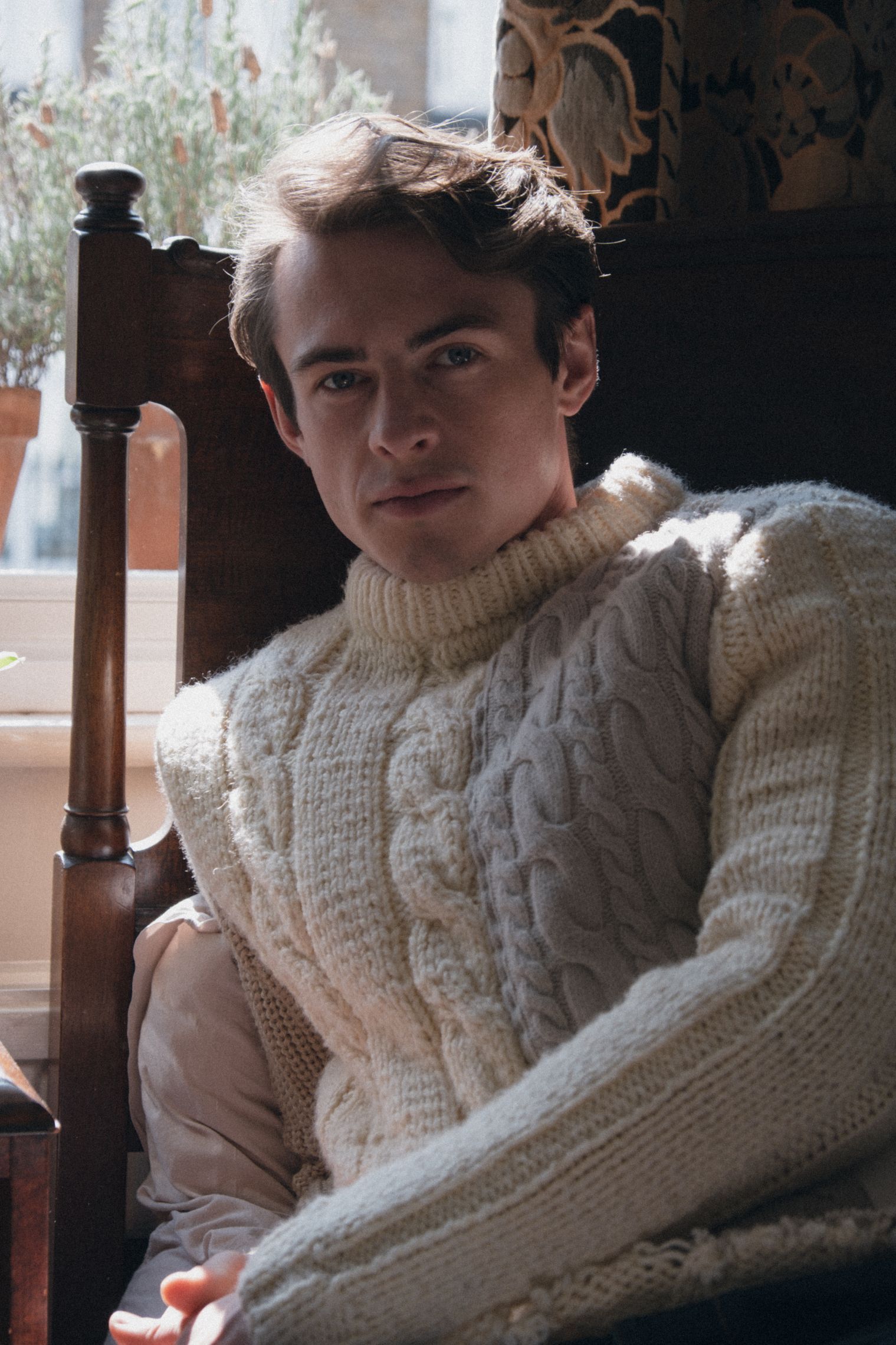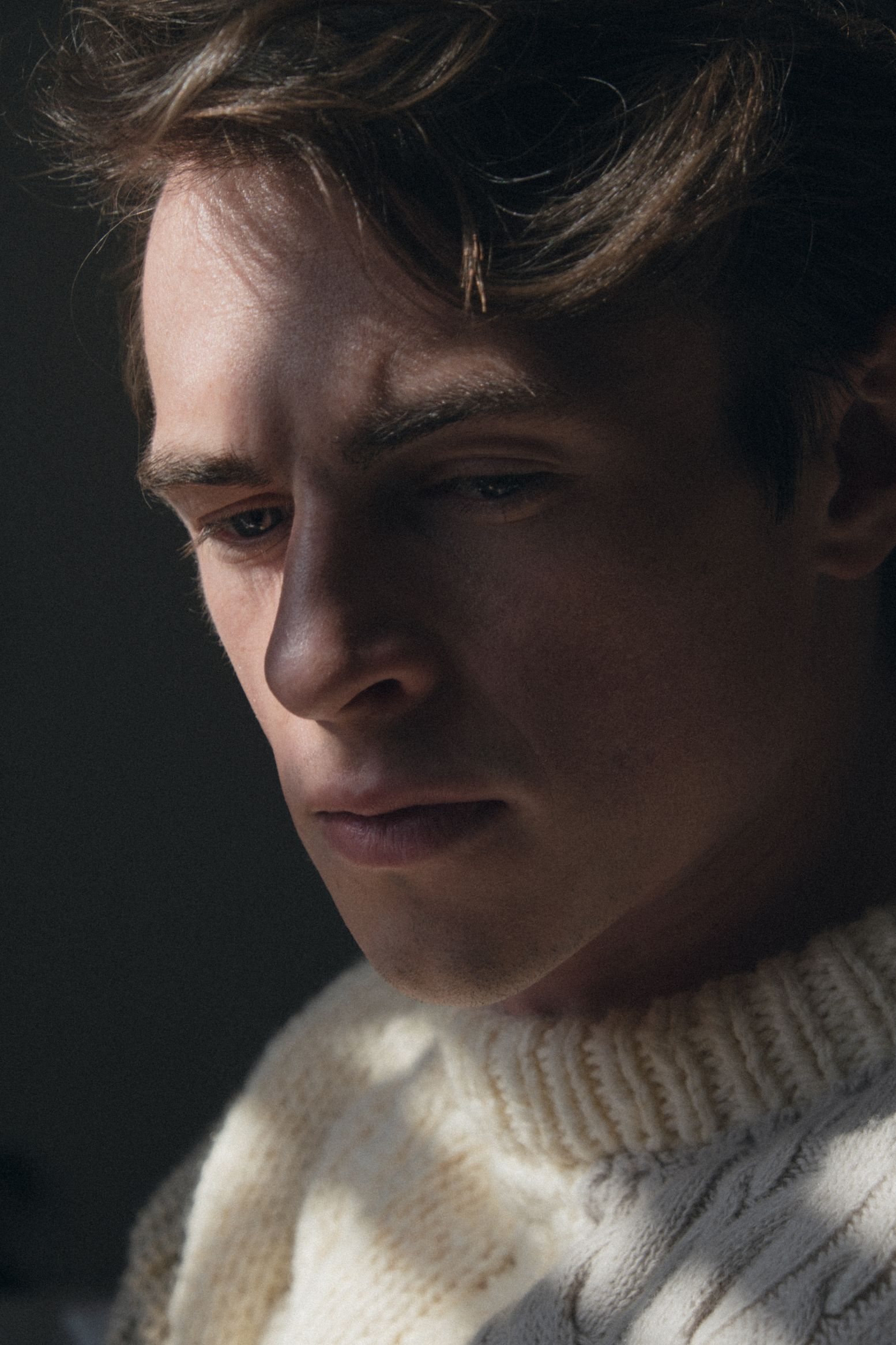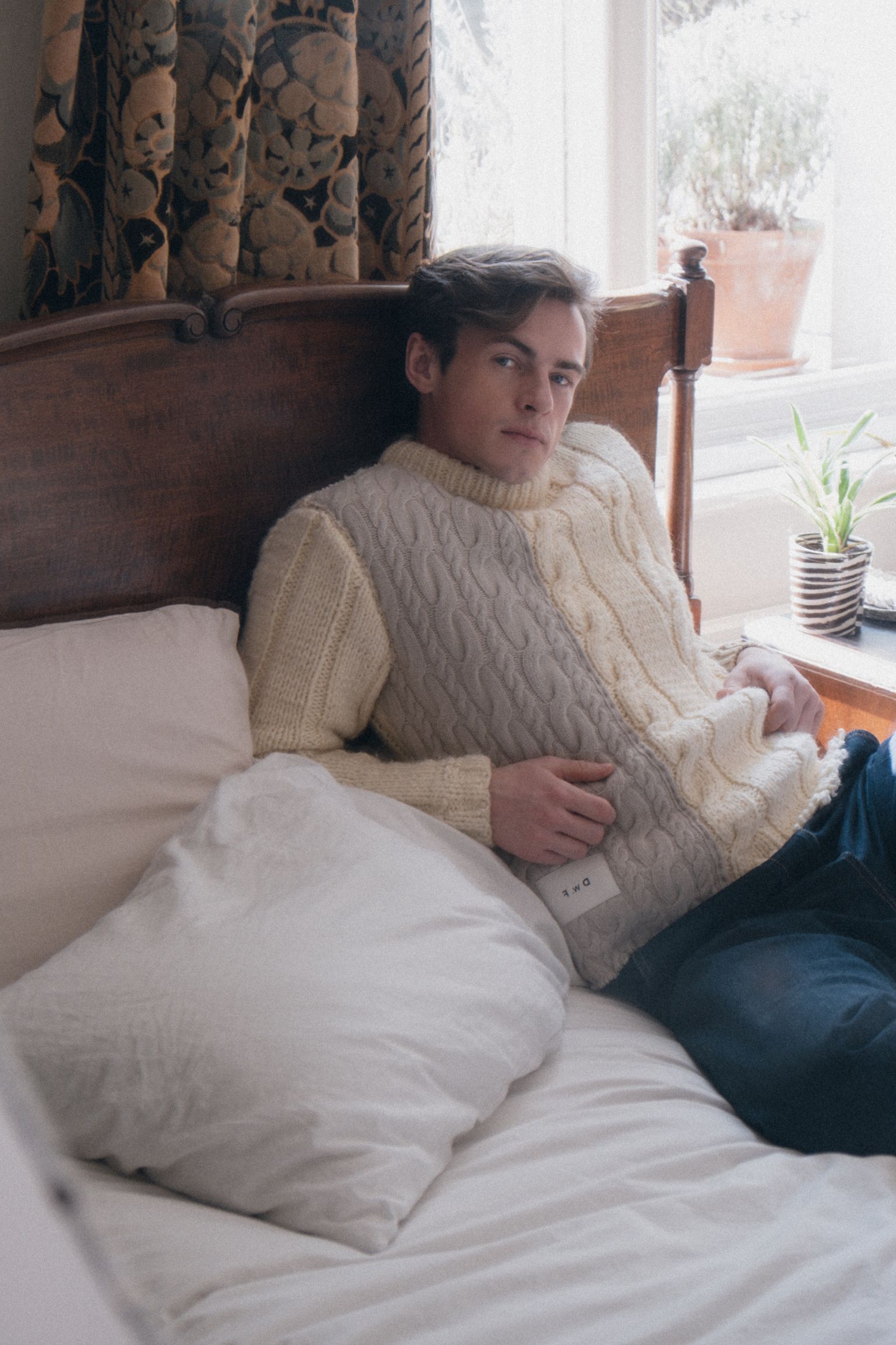 Jumper Daniel W. Fletcher Jeans Moncler
To close, looking to the future, what's your dream role?
I want to be in action movies. I love stunts. I love being active and doing cool things. I'd love to do an action movie. It feels like Masters of the Air and another film I just did where I play pilot again are action, but they're not really.
Aviation movies are having a moment right now, we have Top Gun, Masters of the Air, and Devotion. There are so many!
Yeah. [laughs] You think that's like proper action, and it is, but really, you're sitting there for days on set, or you're just sitting still and you turn a control column to the left and the right. My dream is to do a big action film with live stunts and running around. I'd also love to do a movie musical. 
Yeah?
I'd love to sing and dance. I used to do that when I was younger and I still keep it up a lot. But it's rare, so I haven't had an opportunity to dance in a film or even sing in a film since I was 12.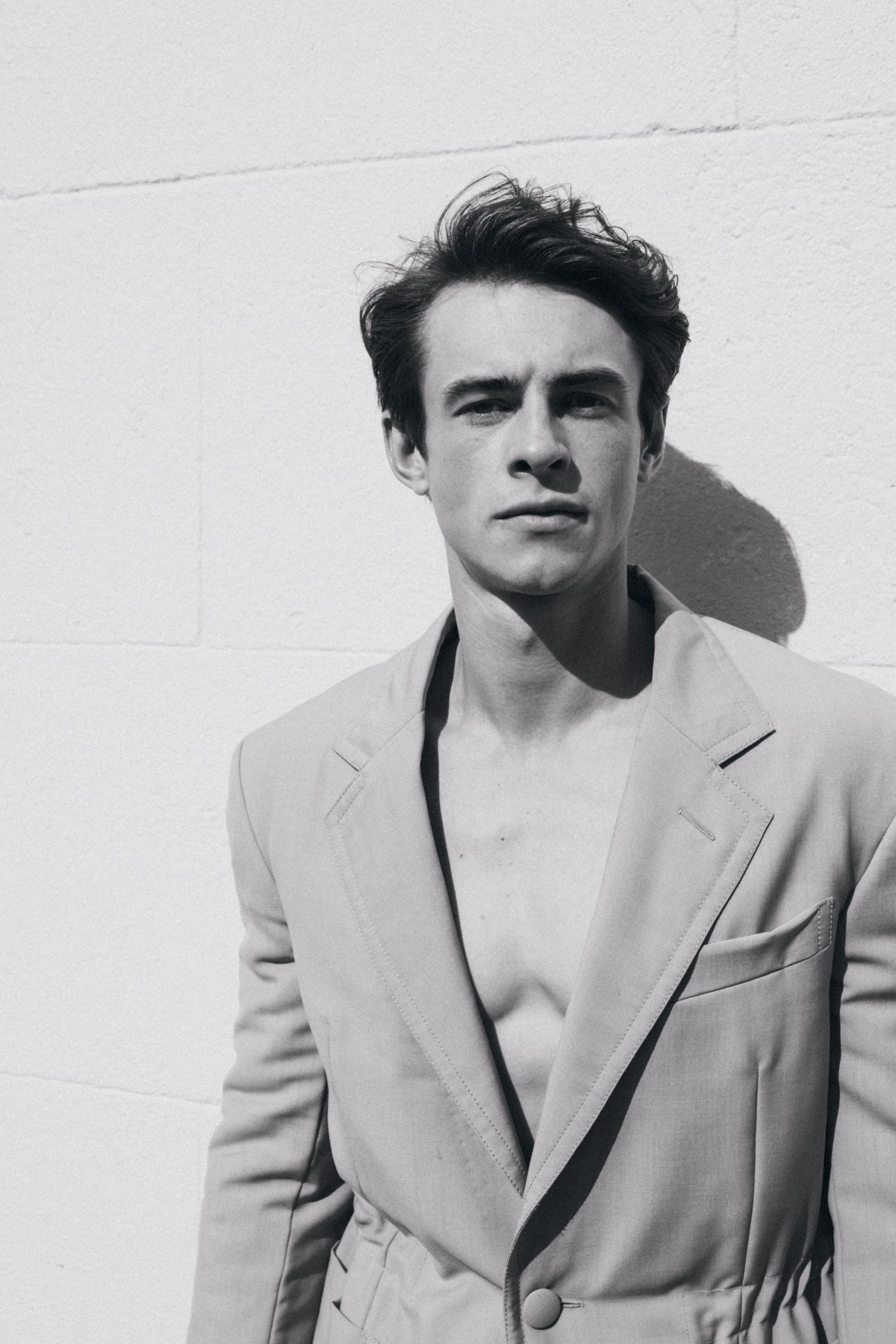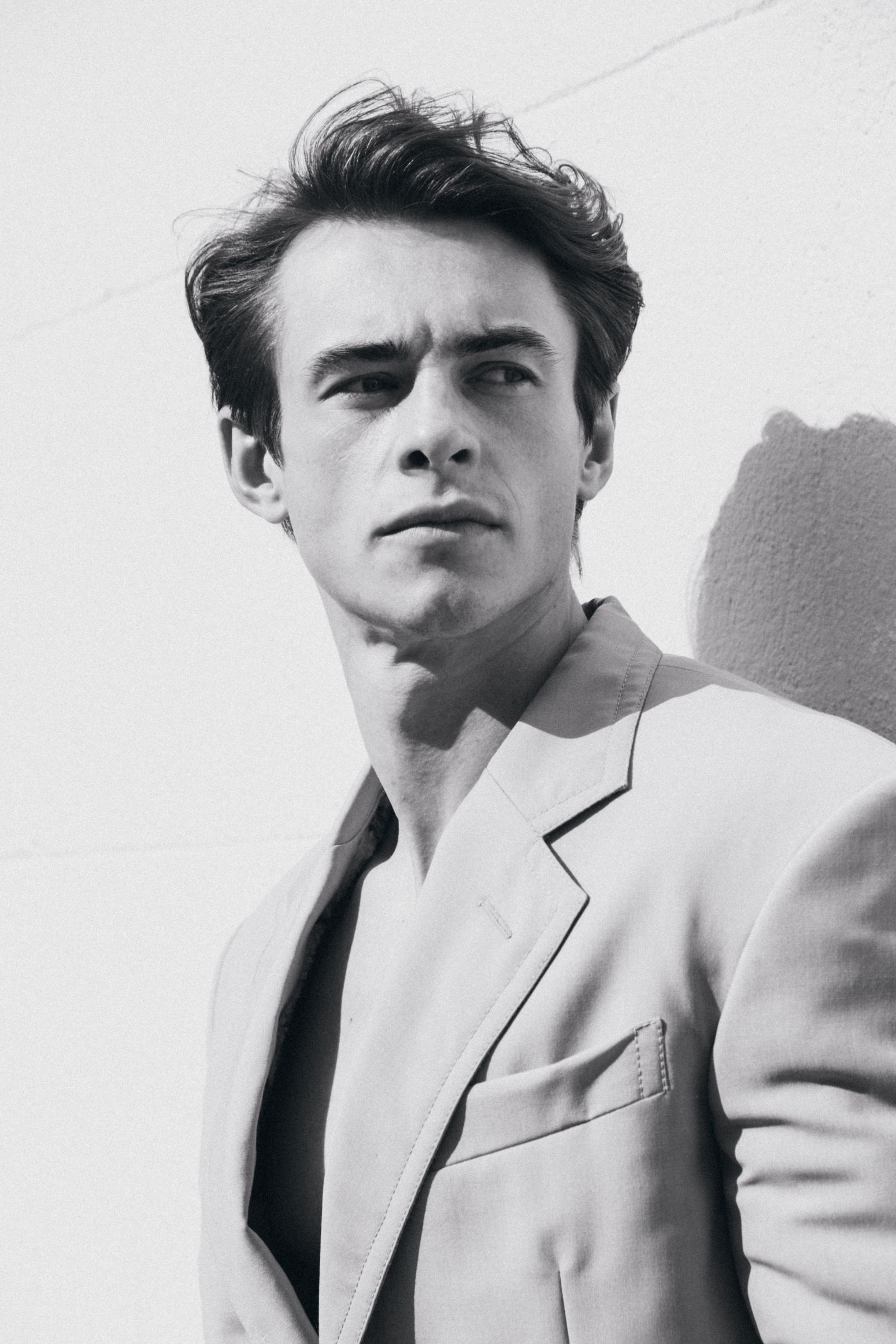 Full look Lanvin
Anatomy of a Scandal is streaming now on Netflix.
Interview by Sydney Bolen
Photography by John Armour
Styling by Ben James Adams
Styling assisted by Gregory Russil
Grooming by Kieron Lavine
Production by Kelsey Barnes