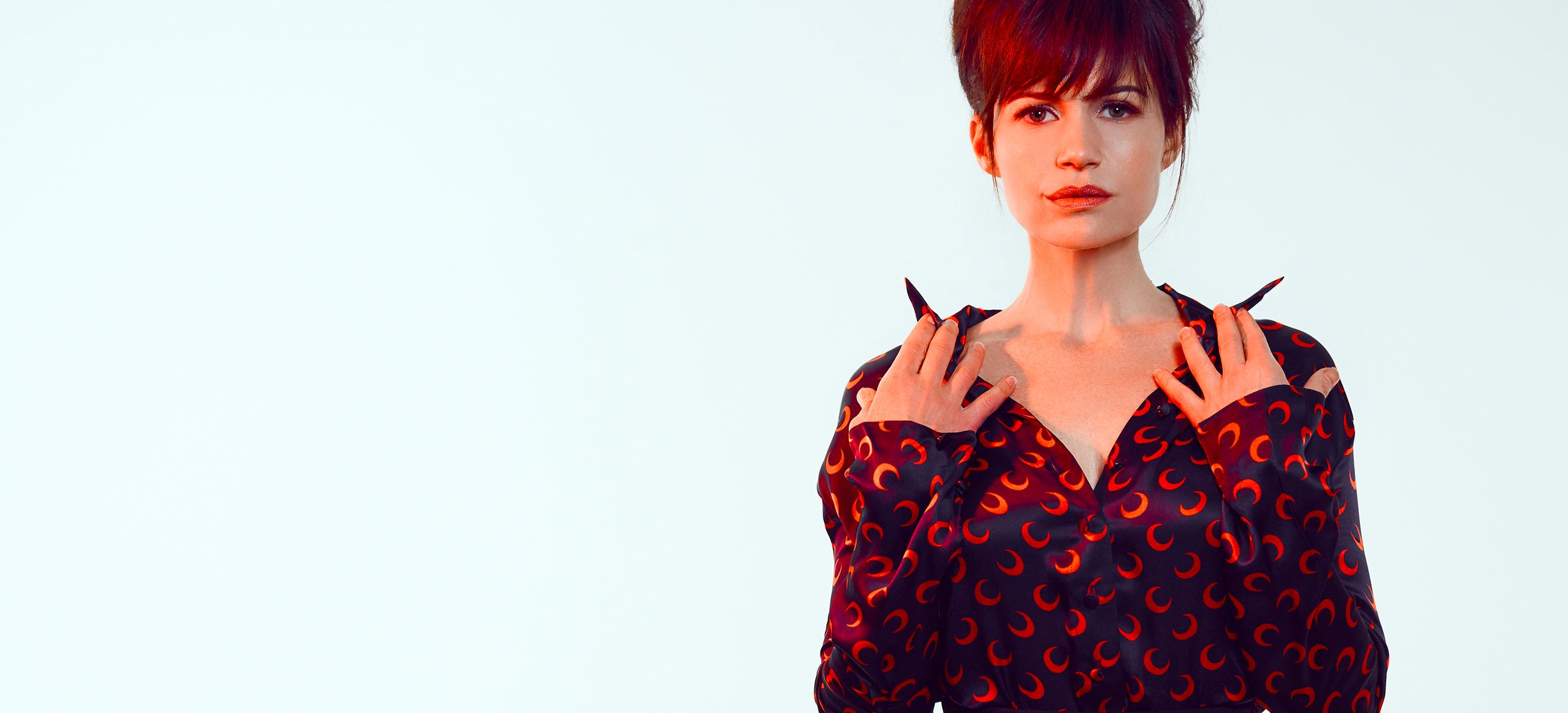 Carla Gugino
As a child, Spy Kids was one of my favorite films. I owned all three films on DVD and had even watched the third installment in theaters around four times. My favorite character was, of course, Ingrid Cortez, who was played by Carla Gugino.
Years later, when I got the opportunity to interview her, I was extremely excited. She'd always taken each role of hers and done something wonderful with it. Along with Spy Kids, I'm a big fan of her work on The Haunting of Hill House, the widely popular Netflix series that took everyone through a crazy, spooky ride from episode one through ten.
A few of Gugino's critically acclaimed roles included playing Dr. Vera Gorski in Sucker Punch, Lucille in Sin City, and Sally Jupiter in Watchmen. She's been a part of films such as American Gangster, Night at the Museum, Race to Witch Mountain, Elektra Luxx, and Son in Law, showcasing her range of talent and ability to play different kinds of characters. Along with film, she's appeared in shows like New Girl, Justified, Californication, Political Animals and more. Gugino's also dipped her foot into theatre and Broadway. She played Maggie in Arthur Miller's After the Fall, for which she received a Theatre World Award, Catherine Holly in Tennessee Williams's Suddenly Last Summer, and Abbie Putnam in Eugene O'Neill's Desire Under the Elms.
What's incredible about Gugino is that she has been consistent in her career in the sense that she's kept working and made sure every project was unique, relevant, and rich in quality. In 2015, her film San Andreas was a blockbuster hit. She starred in it opposite Dwayne Johnson, grossing over $400 million worldwide. She also starred in the HBO comedy series, The Brink, that same year opposite Tim Robbins and Jack Black, as well as M. Night Shyamalan's mini-series on FOX called Wayward Pines with Matt Dillon. In 2017, Gugino was a part of Peter Chelson's film, The Space Between Us, with Gary Oldman, Britt Robertson, and Asa Butterfield. Gugino also appeared in the indie film Wolves with Michael Shannon, which premiered at the 2016 Tribeca Film Festival. That same year, she was a part of Netflix's adaptation of Gerald's Game, based on the 1992 bestselling novel by Stephen King.
Up next, Gugino is starring in an action thriller film called Gunpowder Milkshake alongside Karen Gillan, Angela Bassett, Paul Giamatti, and more. She's also set to star in season two of Spectrum Originals' anthology series, Manhunt: The Unabomber. Most recently, Gugino can be seen in Cinemax's Jett. The crime drama series stars Gugino as the title role of Daisy 'Jett' Kowalski and premiered on June 14th!
When I chatted with Gugino and finished gushing about what a fan I am, we spoke about her modeling career that led her to acting, her upcoming projects, and the best advice she was ever given.
Did you enjoy your time modeling as a teenager?
I modeled for a very brief period of time. I was kind of drawn to it because I've always loved fashion and photography, so it seemed like something that I would be very interested in. I came to New York at that time and I was recruited by Elite Petite because I'm not tall. And at that time, I was 13 and it was really overwhelming. It was in the city that I live in now and it's my favorite city in the world, but it was an overwhelming experience. And I kind of realized that I loved things about it, but I don't think this is the career for me. It was around that time that I took my first real acting class and knew immediately that that was what I wanted to do for the rest of my life. I was a pretty serious kid, so my parents actually believed me.
What attracted you to want to do acting?
I think, again, because I was a pretty serious kid and I was an academic. I moved a lot and I think when you move a lot, school ends up being a solace or something that's very hard to connect to because you have a different environment often. But for me, it was the one constant wherever I went. I'm sort of more of a kid now than when I was actually a kid. So I think that it was the idea of being able to let go of control in a controlled environment that interested me, that my job was to actually inhabit somebody else and creatively jump off a cliff and see where that took me, but I was doing it within a controlled environment.
What did you learn from that time in your life that you still carry with you today?
One of my mentors said to me at 16 a very simple statement, which is when you're on your deathbed, make sure it's your life that you've been living. I think that's really something that has influenced me in my life and in my career. And that answer is always changing, like what is your life and what do you want your life to look like and what is your truth? Because I think so often society will encourage us to find our value based on other people's definition of us. It was a really good reminder to learn at an early age to follow my own path. When I began acting, I think my goal was to be able to give people empathy, which I feel that art has always done. It allows you to see the world from a different perspective than your own. I was always interested in being a transformational actor, someone who could disappear into a different world, and not necessarily be known as one thing. I was never really interested in branding myself, which I think when I started wasn't really even a term, but it was about sort of not defining myself by doing many different things.
Is there anything special you do to prepare for a role?
It really varies based on the character and the piece. You know, a while ago, I played a neurosurgeon on a show called Chicago Hope. I was able to go and sit in and watch brain surgery in an actual operating room. That was such an extraordinary experience because it gave me insight into – you know that phrase 'it's not brain surgery'. And then when you realize you're in brain surgery… the fact that you have a life in your hands literally on a daily basis makes the way that you look at life absolutely different, so that informed my character to such a great extent. Sometimes it may have to do with where the person is from… if they're from the hot South, that affects everything from movement to the placement of your tongue in your mouth. It affects your demeanor versus living in a cold, dark, damp climate. Sometimes it's just that I have a wardrobe fitting with a costume designer, and we start trying things on and nothing feels quite right until you find the perfect shoes or that perfect hat and you go 'ah, now I know who she is'. That opens the door to the rest of your exploration of that character. Sometimes it might be more about revisiting a film in which a performance is really influential to me, or a novel that might have a similar tone. For example, with Jett I was looking at the 'Parker Novels; and revisiting some of Elmore Leonard's work. His writing was interesting tonally for me in regard to that and it was influential for sure. Those things will give you a musicality of a role, or a piece.
A lot of millennial fans remember you from Spy Kids. What is it like being a part of something that so many people cherished during their childhood?
It's crazy with Spy Kids. I loved doing that movie so much. The funny thing is that I was 28 when I did it. It's such a strange thing that it's so long ago. We really pulled it off. I was at least 10 years too young for the role, but it's funny when you can create that kind of illusion. It's the beauty of acting and filmmaking. One of the things you realize about kid fans is that they're kind of the best because they're brutally honest. If they like something, they will watch it over and over and over again! It's very gratifying to have a bunch of people grow up watching something that was very special to us to make as well. Robert Rodriguez made that from a very personal place. The kids are the heroes and the parents are not only good parents but also spies and they're sexy and you know, they were a Latin family. It was this little movie that we made that turned into something that really had a life of its own. I have a very soft spot in my heart for that movie and that experience.
Your performance on The Haunting of Hill House was phenomenal. There were so many spooky scenes, but also some emotionally-driven ones about family and death. How did you tap into these different emotions while playing your character?
One of the nice things with that particular project was that I had worked with Mike Flanagan before, so we had that trust and ease with creative dialogue. When we first started talking about this particular project, the role of Olivia was really barely written. The writers' room had been talking about it and they had hatched a lot of ideas, but a lot of them weren't on the page yet. So it was really interesting to build who she was with him [Flanagan] to some extent. I really was interested in what made her more susceptible to the forces of the house, and also why her kids and her husband wouldn't notice. We needed them to not notice too early on that she was changing and that something was altering. And so we started talking about the idea of these visual migraines. There's a book by Oliver Sacks called 'Hallucinations'. I had thought all of his stuff was so adept with just the way the human brain works… though he was an incredible doctor, his work and his case studies, the way he looks at things was with an artistic eye, interestingly enough. That was something that I'd brought up. Like, what if she had these aural migraines and it set into both her work as an architect and then why she was more susceptible, and why the family might not notice odd behavior as quickly than any otherwise because she already had a mind-altering condition. Mike really took that and ran with it and did such interesting things with it in terms of the writing.
To me, as parents, the world is a very scary place and if you focus on that you can go down a rabbit hole and be really scared to let your kids out in the world. And I was really interested in how a mother who believes really strongly in that she's going to save her children from pain is actually inflicting pain. The show is such a meditation on grief and trauma, and ultimately the fact that if we put something in our subconscious, we're going to have to deal with it at some point. It was interesting to have to play the character that had to remain mysterious for quite a while and it's not until episode 9 that you really start to get to see what was actually going on with her.
You share the screen with your The Haunting of Hill House castmate, Violet McGraw, in your latest series, Jett. The two of you have fantastic on-screen chemistry together. What was it like working together again?
Violet and I had a lot of fun working on The Haunting of Hill House even though the material was quite intense. She'd be a strong actress at any age but certainly has surprising nuance, precision, and presence for someone her age. Alice required an actress who could echo Jett's pragmatic way of looking at life, someone you'd believe was her daughter. A genuine kid who is comfortable in a world of adults. When Jett got greenlit, we were on The Haunting set and I looked across the room and knew exactly who needed to play Alice!
Tell us about Jett and who you play?
I'm so proud and excited about this. It's about a very unusual female character because she's a master thief, and she's unsentimental and she's pragmatic and she's just come out of prison. She's trying to live a straight life and figure out how to raise a daughter, though, she has no natural maternal instincts. And she ends up getting lured into this job and Giancarlo Esposito plays this character who she has a history with. It seems like a simple job, but as you know, things don't go as they should. The first season is the fallout of that. But what's interesting is that she's trying to figure out how to raise her daughter, not knowing how to do that, whereas her expertise is being a thief. It's that push-pull between the career and family and assembling this team around her that really is where the story exists. It's stylized and the colors are really saturated and it's really beautiful visually. It's playful, fun, and sexy, but it's also a crime drama where the violence really does have its consequences and the humor is never found through the violence. It's something that I'm really excited about it. I've been working on it a long time and I'm also an executive producer and I'm really excited for you to see it!
What can you share about your upcoming film, Gunpowder Milkshake?
Gunpowder Milkshake is an epic action movie. It's very female-centric and I can't say too much other than my character is not quite what she seems. She is part of a group of women who used to be ex-assassins, but they don't present as that now.
If you could give your younger self advice, what would it be?
I guess I'd just say to play more. I think that I was such a serious kid and I'm so glad acting had entered my life because it reminded me to play.
Team Credits
interview by Naureen Nashid
photography Danilo Hess @ Ray Brown Represents
style direction Stacey Cunningham @ See Management
styling Emily Benziger
hair Sebastian Scolarici @ Traceymattingly.com
makeup Gianpaolo Ceciliato @ Traceymattingly.com
casting + production Angeliki Sofronas
Jett is currently airing every Friday on Cinemax!