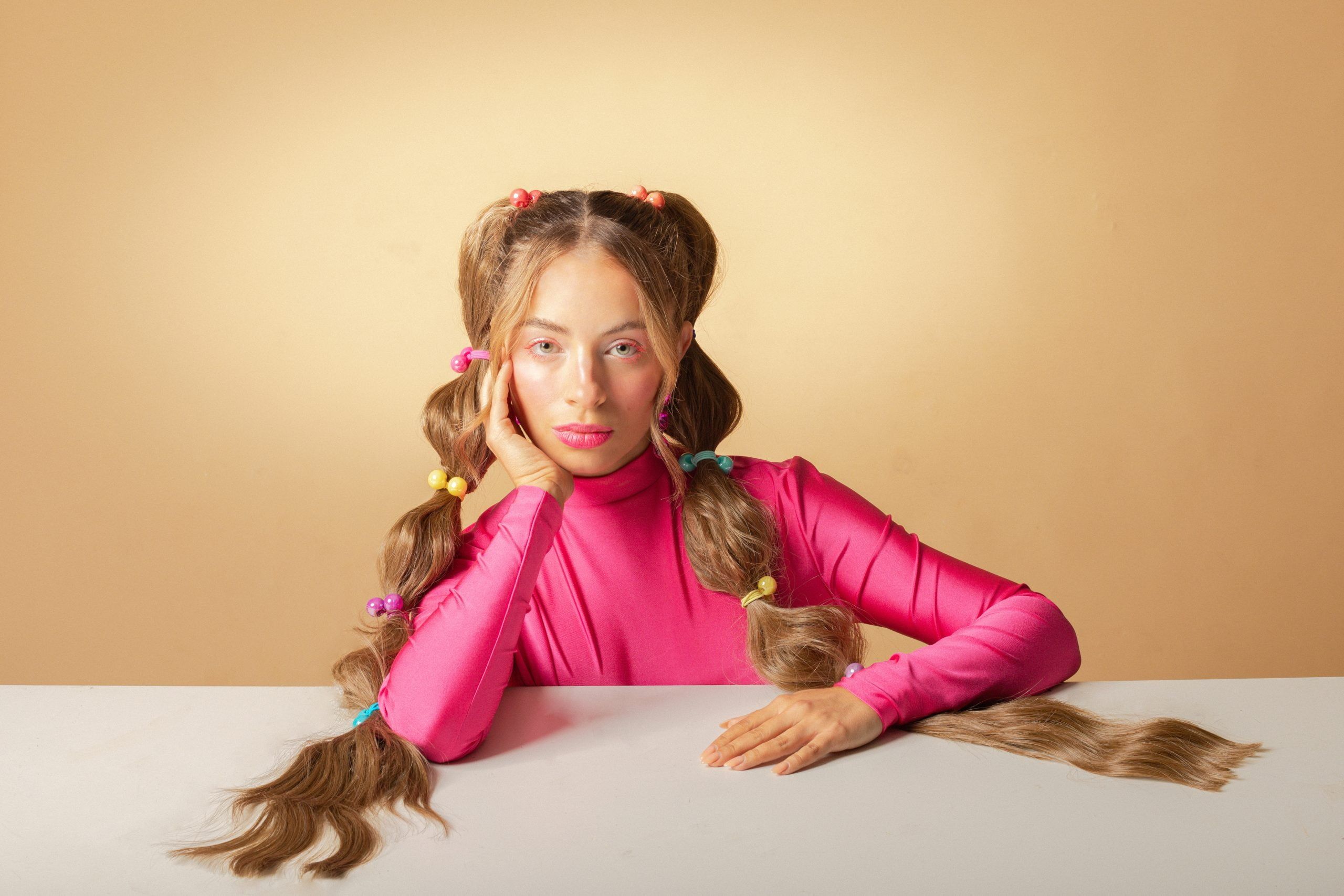 Charlotte Jordan
With one of TV's most explosive storylines in 2023, it's been a big year for actress Charlotte Jordan.
Right now, acting is something that Charlotte Jordan describes as existing in the "middle." On typical acting gigs, actors are lucky if they have the chance to play a character for a 10-episode season and, if it gets renewed, they get another 10 episodes to sink their teeth into. As an actress on a soap, Jordan revels in the ability of being able to live alongside her character — growing up with her just as she is.
Jordan, who recently marked three years playing Daisy Midgeley in the beloved ITV soap Coronation Street, received the award for Best Dramatic Performance earlier this year for a storyline that highlights the trauma inflicted on those who experience stalking. Although at first Daisy was pushed to be the next fiery 'villain' a la Tracy Barlow, that all quickly changed as viewers watched as the bubbly and feisty Daisy went from being the loudest voice in the room to being a shell of her former self.
Jordan, alongside her castmates, navigated the plot — which included intense scenes that showed an acid attack — with a deft touch and well-informed research. For Jordan, it turned into something that meant so much more than just a storyline — instead, it gave her a platform to encourage everyone to avoid the constant narrative of victim blaming and focus on the actual crime. It's a testament to Jordan's ability as an actress to be able to first step onto viewer's screens, ruffle some feathers, and completely win everyone over all over the course of the past three years.
When she's not on the Corrie cobbles, you can see her out and about in Manchester — always with her righthand pup Olive at her side. Jordan takes some time away from her busy schedule to chat with 1883 Magazine about what playing Daisy has meant to her, her dream day in Manchester, and more.
When you look back at your time as an actress from when you first started, how would you describe how you've grown and developed?

Acting is a funny thing – it's a real catch-22 with regards to development. I've found you need the professional work to learn and improve, but it's profoundly difficult to get the work without having done anything professional before! I've grown immensely from working with actors who are more experienced and frankly, better than me. And take a job like Corrie for example – it's not like a normal acting gig where there's a beginning, middle & end; it's just beginning, middle…more middle, middle, middle! So you're given the rare gift of watching yourself back, seeing what's working, what's not, and then being able to try something slightly different.

But working in a Soap has really sharpened me up into a very efficient, technically aware little machine. The pace is no joke! I also feel you grow a lot when you aren't working. You have to fill the time and find ways to keep actively acting on your own if that makes sense? You find out how strong you are and how much you want it when the phone is not ringing!

Is there a story in a piece of media/pop culture that really stands out as being a formative one that inspired you to pursue acting?

I would say performing arts in general. My mum took me to a Britney Spears concert in the early 2000s, and I cannot express how entranced I became! That experience opened my eyes to the pure joy the creative industry can bring to people.

You portray the wonderful Daisy in Coronation Street. Within the tapestry of your role, which scenes presented the most formidable challenges from an acting perspective?

When I first started, it was honestly the sheer speed you move at in Corrie. My first day, I had nine scenes back-to-back in the Rovers. It was very much sink or swim. A lot of the time, you get just one take. It was terrifying! But it made me think, 'oh ok, if I can do a storyline well here, I'll be able to take on anything,' which was an exciting challenge in itself. Then, when it came to shooting the Acid Attack scenes, I remember feeling quite daunted by it. How can you possibly prep for anything involving that kind of extreme violence? Those are the things that stick out most in my experience so far anyway.

For something as real and prevalent as Daisy's stalking storyline, what were some of the ways you personally prepared for it?

We worked really closely with The Suzy Lamplugh Trust and Paladin National Stalking Service. I was very fortunate; Isla Traquair was willing to speak to me about her entire stalking experience and the long-term impact it had on her. For me, it was about understanding how this kind of storyline would affect a character like Daisy in the long run – a character who relies so heavily on her looks and has always enjoyed the power she's wielded over men. So, it was about planning how the audience would see the slow erosion of Daisy's sense of self over a course of four or five months, as this entitled man constantly chips away at her. And then ensuring she didn't instantly revert back to the 'Daisy Archetype' as soon as the story was over.

Congratulations on winning Best Dramatic Performance at the 2023 British Soap Awards! It is so deserved. What did it mean to you to win that?

Oh gosh, thank you! An actual shock. I just assume I'm never going to win anything. Ever. Which is why my speech was SO ineloquent. But yes, super flattering and excellent for my unbearably huge ego. I jest. It was very humbling to receive an award voted for by a panel of industry execs. It's wonderful when the audience gets behind a story, but to also have it acknowledged by people in your field is really special.

If you could give a piece of advice for Daisy from yourself, what would it be?

She's got a real tendency to self-sabotage. Probably to tell her she is worthy of the love and stability she's craved since her childhood – so please, accept it!

On the other side, what do you aim to take from Daisy that you'd like to incorporate in your life?

She's very much a do-er. Quite impulsive. She acts before thinking, whereas I overthink… think some more… then overthink again before doing anything. So, I could do with finding a middle ground between us both!

Envision a perfect day unfolding in Manchester. What activities would fill your day, and who would accompany you?

Oh, easy! Manchester has a lot of great food. It would involve a lot of eating. We'll start with a cheeky lie-in. My partner & I will grab a coffee from Pollen, walk our dog, head to Companio bakery or maybe the Flat Baker to pick up some fresh pastries and a loaf of bread for the week. I could tell you something arty farty here but honestly, I'd deep clean my flat. Love that sh*t. Head to Life Centre for a hot yoga class or Blok for a Barre class. Maybe head to Altrincham market with our friends; there's a ton of different food/lifestyle/jewellery stalls to occupy you for a couple of hours. There's no way I'm leaving without a new candle (very rock'n'roll me). Evening-wise – if it's a Saturday, I'd see if Royal Exchange or Hope Mill Theatre have anything fun on – bonus with Royal Exchange is it's next to a beautiful flower stall so you can get yourself some fresh blooms. If it's Sunday, we'll go to Jayne Eyre or Elnecot for a roast. Best roasts in town.

Outside of acting, what are some of your favourite things to do?

I love to read. I try to read something every day that isn't a Corrie script. It's really helpful to have something separate on the go. Have I mentioned my dog? Or my love of candles? Also, I'm a huge fan of doing nothing.

Are there any dream directors or fellow actors that you'd like to work with in the future?

God, where to begin. Some dream actors are Katherine Kelly, Ruth Wilson, Keeley Hawes, & Nicola Walker. Directors off the top of my head, if we're reaching for the stars: Greta Gerwig and Tarantino. I'd love to work with Kate Herron and Isabelle Sieb; they're making some brilliant television. Also Chloe Domont. I just watched her first feature 'FairPlay' on Netflix, and it was explosivel!

What is something that you want to be remembered for?

I suppose just being a good person. A good friend, good daughter, good sister. Being kind and pleasant to work with, at least 75% of the time.

Lastly, if you could manifest something for yourself for the next year, what would it be?

A lottery win? Reasonable mortgage rates? Health and happiness? All sorts.

Interview Kelsey Barnes
Photography & Art Direction Esme Buxton
Styling Harriet Ashworth
Talent Charlotte Jordan
Designers Meg Hurst & Molly Adlington
Hair Lewis Dominey using Lullabellz
Make-up Michaela Taylor
Assistant Coral Swindells