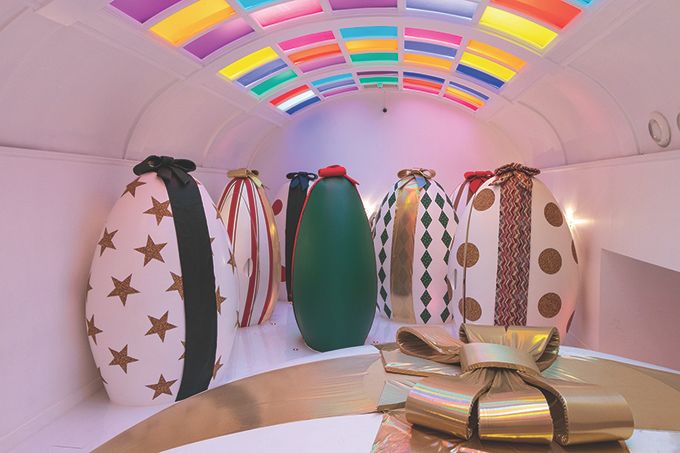 christmas food gift guide 2018
It's the most gluttonous time of the year! Whether it's your chocoholic best friend, parents who always seem to be having the neighbours round to dinner, or your newly vegan sister, we all have a foodie in our lives.
To stop you from turning up to their house with a box of chocolates and a bottle of wine for the tenth year in a row, we've put together a list of lust-worthy gifts that will make you the firm winner in the gift-giving category this Yuletide. You can thank us later!
For the host with the most:
Berkeley Square Gin – £76.95
Step away from the Gordon's and Hendrick's this holiday season and give the gin lover in your life the perfect hostess gift. Triple-distilled and infused with kaffir lime leaves, lavender, sage, and basil, this gin certainly has a luxurious feel, which is reflected in its stand-out packaging; the bottle is shaped like an old-school glass decanter with a silver engraved stopper and is decorated with a majestic lion's-head knocker just like the ones found on the doors that surround Berkeley Square, its namesake in Mayfair. www.masterofmalt.com
For the toast-maker:
Raasay While We Wait 2018 – £53
Matured in bourbon barrels and finished in Tuscan Montechiari wine casks, this peaty and fruity scotch whisky makes for an ideal fireplace sipping companion while you leave the frosty cold outside. Alternatively, take advantage of the bottle's suggestive nomenclature to ring in the new year – who sayschampagne has to be the center of attention come midnight. www.raasaydistillery.com
For the insta-obsessed:
Christmas Afternoon Tea in the Gallery at Sketch – £80pp
They say that the greatest gift you can give someone is your time, and where to better spend that time together than in the sumptuously festive setting of the Gallery at two Michelin-starred Sketch? Take your favourite person out for an unforgettable Crimbo-themed afternoon tea, where you can scoff delectable items such as foie gras tartelette, eggs truffle gougère, and pear and ginger Yule log to your heart's content. And don't forget to take some pics! www.sketch.london
For the cooking pro:
Savernake Knives – off-the-shelf range starting at £180; bespoke range starting at £750
As any dab hand in the kitchen will tell you, the secret of their success lies in the quality of their ingredients and the quality of their kitchen utensils – in fact, having top of the range kitchen knives can make the difference between food prep being a chore or an art form. The knife of choice by Michelin-starred chefs across the world due to their tailor-made nature, Savernake Knives have something for every price range: from 'off-the-shelf' knives to which you can add a personal touch (such as personalised handle colours and engravings), to completely custom-made pieces which will feel like an extension of the chef's hand in the kitchen. www.savernakeknives.co.uk
For the penny-pincher:
Sushi kit – £24.98
We all have that one friend whose New Year's resolution it is to spend less money eating out and who every January vouches to start bringing their own lunch into work every day. Save them from the misery of a sad sandwich 'al desco' by giving them the gift of being able to make their own sushi at home. This kit conveniently includes all the utensils and ingredients needed to make your own rolls – just add your favourite fresh fish or veggie fillings! www.japancentre.com
For the entertainer:
Nosy Wine Club Subscription – £55 per month
As someone who frequently hosts dinner parties, I know how hard it is to come up with fresh menu ideas and matching wine pairings! Luckily this new subscription wine club takes the monotony out of entertaining by each month asking a leading wine professional for three wines that they would serve at a dinner party, and then delivering those wines to your very door.This just leaves you all the fun of building a menu around them! www.nosywineclub.com
For the budding baker:
Bread Ahead Bakery School – £90 half day classes; £180 full day classes
This Christmas you will find that if you give someone a panettone, they might share a slice with you. But give them a baking class voucher and they can bake you cakes year-round! Classes available include a mince pie workshop, doughnut workshop, New York bagel & pretzel workshop, and an on-trend gluten free workshop. www.breadahead.com/courses
Words by Luisa Ruocco
@luisainsta