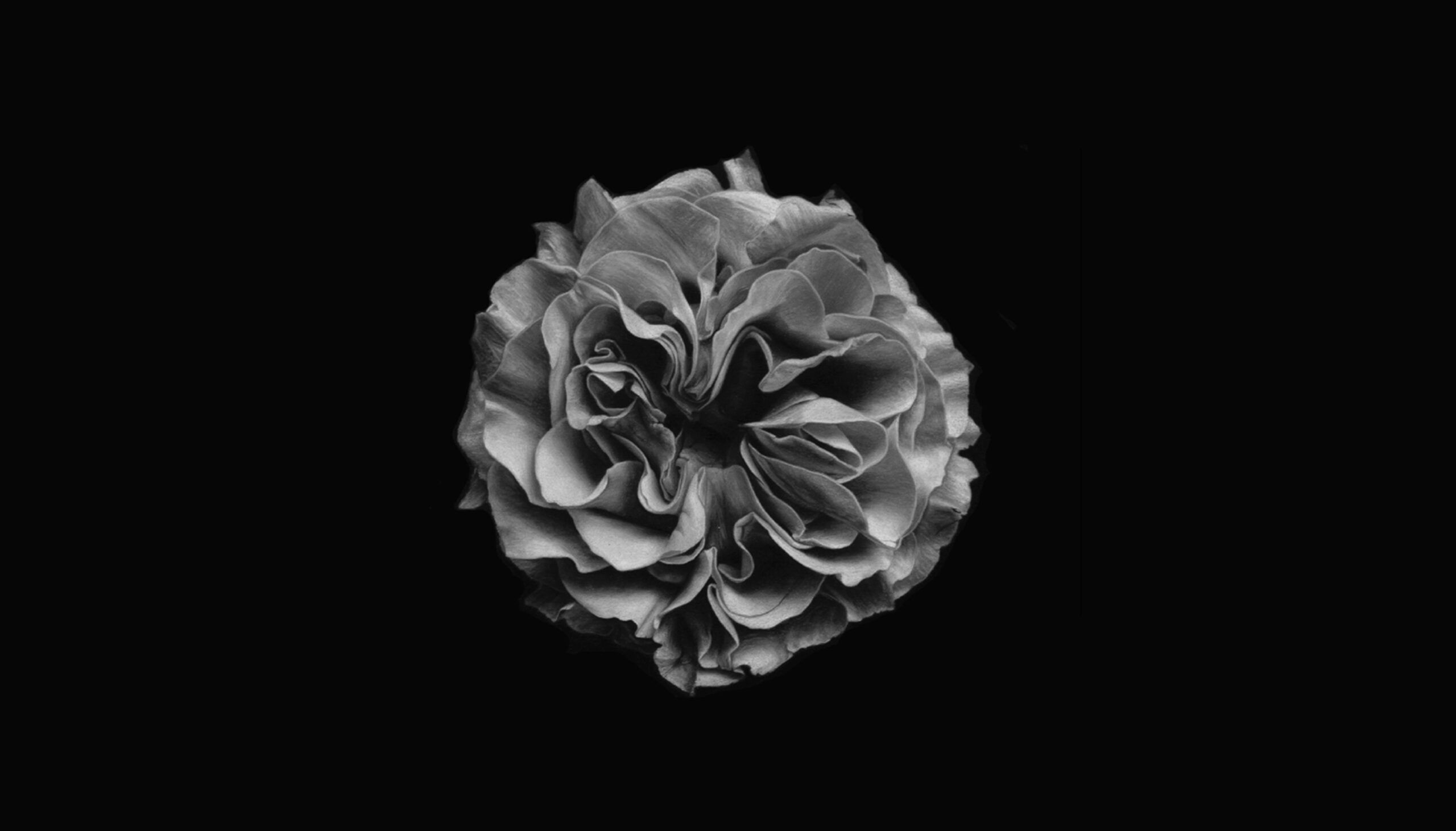 Cj Hendry – Epilogue
Much as we like to think otherwise, the path to success is rarely a straight line.
In the case of Cj Hendry, a 34 year-old NY-based artist from Brisbane, Australia, the journey to international renown has been anything but straightforward.
In 2014, Hendry felt her life was at an impasse, and a change was needed.
Without any second thought, she quit her retail job at Chanel, dropped out of university where she had been studying architecture and finance for seven years, and resolved to devote herself full-time to something she actually loved and was exceptionally good at – drawing.
She even sold some of her most expensive handbags, shoes, and clothes on eBay to support herself while trying her hand at making art.
Being a self-representing artist in a world where social media drives trends, Hendry soon turned to Instagram to promote her drawings and bring in some revenue.
Today, Cj Hendry is a household name among art connoisseurs, on and off the Internet, with her work exhibited across Australia, the U.S. and Asia. The artist's eye-catching hyperrealistic drawings of luxury consumer goods and flowers have caught the attention of collectors around the globe, including Kanye West and Gwyneth Paltrow.
Opening on 12 May, Epilogue is Hendry's ninth solo exhibition, and her first in London.
Hosted in a derelict church over ten days, during which ten tonnes of recyclable petal-shaped confetti will drop from the ceiling to gradually cover the grounds, the show brings together black and white floral drawings to reflect on the ephemeral and transient nature of beauty.
Whereas the botanic motif has long been associated with life and vitality, the artworks on display depict flowers at a moment when they are about to wither, capturing on paper the final vestiges of their fleeting existence.
1883 Arts Editor met Cj Hendry to discuss her work and influences, and to ask about her new exhibition.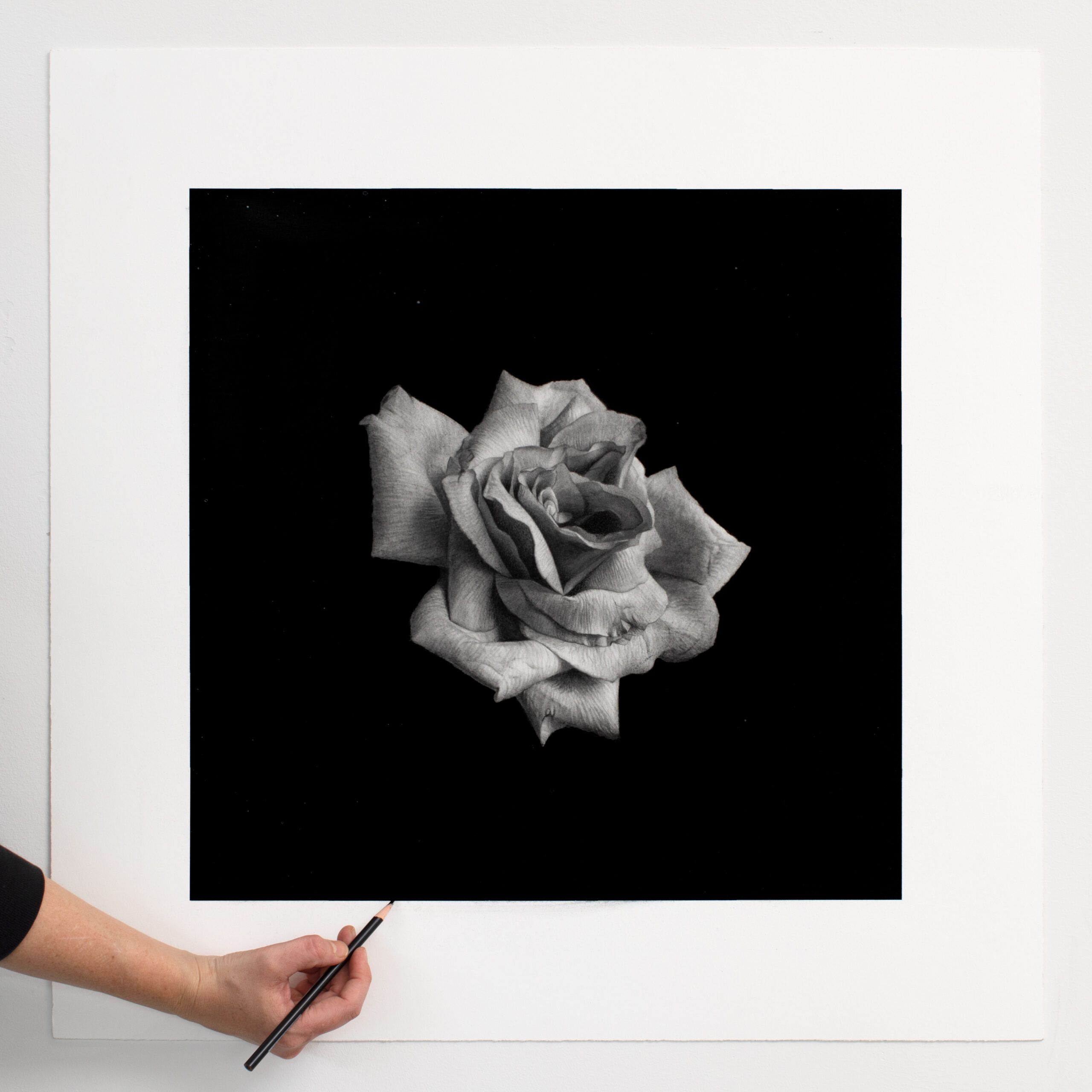 Cj Hendry, Epilogue
Hello Cj, thank you for agreeing to the interview.
I read you have a background in architecture and finance; what made you want to pursue a career as a full time artist? And were you always interested in drawing?
I was a terrible student and even worse at exams – academia in the traditional sense never really appealed to me. I'd always been passionate about drawing and art so I decided to take the leap and draw solidly for one year.
I sold all my designer goods on eBay and worked out I could fund myself for the year. I started drawing and have never looked back.
Drawing for me is such a meditative practice. I always enjoyed art in school but never really considered it as a full-time job or something I could take seriously. All my friends were becoming doctors, accountants, and lawyers so art just wasn't really on my radar in that context.
Can you tell us a bit about your new exhibition at the New Testament Church of God? What can we expect from Epilogue?
Space has always been a huge factor in my practice – architectural constructs and my work always fit hand in hand when I am looking at how and where my work should be exhibited. To me the narrative of Epilogue really naturally fitted into the New Testament Church – I love the feeling of community we could build there. There is something grand but at the same time welcoming and intimate about it.
Across the course of the exhibition there will be a constant stream of four custom designed petal shaped confetti falling – a total of ten tonnes recyclable pieces. We won't be cleaning up after each day, so the confetti will accumulate. The experience on day one will be completely different from the experience on day eleven. There will also be some pieces from the Epilogue series on display.
How did you go about choosing the location for the show?
The concept of Epilogue centres on themes preoccupied with death and decay and how to build a bigger all-encompassing story – a Church seemed the perfect fit. A funeral for the flowers in many ways. My team and I searched all over the world for the perfect church. We were so close to purchasing a cathedral in Philadelphia.
An old architecture friend of mine told me about this church, a week later we were flying to London, and I knew it was the perfect place. Unfortunately, the church had fallen into a state of disrepair and in order to be able to see my vision through it required a substantial amount of repair as the ceiling was heavily damaged – we worked with the help of a heritage preservation building company to restore it.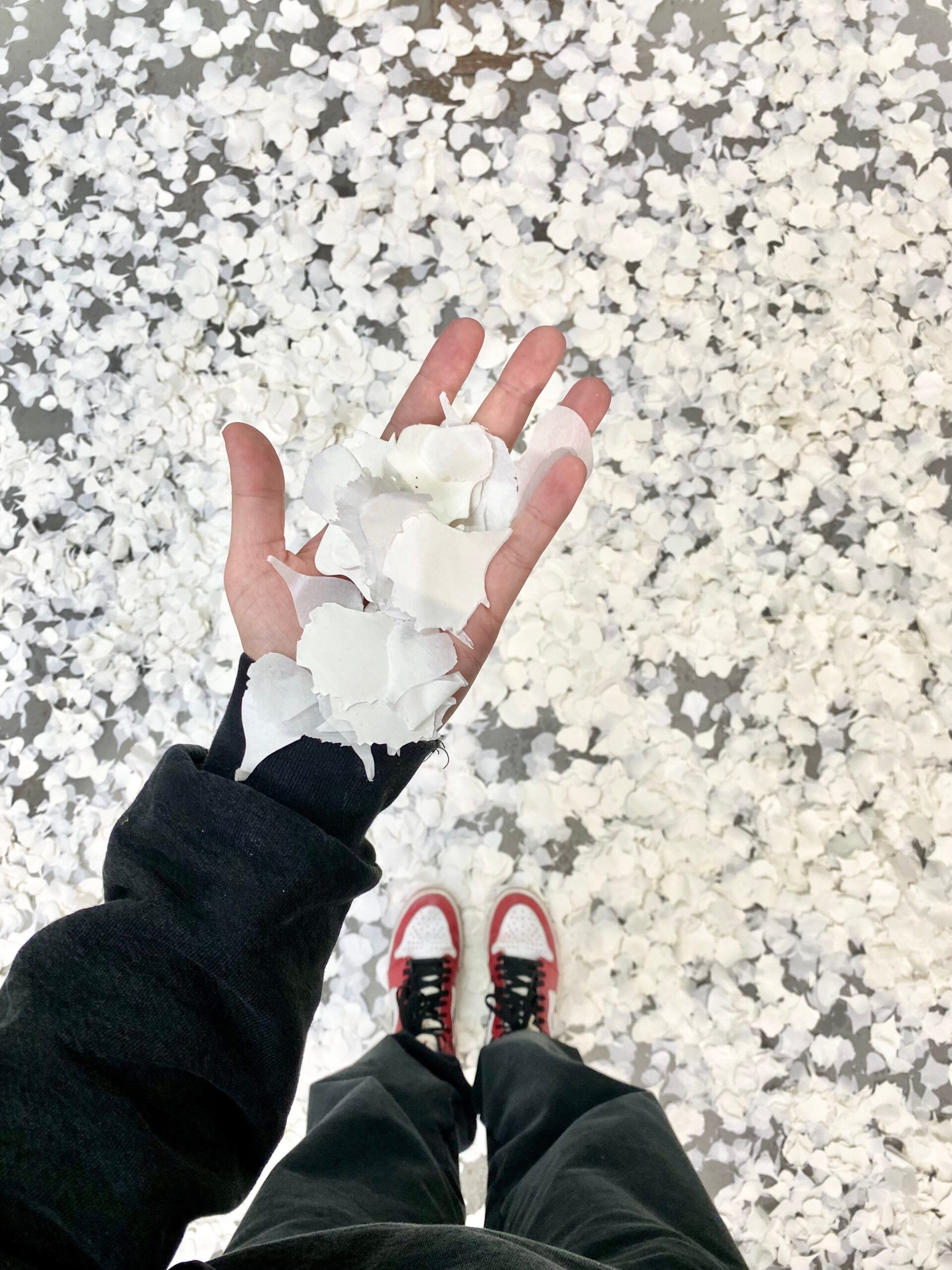 Cj Hendry, Epilogue
Your new body of work draws on depictions of nature throughout art history. While working on this series, which artists or art movements would you say inspired you the most?
Robert Longo is always an inspiration for my practice. He truly is a master of his craft. I also drew inspiration from Irving Penn's flower photography, he captured flowers in a way that has not been seen before.
As you were saying, the themes of death and decay are central to Epilogue; the flowers in the series are in fact depicted as they are about to wither. What first inspired you to explore these themes?
I have always said that I would never draw traditional flower depictions; they were the expected when it came to hyperrealism. I wanted to approach them in a way that was completely different from what has been done before.
There is so much beauty in their slow decay that I wanted to capture that moment. It felt especially relevant with the zeitgeist of the world now.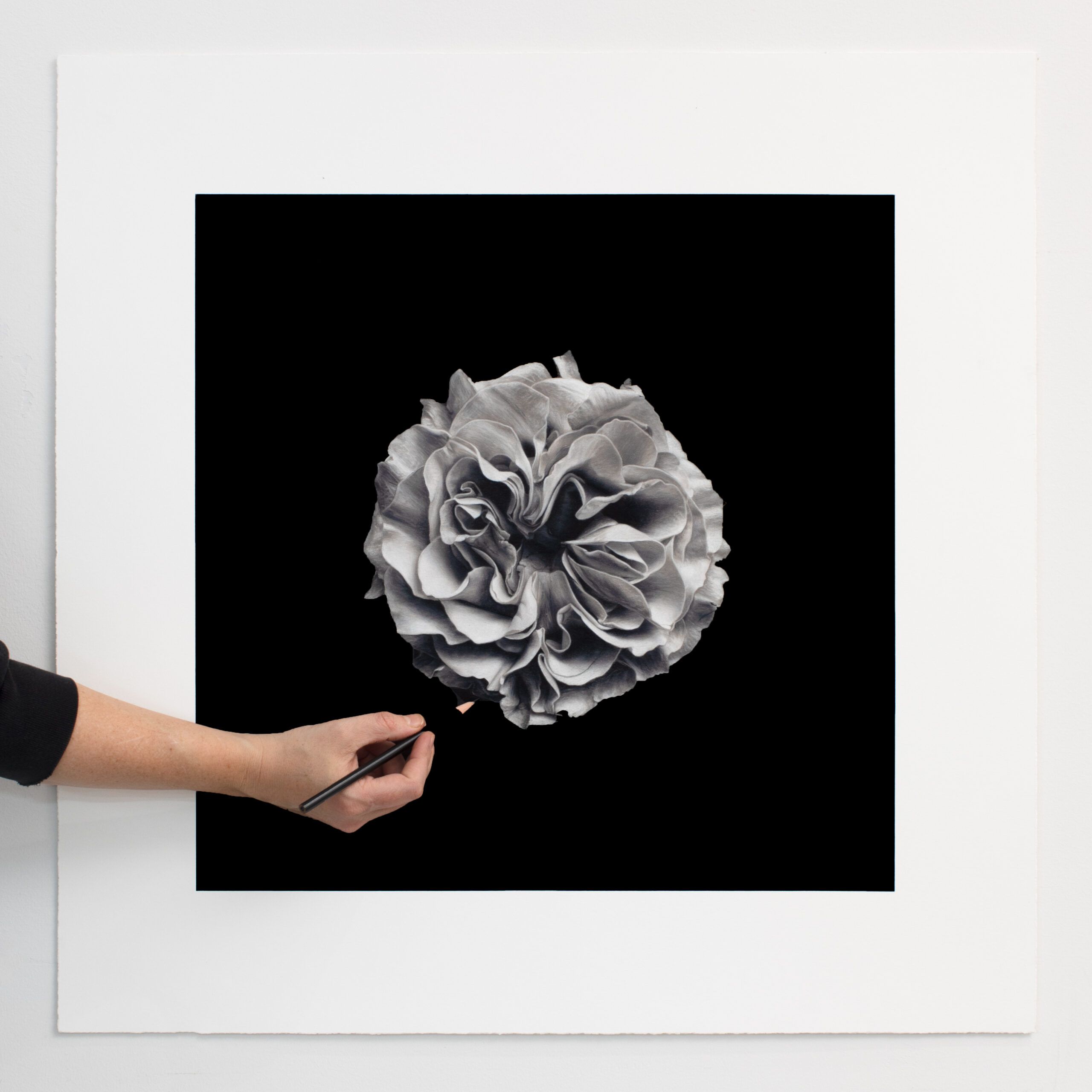 Cj Hendry, Epilogue
How do you approach a new work? What is your working process like?
I approach all my pieces the same way. I take a few hundred photographs of the subject, choose one and draw from that reference image.
My practice is very methodical. Once the photograph is printed, I cut down my paper to size and start drawing. It is mechanical draftsmanship.
And finally, what can we expect from you in the near future?
I always take a bit of a break after a big exhibition to reset and reflect. So you will just have to wait and see!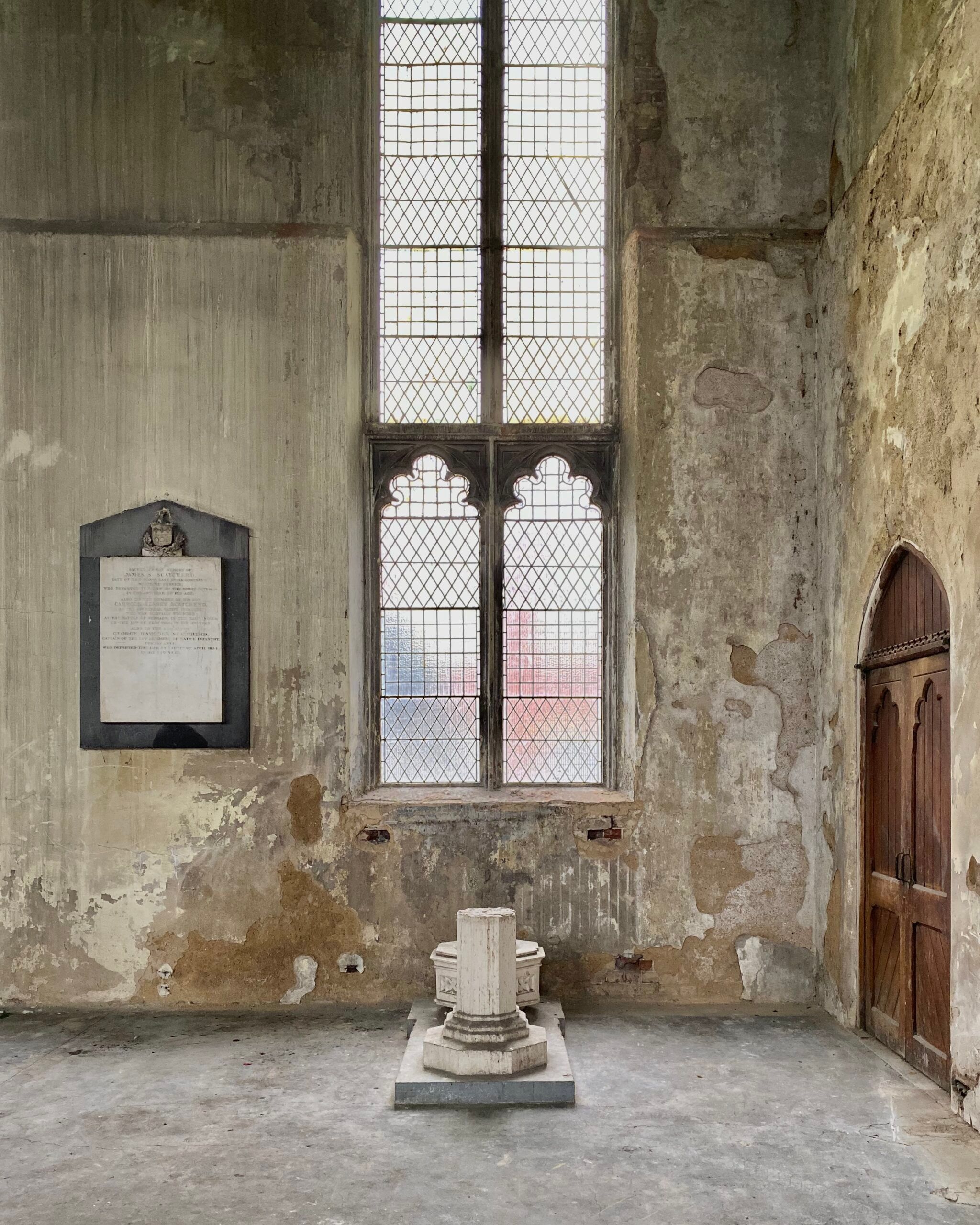 New Testament Church of God, London E3 5AA
Epilogue, from 12 – 22 May 2022, New Testament Church of God, London E3 5AA. The exhibition is sponsored in part by Caran d'Ache.
Words and interview by Jacopo Nuvolari