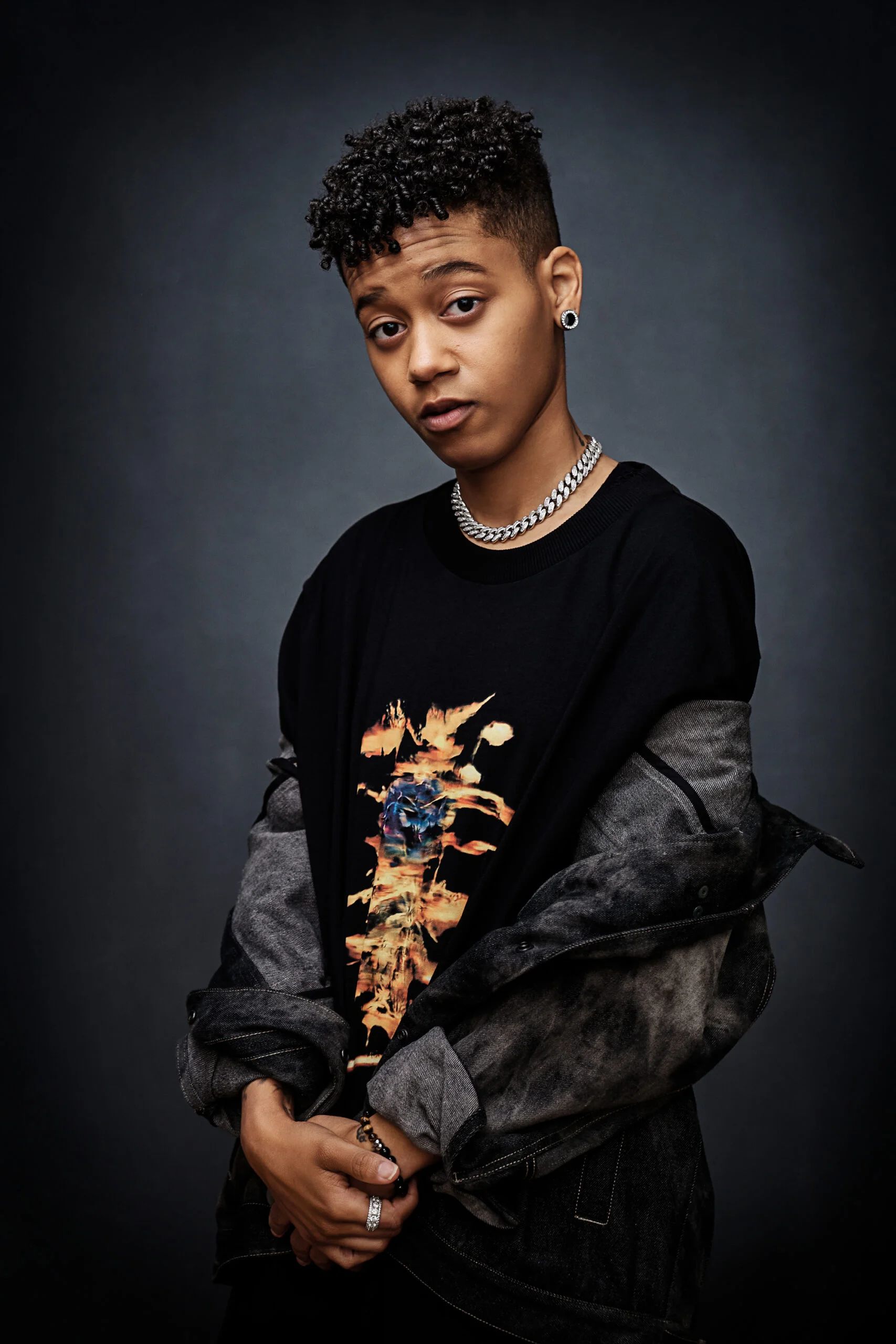 Crystal Nelson
Crystal Nelson is a new actor that you need to take note of right now.
Having started an acting career on stage performing the likes of Shakespeare and George S. Kaufman's 'Stage Door', Crystal now plays Tor on Netflix's newest show Grand Army. A show that revolves around a group of five high school students as they struggle with sexual, racial and economic politics while fighting to succeed.
To celebrate, Crystal spoke to 1883 Magazine regarding the show, acting, the LGBTQ+ community and more.
You have your television acting debut playing Tor in the new Netflix series Grand Army. How does it feel to be part of a project like this?
It feels amazing. I have always dreamed of being a part of an impactful show that touches on things in this world and things that I dealt with when I was at high school. So, it feels really empowering to be able to speak to students that went through what I went through.
The plot of Grand Army focuses on a group of five high school students as they struggle with sexual, racial, and economic politics while fighting to succeed. Your character Tor is a confident and strong lesbian who plays an integral part of the school's basketball team. What led you to this role and what was your own time at high school like?
My high school experience was erm… I got along with every type of friend group; I think because I was ok in being me, in the sense of the comedy side of me. I was always making jokes and I used comedy to take away the awkwardness and take away any chance of people to judge me for who I was. Especially because I didn't come out during school. It was very known that I was part of the LGBTQ+ community, but I didn't say it myself.
So playing a character like Tor who is proud in her skin, who is well-liked for being who she is and who is not judged for being part of the basketball team; it just felt good to play a character that I always wish I could have been in high school. It was really empowering, and it just felt refreshing.
Earlier in the year, you helped raise money for the organisation No Kid Hungry, a campaign that aims to end childhood hunger in the US. What made you want to get involved with the organization, and how did the charity event go?
It was a virtual event that was held; I was able to participate because of my agency. I was really excited about it because when I was younger, every holiday my parents made sure to get us out and about handing out food, handing out bags with lotion, toothbrushes, women's care, like whatever we could do for the homeless and people who didn't have the money to supply those resources for their kids.
So, seeing this organisation and how they make money to feed the hungry, I was like 'this is what I've done since I was a kid, of course, I'm going to be a part of it.'  It just felt nice to be part of an agency that cared about that kind of stuff. It felt really good to be a part of.
You first started your acting career in theatre, and you've performed Shakespeare's 'Macbeth' and George S. Kaufman's 'Stage Door'. Do you feel acting in theatre helped propel you to where you are now, and do you think you would have been ready for your first Netflix show role if you hadn't started in theatre?
I think starting my career on stage helped me not be afraid to perform. I was performing in front of hundreds of people that I didn't know as well as my friends' parents so that could make me nervous, but I was able to break that awkwardness and stage fright and be myself.
It made me be more confident and know that I was doing what I was supposed to be doing. I was happy to be doing it and I wasn't afraid to be doing it. So, it broke the stage fright and allowed me to be me.
I do actually think starting in theatre helped a lot. Speaking about stage fright; even though I was a pretty outgoing kid, I still had nerves which are normal. Performing on stage constantly and making mistakes allowed me to learn from those mistakes and to learn not to have stage fright. Being on a show, even though you are performing in front of cameras and in front of screens, you still have an audience. You still have a crew, the other cast members and a lot of people you have to perform in front of. Being on stage and performing in front of a bunch of people that I didn't know helped me be prepared for performing in front of the cast and crew. It definitely made a positive impact on where I am right now.
Walk us through how you came to join the cast of Grand Army and what behind the scenes info can you share with us from working with the other actors in the cast?
I received this opportunity from my agency. At the time I was staying in Maryland and I had to travel to New York. I ended up being late and missing my bus and I ended up taking a train which had me arrive three minutes before I had to walk into the audition room. Once I got there, I felt very confident that this was the first role that I was like 'Tor is me, we got this.' It gave me the confidence to be able to perform in the audition room and leave knowing that I did the best that I could.
I also had a little feeling that — 'this is going to be my role.' So, it felt really good to have confidence and I feel like I built that from my auditioning process. And finally, just getting to be on set, this is my first production so I can only speak on this; I just felt so welcomed. It was a family from day one. Everybody was hugging and introducing themselves, just making me feel like I was supposed to be there, and they knew I was there. So, it was an amazing experience.
Mental health is extremely important and it's an ongoing theme within Grand Army. What do you think needs to be put in place for more younger generations to open up on their mental health?
I feel like one important thing that would have helped me a lot was for my parents to come to me and say — 'I'm here for you' and give me a positive outlet and a comfortable space for me to feel like I can open up and say how I feel. I feel like that is important for kids right now to have, a safe space. I feel like that allows them to be open with their feelings and to know that it is ok to have their feelings and it's also ok to go to someone if needed.
I don't feel that is expressed enough and parents don't express that enough to their kids. If they do this, I feel like that could make a big change.
Netflix has produced many programmes that are progressive and reflective of the today's youth so it's great to see more TV shows put an emphasis and spotlight on the LGBTQ+ community. What topics do you feel still need to be tackled on TV and film?
I would at least love to see more stories relatable to my school and to my life experience in high school. I wasn't necessarily picked on for who I was, but I didn't feel like I had a safe space to be who I was. I feel like that is important, to create a safe space. One thing that I noticed that made me have the most awkward moment in high school was when it came to learning about the male body and the female body; because I was born a female, I had to learn about female bodies and that is not what I was interested in.
I feel like there should be a place for the LGBTQ+ community to be able to choose, like ok 'I'm going to go in this room' which is not for the males and not for the females. This will make that group feel more comfortable and feel like they can be who they are and speak on what they like and what they want to learn about and not just be told they have to go into this room or that room. So that is one thing I would love to see be spoken about on different shows, movies and event documentaries.
You're also a keen YouTuber with your account Yeo Its Crystal which touches upon your everyday life and you give regular updates about your acting career. What would you like to achieve with your YouTube vlogs?
I love the day-to-day vlogs because I would love for other actors, who are still working on their careers, to want to know what it's like to truly be an actor and to also show the on-set and off-set days — the ups and the downs. I want more realness to be shown in the acting world, but I also want to just spread positivity with my YouTube channel and a lot of it is just to bring happiness and smiles to people's faces. And if I'm doing that, then I'm doing good on my channel.
Tell us about your personal highlights from working on Grand Army…
My personal highlights were in some scenes where I had to portray a feeling that I wasn't used to doing in front of people. That was pretty tough for me, but the crew made it really comfortable and made it really welcoming and they were patient with me. I feel like that is something that I would have loved to have been like in high school, just to be able to be myself at a time when I wasn't ready to. In the scenes, I had to have that feeling like I had as younger Crystal and let it out in front of people I didn't know. But it felt very empowering, and it felt good to do.
What are three things that people should know about Crystal Nelson? What do you like to get up to when you're not acting?
I am a proud vegan for the animals first. So, I definitely want to get more into why I think being vegan is very important. I am also a nature kid at heart; I love getting out and just being with nature. I'm very active; give me a bike, and I will go wherever you want to go. And just to let my mind be free, I love playing basketball; just being active.
Why should people check out the show? How would you best describe Grand Army in your own words…
It's just a show where young teens and young adults are just saying what they feel and letting the world know that there are a lot of problems going on which need attention. But not only that, but that you can make it through it. You can fight, you can survive, you can walk out and just know that we want to be heard. I think it's important especially for high school students to watch as it's very relatable and it speaks to that generation.
It doesn't just show you the lows, it shows you the highs, it shows others surviving and that is a very important message for me to get out and for Grand Army to get out: 'you can make it through, be strong, you got to let your voice be heard and know that at the end, it is a positive outcome'. That's why I think it's important for everyone to watch Grand Army.
Finally, what can we expect from Crystal Nelson in the future?
I am working on landing more impactful roles and I can't say what I have booked right now, but you will definitely see me in another Netflix show for sure which I'm excited for. And just more positive and exciting vlogs on my YouTube for sure.
Featured Image Credits
jacket 40s & Shorties top MARCELO BURLON COUNTY OF MILAN
Team Credits
interview by Cameron Poole
photography Francis Hills
fashion editor Krisana Sotelo @ TheOnly.Agency
grooming Jessi Butterfield @ Tracey Mattingly Agency
fashion assistant Joe Everest

Grand Army premieres 16th October on Netflix!
[embedyt] https://www.youtube.com/watch?v=Fb30tUGqaCk[/embedyt]