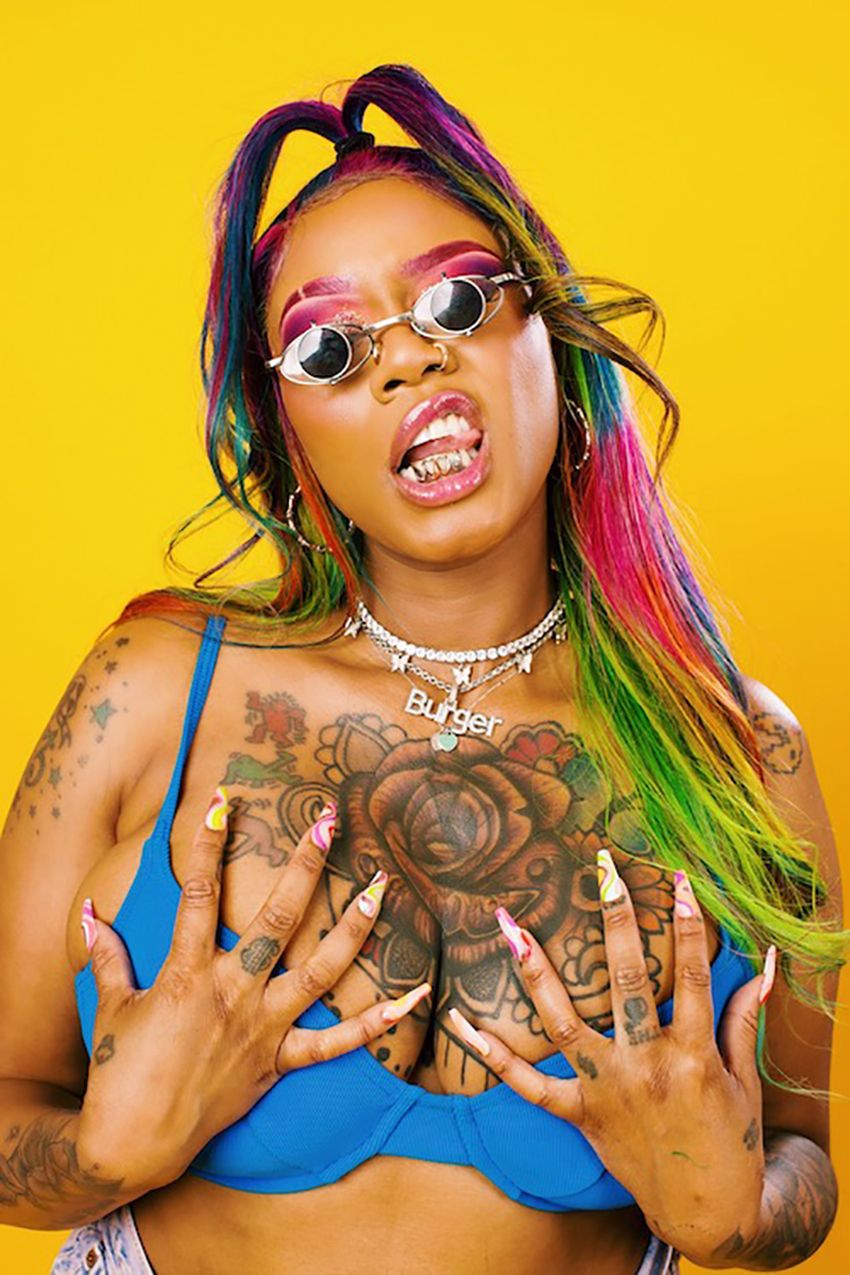 Dai Burger – Premiere – Bubble Gum
Bubbling over with bravado and plenty sass to spear, Queens, NY native Dai Burger is dropping earworms for audio airwaves today with the release of her sophomore LP, Back in Ya Mouf. 
Infused with unbridled sexuality, bubblegum sweetness and slick rhymes, her distinctive flow shines in the newly released single "Bubble Gum", a perfect example of the album's pop versatility. In fact, the LP is packed with tracks that'll keep you two-stepping on the dance floor while amused by the grit and wit of her wordplay.
The video, directed by Rahill Ashruff and choreographed by David Sincere, showcases dip-it-low dance moves from her and background dancers (who are also her friends). When asked about the vibe behind the visuals, she gushes "They just represent Black girl joy & Magic and I love it! My boy David Sincere oversaw our choreography to make sure we were on point for the video, he is also a dope celebrity choreographer."
As candid and colorful as she is in her lyrics, Dai's style oozes the same unrestrained joie-de-vivre, which is not surprising for a former stylist of the legendary downtown New York City shop Patricia Field (the same name boutique of Sex and the City stylist Patricia Field). More than a raunchy semblance with seductive swag, Dai's flirtation with musical performance was buffed by her time touring with Lil Mamma, Chris Brown and Soulja Boy as a back up dancer. Her popularity is now soaring amongst Hollywood's high-level film and directorial set as her single "Whew Chile" was featured in HBO's current season of Insecure.
With today's release of Back in Ya Mouf, 1883 is exclusively premiering the music video for "Bubblegum", and coupled with this delectable audio visual is a cheeky chat where Dai spills the tea on her own undercover persona, sharing the spotlight with other female MC's, and what to expect now that she's Back in Ya Mouf.
Whew chile! There's so much to unpack in convo with you. Firstly, I love your song and the video, 'Whew Chile'. And congratulations on its inclusion in Season 5 of Insecure! How did that partnership/collaboration with the show come about?
Hey, hey, hey! Yes, 'Whew Chile'! One of my fave videos to date! Yes, I was super stoked to have that song featured on Insecure. It went through the normal pitching process, but to actually have it selected was such an honor for me and my girl, TT The Artist, who is featured on the track.
The video is conceptualized with a very funny Real Housewives parody. If you were a featured housewife on the Bravo show, which Housewife franchise would you fit into?
Yes, we totally nailed that, huh?! TT actually directed this video, as well. I would need them to kick off the Real Housewives of New York if anything! [Laughter]. But my fave is Real Housewives of Atlanta, 'cause they keep it so shady but classy.
Have you or your people sent the video/song to Andy Cohen [the show's creator/executive producer]? He'd love it!
We haven't but you know what?! Let me go tag him right now! [Laughter].
Okay, so let's talk about this album. You've maintained the same sparkling bravado as you had in your 2019 release, which I know fans will love. Tell me though, how is Back in Ya Mouf different from your previous releases?
Back In ya Mouf isn't much different, because it actually revisits In Ya Mouf, which was executive produced by Mighty Mark. So I linked back up with my guy and locked in to collaborate again. The project has some re-released tracks from In Ya Mouf and many new ones that show my growth and just my love for my music in general.
Where did you draw inspiration from for this album?
In Ya Mouf was such a turning point in my career, and was my first time mixing my NY swag with Baltimore Club influence from Mighty Mark. I feel like it's become signature to my sound, and it just felt right to once again have my songs and lyrics Back In Ya Mouf!
What do you believe fans would be most surprised by to know about you?
I think they'd be surprised by how chill I am! When people see my persona, I think they expect me to be hanging from a chandelier, bouncing off the walls and sh*t. [Laughter]. And don't get me wrong, I'm guilty and capable. But really my happy place is my bed, watching Netflix, eating gummy bears, minding my business. [Laughter].
You have a bonus track on the album titled "Miss the Club". While the world is still in this pandemic haze— and the club scene consequently has changed— how has your social calendar evolved with the times?
Man, things really have changed, greatly! It's all become a blur honestly. I love that things are getting back to some sort of normalcy because I missed the club! My favorite thing in the world is to perform, so you could imagine my pain. 'Miss the Club' is a true-life story. [Laughter].
With things getting back to normal, what'd you do last night?
I drank wine and did a mini bar crawl with my good sis who I hadn't seen since I got back to New York from L.A. Good times.
A little off topic, but almost relevant— like you, I'm a Queens girl (originally from Brooklyn, though). Where can I go to get the best chicken curry roti? I've been told that Brooklyn and Queens have the best spots. 
Yes! Queens get the money! And I love my hometown, but BK has the best curry roti, hands down. There's a spot called Gloria's that gets it super poppin' on the roti.
Also a fellow Queens girl is rapper Nicky Minaj. The bombastic-ness of your lyrical flow— coupled with the Queens accent— reminds me of her a bit; however, your humor and aversion to categorization really does set you apart. How do you feel about such comparisons?
It's a comparison that I will take as Nicki is one of the greatest! I totally get it, the Queens, NY sass and attitude is just undeniable! But I'm glad it's noticed that my musical content is what sets me apart. I love talking about things and concepts that people don't usually think of, but as soon as they hear it it's like, "yea, I needed to hear this".
From your videos, to your lyrics, to interviews with you, you seem like a real girl's girl. How is the camaraderie between you and other female rappers on the scene? 
Yesss! I'm so supportive of all females embracing their artistry and being great. Many of the rap girls are my friends and peers, so its always love when we cross paths and/or share a headlining bill.
Whose sound are you vibing to right now? I mean like your last music download.
Summer Walker's new album got me in my feelings, and I love it.
To those who are just becoming familiar with you and your sound, what do you hope they'll take away from this album?
I hope they take away a new sense of confidence, an energy boost, and music that keeps the spirits high and that ass dropping it low. You're welcome.
Check out the video for 'Bubble Gum' below. Follow Dai Burger via @daiburger
Interview Constance Victory
[embedyt] https://www.youtube.com/watch?v=e9vhTbrRqwY[/embedyt]