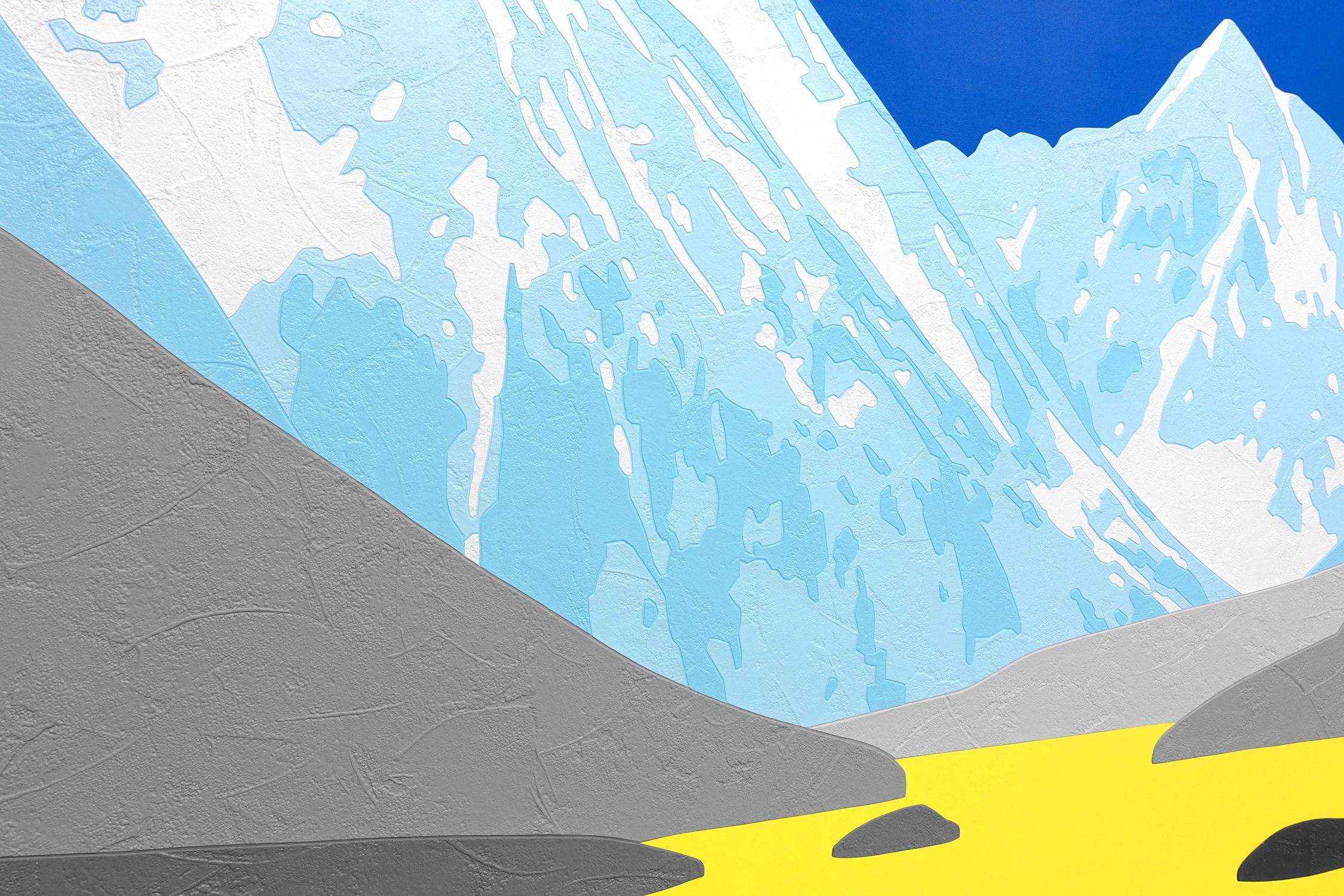 David Wightman – Ariel
Best known for his alpine panoramas, David Wightman from Stockport is an accomplished painter and printmaker whose work hovers between the abstract and the figurative.
Drawing upon the art and colour theory of German abstractionist Josef Albers and the Romantic paintings of Caspar David Friedrich, Wightman blends formal artistic influences with figments of his imagination to create mountain vistas that are ostensibly real, and yet thoroughly fictitious.
Characterised by bold, intense colours and quasi-geometric shapes, his richly textured compositions are made from collaged layers of hand-cut pieces of wallpaper on which the artist paints to create a sense of depth and perspective.
1883 sits down for a chat with David Wightman to discuss his work and ask about his new show, Ariel, at Grove Square Galleries, London, until 14 May.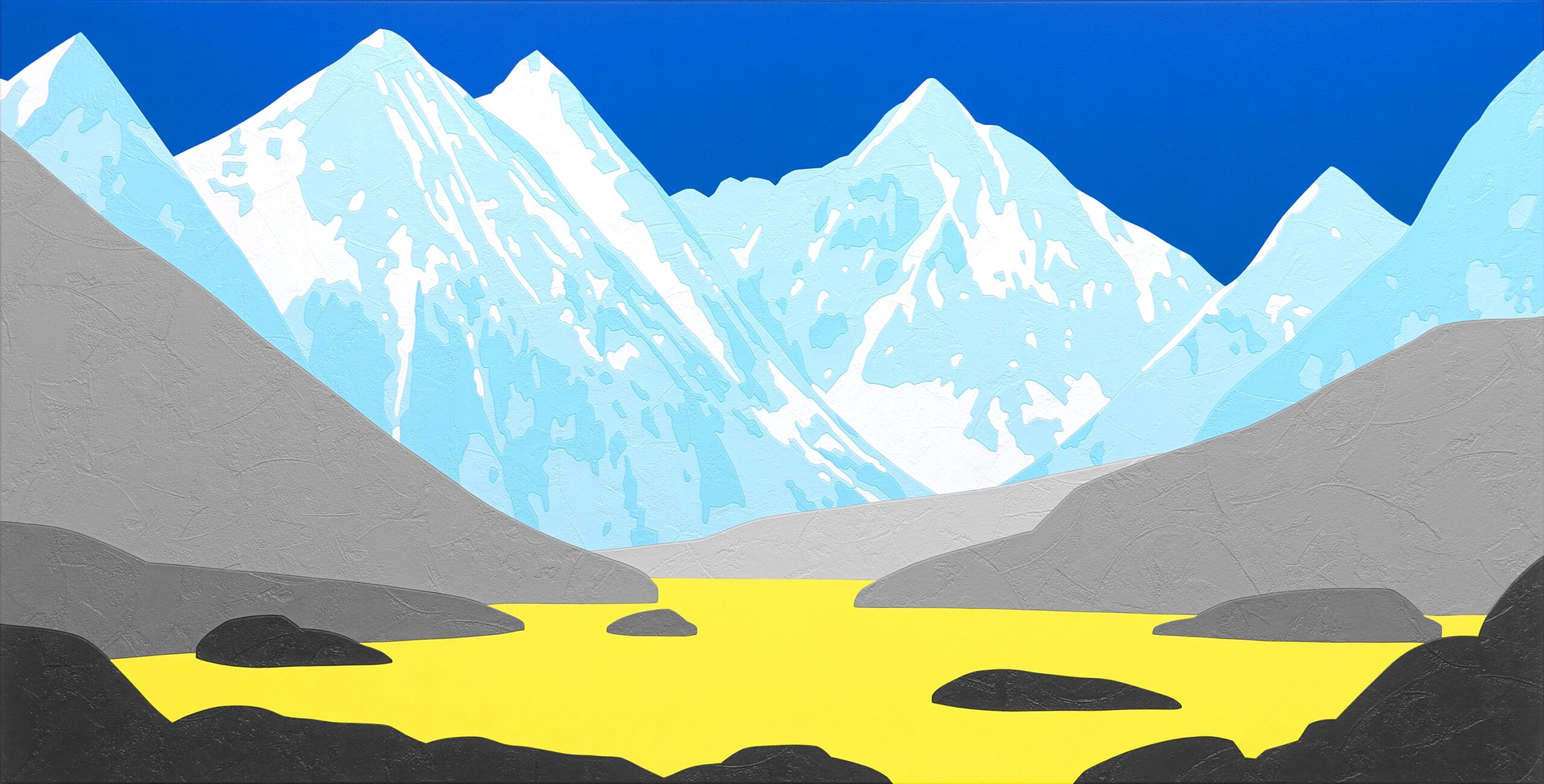 David Wightman, Ariel
Hello David, thank you for finding time for 1883 Magazine.
When did your interest in art begin and what made you want to become a professional artist?
My earliest memories are of endless hours spent painting and drawing. I never wanted to do anything else. However, growing up I didn't know there was a profession called 'artist'. I simply painted for myself.
It wasn't until I was in my teens that I became aware of art as a career path. I visited London for the first time aged seventeen, and – while wandering around the Royal Academy of Arts – I decided I should be an artist. I can't imagine doing anything else.
Where do you draw inspiration from for your imaginary landscapes? Which artists would you say have had the most influence on your work?
Inventing my own landscapes is far more satisfying to me than portraying real places. Creating fictional vistas means I am free to explore colour and form. I'm definitely more interested in creating something beautiful and fictional than something accurate and real.
My work is partly influenced by colourful geometric abstraction (Josef Albers, Kenneth Noland, Bridget Riley), a multitude of landscape painters (Claude Monet, Caspar David Friedrich, Thomas Cole), and an even greater variety of landscape traditions (e.g. The Hudson River School to Japanese ukiyo-e). As a result, colour and composition are the most important aspects of my work. A more contemporary artist whose work has been an influence is Peter Halley. I discovered his textured geometric paintings while at The Royal College of Art and decided to continue with my own use of textured patterns as a result.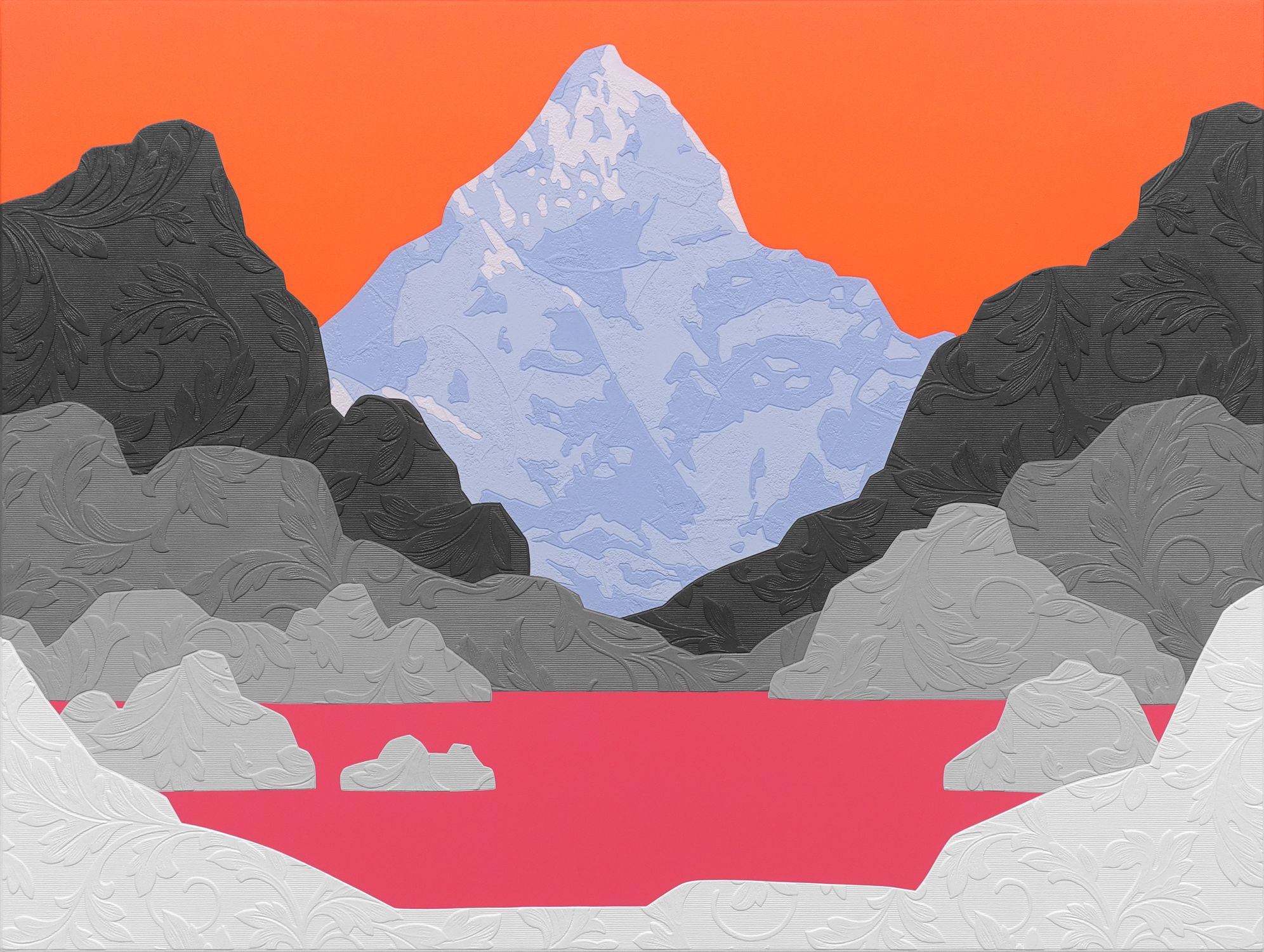 David Wightman, Celine V
I read your working method – which is said to be similar to marquetry – is quite elaborate. Can you walk us through it?
I begin each painting with a simple line drawing. I enlarge the drawing onto canvas using a traditional 'cartoon' method. I then individually trace and cut the multiple sections of the composition from different wallpaper patterns before collaging them separately onto the surface of the canvas. The surfaces of my paintings are slowly collaged over a period of weeks, with each section of wallpaper being individually cut and pasted. Once a piece is fully collaged, I start to think about colour.
I'm often asked if I use a laser cutter or 3D-printer to create my work because the finish looks machine-perfect. However, despite the precise nature of my work, my entire process – from drawing, tracing, cutting, collaging, and painting – is done by hand. Each painting can take several weeks to complete.
Can you tell us a bit about your current show at Grove Square Galleries, London?
My new solo exhibition Ariel is open now until Saturday 14 May at Grove Square Galleries, London. The show is a mixture of paintings, prints, and drawings. Ariel is an exploration of landscape, colour, and texture. I see my work as aiming at a synthesis of abstraction (colour, pattern, texture) and landscape (tradition, composition, style). To me, the eighteen works that feature in Ariel perfectly embody this aim.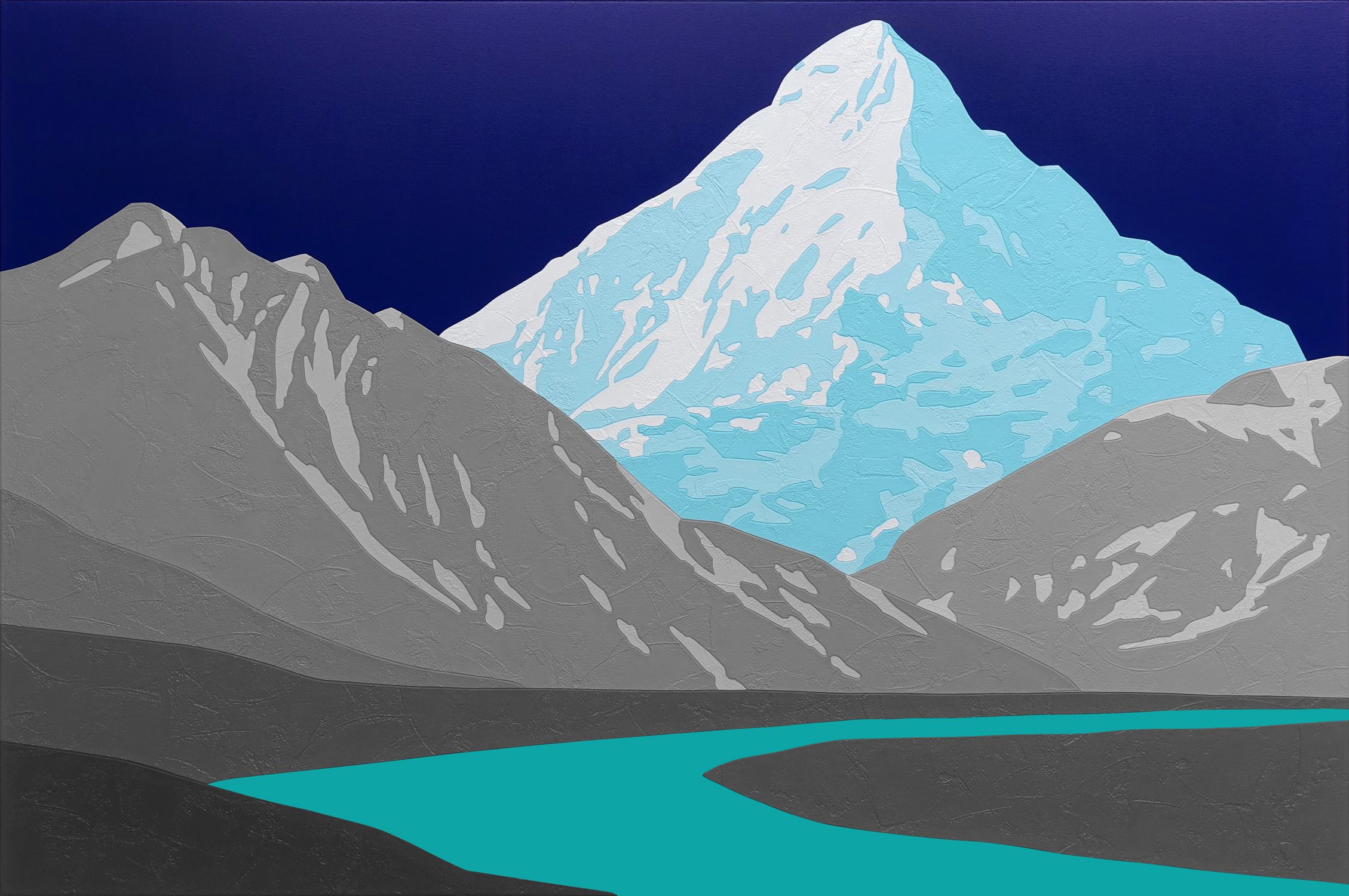 David Wightman, Frances
Ariel, until 14 May 2022 at Grove Square Galleries, London.
davidwightman.net
grovesquaregalleries.com
Featured Image: David Wightman, Ariel
Words and interview by Jacopo Nuvolari