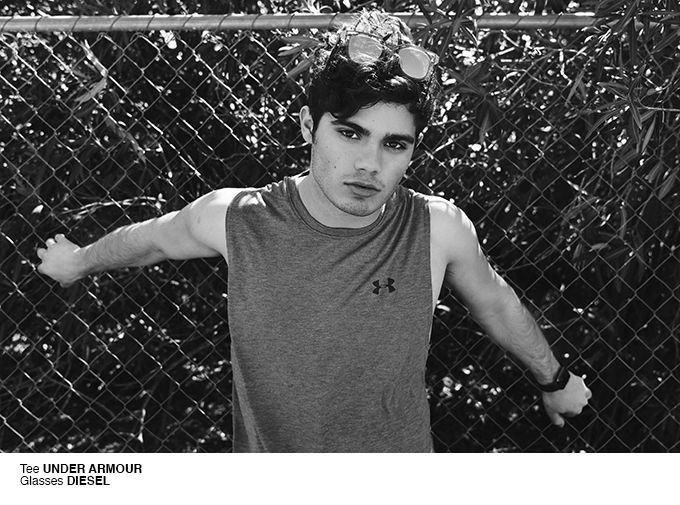 Emery Kelly
Emery Kelly has a life-time of show business experience under his belt. Despite being only twenty years of age, the young star grew singing and acting constantly, until the two disciplines became second nature. Since breaking through on The X-Factor in 2013, he has served as the frontman for 'Forever In Your Mind'. The project has grown and developed with Kelly, and a new, edgier sound is showcased on recent single 'Rabbit Hole' and EP 'Euphoric'. Kelly remain grounded, however; a fact showcased through his involvement with Netflix Original 'Alexa & Katie'.
Dealing with the troubles of growing up and the importance of friendship, the show is sure to warm hearts and grow Kelly's already impressive fanbase. We sat down with the charismatic actor/musician to talk about his development as a musician and what he sees as the future of television, as well as learning about his love for, of all things, sunsets.
How did you get started in the music industry?
I got started in 2013, auditioning for The X Factor in Long Island, New York. Six months later I got put in a band, 'Forever In Your Mind', by Simon Cowl. Performing on The X Factor was great because it gave me the backbone for what I want to do with my career. Unfortunately we were
cut off just before the final stage but we toured around the country, then one of the guys left and my cousin joined, then we ended up moving to LA. We worked with Disney and Nickelodeon and filmed a pilot for a show which didn't end up being picked up, but I got a role on "Alexa & Katie"
More about 'Alexa & Katie' later… Sticking to the music, Forever in Your Mind recently released the single 'Rabbit Hole' — would you like to talk about the story behind this track?
It's about showing people that you go through so much stuff, that you're going down a rabbit hole where things are going to end out of control. It's about being honest and going with the flow, showing people that this is who we really are. We've worked with some people who've wanted to shape up us in their image but not paid attention to who we are, this ['Rabbit Hole'] is us.
In terms of production, we just laid down some simple chords and the melody developed from there. Sometimes what you start with evolves into something completely different.
Rabbit Hole was taken off of the EP 'Euphoric' — how would you describe this EP?
The music that we came out with before was very young, very pop and clean. We wanted to show people that that's not who we are. We're just a bunch of young guys living in LA, we wanted people to know that we are being honest. I love 'X Did', it's my favourite song off the EP. Just working on that EP filled me with a lot of happiness, from being able to put 100% realness into it.
How has the band developed in the years since its formation?
We have developed in many ways, but the key development has been growing up and becoming who we wanna b; being comfortable with the people we surround ourselves with and being comfortable with every situation.
What made you venture into acting?
I grew up in acting, I've been acting all my life. Specifically I used to do musical theatre , so I used to sing and act every day. I don't remember when i started, I was born into it.
Have the different facets of you career, singing and acting, complimented one another?
Singing was a great tool for me to learn how to project my voice and pronounce things. Acting taught me how to tell a story, or a different character, through my own body.
Would you like to talk about your project "Alexa & Katie"?
The show cam out last Friday and I'm very excited. It's about two best friends go to high school. One of them, Alexa, has cancer but doesn't want people to find out. As the series goes on, people do find out, and there are obstacles to overcome. In the end, friendship is the best medicine and Katie, Alexa's best friend, is there for her through all these difficulties. The show is really just trying to show that, no matter what, we're not alone.
My character is Alexa's brother, Lucas Mendoza. He's pretty cool and chill, he looks out for his sister. He also has an obsession with his hair — in real life I don't have an obsession with my hair!
As someone who has appeared in a variety of tv show formats – from reality TV to a Netflix produced series – how would you say tv is changing? Is this a positive change?
Hell, yeah I do! It's a great change. The TV industry is positively moving forward, accepting things that are happening in the world that people didn't used to accept but do now; especially things to do with topics like gender, race and religion. Even our show, tackling the topic of Cancer, is part of this change. Netflix is coming out with shows which deal with these topics, because the new generation really wants to talk about these issues.
Anything else you want to share with our readers?
I love sunsets, and long boarding!
Catch Emery in the Netflix Original 'Alexa & Katie'.
Interview Megan Wallace
@_go_fish
Photography Jack Alexander
www.jackalexanderphotography.co.uk
Styling Victor Blanco
@victorblancostudio
Grooming Laura Dee
@lauradeemakeup