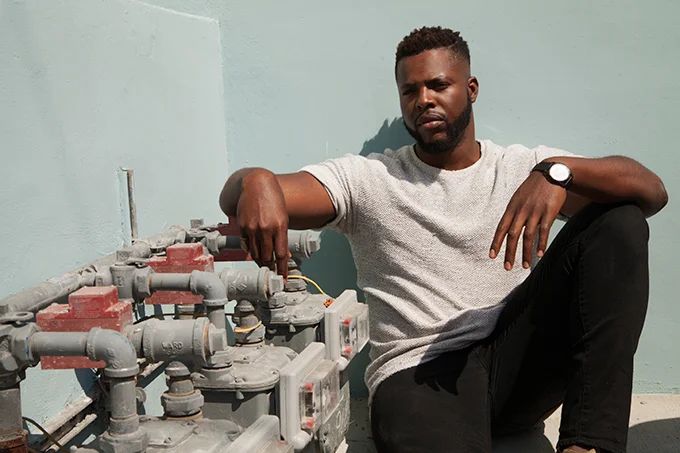 Winston Duke
Although you may or may not have already heard of the Tobago-born actor Winston Duke, we're positive you're about to. An alumni of Yale, Winston has already appeared in a several tv shows, including Person Of Interest, The Messengers, and Modern Family. Now he's playing his biggest role to date, starring as M'Baku in Marvel's Black Panther.
We chatted with him in LA about his new role, dream jobs, and superheros.
How did you get into acting?
Well, it was a series of really wonderful opportunities that came my way since high school. I was an immigrant from Tobago, and it was very hard for me to interact with people because I didn't understand the culture. I ended up becoming really shy, and a bit reclusive. The first opportunity came from doing a Spanish presentation in class. When I got up in front of everyone, I got really nervous and I just started telling my story that we had to translate into Spanish. Once I had finished, the teacher came up to me and said it was the first time she had seen the spectrum of my personality, and the brightness that was in me. She told me I needed to join the school theatre program, and she signed me up for the 24 hour plays. 24 hour plays are when a group of students write a play within 6 hours, and then another group memorizes their lines, and it all takes 24 hours to put the show together. It was the first time I had done anything like that, and afterwards other things kept happening that pushed me in the direction of acting.
Before you realized you wanted to be an actor, what did you want to be growing up?
I wanted to be everything! I wanted to be an astronaut, a lawyer, a dentist, etc. I wanted to be so many things, and my imagination was really active. When I look back on it, I actually started acting back in the Caribbean. Every Sunday, we had these Bollywood movies that would come on tv, and after it went off my friend and I would reenact the scenes. I started to do things in a performative way even back then, but it didn't register because it wasn't something that I planned on. I wanted to be everything, and that's what got me into acting. I'm able to change into different things.
You recently just finished starring in one of 2018's biggest movies. Can you tell us about your character M'Baku?
M'Baku is the young leader of the Wakanda tribe, The Jabari. He's essentially a leader loved by his people, who takes his responsibilities very seriously, and views an adherence to tradition as the only way the country can move forward. As a result, he's prepared to do anything it takes to make sure that the country moves in the right direction.
So you're playing the villain?
I don't look at him as a villain, I look at him as a man with needs that are different
How did you prepare for the role?
I did a lot of different things actually. I worked with one of my school teachers from Yale, Faye Simpson, who helped me go through a lot of energy searching to find what kind of energy
M'Baku walks through the Earth with. I did some script analysis and character creation help with my other teacher, Gregory Berger-Sobeck. I read a lot of the comic books that inspired the world behind this. The local comic book store guy issued me every comic that my character made an appearance in, so that was all apart of the preparation. I mostly did a lot of ground work, because it's really easy to play a bad guy just for the sake of being bad. I didn't want to do that, I wanted him to have deep anchored needs that people could potentially identify with.
When did you find out you were casted?
I found out I was casted in September of 2016, and I have really funny agents who love playing pranks on me. They called me and said "hey we've got some bad news, you might wanna sit down for this.." So I sat down and I'm ready to hear the bad news, and they said "You got it, you got the role" and I just went quiet, and started weeping because the opportunity meant so much to me.
What was it like working alongside some of Hollywood's biggest names?
It was really surreal a lot of the times, but they were so professional that it didn't feel like something inorganic. I compare it to finding the right relationship, when you're going 'oh my God where have you been all my life?' It felt right, like being in love. The entire film felt like an act a love
Do you have a favourite superhero?
My favourite superhero would have to be Wolverine. Wolverine had such a dynamic story of living so long through a violent life and having to constantly survive. He survives all the trials that he goes through, and that really resonated with me moving to a country that I didn't understand, and surviving. Some of the trials that I experienced included someone breaking into our home when I was in 5th grade, as well as being robbed by gang members when I was in 7th grade.
What advice would you give to actors that are just starting out?
My advice would be to believe in yourself before anyone else does, and to be your own yes person. Never tell yourself no because the world exists to tell you no. The world exists to be your obstacle, and you can't be your own. You have to stay liberated and believe in yourself.
My last question, what's next for you?
You're going to have to wait and see. The future is bright and I'm really excited to be where I am, and doing work that means so much to myself and other people.
You can catch Winston as M'Baku in Black Panther out now. Watch out for the extended interview and shoot with Winston in 1883 Magazine Issue XI hitting stores this April
InterviewHailey Johnson
@hkashin
Photography Stephanie YT
www.stephanieyt.format.com